If any of you know how much (or, should I say, how little) I exercise, you probably think it's faintly ridiculous that I had a sports massage recently.
But as my therapist Graham told me, the "sports" bit is actually misleading. You don't need to have even entered a gym in the last month to see results, never mind be super sporty. Sports massage is just deep tissue massage, and if I can see the difference after a session, I'm sure anyone can.
My Consultation
Right from when you meet Graham, it's totally obvious that massage is what he's meant to be doing… and not in a weird way. He just knows everything about it and his interest really shines through. He's also really chatty, and great at putting you at ease. He's only been running Revive Sports Massage since August, but you can tell it's a lifelong passion for him.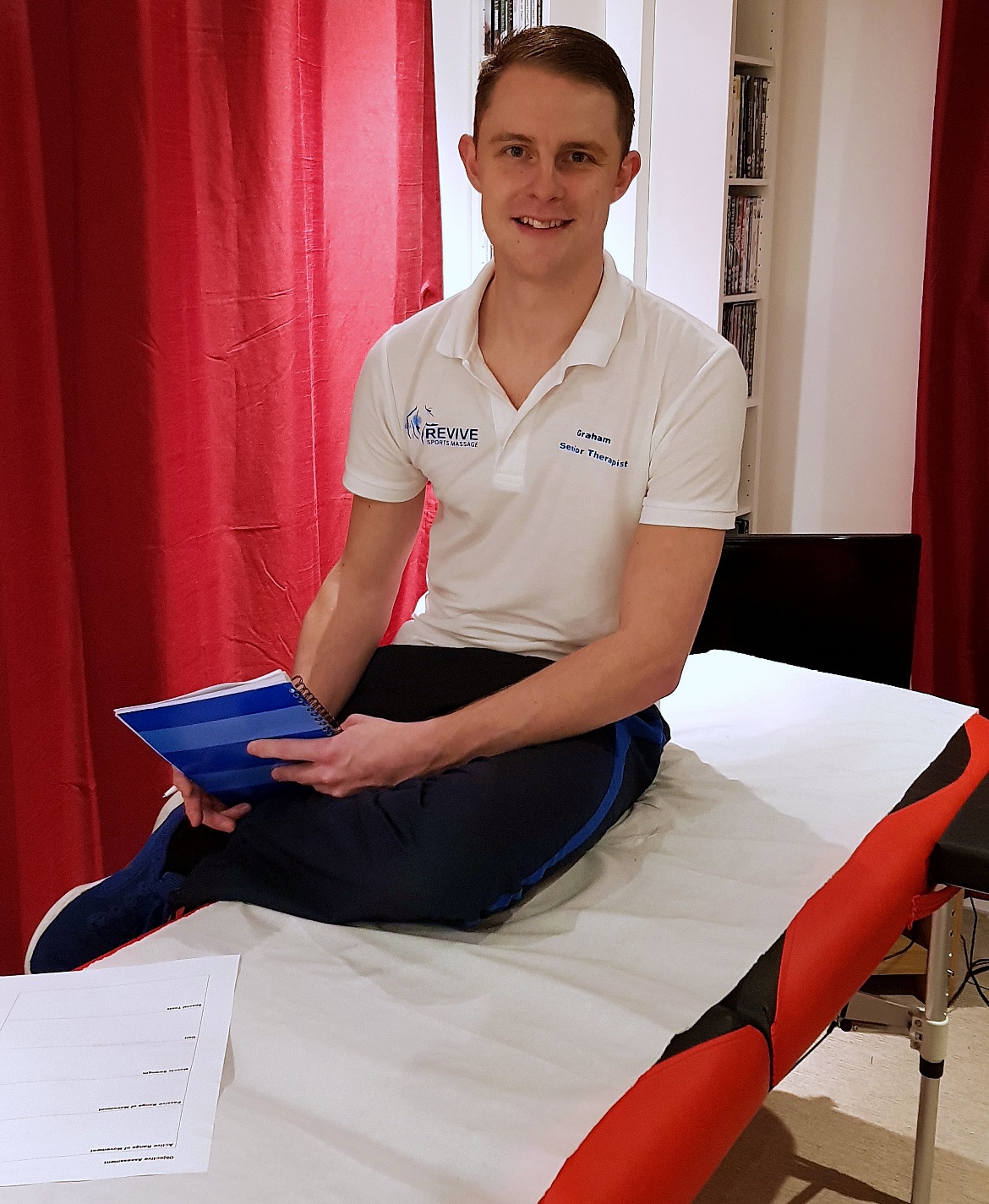 The reputation of sports massage is that it's pretty brutal. This is no light rubbing with essential oils! The effects only come from getting deep into the tense and tight muscle tissue. But Graham described it as good pain, the kind where you know it's worth it. He made a point of saying that if it was really hurting, I should speak up.
I didn't have to go anywhere to get this done – Graham came to me! He turned up, massage bed in hand, and in just a few minutes my living room was an impromptu spa.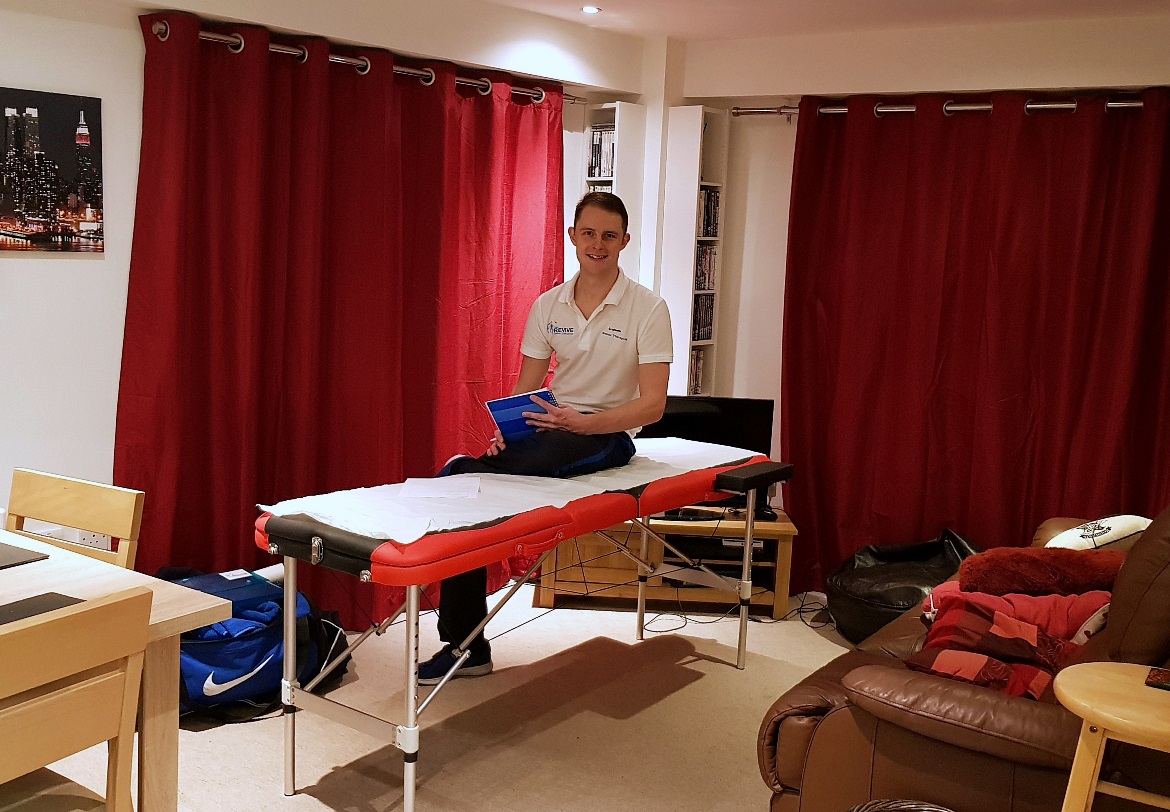 Graham likes to get into the massage as quickly as possible, but he went through a short consultation first. He knew about my MS ahead of the session, and we spent a bit of time discussing how it affected my life. Honestly it seemed like he knew more about my condition than me, and he confessed to having read a few journals and webpages about it before coming over. He suggested a few therapies, besides massage, that might help with some symptoms such as muscle fatigue.
In short, this was no cursory consultation. Although it didn't take very long, I was utterly convinced that he had a good understanding of my particular physical quirks and would be able to incorporate that knowledge into my treatment.
Preparing for the Massage
As I wasn't suffering from any significant symptoms at the time (besides a bit of numbness and tingling) we decided on a back, shoulder and neck massage that would hopefully ease some of my (constantly high) stress levels.
Now for the moment I'd been most unsure about – getting undressed. Graham was completely professional and matter of fact about it. He'd laid out sheets of tissue on the bed, and gave me a towel to cover myself, then stepped outside. He also mentioned I could leave my bra on. I decided to take it off so I wasn't worried about it getting caught or oil getting on it.
The bed even had a hole in it for my face, in a way I'd only seen on TV until now. I was ready to go. Graham checked I was done, then came back in and got started.
The Massage
The treatment lasted about half an hour. I didn't time it, but it definitely felt longer and more thorough than the 20-minute at-desk massages I've had in the past. He started with my lower back, then up into my shoulders, and finished off with my neck. The oil he used was tea-tree, which felt like an appropriate choice for a serious massage sesh.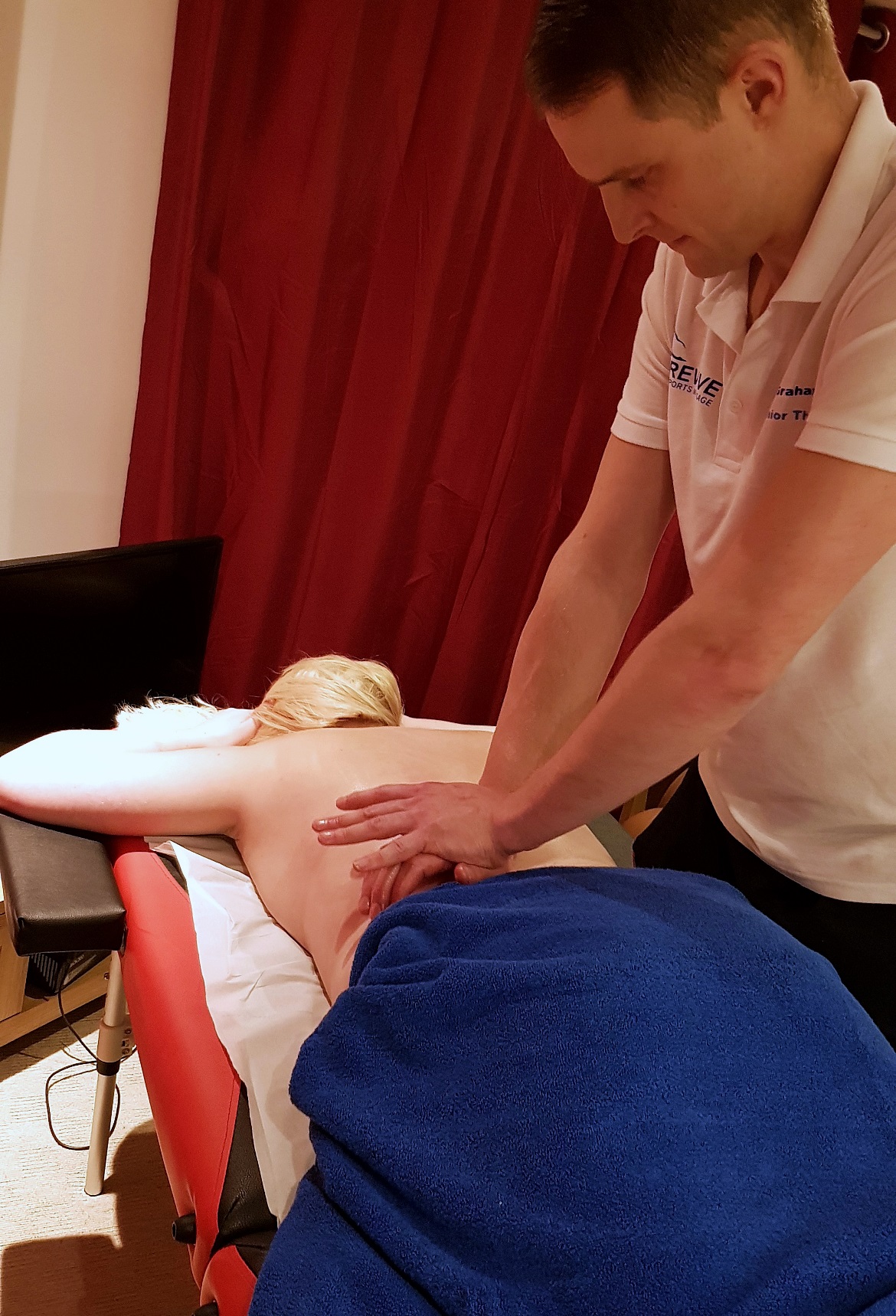 He started off gentle, and at first I thought the rumours about sports massage were wrong. This wouldn't hurt, it would just be a pleasant relaxing experience… But then his knowledge of anatomy came into play. One particular technique he used up my spine was definitely on the limits of my pain tolerance, though when I told him so he eased off. And when he got to my shoulders, he discovered where I keep my stress for safe keeping!
Knots, as I learned as he was kneading them into oblivion, are scar tissue formed by a damaged muscle not healing properly, where the fibres stick together, restricting movement, and causing tension and pain. And I had two massive knots, one on each shoulder. They're apparently most likely to have been caused by my posture or carrying a heavy handbag, though it could have been an injury.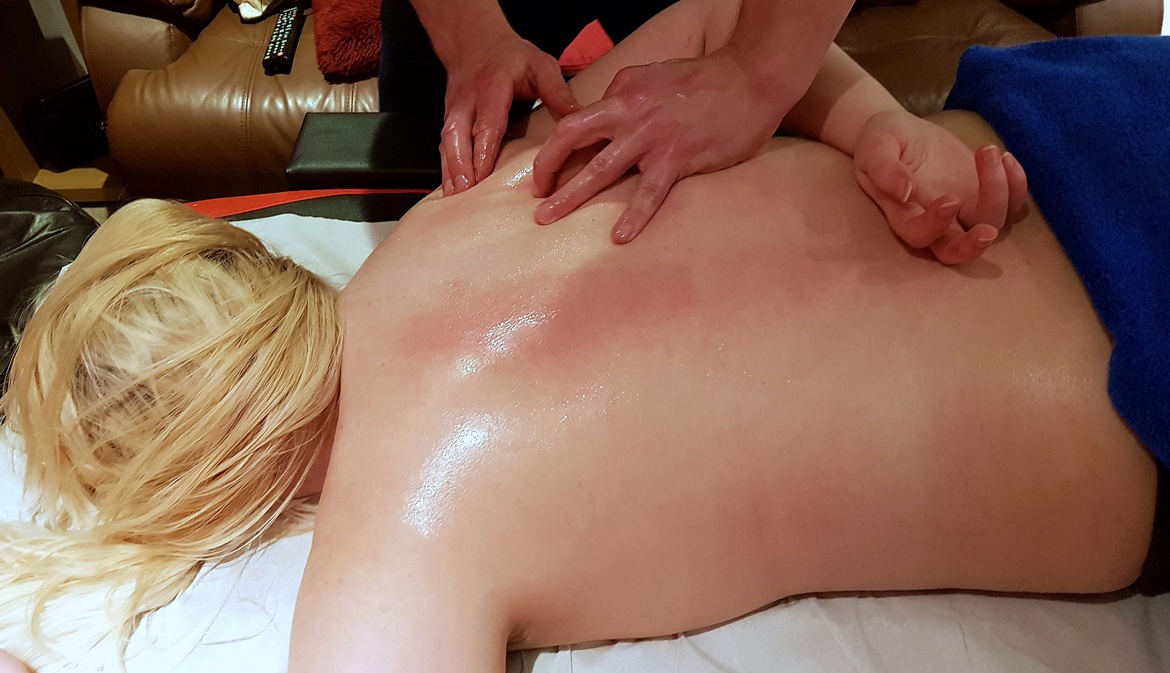 When he started work on the first one, it was pretty painful… but, as he'd said, it was a good kind of pain. I could tell that afterwards, it would be worth it. I gritted my teeth and got through it. I think you can see the redness from it in the photo above!
The final part of the massage was my neck, which was considerably less painful and more relaxing. And then it was over!
Aftermath
The immediate aftermath was bliss, to be honest. I felt like my shoulders had come down from around my ears, where they usually live.
Graham warned me that sports massage tends to hit pretty hard at first, but by two days after the massage you should be left with the glow and none of the pain. I'm not sure that was quite my experience. The following day I wasn't really achy at all, but even now, a week later, I can still feel some of the pressure on the knots in my shoulders. I have no idea whether that's just because Graham made me aware of their existence though…
Overall the experience, while far from a relaxing treat, was fantastic. I felt energised, I felt refreshed, and I felt more aware of my body and where I carry my stress.
Honestly, I never thought I'd come out of the experience loving sports massage. I thought I'd always pick a relaxing option, over one where my back gets a little bit beaten up. But, y'know, I can really see the benefits now I've tried it. And now I know those knots are there, I really want to see what can be done to make them go away (and how I feel if they do!). I don't think I've got an income where I can justify getting a regular massage, but I can definitely see myself booking Graham again in the future as a one-off.
If you're interested in trying it out so we can compare notes, you can book a session with Graham here.
I received my treatment free of charge, but all opinions of the benefits and pains of Sports Massage are my own. Here's my full disclaimer.