I looooooooove escape rooms. I loved the mobile games, and the first time I heard of their existence, when I was down in London, I knew I'd be obsessed.
I've been to a fair few games:
Hatch and Alice in Wonderland at Tick Tock Unlock, Leeds
The Extraordinary Study of Professor Wilbanks at The Guest House, Leeds
Code-X, a pop-up experience at Leeds Dock
221B Baker Street at Escape Peterborough
The Black Diamond at Hour Escape Rooms, Peterborough
Make It To Your Interview, which I designed for my old work
And I'm pleased to say that I have a 100% winning streak.
But I've never blogged about them. It's hard to know where to start. You don't want to give the game away, as it were, so I never really tried.
But then I was invited to try out the newest game to hit Leeds, Our Finest Hour by Escape Hunt, and I knew it was time to bring this to the blog. So expect a lot more escape room content from here on…
Don't worry, it will all be spoiler free. I would never want to ruin these amazing games for people.
Escape Hunt Leeds
Right from when you arrive, you know Escape Hunt are doing things differently. Come in, sit down, have a glass of water, some crisps… they just make you feel so welcome.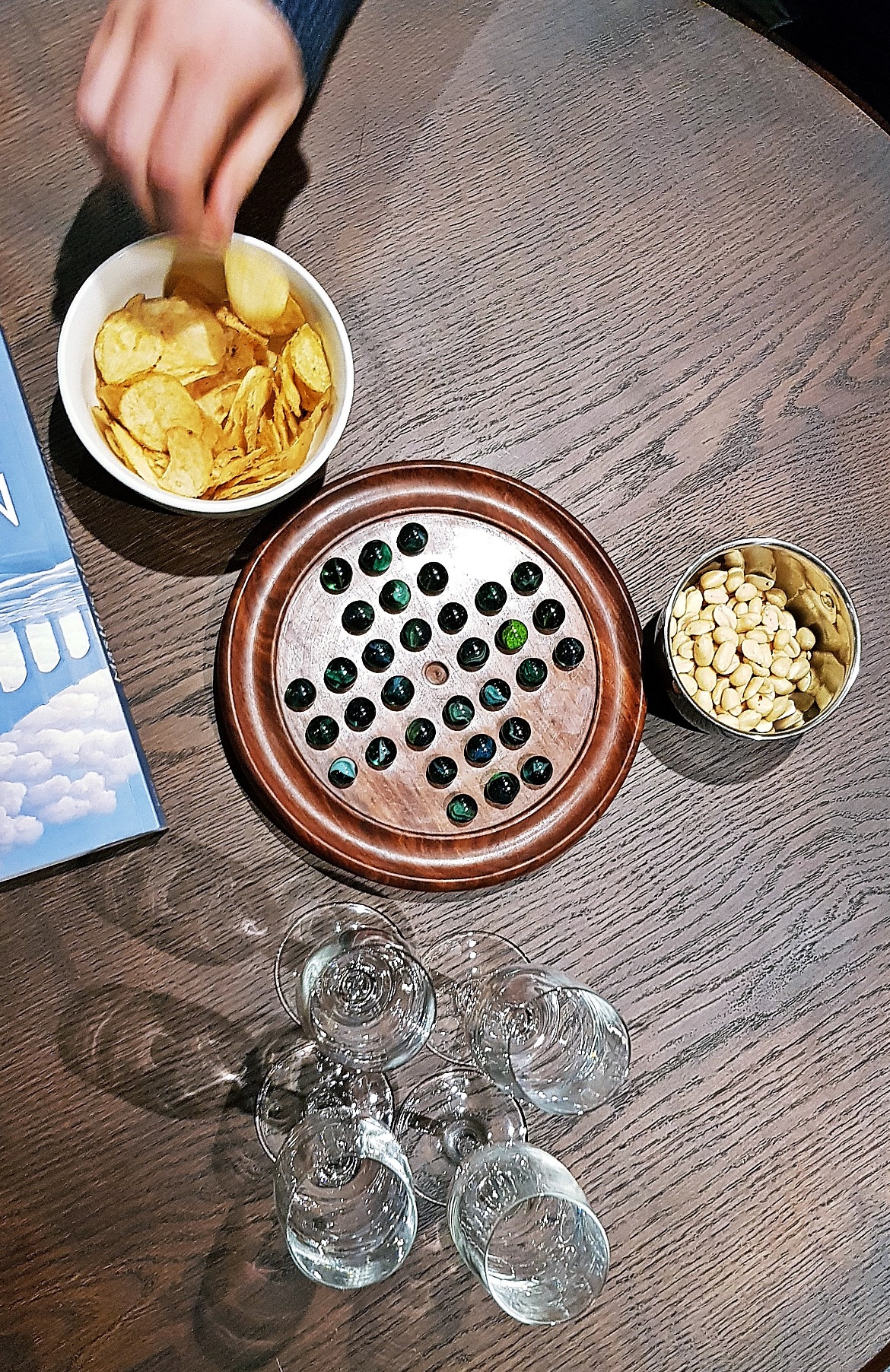 Located on the top floor of The Light, it's clear that no expense has been spared. The foyer is large, with puzzle games scattered about the tables. You could imagine spending a bit of time here, even without the game to do.
Our games master, Noel, gave us the obligatory intro speech, and having written one myself for the game I ran, I knew what to expect. This was a mind puzzle. No climbing, no heavy lifting. The door would be locked, but there was a button we could press if we started getting claustrophobic. For clues, he would be on the other end of the phone.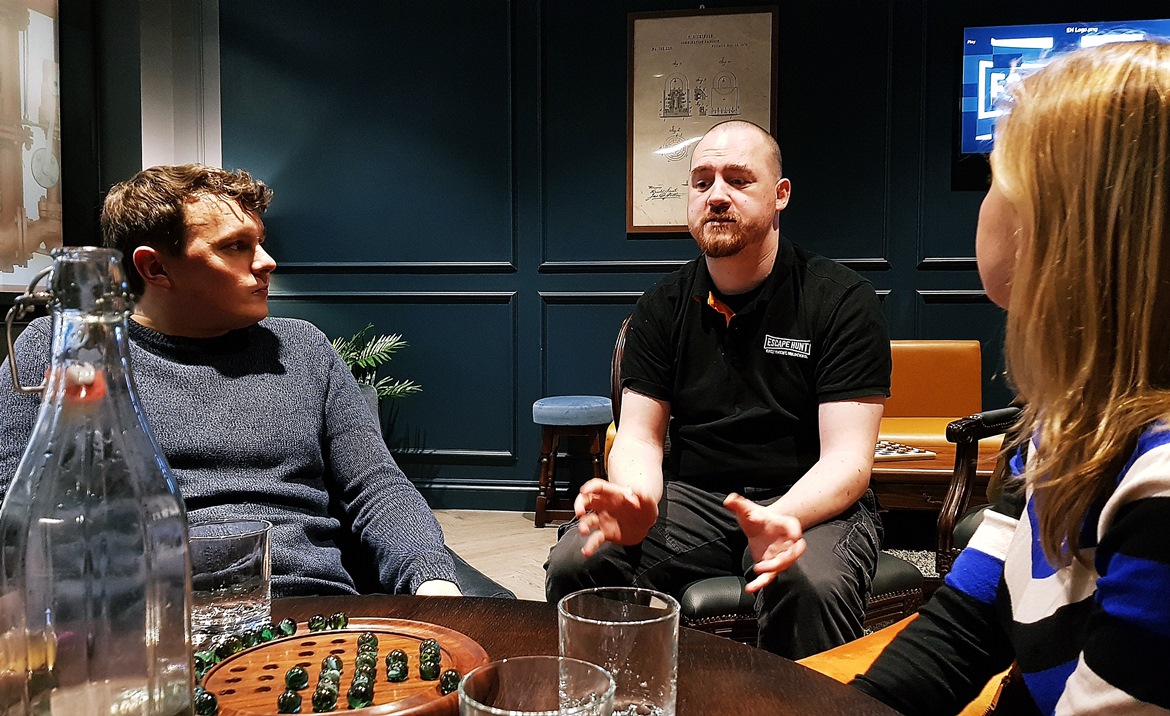 He gave us a few minutes to compose ourselves. Then he took us through to the area we could lock our bags away in. Some rooms let you take all your stuff in (obviously no use of phones during the task), and honestly I prefer them just being locked away. Even better, after the game was over, he reset the room and let me come back in to take some spoiler-free pics.
On the way in, I spotted the top-3 leader board. The fastest time was pretty impressive… but I had confidence in my team.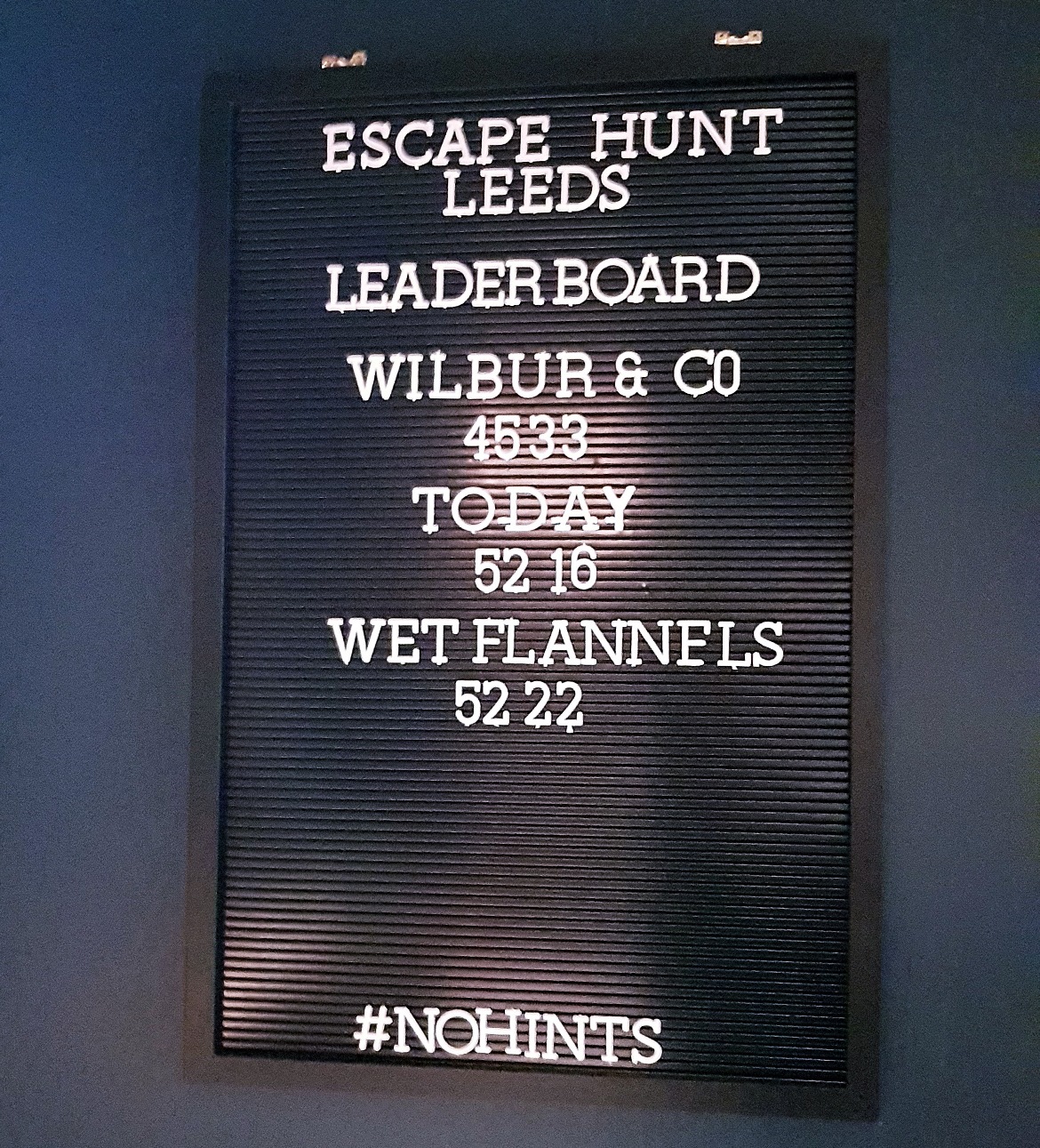 I was voted team leader… mostly by just saying I was team leader… and this meant I was first in line to enter the room. But first things first… the plot.
Our Finest Hour
This is where Escape Hunt really come into their own. It's not just a themed puzzle, it's an immersive experience. Our briefing was given in character, with us lined up against the wall like recruits.
It was 1942, and we were at war. The location of the top secret German base had been found… here in this building. But the weapons were primed and ready to go. In just one hour, London would be devastated by a catastrophic blast. It was up to us to stop them… by whatever means necessary.
Noel pushed the door open, and we were in.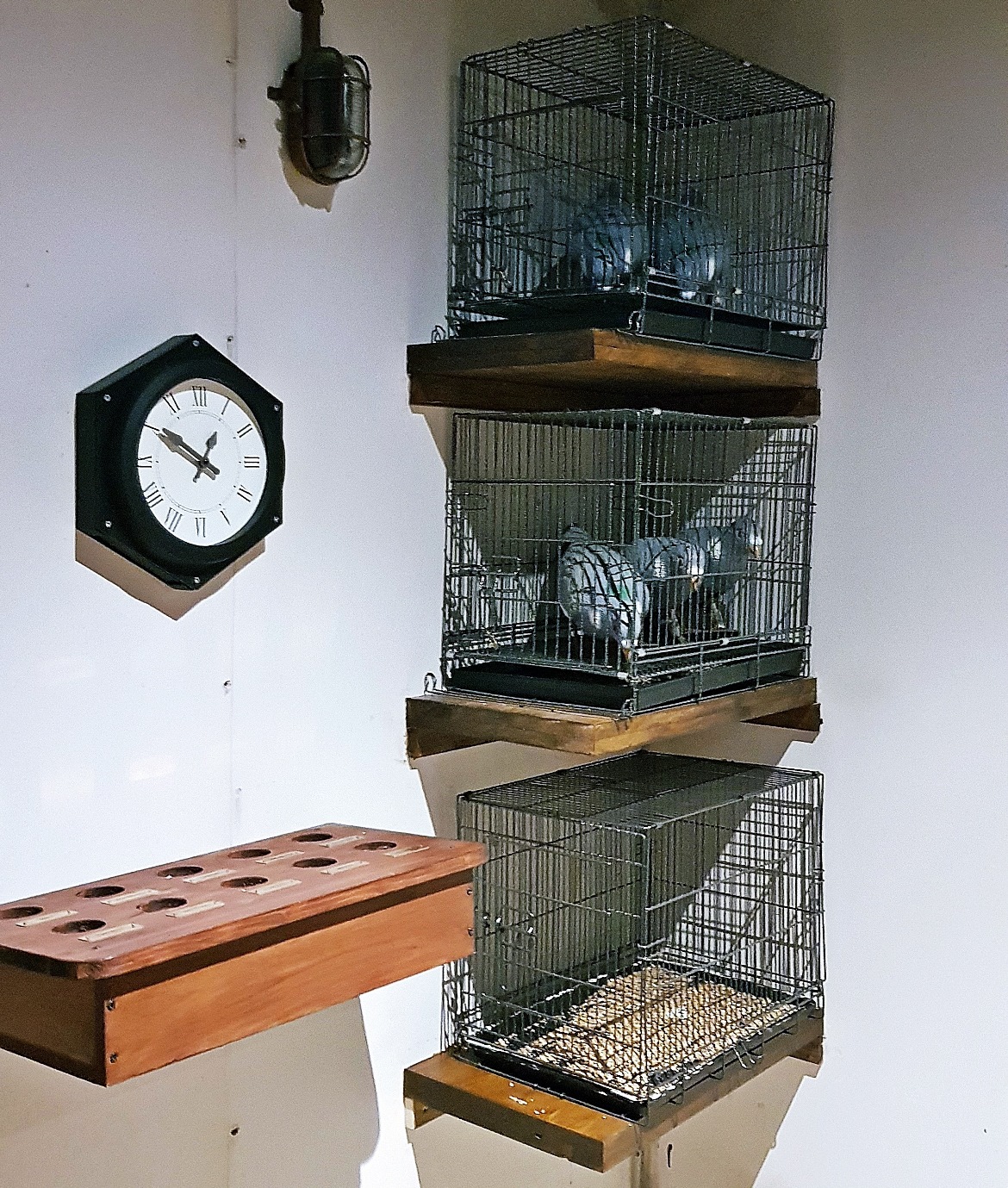 The room was 100% convincing as an army bunker. The pigeons in the corner, the map on the wall. Two locked doors teased at what the future puzzle would hold. We got to work ransacking the room, pulling on drawers, looking under tables, and shouting out to the rest what we found.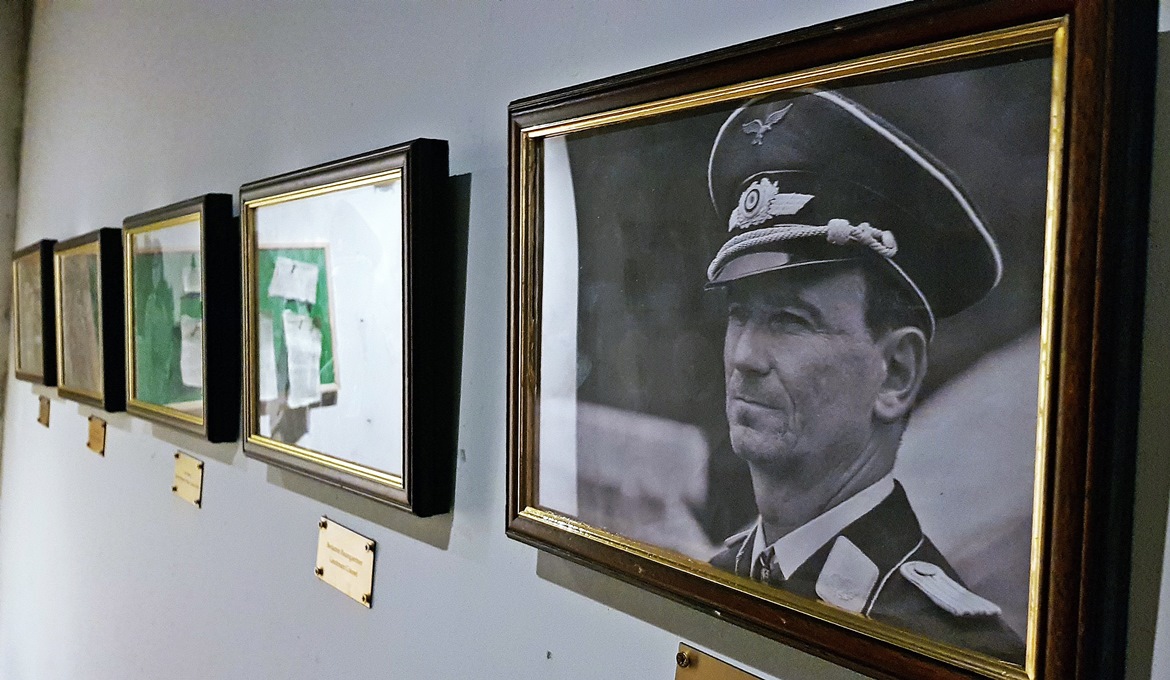 The theming only slightly got in the way of the game. There was no paper and pen, just a blackboard and some chalk, which sufficed. The dim lighting at times was obstructive. Some of the more electrical elements of the puzzle seemed perhaps a little too modern. But generally the theme carried through well.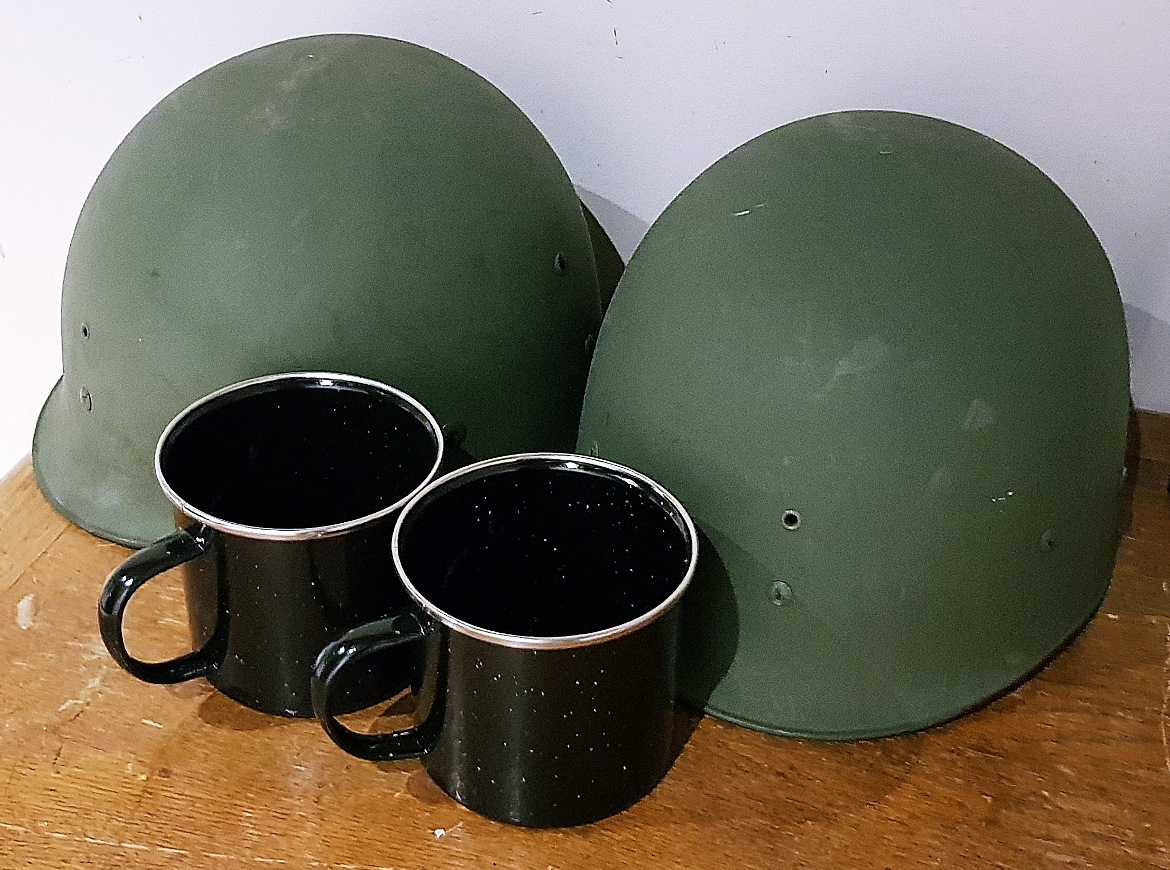 When we used the phone,the GM barked instructions and never broke character. Every single puzzle in the room seemed like logical steps to expect to face when breaking into a German bunker. None of the mechanics broke with the reality that we'd been entered into.
Puzzles
Many escape rooms are a series of combination locks. While they're a pretty obvious fundamental, this game didn't rely overly on them. The variety of puzzles was the best I'd seen at an escape room – there were word puzzles, picture puzzles, padlocks, physical puzzles, detail puzzles, and tons more that I can't share without giving the game away. The plot itself was divergent, with multiple different threads that we could work on at any one point.
Right from the start it was clear they'd invested in several bits of automation, which is always a good sign in my book. Rather than entering code after code, your input methods were varied and the outcomes were varied too.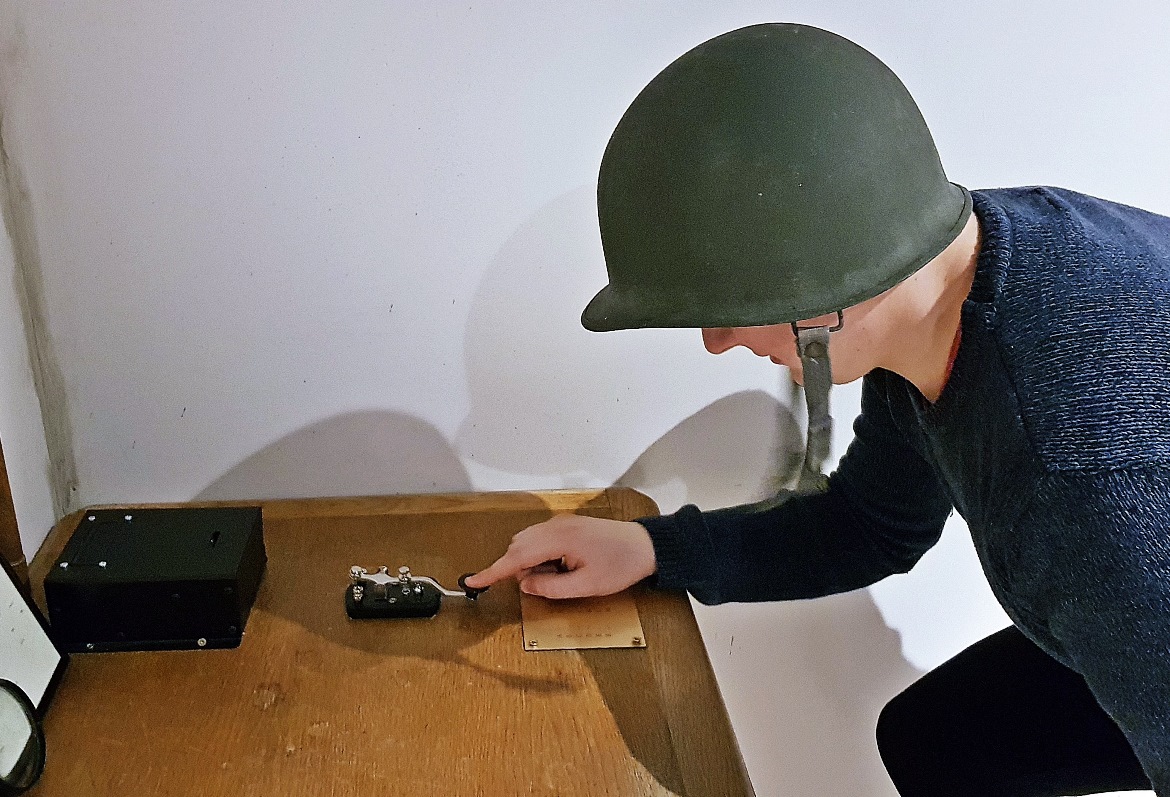 There was one puzzle in particular that was my favourite (think WW2 and you might guess what it is). I'm proud to say that I was the one that took the lead on cracking it. It was one of those real wow moments when we first saw it, and the scale of being able to crack it seemed a little ludicrous at some points… but hard thinking and teamwork got us there in the end. This part of the puzzle was also fantastic as we needed every single person in our four-man team to get the solution out. I think you could have managed it with three, but two would have been a push.
A couple of the puzzles were a little frustrating, in that you had to do them in a very precise way in order to get them to work. This stumped us at least three times, when we'd completed a puzzle but the connection between pieces hadn't been quite tight enough to reveal the completed step.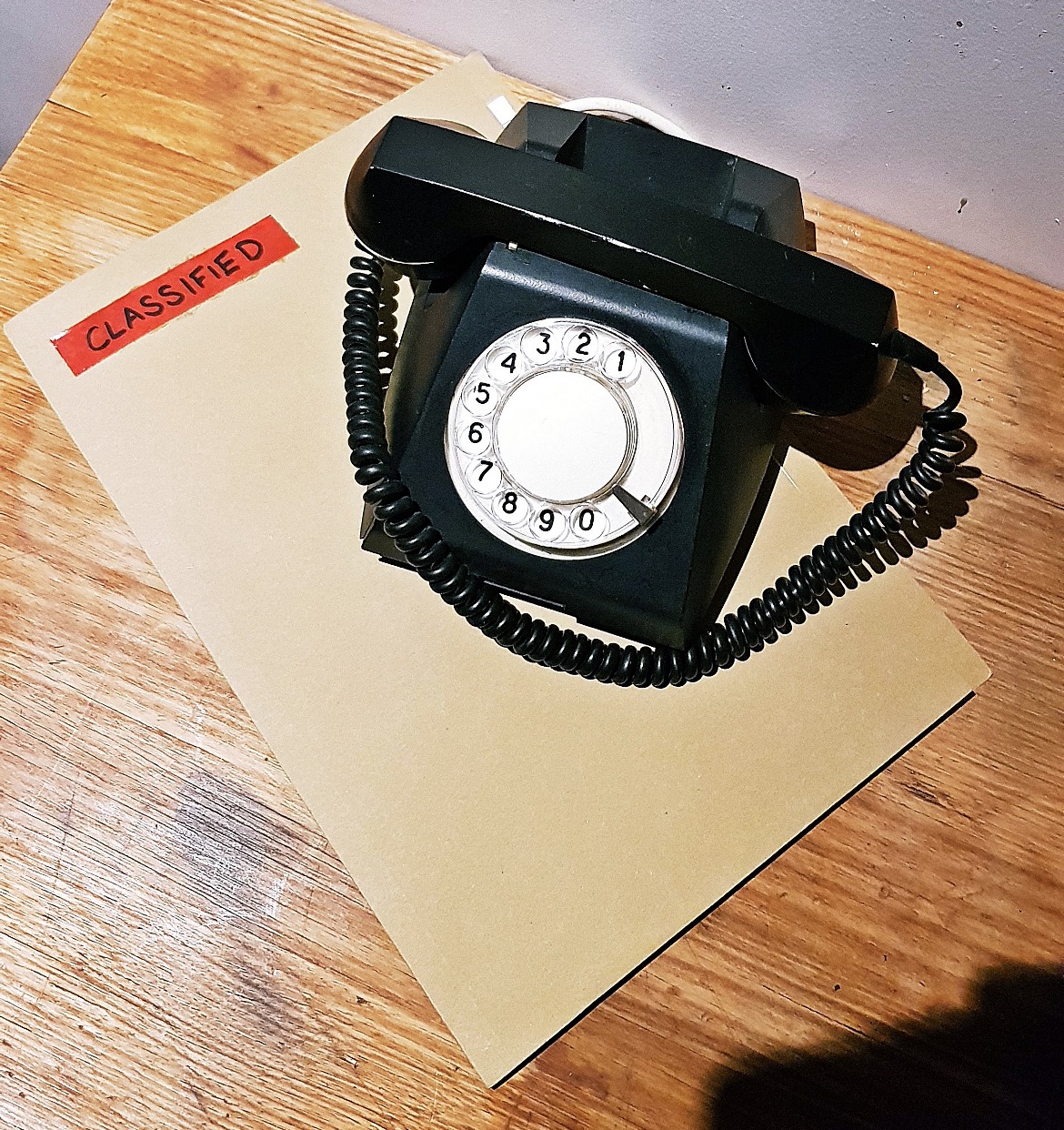 A few puzzles unlocked parts of the room that weren't directly obvious when you did them correctly. This meant we wasted a bit of time feeling around the place to see if what we'd just done had managed anything. If anything this kind of added to the mood though, as once we completed a task we'd fan out for a proper look. It meant we constantly felt like we were discovering new things and pieces of the puzzle.
The Crack Escape Squad
Our team, by the way, was comprised of myself, Tim, Ellie and Callum. We'd done a couple of games previously, and found we made a good mix of players with different strengths.
Throughout the puzzle, it was quite common that we'd split up. It was usually me with Ellie and Tim with Callum, working on different parts of the room. At one point the boys had actually managed to get into one of the rooms without me and Ellie actually realising, and we took a moment to regroup before focusing on the particularly tough part of the puzzle that we had been tackling without them.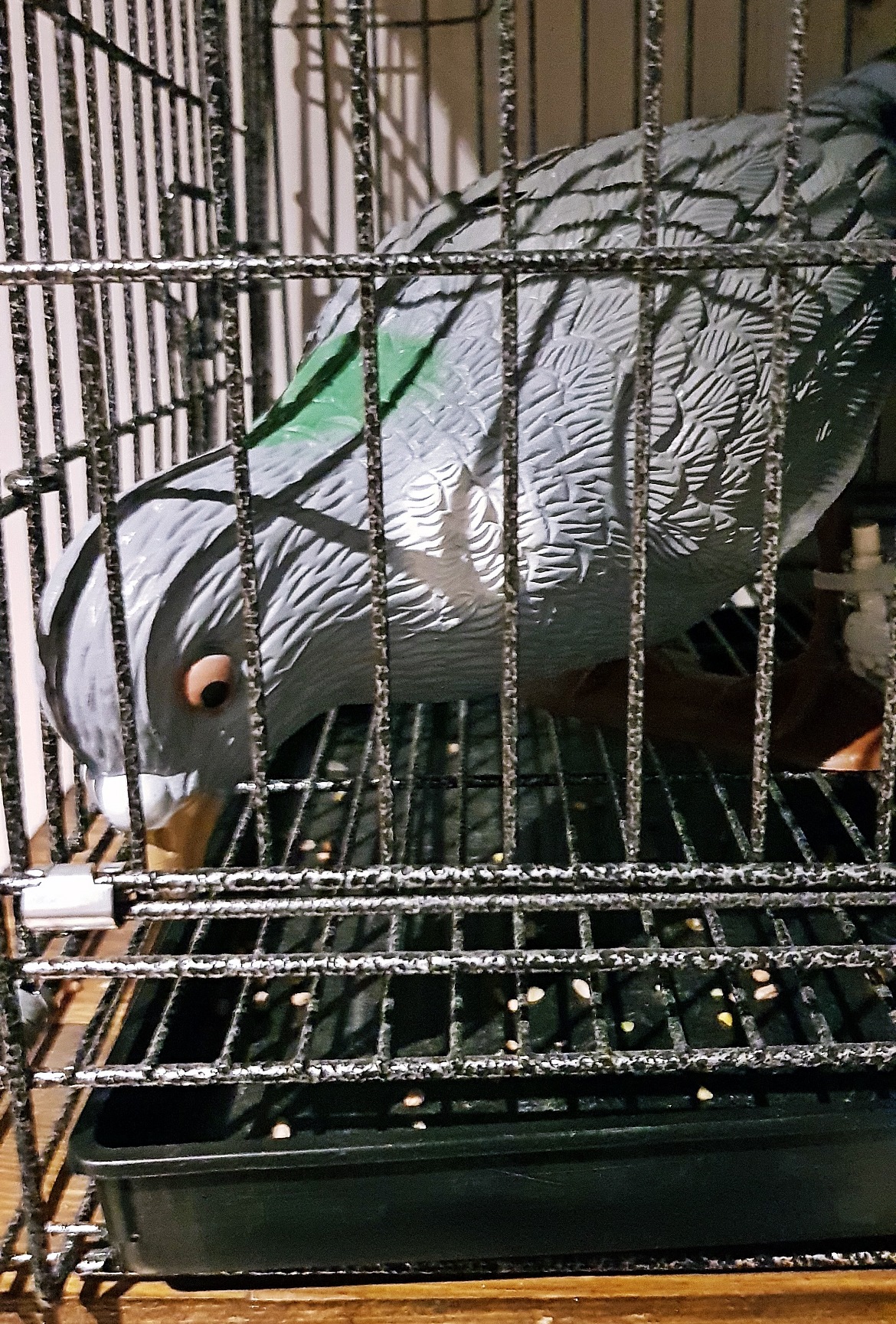 We used the emergency phone four times. The first was when Callum managed to break part of one puzzle (he also almost dismantled a drawer that he didn't need to, meaning he was definitely the liability in the room). The second time, I called for a time check just before the thirty minute mark. The third was when part of the puzzle didn't seem to be giving us an answer that made sense, and finally the fourth was our only actual clue of the game, and just down to us not looking at all our available kit properly.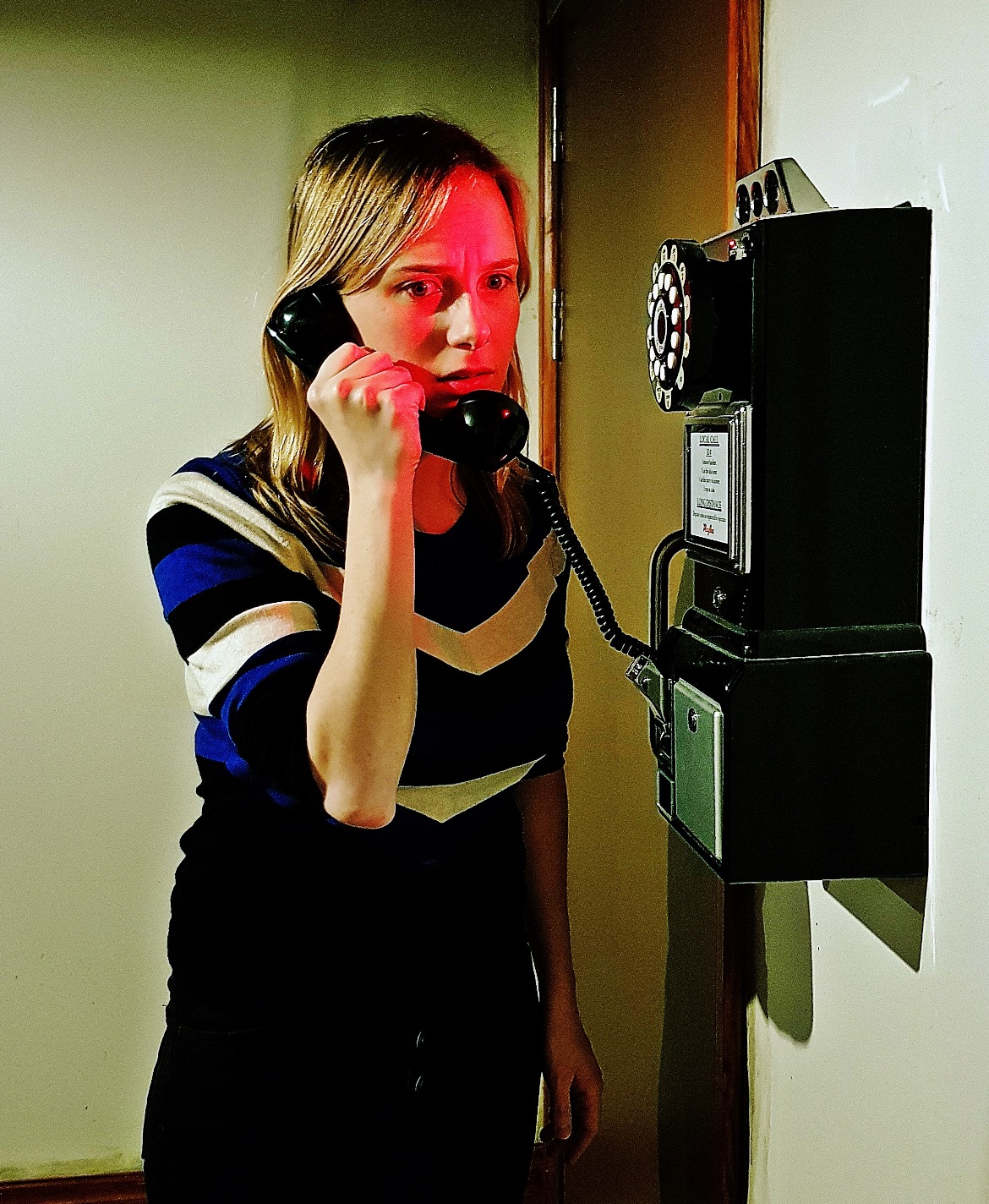 One of the challenges that I think escape rooms have is keeping the pressure on even if you've got plenty of time left, and the final moments in the room had been terrifyingly intense. I won't say why, but it felt like we had just seconds left to live.
Debrief
As we charged triumphantly out of the room, we were greeted by our very excited Games Master, who seemed just as elated as we were. He then took a bit of time to go back into the room with us and talk us through the various parts of the puzzle – where we'd solved something particularly well, where we got a little stuck, and the highlights from his point of view.
When I designed my own game, I had been thrilled seeing other people try to solve the puzzles, and the different ways they approached the tasks. So to see Noel gleefully talking about how Ellie had got one particular clue in a flash… it was a very familiar feeling. His sheer pride in seeing how we did the puzzle, and the fact that he devoted time to keeping us on our high, meant we didn't even realise we hadn't been told our final time.
And it was… 52 minutes and 14 seconds. We'd beat the daily record, and we felt pretty damn chuffed. We'd beat the Nazis, with time to spare. Even better, we'd made the top three leaderboard…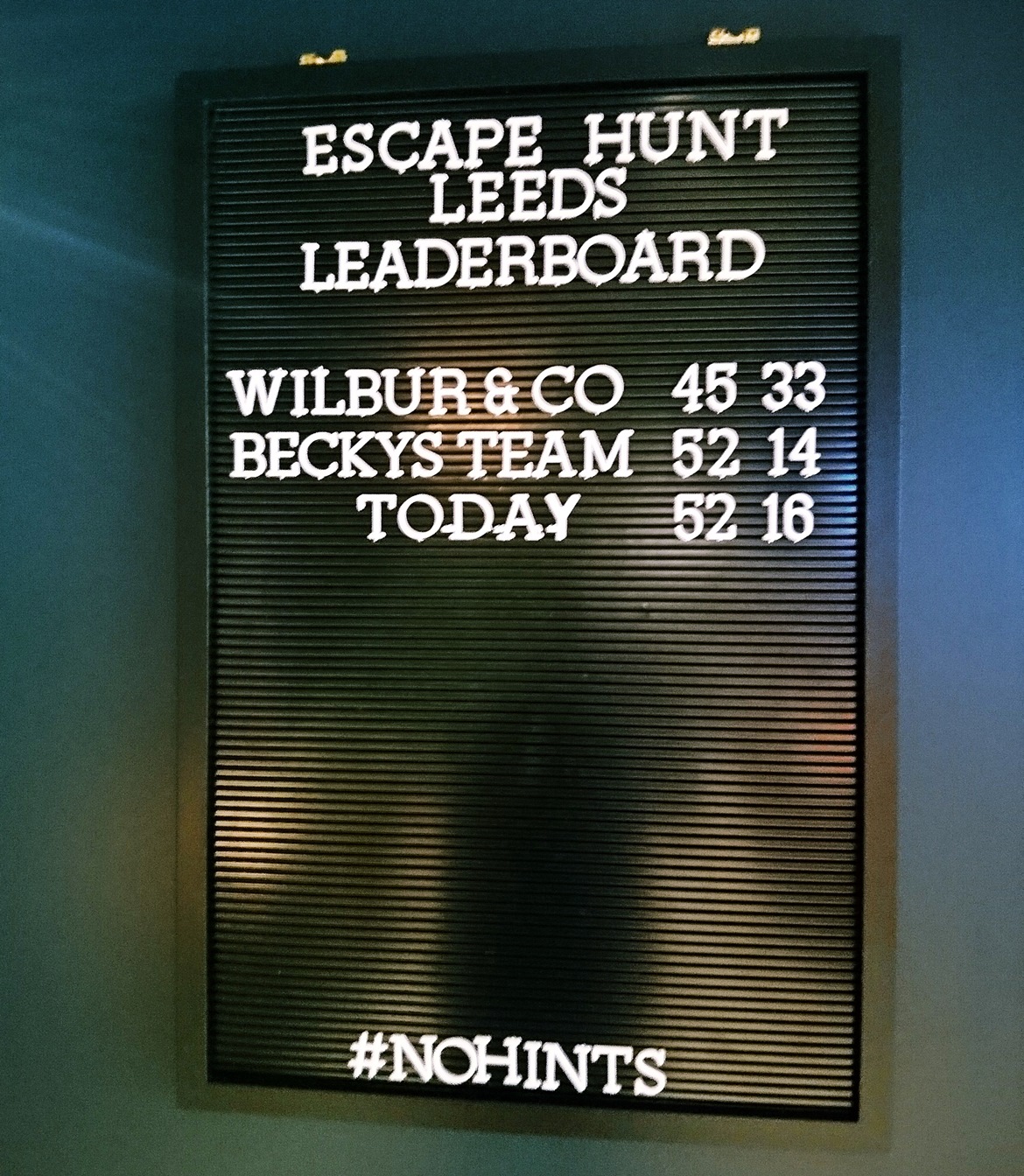 The hospitality at Escape Hunt continued after we got out. Noel popped a bottle of prosecco for us and we toasted to our victory.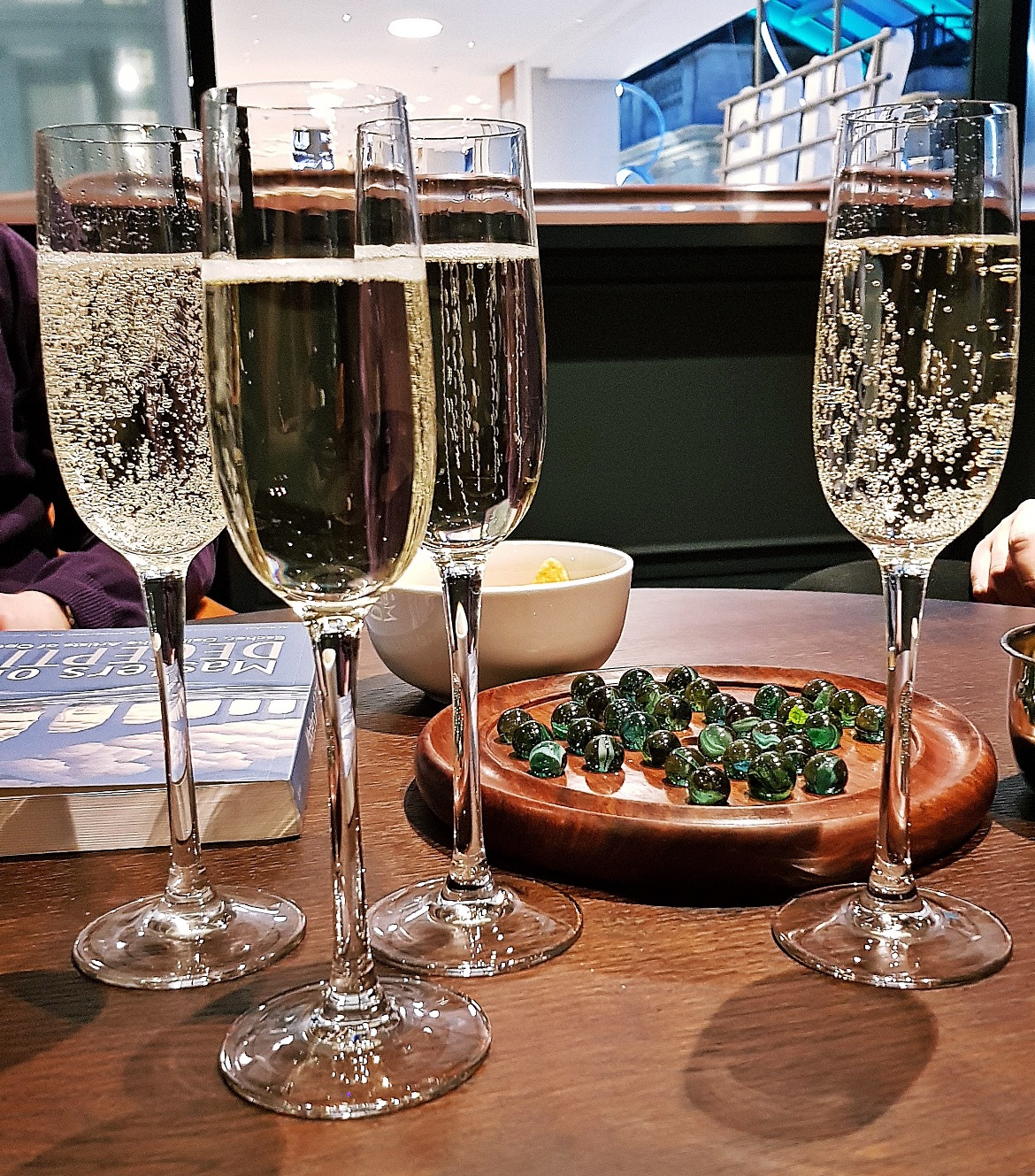 And natch we got the obligatory victory photos.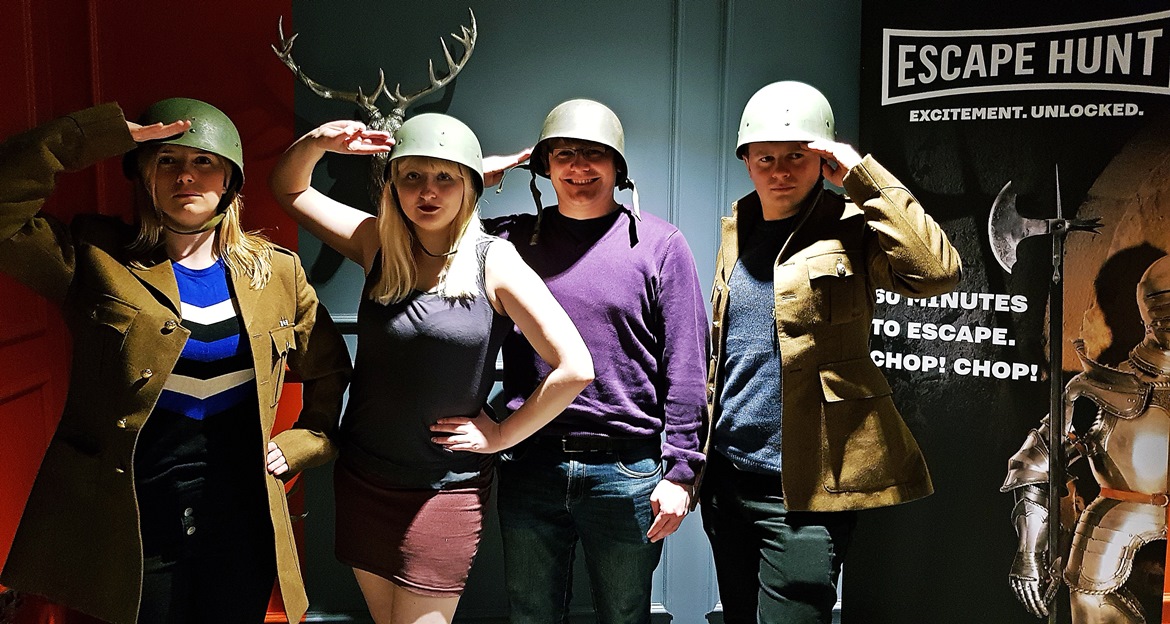 Summary
Overall, this was an outstanding escape room. If you only do one in your life, this might be a contender. If you want to do a lot and are looking for somewhere to start… honestly maybe don't do this one first. I have a feeling it would make any subsequent ones you do a little less engaging.
Escape Hunt are opening their second game in Leeds in a few weeks time, and we're definitely hoping to get the crack escape squad together for a run at that one. I'll report back.
Theme: 5/5 | Puzzles: 4.5/5 | Difficulty: 3.5/5
Clue system: in-character phone
Success: yes, 7:46 remaining
We took part in the escape room free of charge, but all opinions of pigeons and puzzles are my own.  Here's my full disclaimer.