April was the first full month of lockdown. When I decided to restart this recap blog series, I didn't expect so much of it to involve the inside of my flat!
In a way, I'm glad that I'm keeping this record. After this is all over, I think that when looking back on this time it will all blur together. This record will help keep me aware that the time that is passing right now is actually happening and that things actually happened in it.
So what fun and games did I get up to during weeks 3-7 of lockdown? Here we go…
Games I played
It's actually getting quite tough to categorise the games I play. There are board games I'm playing on a computer, roleplay games in the immersive section, and a text-based browser game under video games… but let's plough on and not care too much about labels.
Megagames
April 2020 is the month that online megagames were born! I took part in two this month – Den of Wolves and Draft Night 3077.
This was my second play of John Mizon's famous Den of Wolves megagame, possibly one of the most played megagames in the world, run by Gothenburg Megagames. The full run down of my time as Captain of medical ship The Salvador is documented in both video and text in my megagame report. It was a fun game, and really paved the way for more games in this space.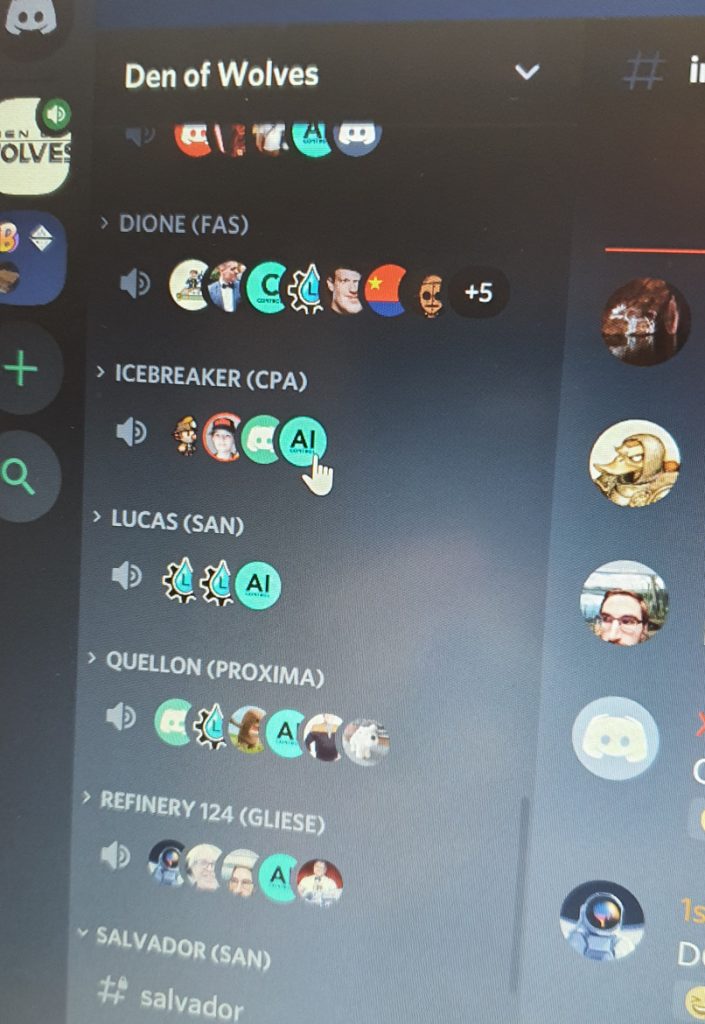 My first online megagame also meant my first even Twitch stream, and I'm currently trying to work out if I can do other cool streaming stuff on the platform.
The second online megagame I played was Draft Night 3077 by the Megagame Coalition. Inspired by the NFL drafts, this game combined a hefty spreadsheet with wheeling-dealing interactions. You can watch my stream from the main event on Saturday here.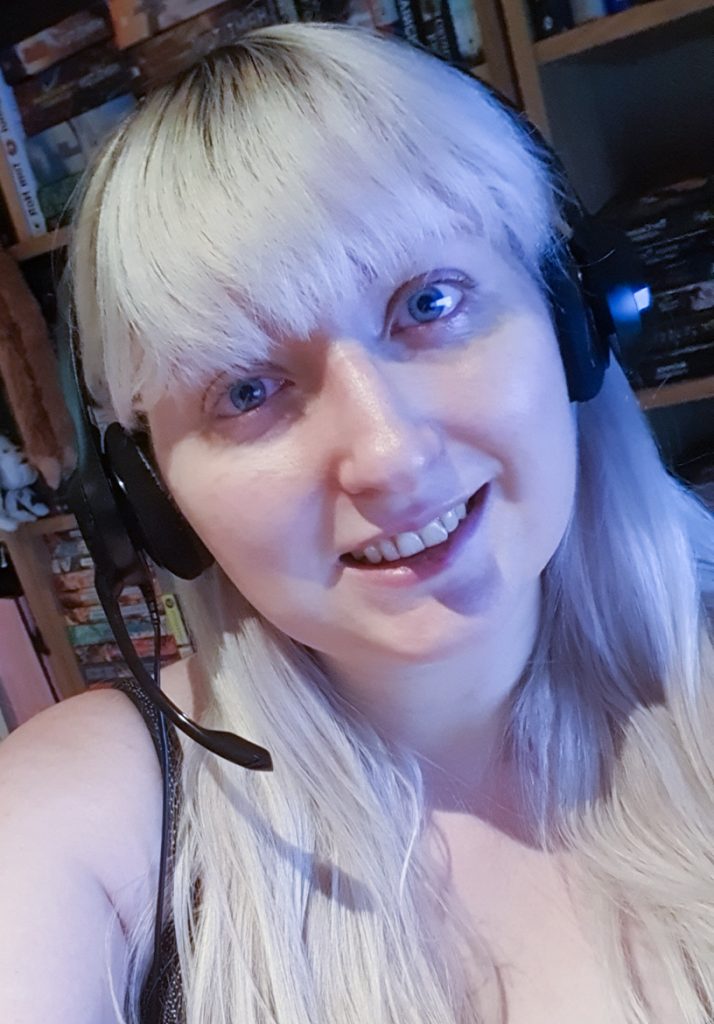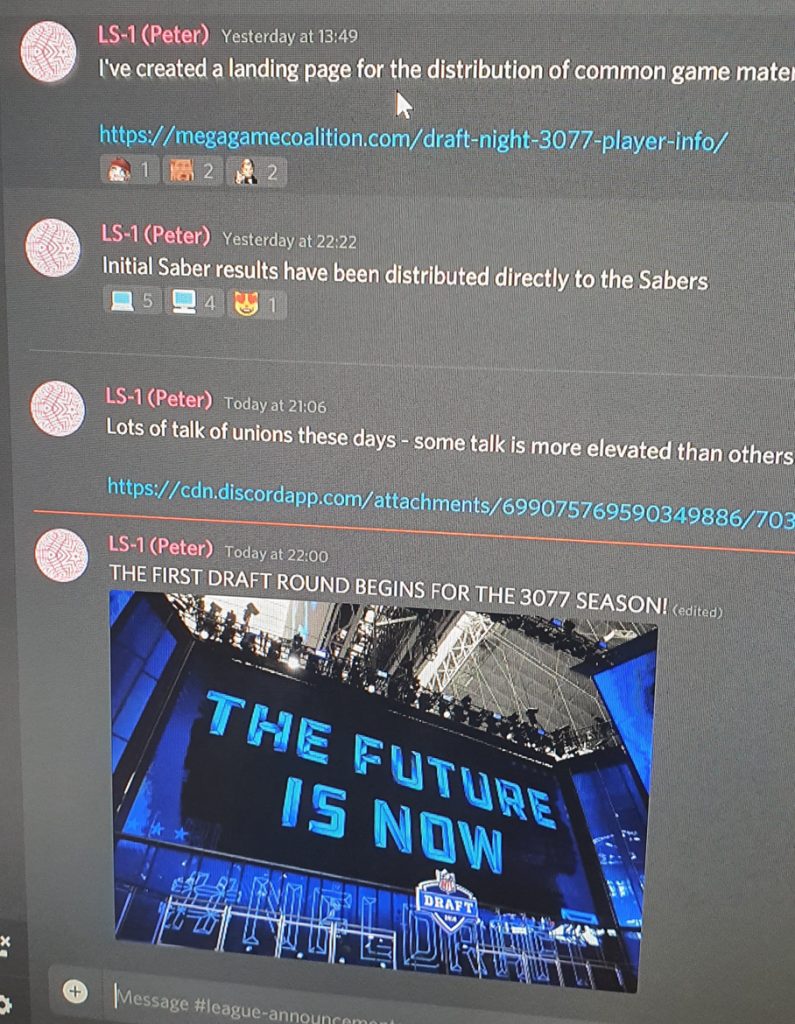 And I've started to think about my own upcoming megagame. Trope High: Class of 2020 is supposed to be run this August. While it's uncertain whether megagame-sized gatherings will be allowed by then, I'm hoping to run the event in some form or another… watch this space.
Board games
I continue to spend a LOT of time boardgaming. Let's get the essentials out of the way. We've continued our run of Pandemic Legacy Season 1 with friends based around the country. We made it to May without a loss but that's when it all went wrong – we got overrun by <SPOILERS> and have to replay the month. We have managed to eradicate the disease we named Covid-19 multiple times, however!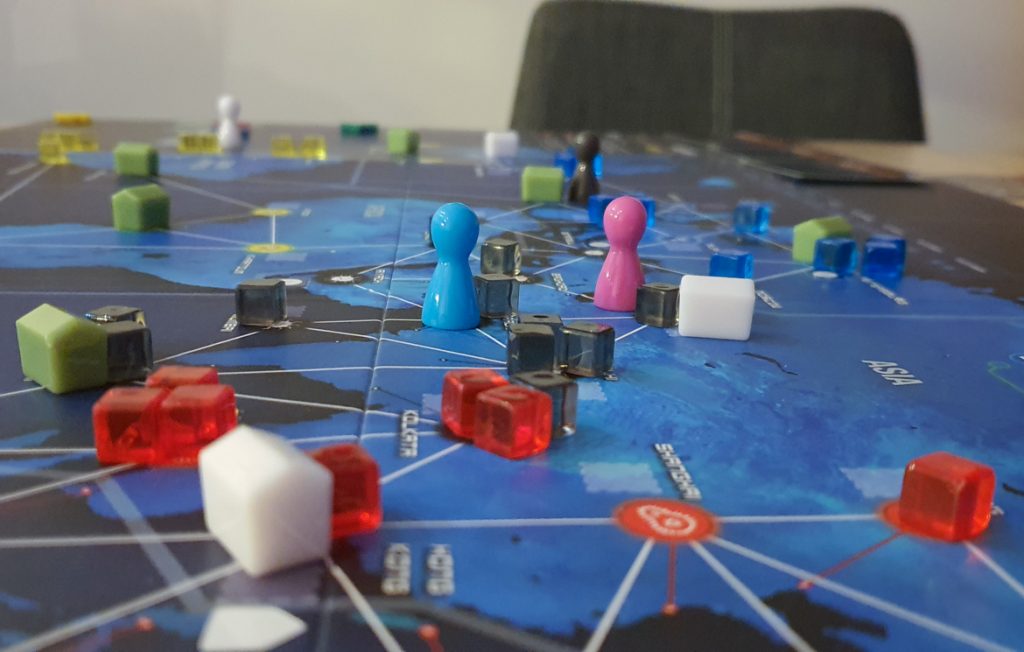 We have also continued to play a fair amount of Arkham Horror, finishing off our run of The Path to Carcosa with our friend Ben and starting a new run of Return to the Night of the Zealot with Ellie and Callum. I mean… is it still a board game if you're playing it on Tabletop Simulator? Let's go with yes.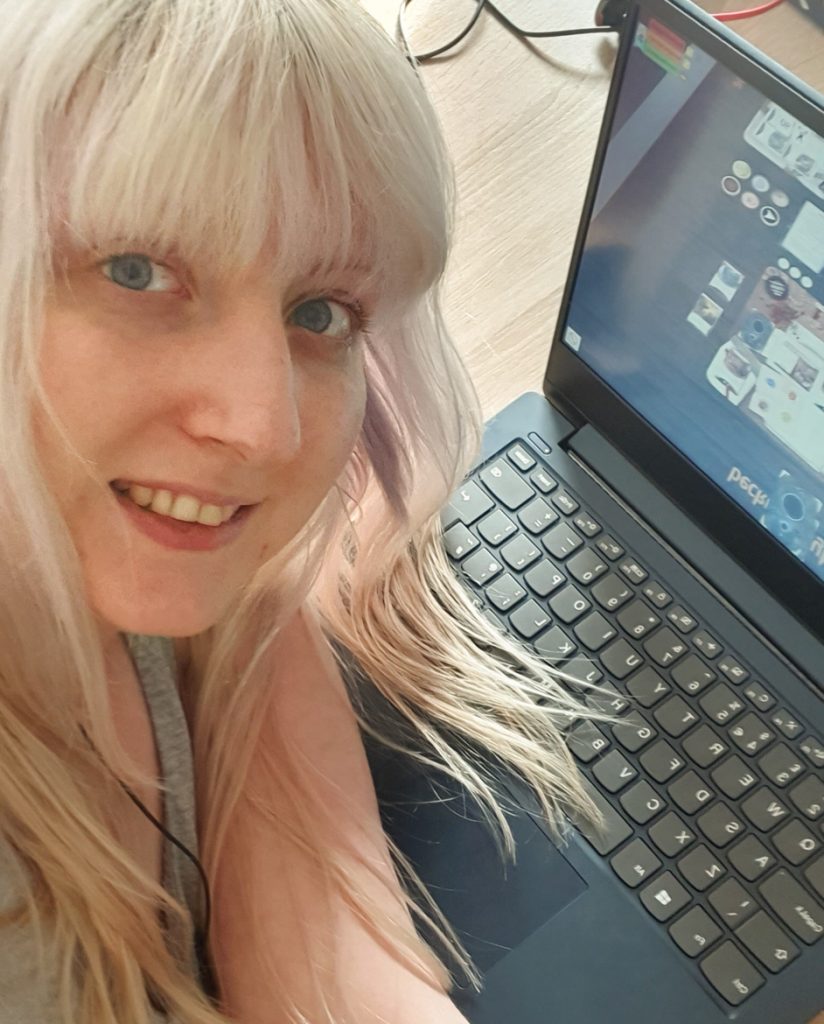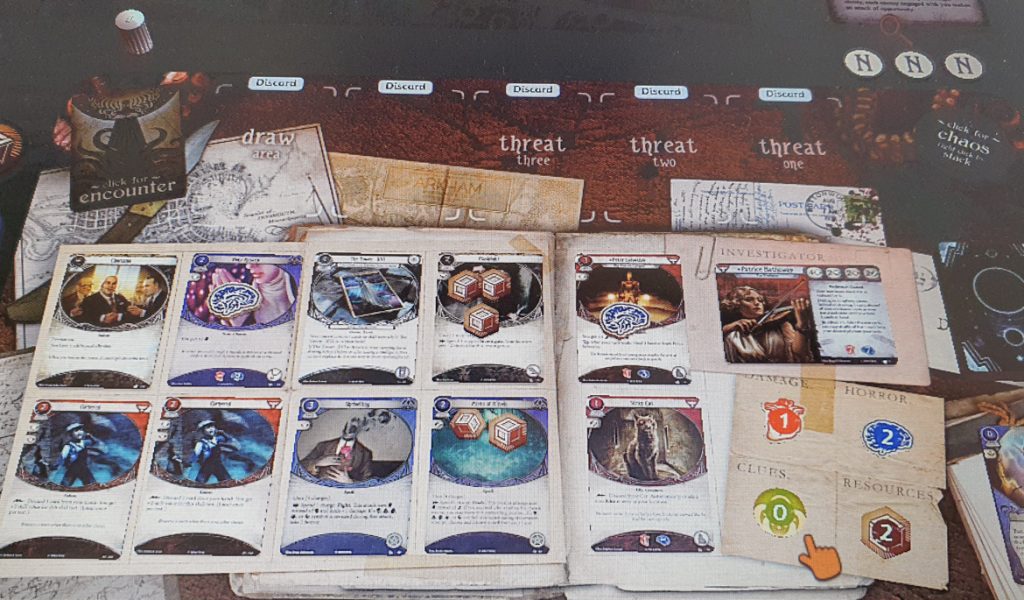 And is it still a board game if it's a full on video game version of a board game? Let's go with yes again. I had a go at the Steam version of cooperative mystery game Mysterium, which we have a physical copy of. It's actually a pretty good way to play it, if a bit less atmospheric.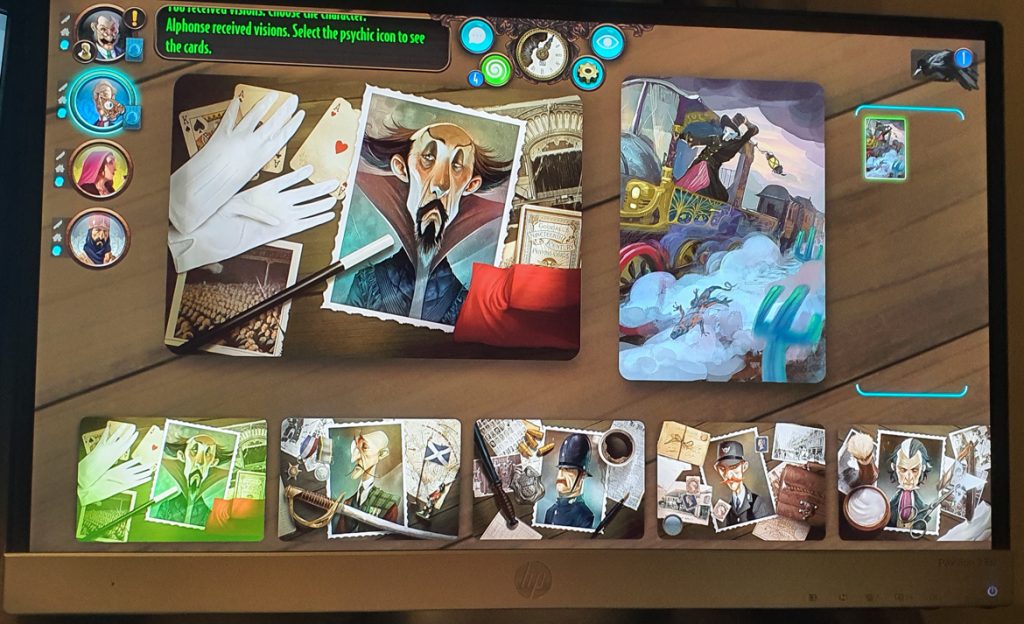 We also finally FINALLY got around to playing the next case in Sherlock Holmes Consulting Detective. We stalled about three cases into the third boxset, and given that the fourth one (which we helped playtest) is currently available for pre-order, it's high time we got on with solving some more mysteries. The Retired Colonel wasn't my favourite case so far, but we did manage to pretty much crack it.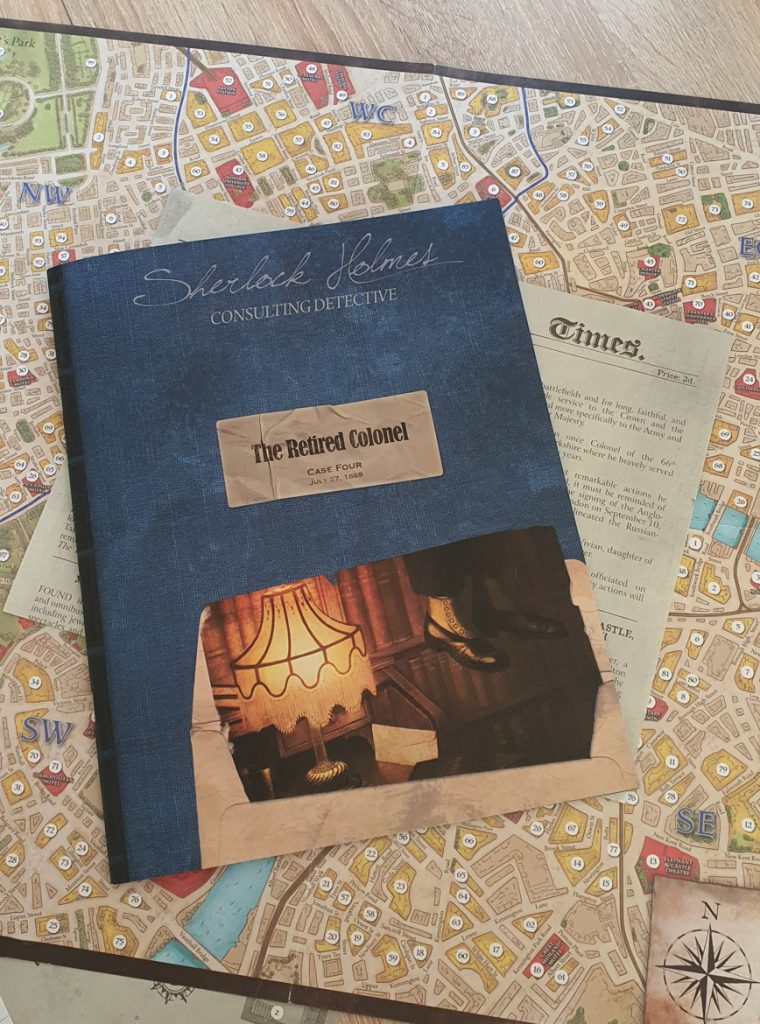 Escape rooms, immersive events and roleplay
No escape rooms as you'd expect, but I did take part in Riptide's Project Intimacy. You might remember Riptide from The Lucky Ones, but this was a more understated affair. Over the course of two weeks I bared my soul to a complete stranger and got to know him/her pretty well in return. Well, except for all the boring stuff like name, gender and where they lived. I actually only discovered their true identity last night on the debrief call with Riptide!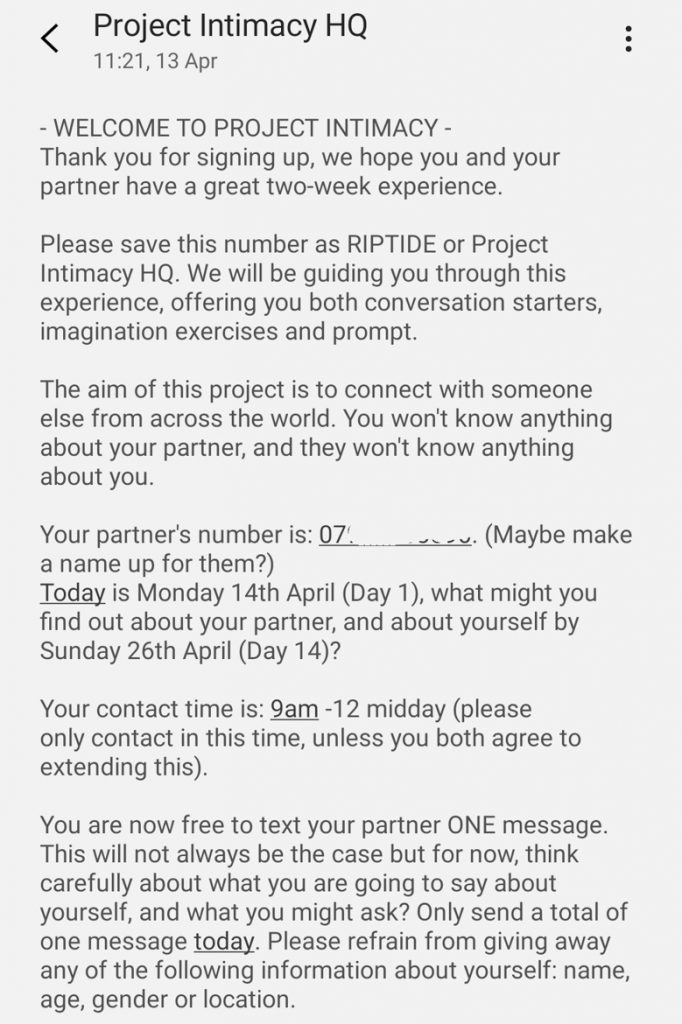 I'm also going to bundle some roleplay into this section.
I tried my hand at D&D for the first time ever, in a one-shot campaign based on the Rat Queens comic. Multiple party members flirted with wolves and I bounced on a bed-dragon. All in all it was pretty successful, and we're hoping to spin it off into a regular thing.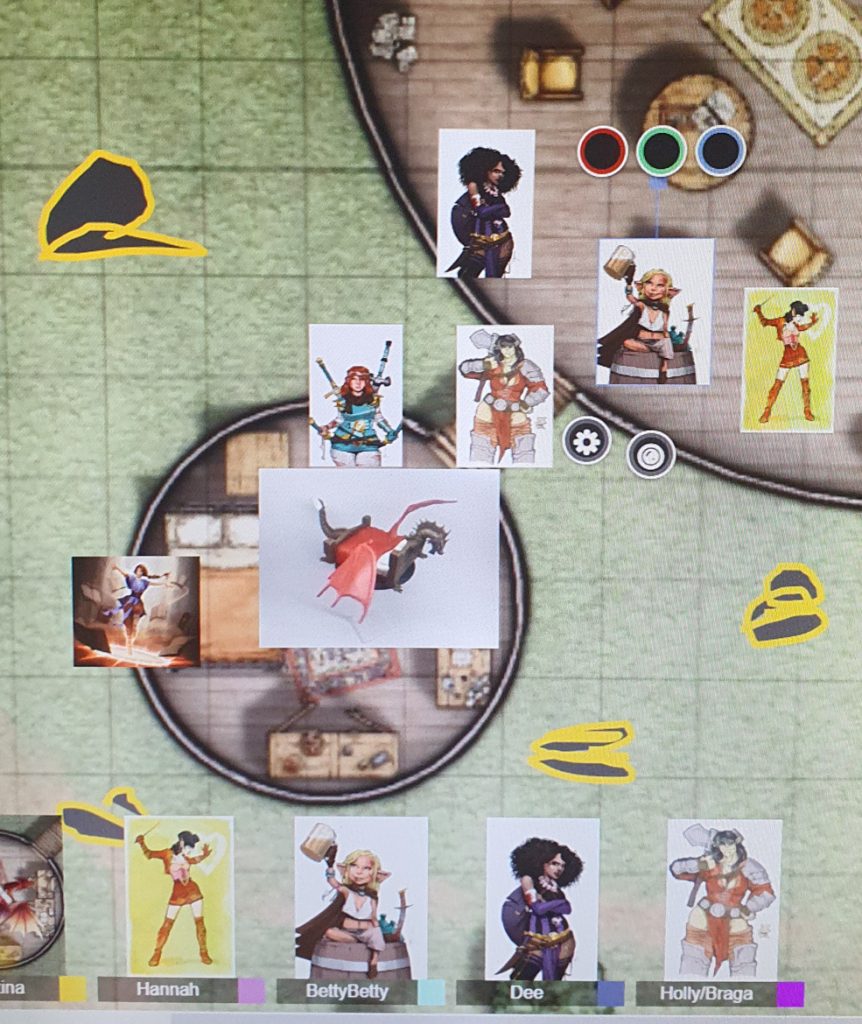 I also took part in an online game of werewolf run by a friend who likes "experimenting". I played in two of his versions over the Christmas period, and this run was even wackier, featuring time travel characters… and mechanics. People died in the past or were brought back to life in the future. Like I said, wacky. I was one of the Baddies (though we renamed our group "MISUNDERSTOOD".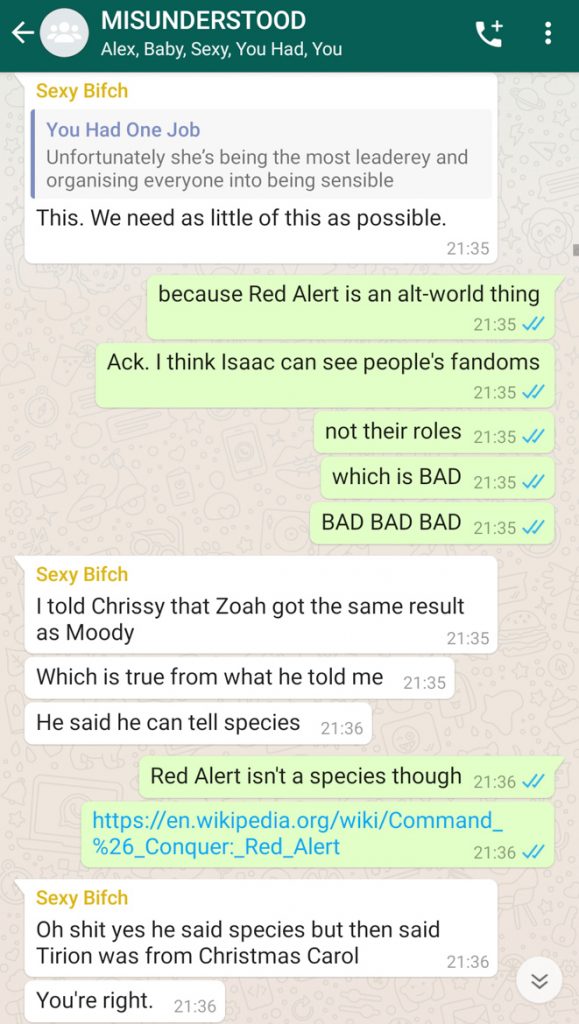 My true identity was as Dr Evil, but I got pretty far pretending to be Jenna Rink from 13 Going On 30. Sadly we lost to the communists in the end (like I said… wacky).
Video games
I've been playing a fair bit of browser-based text roleplay game, Fallen London. I've played it a few times in the past but always dropped off before getting very far. Now I've managed to get my persuasive up to 77 and I'm in cahoots with the Duchess.. for now.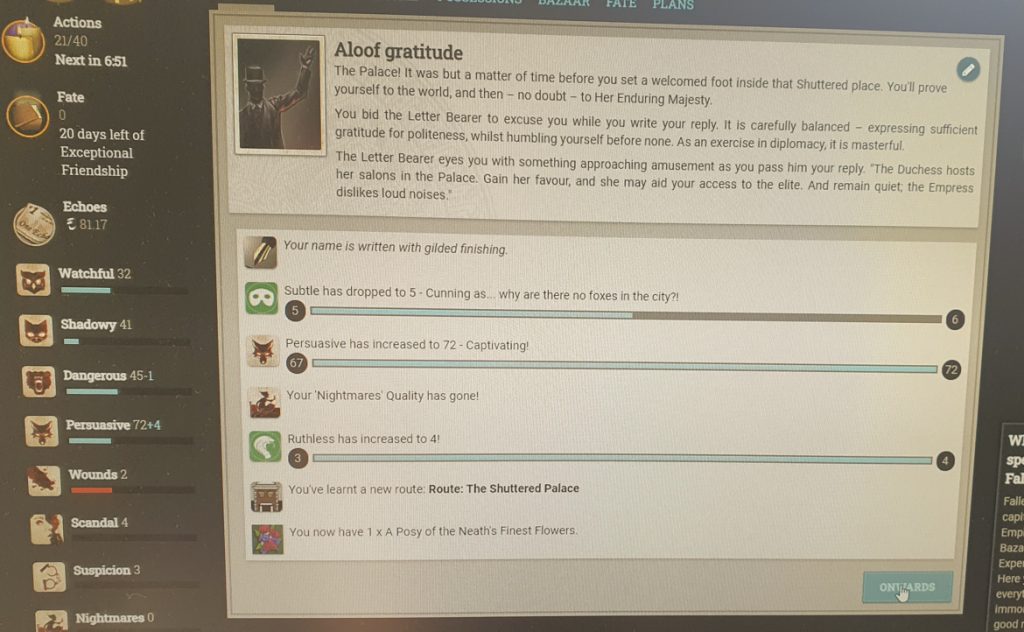 I've been continuing my play of Sims 3, and made the plunge to buy two expansion packs: University Life and Ambitions. I decided that my main character (who is married with a teenage daughter, FYI) fancied studying alongside her job… and ended up packing her bags to send her off to a campus-based university. Clearly working at an online uni has made me forget that to most people, uni means campus!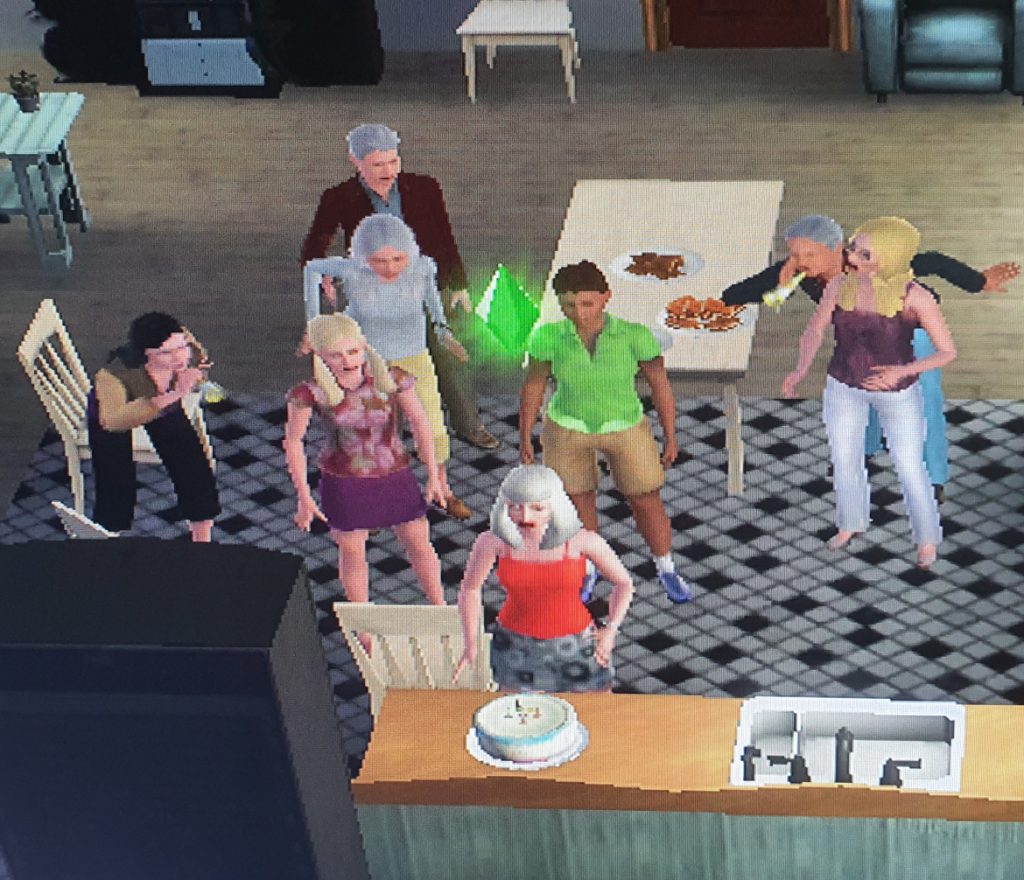 I tried to find a video game that I loved as a child: the Discworld point-and-click adventure games. Sadly, all I came across were audio-less simulators, and honestly the audio was one of the best parts of these games. If anyone knows where I can find a copy with sound, let me know!
I'm not sure if it counts as a video game, but on a hangout I was introduced to Ultimate Noughts and Crosses. Take an ordinary noughts and crosses grid, and then in each of the 9 segments, add a smaller noughts and crosses grid! The game was long and closely-fought, but I was triumphant!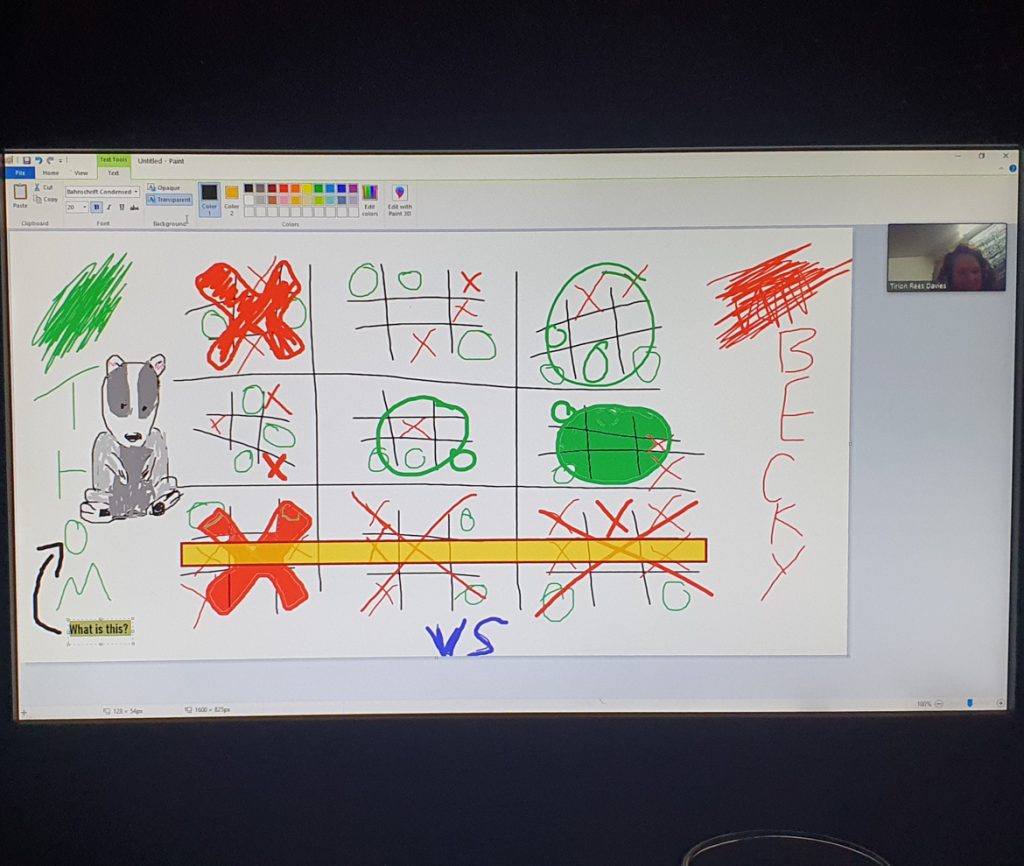 And in terms of the crappy mobile games that are my guilty pleasure, last month I was hooked on colour-by-numbers game Happy Colour, a sudoku game just called Sudoku that includes Giant (16×16) sudokus and The Sims mobile which is… actually pretty awful.
TV shows, films, music, etc
Inspired by playing in the Den of Wolves online megagame, we have watched the first two seasons of Battlestar Galatica through Amazon Prime Video. We are HOOKED.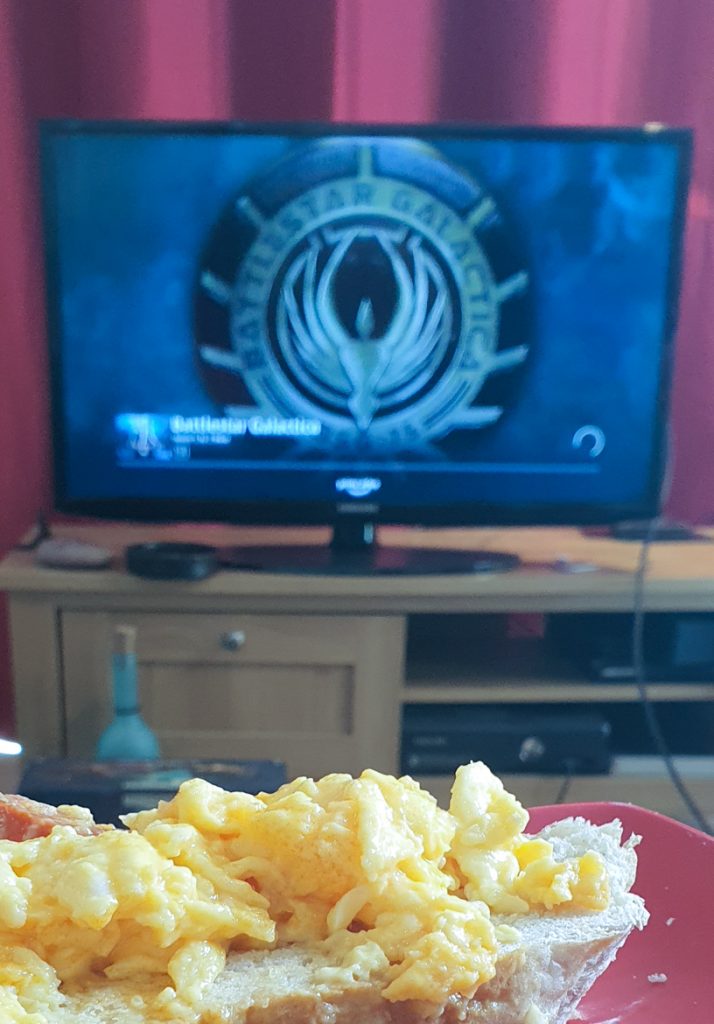 I've also watched through the entirety of How To Get Away With Murder on Netflix. Tim calls it my "awful show" because to be honest a lot of the plots are pretty grim, but I'm hugely fascinated by it! The format of fast-forwarding and rewinding between the past and future is really engaging for me, as is the idea of figuring out what the hell happened in each of the multi-layered murder scenes.
And since Thursday I binged the entirety of Never Have I Ever, about Indian-American teenager Devi Vishwakumar and her friends. If you like teen dramas, you'll LOVE it.
Quick wedding update
Well. It should be my wedding tomorrow days time. And it's not. It's now one year away today.
This weekend, I have a big pile of brownies, a good supply of prosecco, and a lot of new Arkham Horror LCG scenarios to play, as well as a couple of extra days off work. We've also received some lovely messages and cards from various friends and family, as well as a massive hamper of tasty things from our parents. Honestly, I'm feeling such a huge outpouring of love from people that it's not getting me too down that we're not getting married.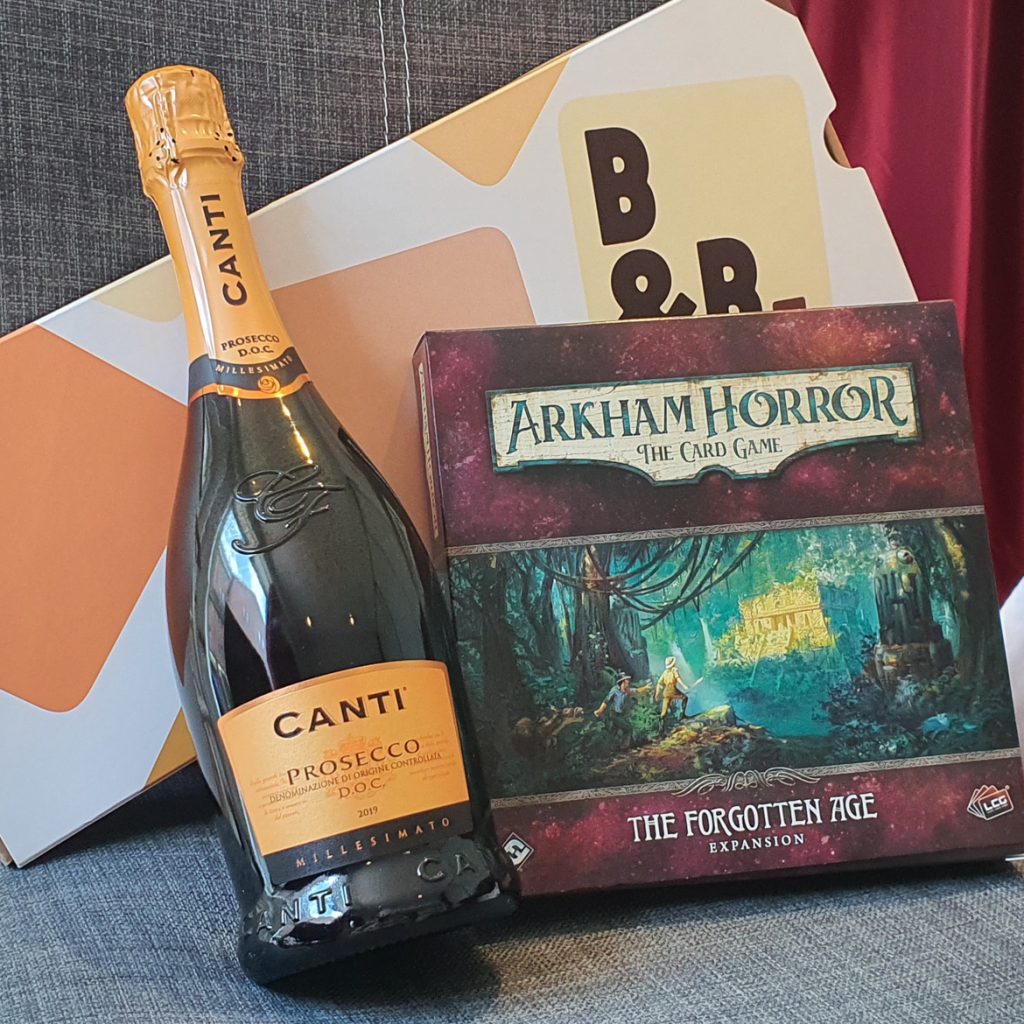 In the mean time, April was when both my hen do and Tim's stag do was scheduled for. Because these were clearly off the agenda, my maid of honour held an e-hen for me (and his best man an e-stag). My e-hen was a fantastic evening of drinks, drinking games and chat with some of the best people I know.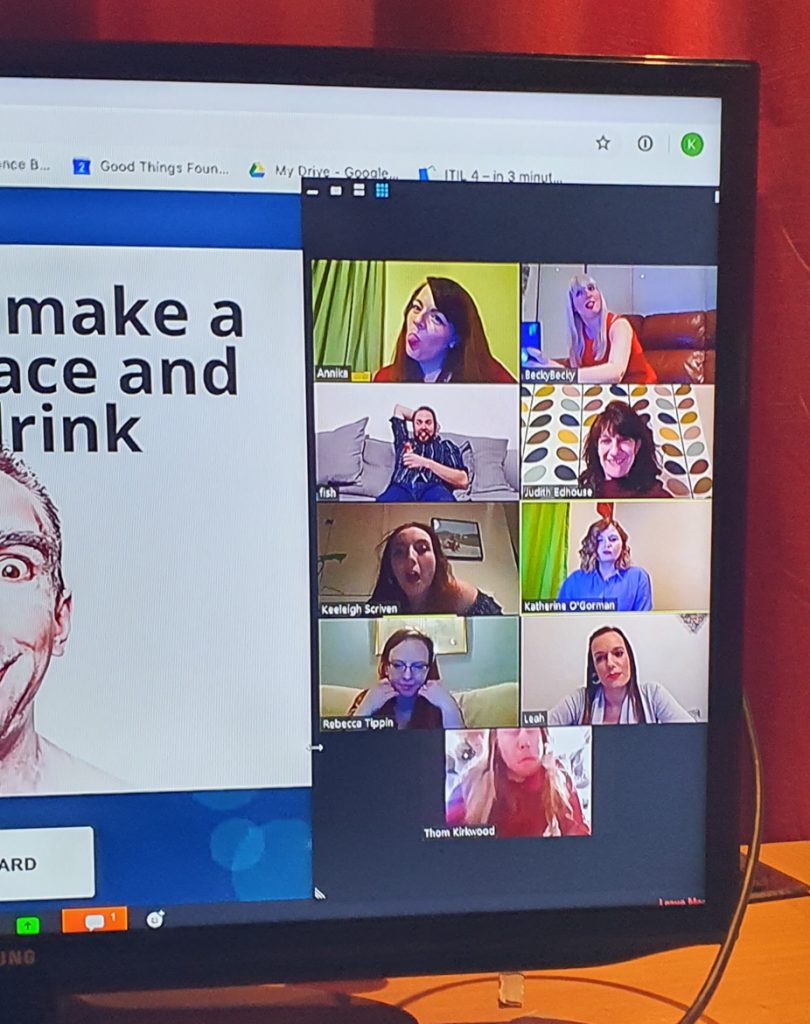 As mentioned last month, we've managed to shift all of our suppliers over to the new date. Because we are planning on doing the legal bit asap (we just really want to be husband and wife, dammit), we are also looking into getting a celebrant for our wedding day. But honestly all plans for next year have been a bit on the back-burner while we've been focusing on how to make this weekend special for us.
Other stuff I'll remember
Lockdown continues to dominate, clearly.
I've got into the rhythm of working from home and am generally really enjoying it. One of my favourite things is mine and Tim's Friday happy hours…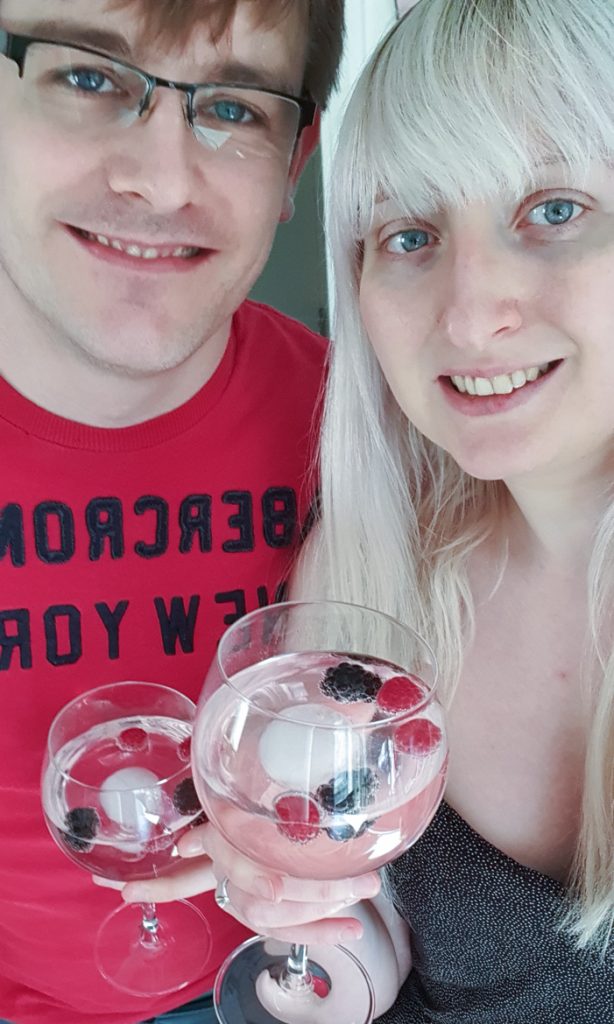 A particular highlight of the month was Easter. Due to panic buying when I finally managed to get onto the Hotel Chocolat website and an Asda delivery, we ended up with 5 Easter eggs between us… none of which lasted long.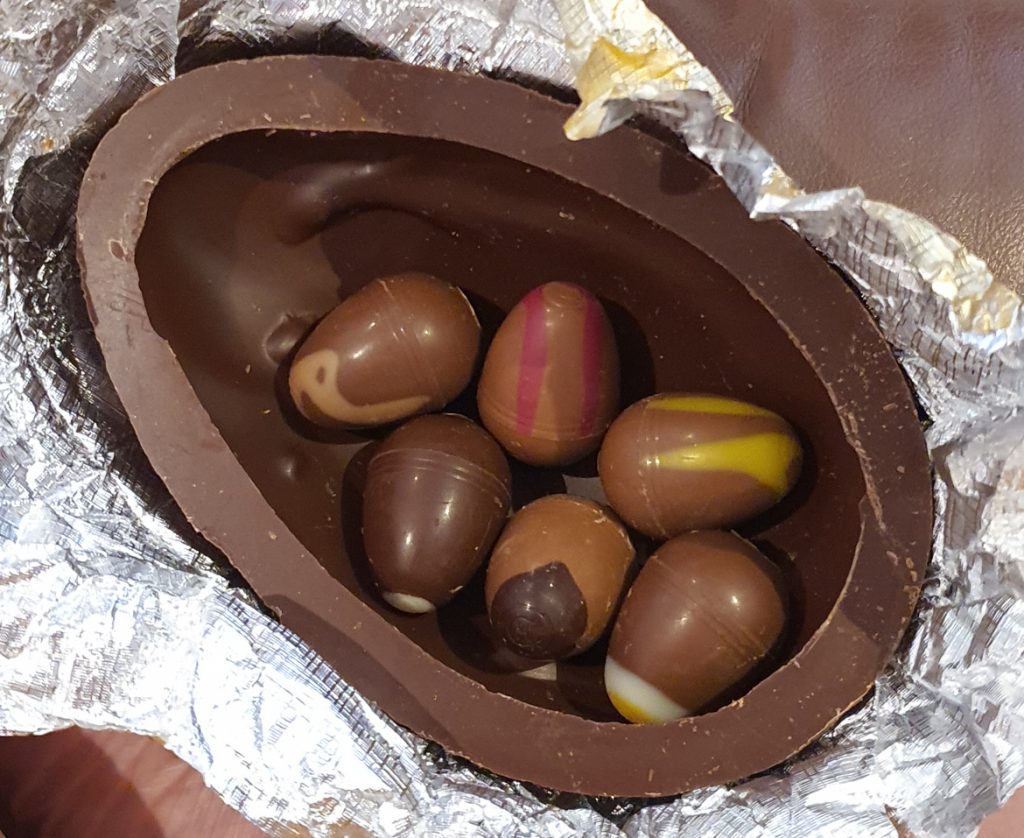 We also managed to get out of the house for the first time since lockdown started. Since it's hard to go anywhere quiet from our city centre flat, we drove out to Tim's parents and safely socially distanced in their garden. We're trying to keep our trips out of the house to a minimum, but I reckon that once every three-four weeks isn't unreasonable, given that we're in a 2-bed flat without a balcony…
Blog stuff
Despite originally promising to blog every day or every other day during April… I did not do that. I did manage to keep up some regular posting, but I don't think that forcing myself to produce content on a daily basis is going to make for a happy me or a good blog!
I did have some exciting experiences this month. Firstly, my megagame report about Den of Wolves was mentioned in the Shut Up & Sit Down "Games News", which definitely made my day. It's good to know that the gang who first put megagaming in the spotlight is still keeping up with what's happening in the megagaming community.
I was interviewed on Mr Megagame's new regular AMA slot, where we talked a lot about my experiences designing Everybody Dies and Trope High, my thoughts on casting and various other megagame chat points. He interviews a different megagame personality every Tuesday, so go check it out.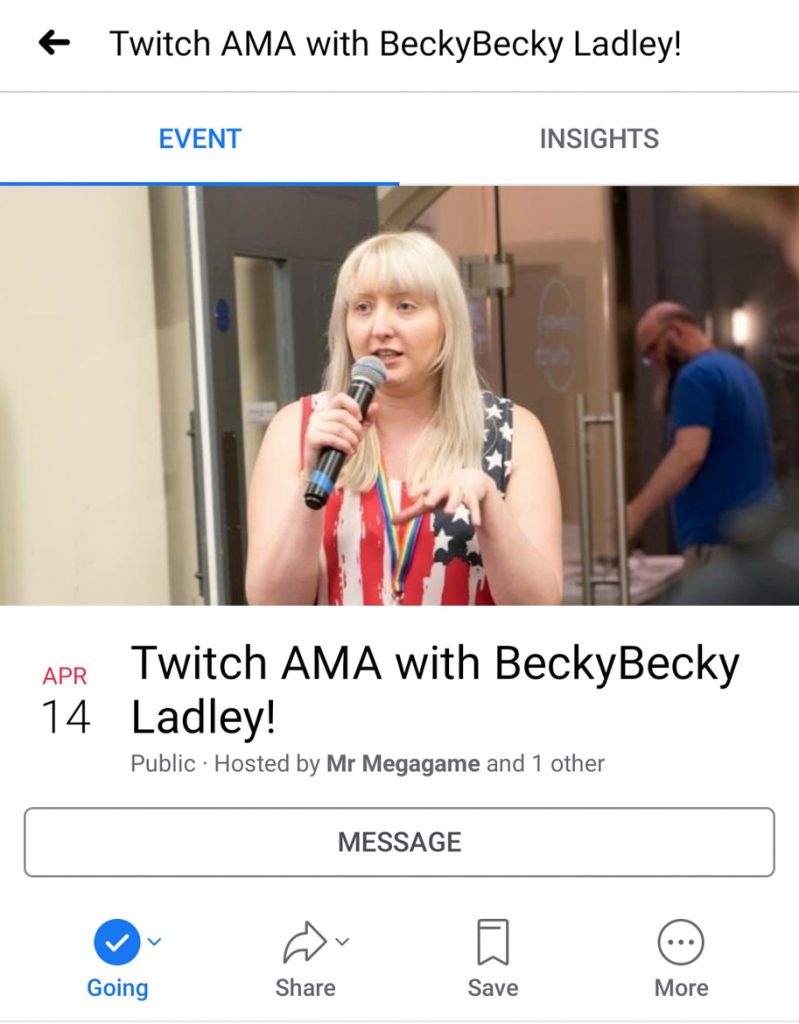 And I'm currently trying to invest in some kit so I can do some more videos. Watch this space for a slightly more professional set up than this…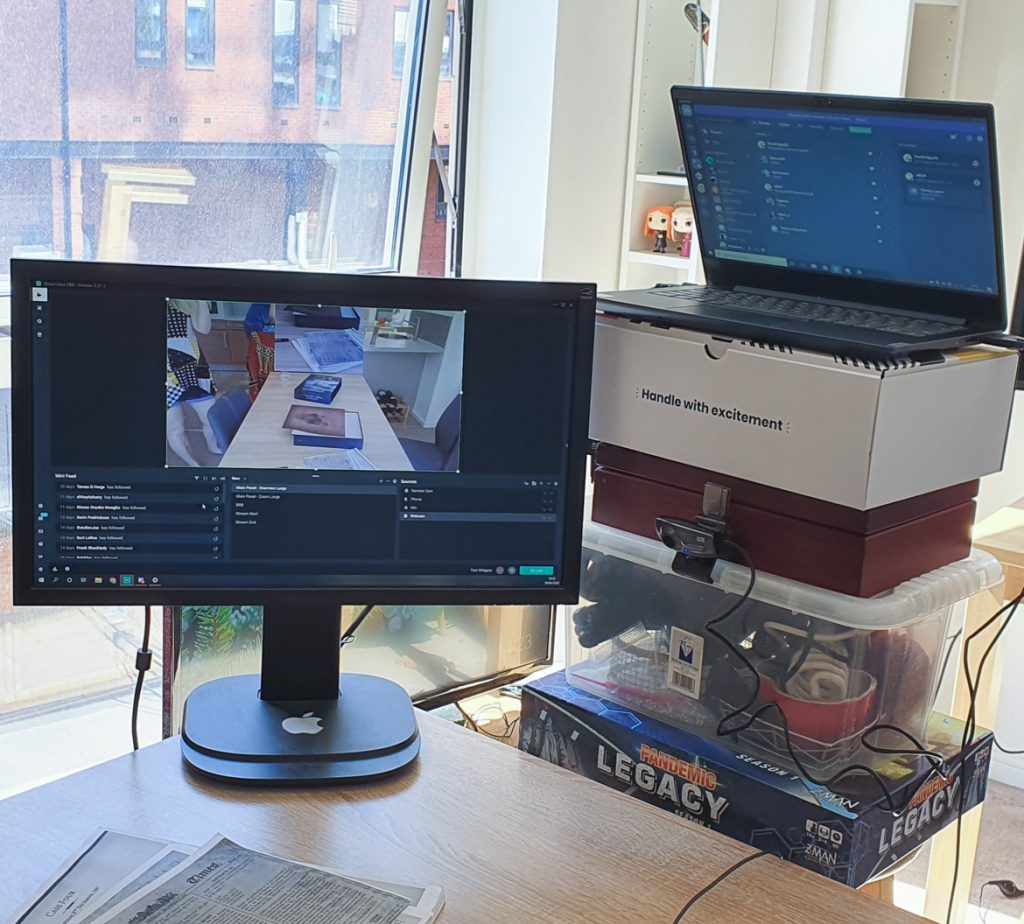 The upcoming month
May is one of my favourite months of the year – hence why I chose it for my wedding month!
I'm looking forward to my upcoming time off and the bank holidays, which will hopefully give me some time to work on my personal projects, blog and Trope 2020.
In terms of upcoming events there's actually very little on the agenda, but there are a bunch of events on my maybe list. One of the fascinating things about lockdown is that I'm returning to more of a flexible mindset for social events. Rather than my calendar being booked up months in advance, I'm often unsure what I'll even be doing the next weekend!