Inspired by a recent thread in the Megagame Makers Facebook group, I present the best unlikely games to not have graced our gaming calendar yet. With some suggestions from the thread, and others that I've made up since, here are some of the best Megagame puns you're likely to encounter (unless you play Don't Punic, of course).
Watch The Skies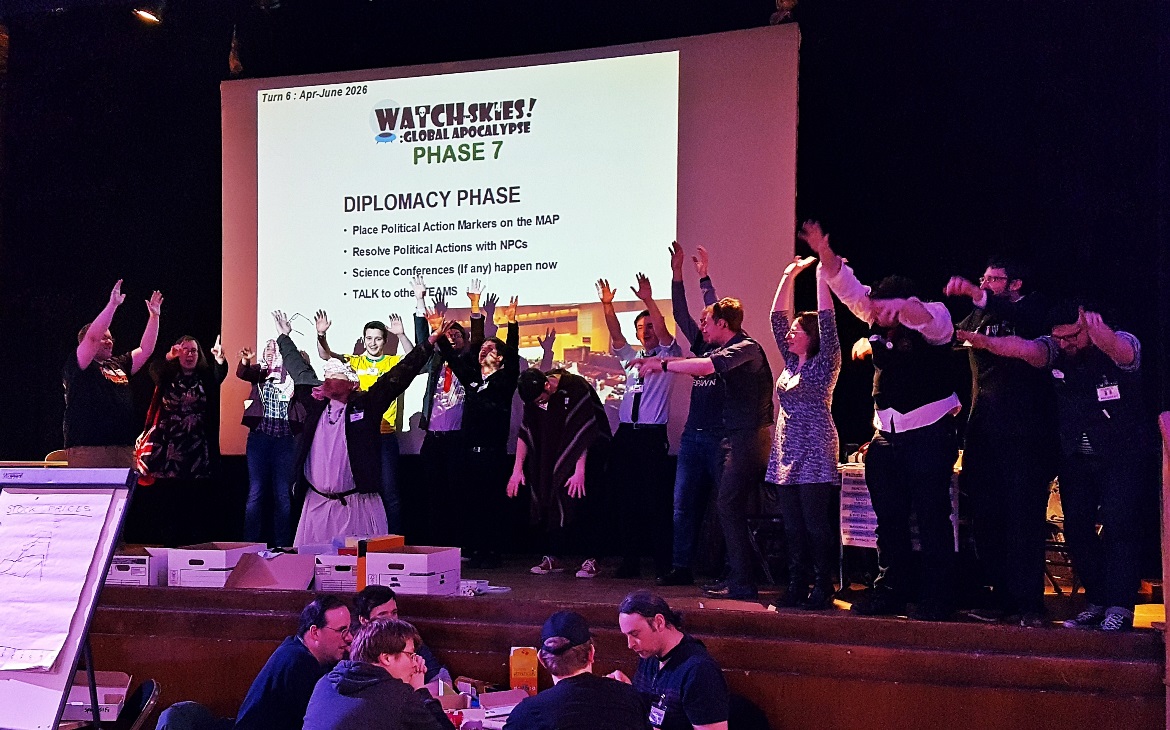 As the best known megagame, it's not surprising that this was the one to kick it all of, with
a megagame of Scottish clan conflict in the Inner Hebrides called "Watch the Skye" – Rex Brynen
That was quickly followed by a series of excellent suggestions, including
a megagame on internet based real time video communications, Watch the Skype – Mike Dunn
a megagame of sending a clock to space? Sky the Watch – Andreas Hüttig
players are either lazy workers or eagle-eyed supervisors in a dystopian Amazon fulfilment centre: Watch The Skivers – Ixmal Submarine
Urban Nightmare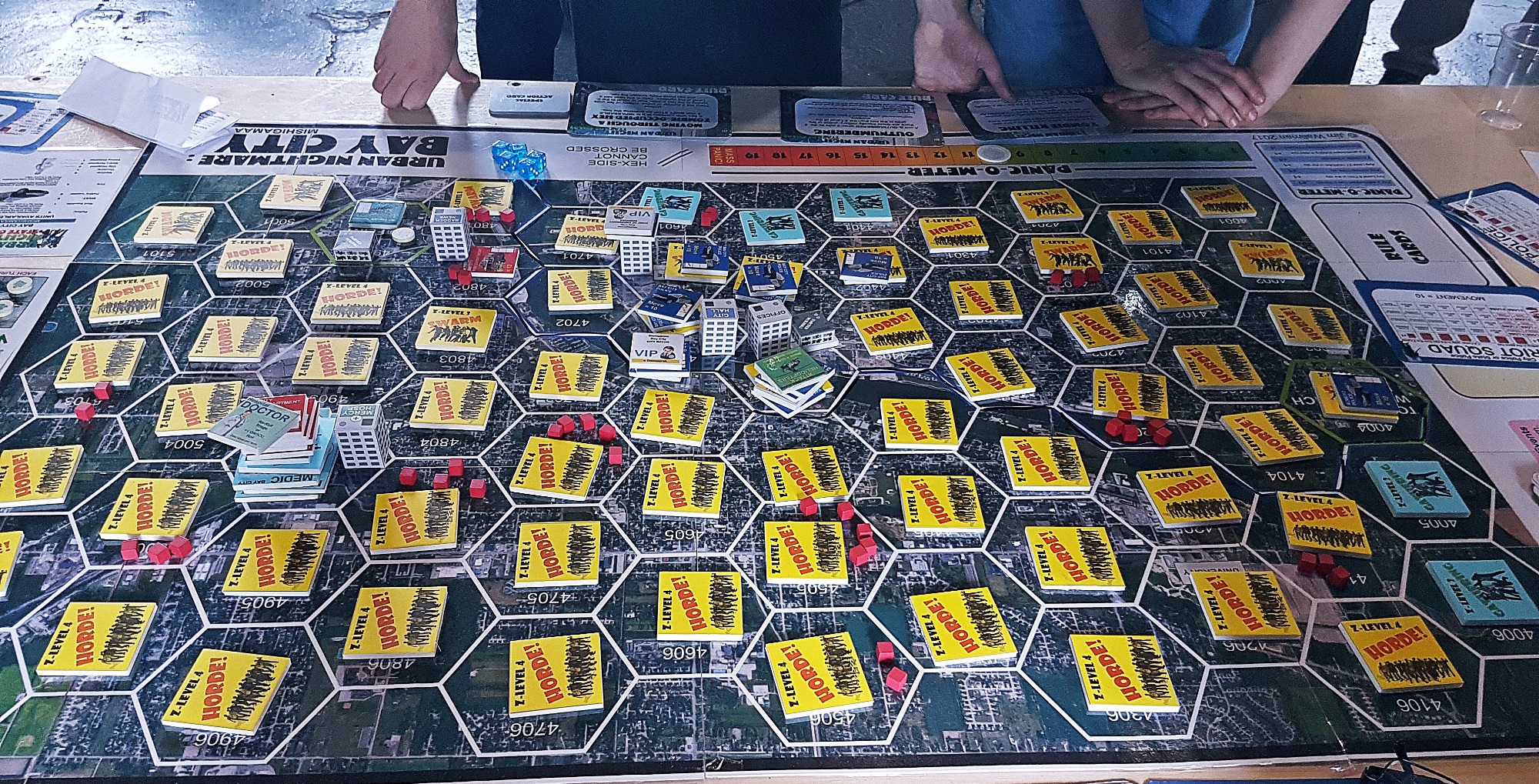 Following the runaway success (or possibly shambleaway success) of the first ever Wide-Area Megagame, Urban Nightmare was another popular choice.
a megagame about the difficulties of online community administration: Unban Nightmare – Darren Green
My own contributions were a tad more delicious…
the flavourful megagame about what happens when an evil garden takes over the dreamworld: Herb 'n' Nightmares
and the long awaited sequel to the original tasty feast, where the out-of-control garden reaches the dining table. It's Herb 'n' Nightmares: Plate of Chaos
Best of the Rest
There were tons of good posts on the thread, but here are some of my favourites:
habadashers in Victorian London, competing to create the most fashionable dresses. It's called Everybody Dyes – Jevan Bryant
about sourcing all the details for a French and Saunders biography: Read Dawn? – Rob Grayston
a megagame about rearranging religious festivals, for a more efficient calendar:
Passover By Christmas – Jevan Bryant
competing fitness instructors in a fantasy setting: Pilates of Yendor – Pilates of Yendor
And a few originals
So, starting with the one I shared on the thread, here's some totally original games that I'm sure will be coming to a community hall near you in 2018…
a group of gangs, police and superheroes play a game of Musical Chairs to the death: Sitty of Shadows
a megagame of competitive book editing in space, featuring an auto-hyphenation mechanic: A Word Divided
political factions vie for power on Mars, but there's a really obvious solution: Crisis in Easyum
a megagame featuring a whole army of girls with a passion for fashion, only they can't agree on anything – A Very Brattish Civil War
the habadashers from Everybody Dyes come together to do their laundry: Washing Tons Conference
megagamers deal with the aftermath of the assassination of the French King by a 14 year old Call of Duty player: A New Age Pwns
honestly the game I thought I was playing: The Pirate Pub
dating in the Byzantine Court: The Last Romance
hostile takeover by a chocolate factory: Invasion from Mars(TM)
Napoleon comes up with an elaborate plan to win back an ex: The Jenna Campaign
Cruella sets her sights on a different kind of fur and the players must help her… or stop her: Foxes and DeVilles
a megagame set in 15th century Italy where no one actually speaks or understands Italian: Guelphs and Ghibberish
#SorryNotSorry.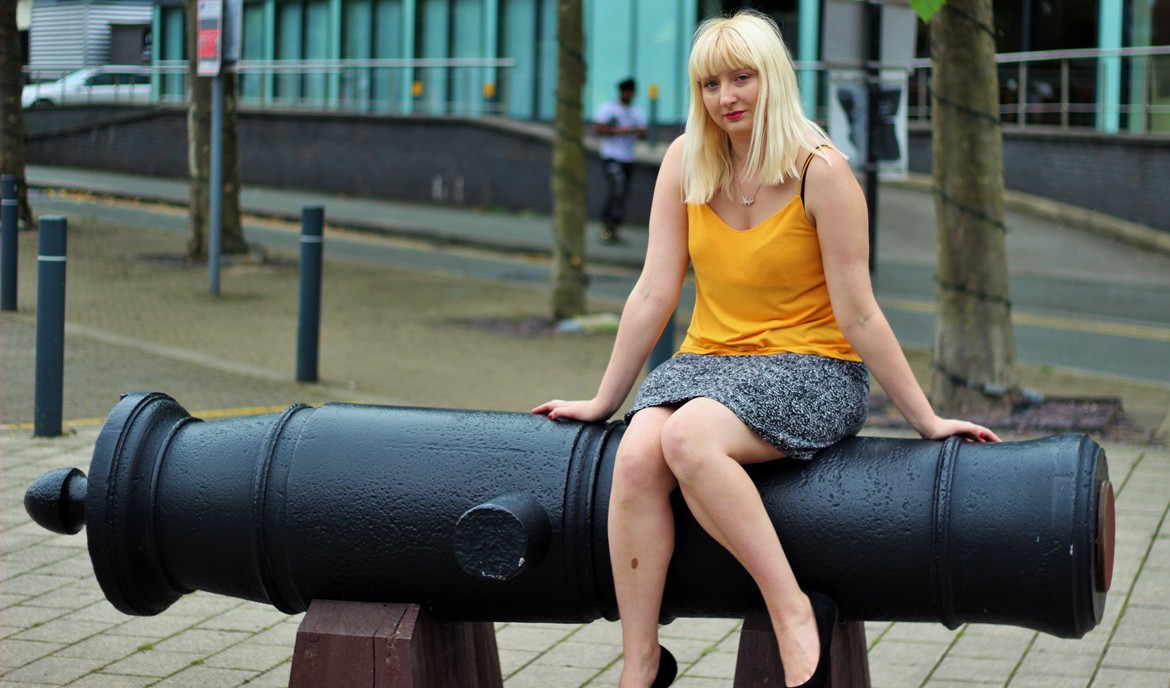 What megagame puns can you come up with?