Christmas has always been a big thing for my family. I love buying people presents and spoiling them, and I'm lucky to have a lot of people in my life who feel the same way.
One of my favourite Christmas traditions is feeling all of my presents and trying to guess what they are… and usually succeeding, unless they're something really weird.
Anyways, here's the majority of my presents (except the ones I couldn't find when it came to taking photos).
(Also apologies for the somewhat out-of-season post – it's been a busy few weeks and I wrote this blog a while ago. Also FYI this post contains affiliate links, which means if you are so tempted by my awesome presents that you decide to buy your own, I might make a bit of money.)
Kitchen and Home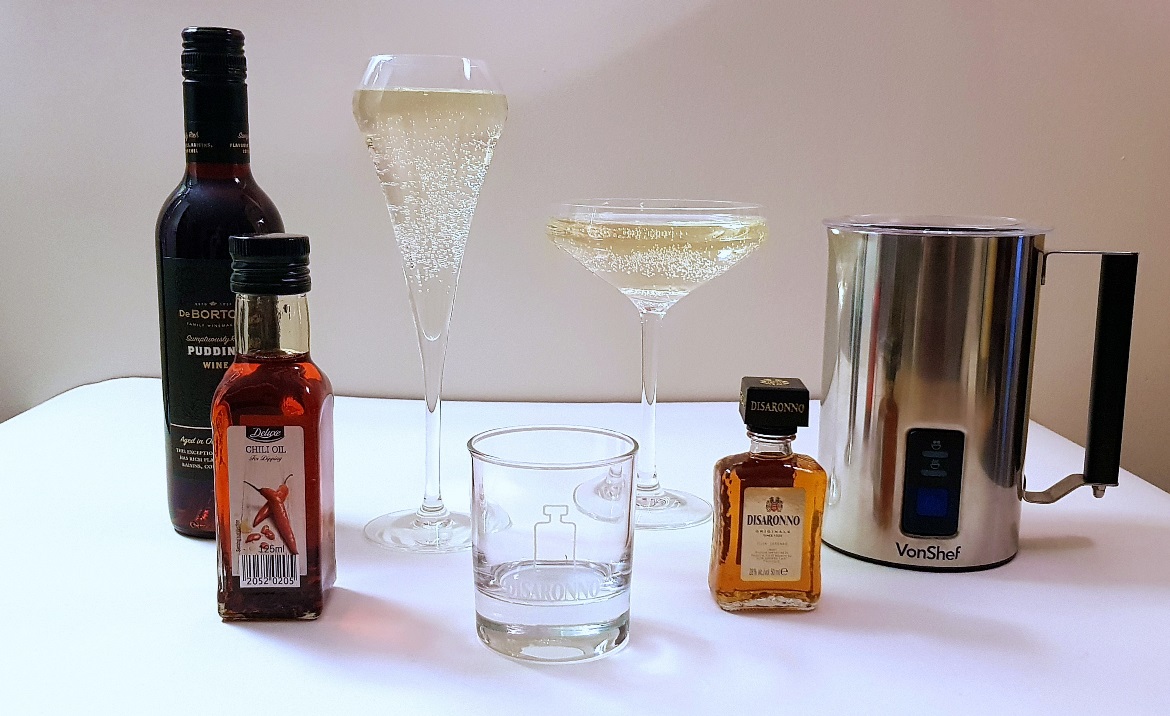 The kitchen in our flat isn't massive so I've had to scale back on what I ask for in the kitchen department. Despite that I managed to get enough stuff that we had to throw out some glasses and a few other things.
Our big present this year was a microwave (which I've already managed to burn myself using). It's actually a combi-microwave-grill, which is crazy useful because we don't have a grill either. There's no way I can take a blog-worthy photo of the microwave, but it's this one.
Another piece of kitchen kit that we've probably used even more than the microwave was this milk frother. I really loved using Tim's parents' one when we staycationed at theirs back in September, so this was added onto my wish list around then.
After having my champagne flutes and coupes on my wishlist for ages, this year I struck lucky and got both – the coupes from my Nana and the flutes from Tim's aunt and uncle. We've decided the coupes will be our fancy special-occasion set, while the flutes will be our everyday Prosecco vessel of choice.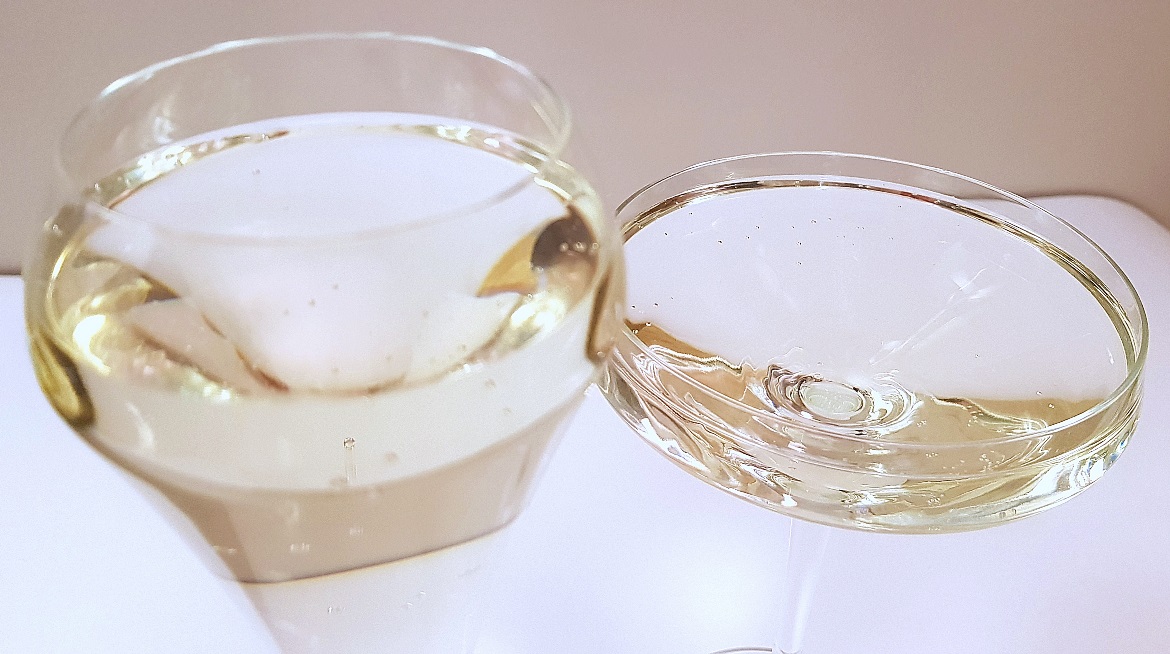 When we went to Tim's parents for his birthday meal, they had an amazing bottle of dessert wine, and for Christmas they got me some! The only problem is deciding what treat to have it with…
The tiny bottle of Amaretto and the glass were one of those little gift sets (with some Guylian seahorses). My parents got Tim and I a set each, so we have two little matching glasses.
The chilli oil was a little treat from my folks to spice up my food. And yes, I guessed it was chilli oil before opening it!
Games and Geekery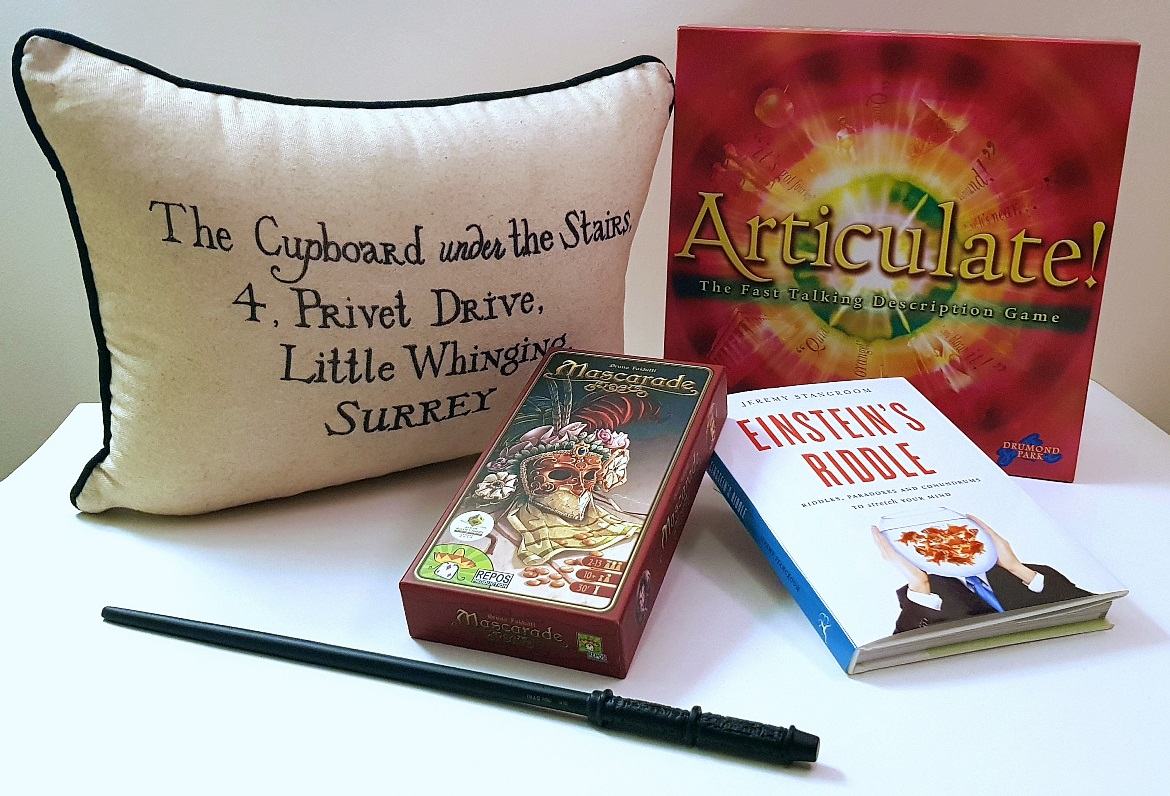 Two games this year. Articulate! is a great fast-talking word-description game, and we've already played it twice. I haven't won yet though, so I'm keen for a rematch against… whoever!
Mascarade is an amazing tabletop card game. I've described it pretty well in my blog post about December, but I'm wanting to do a proper blog on it. Only thing is… I need more people to play it with (it comes into its own around 7-8 players, according to Board Game Geek). Anyone interested?
I also got a book of puzzles from Tim's Grandpa. It starts off with Einstein's Riddle (which probably wasn't created by Einstein FYI) and goes on to delve into probability, logical fallacies and infinity. It's quite an interesting read, and I'm only a few chapters in.
The amount of Harry Potter merch I get these years is less than it used to be. I ask tend to keep one wand on my wish list at all times, and this time I received Severus Snape's wand from my parents. I think it's my fourth or fifth in my collection?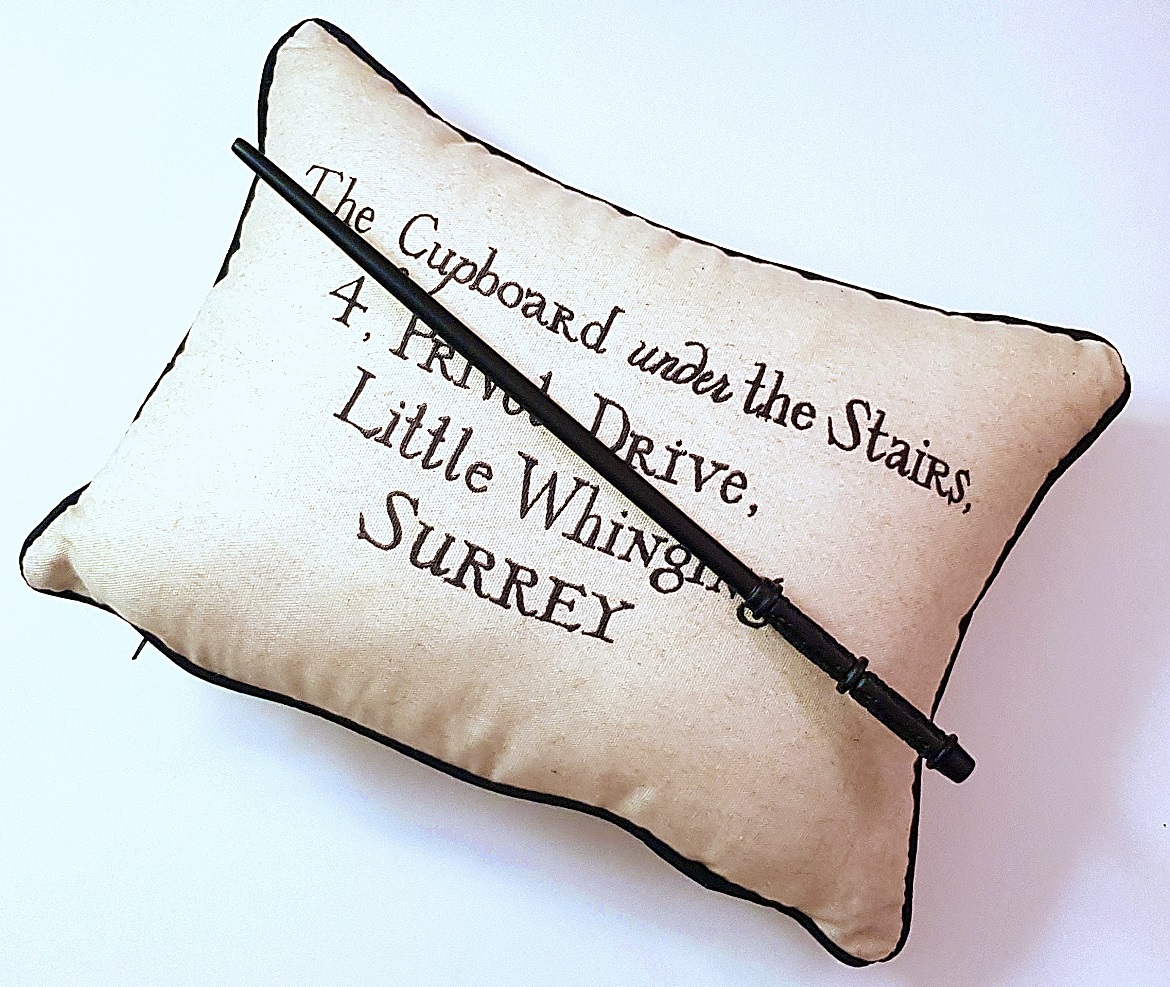 And Tim got me a Harry Potter pillow from Primark (cleverly throwing me off the scent, since I thought he'd got me Dobby socks!).
Blog Mania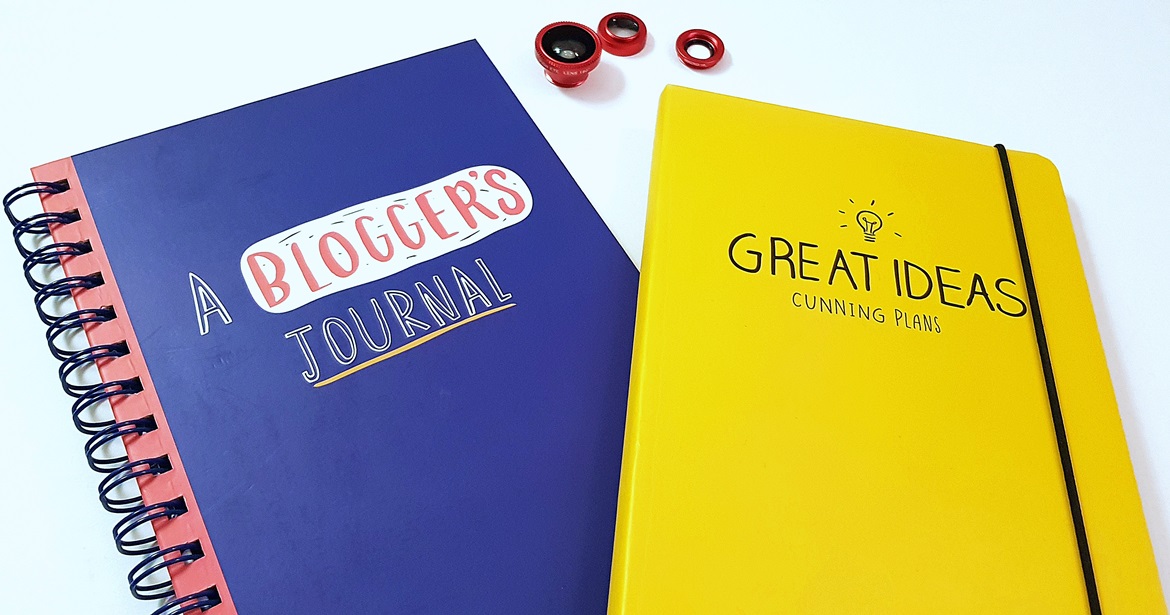 To help out with the blogging, from Tim's aunt and uncle I got these great little smartphone lenses – fisheye, wide angle and macro. I've not really experimented with them much but they look pretty simple to use. Watch this space for cool photography tricks.
Tim's cousin also got me a Blogger's Journal. I've used it a bit so far to set some goals for my 2018 blogging (for example, blogging more consistently!) and coming up with blog ideas.
It's not blogging related, but I also got this super cute notebook from my brother. I use it for work and it's drawn a fair amount of attention already. Kind of puts me on the spot to come up with great ideas though…
Fashion and Beauty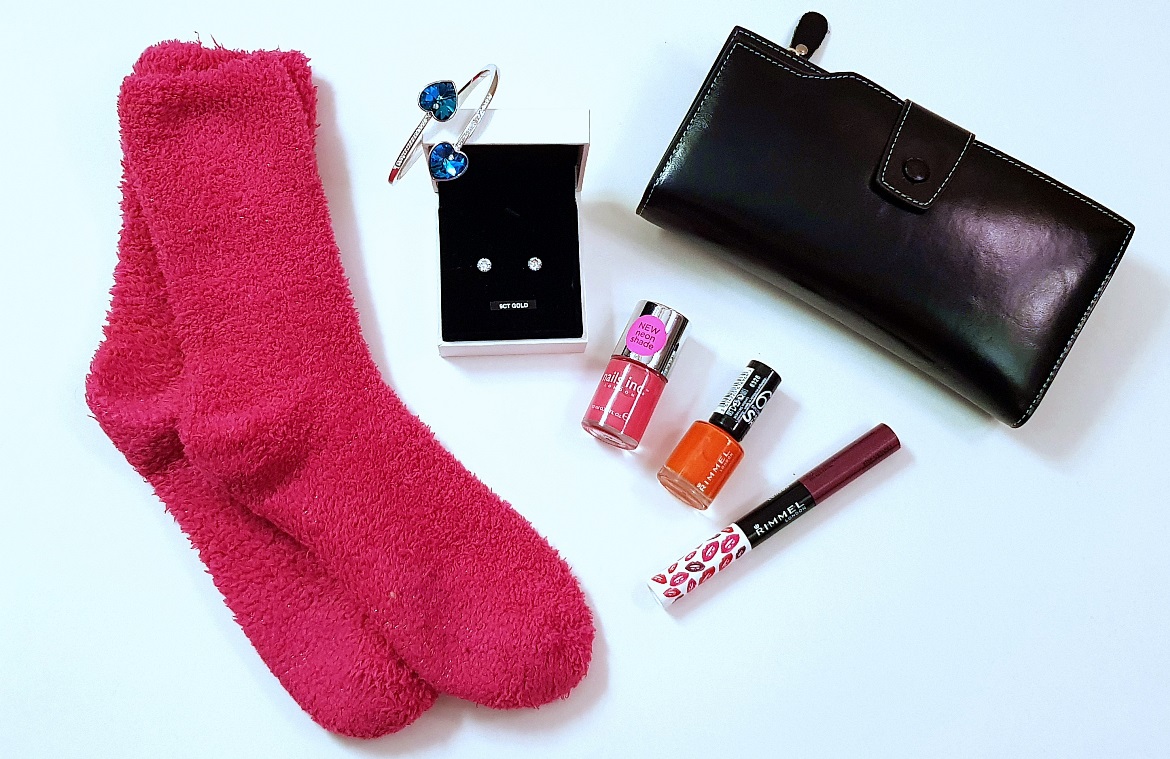 I don't tend to ask for clothes any more, but I got a few accessories. First up is my new purse. My old one is getting worn and the zip pull has fallen off, so this will certainly help me get to my Nectar card quicker.
Tim outdid himself by getting me two gorgeous items of jewellery. Firstly, a pair of super-sparkly earrings. I had a similar set, but had managed to break them and lose the gems a few weeks ago.
And secondly, this gorgeous Swarovski bangle. It matches the necklace he got me for Christmas last year, so now I have a gorgeous set of jewellery to wear on all our dates 😉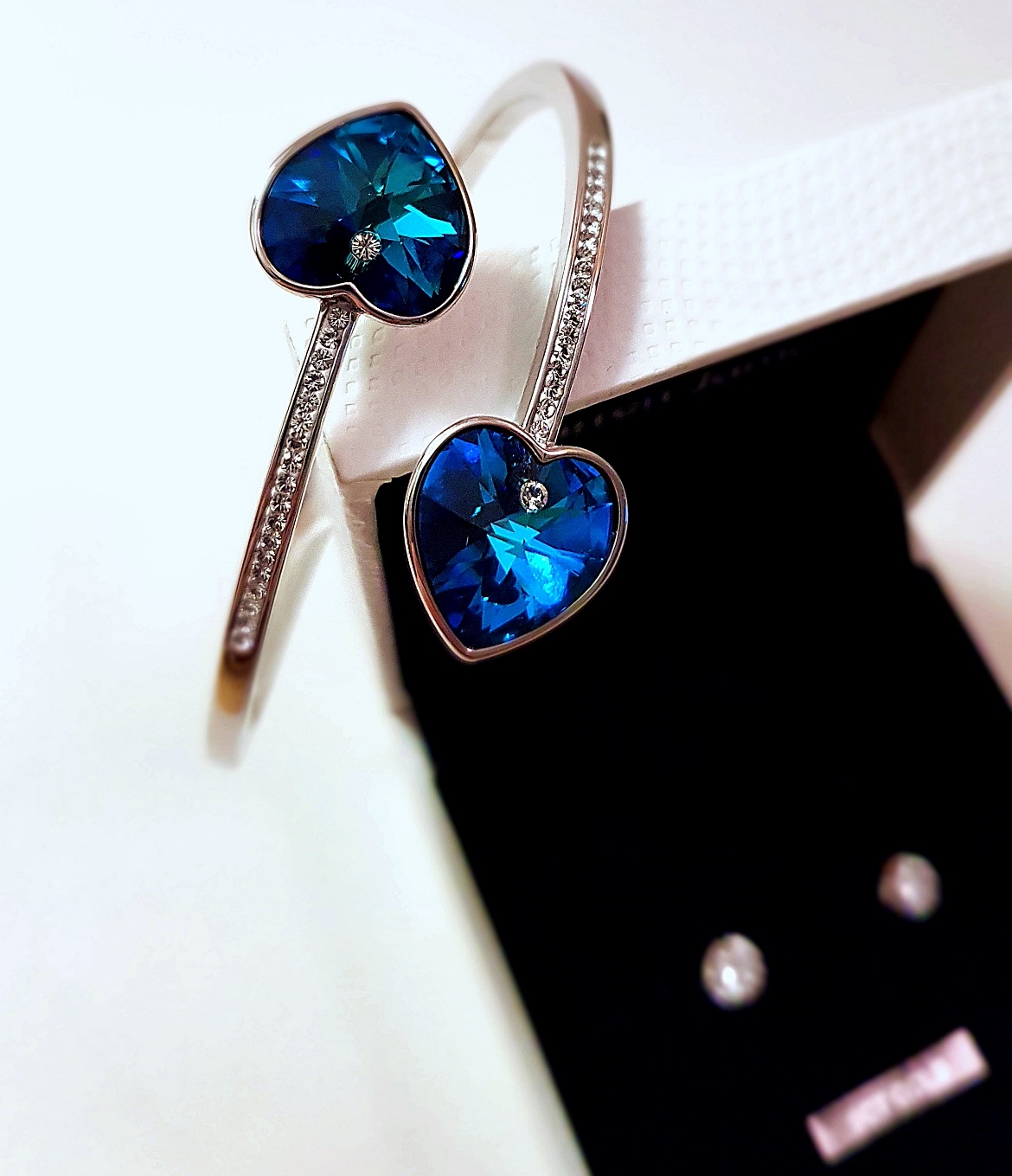 And finally, a few items of makeup. I stopped biting my nails last year, and got two new shades to try out… I'm not very good painting my nails, so this means lots of opportunity to practice! Add to that a new shade of my favourite lip gloss brand.
Aaaand fluffy bed socks. Because everyone needs more fluffy bed socks.
What did you get for Christmas?
As mentioned, I've been really spoiled, but I'd love to hear what other people got. Do your family go overboard, like mine?
Disclaimer: this post contains affiliate links, which means I receive money if you make a purchase through them. You can see my full disclaimer here.