So apparently it's going to be a thing now that we go abroad and do an escape room. At least, based on the fact that Tim and I went on holiday together for the first time, and managed to find a Game of Thrones themed, English-language escape room.
It's not the first thing that comes to mind when visiting a hot country – to be locked inside for an hour! But I'm really glad we did.
Puzzle Punks – Dubrovnik Escape Room
Located a short drive from the Old Town, the company offers two escape rooms, available to play in both English and Croatian. The other is based around the history of Dubrovnik, and had we been sticking around longer we may have given it a run as well.
But instead we zero-ed in on the real reason we were in Croatia at all – Game of Thrones.
We were welcomed by Diana, our game master for the evening, who chatted to us about our trip so far and gave us a few filming destination recommendations, before showing us into the room.
Save King's Landing
The game is set during season two of Game of Thrones – the Battle of Blackwater Bay. Stannis' men are at the gates, and the maester has sent us to his lair to find the wildfire that will save the city. Let's not get too hung up on the fact that this means we work for Joffrey.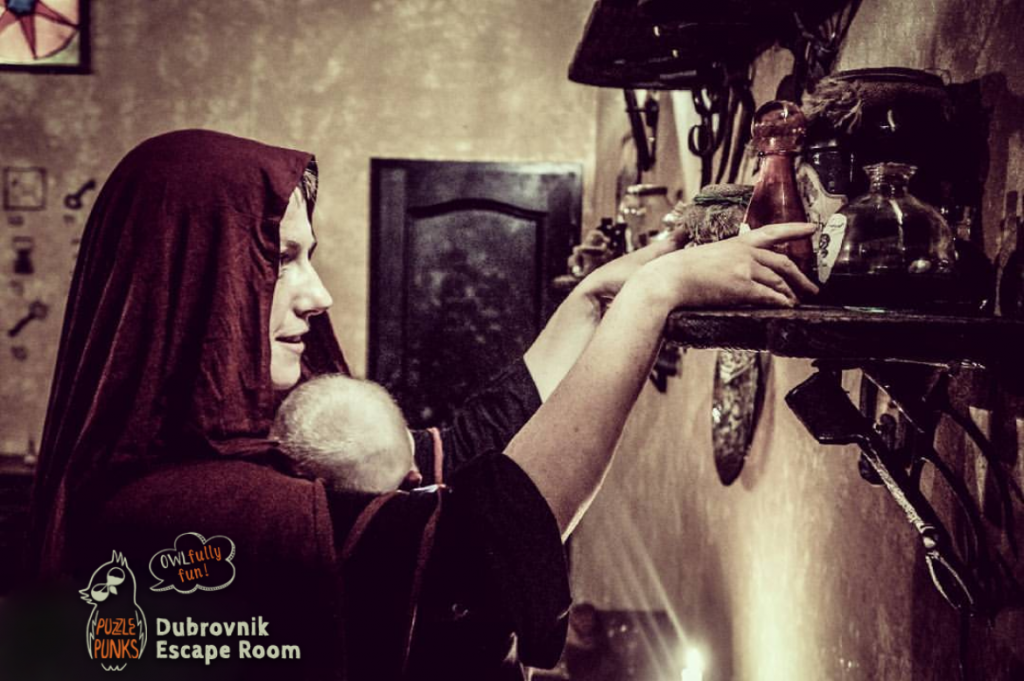 You don't need any prior Game of Thrones knowledge to play the room, although it helps speed you up here and there. If you are a fun, there are tons of awesome little nods to part of the show, such as in-world books and house heraldry hung on the walls.
On the other hand, a few of the puzzles didn't quite mesh with the canon of the show. It's never explained why a maester has the wildfire, rather than a pyromancer, and certain cool props show up that are unrealistic to be in a King's Landing maester's chamber. But when you're caught up in solving the room these small discrepancies go pretty unnoticed to be honest.
Puzzles
The room is absolutely packed with stuff, and a lot of it isn't at all relevant to the game – it's just flavour. They do a great job of hiding a lot of the clues in plain sight, although there are also a lot of very blatant clues on view from the start. Part of the puzzle is working out what is relevant first.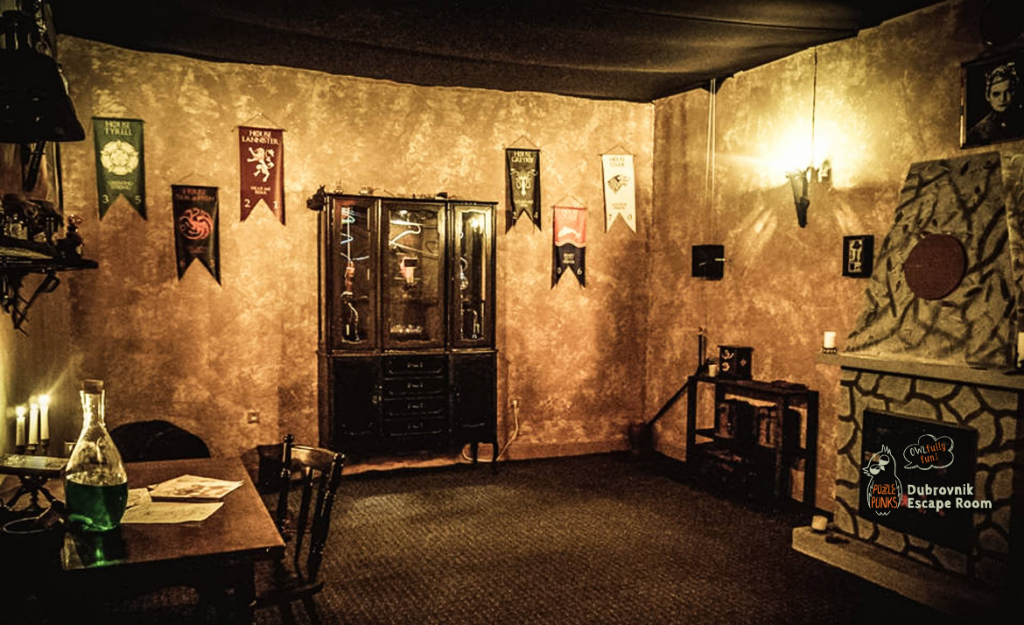 The room was a mix of traditional locks, code locks and more elaborate mechanisms. One in particular is very visually striking, and almost makes you forget that you're not in real Westeros. It's definitely a room that encourages you to find a realistic use for the props available, and lets you use them in pretty cool ways.
On the other hand, we almost broke sequence twice in the room, due to it being possible to avoid solving the problem properly. As ethical escapers, we backtracked and did everything in order, but one in particular would have halved the time we took.
There was also one slightly disappointing moment where a lock led to a key led to another lock. I don't mind having locks in a room but it's much more satisfying when they are properly interspersed with the other puzzle inputs.
Debrief
We found the wildfire (yay) and saved the city.
After the puzzle was over we had a chat with Diana about the room, and then got our obligatory post-escape photos – triumphantly holding the wildfire aloft!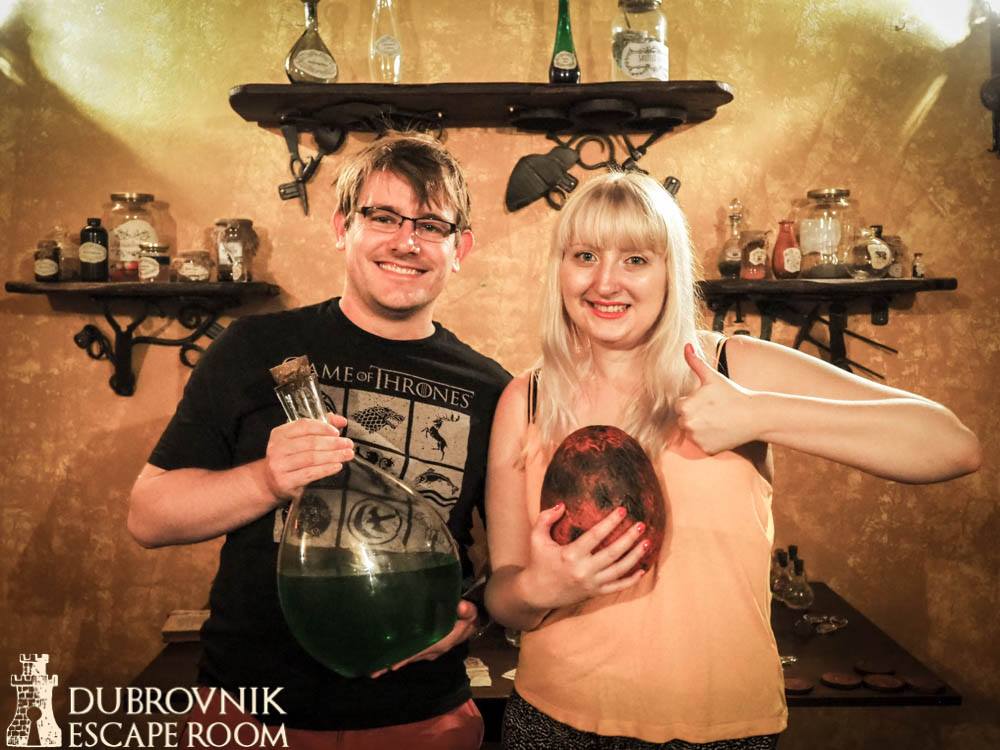 Diana was super friendly and we continued to chat about our trip until the Uber turned up to take us to our dinner reservation. Overall the service level at the game was among the highest we've had.
Summary
A really fun escape room. The puzzles were very clever and enjoyable to solve, and it required a real mix of thought patterns to get through it. Definitely a great experience if you're a GoT fan visiting Dubrovnik.
Theme: 3.5/5 | Puzzles: 4/5 | Difficulty: 3/5
Clue system: bell to ring for clues on a screen
Success: yes, about 15 minutes remaining
Competition
Sound like fun? Well Puzzle Punks have kindly offered a voucher for a FREE GAME at their Dubrovnik Escape Room, which I'm running a competition to give it away to one lucky escape lover!
To enter, all you have to do is solve the secret code below, and leave a comment with the correct answer. If you prefer, you can leave the answer as a comment to the post with the puzzle in on Facebook, Twitter or Instagram.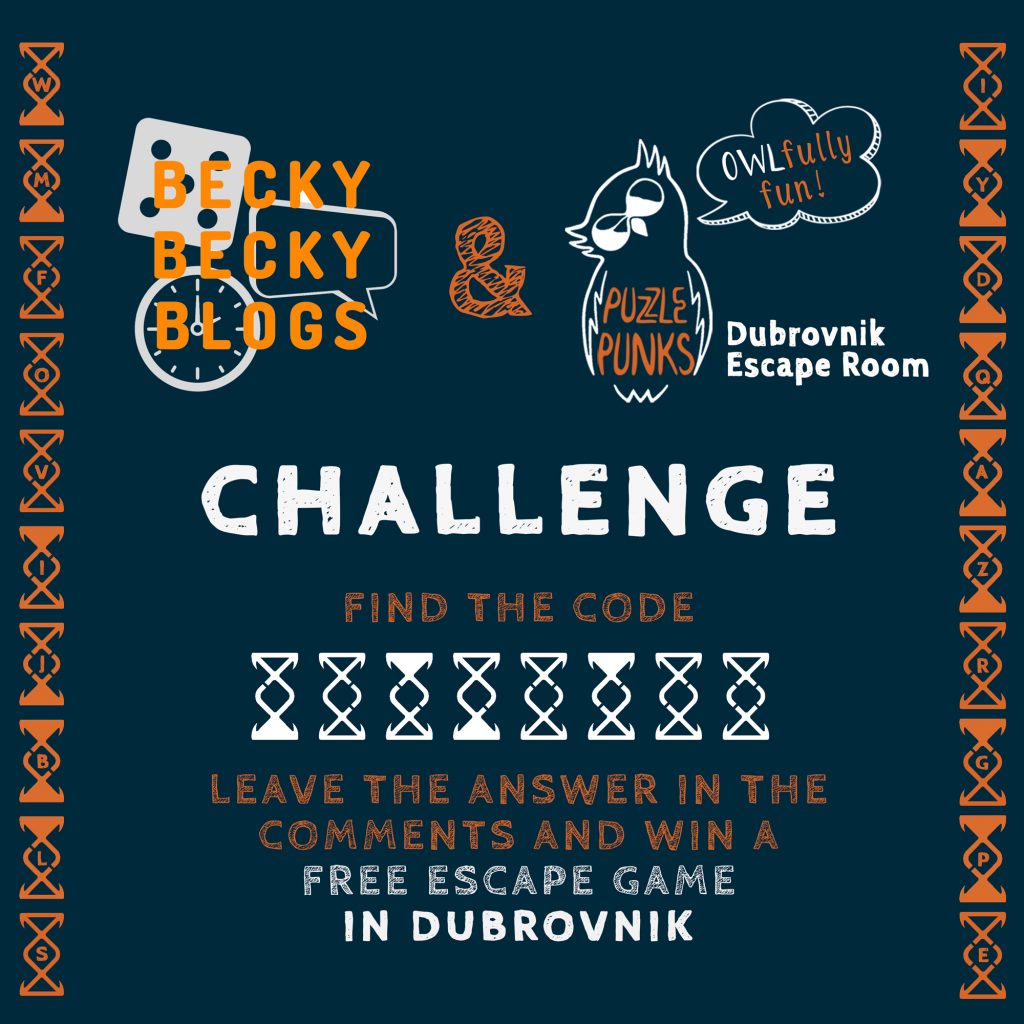 The competition closes at 23:59 on Tuesday 30 April 2019, after which a winner will be randomly selected from the correct answers. There are natch T&Cs, which you can find here.
Additionally, anyone who guesses the correct answer will be able to use the answer as a discount code for 20% off a game at Puzzle Punks – Dubrovnik Escape Room. Get planning that trip to Croatia!
Winner
The winner of the sweepstake was Susannah Billig! Susannah, we'll be in touch to sort out your prize.
I have been provided with the voucher for this competition free of charge, however I paid for the original escape room that I participated in, and all of my opinions about serving Joffrey and saving King's Landing are my own. You can see my full disclaimer here.