With two megagames under my belt already this year, I'm excitedly looking ahead to the rest of the 2018 calendar.
With the announcement of the Autumn Megagame Makers calendar, I thought I'd go through a few of the ones I'm already counting down the days until.
The Shot Heard Round The Universe – 28 April – Leeds
Okay, I'm slightly biased here. But Tim's game is bound to be awesome. There's nine or ten different worlds with crazy awesome backstories that I wish I could play (my pick would be Helen's World or New Angeles). There's the all-powerful Terran Empire that is perfect for the seasoned megagamer looking for a challenge when they realise how all-powerful they're not. And there might be aliens…
I'll be Control, but I'm looking forward to seeing what the lucky players get up to. More info and tickets here.
Arrival – 26 May – Cambridge
This brand new take on the classic Watch The Skies is super exciting for me. I love interesting mechanics, and the rumoured "communications" game sounds (pardon the pun) out of this world.
I'm hoping to get a role that keys directly into that mechanic. Chatting to aliens – how better to get an intergalactic trip on the cheap? Here's the Facebook event for more info and bookings.
Blood and Thunder – 16 June – London
Considering how much I loved the last pirate game I did, this is a must-do game for me. The scale is totally different – there'll be just two or three pirate ships total, with more players taking on specific roles on the ship, plus there's rumoured to be a pretty extensive "shoreside" game. I'm after the role of pirate captain, natch, but anything on a ship will do me fine.
This one is probably fully booked, but here's the link on the off-chance it's not.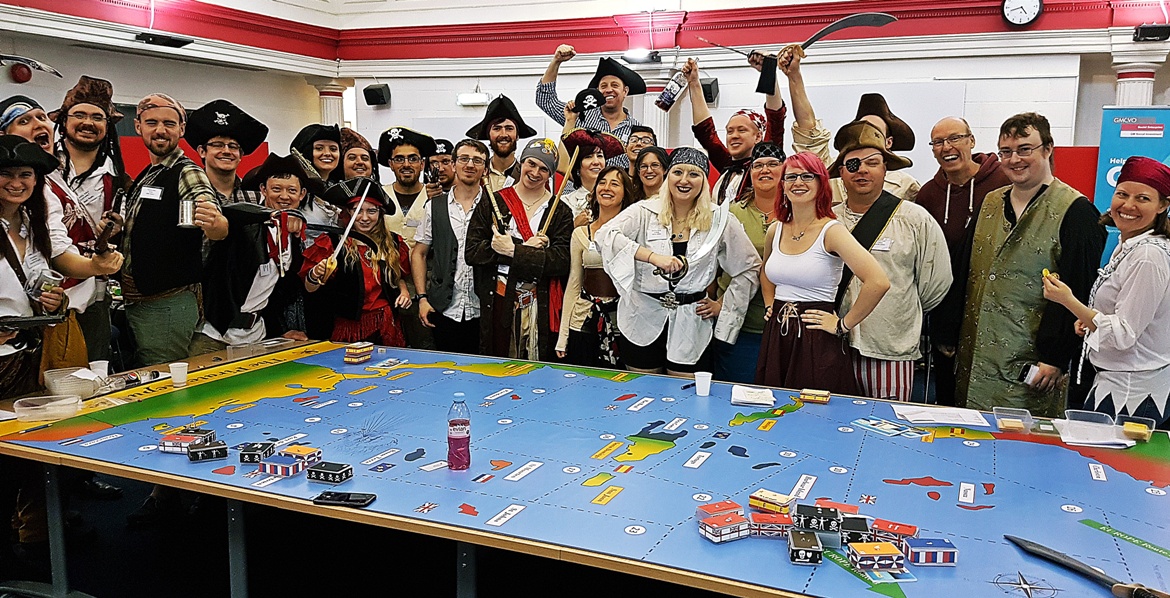 Megamunda – 28 July – Manchester
Not a setting I'd heard tons about, but this mash-up of Judge Dread and Necromunda sounds more and more intriguing the more I hear about it. Role-wise? Anything that will kick ass.
Everybody Dies III – 1 September – Leeds
Okay, more bias… but the best experiences I've had at a megagame has been running my own. I'm already scheming about how to cast my players, though it seems that pretty much everyone wants access to a dragon. Only about three of the roles I've currently got pencilled in have their own mounts, so I might be the one ending up roasted by dragonfire if I'm not careful.
Not booked your spot yet? I'm down to the last few places so you'd better get a move on…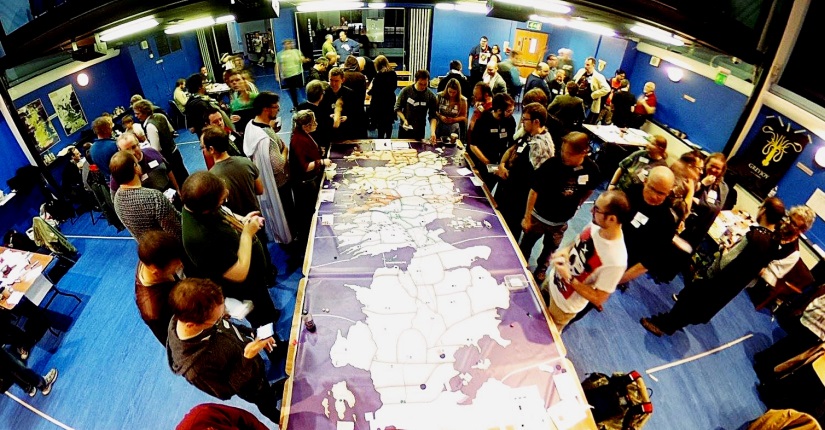 City of the Devil – 1 December – London
There's a lot of good stuff on the Megagame Makers Autumn calendar tbh, but this one has grabbed my interest the most. It's aimed at those who enjoyed Renaissance & Reformation and The Spanish Road (two of my favourites). Set during the Cathar Crusades, I'm hoping to be a queen or noble lady of somewhere awesome.
This one's only just been announced, so there should still be plenty of spaces left.
What megagames are you excited for?
There are so many awesome games that have been announced so far for this year, I'm sure I've missed a few. Let me know what other games should have totally made my list.