As you might expect, Tim and I have a bit of a soft spot for Escape Rooms. So when it came to working out what to do for Valentine's Day, it was easy to pick the activity. But the where… that was a trickier question.
Locked In Games
I'd been hoping to go along to a Locked In Games room for quite a while. Based in Leeds and York, it was actually recommended to me by Riptide, the team behind The Lucky Ones – and they clearly know what they're talking about when it comes to immersive games.
Locked In Games is based a little out of Leeds City Centre, up towards Sheepscar. It was an Uber ride to get out there (at rush hour too!) but definitely worth the trip. The escape room is based in an old library, and the building itself is pretty impressive. The waiting area is huge and features a giant Alice in Wonderland mural – a clear sign that you've stepped inside somewhere otherworldly.
Our games master Brandon introduced himself and talked us through the escape basics – lock types, etc. But we were raring to go, and before long we were locked inside our room for the evening.
Hotel Heist
It being Valentine's Day, we went for the most romantic sounding room. Set in a luxury hotel, we were investigating a jewellery theft. Lady Murdoch-Westwell blamed the hotel maid, and our job was to get to the bottom of the case before she got her insurers in. A romantic getaway, a heist, and insurers – clearly it was made for us!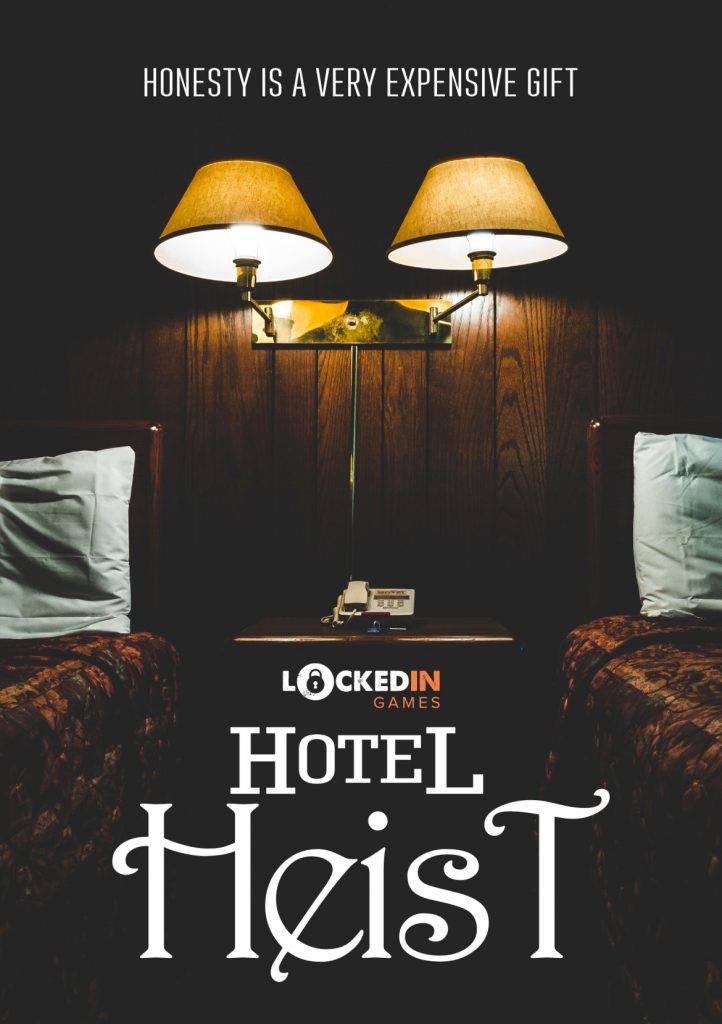 The room itself looked like a nice hotel room (as one might expect) – the only oddity was that the room only had a single bed in it. Our games master had informed us that the bed itself didn't contain any clues, and you could see in his eyes how many times he'd had to make that damn bed thanks to overzealous clue-hunters. We managed to restrain ourselves from tearing it apart.
The case was explained to us by a (slightly too quiet) voice that came out of the TV. The TV also showed our clock as well as any clues. Going in, we knew the record stood at about 42 minutes. We're getting cocky, so nowadays the challenge isn't about getting out, it's about breaking some records!
Puzzles
Honestly, these are some of the best puzzles I've come across. It's a fairly low tech room, especially compared to Escape Hunt, but they didn't let their lack of nifty gadgets get in the way of delivering a solid escape experience. Having said that, we definitely came across a couple of neat tricks that we haven't seen in escape rooms before, and if you think it's all locks and keys you're underestimating it.
The progression of puzzles was pretty good, although a couple of times we had so much on the go that we weren't able to focus on the next puzzle to solve and got a bit confused. This isn't actually a bad thing and meant that we had to put in more work ourselves to stay on track – I much prefer it to the more linear rooms I've done.
One of my favourite things about the game is that the puzzles made sense, if that makes sense. They actually keyed into what was happening in the room. It wasn't perfect, and you do need a certain amount of suspension of disbelief in any escape room, but searching a hotel room and coming across luggage and postcards felt totally logical. It also keyed in really well to the fact that we were solving a crime, not just escaping.
Debrief
We solved the case and managed to make it out of the hotel room safely with the knowledge to protect them from the insurers. We did have to ask for clues a couple of times, including one excellent puzzle that stumped us for ages. That unfortunately cost us the record by about 6 minutes.
We chose some signage from the wide range available in the Hotel Heist waiting room and posed for the obligatory post-escape photo. Note the rose, a freebie due to visiting on Valentine's Day. Not pictured – the chocolate that Tim promptly scarfed.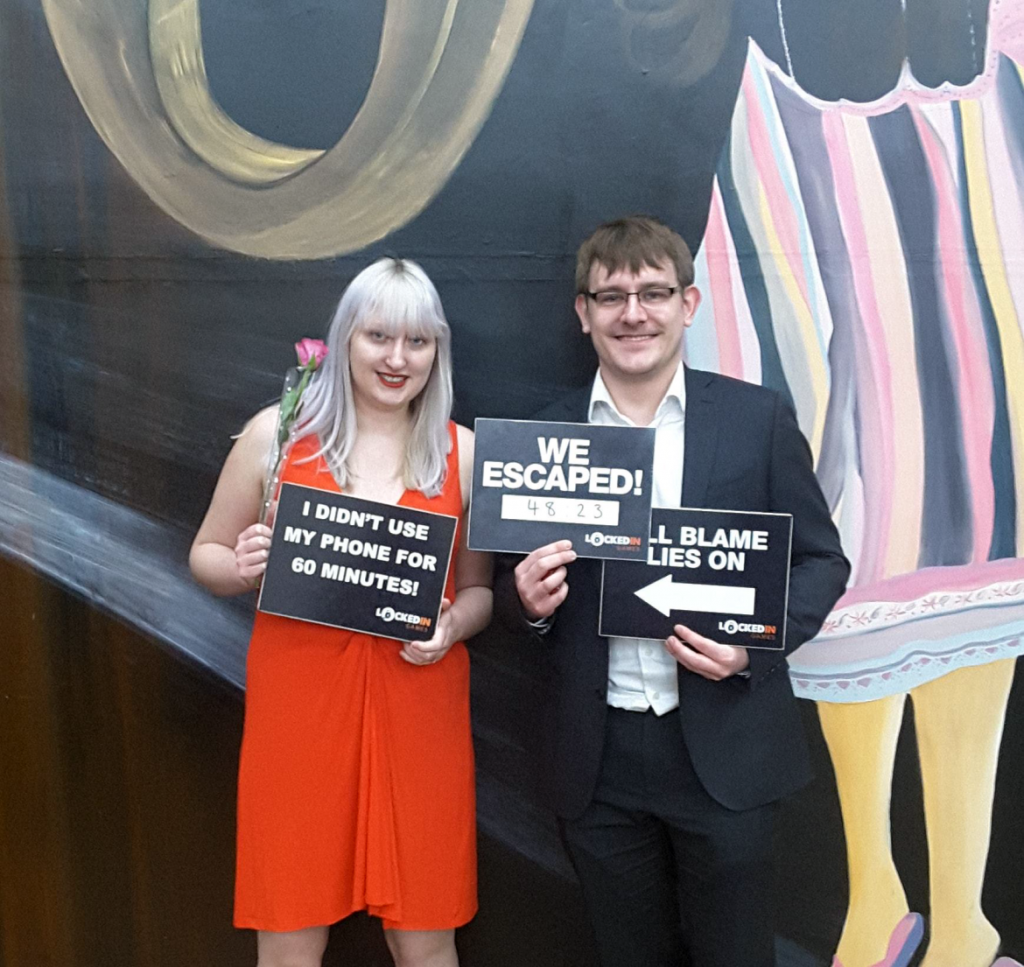 After we escaped, Brandon told us he hadn't seen anyone clear the last couple of stages quite as quickly – or probably with quite as much intensity, as that's the part where I really rev up. He offered to take us through any parts we didn't understand, but possibly for one of the first times in a room, we felt we had understood everything!
We said our goodnights and headed off for a romantic dinner to retell tales of our escape!
Summary
An excellent escape room with a very cohesive plot. The lower tech level seemed to enhance their ability to come up with unique puzzles. I'm excited to go back and crack some of their other rooms.
Theme: 4/5 | Puzzles: 5/5 | Difficulty: 3.5/5
Clue system: ask verbally and receive clues on a screen
Success: yes, 11:37 remaining
Promotional picture used with permission of Locked In Games.