It only started 15 days ago. I almost can't believe it. A phenomenon that has taken my life by storm, that has occupied my every waking moment… it's called The Lucky Ones.
I first encountered it on Instagram. Put on by immersive theatre company Riptide, I was promised a pervasive experience that combined theatre, video games, escape rooms and podcasts into an adventure that can only be enjoyed one-at-a-time. I had no idea what to expect. Would people be coming up to me in the street? Would I be receiving secret messages to decode? Would it all be quite lame so I barely even realised it was going on?
I knew that I couldn't live not knowing. I accepted Riptide's invitation to become one of The Lucky Ones. And here is my story.
Warning – spoilers are below. If you're currently taking part in Riptide's The Lucky Ones, I'd suggest holding off on reading this until after the end of the month. And PLEASE don't post any major spoilers in the comments, for my own sake.
Another warning – this is a long one.
1st March
I know The Lucky Ones was supposed to start on the 1st, but when I check my postbox there's nothing there. I assume whatever I'm expecting has been held up by the snow.
2nd March
It's arrived. I have no idea whether it really is part of The Lucky Ones, but a parcel has turned up in my letterbox, and it's some beautiful flowers.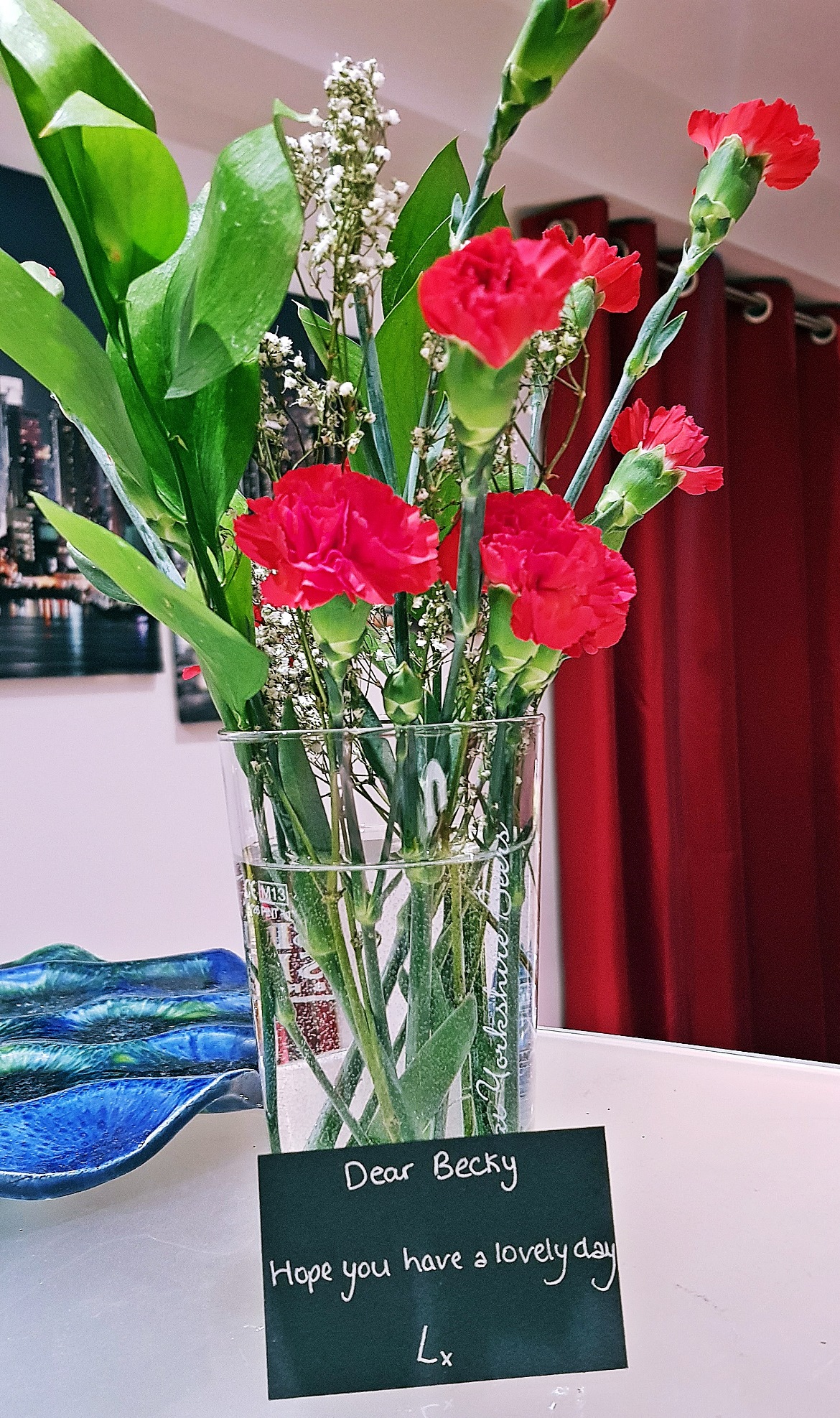 Red, my favourite colour. Carnations and baby breath… I think, I'm not so hot on my flowers.
And a note signed "L x". This is my first clue of what to expect, and I'm stumped.
3rd March
Today I receive a few texts from L, asking if I liked the flowers. L turns out to be Lucy, my "Relationship Manager" from a company called Capital Experience. Her texts were peculiar – telling me my happiness is their primary concern. She's cagey on giving me more details.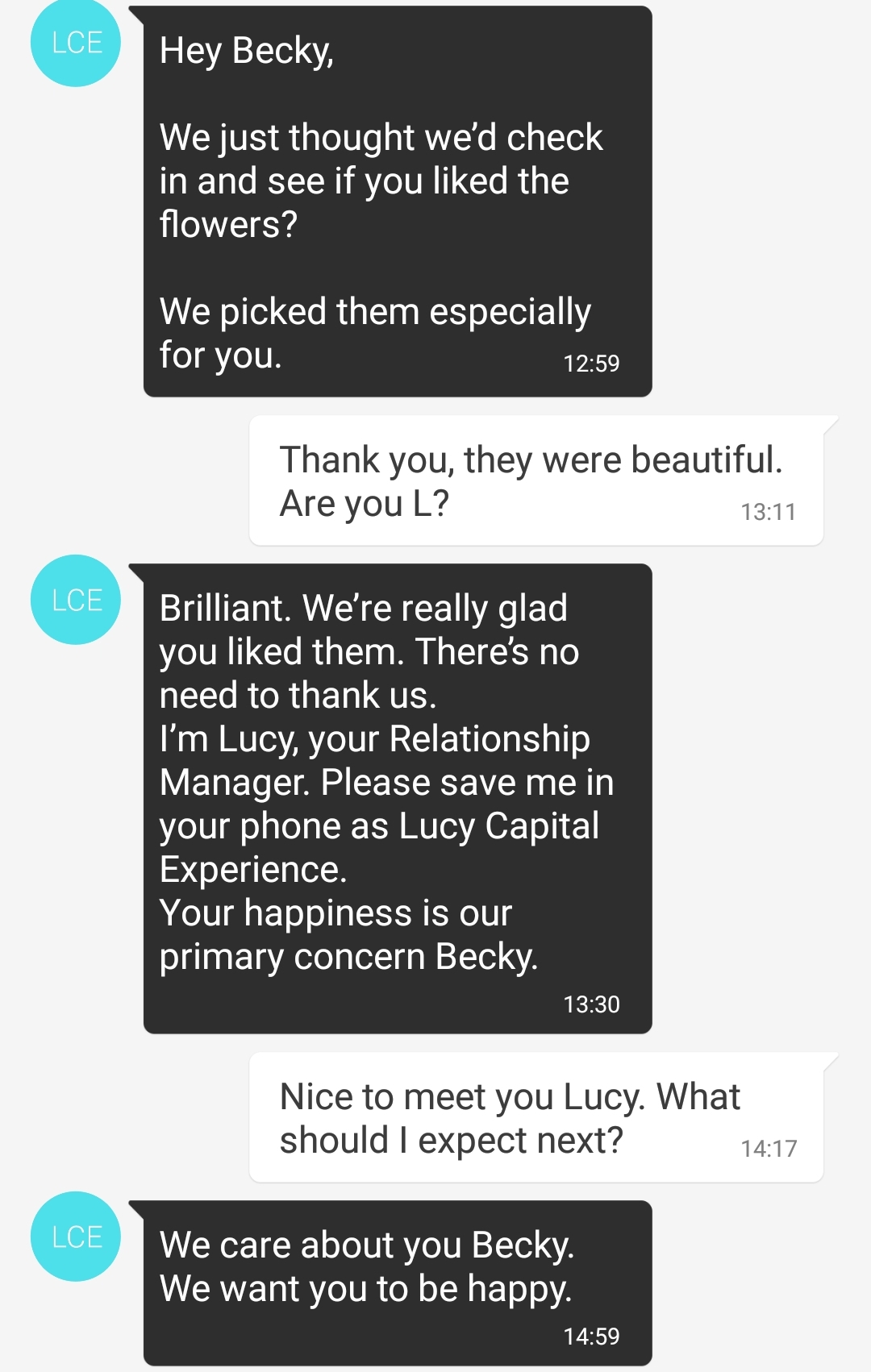 4th March
Lucy's texted again, and asked if we can arrange a time to meet. This is getting exciting. She says they have something to give me. Our rendezvous is set for Tuesday, 11am at Leeds Art Gallery.
I try to continue on the conversation, but Lucy shuts it down.
We would love to stay and chat but unfortunately our time has run out. More privileges are given to premium members. We will be in touch soon. Be Happy."
When I ask she says that premium members are selected based on behaviour.
I text back two smiley faces. Already I can feel her manipulating me, but I'm desperate to get a premium account so I don't care.
6th March – The Meeting
Today's the day. Running late, as usual, I race down the Headrow, and feel my phone buzz in my handbag. Fishing it out, it's the instructions I felt sure I would be receiving – where to go, where to sit.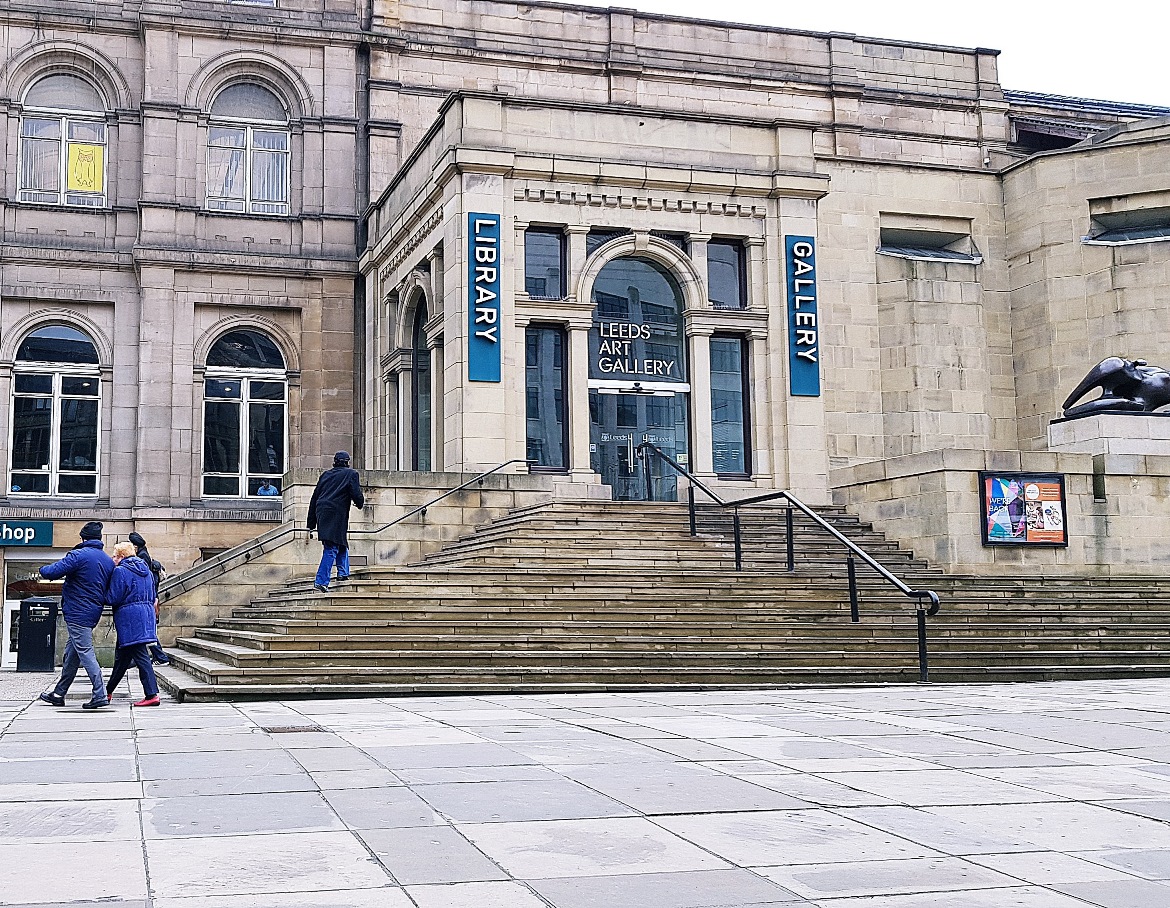 I turn up with a minute or so to spare. Find the spot. Sit down. I peer at the faces around me – who could be meeting me? Will it be Lucy? Then I think that perhaps no one will be coming, but that they've left a parcel secreted for me somewhere around the bench. It's while I'm inspecting the bench that a man walks up to me.
"Becky?"

"Yes?"
He thrusts the parcel into my hand and walks off. I take a moment to gather myself before whipping out my phone to take a photo of his quickly retreating back.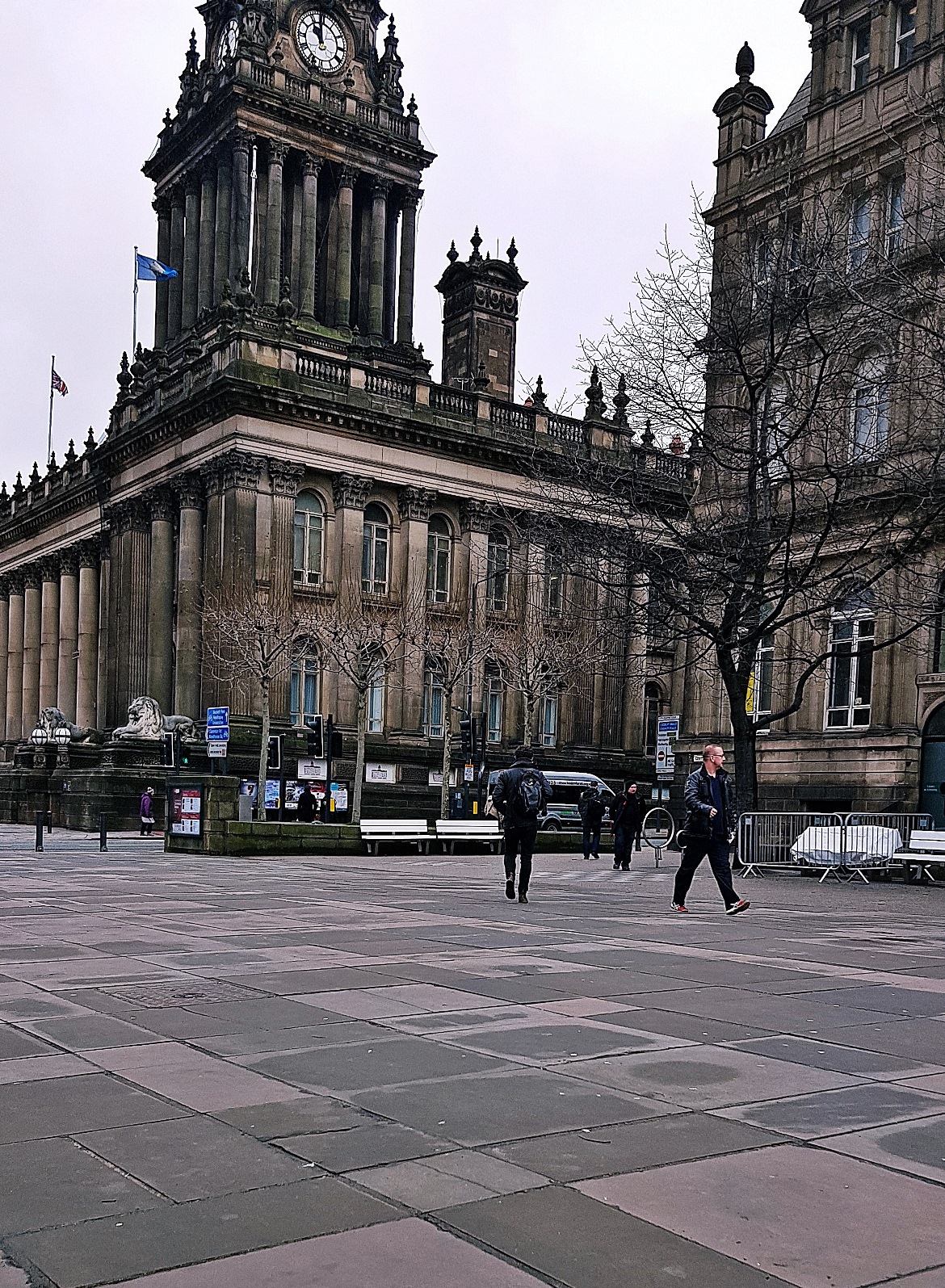 The clock is still striking eleven as I look down at the slightly lumpy package. There could be anything in here. My mind immediately goes to the worst case scenario. What if there's a bomb or drugs or something? It's ridiculous, but I can't help it. Calming myself, I decide to retreat to the Tiled Cafe in the Art Gallery for a cup of coffee and some warmth.
6th March – The Package
It takes all the self control I have to not rip the parcel open straight away. But I'm methodical. I find a table, take a sip of coffee. I unwind the fastening and remove the contents. The peculiar shape was down to four Lindor chocolates. My favourite. How did they know?
There's a few pieces of paper inside, and a second envelope which I set aside to look at later.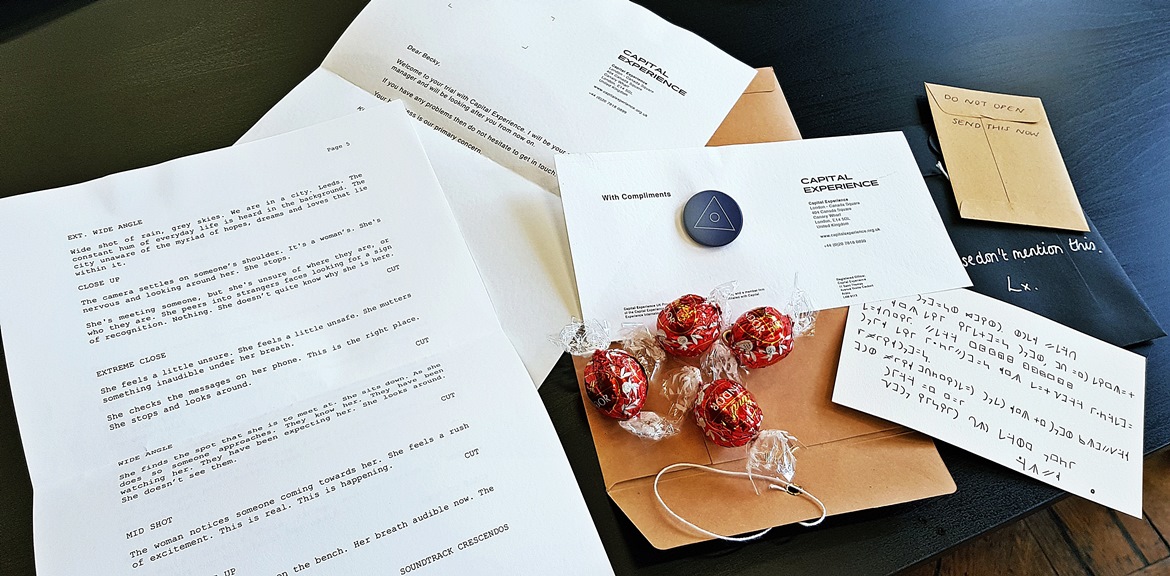 The first piece of paper is a generic letterhead for Capital Experience. The address is somewhere in London, and the purpose of the company isn't given away at all. A pin badge is attached with a strange symbol on – a circle within a triangle. I'd say it looked like a logo, but it didn't appear on the letterhead. I immediately remove it and attach it to my handbag.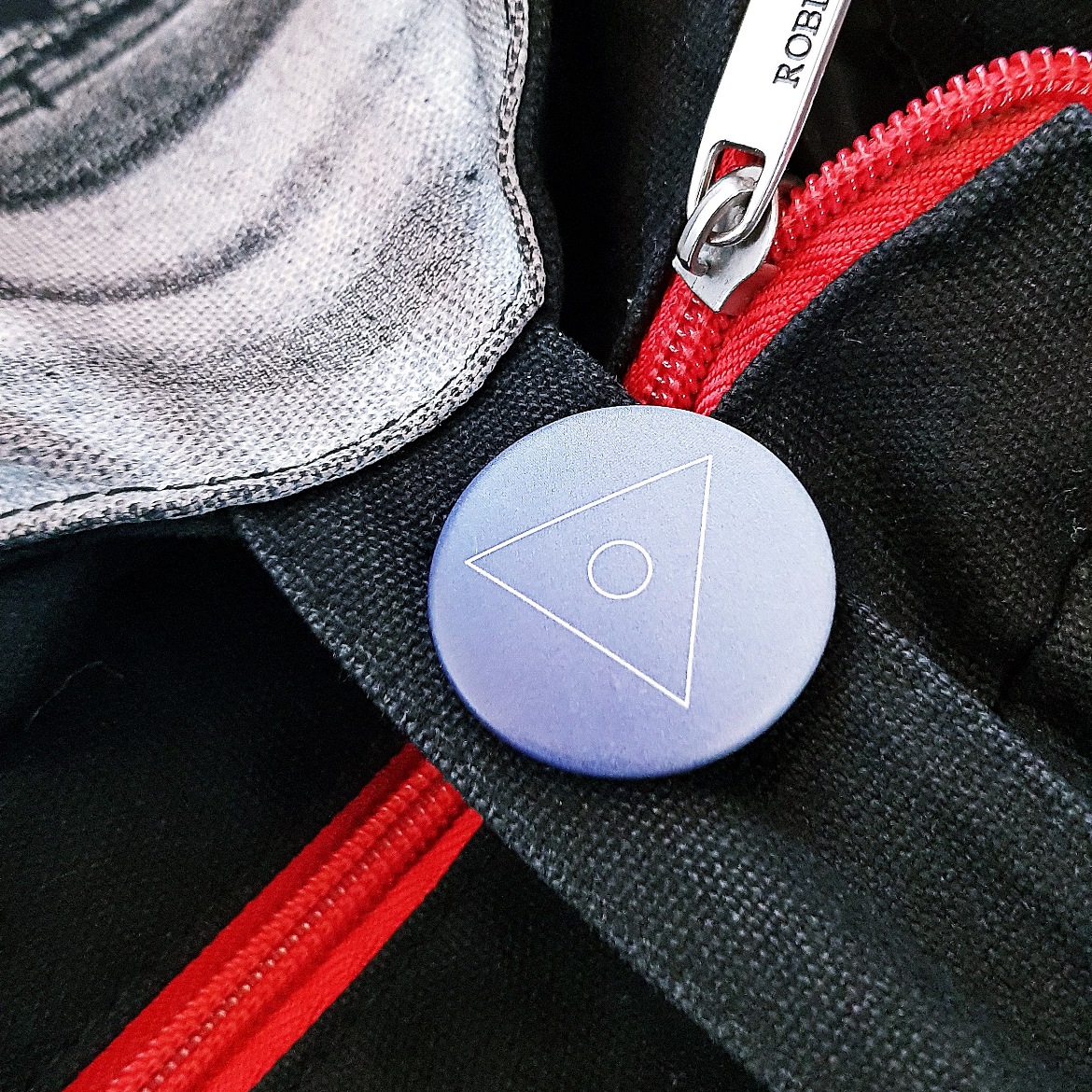 Beneath this is a welcome letter for my "trial" with Capital Experience. The remaining two pages are numbered page 5 and 6, and seem to be from a script. Before I even start reading them, it's like I know what they will contain.
It's the script I just acted out. A woman heads to a location. Sits down. She looks nervous, peering into strangers' faces. Someone walks up to her.
"Becky?"

"Yes?"
The only errors are omitting my search of the bench, and that I relocated inside the Art Gallery before opening the package. It's eerie, but not unexpected for some reason. I only wonder what's on pages 1-4…
Towards the end of the script, a few words jump out.
"She thinks about this next time she's in the Alchemist. You're on the right path Becky. Trust your instincts. Your journey has just begun".
I mentally file away the Alchemist as a location to visit, especially considering the similarity between the Alchemist logo and the badge.
The script also promises an email later in the day…
6th March – The Secret
Meanwhile, my attention turns to the second envelope. It's smaller and black, and warns me not to share this with anyone. I'm not sure if it's an out-of-character instruction not to blog/insta about it or an in-game sneak action.
Inside there is a postcard with an image of a red carnation on and a coded message on the reverse, as well as a tiny addressed and sealed envelope. I inspect the envelope first. It's address to Max Westbrook, with a Leeds City Centre address. The back instructs me "Do not open. Send this now.". I hesitate for a moment, then set the envelope aside.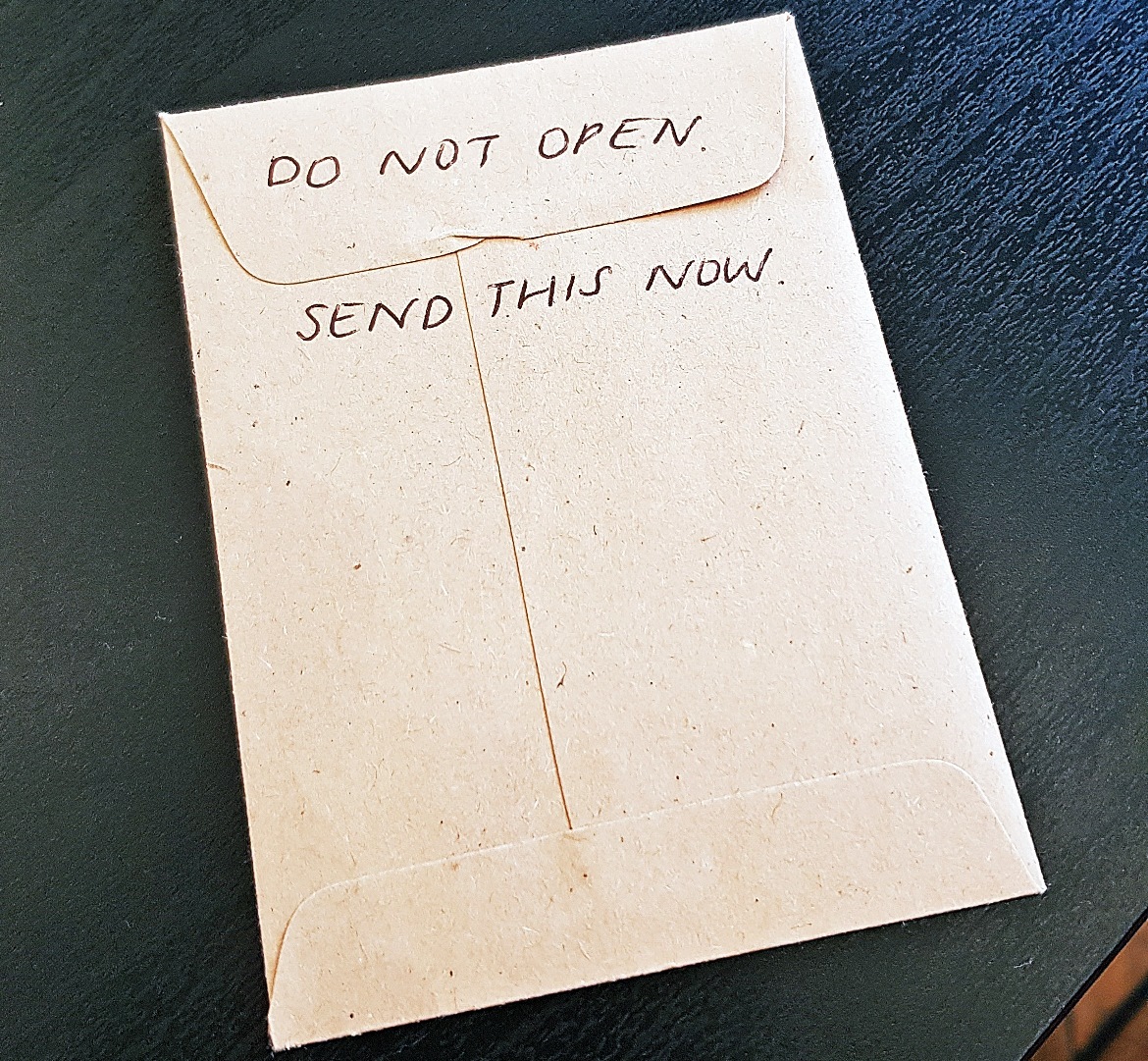 Immediately I spot how to decode the postcard. There's a five letter word starting the postcard, and a four letter and one letter finishing it – surely "Becky" and "Lucy H".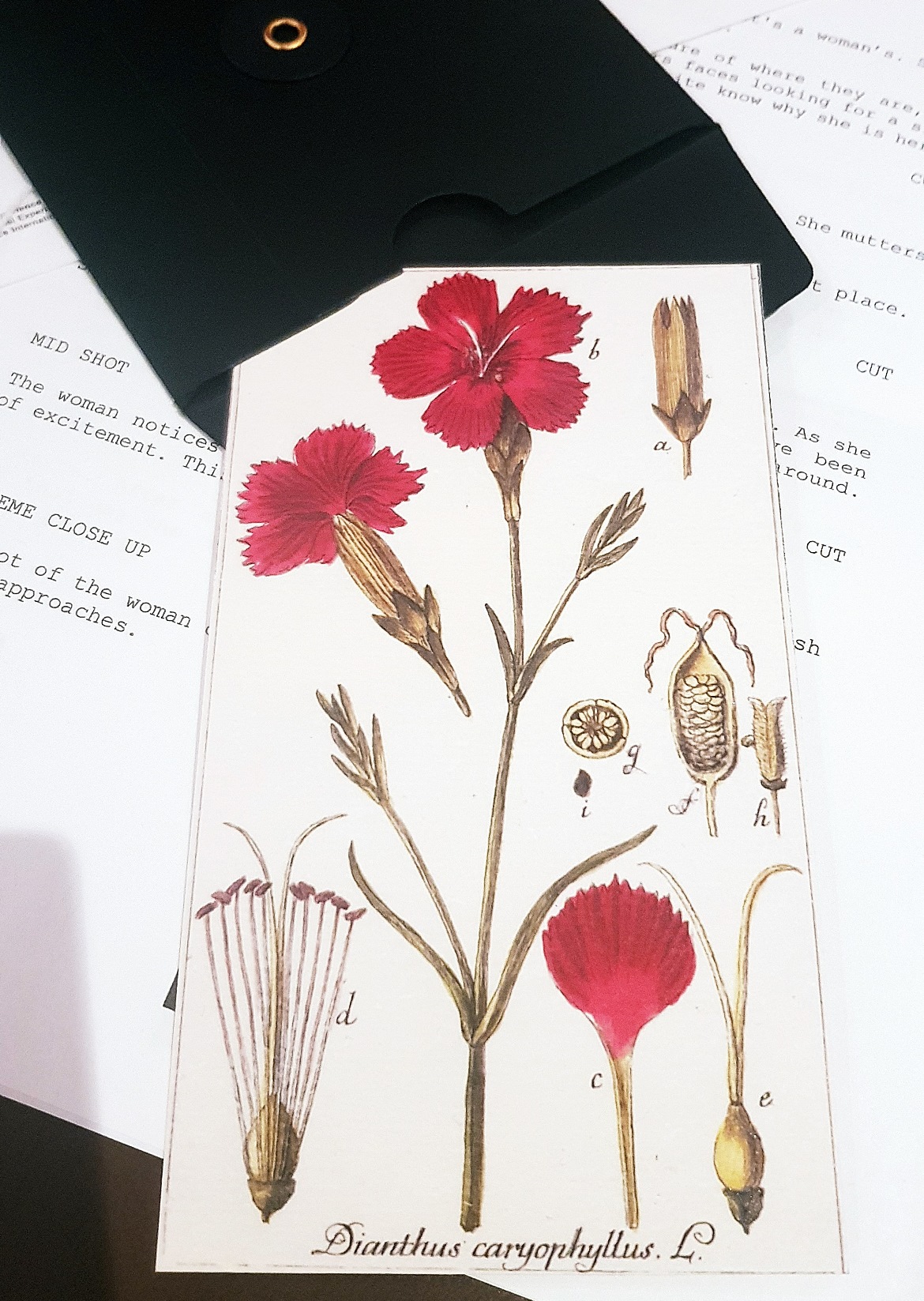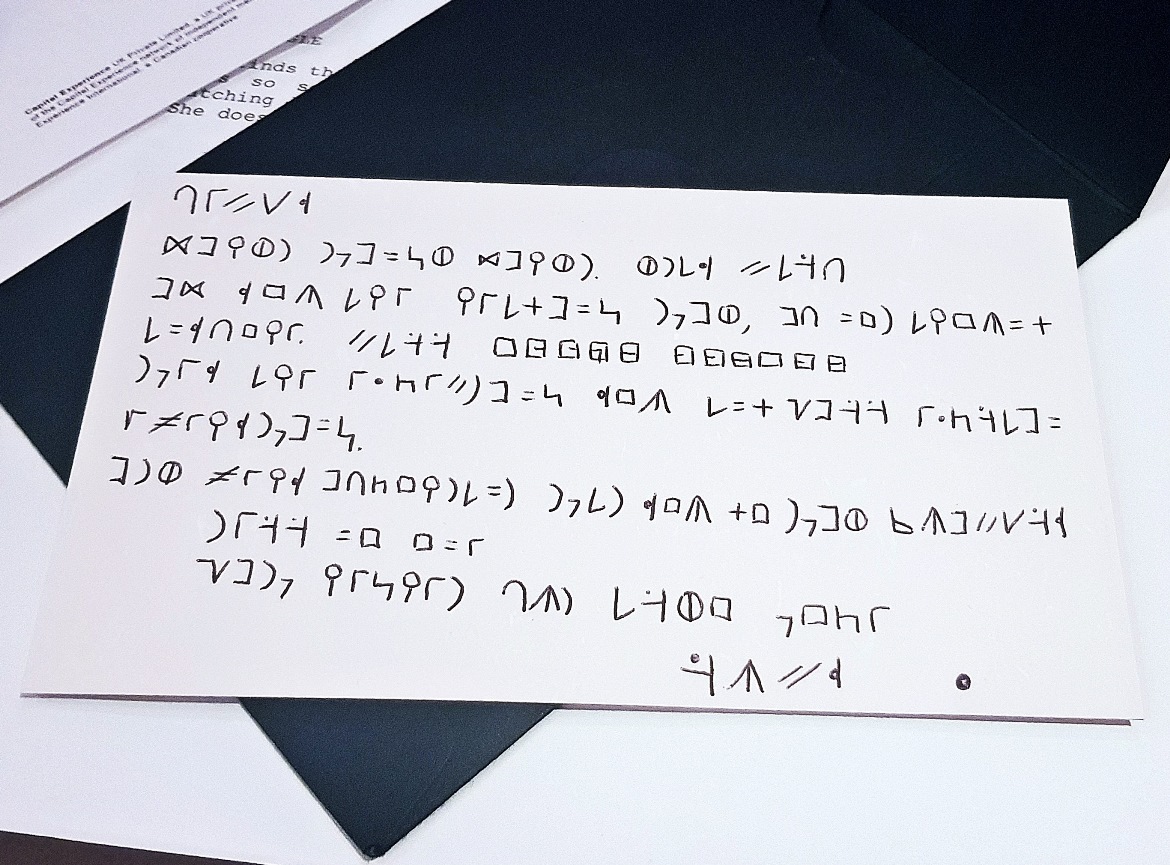 When I finally sit down to crack it later that evening, it doesn't take me long. I love cryptography. It's Lucy x not Lucy H, but it's still more than enough for me to solve it… except for one part.
Becky.

First things first, stay calm. If you are reading this, I'm not around any more. Call <untranslateable>. They are expecting you and will explain everything. It's very important that you do this quickly. Tell no one.

With regret, but also hope,

Lucy x
My mind whirred. Lucy was no longer around? Had they killed her? But she's still contacting me? Perhaps she's sent the code as preparation because she's in danger, and only after I receive the key to cracking it will she be "not around any more". But henceforth all my interactions with Lucy are done with the underlying thought of… is this the real Lucy?
The undecipherable section seems to be a phone number, of the format 0aabc ddc0dc. I assume it begins either 077 or 0113… but there's literally no way for me to crack this without a key. There's no other numbers in the message I could use as reference, and with 378 different permutations there's no way I'm trying them all.
Oh, and the addressed envelope? I posted it…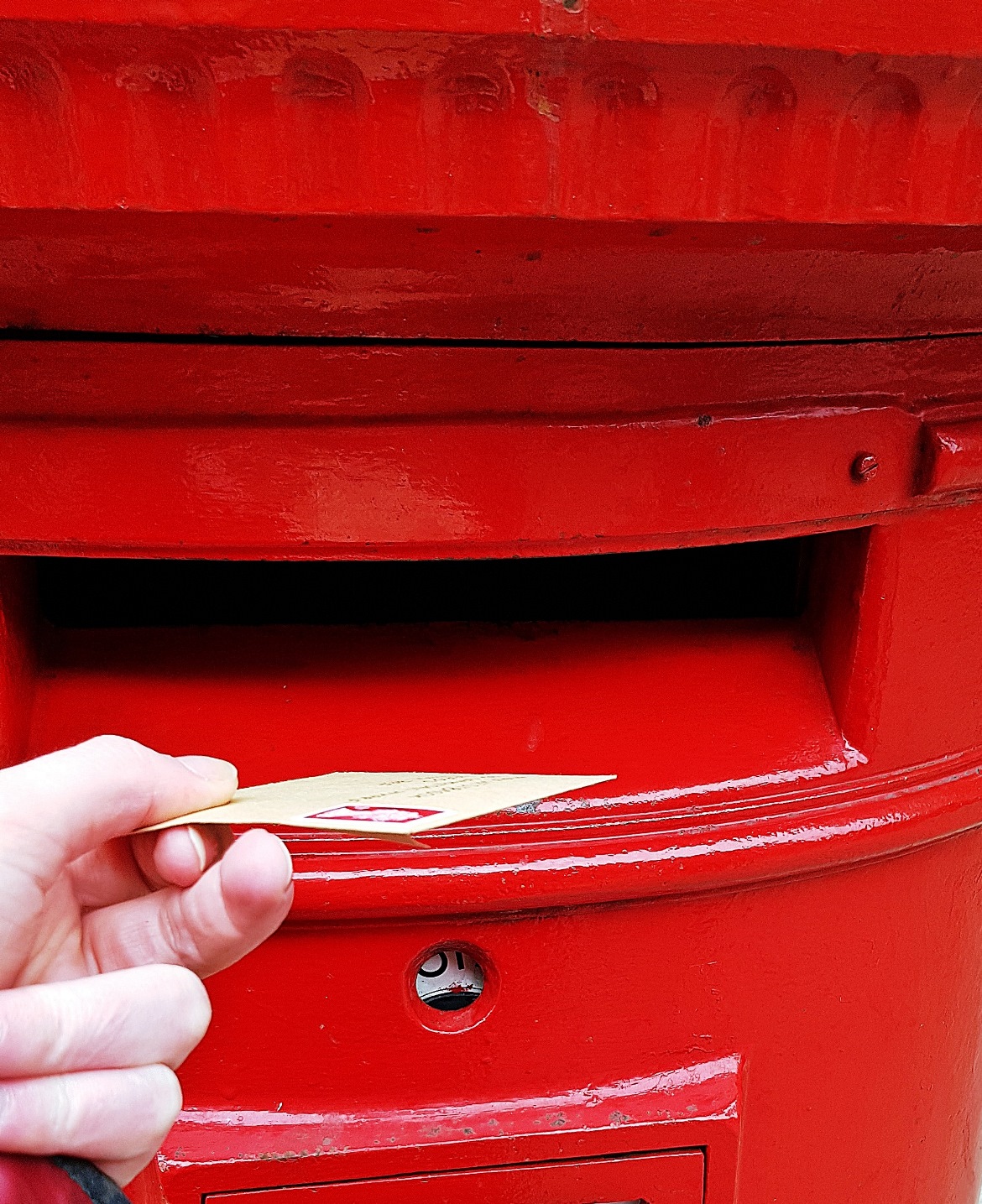 Nearly. I was literally stood next to the postbox, with it in my hand, and not a doubt that I would post it. I guessed that it might be intended for another participant in the game, and that I'd receive my own in a few days time. Images flashed in my head of the Black Mirror Episode "Shut Up and Dance", and I half wondered what terrible thing I was sending on…
As I reached towards the postbox, I glanced towards Sainsburys. It would be so easy to open the envelope, nip in, buy some pritt stick, glue it back down… no one would ever have to know. So I opened it.
And I was so relieved I hadn't sent it. It contained a note addressed to me, and complimented me on being "a leader, not a follower". It was also from Lucy.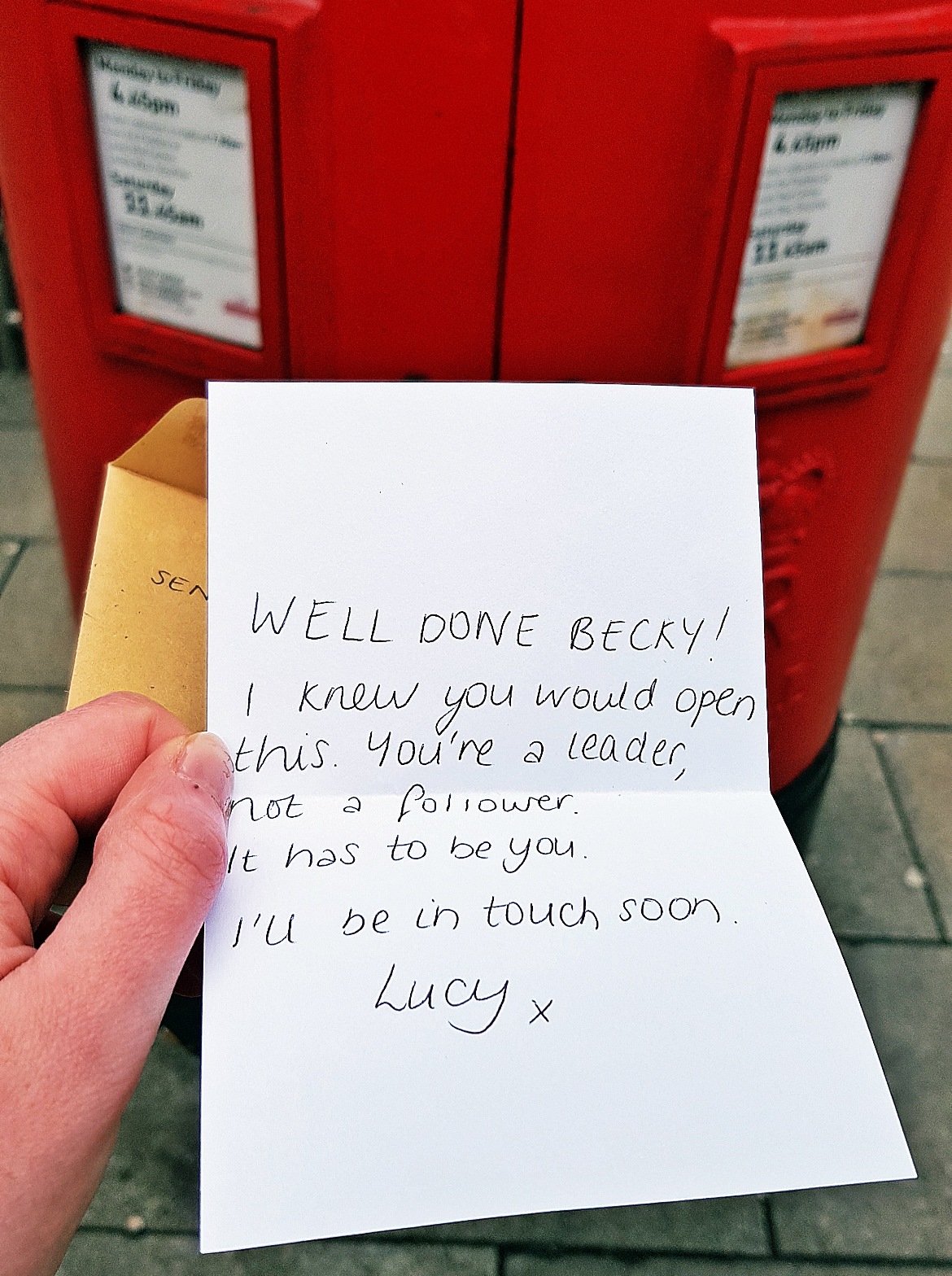 6th March – The Email
Later that day, I do indeed receive an email. It's (again) from Lucy, and I note that she is the only person I have had any contact with (besides mysterious mail man).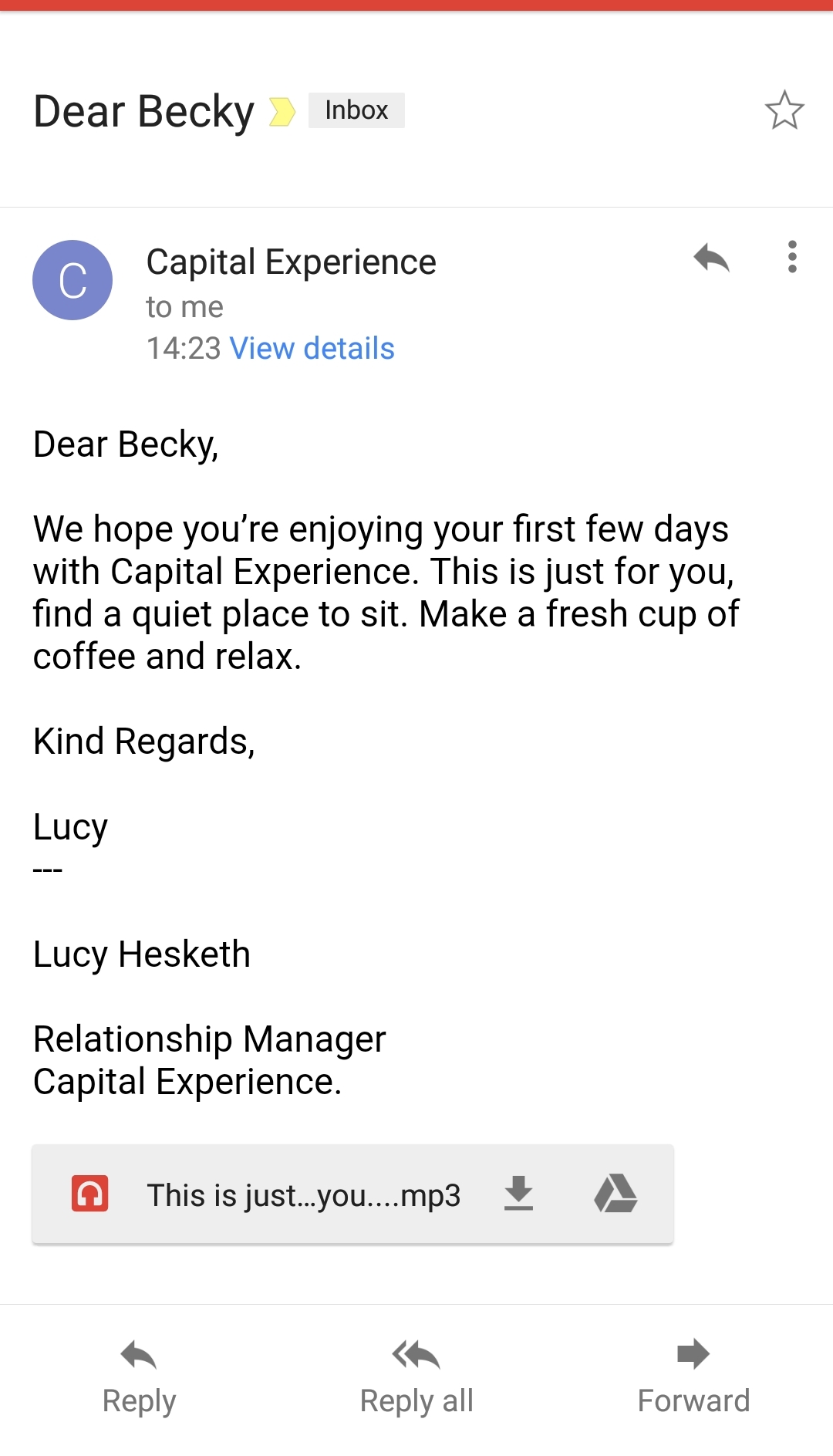 It contains an audio clip, which I impatiently wait to listen to after work. The email suggests I sit down with a cup of coffee, but instead I listen while standing at the bus stop.
You are probably wondering what is going on. Why this is happening? Why you?
It's a man's voice. Probably not Lucy.
You are here because there is something about life which doesn't sit quite right for you. Something you can't quite put your finger on. Something… wrong. You want to dive beneath the surface level of life, and really experience it to its fullest.
I start to get Matrix flashbacks. Are they offering me the red pill or the blue pill?
You have been chosen. You are one of the Lucky Ones….
TITLE DROP! The crowd goes wild!
Right now, your life is about to change. You are the hero in your own story. Whatever happened before this moment does not define who you are. You have learnt lessons from your past, but you are not your past. You are the person in this moment listening to this. Your story begins right now.
Written out, it looks preachy and insincere, like a self-help book. But in the mellifluous voice with a gentle musical backdrop…
What would the hero of your story do if this was the opening chapter?
Honestly. I'm moved.
Do that. Go on from this moment and live your life how your hero would. We will be with you every step of the way. We will be in touch again soon.
After a long long long day of more and more clues, I go to bed, mind a-buzz with ideas.
7th March
After a busy day yesterday, I'm assuming some radio silence while I digest, so I'm surprised when I receive this text from a completely different number.
Becky, I put something in your package to see if it was possible to smuggle information out of the company to someone I trust, someone special. You will get what you need to crack it all when the time is right. I know it's you, it has to be you. Lx
I reply but Lucy shuts me down quickly, saying that the texts might be being watched.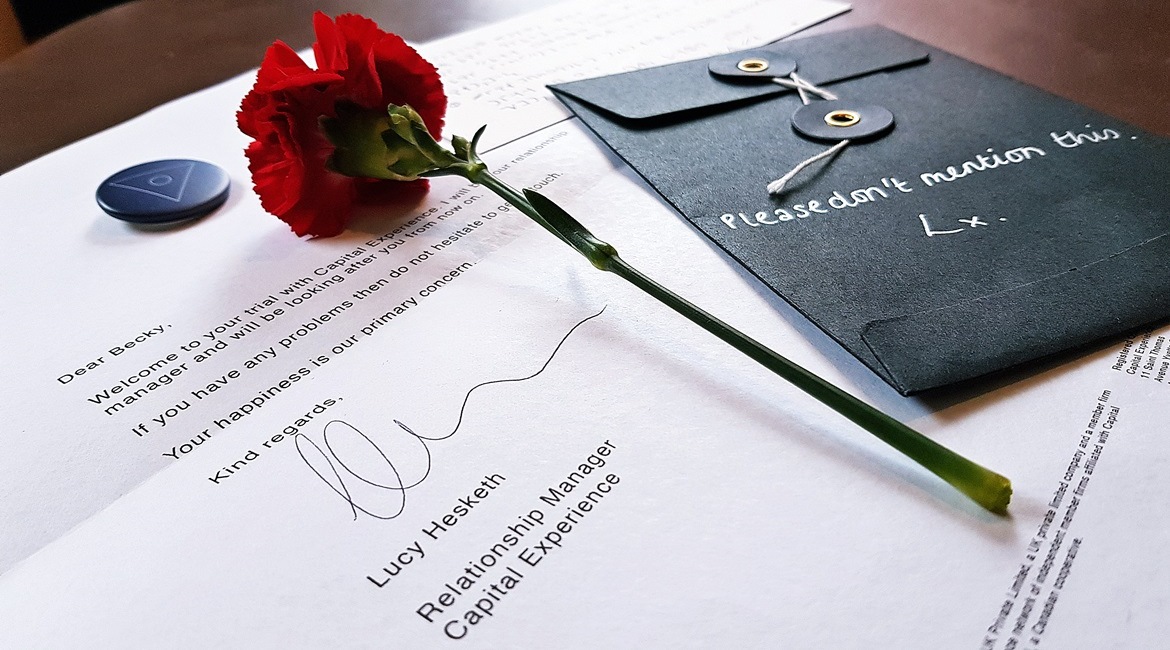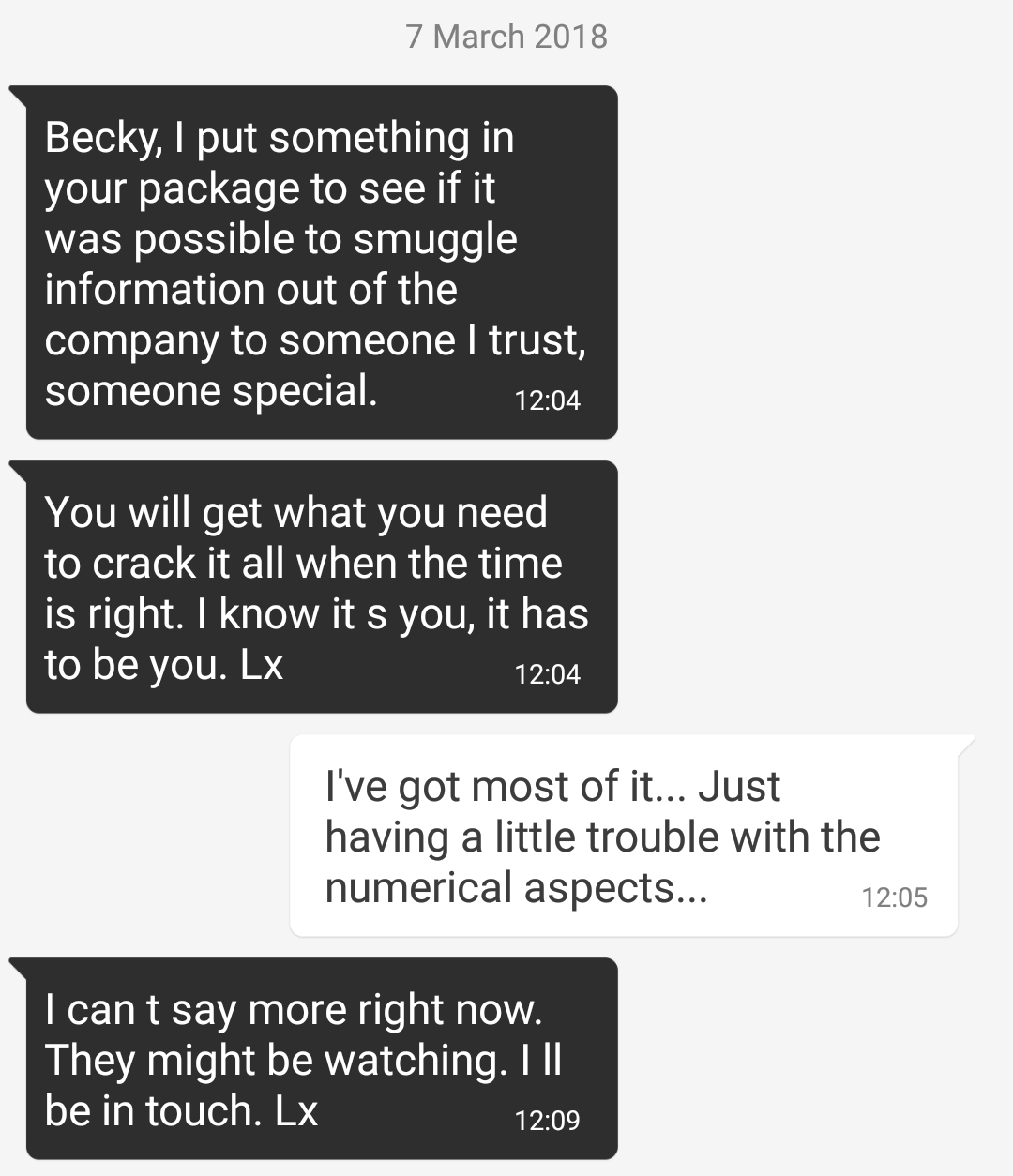 By this point, I have no idea what's going on. I still don't know what the purpose of Capital Experience is. It seems like it's not a company I signed up to, but rather one that selected me, but I don't have confirmation of that. I have no idea what force Subversive-Lucy (as I think of her in my head) is trying to protect me from. I don't know whether I'm supposed to have cracked the code and worked out that Lucy "isn't around any more", or if she'll send me the code solution when she's gone and she's currently still with CE. I feel like I've been thrown in the deep end and I'm trying to work out which threads are significant in a tangle of knots.
I'm in deep. I don't have an outlet. I start generating random ideas based on all the different clues I've received so far:
Starting to ring the different phone numbers
Visiting either Max's address or the Capital Experience HQ in London
Send a coded letter to one of the addresses
Go for a drink at the Alchemist
A quick poll of my Instagram followers seems to suggest that everyone's in favour of me going for a drink at the Alchemist, but I don't know how much of that is just because everyone thinks I need more cocktails.
8th March
Today things got weird.
I mean. Weirder than being given a package by someone I don't know at a random location.
Today I think Lucy started flirting with me – if it is indeed Lucy.
I drop Lucy a quick cheery text, and receive three back. The first is a generic "Thanks for asking how I am, the sun is shining, how are you?" But then…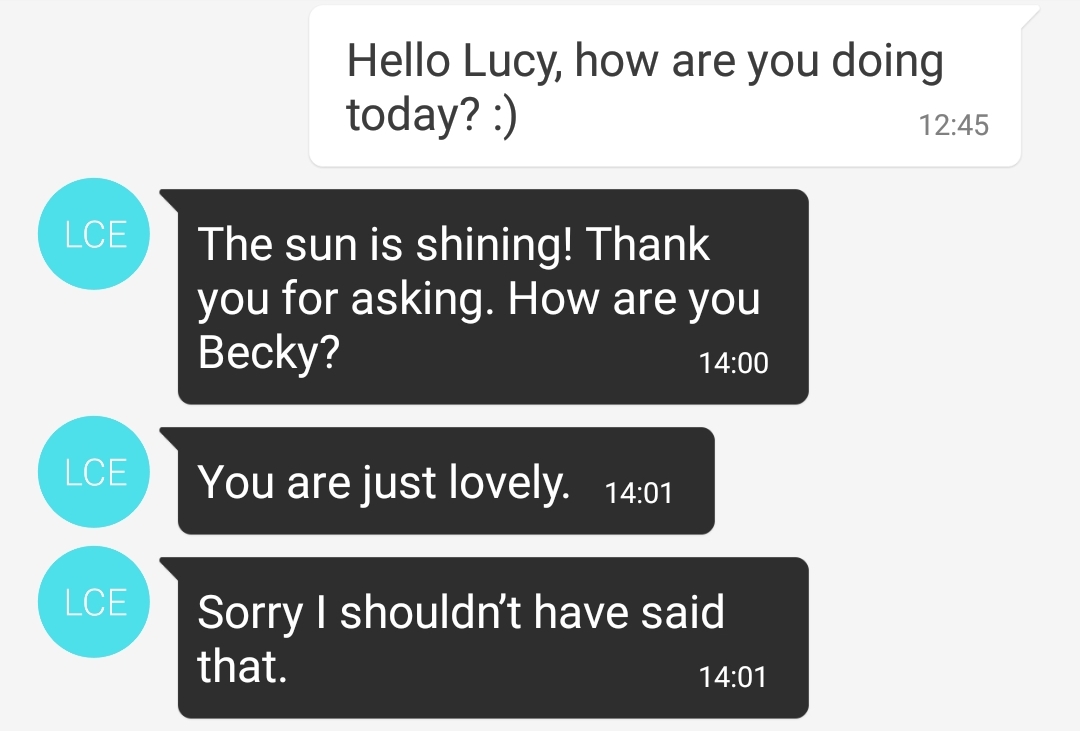 When I pry more, I get the generic "more privileges are given to premium members" automated message.
Meanwhile, my need for a fix has got me trawling social media, and I manage to speak to three different people who are involved with the Lucky Ones. All of our stories are slightly different. One received dark chocolate rather than Lindor (not her favourite). And another didn't receive the letter to Max that you were supposed to post on. She also hadn't received yesterday's text from a different number, and Lucy wasn't shutting her down in the texts the way she was with me. It seems that our minuscule differences in our interactions may have affected our paths more than we thought.
Later, after a few cocktails to bolster my confidence, I drop by Max's. I chicken out of knocking on the door – going to a strangers' late at night on my own seems like a dumb move.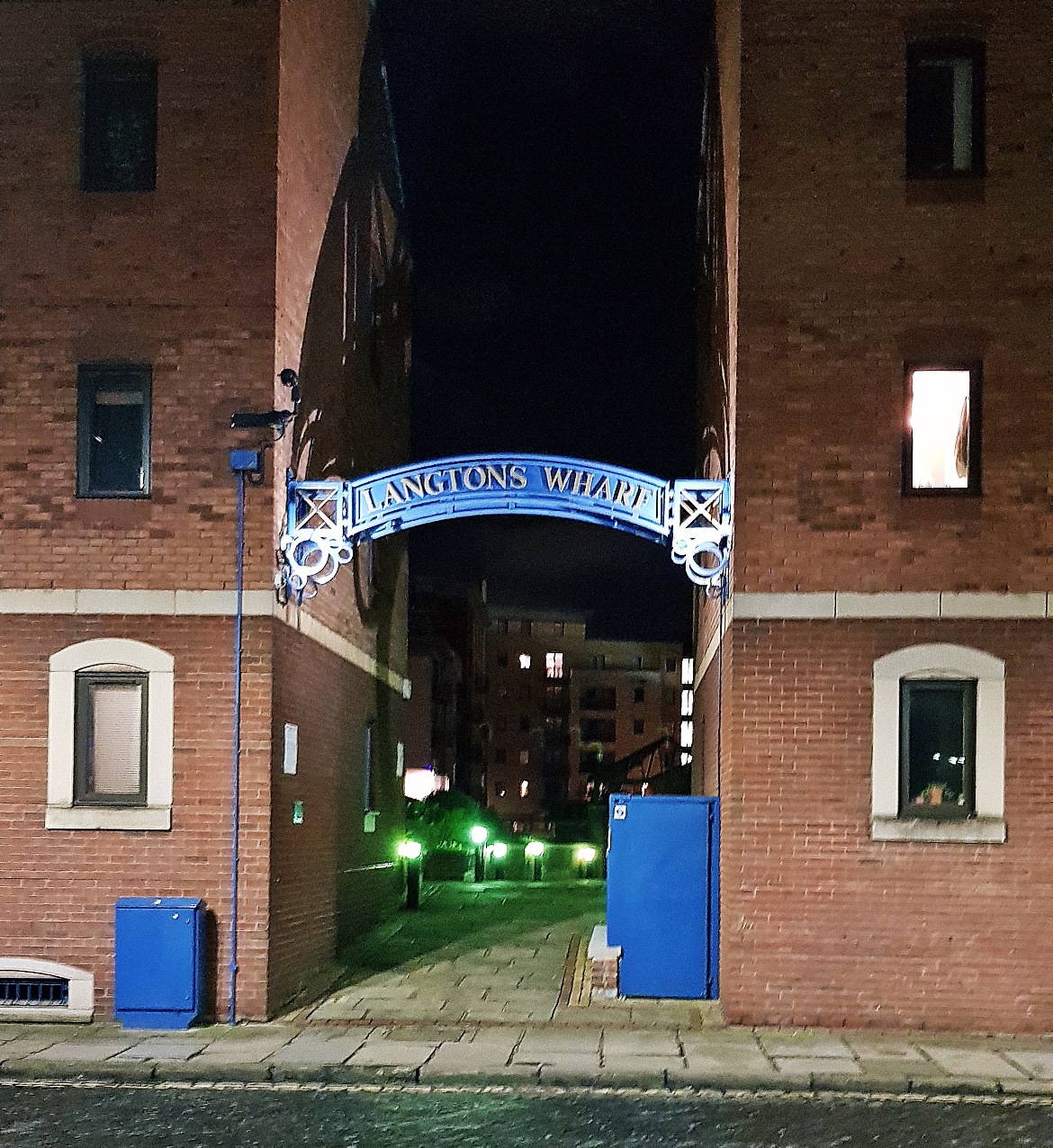 But I make a resolution that I want to be a premium member, and since it's measured by behaviour, I will do anything and everything possible to prove to Lucy that I am a happy person. The happiest damn person alive.
9th March
It's a busy day at work, but I manage to zap off a text to Lucy telling her how happy I am. Hours without a response go by, and I'm in despair, when finally my phone buzzes… with the auto-reply.
I go to the Alchemist to drown my sorrows, but no one seems to recognise my badge. I check Twitter, and see someone else got a Bounty rather than Lindor. I consider going to the Lindor store. I eat the rest of the chocolates and scavenge the wrappers for hidden notes. I see on Instagram that Riptide have added a cryptic video to their story, and spend ages trying to work out what they're saying. Someone points out that the Riptide profile has an address on it now that it didn't have before. I screenshot it and add it to the list of potential locations to visit.
After several hours spent clinging on to every scrappy idea that I could come up with… I realise I've missed some of the obvious clues. On the letterhead that I removed the badge from and dismissed.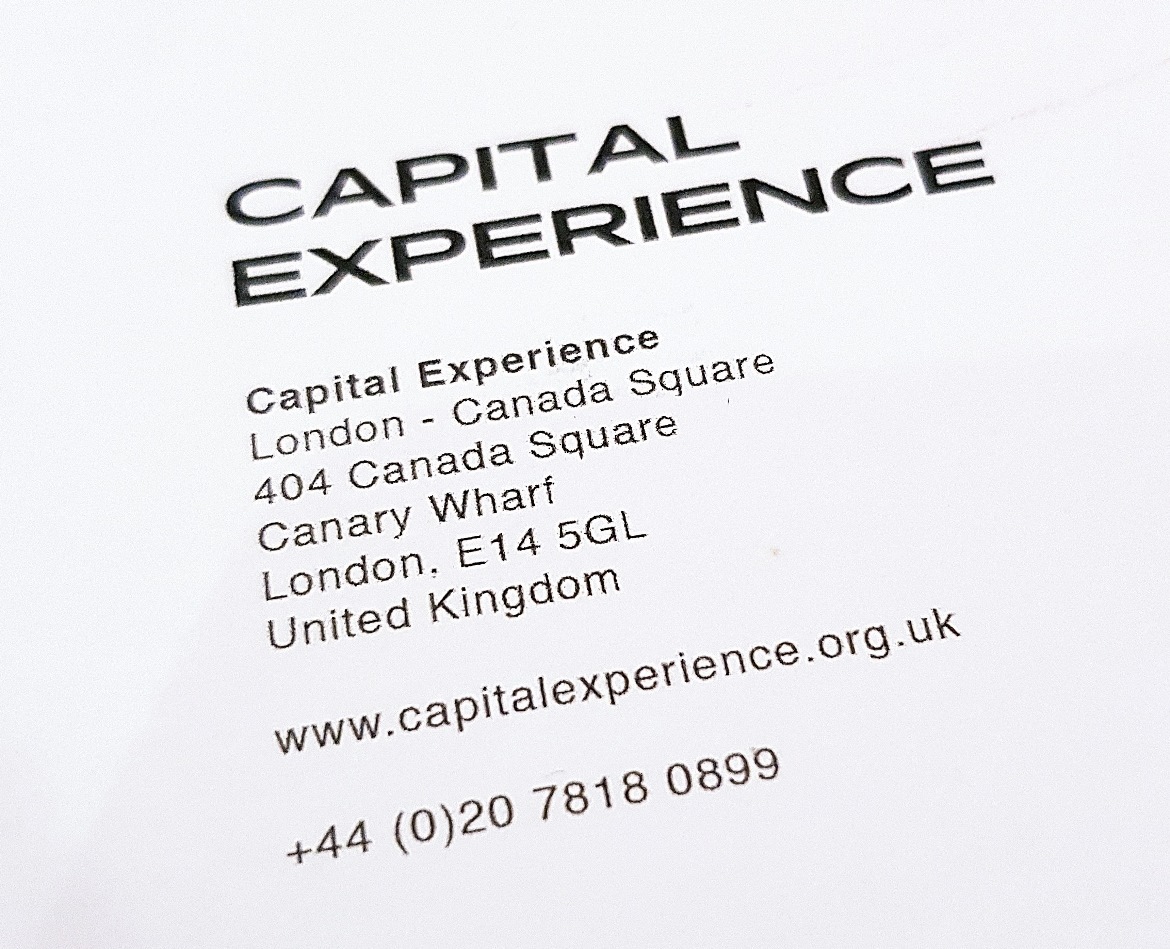 Firstly… the London HQ address is a ruse. It's 404 Canada Square, and 404 is internet speak for Address Not Found. But I'd completely overlooked the actually useful information – the WEBSITE ADDRESS and PHONE NUMBER.
Goddamnit.
I check out the webpage, and it's got a section for Premium members that's password locked. And when I call the phone number, I'm prompted to leave a message. I leave the chirpiest damn message I've ever left, and go to bed feeling daft.
10th March
So, my postbox is down on the ground floor, by an entrance we don't use often, it can occasionally be several days between us checking for post.
Not a mistake I'll be making again. The letter is in the smaller black envelope that I recognise from Subversive-Lucy. The letter is written on Capital Experience headed paper, and gives me my first insight into what the purpose of the company.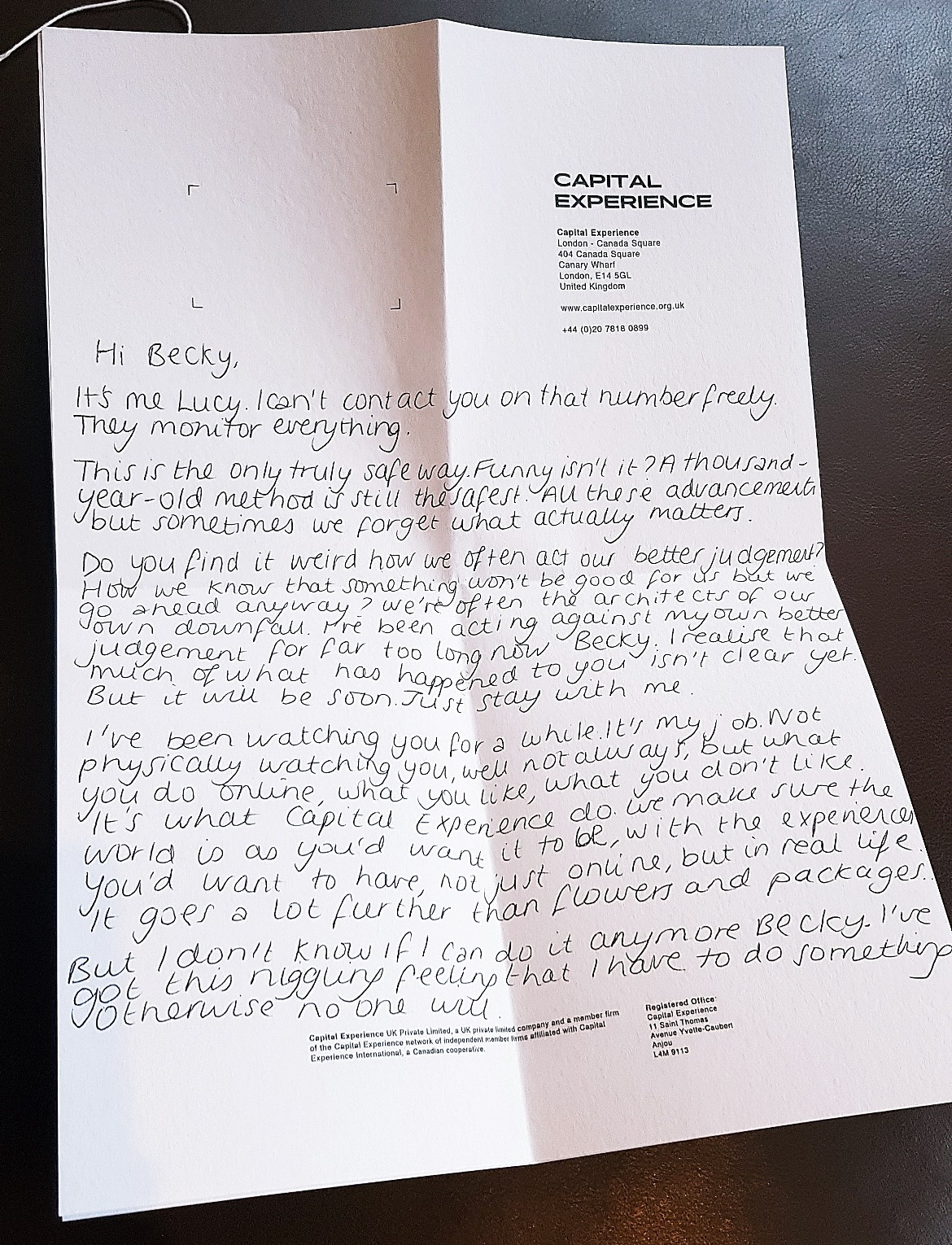 I've been watching you for a while. It's my job. Not physically watching you, well, not always, but what you do online, what you like, what you don't like. It's what Capital Experience do. We make sure the world is as you'd want it to be, with the experiences you'd want to have, not just online, but in real life.
So CE is a lifestyle company for those who want life to be different to how it is. Based on the audio in the email, it's for people who crave excitement and adventure. Who want to dive beneath the surface level of life.
But Lucy isn't happy any more. She has a bad feeling about this, and this letter is the only safe way to contact me. She's given me no way to contact her back though, and no details of what's wrong, why I should be scared, whether I'm in danger… I don't know why, but I don't trust this Lucy.
She gives me a quote that I can use to be sure if she's the one contacting me, and a reply to say back. And again, she says:
I really think it's you.

It has to be you.
I don't know what has to be me. I don't know and I don't understand.
11th March
I write my coded message to Lucy in a greetings card that says "Smile" on the front. I use the quote she gave me and ask if I'm in danger.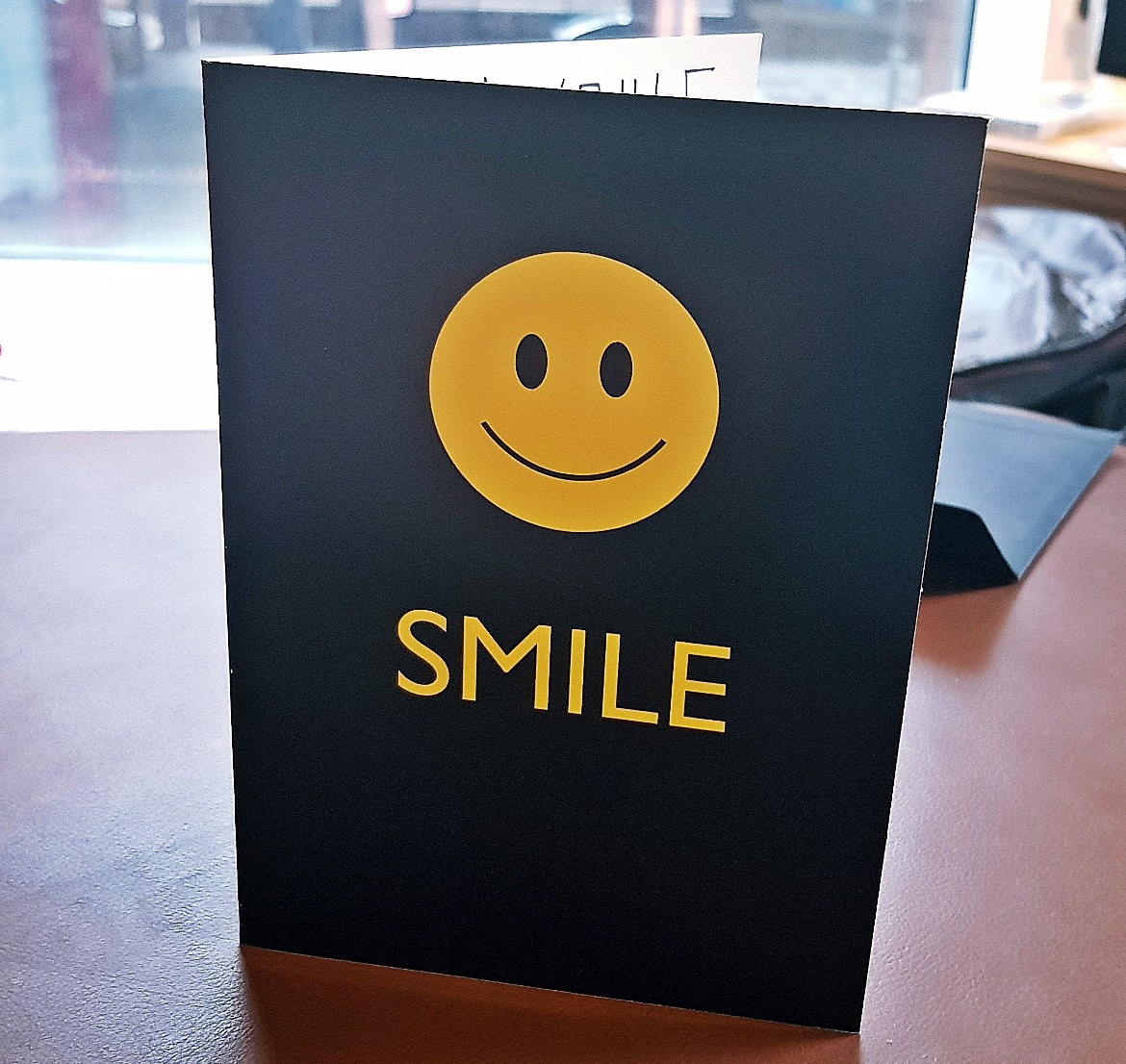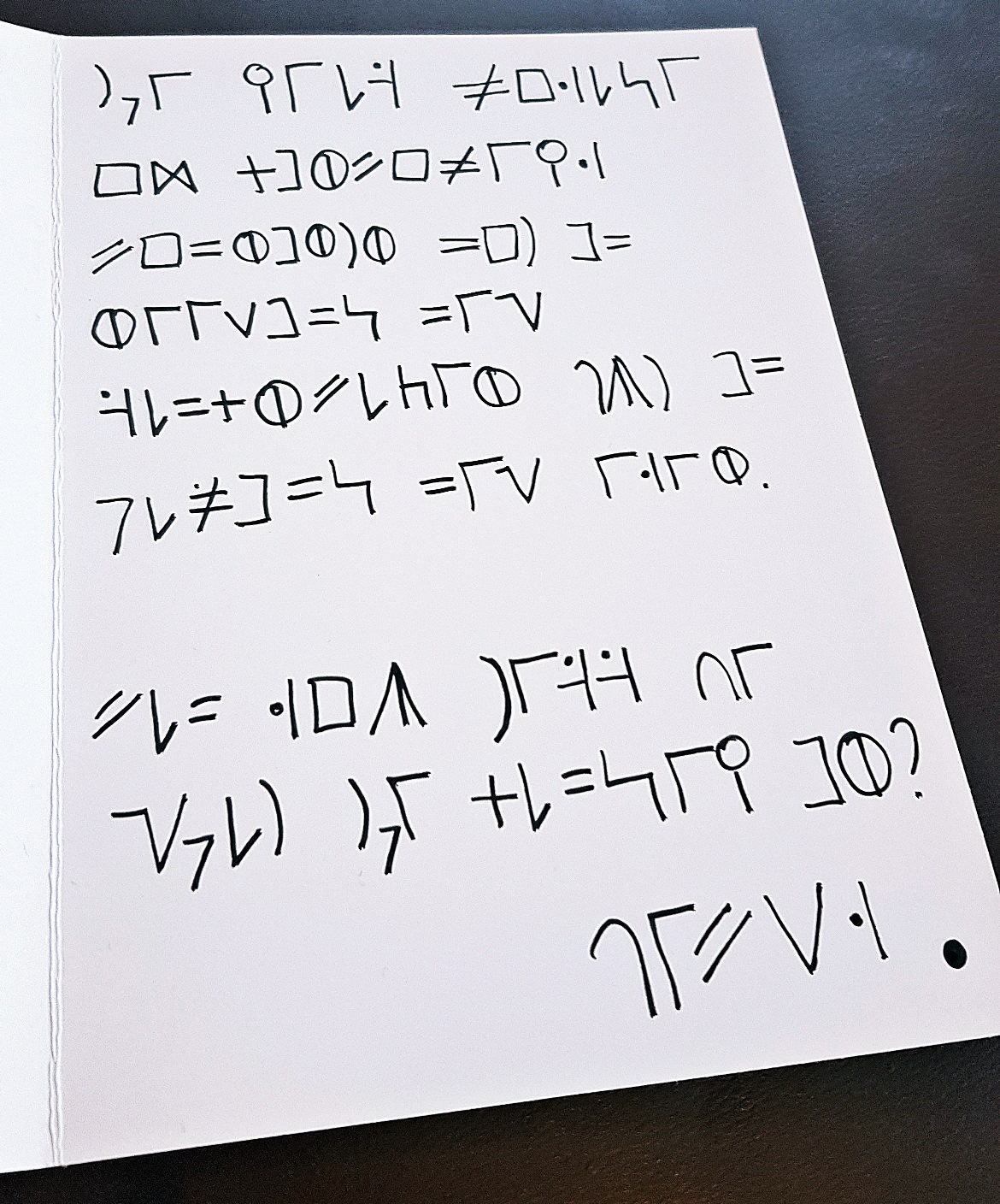 I take it to Max's address. Using the skills I honed during my years in the Assassin's Society, I gain access to the building and post it through the letter box. Then I leg it. I'm afraid to meet Max, but even more afraid that it might be a dead end.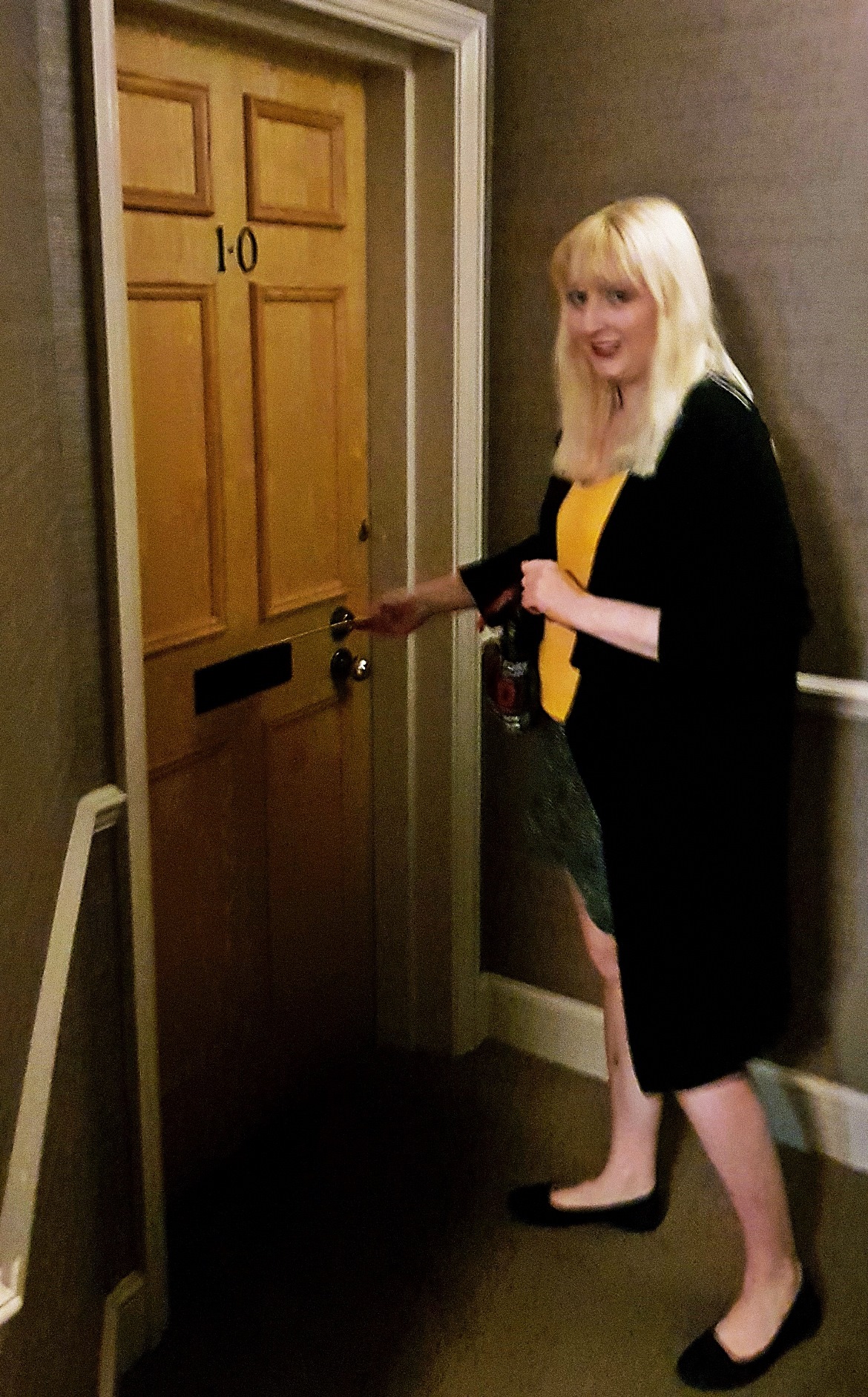 Lucy is chatty on the texts today, but shuts down when I drop a hint about what I've done. I say "MAXimum happiness" and she reverts to the auto-reply. It occurs to me that maybe premium members are those that need the most help being happy, so I decide that tomorrow I will tell her I'm having a bad day.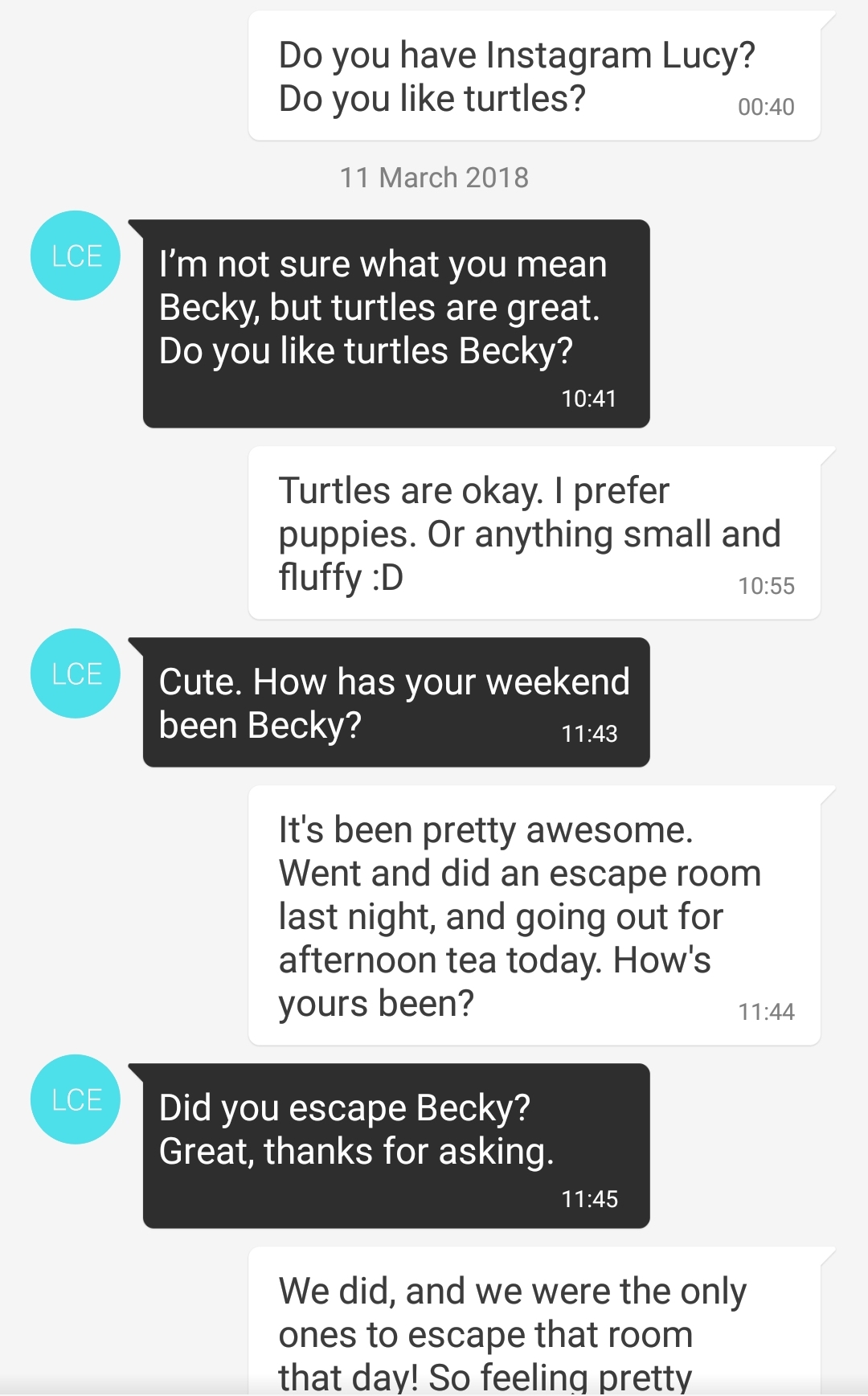 I also consider, for the first time, another option. If Lucy really is breaking the rules by contacting me like this… what will happen if I turn her in?
I'm feeling excited about the game and start chatting more to someone who messaged me having seen my videos; let's call her Turtle. She's doing The Lucky Ones too, and we can't help but compare notes. It's exciting to have someone to puzzle these things out with. It half crosses my mind that she might be a spy for Capital Experience, and I post something to that effect on my Instagram feed…
12th March
I wake up to a message from Turtle.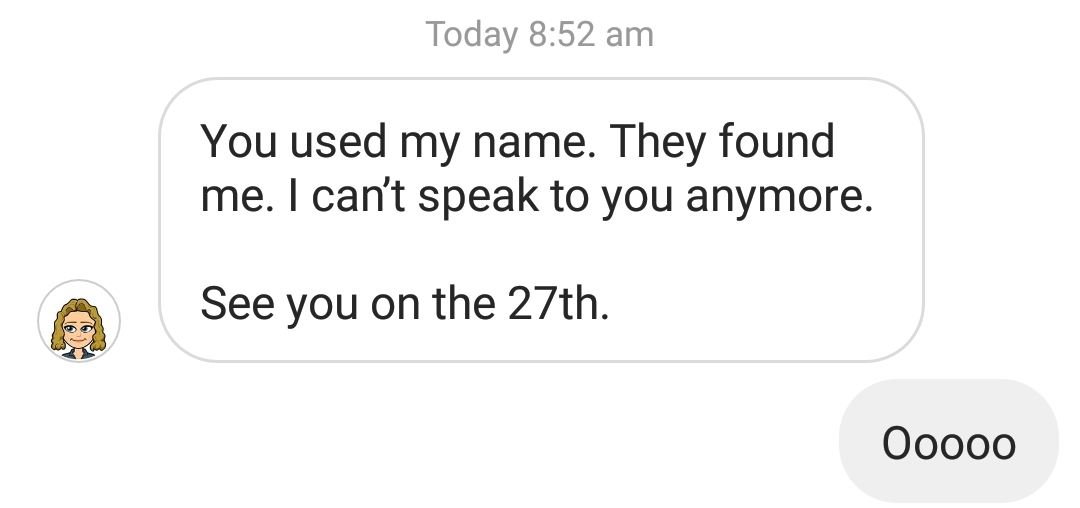 All of a sudden I am wide awake. What happened? Was Turtle really a plant, sent by Capital to help me figure out the clues they've been giving me? I scroll back through the messages, noting down the ideas that seemed to originate with her.
Is she another player? Have I ruined her experience? Is she an actor "playing" another player, and I'm supposed to believe she's been "taken care of" by Capital Experience? My mind is going wild.
I begin my plan B to become a premium member, and message Lucy that I'm not feeling so happy today. But I can't help but let my curiosity about Turtle creep in. I mention that "one of my friends has stopped speaking to me" and I don't know why. Lucy asks if I think I've done something wrong.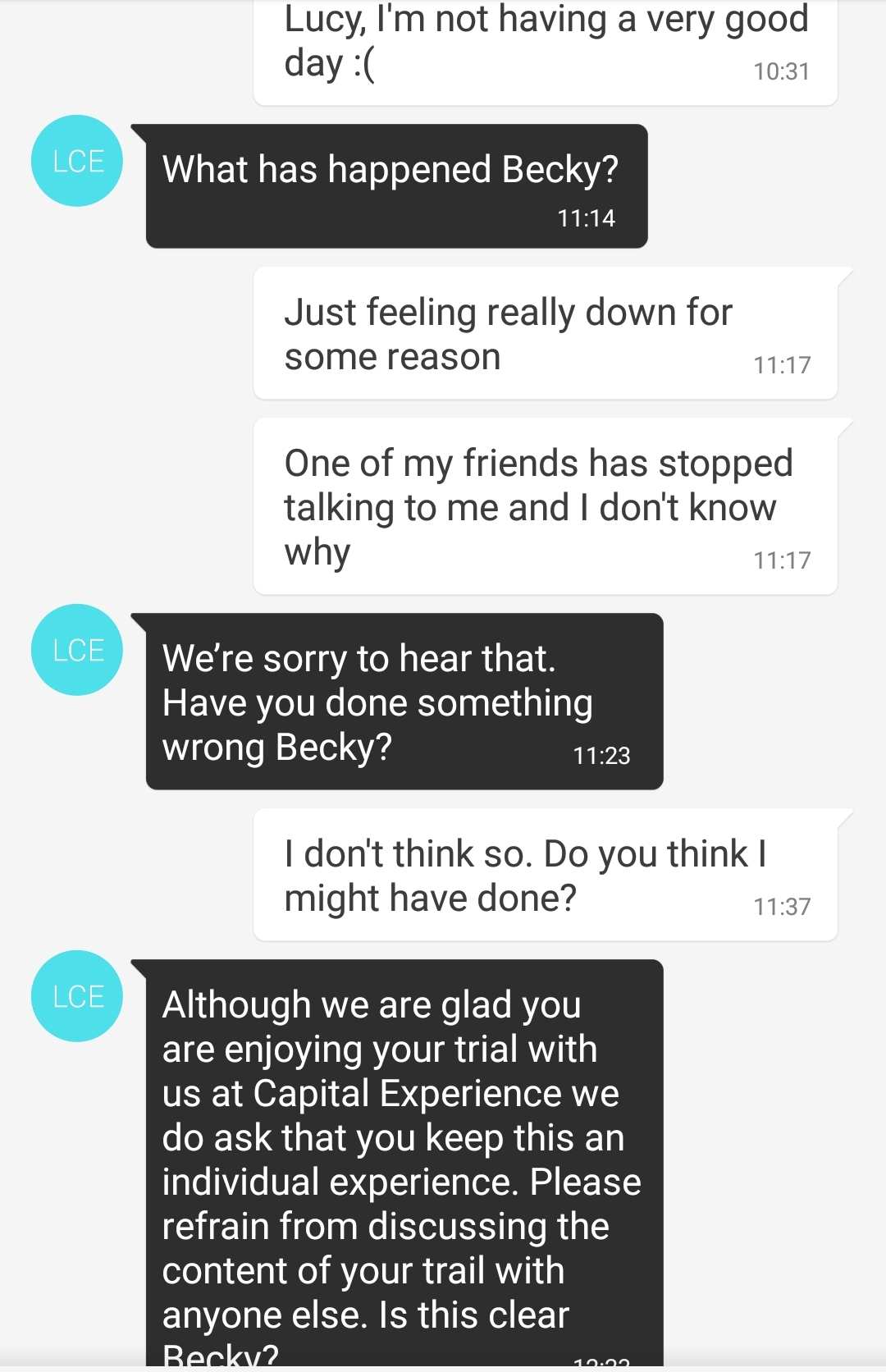 It turns out I have. Lucy is maaaad. I still don't know who Turtle is, but I know I can't talk to her any more. They've taken her away, I can't even see her Instagram. I don't know how far Capital Experience's influence spreads, but obviously further than I thought.
I wholeheartedly apologise to Lucy, begging her forgiveness. As ever, my relationship manager is composed, and graciously accepts my apology.
I use the moment to ask again about Premium membership… and that's where it gets good. I feel my hand shaking as I read the text from Lucy…
The real voyage of discovery consists not in seeking new landscapes, but in having new eyes.
That's it. That's the secret message to confirm we are talking to each other. I hastily dig out the letter so I can be word perfect in my response.
Only through art can we emerge from ourselves and know what another person sees.
I wait for a reply. It doesn't come.
13th March
Twenty-one hours on, and I'm beginning to worry about Lucy. I haven't had any further messages from her since the warning message last night. My concern gets the better of me, and on my lunch I drop her a text, asking if she's okay.
Moments later I'm back at my desk when I hear my phone buzz. Fishing it out, I see a text from Subversive-Lucy's number. It's a link to a reddit page. On the page… the key to the code.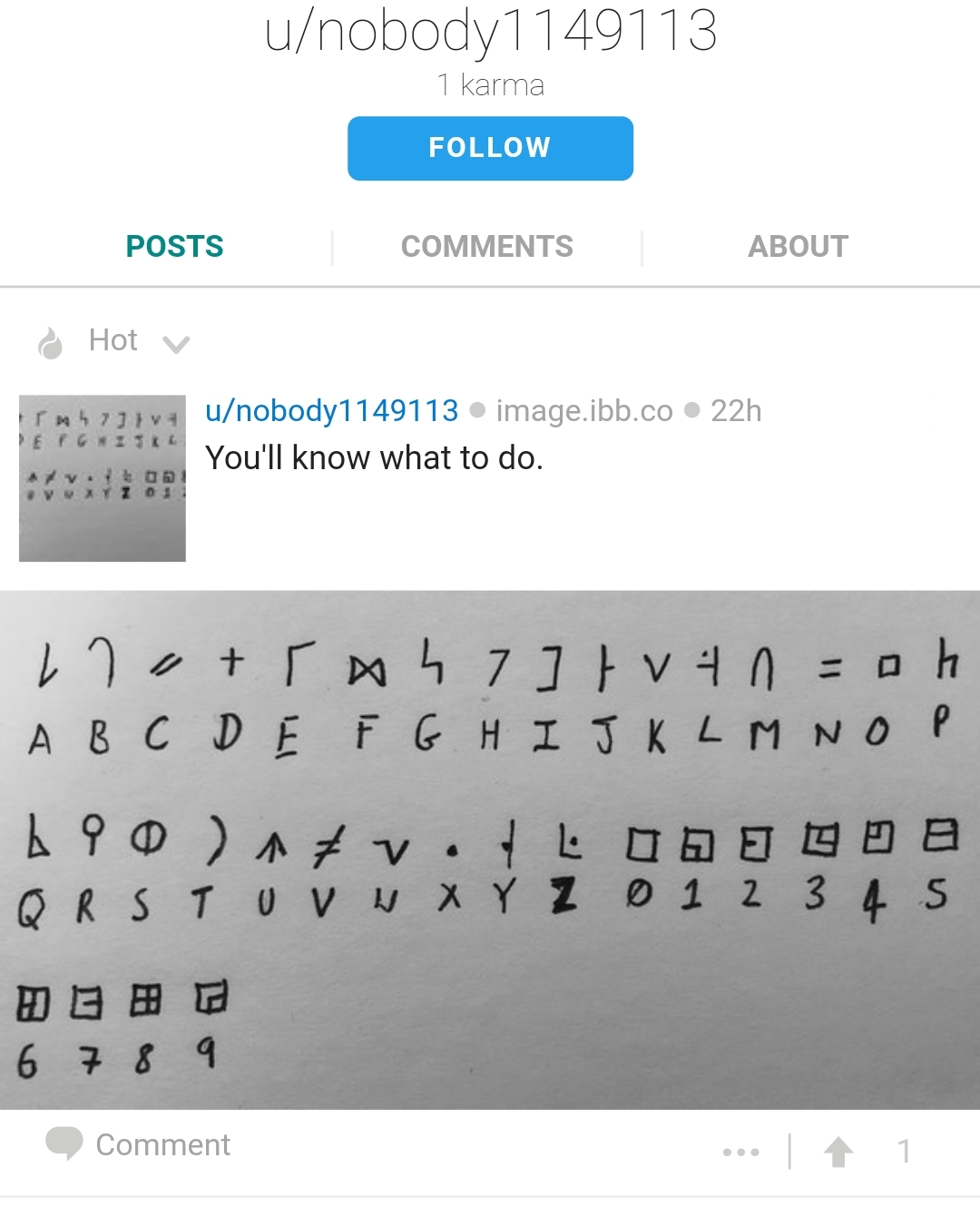 I'm elated, then frustrated. Should I call now? The code had said to call quickly, I remembered that from when I'd translated it days earlier. What if Lucy was in trouble? What if I was in danger? Luckily I'd taken a short lunch, so I duck into an empty room and dial.
The phone rings, and for a minute I worry that no one would answer. That I'd transcribed the code wrong, that I'd have to wait til I got home to check it. But then…
Hello? Becky?
I'm shocked that he knew who I was, for some reason. From a logical meta-game point of view, he presumably had my number saved. But I forget that for a moment, and it brings me deeper into the world of Capital Experience.
My name is Max. I think you know me a little. I got your code.
My fears evaporate. My letter was received. I realise that I'd half been worrying that the address was one that Capital Experience was using to spy on me. I had been worried that someone at CE HQ had been working on cracking the code, trying to out Lucy. I realise that whatever my fleeting thoughts were, I would never turn on Lucy. She'd sent me Lindor. She was my friend.
The voice on the phone is friendly. Familiar. I think I've met him before. I think perhaps he gave me the parcel. No.. wait. It's the voice from the audio clip. He works for Capital Experience too?
The conversation seems to flash by.
We need you to go to Lucy's flat. We need you to get something for us from that flat. Me and Lucy, we can't go, we're being watched.
I ask what's happened, what's happening, and Max is brief. Lucy has left Capital Experience, run away.
They're not what they seem. They're spying on you. They're spying on all of us.
Honestly… that kind of seems to be how they seem. Right from the first package, the red flowers. The second package, with that peculiar script. Even before I received Subversive-Lucy's letter, I knew they were watching me.
You need to trust Lucy, and you need to trust me.
I ask why. I don't know the guy. He laughs, and tells me to trust Lucy then.
A few minutes later, I receive a text details of where to meet him to get access to Lucy's flat. Tomorrow evening. The Headrow.
I don't know Max. I don't know if he's leading me into a trap. I don't know if cameras will be set up, watching my every move. But I know I'll never get any answers if I don't go.
To Be Continued…
As of 14th March, the Riptide experience has been under a media blackout. So I can't share the incredible details of what happened when I went to Lucy's flat… but watch this space and you'll be the first to know when I can.
In the mean time, you can watch my Instagram mini-series by going to my profile (on mobile) and watching Highlights Riptide 1, Riptide 2 and Riptide 3 (and any more that I add).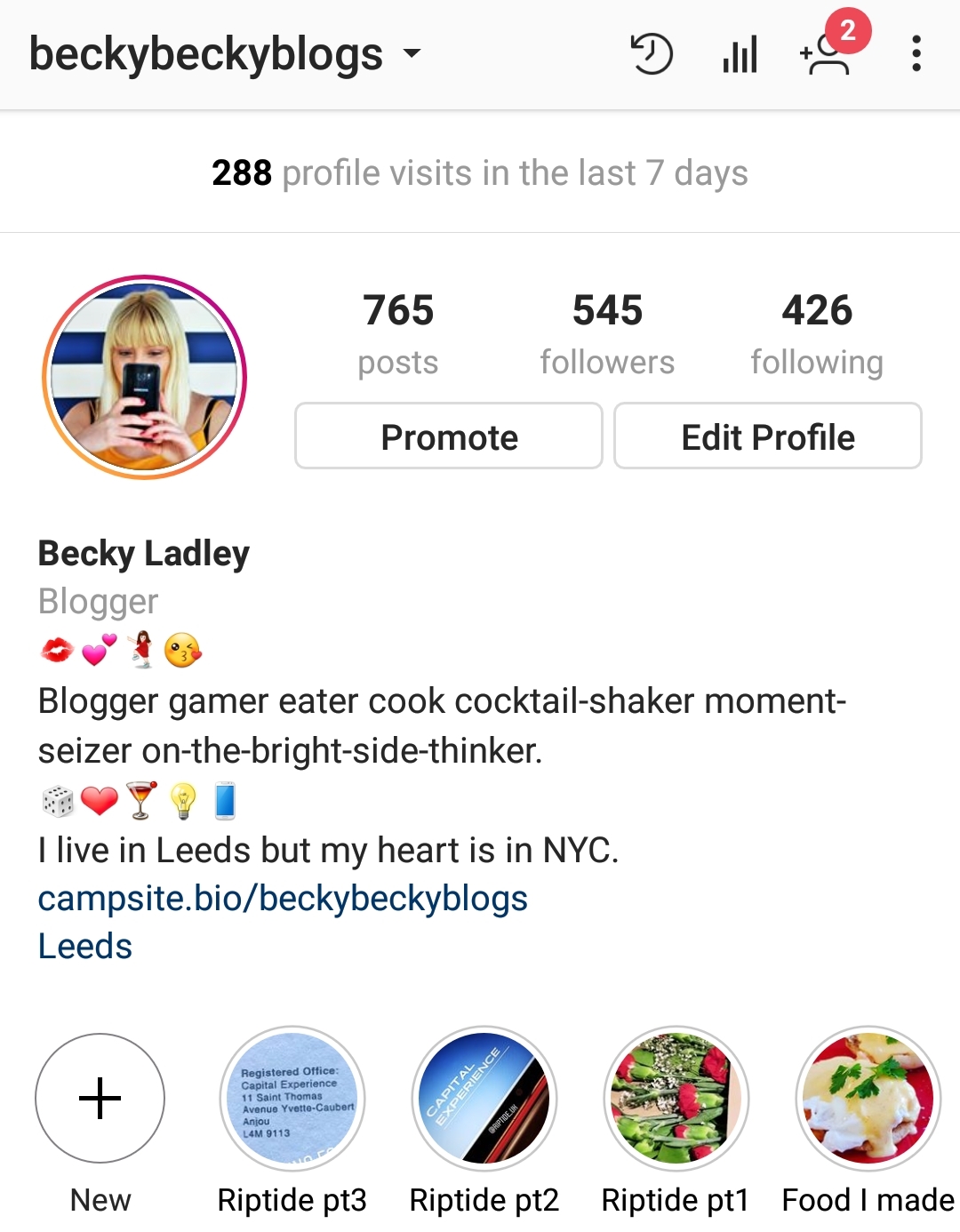 I was invited to take part in the Lucky Ones free of charge, but all opinions of mysterious packages and befuddling texts are my own. Here's my full disclaimer.