Wagamama has long been a staple in my eating out repertoire. Asian food is one of my favourite cuisines, and at Wagamama you don't have to choose between Thai, Chinese, Japanese… They have a mix of everything.
So I jumped right on it when I was invited to take part in a food and beer pairing to sample their new summer dishes. I invited my friend Ellie to join me. She grew up in Japan, so I knew she'd have lots of opinions about the food.
Wagamama at White Rose Leeds
Our venue for the evening was the brand new Wagamama, just opened in The Village at the White Rose Shopping Centre. This was actually my first trip to White Rose, since I've only been in Leeds for a year and the city centre has kept me more than happy, shopping wise. We got a little lost finding the Village – it's brand new, so not on any of the maps yet!
But when we got there, we discovered it's a lovely little outdoor area with six new restaurants, including Wagamama. The glorious sunshine definitely added to the atmosphere.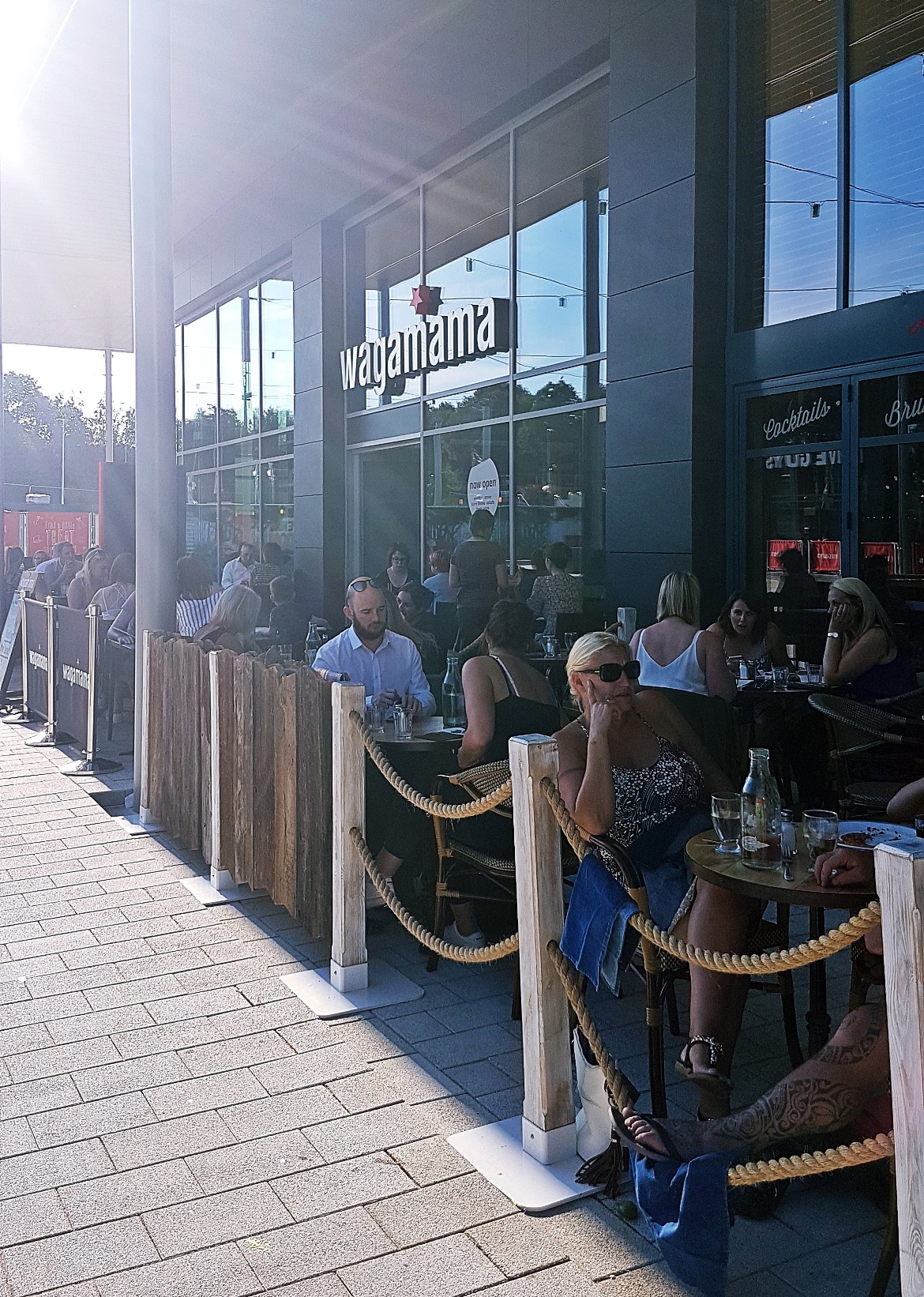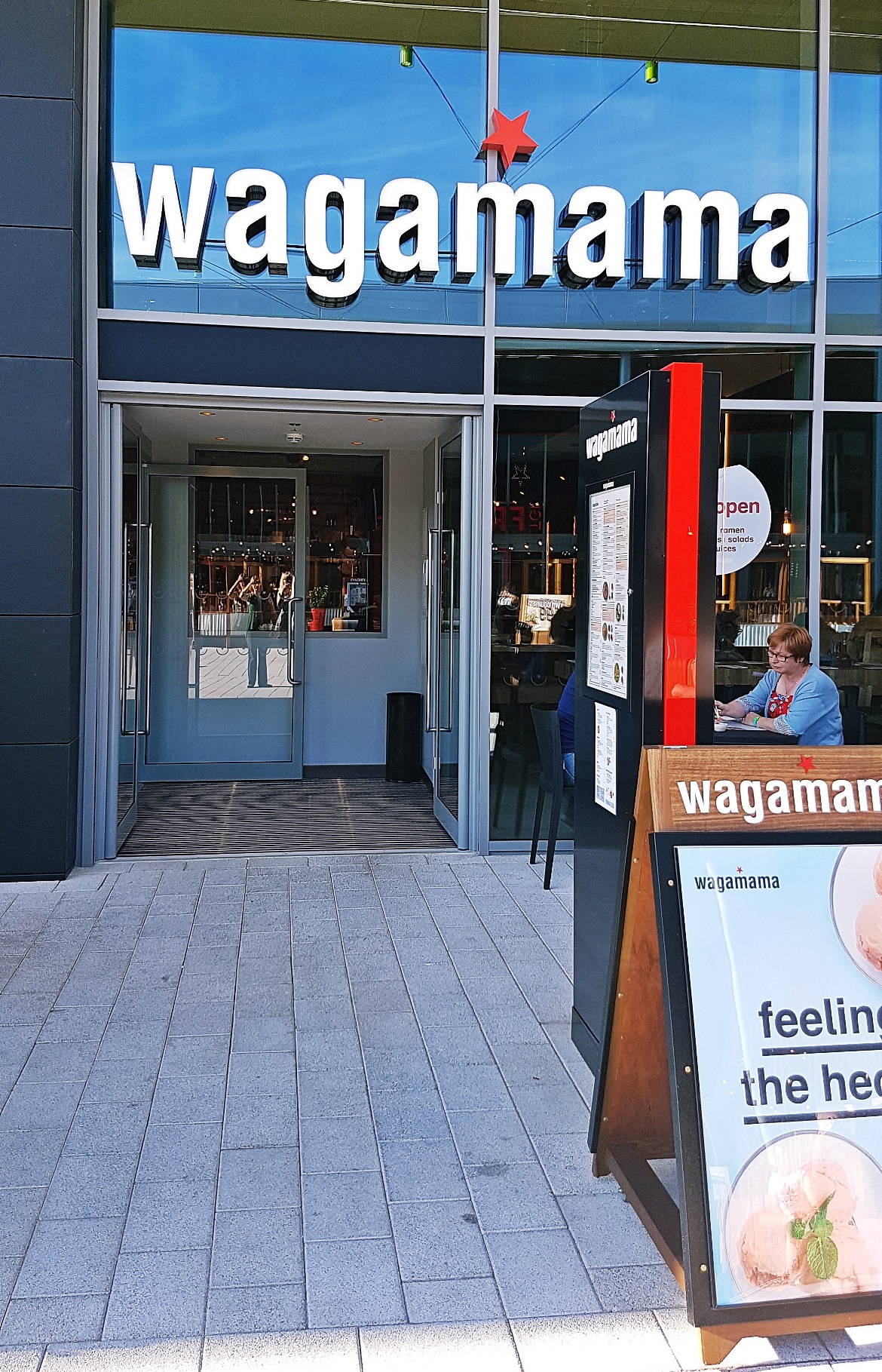 My companion Ellie and I arrived and were greeted warmly by Helen and Kim, who invited us to sit down and offered us refreshments. I've recently decided to get more into beer, so we both chose Asahi.
Before long, we were joined by the Executive Chef of Wagamama, Steve Mangleshot. With over 17 years experience at Wagamama, he's clearly crazy passionate about the food they make. He's also a friendly and charismatic guy, who was keen to get us talking about our favourite dishes. My pick? I adore their steamed buns, which sadly weren't on the menu today.
Summer Starters
We tried three different summery starters – one new dish, and two popular classics.
First up was the beef tataki. The beef was lightly seared then chilled, and served with Japanese mayonnaise (Japanese because it has extra eggs for added richness), citrus ponzu and pickled beetroot. It was spot on, meaty and delicious.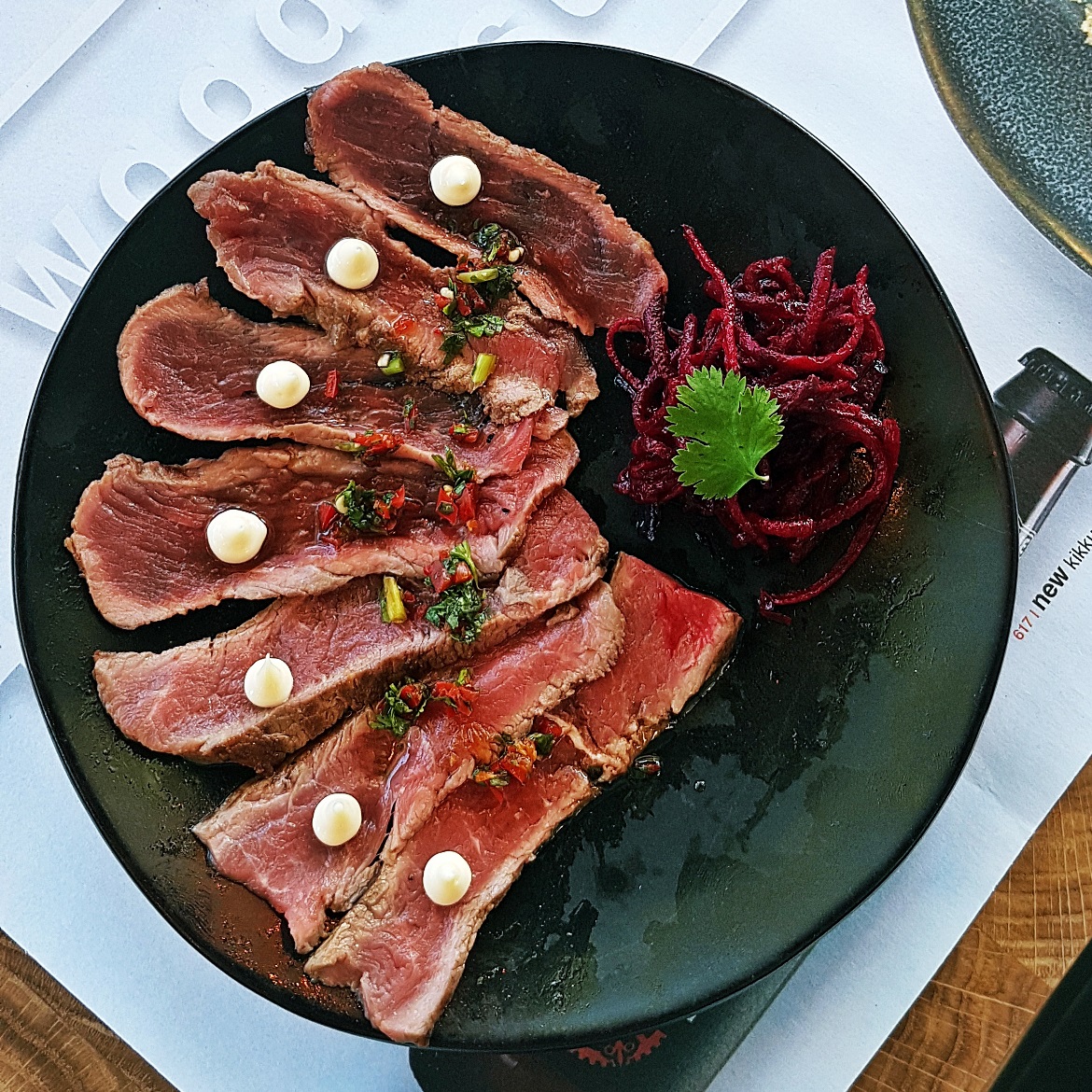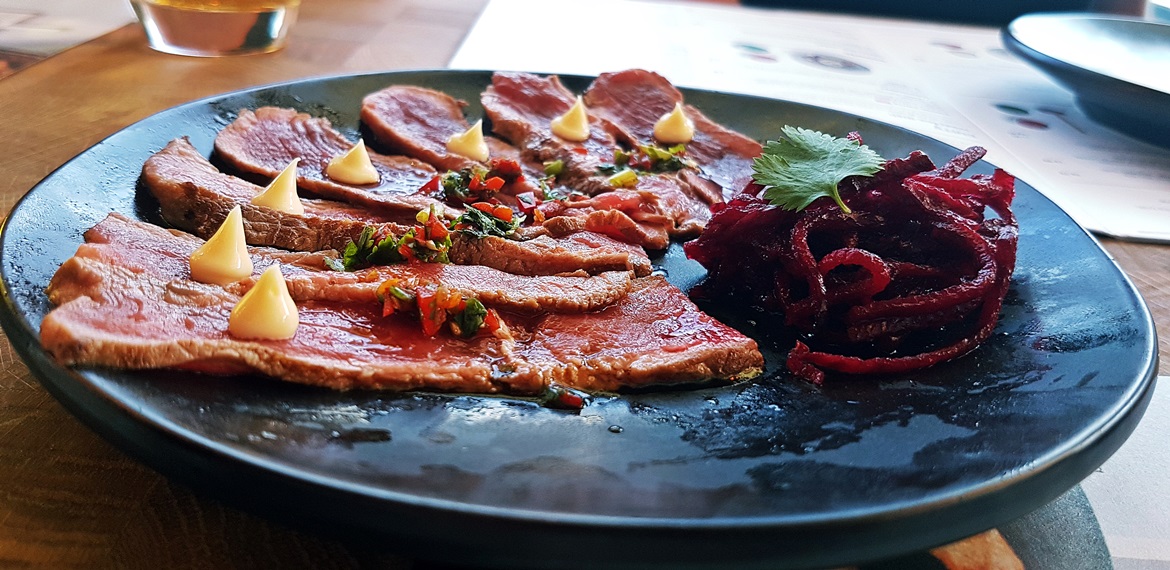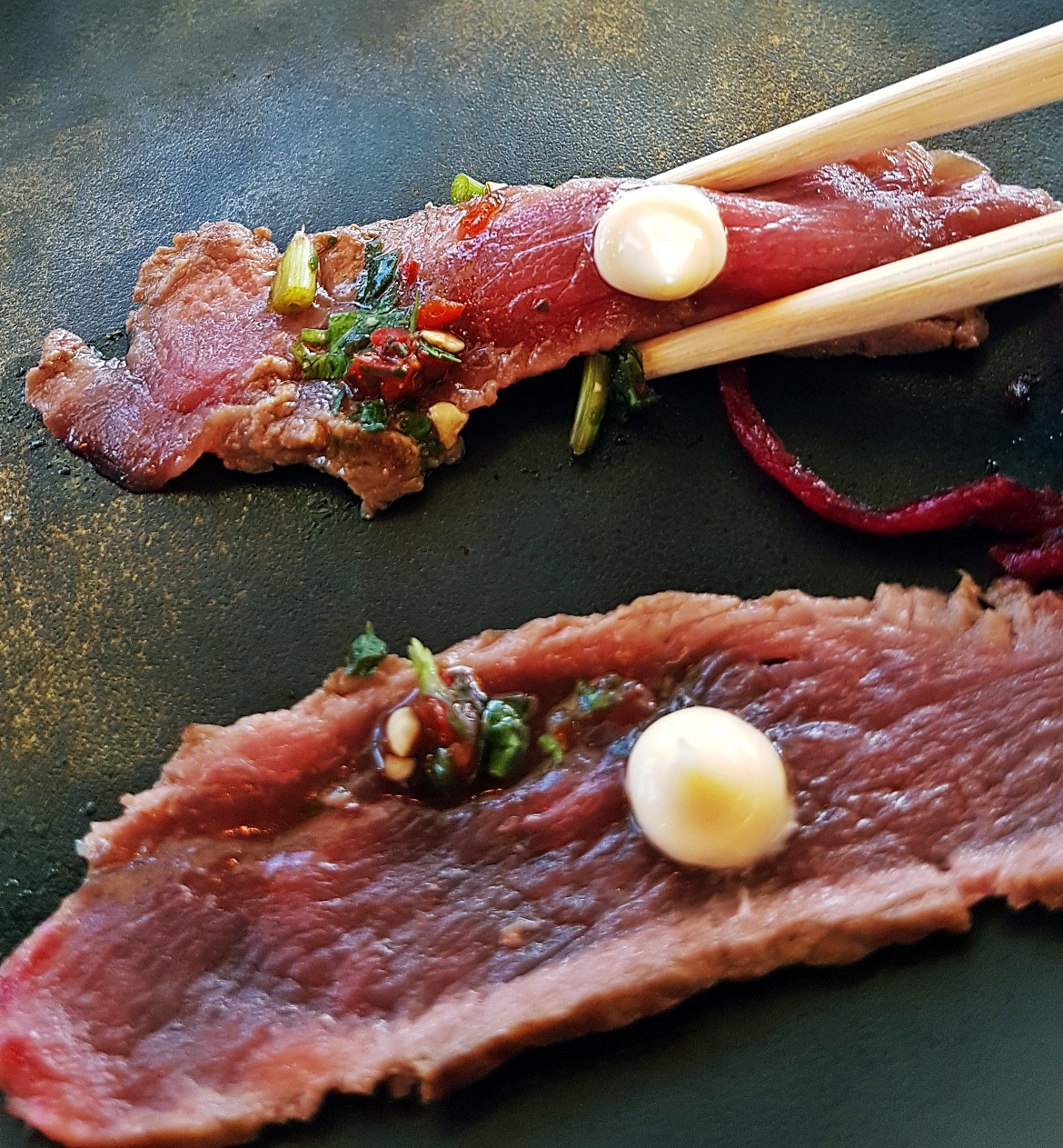 Next we tried one of my favourite starters – duck gyoza. These tasty dumplings are fried and served with a cherry hoisin sauce, and are mouthfuls of amazing.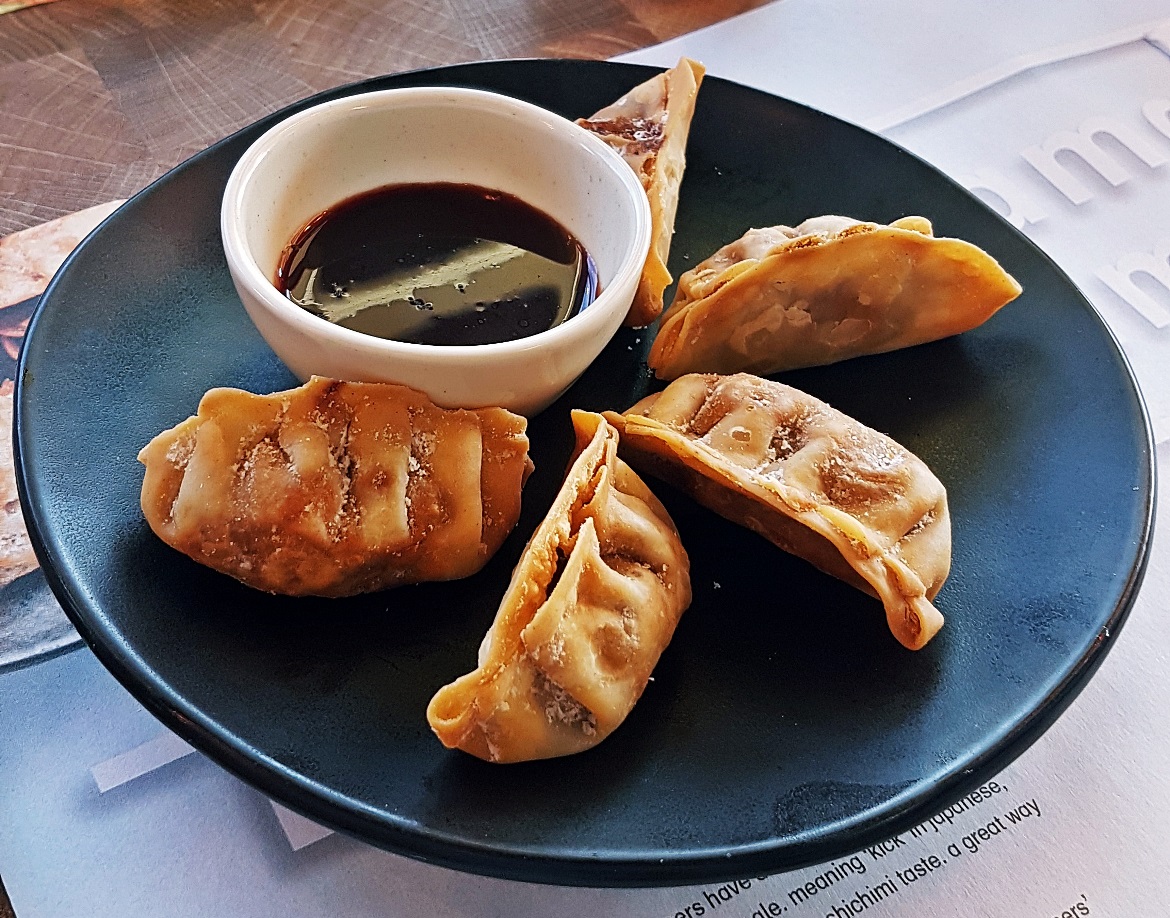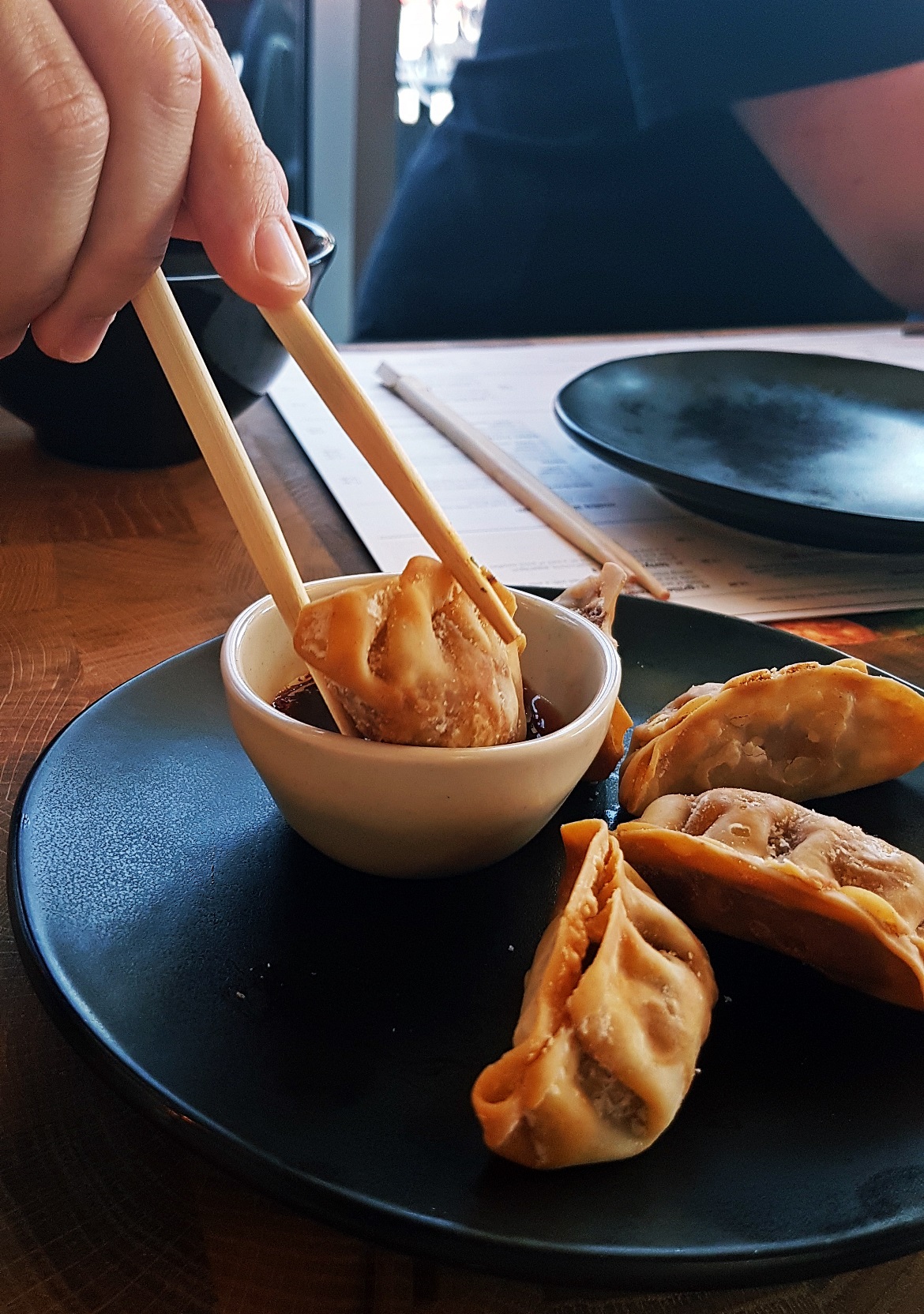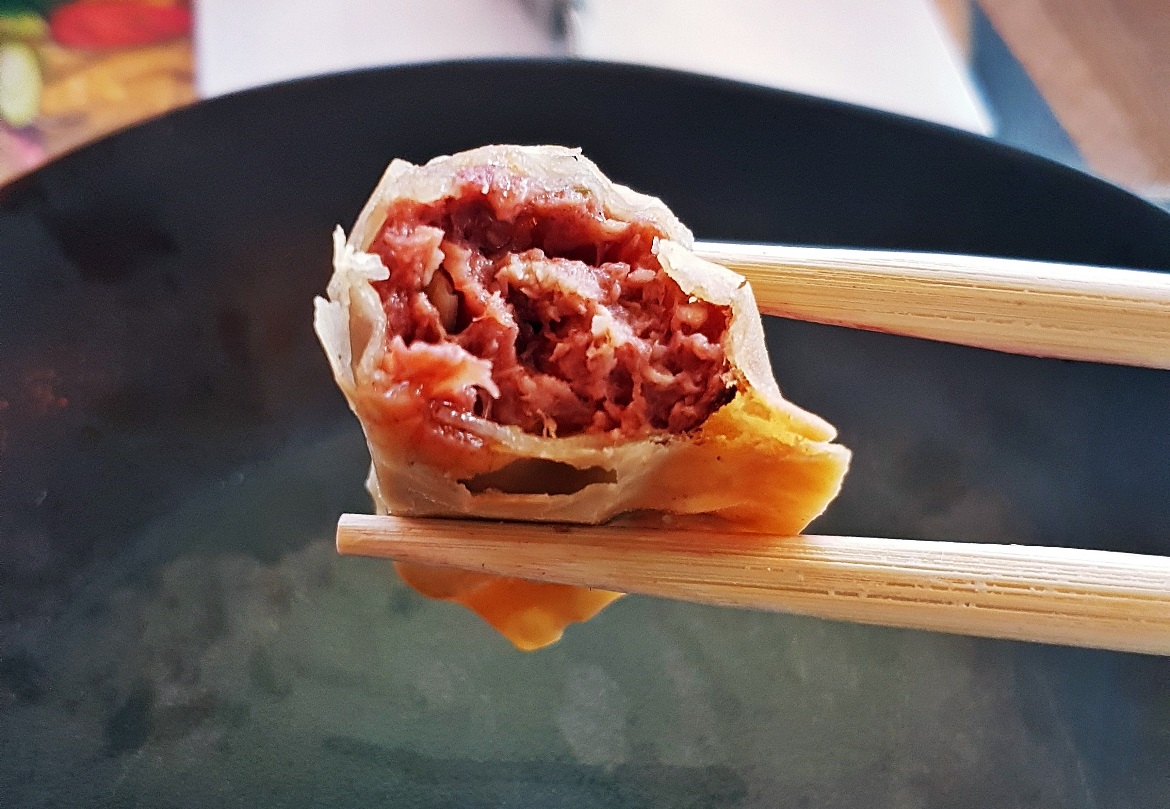 The final starter was one of Steve's favourites: Bang Bang Cauliflower. Served only lightly cooked so it keeps the crunch, then doused in "firecracker sauce", it's like a cauliflower version of kimchi, but even tastier.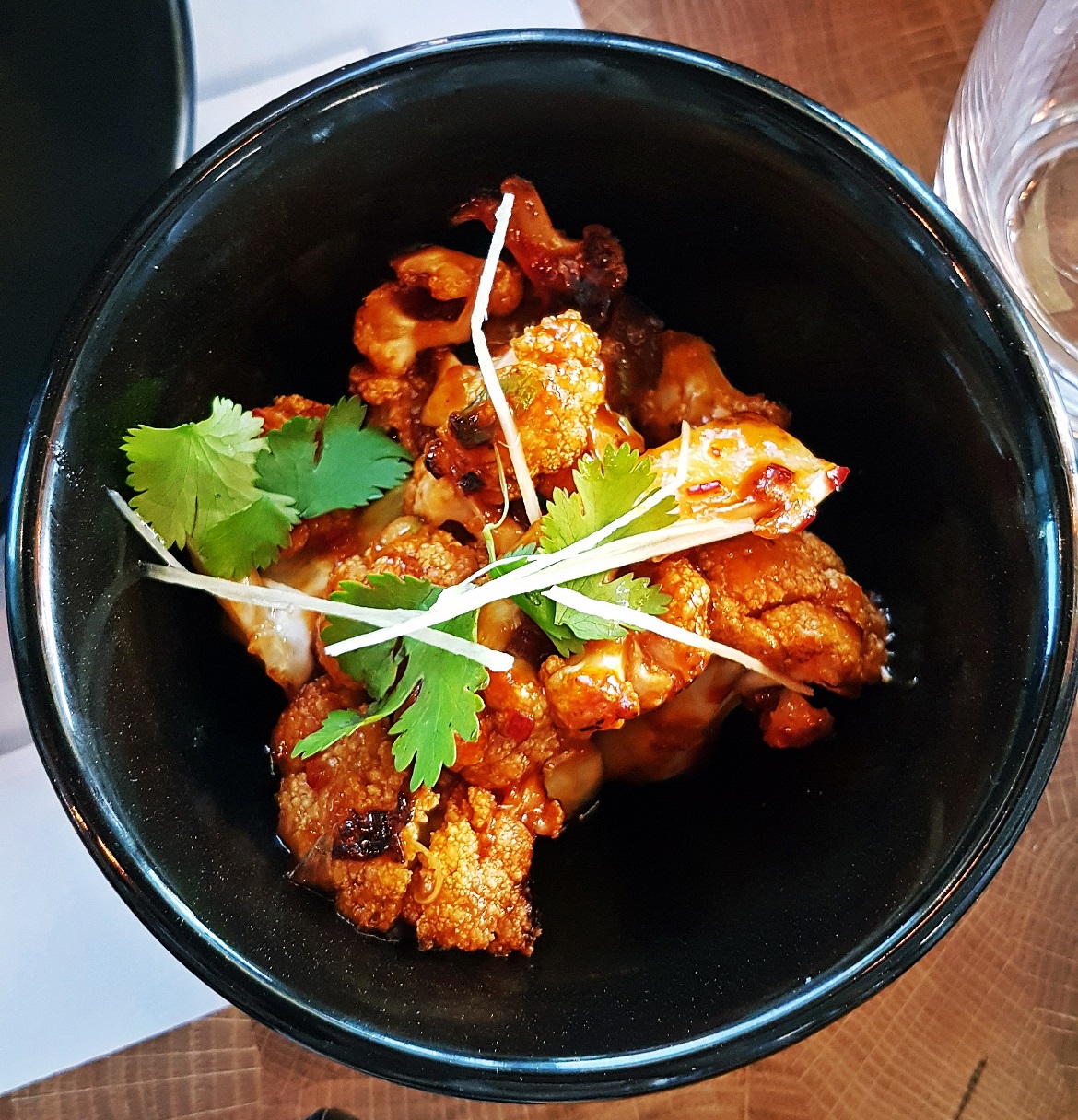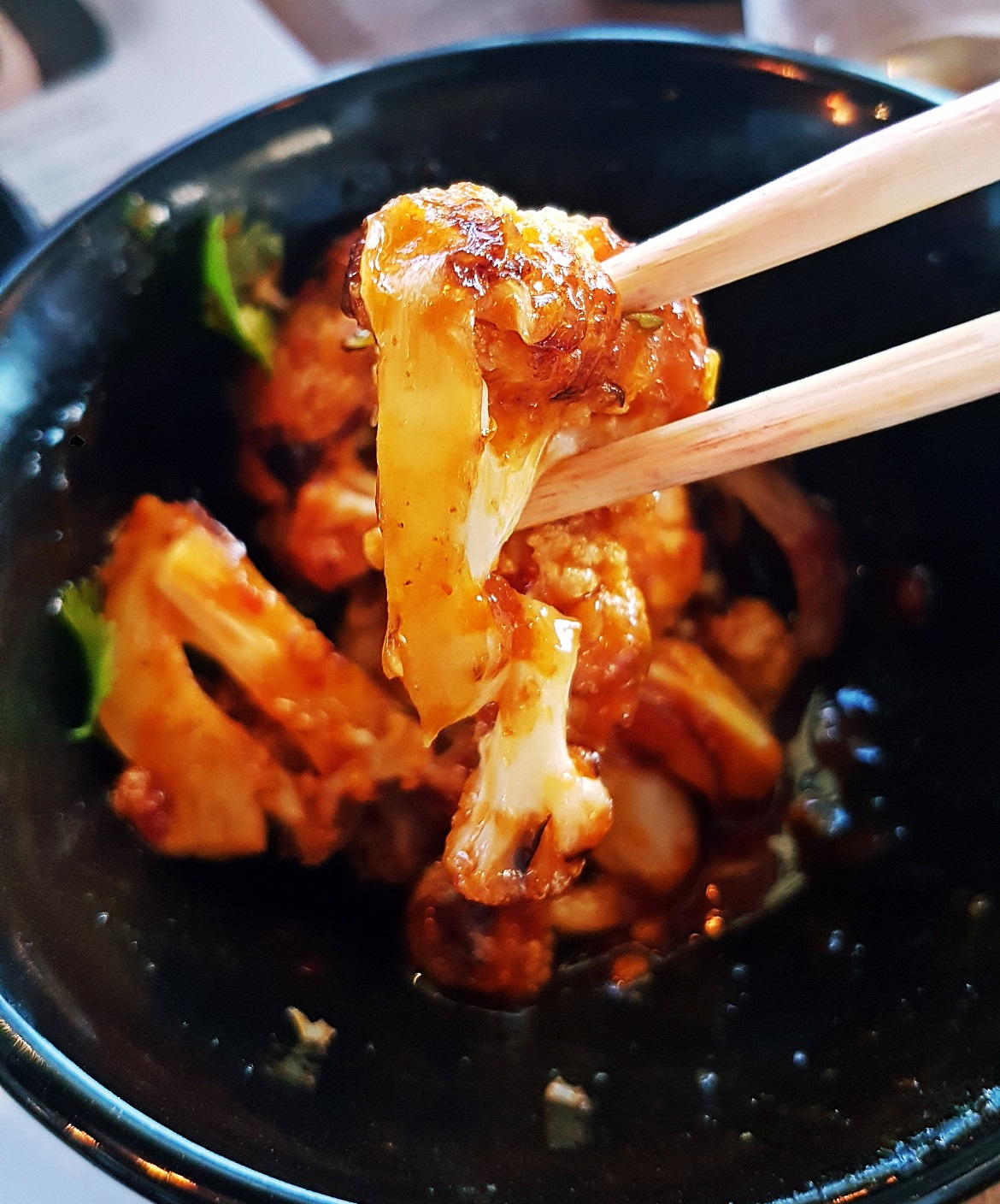 I think my favourite of the three starters had to be the tataki – the mayo and the ponzu just balanced so well with the meat. It's hard fought though, and I'd gladly sit down to eat any of them again!
Cheers to Beers
Next we were introduced to wagamama's new line of beers. Kikku is a pale ale with shichimi, which gives it a spicy flavour, while Kansho is pale ale flavoured with ginger and lime. Although I'm not a big ginger fan, the lime kick made this super refreshing. And well as my Asahi, I also tried the Lucky Buddha lager, at least partially for the funky bottle.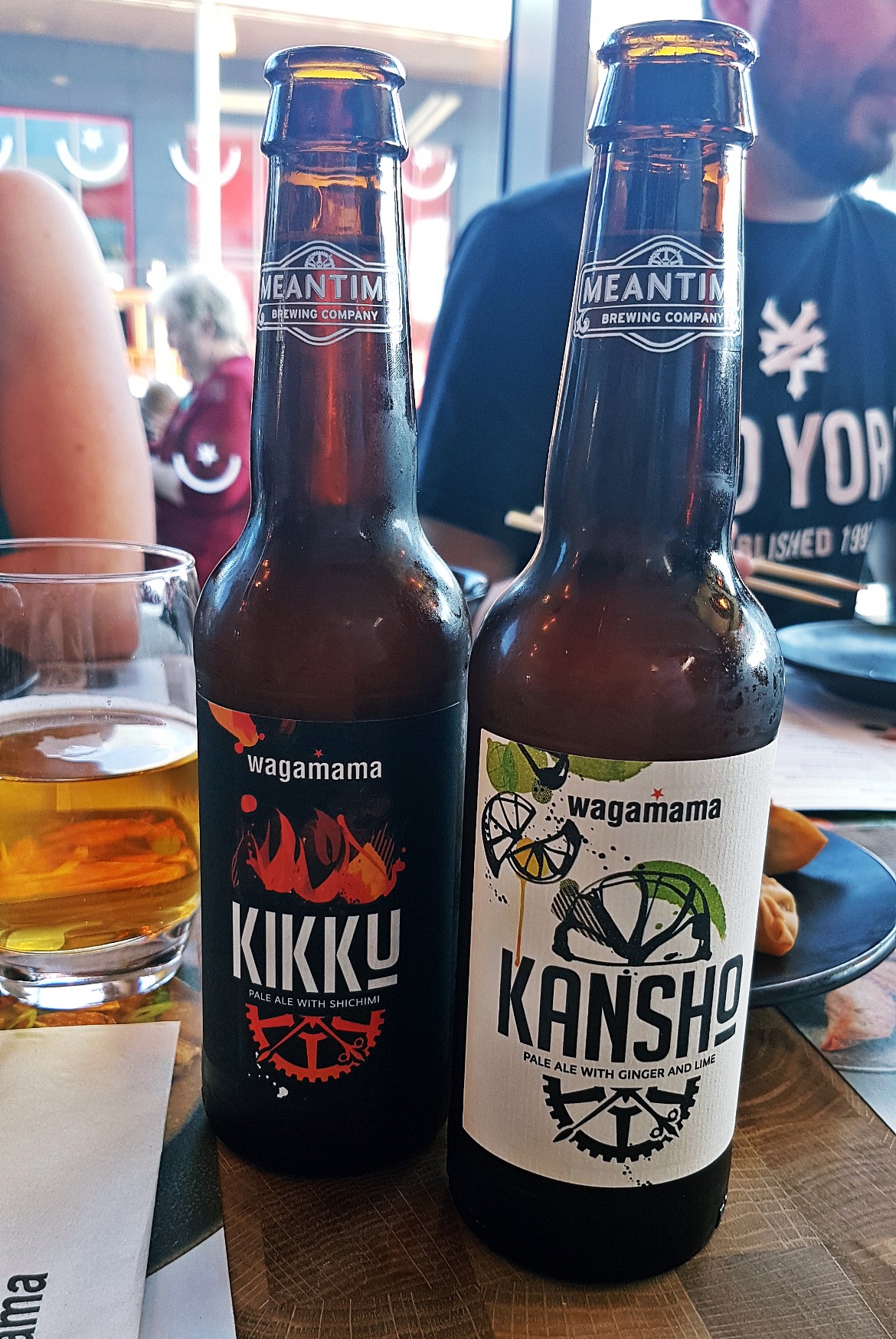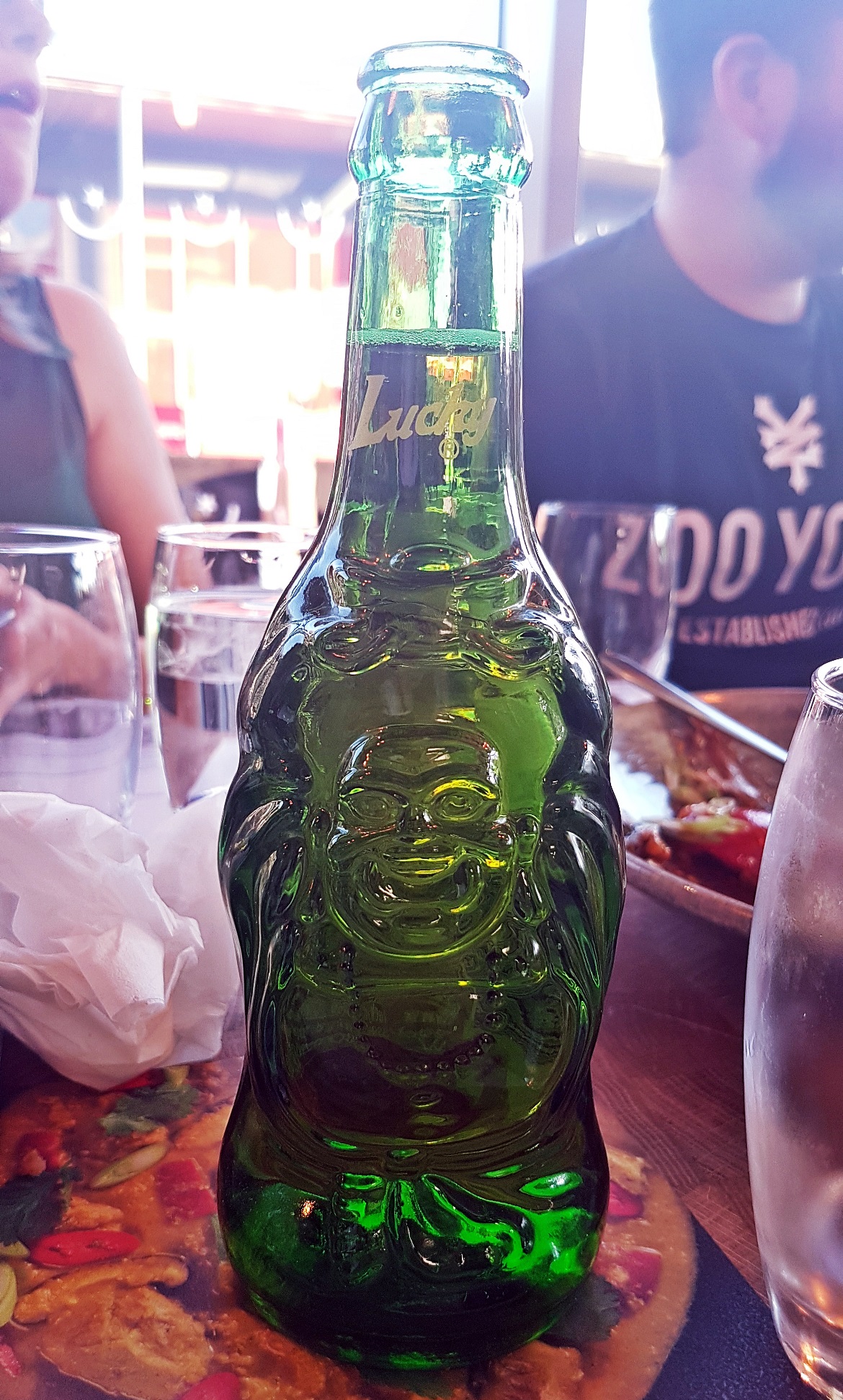 Meanwhile we got to learn a lot about the roots of Wagamama. The chain has just turned 25, and its come a long way from a single restaurant in Bloomsbury. They now have over 140 restaurants, mostly in the UK, but there's a few abroad including in America.
Steve told us that their famous communal dining vibe, where restaurants are full of long tables where you'll sit alongside friends and strangers, has actually seen less popularity outside London. This new restaurant featured several booths, as well as two-person tables outside in the sun. And their signature ordering style – via PDA that the servers carry – was difficult to introduce at first, but Steve said that if he'd tried to get rid of it now the kitchen staff might mutiny!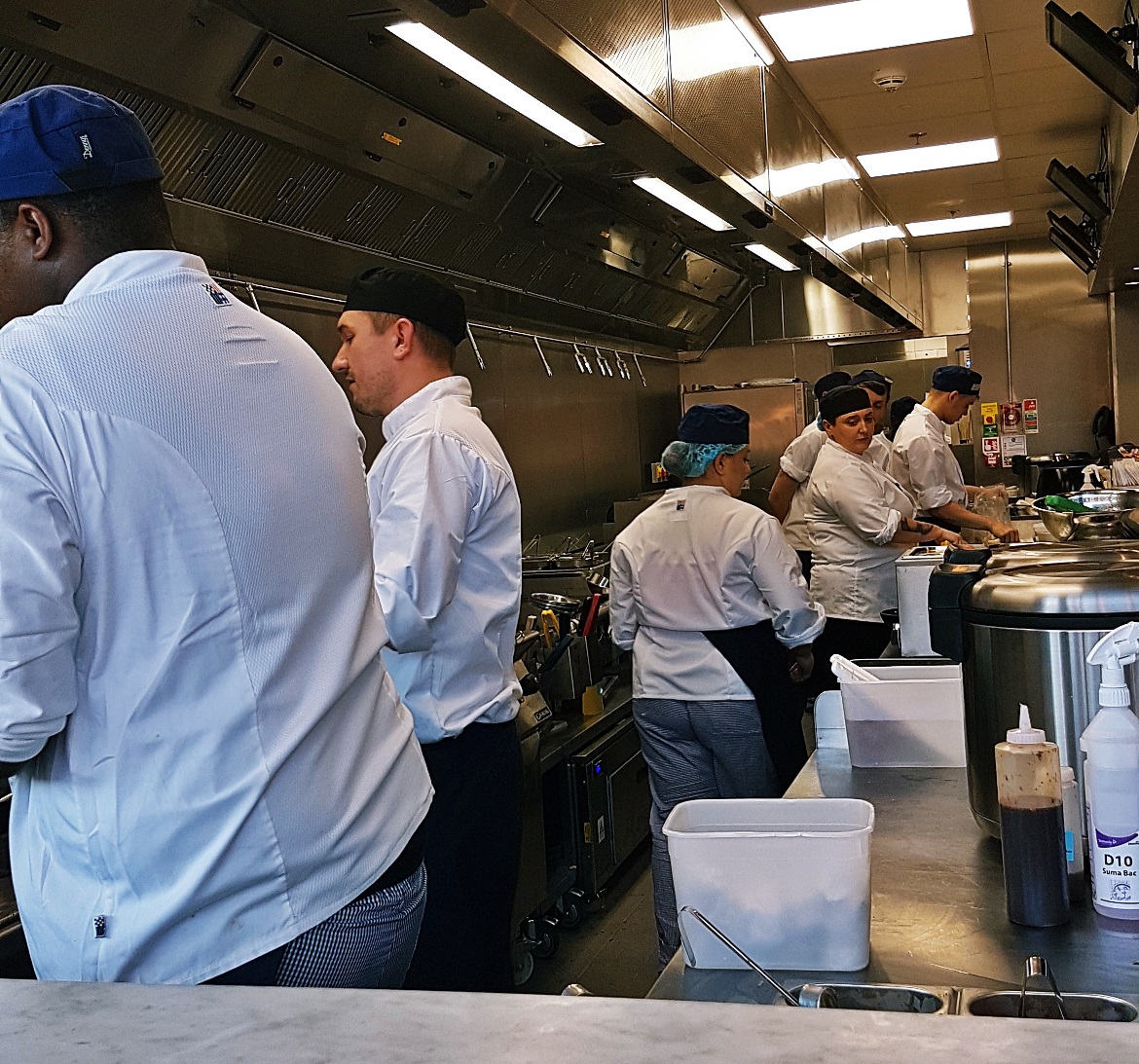 As executive chef, Steve also knew the food inside out. Katsu curry is their most popular dish, albeit one I haven't actually tried. His favourite dish however? He's partial to the Firecracker Curry, and the Bang Bang Cauliflower we'd just tried.
The Summer Mains
On with the eating! We tried four new dishes from the summer menu, and honestly it's hard to pick a favourite.
First was the Seared Nuoc Cham Tuna, served with a superfood salad including quinoa, sweet potato and kale. Thanks to the superfoods, this is never a dish I'd think to order, as I'm about as far from a health nut as is possible to get. So I'm super glad this was one of the dishes we got to try, because it was pretty damn excellent. Surprisingly sizeable for a "healthy option", the tuna steak was perfectly seared.
I can definitely see myself ordering this when I'm feeling particularly healthy (not otherwise, though, there's just so many good dishes on their menu).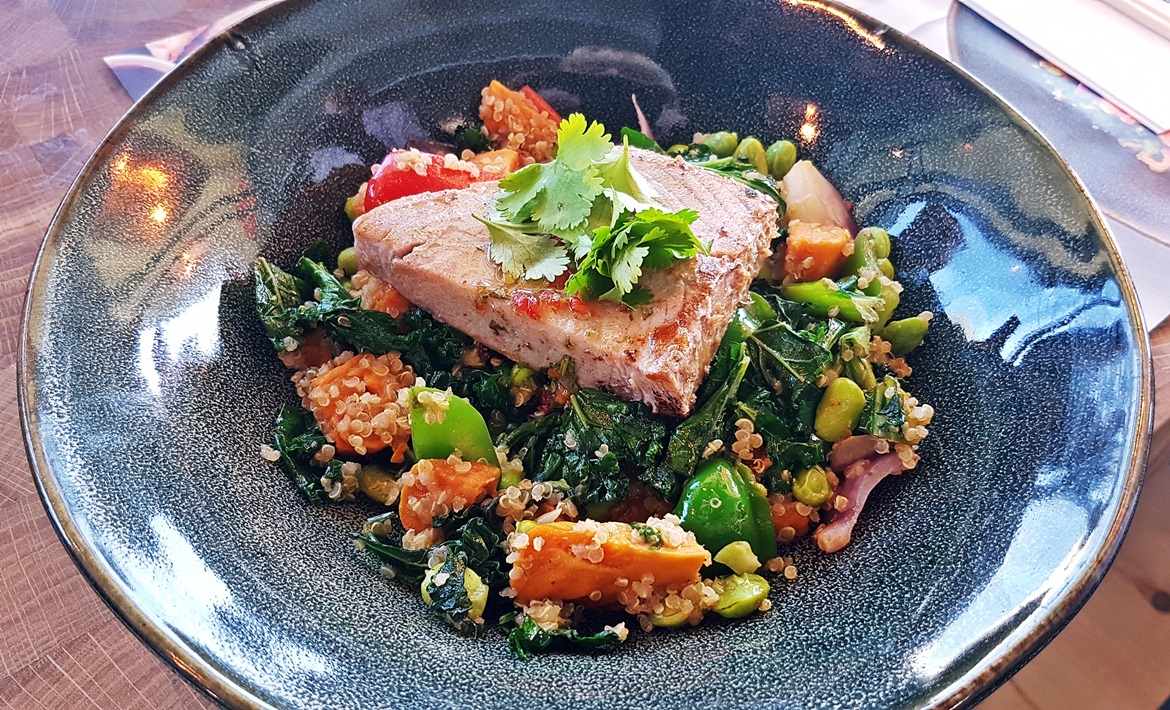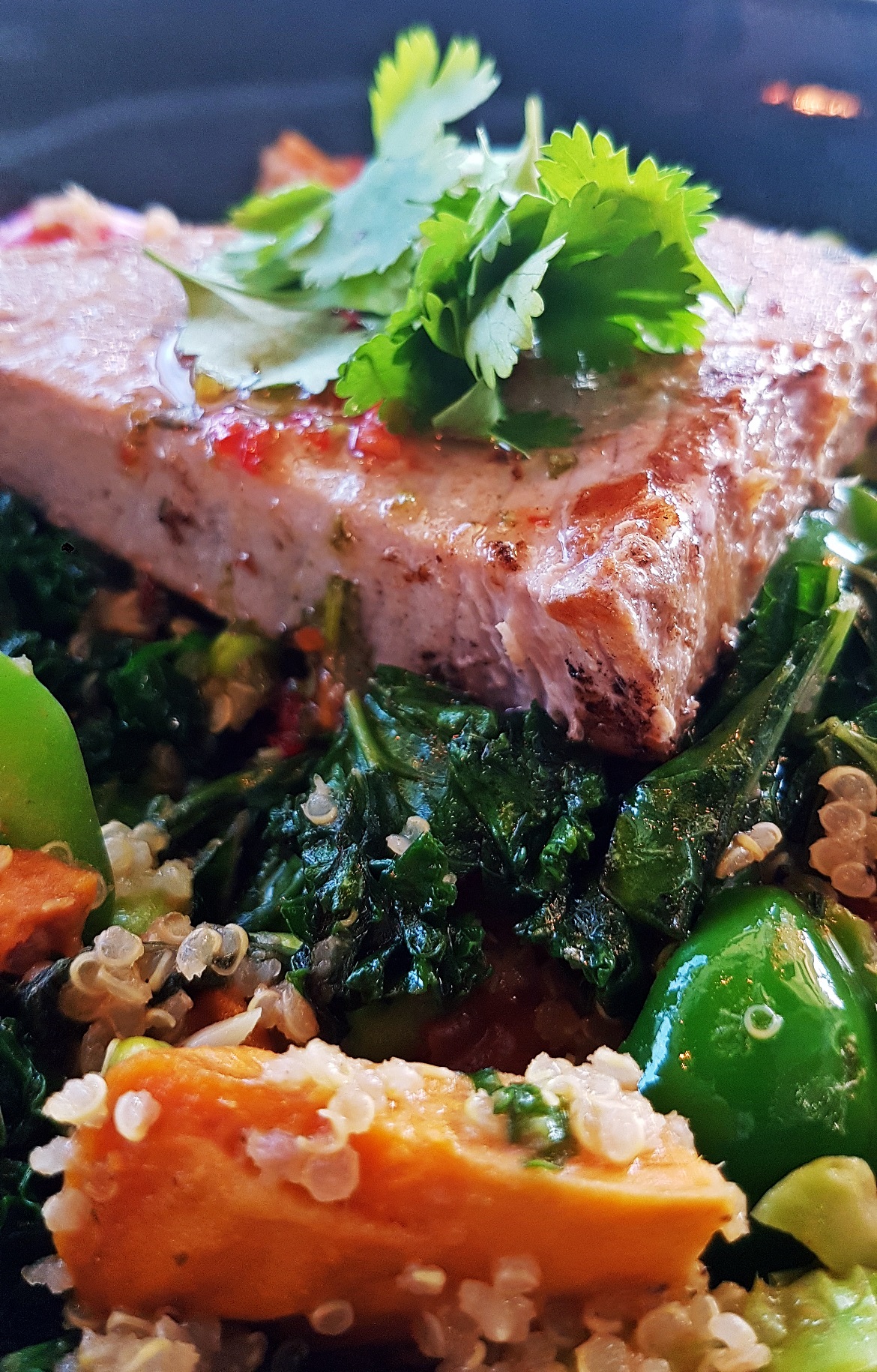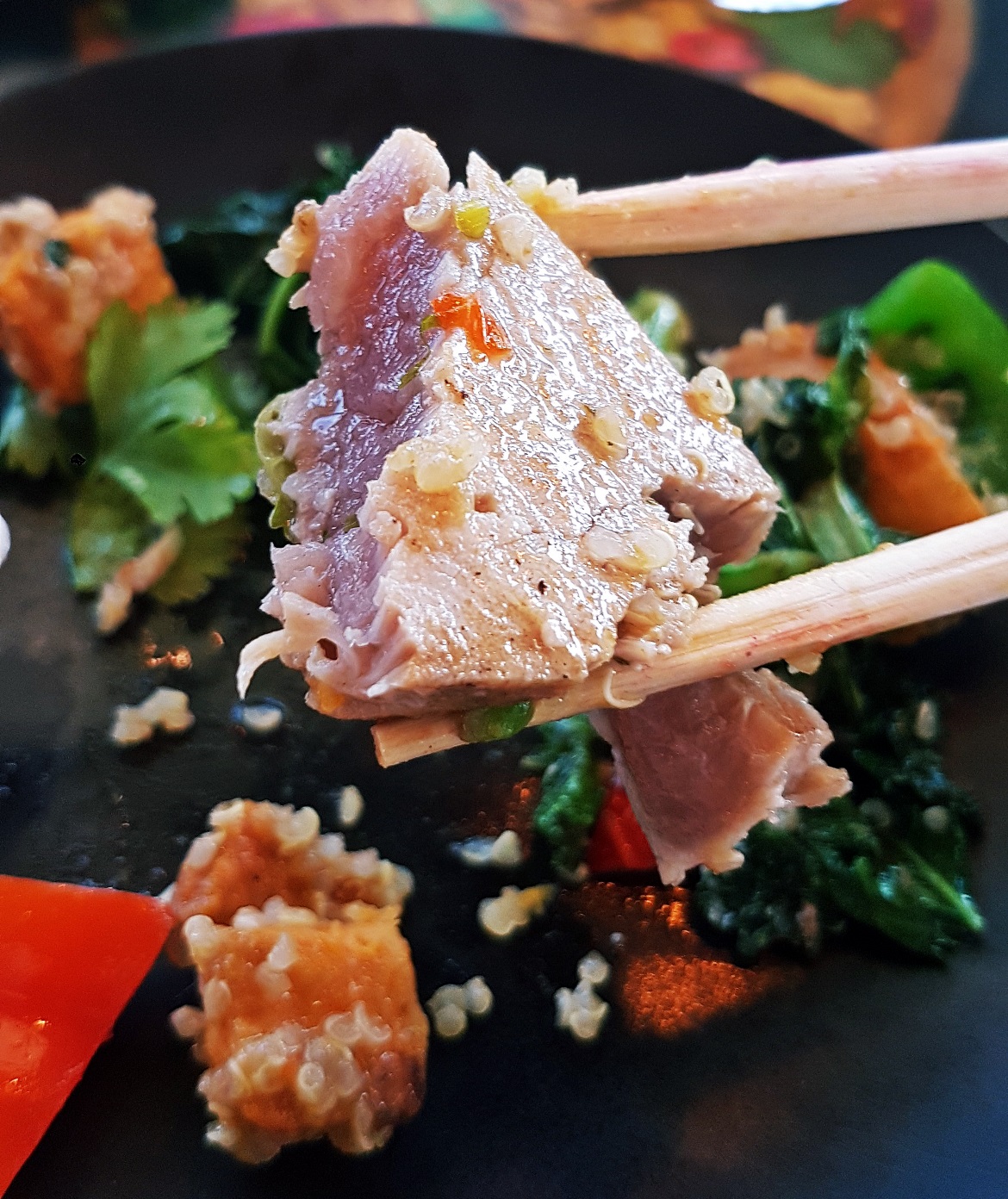 I knew I'd love the second before it turned up, because who doesn't adore pork belly?
This was glazed with citrus and teriyaki, and served with spectacular miso aubergine (and I'm not an aubergine fan), plus white rice on the side. From experience pork belly is hard to cook perfectly, but they managed it. Spot on.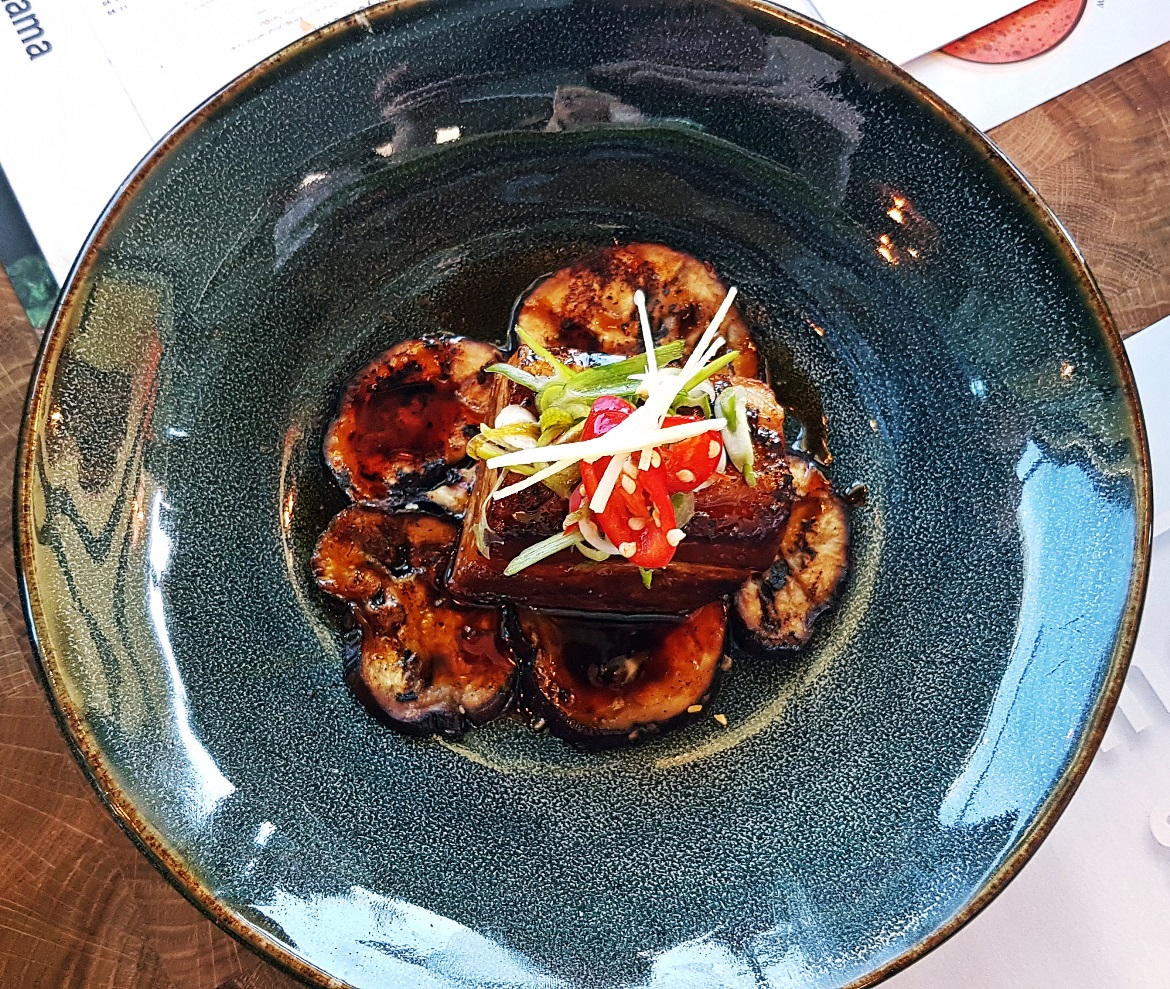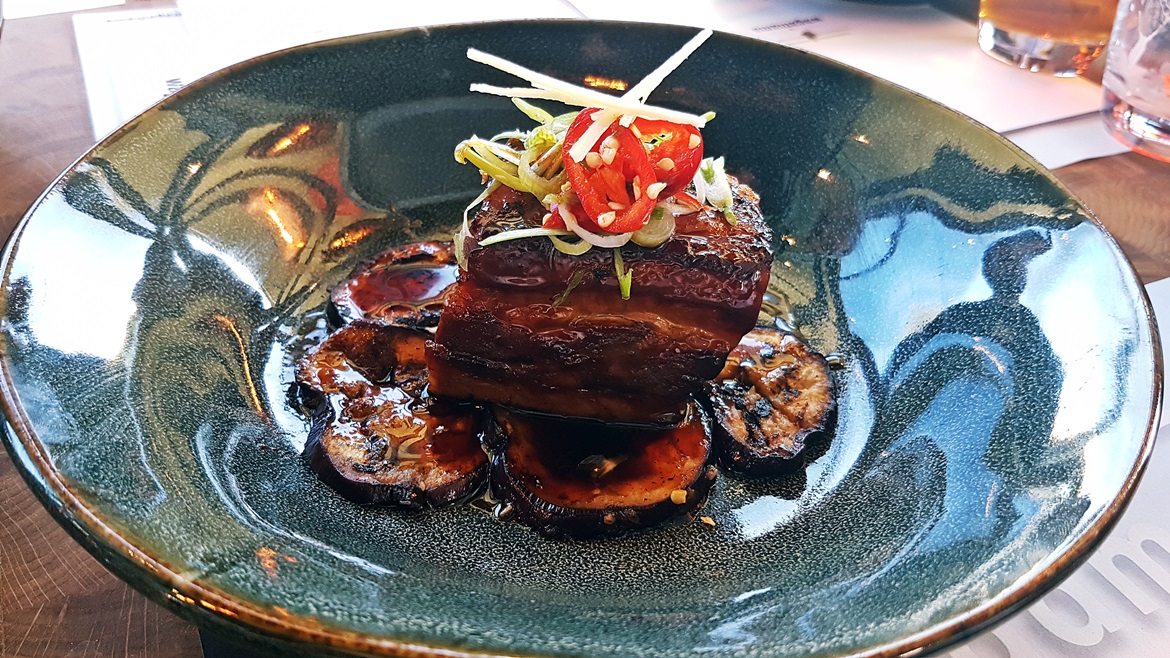 Next up was a new curry: Samla, a Cambodian dish that reminded me a lot of a Thai yellow curry. It wasn't too spicy, but was packed with a flavourful punch, with the lemongrass and lime really coming through. And as the waitress recommended, the plum tomatoes really stood out among the veg.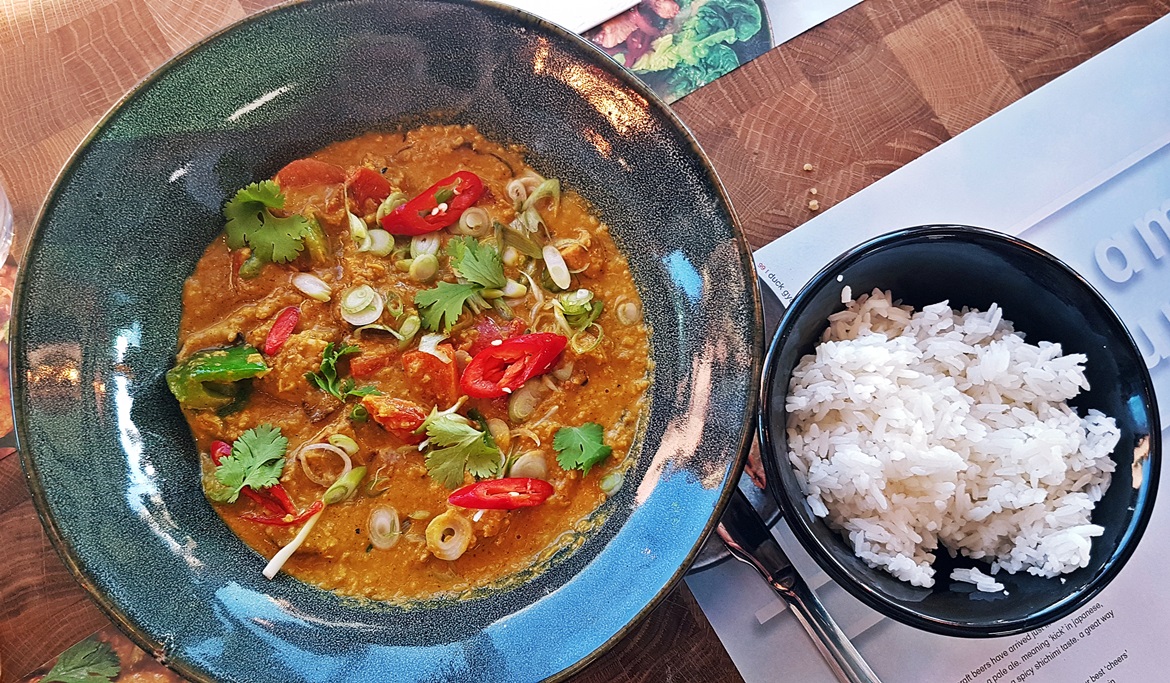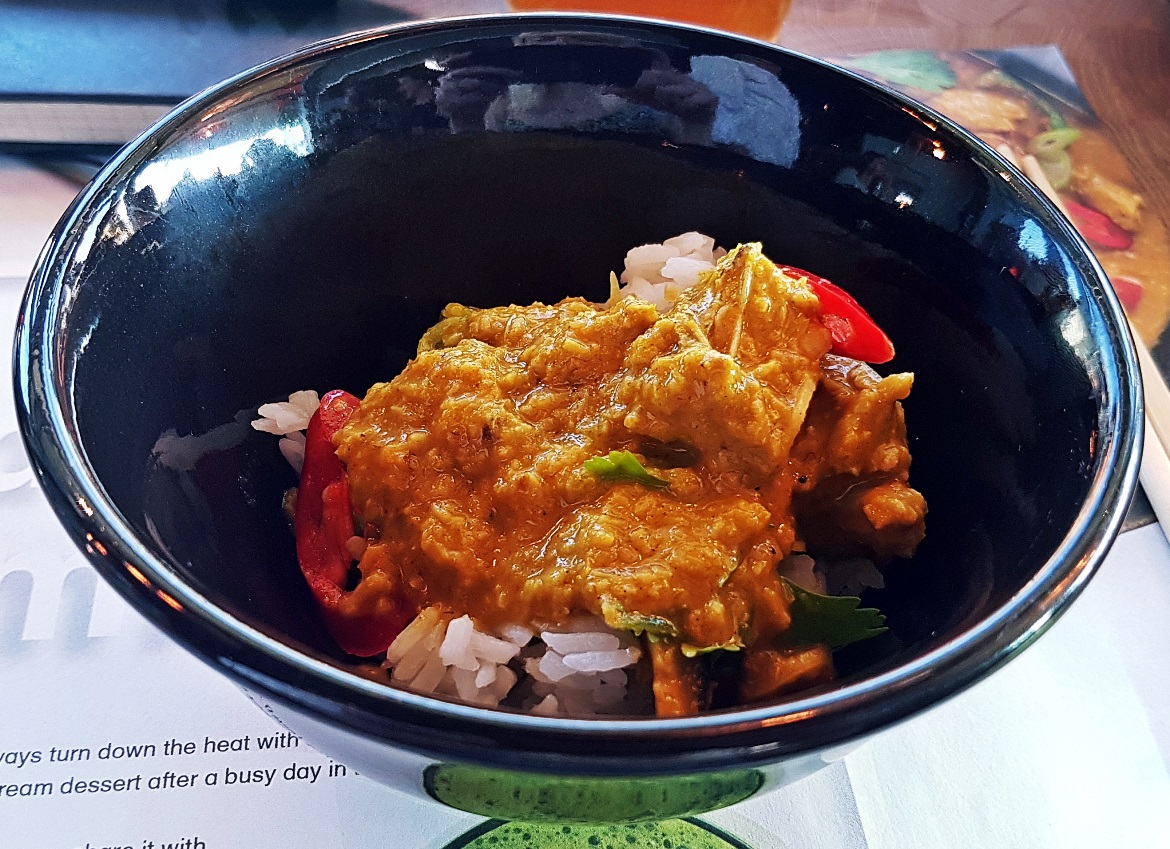 The last dish was a Pad Thai Salad. This twist on the original omits the usual noodles in favour of a mixed salad. It's the dressing that really makes this – served on the side and including ingredients like tamarind and fish sauce. The crispy shallots were a tasty addition too. Another fantastic dish, but a little smaller than the tuna dish, meaning I probably wouldn't order it as a dinner main.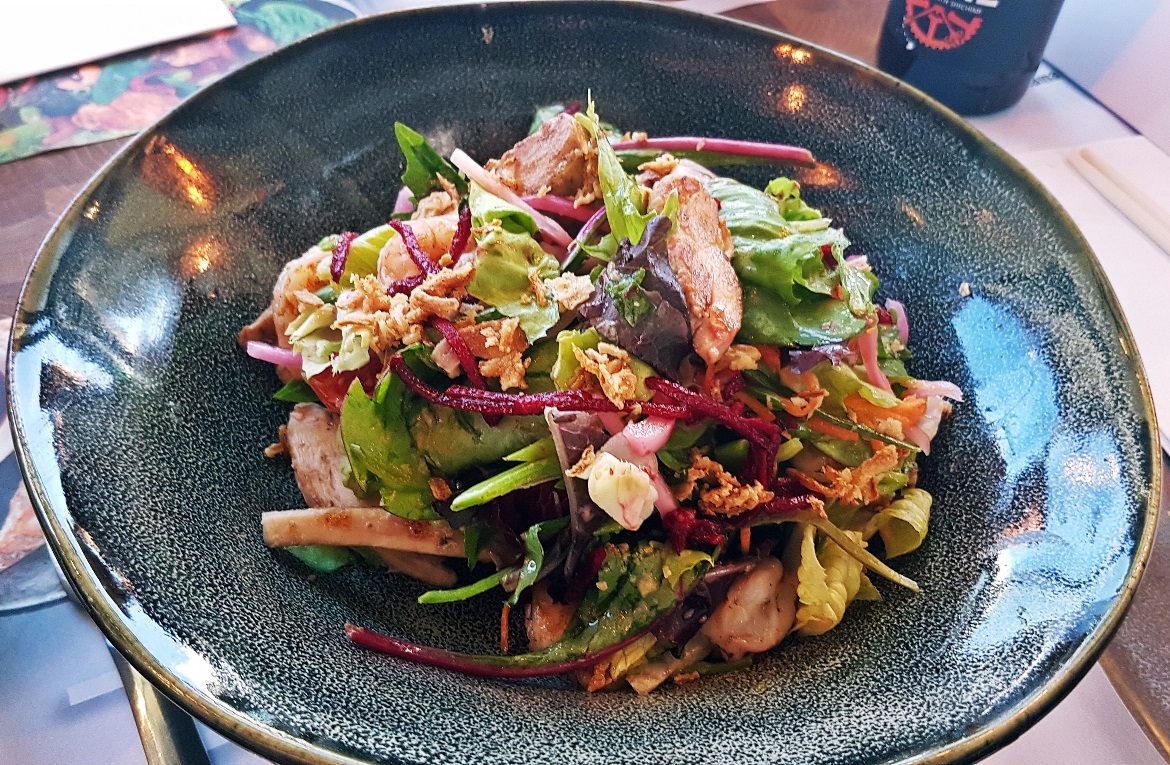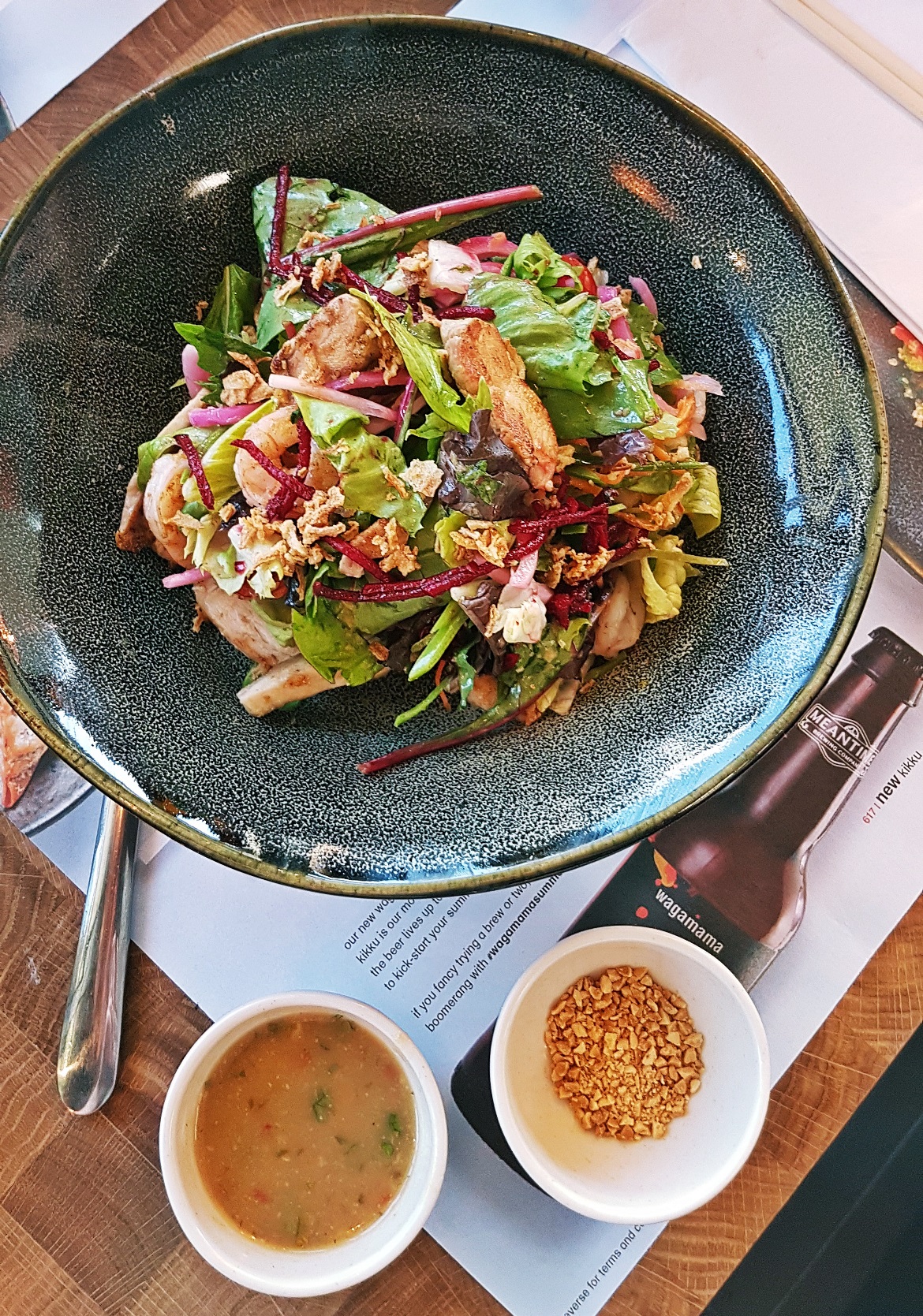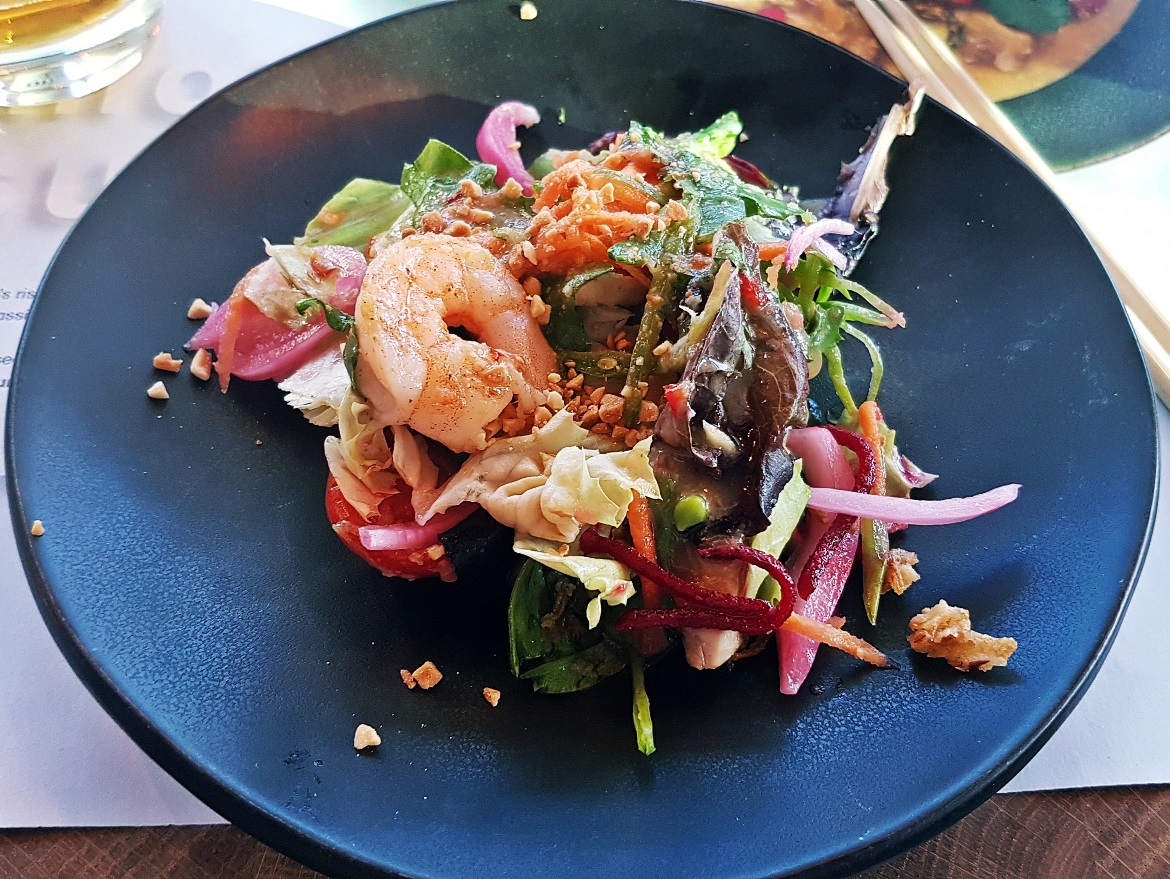 Again these dishes were very hard to pick between. I'd go for the pork belly as a favourite, the tuna if I wanted something healthy and filling, and the Pad Thai if I wanted something a little lighter.
Other Favourites
Next up, Steve asked us to name some dishes we fancied trying. All the way throughout the evening you could tell he was really keen on fully acquainting us with the Wagamama menu, encouraging us to ask whatever random questions popped into our heads.
A few of us were keen to try the Firecracker curry dish, on Steve's earlier recommendation. Doused in the same sauce as on the Bang Bang Cauliflower, this was super spicy, and probably a little too much for me, though I think that TC would totally love it.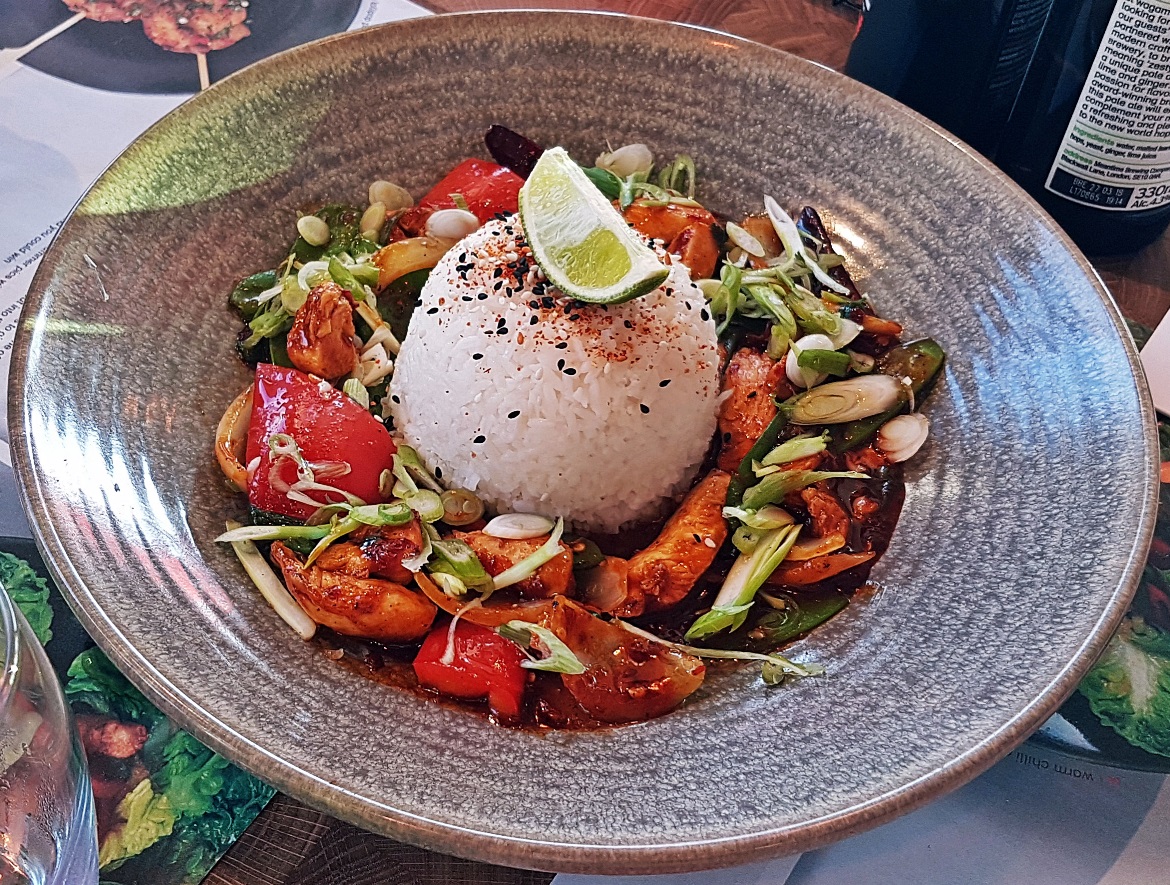 One of my favourites from the Wagamama menu was also ordered – the grilled duck donburi. Tbh I have a soft spot for duck on any Asian menu. This steamed rice dish is topped with a mix of other vegetables and a runny fried egg as well as the shredded duck, and served with a side of kimchi. Honestly, compared to the all-star dishes we'd already tried, this dish almost fell a little flat.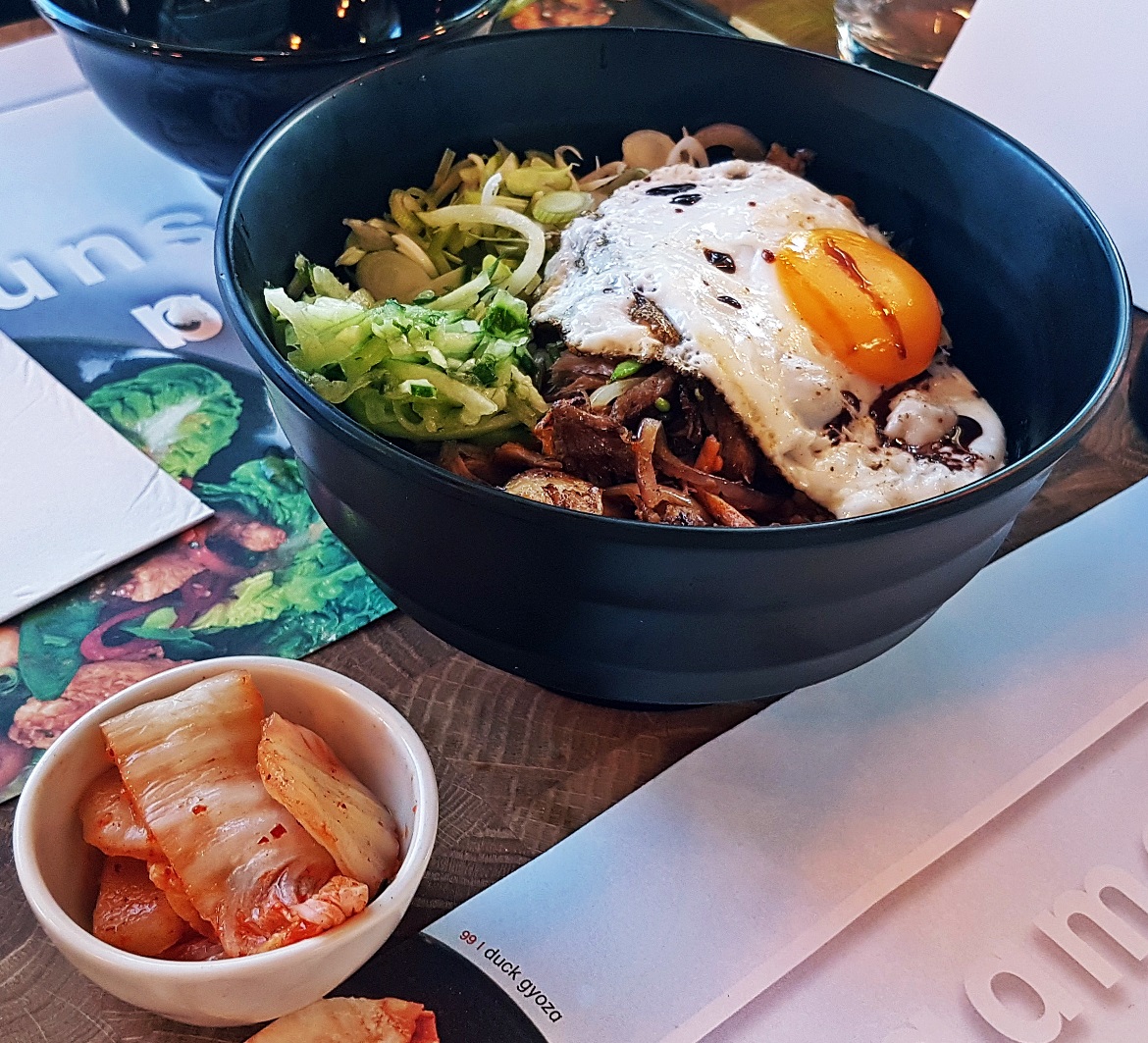 The final main we got to try was the short rib ramen. I've never ordered ramen from Wagamamas, but this dish could totally convert me. The soup was super meaty, and the short rib just fell off the bone when carved.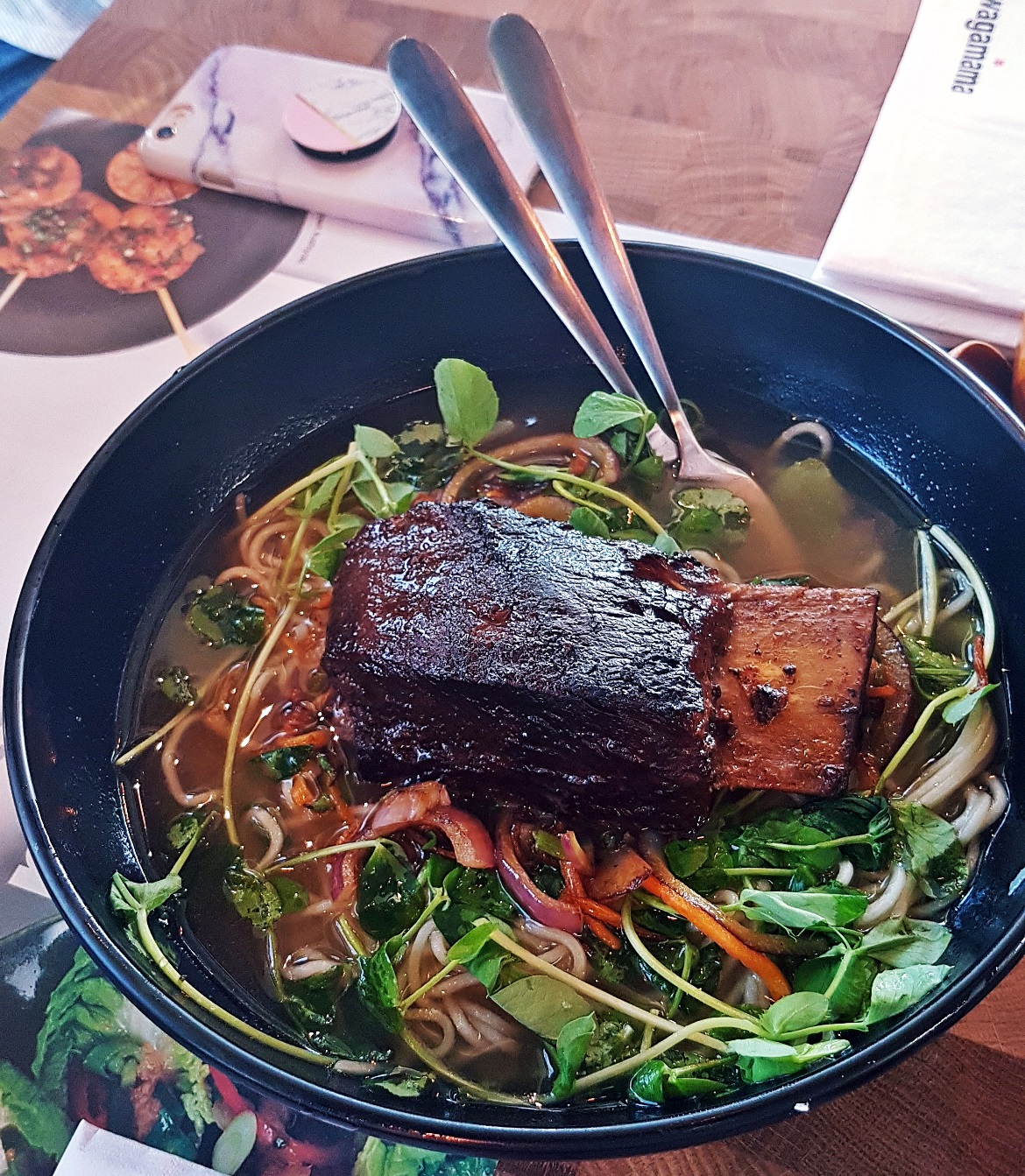 A Surprise for Dessert
Steve had promised us something polarising for dessert, and we had no idea what to expect. We were each given a bowl containing a scoop of ice cream and some sort of sauce on top. And despite never having tasted it, i knew exactly what it was from the smell. It was katsu curry!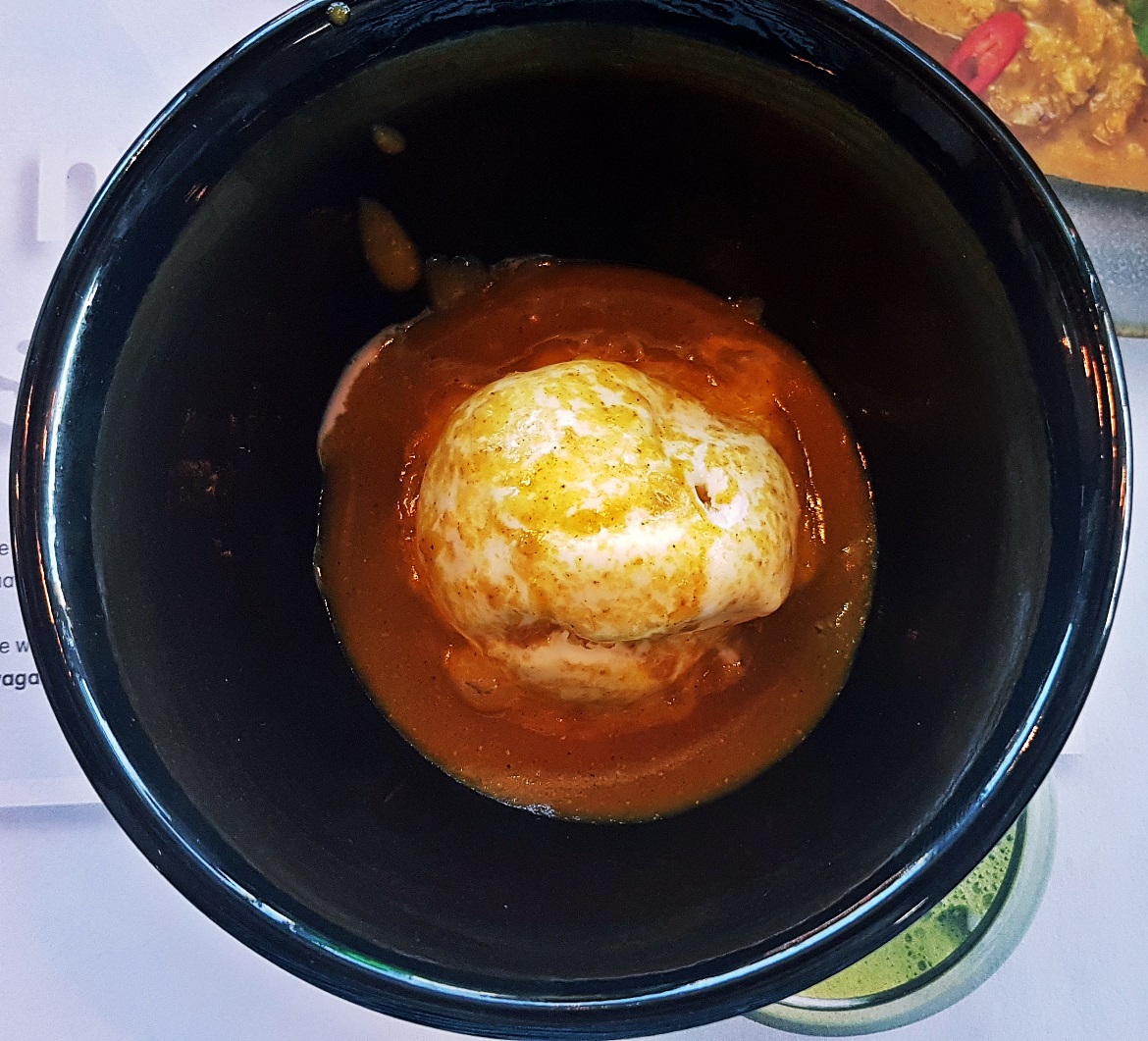 There was a distinct part of me suggesting I pass on trying it… But I ignored that part of my brain and dug in. And it wasn't half bad! The main component of the sauce is coconut, so when paired with the ice cream it brought out the sweetness, while adding a saltiness not dissimilar to salted caramel. There were a couple of mouthfuls with more sauce than ice cream that I wasn't a fan of… But overall it worked.
This dish doesn't appear on their menu, but is apparently whipped out at events to shock the unsuspecting diners!
Thanks Wagamama!
Overall the evening was outstanding, and we drove away from the event already planning our next trip back with our other halves… We literally hand picked what dishes we wanted them to order. So I can safely say that we'll be hitting up Wagamama a lot more.
I was invited to try out the new menu free of charge, but all opinions of Asian food are my own. Here's my full disclaimer.