I LOVE FOOD. There, I said it.
My big problem with liking food so much, is that I want to try so much of it. I rarely sit down, look at a menu, and say "that is the only dish I want". Often I have to bargain with myself that I'll come back and have one of the other dishes I like, or persuade TC to share his with me.
There are ways around this, of course. Tapas restaurants are always a good choice, as well as sharing platters.
But the best option, when you're as into food as I am? Tasting menus. They're a godsend.
8 Course Discovery Menu at Mr Nobody
Rather than huge portions of mass-produced food that you'll struggle to finish, Mr Nobody serves small plates of perfectly created food. Their website boasts that their fridges are empty at the end of each day – meaning the food you eat is fresh daily. But if you've been to a tasting menu before, this one is a little… different.
My bestie's fiance, Kyle, works at another of the owner's businesses and was able to get us a bit of a discount, so we had Mr Nobody on our MUST DO list for a while. Keeleigh and I went there for cocktails a while ago, and Ellie and I ran into them at the Cocktail Experience, but somehow it took us til last week to actually book a table for food.
We arrived a little early, and had a cocktail in the bar. I ordered a Lotus, and it was roundly agreed that I'd ordered the best one.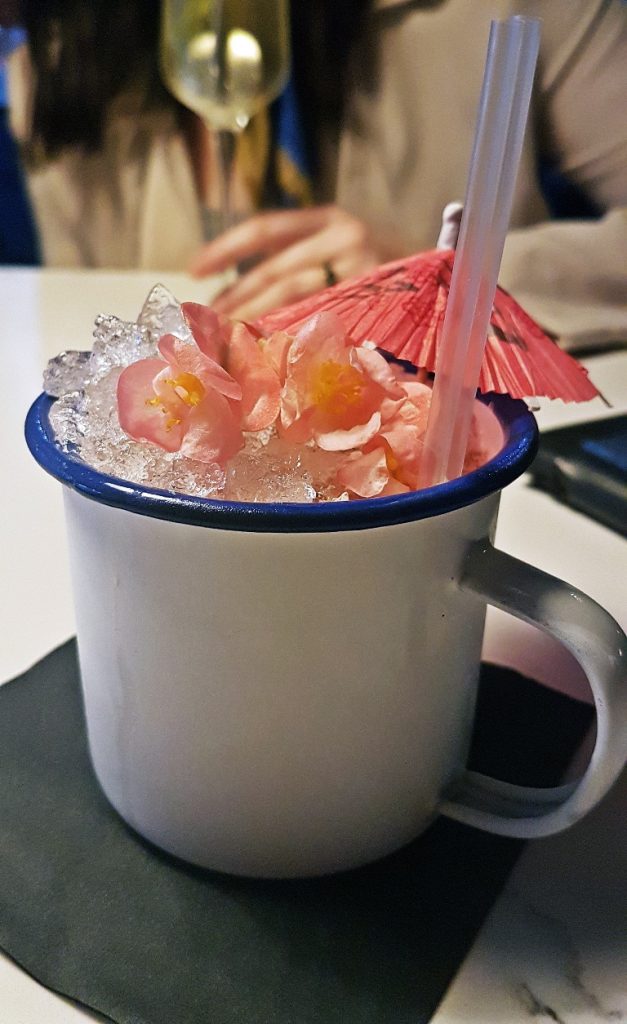 Their bar is a mixture of bare brick and faux ivy, while the terrace out back is more Tropical Garden. The place overall has a "cool vibe".
Downstairs the decor is a lot more plain, allowing the food to shine on its own merits.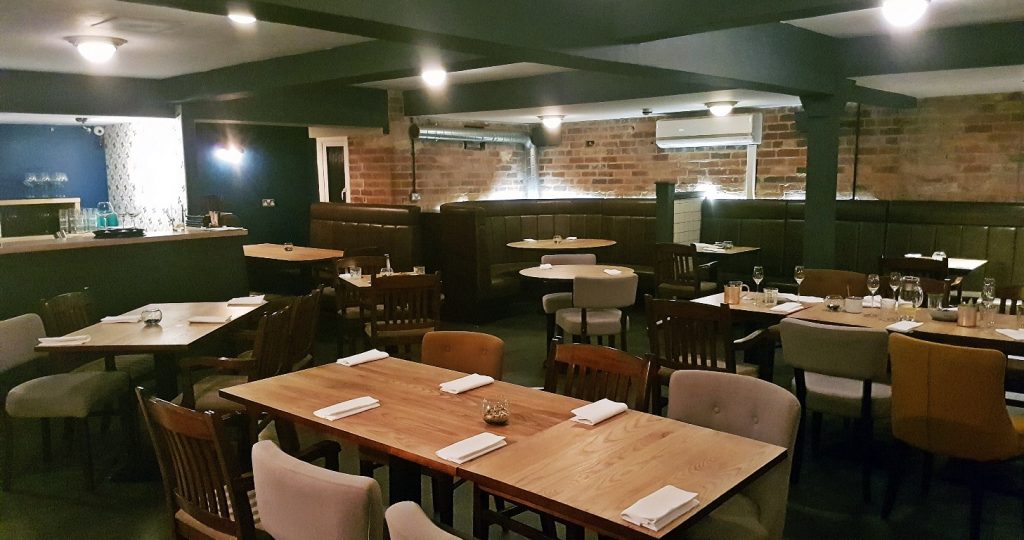 Course 0: Nobody's Noodles
The first course was served pretty promptly after we sat down. Our waitress came over, introduced herself, and then almost immediately we were served a tiny cup.
Attached to my cup, with an even tinier peg, was a slip of paper. The waitress explained that for each course, we would receive a small note telling us what we were about to eat – and that we should take it in turns to read it out.
I won't reproduce every single note here – it would ruin some of the enjoyment if you end up going – but for a taster, here's the first one:
"Here is Nobody's Noodles.
This little one is based on Nobody's discovery of the Cup Noodle.. I absolutely love ramen. So… we thought we'd make a fresh version! Ours is made up of a quail consomme, infused with various seaweed Craig brought us back from Scarborough in the last full moon, some unusual mushrooms & some home pulled noodles.
请享用 / enjoy!"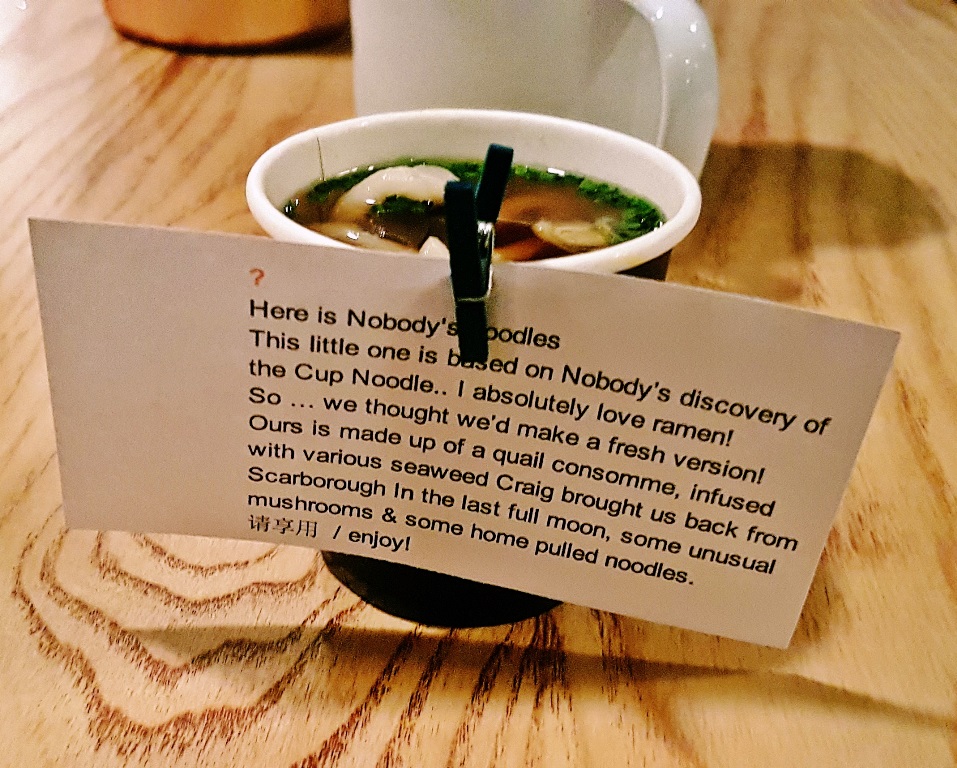 And those noodles… I've never had quail before (until later that meal), but WOW. That consomme was the richest broth I've ever had (and I'm really not a soup person). The only dilemma was that the noodles were quite thick and long compared to the cup, so it was… difficult to eat them neatly.
And I'd actually intended to ask that my food for the evening be served without mushrooms, but the message never reached Mr Nobody… and y'know what, I'm glad. These "unusual mushrooms" were nothing like the rubbishy white mushrooms you usually get. They were tiny, and presumably Chinese mushrooms, and without the slimy texture or taste that I hate.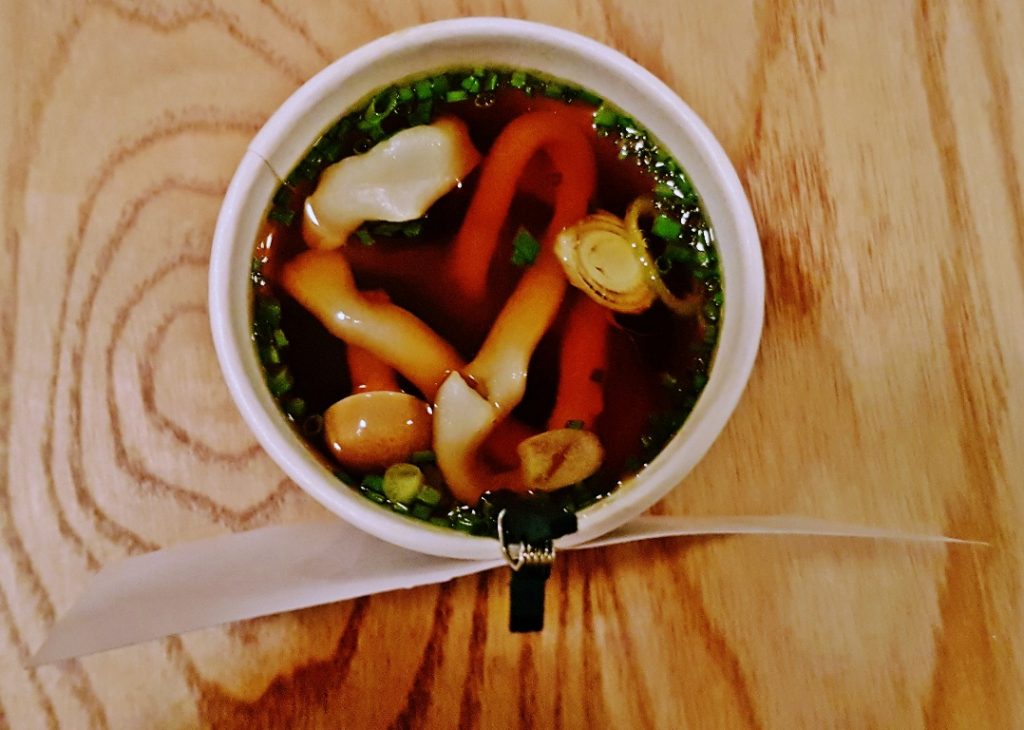 It was an amazing start to the meal and probably my third favourite course overall. It was also a clear clue that Mr Nobody wasn't afraid of doing something a little bit different. Pot noodle is rarely thought of as haute cuisine!
Course 1 – Bread and Butter
One of the tips for dieting while going out for classy meals is to avoid filling up on bread. Well, I assure you, if you skip the bread at Mr Nobody, you're skipping one of the best parts of the meal.
We decided to order the flight of wine pairings to go with the meal, and while our waitress hand-picked a suitable bottle and poured our first glass, the butter was delivered to our table.
At first, Keeleigh, who was to read out this course's description, was a little confused. We were presented with this: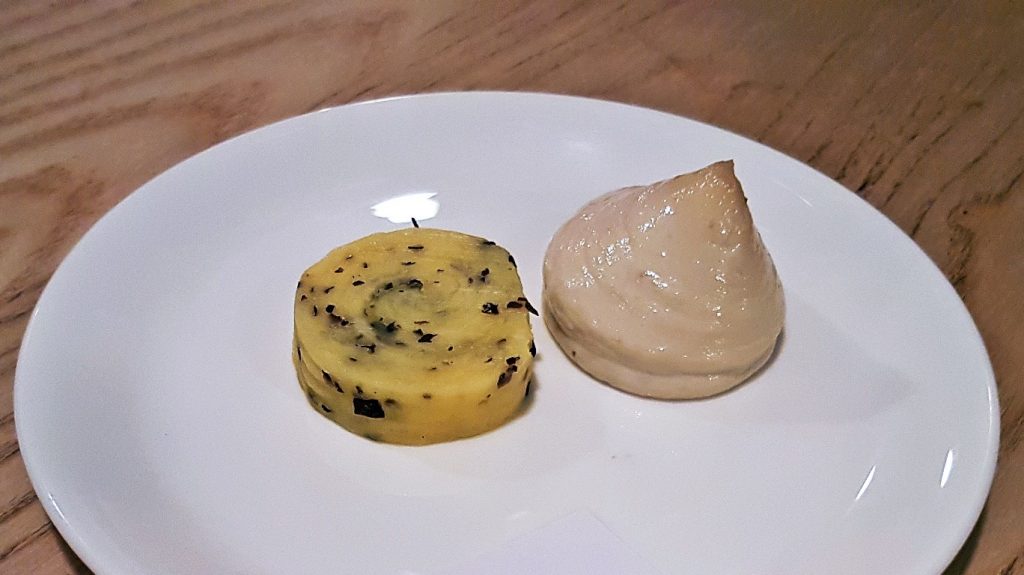 A pat of butter and a dollop of something. But our bread was a little delayed (probably while they were getting it fresh out of the oven!) so we were wondering which one was the bread, until our rolls turned up.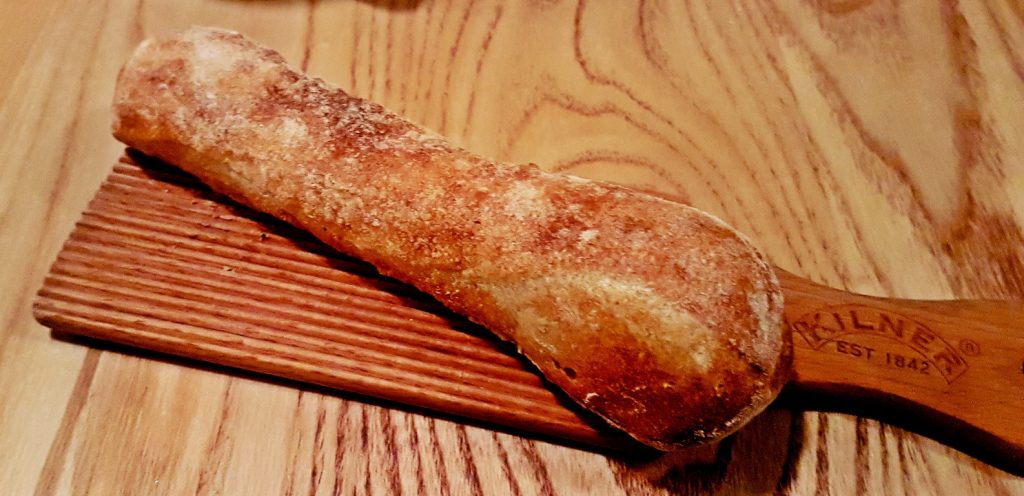 The butter, which I adored, was a "dulse seaweed butter", but the stand-out item was the dollop of smoked cod's roe. TC is still going on about it days later.
Course 2 – Grilled Mackerel "On Toast"
Emphasis was Mr Nobody's, not mine.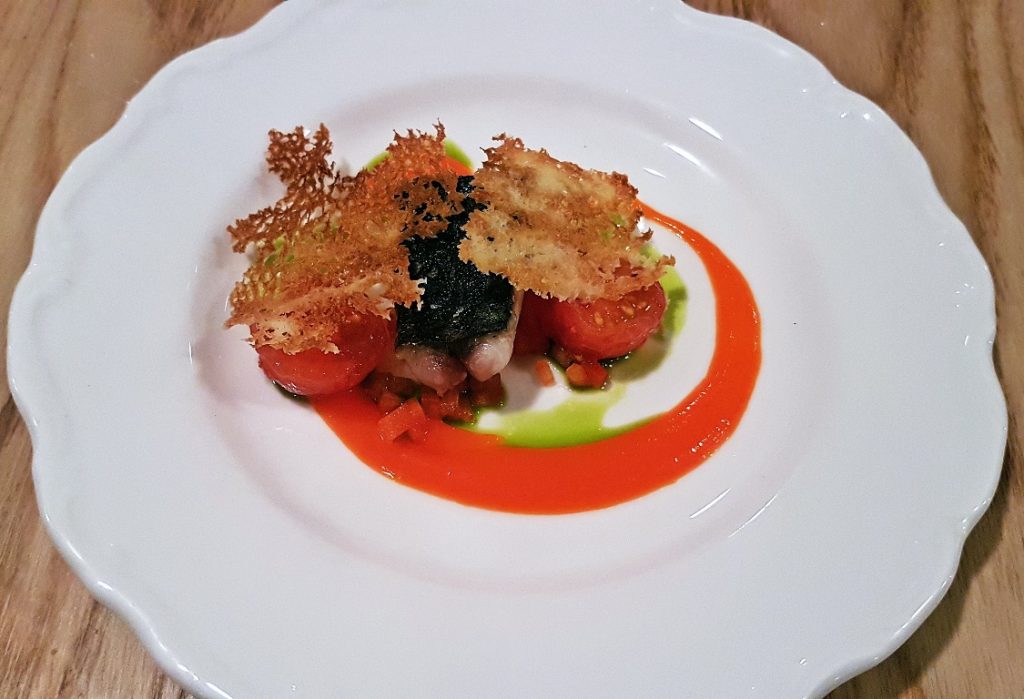 The mackerel was stunningly cooked, but I think this was one of their slightly weaker courses. The "toast" disintergrated when you tried to cut into it, and the tomato and fennel accompaniment, while tasty, wasn't quite up to the ridiculously high standard set so far. A tasty course, but not enough to blow me away.
Course 3 – Norfolk Quail Kiev
The word "Norfolk" got a round of cheers (three out of the six of us were from Norfolk, and I'm from one county over).
As mentioned, I hadn't had quail before, but I'm not sure this dish did it justice. When our waitress was serving the wine, she mentioned that she'd chosen it because she wanted the flavour of the quail to stand out against it. But honestly, I'm not sure I could have differentiated the taste of the quail from ordinary poultry. There were several comments of "it's KFC!" from around the table…
But the "burgundy mash" was amazing, and it's not like the quail wasn't delicious either – I love garlic kievs. I'm just not sure I can count myself as having tasted quail yet.
Course 4 – Cheese and Onion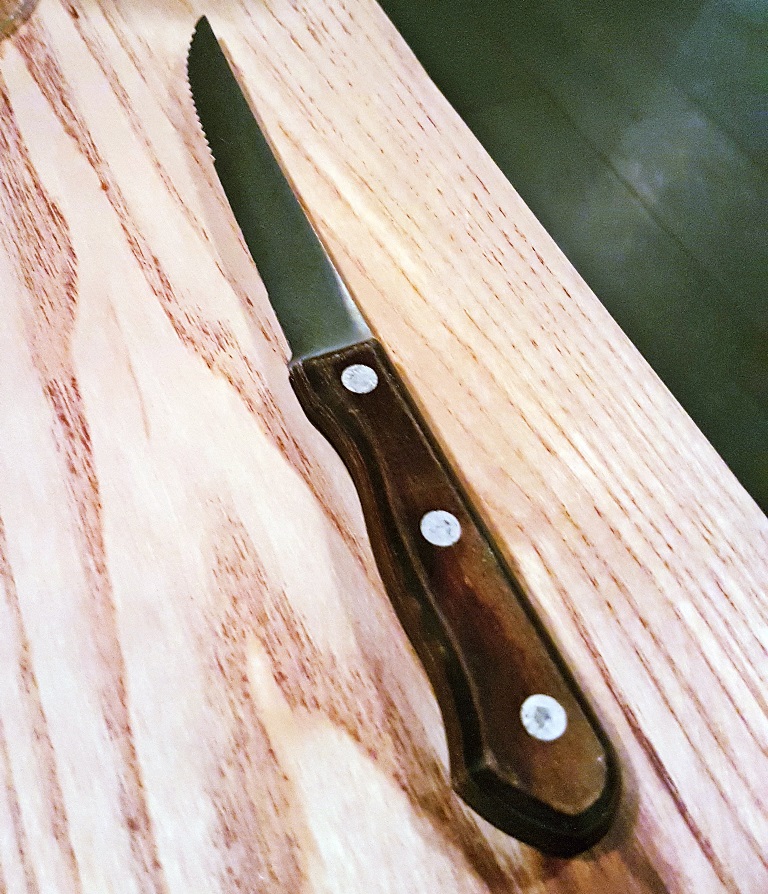 When they put out the sharp knives, we all got excited. Would it be steak?
No, it wouldn't be. What it would be was my favourite course. I honestly don't think I can eat another onion again, until I find out how they cooked it like that.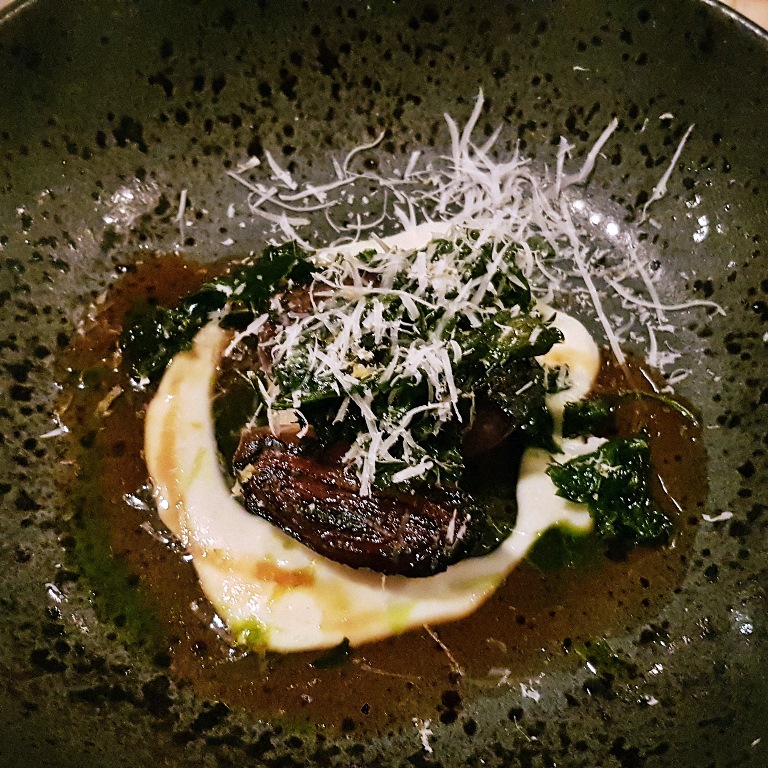 The onion may look burnt, but it was perfectly al dente, with none of the bitter taste of burnt butter. It was served with vegetable gravy, sauce soubise (which I've now discovered is a Bechamel sauce with added onion), and a scattering of grated cheese on top.
Rereading the accompanying note, it sounds like it was prepared in a similar way to fondant potates. I'm going to have to try making fondant onions later – I'll report back!
Course 5 – Donner Kebab
Now this is certainly not what you expect to get at a fine dining place.
Our plates were brought out before the food, and the fresh kebab was placed onto our plates at the table. It was only after the last glass of wine was poured that we realised we had no cutlery.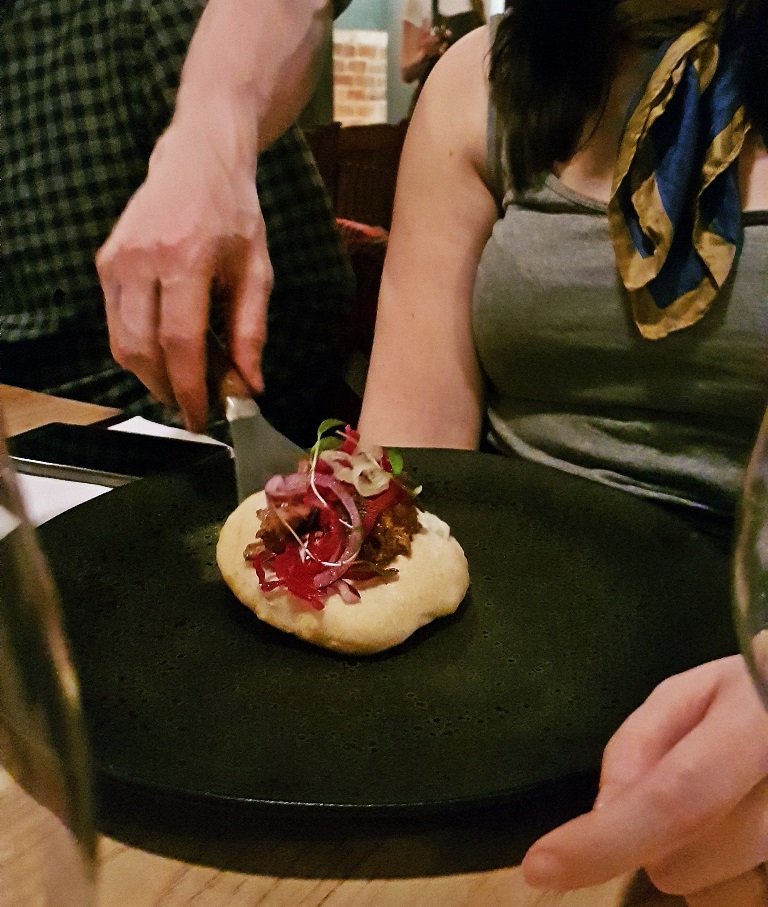 "Do you get cutlery when you go to the kebab shop at two in the morning?" the waitress asked, before relenting and saying she can get us some if we wanted. No! Of course not! We were going to eat Mr Nobody style.
Our second messy dish of the night was just as tasty as the first, and for me it ties for third place. I LOVE lamb, and I'm partial to a cheeky kebab, and this was like no kebab I'd ever had before… and yet faintly comforting, all the same.
Unfortunately, I volunteered TC to be photographed trying to eat it, but he grabbed my camera before I could. Hence…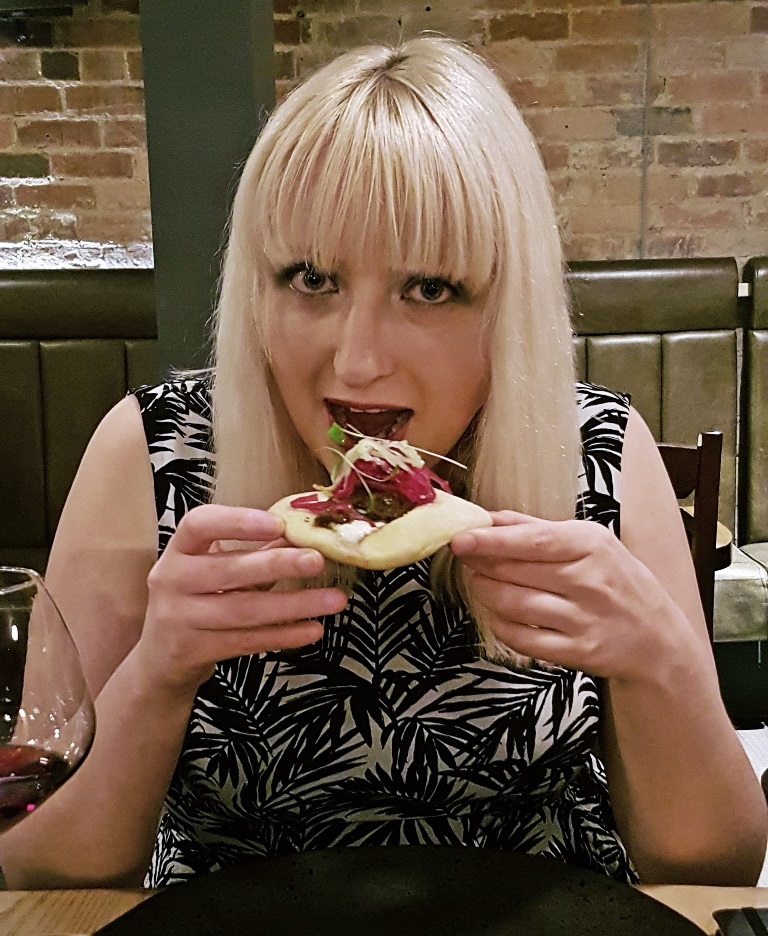 Course 6 – Tournedos Rossini
I'll post the note here so you can see what I was thinking when it was read out…
A classical French dish, Tournedos Rossini; fillet steak, fois gras, truffled madeira sauce and brioche.
Oh wow. it sounded amazing.
We never use foie gras, though it's delicious, Nobody says it's not necessary! We turned this dish on its head. We use: herb fed chicken livers, the spinula, which is the soft and juicy single muscle from the rib eye, mushroom and aged sherry gravy. Served with toasted brioche crumb.
Bon appertit / enjoy!
I will be honest, I adore fois gras (even though it's so so terrible), and was a little saddened when I found out that it wasn't going to be served.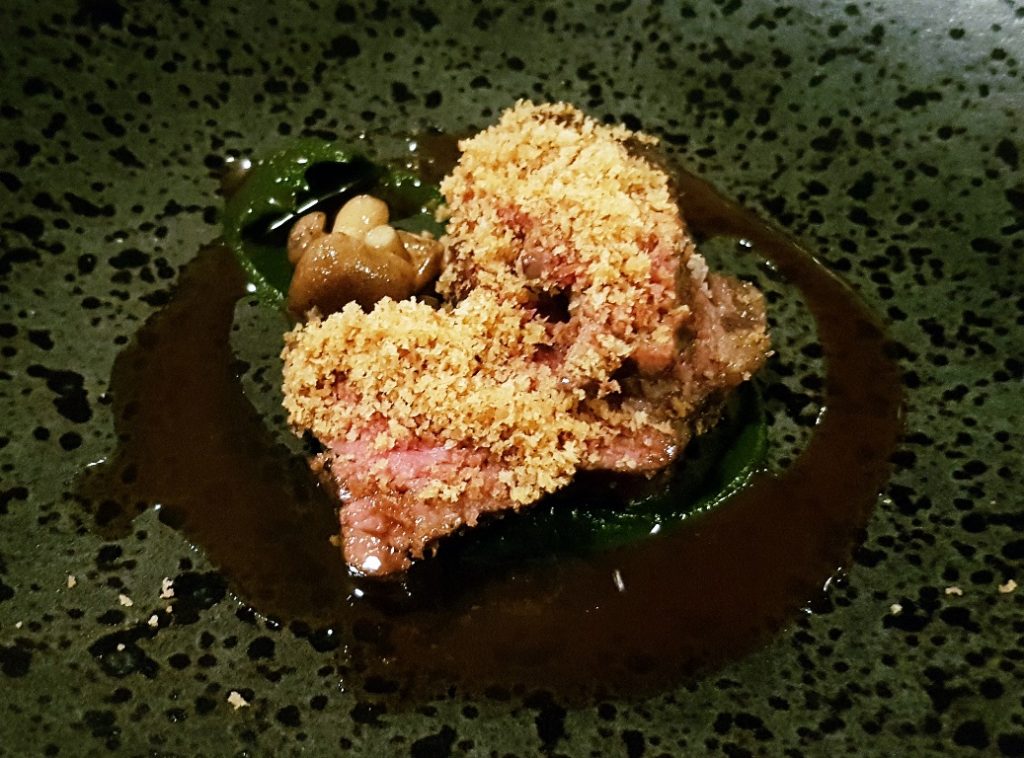 However, eating it more than made up for my disappointment. Although some at the table were not fans of offal, I happen to love liver. The steak itself was perfectly cooked, and the mushrooms were back, and this time I wasn't scared of them! The crumb was very tasty as well, and really added to the texture of the dish.
Course 7 – Desi Tea and Spiced Doughnuts
I'm not really a fancy tea person (give me a cup of English breakfast any day). But this tea… it didn't even taste like tea! More like milky hot chocolate or something… I'm only sad there wasn't more of it.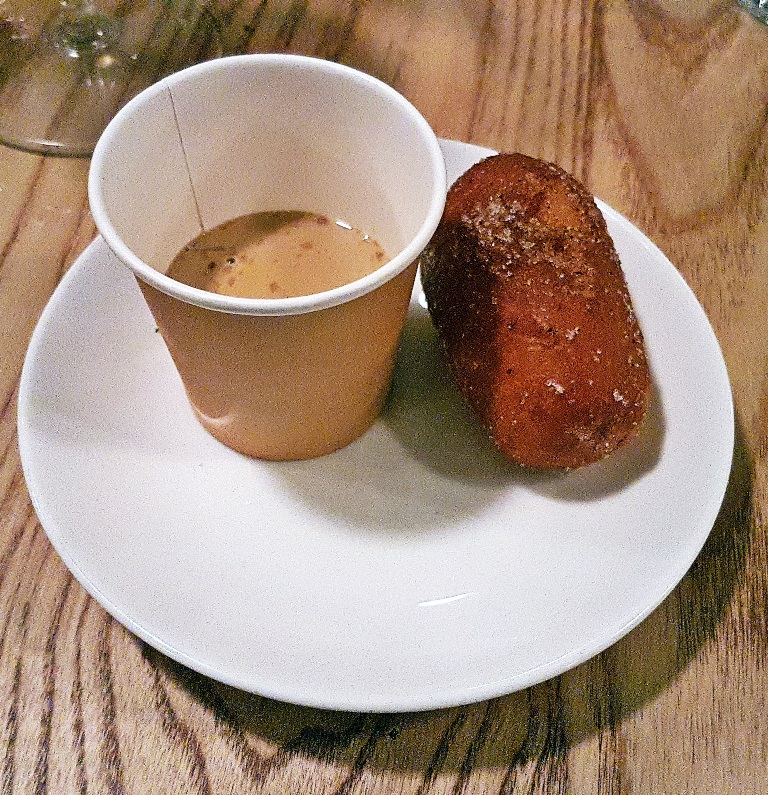 The doughnut itself was perfectly spiced on the outside and doughy in the middle. TC tried dipping it in the tea but determined it was better on its own. I didn't have time to try dipping it – I was too busy guzzling it down.
Course 8 – Jelly & Ice Cream
And this one can count as my second favourite dish (though it's a close one all round to be honest). When we were served the dish, we all took bets on whether they were meringues or marshmallows – I wish I'd bet my dessert on it, because I was right!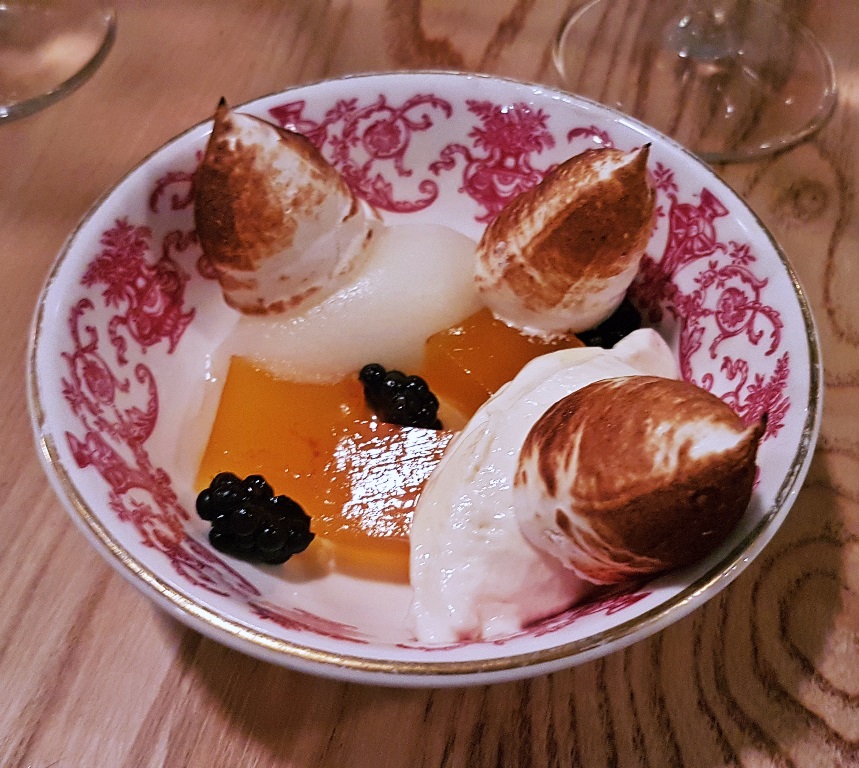 The lemon sorbet and lemon curd ice cream were served with sour lemon jelly and (you guessed it) soft lemon meringues. The sweet and sour balanced each other perfectly, and I was practically licking the bowl.
Even better, it was served with probably my favourite wine in the world – Moscato dessert wine.
The Wine Flight
I wish I'd thought to note down what wines we were drinking. Each one was hand selected by our waitress to pair perfectly with the dish, and there were honestly no bad choices through the entire night.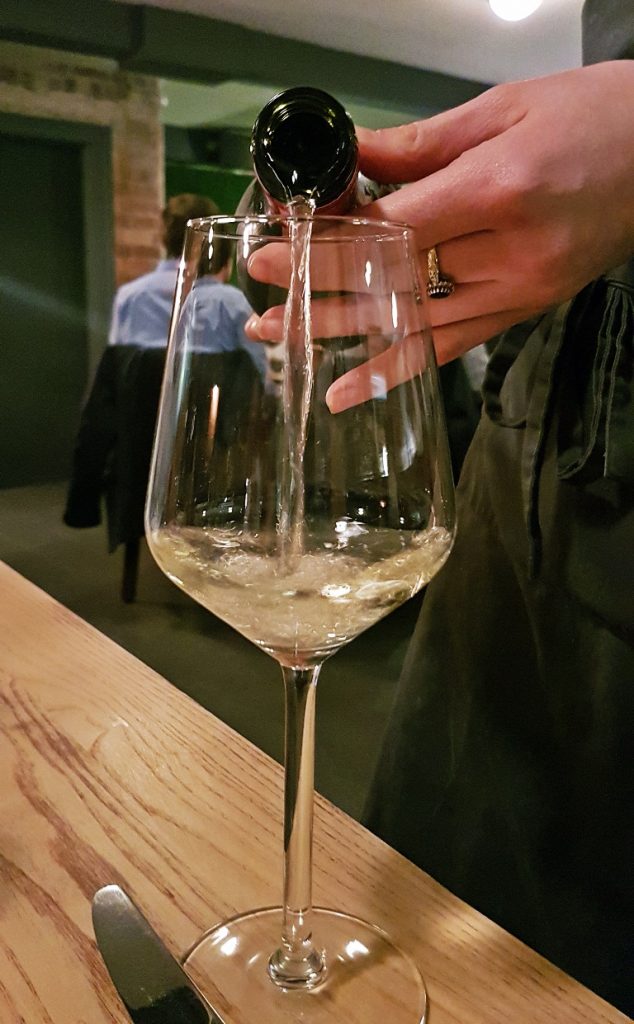 The glasses poured weren't full ones, so even though we had a different wine with each course (except course 1, course 7 and course 9) we weren't falling-over-drunk by the end of it.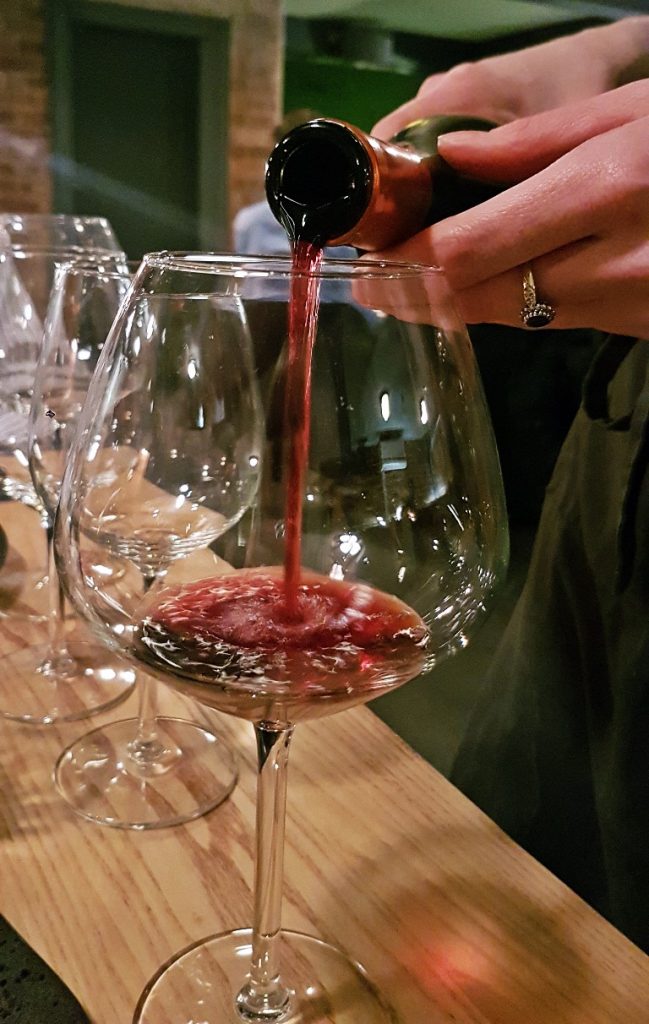 Additionally, Keeleigh doesn't drink red wine, and they were happy to find good alternative wine choices to accommodate that.
SURPRISE Course 9 – A Few Little Treats
I'd seen the sous chef Michael Boushi making the fruit pastilles on Instagram a few days before going, and I was super excited when I saw them come out.
The strawberry laces and fruit pastilles were soft and melted into a sugar mess in your mouth – just how you want it – and the chocolately stick is actually a mini homemade Feast ice cream.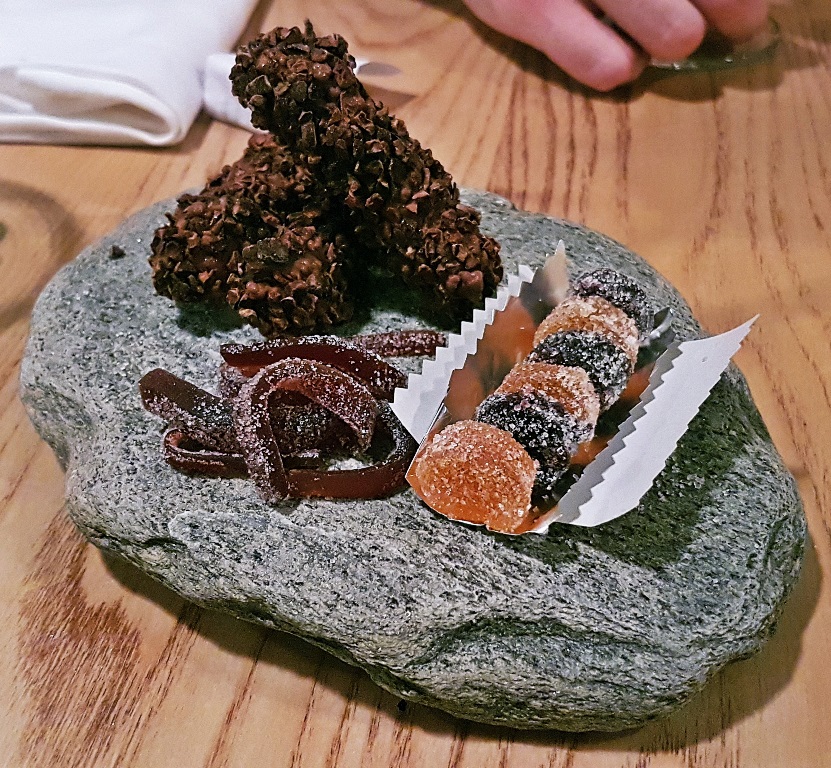 And since this is a surprise course, I can totally say that it was also in my top 3 courses, right?
Overall
Mr Nobody was AMAZING. Let me say that again. AMAZING. While there were a couple courses that didn't quite hit the mark 100%, to me that's a good thing because it made it easier to pick my favourites 😉
Every single course was delicious, and some courses were among the best food I've ever had.
Mr Nobody changes their menu every month, and I just wish I could afford to go there every month to taste the new dishes. It's not the cheapest place in Leeds, but would you really expect it to be, given the quality of the food? For me, it was well worth it to spend an evening with such good food, such good wine and such good company.
Disclosure: I received the meal at a discount.