As you may have seen on my Instagram, last month I went to Lisbon for four incredible days.
Most of my holidays are jam-packed with sights to see, places to visit, things to do. But this was a quintessential girls holiday, full of bars, sunbathing and relaxing. And it was actually a very welcome change – it seems I really needed that time to recharge.
I've got a few more posts planned, including one that will focus on food food food. But first I wanted share with you some of the really awesome things we did.
1. See the view from Castelo de São Jorge
Reading my guidebook on the plane over, it was easy to see what the best thing to do first was. The climb up the hill to the Castelo was pretty intense (there was a tram but we decided to walk), but stepping through the gates we knew we'd made the right decision.
The main square you enter into features a truly stunning panoramic view of the city. Words seriously can't do it justice…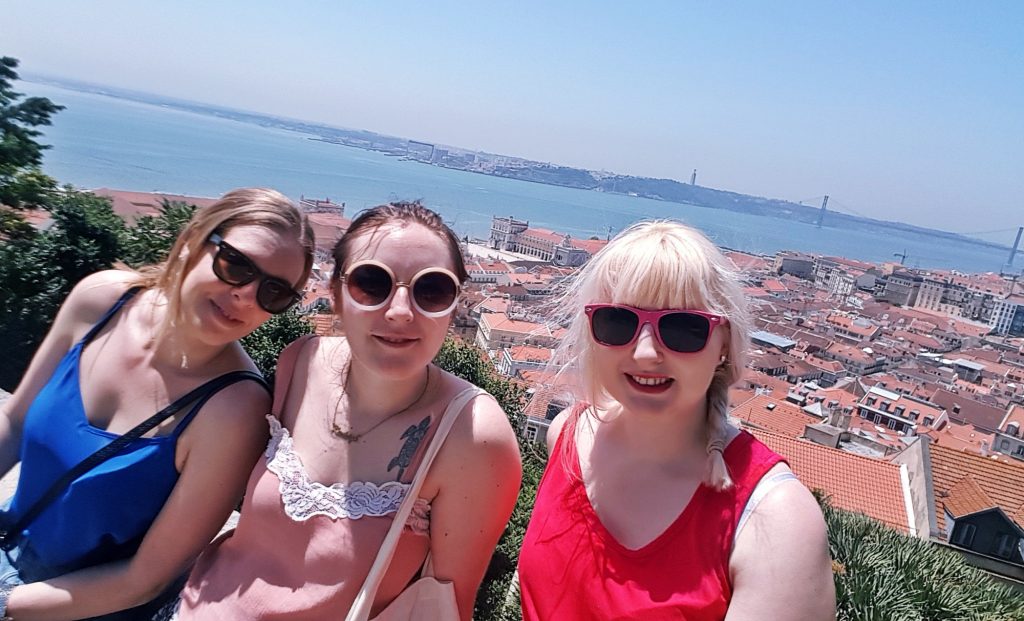 Actually, I'm not certain those pictures are totally doing it justice either!
Anyway, once you get past the impressive sight, the castle itself is pretty cute. I was a little disappointed to learn it's mostly a 20th century reconstruction, but since it was largely destroyed in an 18th century earthquake that seems pretty fair. There were lots of battlements and different areas to explore, including an archaeological site that featured Iron Age remains.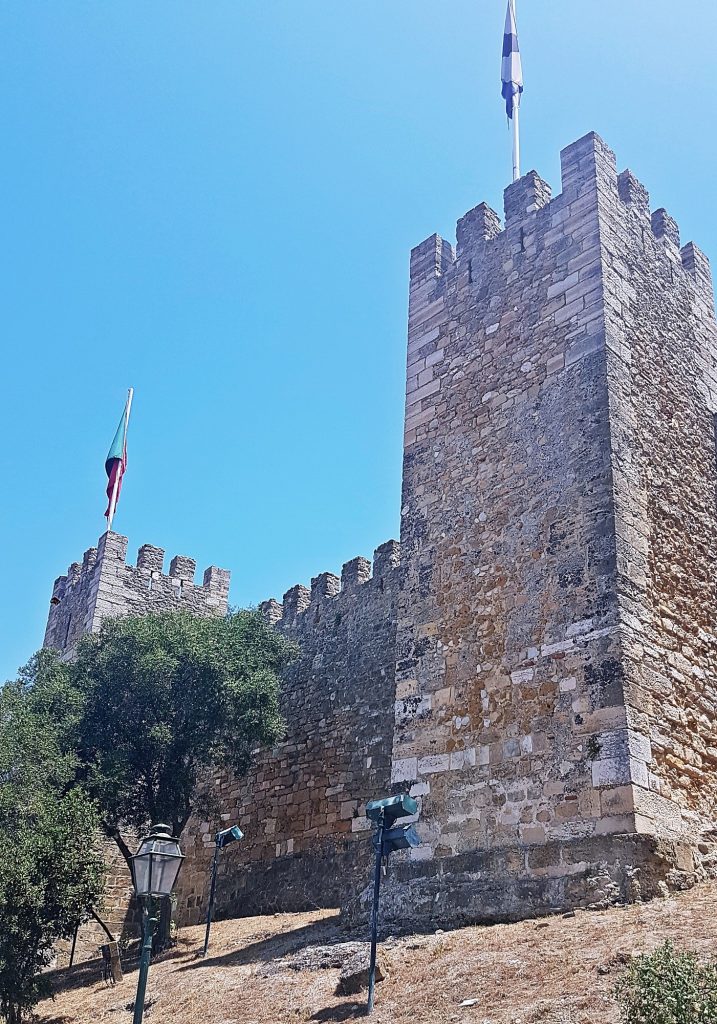 Finally, don't miss the camera obscura in the Tower of Ulysses! A tour guide gives you a 360° tour of the city via periscope view. It might be easy to miss, as it's in the castle itself and not very well signposted, but make sure you seek it out.
Castelo de São Jorge cost us €8.50 each to enter.
2. Visit the Oceanarium
We managed to squeeze in a visit to the Oceanario de Lisboa on our last day before heading to the airport. Man, do I wish we'd been able to allow for more time here.
I'm not a big aquarium expert, but this place was seriously impressive. The massive central tank was too wide to see across, but frequent touch points around the side meant that even if the first viewing point was rammed you wouldn't miss out. It contained a crazy amount of fish, from massive sharks to smiling flatfish to shoals of clownfish.
Around the edges were more specific exhibitions representing different climates – the puffins hung out in the Atlantic area, while penguins waddled around the Antarctic section, and we even got to watch the otters being fed!
The Oceanario cost us €15 to enter, for the permanent exhibition only, but you can get cheaper access to the combined permanent and temporary exhibitions by booking online.
3. Go to the beach
Lisbon itself isn't on the beach, but that doesn't mean that you're stuck with city heat and sand free shoes. There's a ton of seaside options only a short journey from the city centre, and our beach of choice was undoubtedly the most popular – Carcavelos.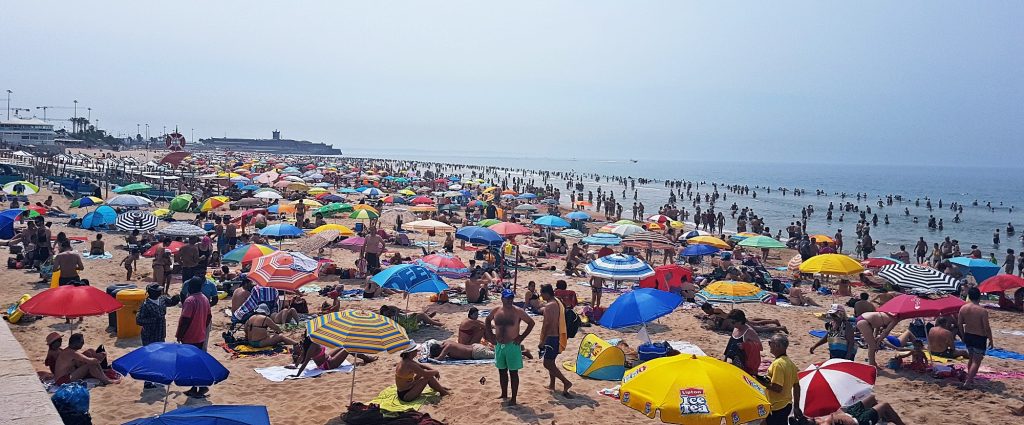 It only took half an hour to get from Cais do Sodre train station to the beach itself. The convenience of the location did combo with the heatwave a little – the beach was Crazy busy… but not too busy. We decided ahead of time to splurge for a beach lounger and umbrella in a private area. The nearby beach shack served food and drinks, and we loved lounging around drinking beer and sangria in the scorching heat. There were also tons of people selling various beachy paraphenalia, which came in handy since I forgot my towel!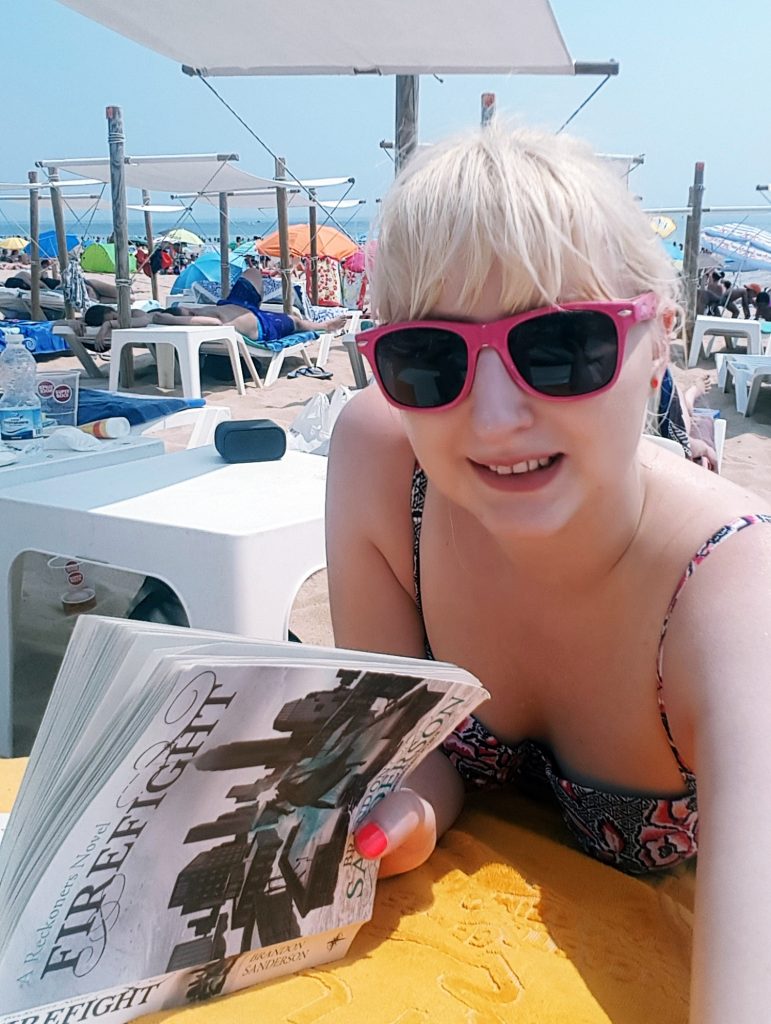 The sea itself wasn't the sea at all, it was the river Tagus, but the waves were real enough. The water was quite cool (coming in just off the Atlantic!) but warmed up as the day went on.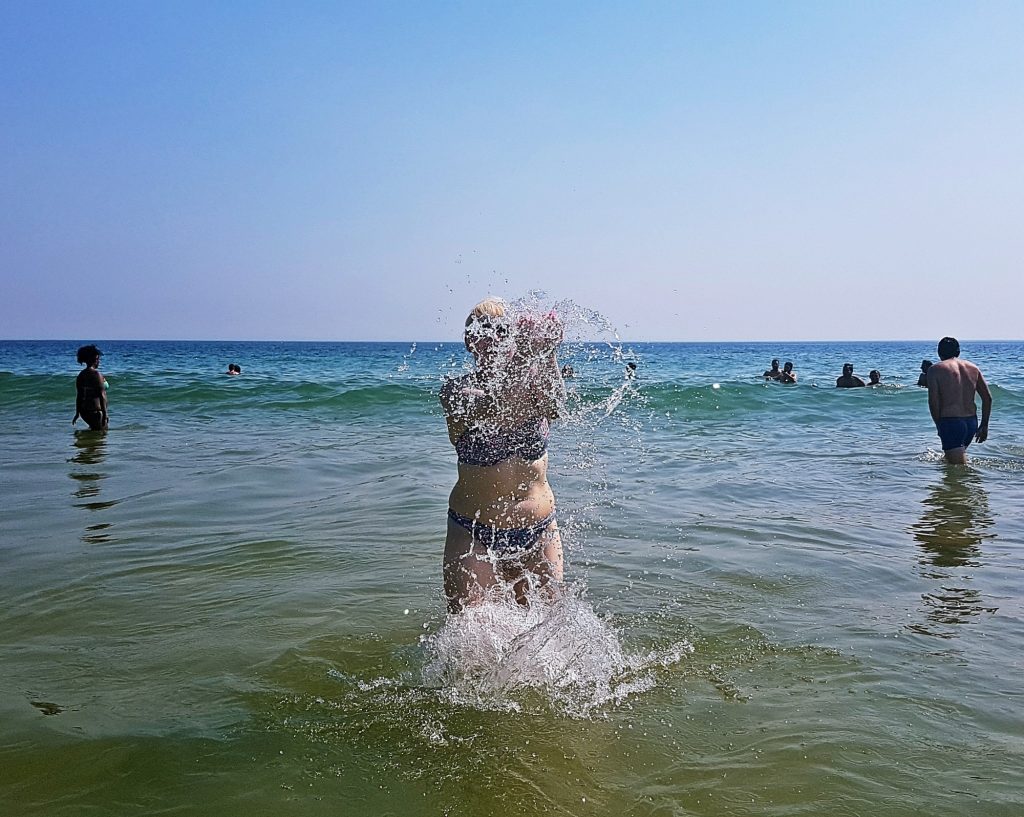 Our beach lounger and umbrella cost €20 for three of us for the day.
4. Visit a rooftop pool
This was probably our coolest discovery on the trip (with the possible exception of Park Bar, see my future blog on Food and Drink in Lisbon). We knew the second day of our visit was going to be a SCORCHER (40°C plus) and that we wouldn't be up for much activity while it was so hot.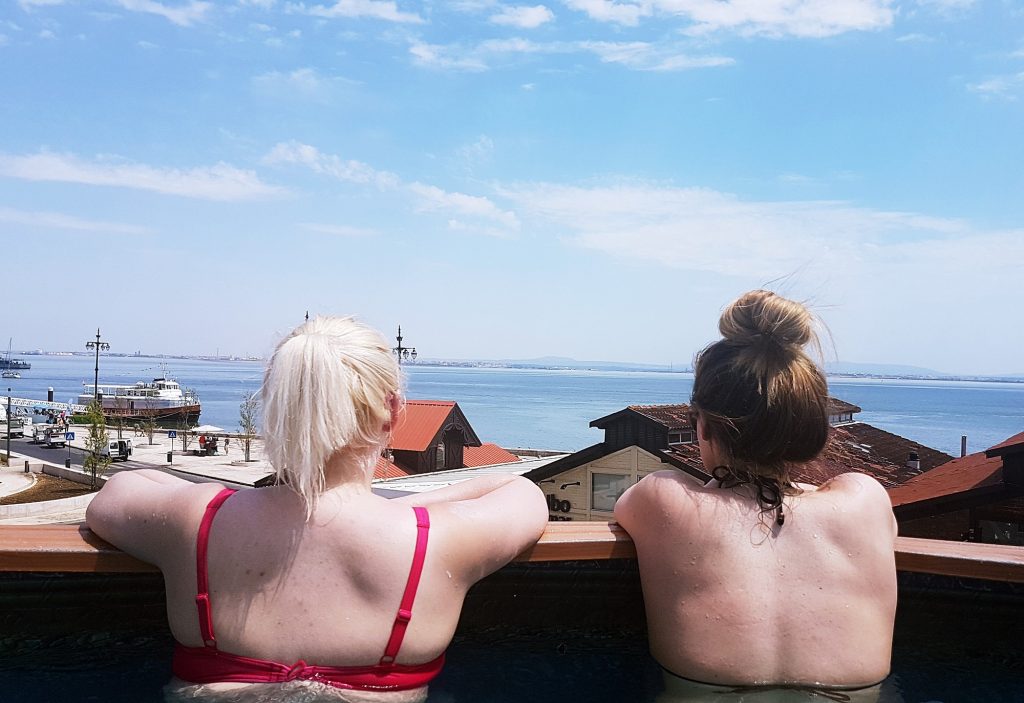 The idea of a rooftop bar or pool was thrown around, and luckily we quickly stumbled onto one that combined both, Sunset Destination Hostel. Info online was limited, but we knew it was part of a hostel accessed through a train station. Despite wandering around the train station in confusion for about 20 minutes, we finally found our way in.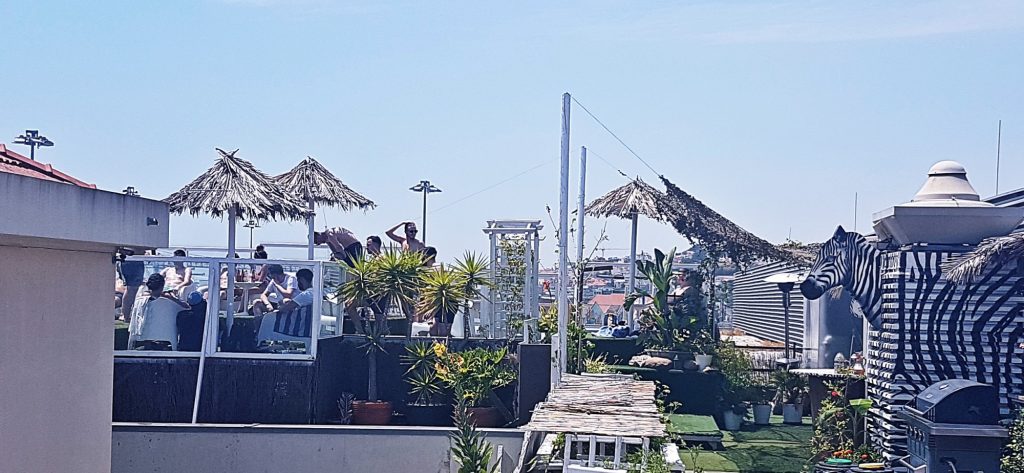 It had a very hostel feel about it, the serving staff were very slow, and the entire clientele was a single large stag do when we first arrived. But this didn't put us off for long. With a cool breeze coming in from the Tagus, very cheap glasses of wine slaking up thirst and a small pool to dip into occasionally, it was a really chill way to spend an afternoon.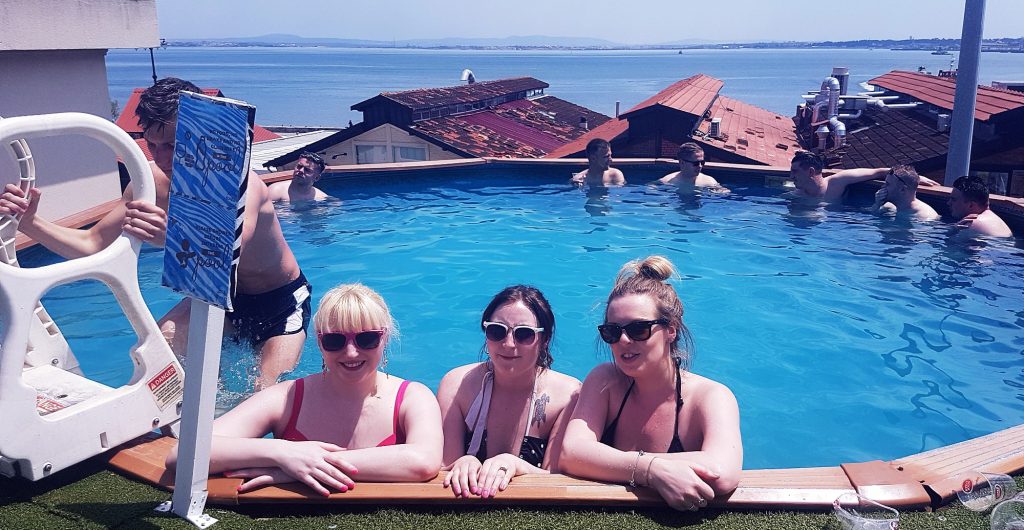 The Sunset Destination Hostel Rooftop Pool cost us €5 to enter.
5. Go for a wander
We went out two of the three evenings we were in Lisbon. On the other night we decided to stay closer to home, and went for a wander near our apartment. Just as we were about to step out, the heavens opened and a thunderous storm started. We waited for the storm to slow, then set out while it was still raining lightly.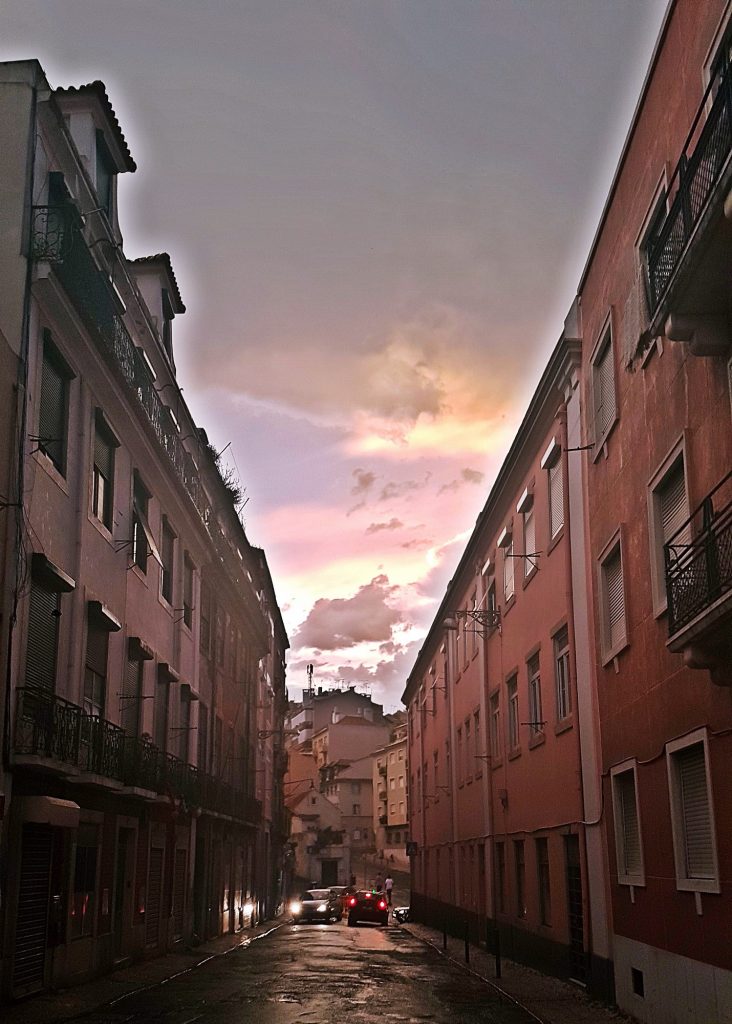 Most of the city centre lay to the west of us, so we headed out North East. Our route took us through tons of smaller streets, including many bedecked with garlands and streamers for the Festival de Lisbon which runs the whole month of June.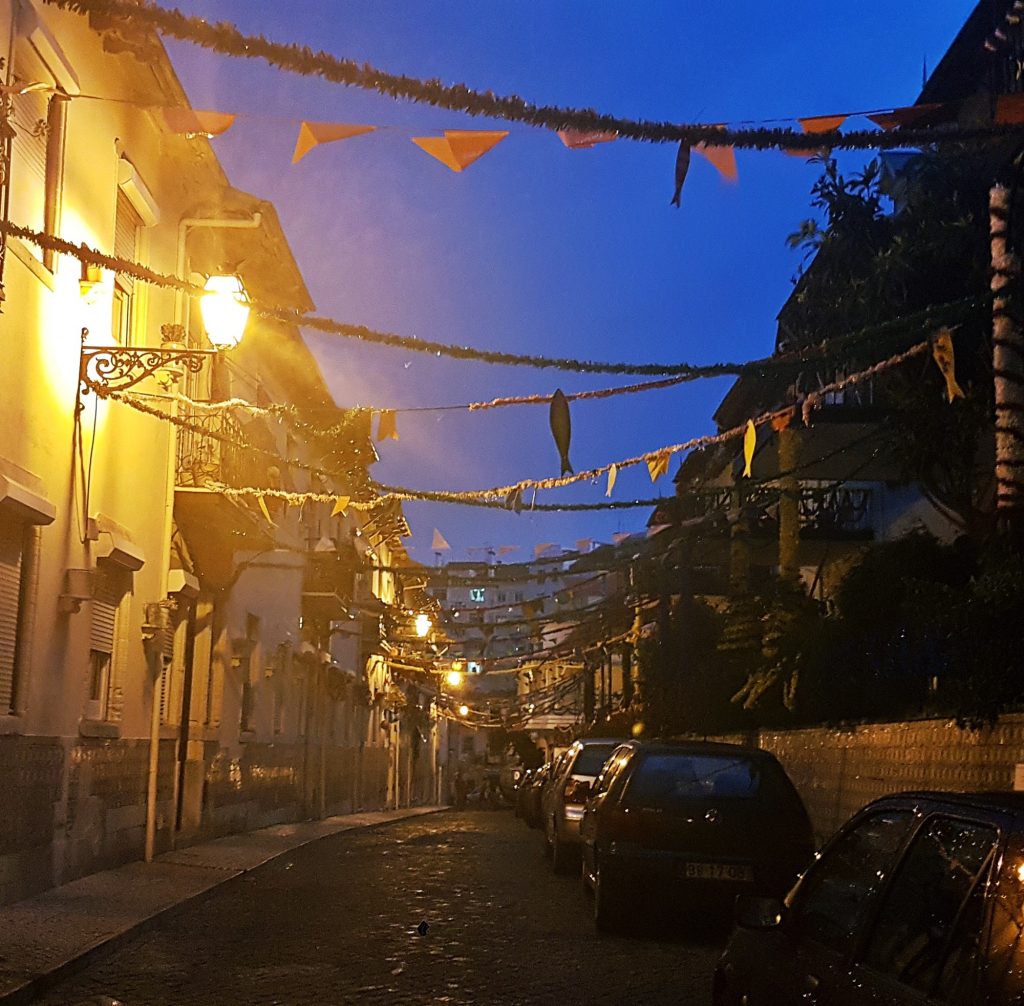 We ended up on a terrace above Jardim da Cerca da Graça, with spectacular views across the city, towards the castle and 25 de April Bridge.

6. Save something for next time
We barely scratched the surface of Lisbon on this trip. The hot weather kept us pretty static, and I definitely took this holiday at a much slower pace than my normal ones.
Naturally this means I have a ton of places on my list for next time. Torre de Belem is high on the list – we passed it on the train and it looked super pretty. And my guide book raged about Sintra, a picturesque town 40 minutes from the city. It's definitely on my to-do list for next time.
FYI, Lisbon is Amazing
My visit to Lisbon was absolutely amazing, and much of that came from the down time between these activities. I'm not a relaxed person by nature, but Lisbon really brought it out in me. I absolutely adored the city.
If you're considering a short break to Lisbon, I have one thing to say to you – DO IT!