I've mentioned before my
eternal love for tasting menus
. How else to try everything on the menu that you like the sound of, plus never have to bug anyone else to take a photo of their food, because you're all having the same thing! Sadly, tasting menus are usually a little out of my "casual meal out" budget. But when Tim spotted Vice & Virtue had one available as part of Leeds Restaurant Week, he knew it was the perfect thing to book to celebrate our second anniversary.
Outfit
I'm definitely not a fashion blogger but I'm quite pleased with my look for this date.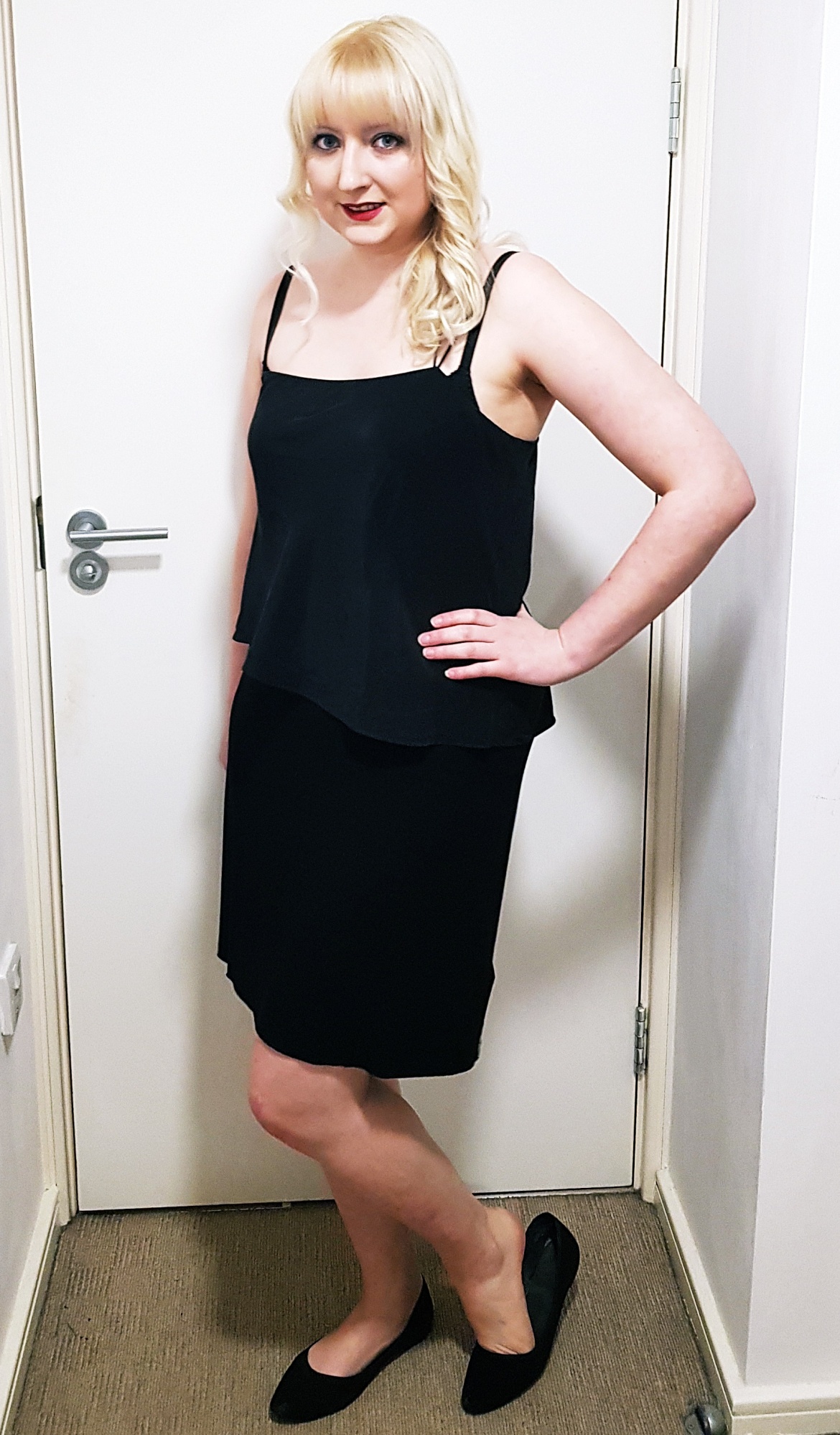 The dress I bought for my speakeasy themed birthday party last year, from All Saints. The shoes are my trusty flats from H&M (I'm still very twitchy about heels thanks to my
broken foot situation
last year). But it's my hair I'm particularly happy with. I get my hair done at The Salon Leeds, which is a training academy for new hairdressers. So I was freshly blonde, and they even curled my hair (which takes me forever when I do it and it never looks as good as this.
Vice & Virtue
We first stepped into Vice & Virtue a couple of weeks ago for a quick post-dinner drink. Immediately it became one of my favourite spots in the city. The decor says speakeasy, the atmosphere says class, and the drinks say "go on, have another". Located just up from Merrion Street, it's not a part of town I frequent that often. The entrance leads to a steep set of stairs, and half-way up your path is blocked by a rope barrier. "Check in with the bar before heading upstairs to the restaurant".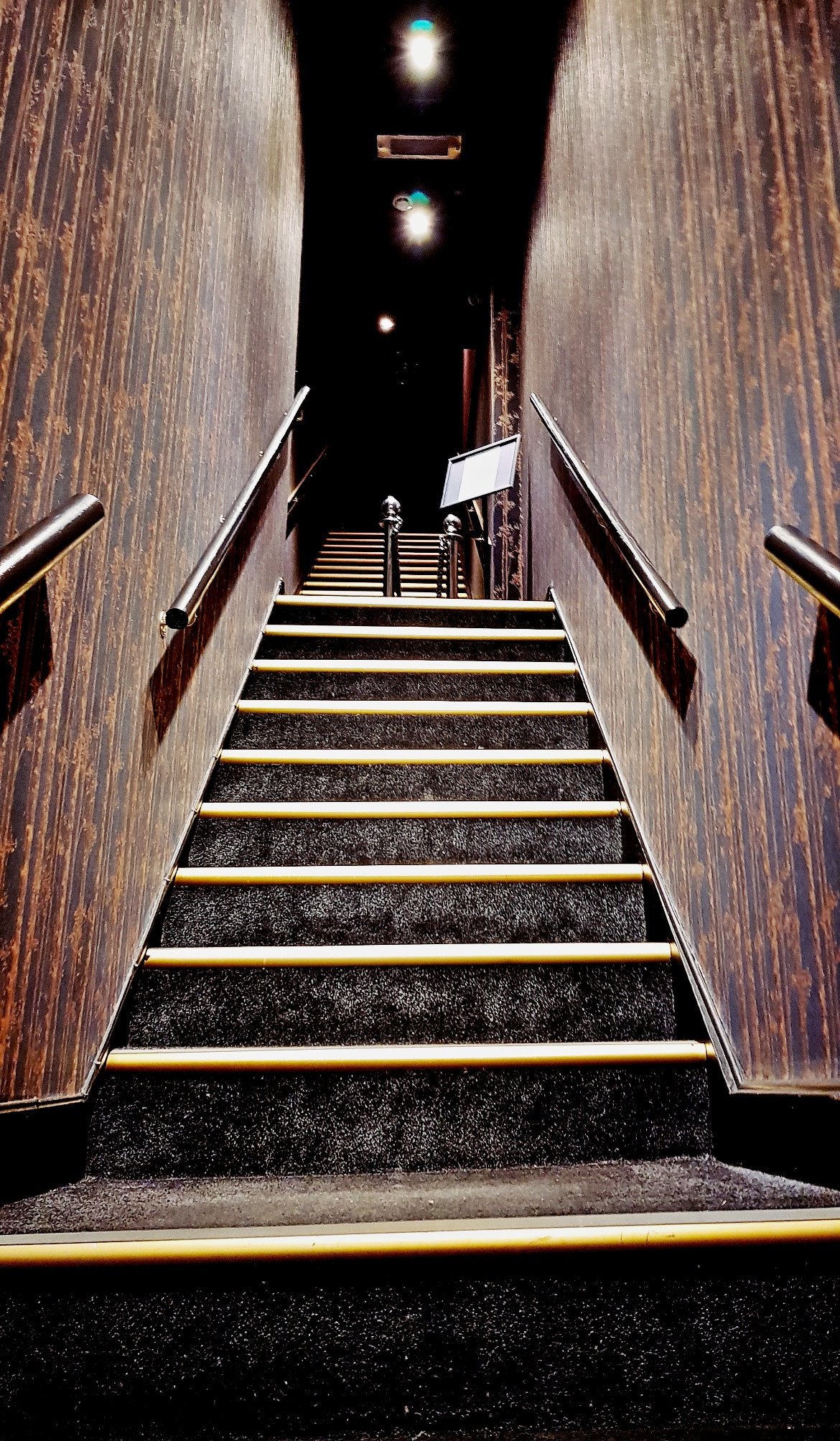 The bar itself we'll get to later, but once you make it to the restaurant, you're surprised by one of the smallest eating spaces in the city. We estimated that it couldn't seat more than 20 people, and on this Friday evening it was about half full.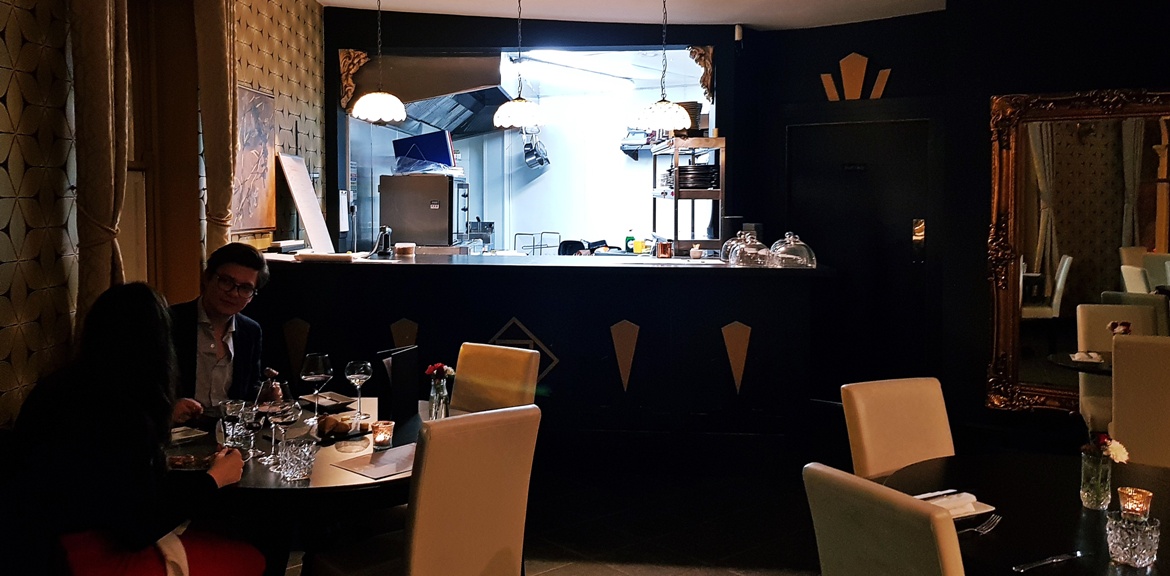 Our table, romantically situated by the window, unfortunately looked out on a building site and a ring-road junction. But the thought's what matter's, right?
The Menu
After a little mix-up, we confirmed we'd pre-booked the outstandingly well-priced Leeds Restaurant Week menu, at £30 for seven courses. Their usual offerings are the Virtue menu (£50 for nine courses) and the impressive Prestige menu (£65 for a whopping twelve courses). There are also optional drinks packages, from the "classic" to the "rare and exclusive". We opted for just the classic, for £30. The service was already impressive, with our water glasses filled by the host who sat us, and then topped up as we perused the menu.
Canapes and Amuse
Our canapes were brought out promptly as we were still studying the menu and making our drinks choice. On the left was a mushroom-and-miso bonbon, anchovy on toast and wild boar pate. On the right were three different breads, and three different butters – salted, truffle and chilli.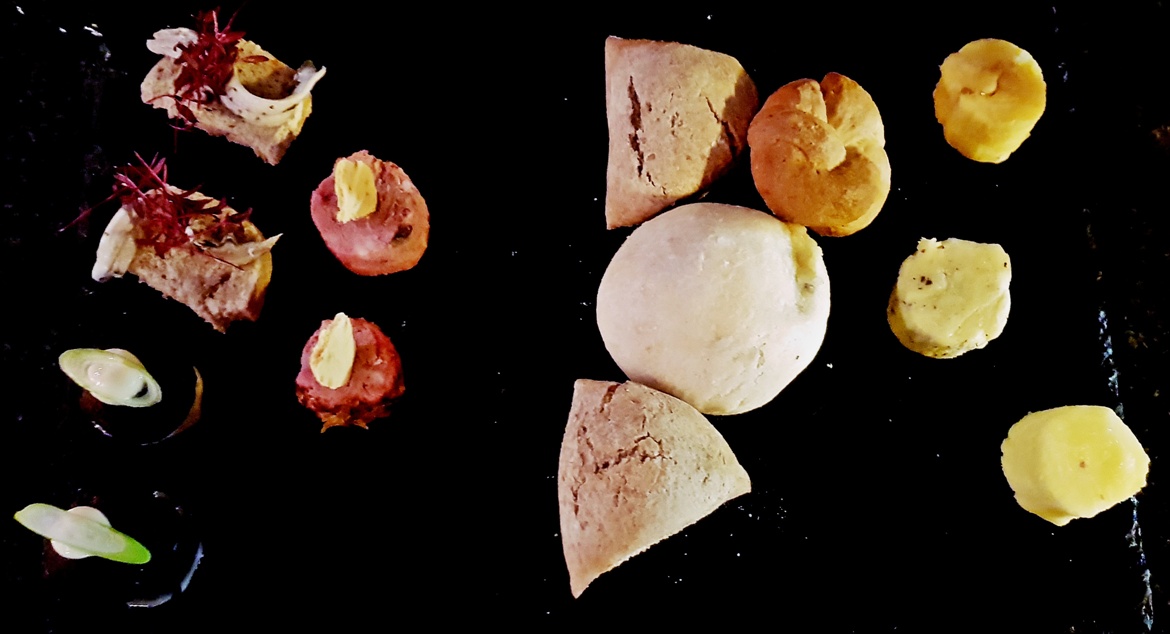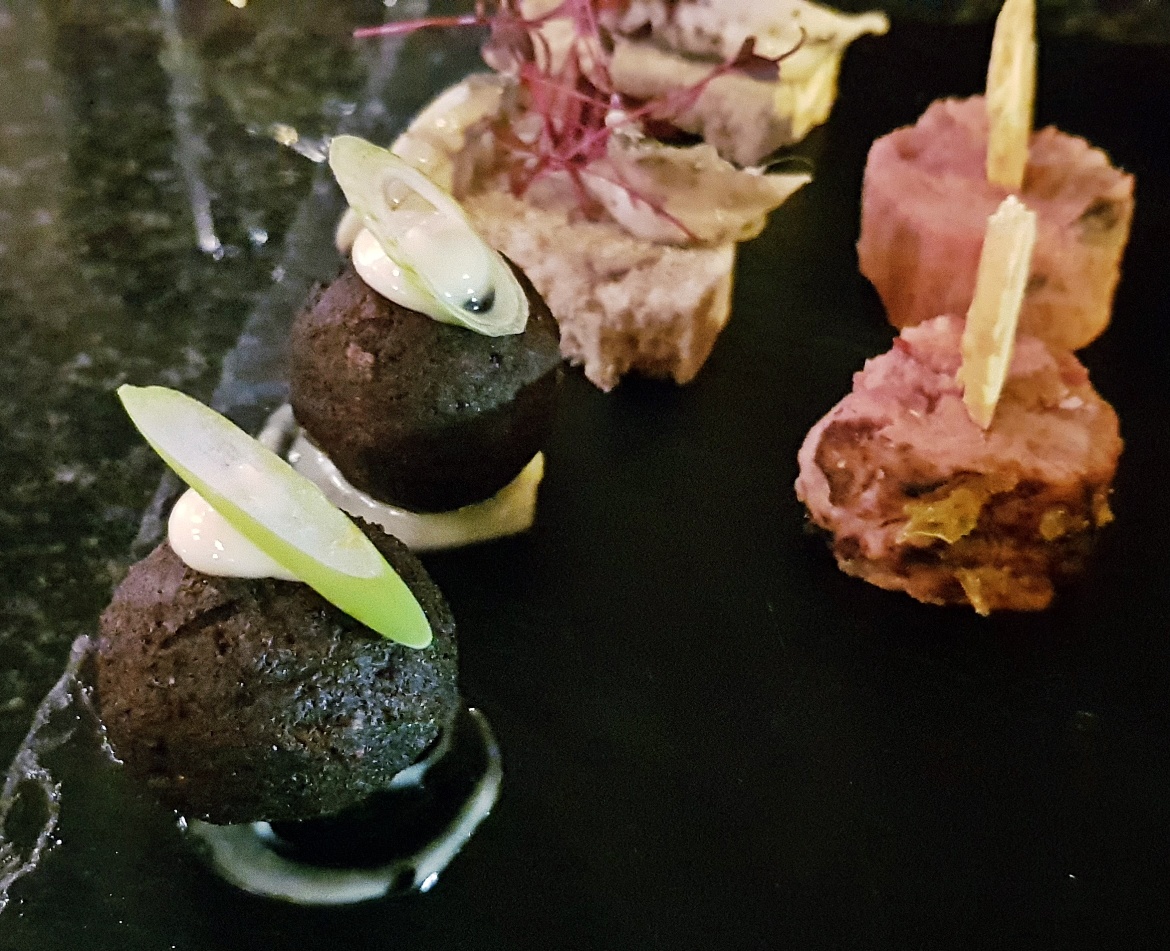 We dug in. The bon-bon wasn't overly mushroomy (which is good news for me), but it was the pate that stood out of the three. But the real winner on the plate was the bread and butter. In particular, the brioche with the truffle butter… I could have eaten that all evening. But then, I'm a sucker for truffle. Before we'd finished the canapes, out came the "amuse of the day". It was a tuna gyoza, with curry emulsion. Honestly I think this was the weakest dish of the day – the tuna got totally lost in between the deep-frying and strong flavours.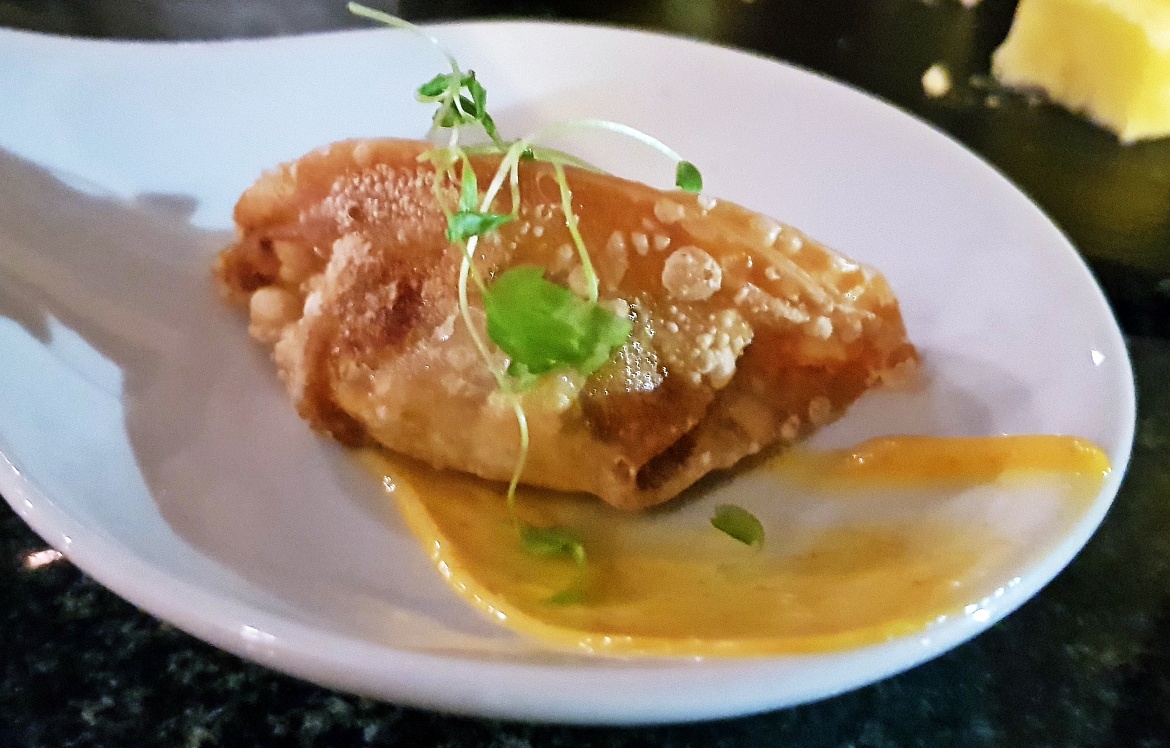 Starter and Fish
Onto our third course, and it's probably what you'd call a starter. It was also possibly my favourite dish of the evening. And it was a veggie one, so go figure. Endive (which, thanks to google, we discovered is a member of the chicory family) stuffed with creamy Yorkshire Blue cheese and cranberry sauce, served with walnuts and a swoosh of beautiful honey… It was love at first bite, but once you managed to get some of that honey mixed in too, it was perfection.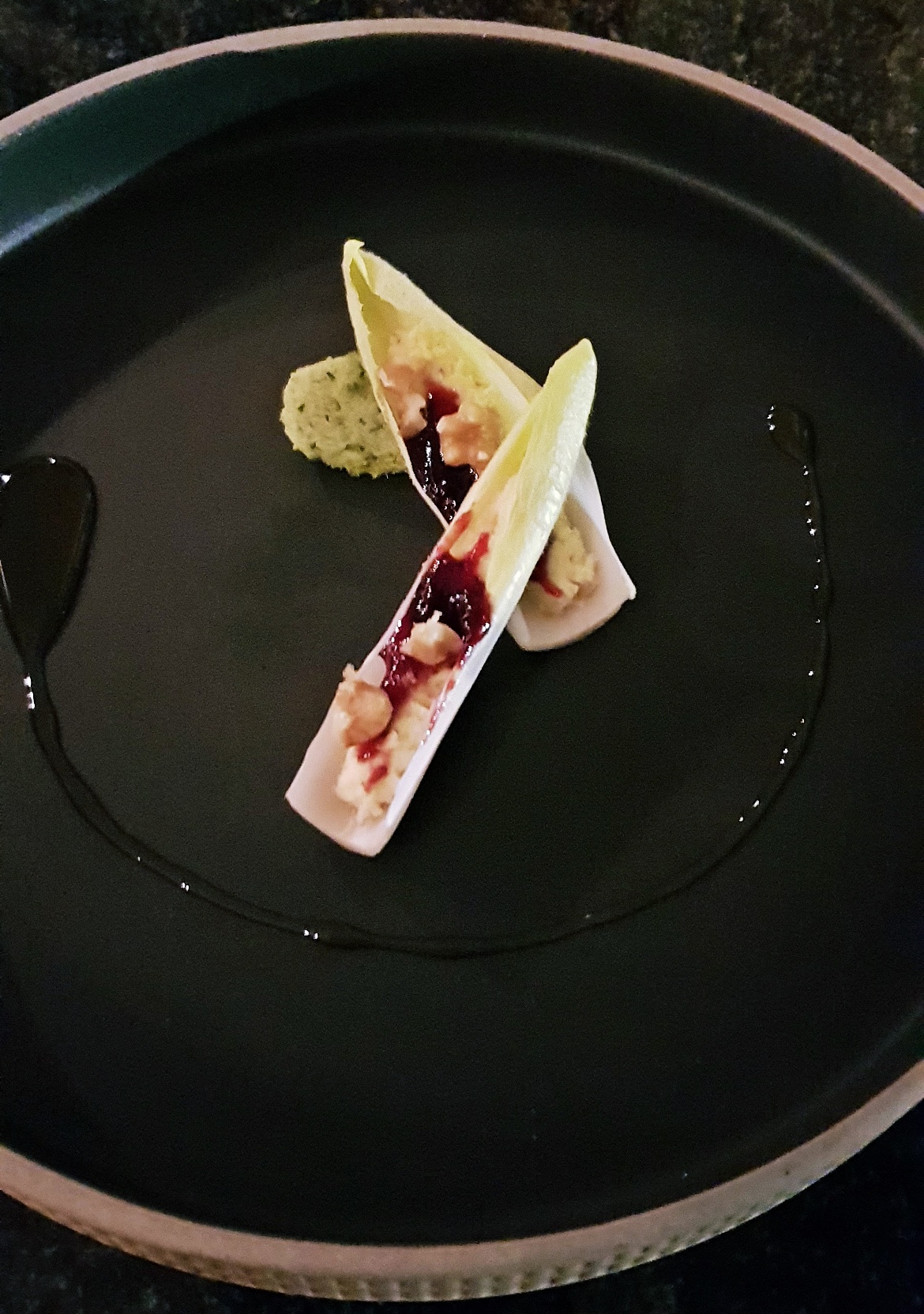 Something that V&V did outstandingly well was marry flavours. The individual ingredients are great, but they absolutely come together in a way that's almost magical, as long as you get a bit of everything on your fork. The endive was served with one of my favourite drinks in the world – a classic prosecco.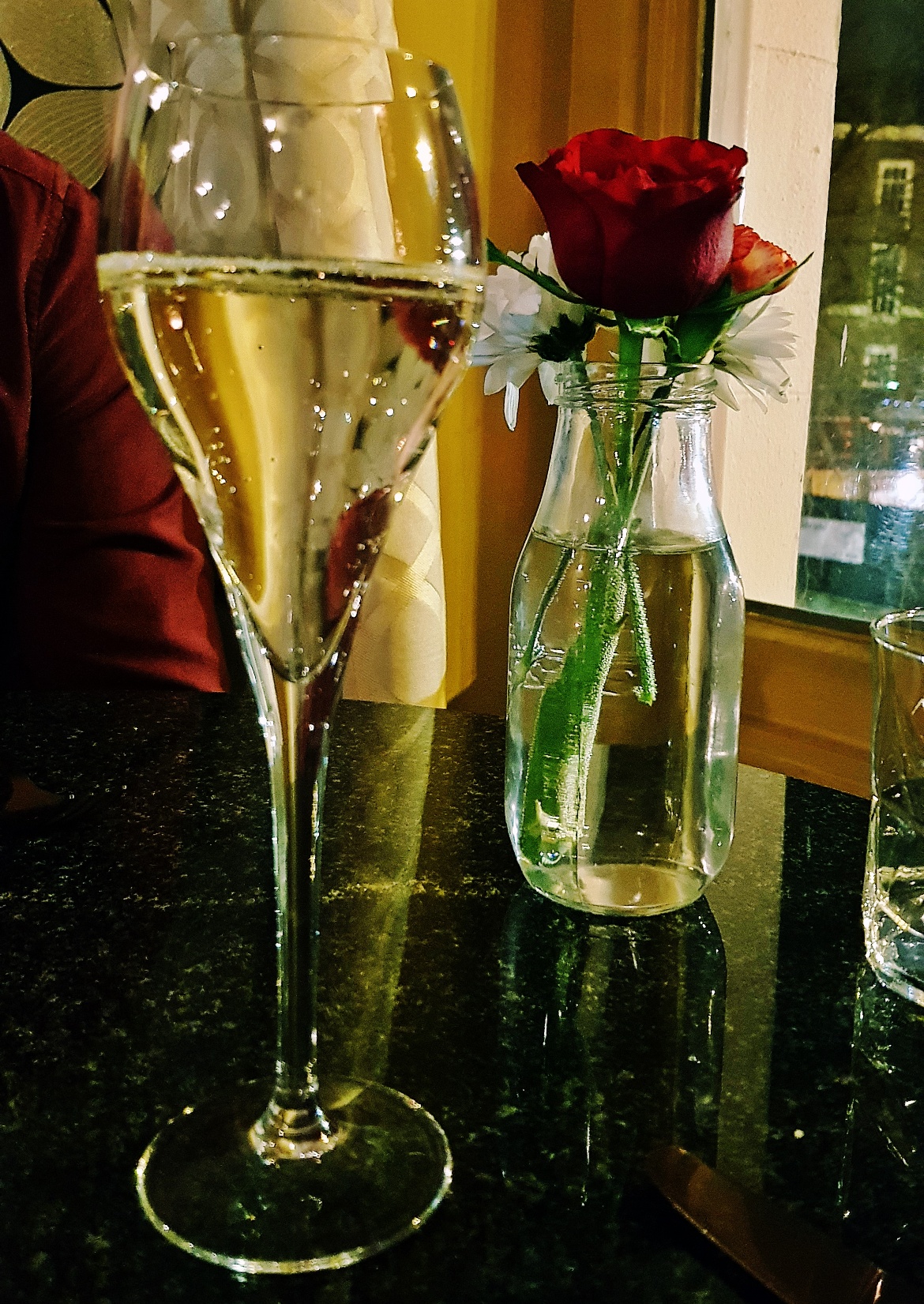 On to our fish course, and this is one for Instagram. Presented under a glass dome, our dish was concealed by a heavy smoke, which wafted exotically up from the plate as the waiter swirled the dome up and away… I admit that I wasn't really listening to what the smoke was, as I was so intent on getting a proper photo!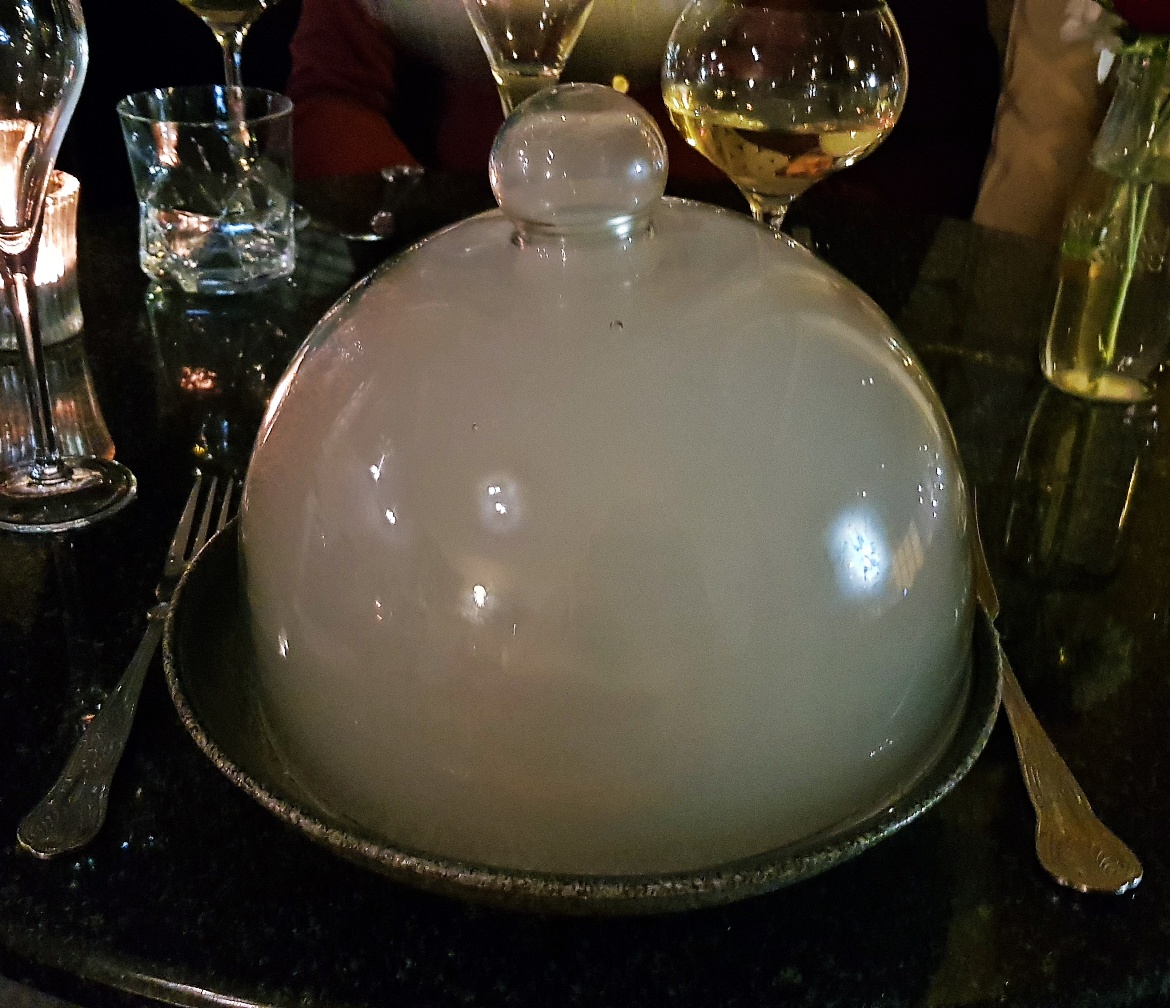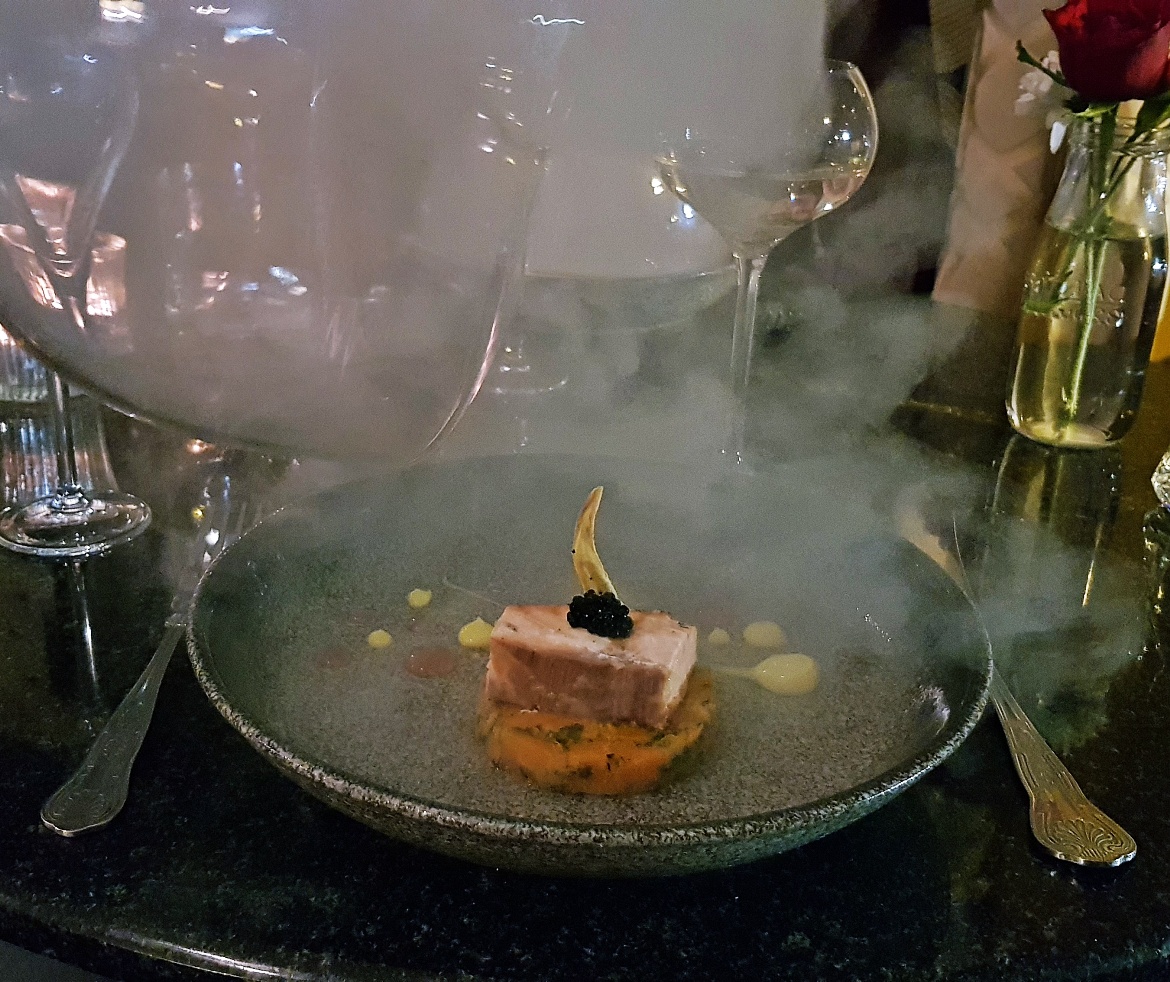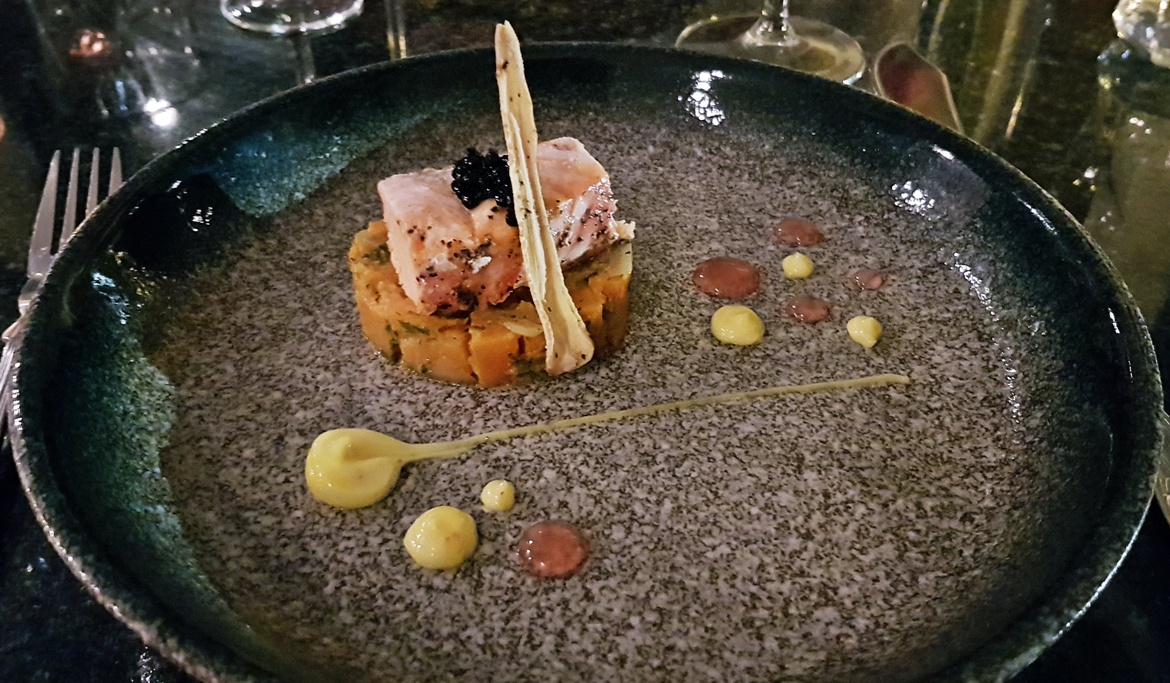 The dish underneath was salmon "roasted in Aperol". I'm not a huge fan of the Aperol Spritz, so I was feeling a little tentative, but the flavour was so delicate it didn't overpower the fishy flavour at all. Served with a sweet potato salad, saffron emuslion, parmesan crisp and… my first taste of caviar. Which was actually nothing like I expected, it didn't pop the way that roe on sushi does. It added a beautiful salty flavour that balanced the dish out perfectly. This came with a glass of La Linda Torrontes white wine. It was a very unusual white wine, incredibly floral. Our waiters were incredibly knowledgeable about everything that landed on our table, and their passion really came across.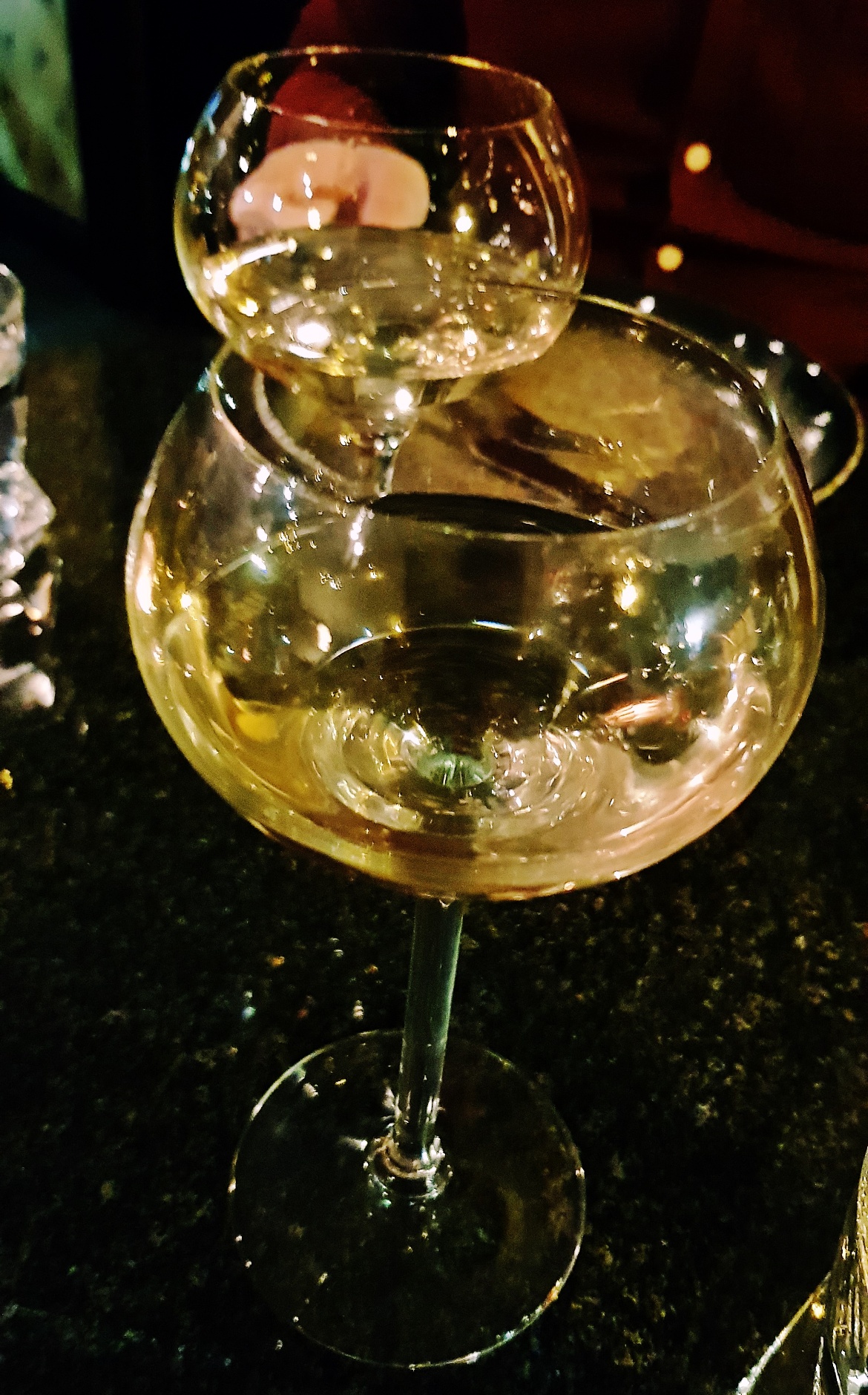 Main and Palate Cleanser
This main course caused a lot of discussion around our table. Beef bavettes sous vide in coffee… yes, coffee.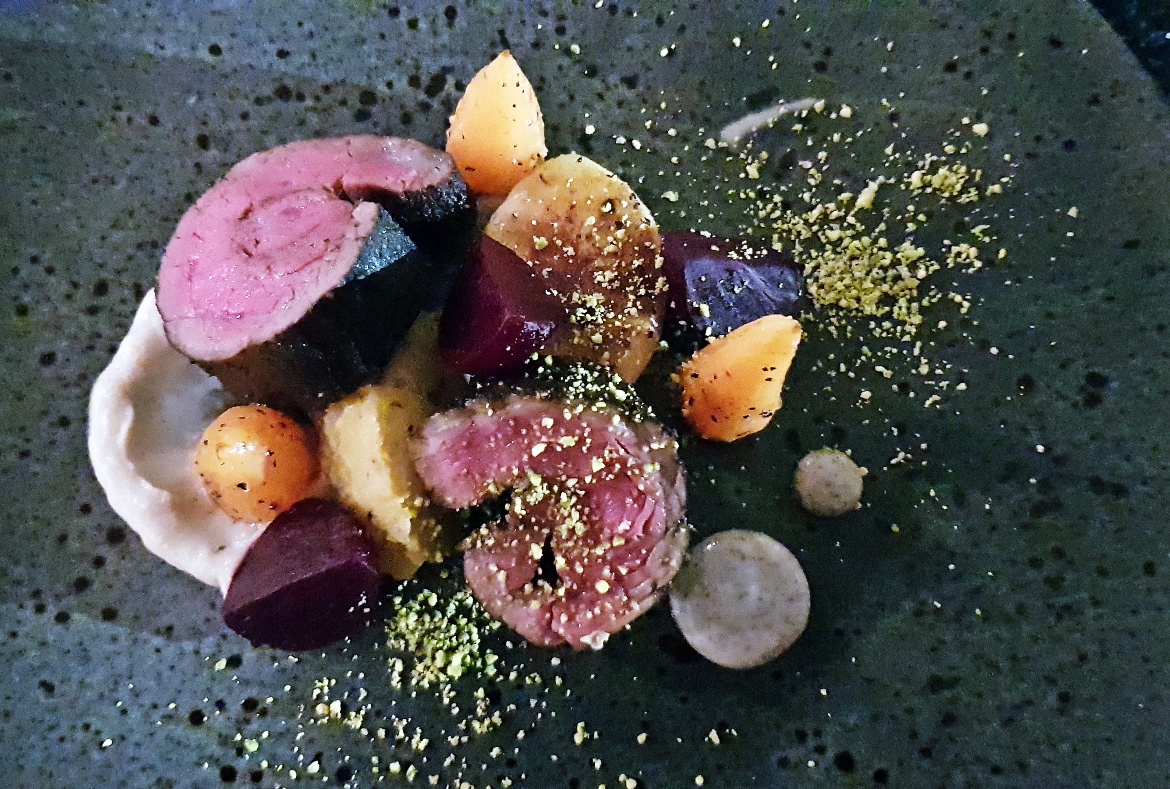 After the first bite, I really wasn't keep. The coffee was too bitter, and the tastes just didn't go. But then I decided to try my trick from the earlier courses, and have a bit of everything in one go. Fondant potato, swede, carrot, beetroot, pistachio, truffle gel… and it worked. It bloody worked and I don't have a clue how. This was served with a shiraz that went down a treat. I was finally getting the hang of drinking wine with a tasting menu. It's okay to start it before you get your food, and it's okay to keep drinking it right until you try the next dish… but try to take a sip of the wine that came with that meal before you take your first bite. The first couple of courses I tried to rush my wine when they cleared the plate from the corresponding course, which meant I didn't get to enjoy them as much. Next was a surprise course (meaning we actually had eight courses total) of a melon palate cleanser. I love a good palate cleanser tbh, and it was an incredibly refreshing way to take a break between courses. The service was attentive, if anything a little too prompt, and it was nice to be able to ask for a 5 minute pause.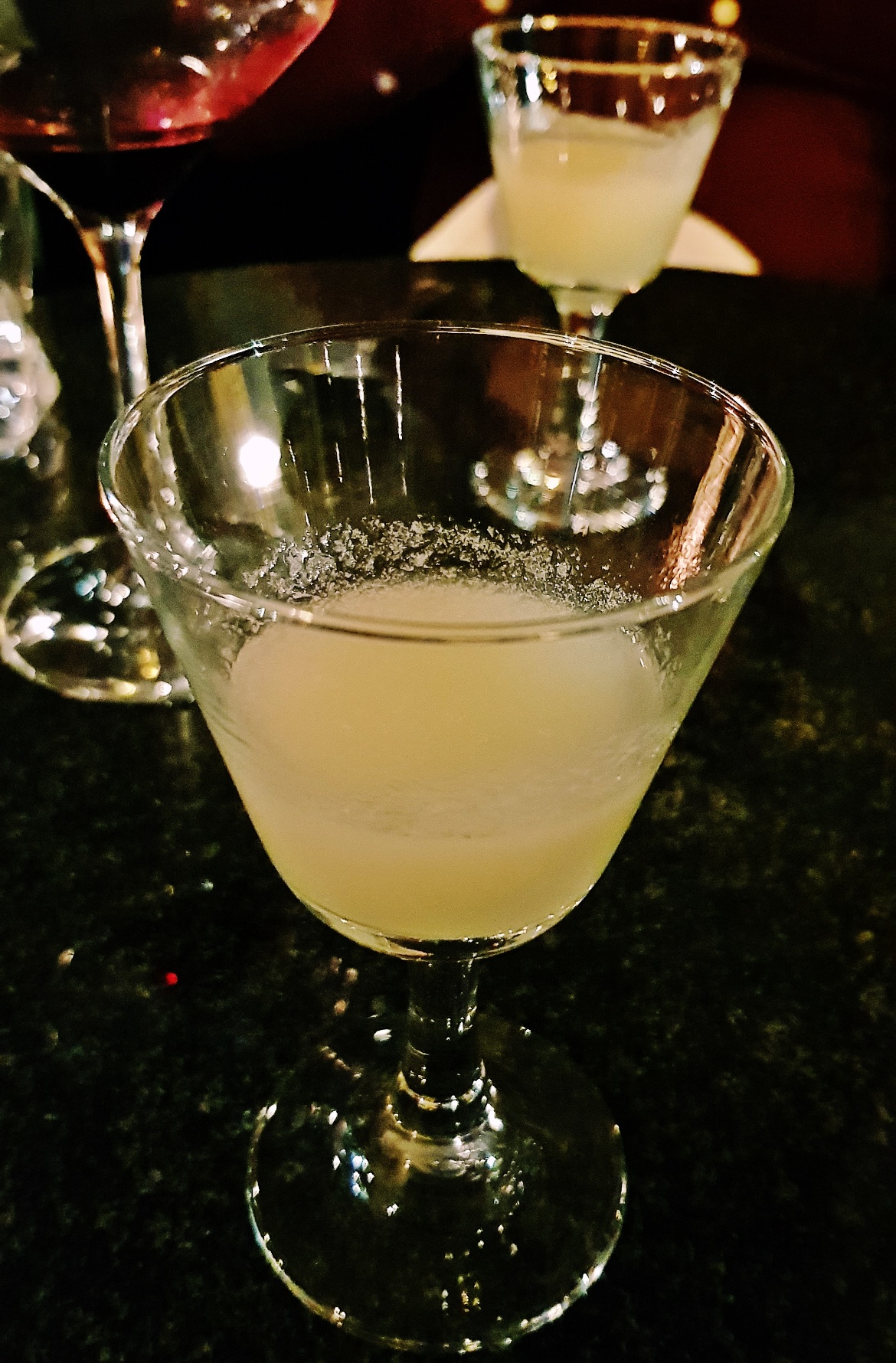 Desserts
Yes, that's desserts, plural. But before the first one came out, a glass of something delicious appeared on the table. We tasted it, paused, then tasted it again. There was something faintly familiar about it, but I couldn't put my finger on it. Only when the waiter told us it was sparkling sake did it make sense. It had that sake flavour, but none of the intense hit of BOOZE that often accompanies it. It was the most enjoyable drink of the meal, even though I previously haven't liked sake.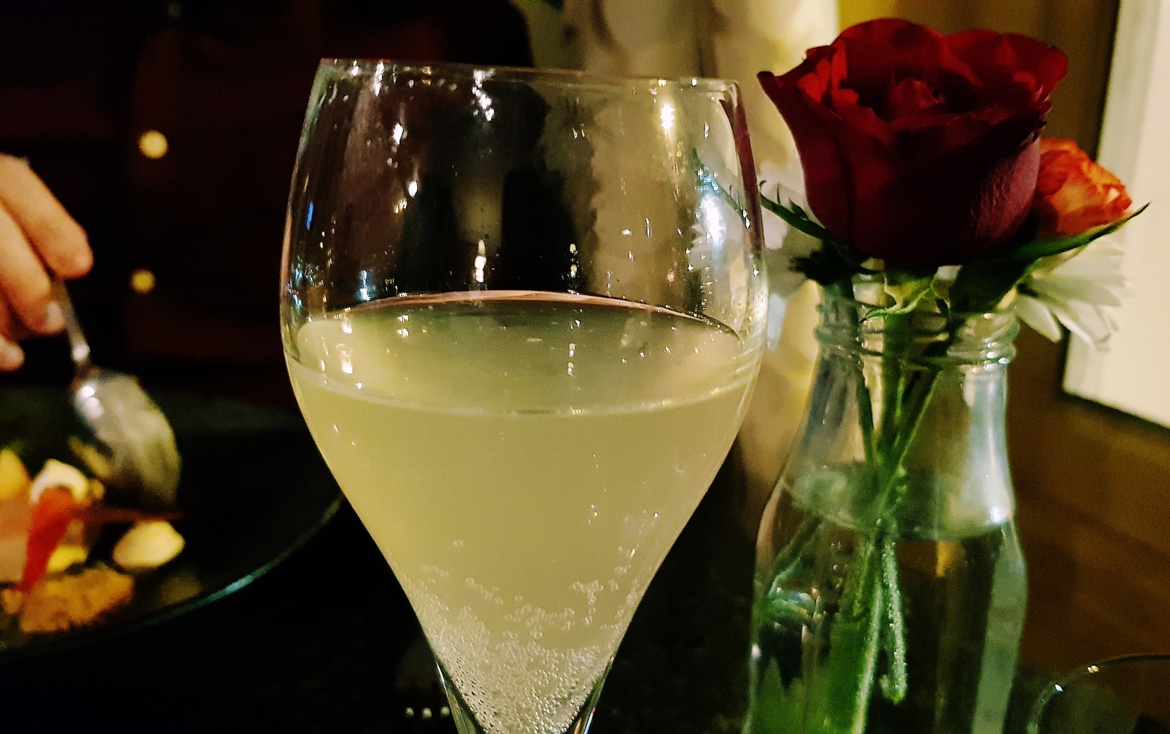 Our first dessert was a light and fruity one – forced rhubarb pannacotta and jelly, tiny meringues, ginger ice cream, ginger crumbs, and the obligatory brandy snap. Now I'm really not a ginger person, but the ginger wasn't overpowering, and I really am a rhubarb and meringue person. So this dessert was right up my street.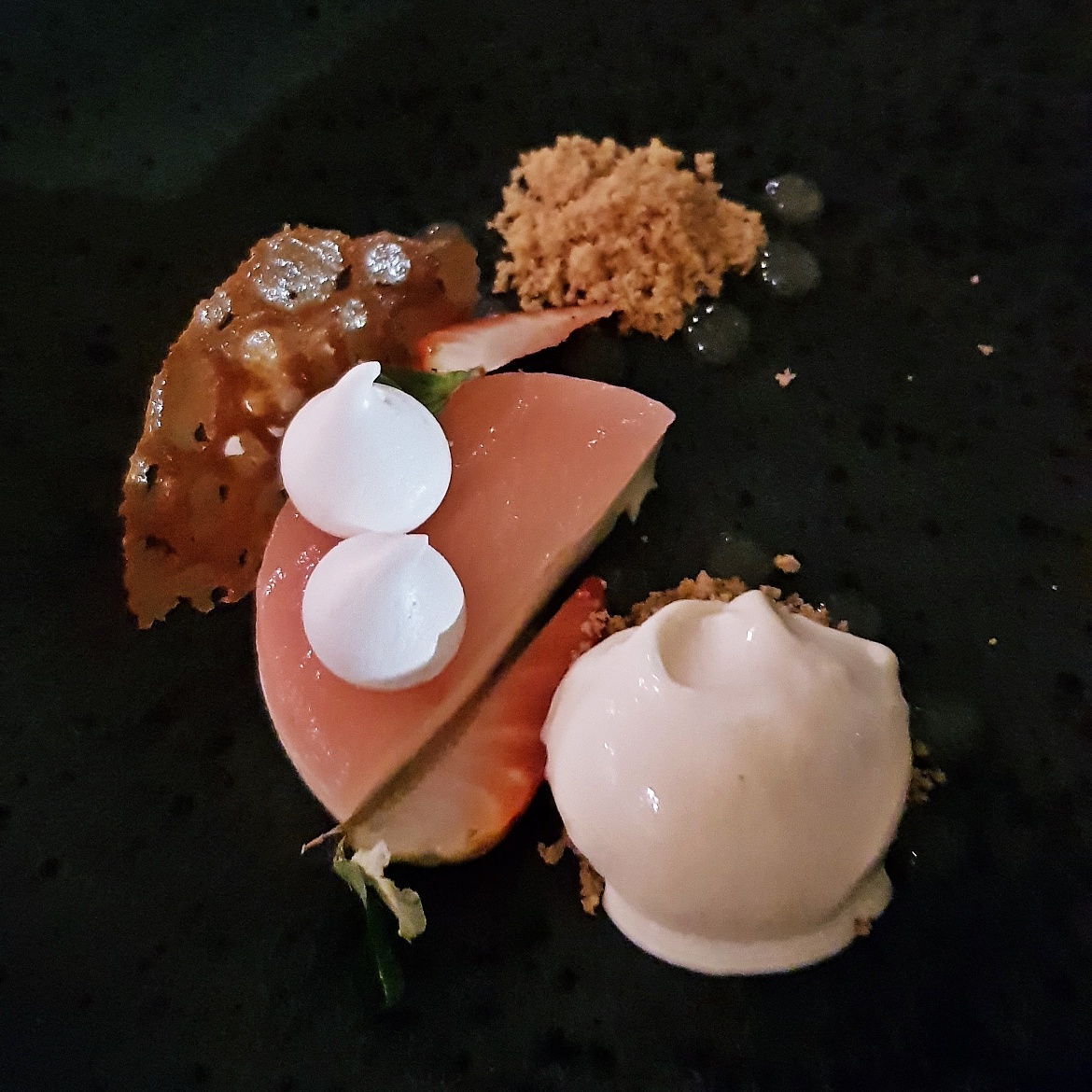 Our second dessert and final course, served with a dessert wine in a beautiful glass, was chocolate. But again, a very delicate and light chocolate, in keeping with most of the meal. It was a milk chocolate and jasmine mousse, served with jasmine sauce, clementine sorbet, and a cardamon espuma that made me think of chai tea.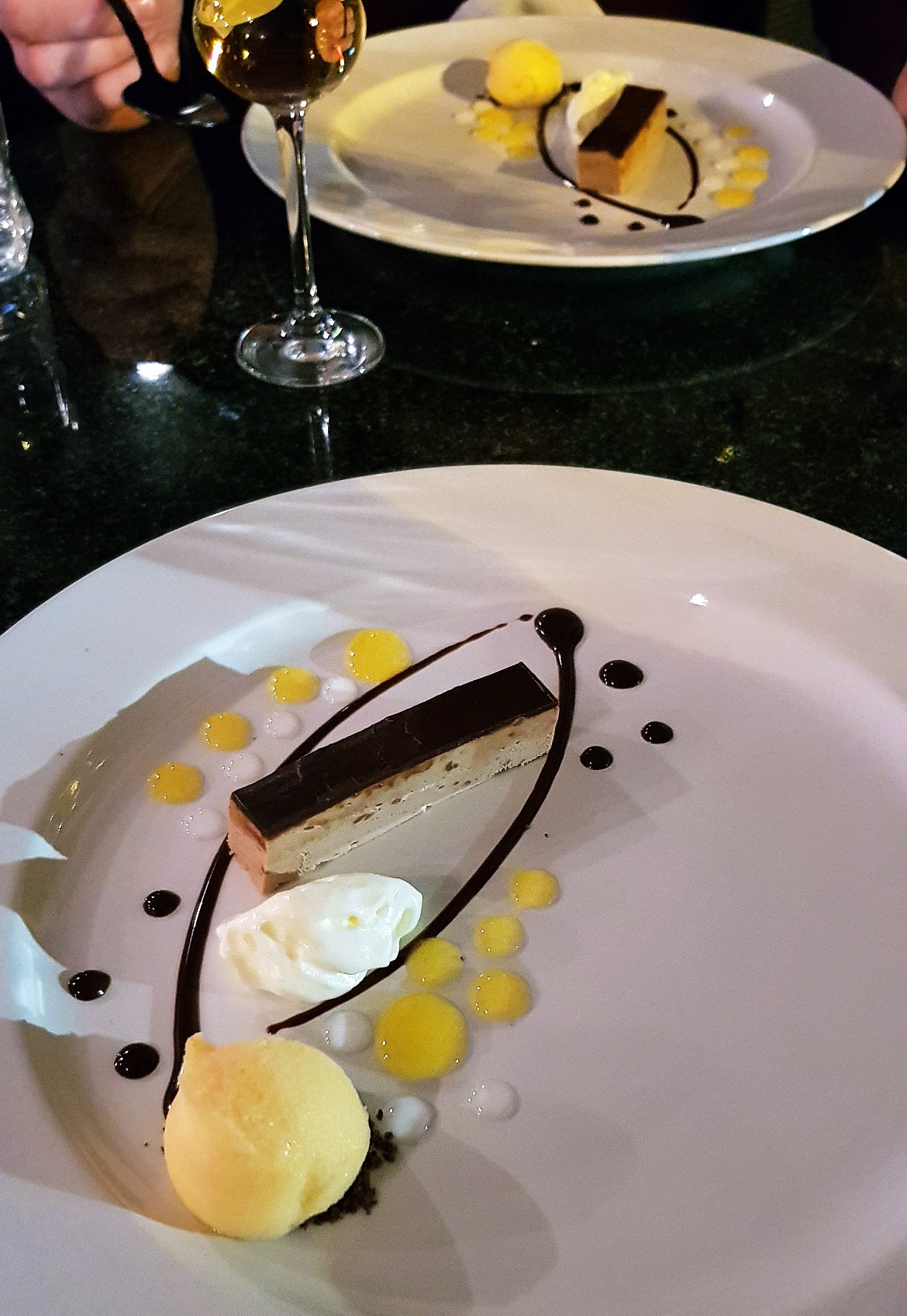 It goes without saying really, but the flavour pairings were outstanding.
Cocktails
I refused to leave Vice & Virtue without at least one cocktail, so after dinner we traipsed downstairs and into their cocktail bar. This room evokes images of burlesque nights, cabarets and other intriguing moments… but both times I've been in, it's been incredibly quiet.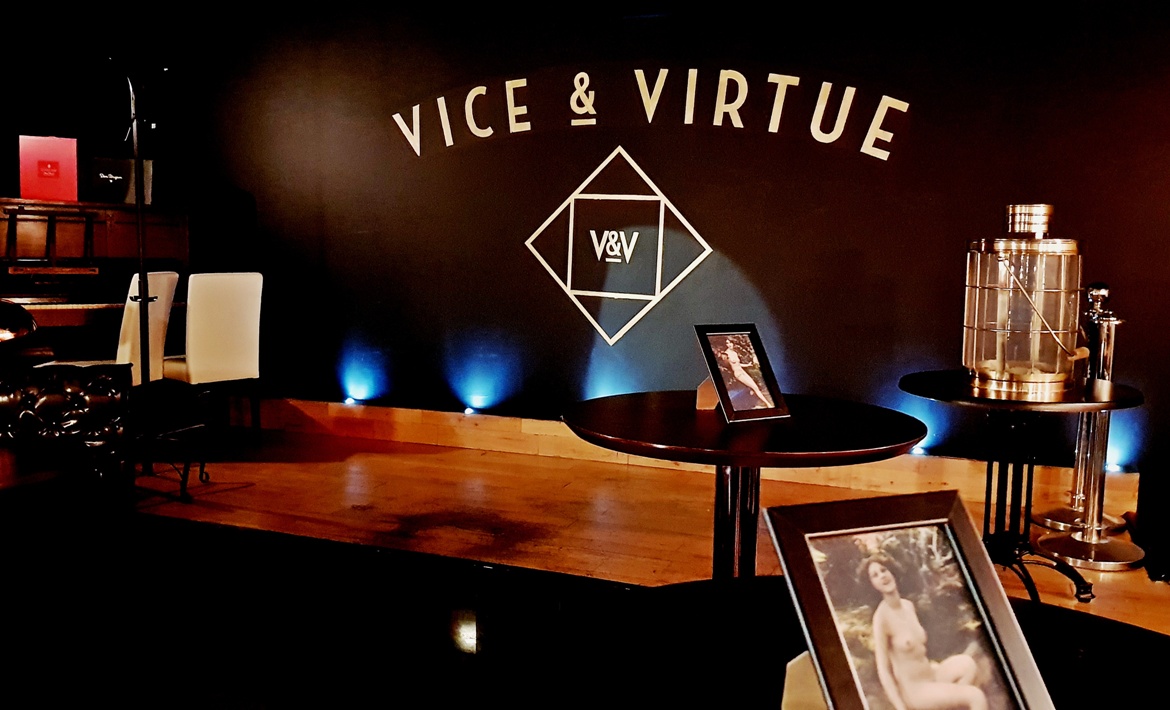 The man to know behind the bar is Dean, and he is a ruling monarch when it comes to knowing drinks. He waxes lyrical about the options on the menu, and is more than happy to go off-menu if you can't find something you want. Which is unlikely! The menu is an adventure, filled with lighter cocktails towards the beginning and more intense ones towards the end. Don't order without looking at the price, or you might accidentally wind up with the £155 Signature Champagne Cocktail.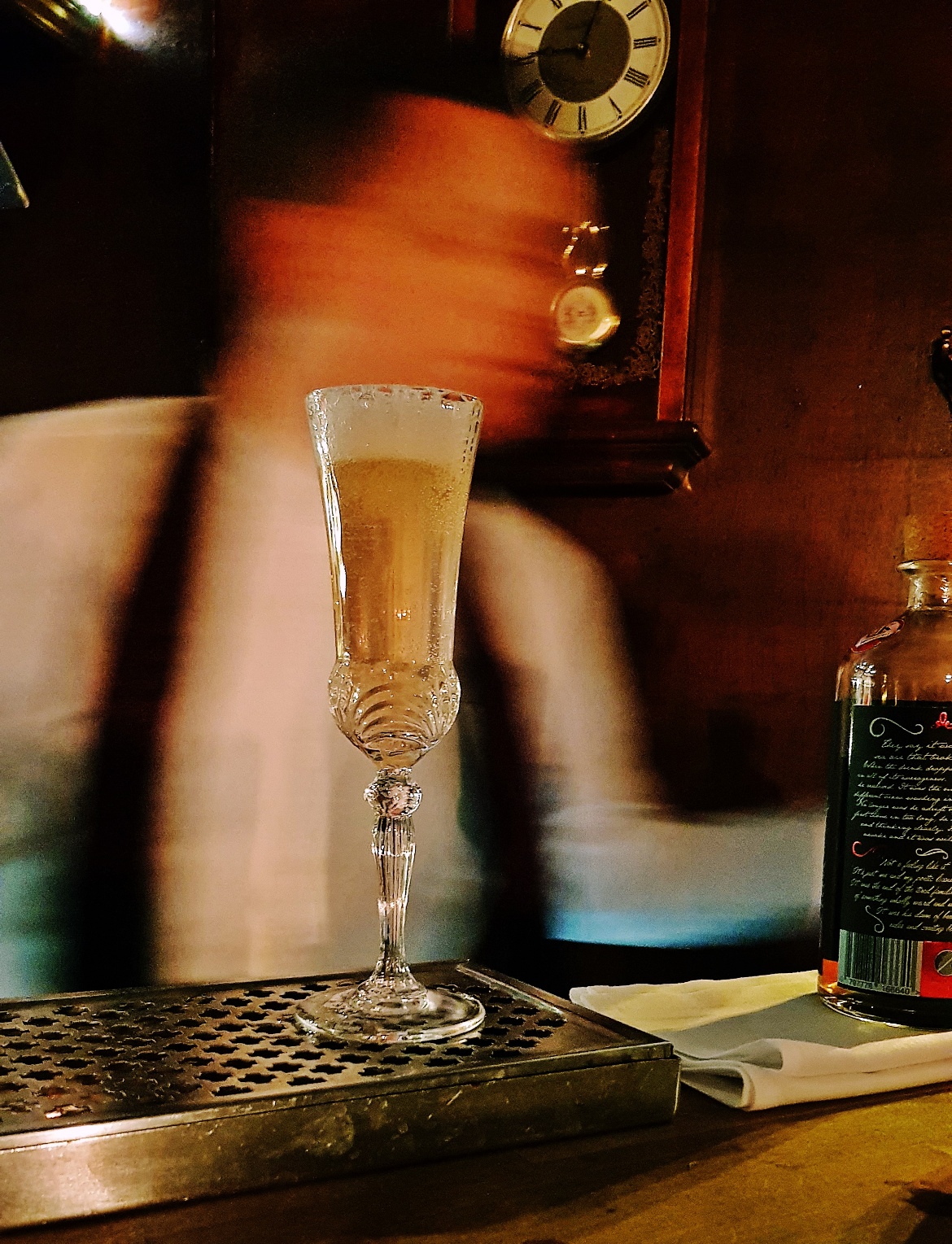 Tim chose the Man From Mexico, while I opted for "A Rose By Any Other Name". We sat and sipped our drinks and enjoyed each other's company and the chilled out atmosphere.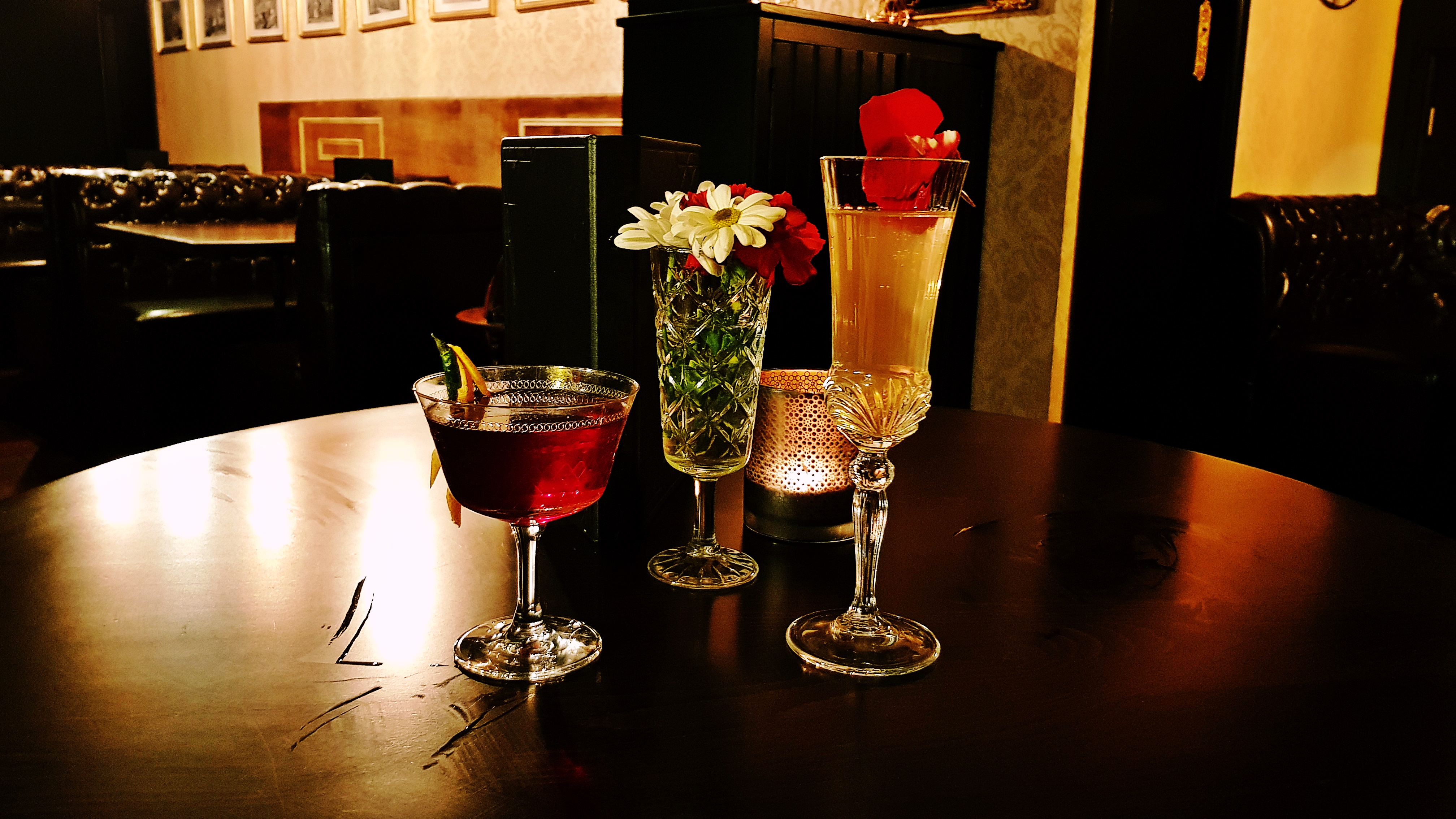 I persuaded Tim to have one more before we left. This time I had the Salted Caramel White Russia and he had a Turkish Delight.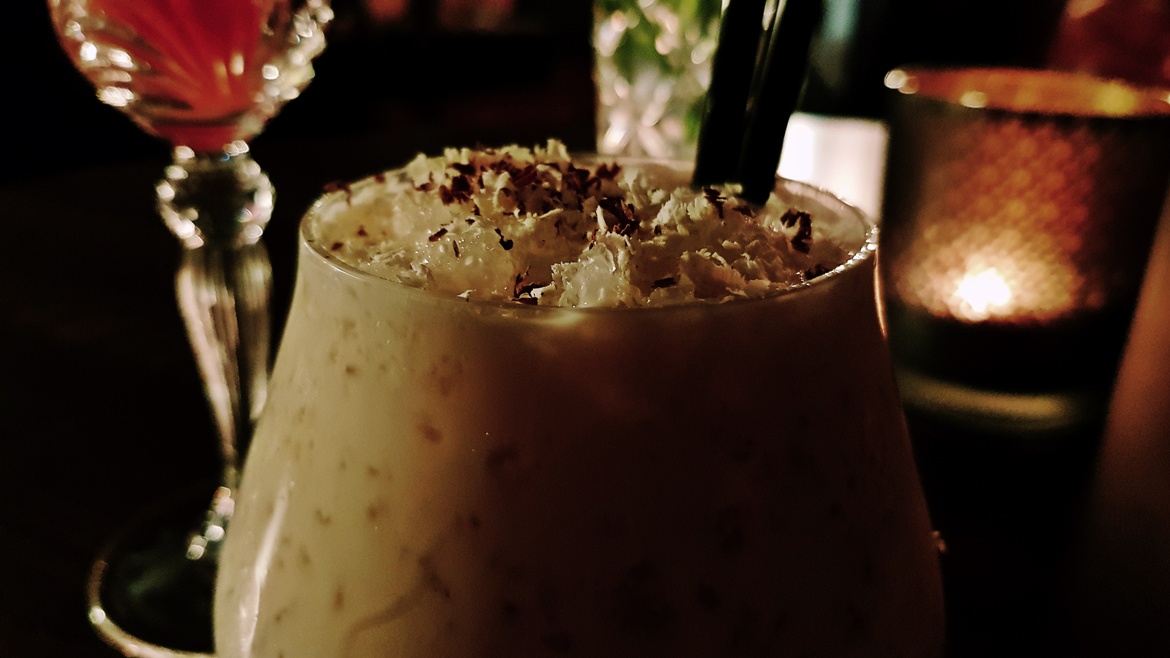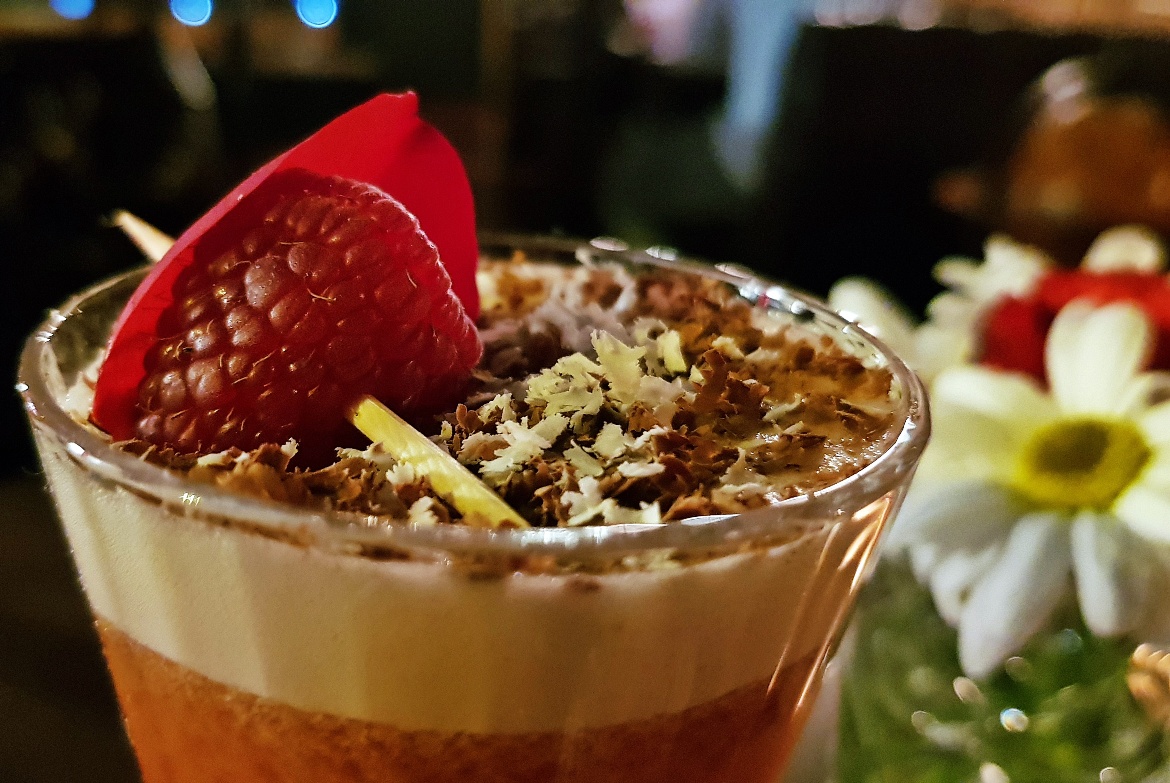 Both were tasty dessert-style cocktails, and we felt like the night was coming to a close.
Summary
Whoever makes the food at Vice & Virtue is a wizard. The combinations are not the sort of things anyone could ever make up… except someone clearly has. I'll be heading back to V&V for another tasting menu, or a just cocktail, as soon as I can.