The moment I saw Leeds Dock for the first time, I knew I'd found the prettiest place in Leeds City Centre. Hills are great, parks are fine, trees, sure, whatever. But I'm personally all about architecture, and there's something about Leeds Dock that just feels spot on.
So when I won a photo shoot on Twitter with the fantastic Laura Haley, I knew right away where I wanted that photo shoot to take place!
Laura Haley
Laura has recently started on her own as a freelance photographer. She runs her own lifestyle blog, Inside Laura's Head, so when she decided to start taking photographer seriously she knew that bloggers would be a great place to start. To kick-start her freelancing, she ran a contest on Twitter… which is how I managed to snag a shoot.
Laura was super flexible when it came to setting up the shoot, and asked if I had a location in mind or if I'd prefer her to suggest some. As mentioned, I already knew what I wanted, so we got down to setting a date quickly and easily.
I've done a couple of photo shoots before – one with my family and one for my business. But I knew a blogger photo shoot would be a bit different. Laura suggested we could do up to four outfits in the allotted hour, but I thought I'd prefer to just do three and to spend a bit more time on each one.
Photo Shoot Day
I rose bright and early and tried to work out how to do my make up for the three different outfits I'd selected. The colours featured included bright yellow, red and muted purple, so I had to find something fairly flexible. I packed some different lipglosses and some eyeliner. That way I could change it up subtly as the shoot progressed.
Laura arrived and we wandered over to Leeds Dock. From the start, Laura was easy to talk to and really put me at easy. She told me she has quite a casual style and doesn't tend to go for super pose-y looks, so I should just act as natural as possible. We walked through most of Leeds Dock so she could get a feel for the places that might work well for photos. However she insisted that if there were any particular shots I wanted to try, I should speak up! I largely trusted her suggestions though, and only a couple of the photos were ones that I specifically had in mind.
First Outfit
My first outfit was this yellow top and my favourite black and white skirt, both from H&M, my black shoes from M&S that I honestly never wear because they're really painful, and my new yellow bag from Joy.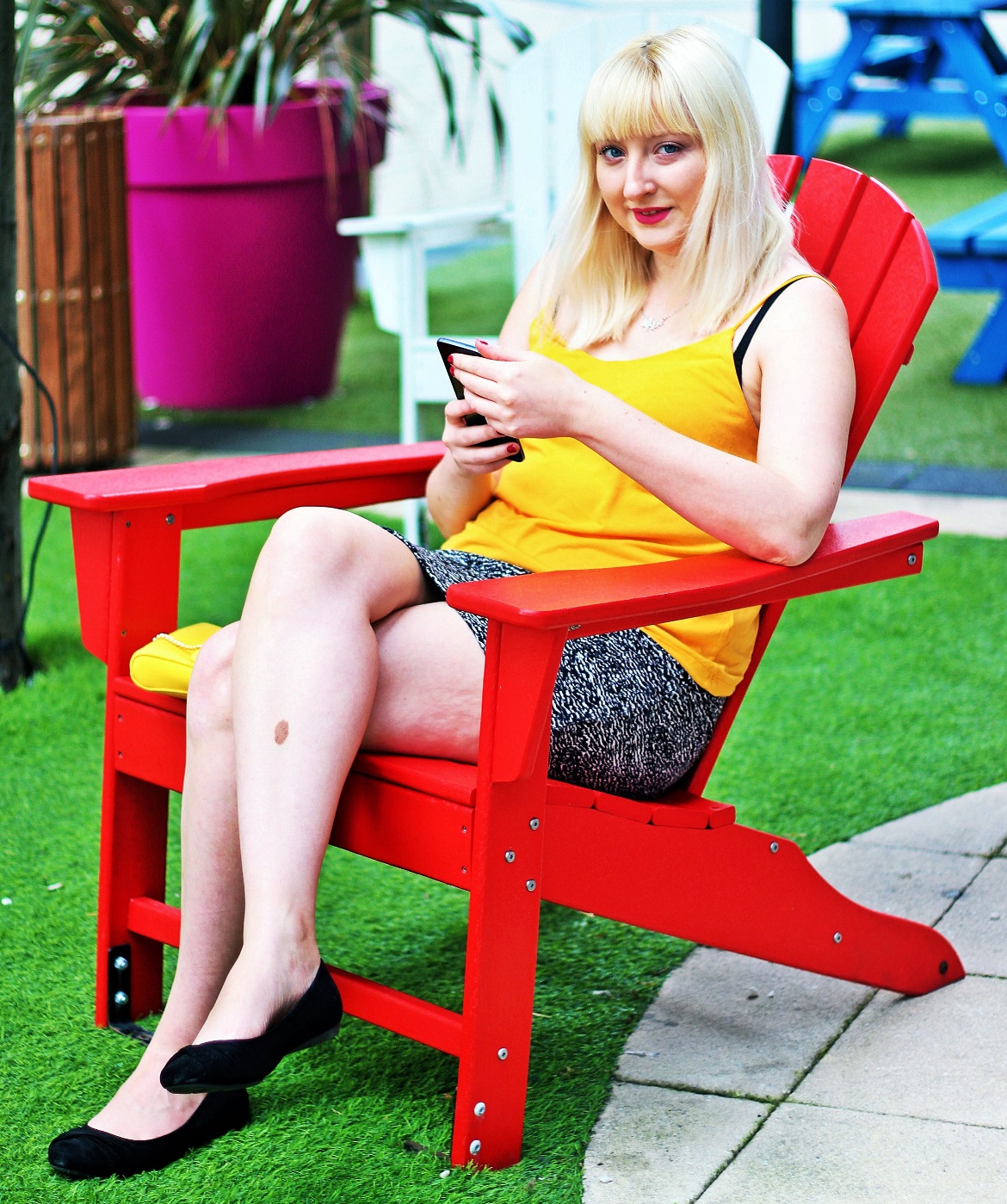 I also popped on my bright pink retro sunglasses that I picked up from Pop Boutique in Leeds City Centre.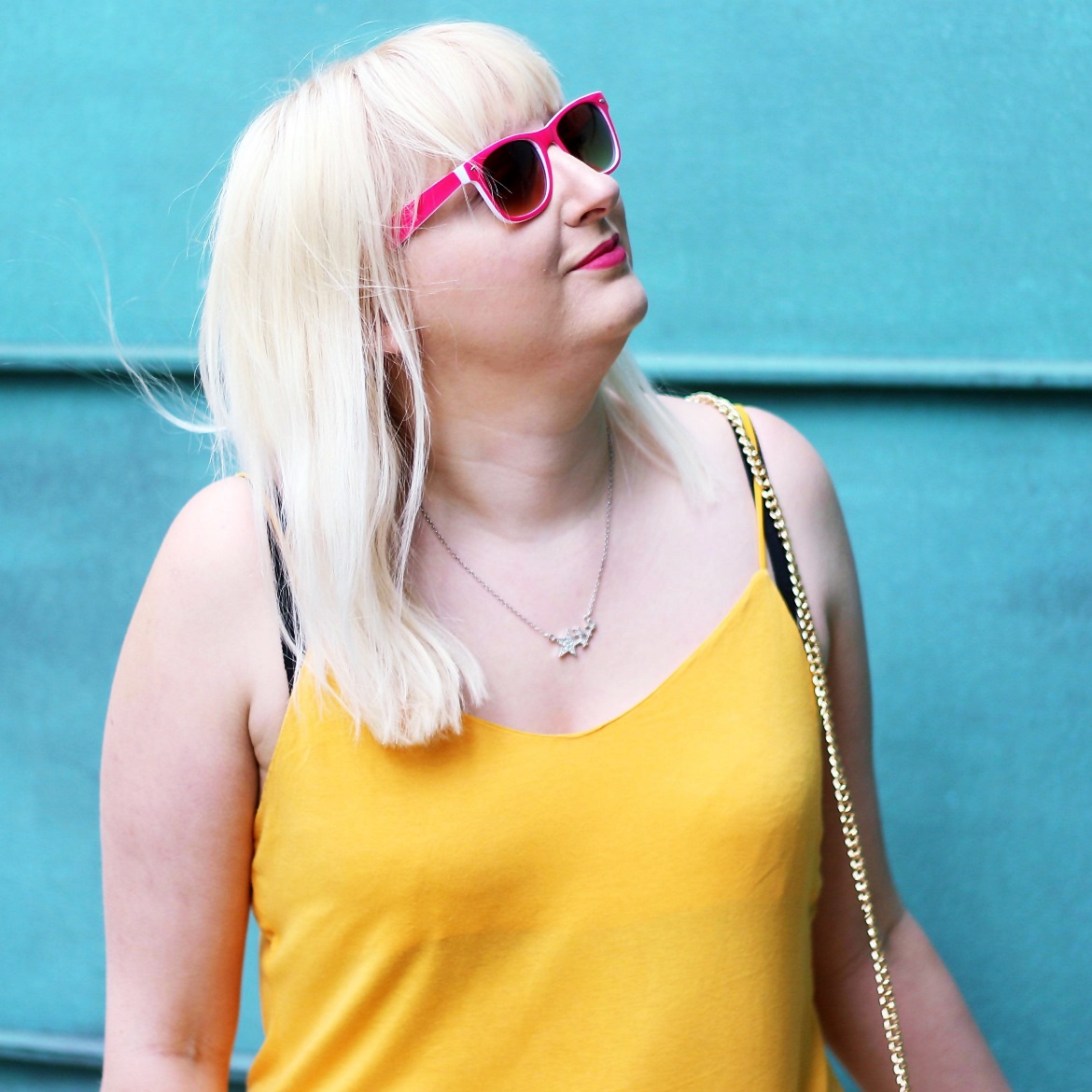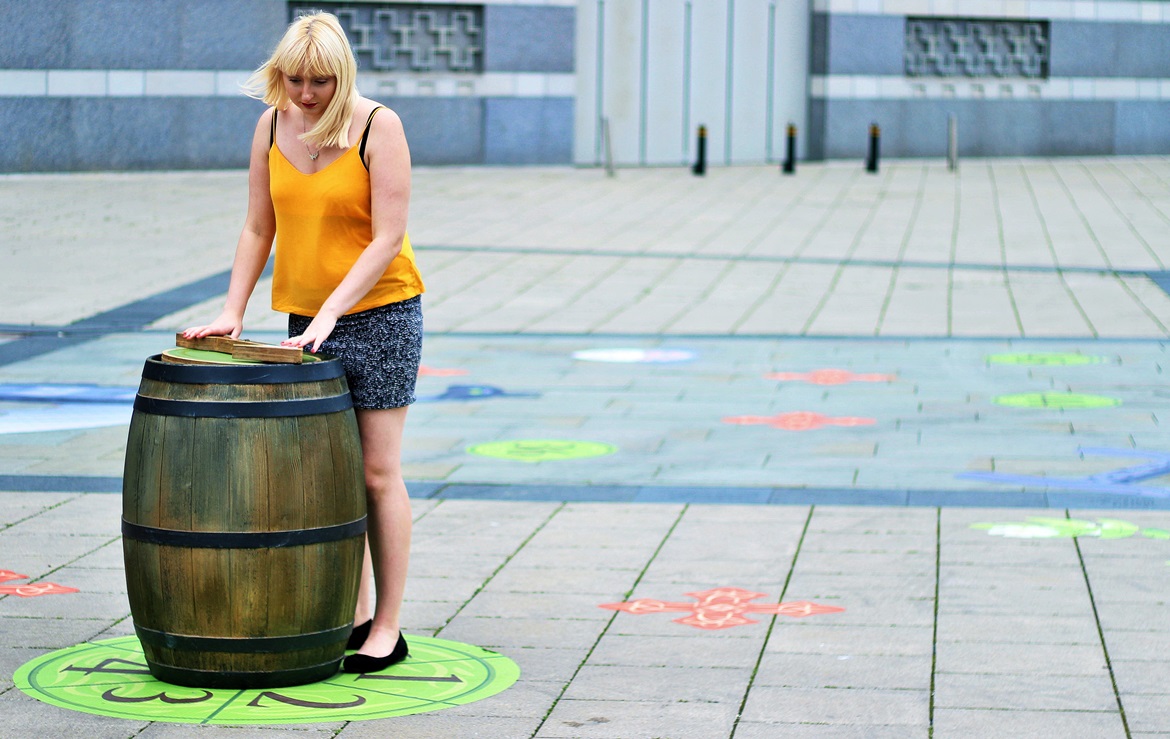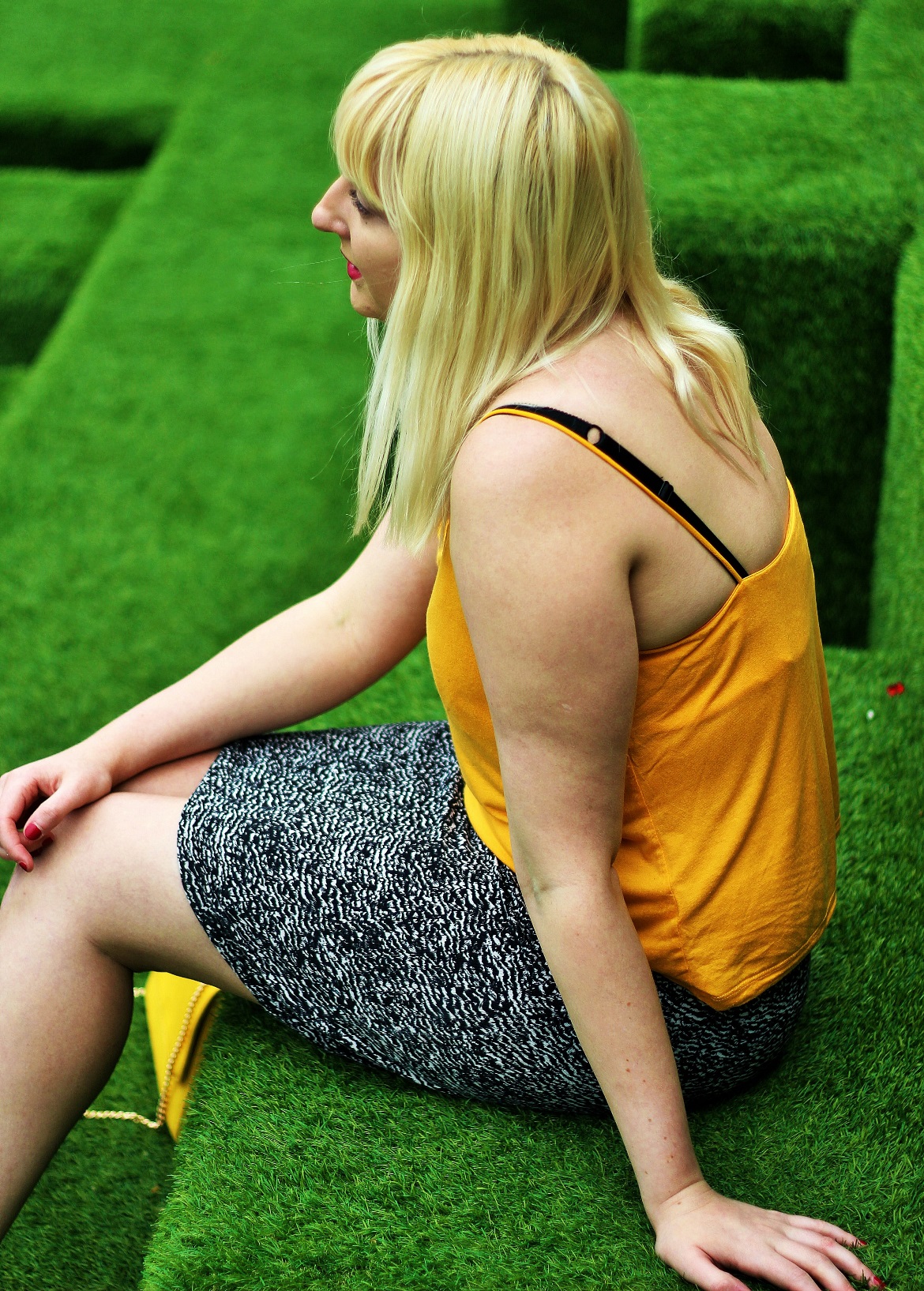 We did this part of the shoot mostly down the colourful Boulevard in the middle of Leeds Dock. The bright chairs and walls matched perfectly with the mood of this outfit (and the mood of my personality tbh). I think this one is my favourite pic of the lot: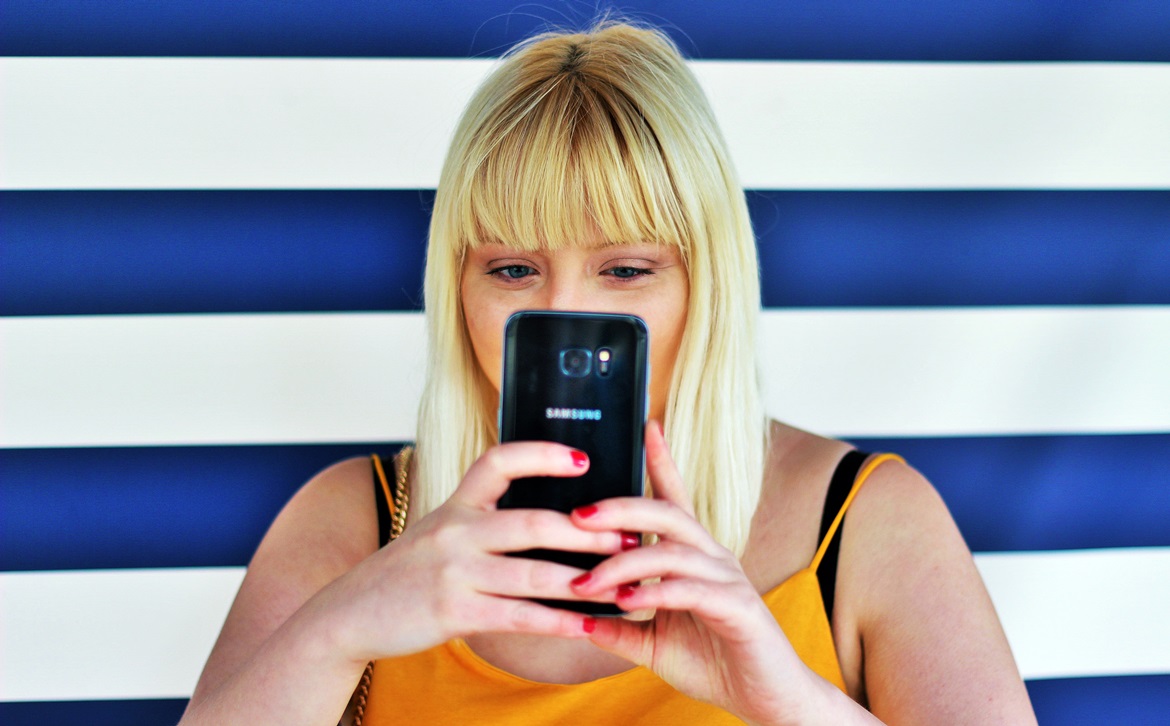 Laura spotted the cannons and suggested that maybe it was a little too odd for a photo shoot. But then I mentioned megagaming, and that actually maybe the cannons were spot on! Things you never thought you'd photograph at a blogger shoot!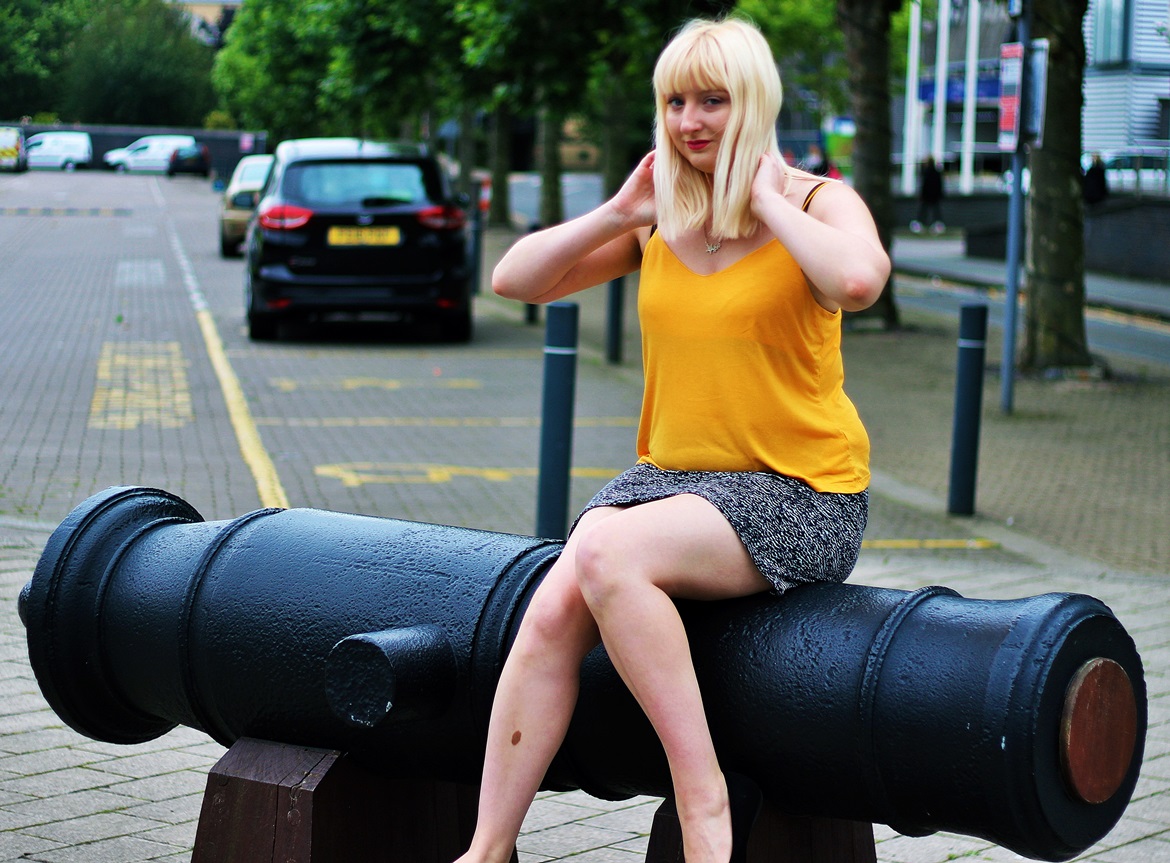 Second Outfit
My second outfit was this black and white dress from H&M. I paired it with some red shoes that I've had for ages and forget where I bought them.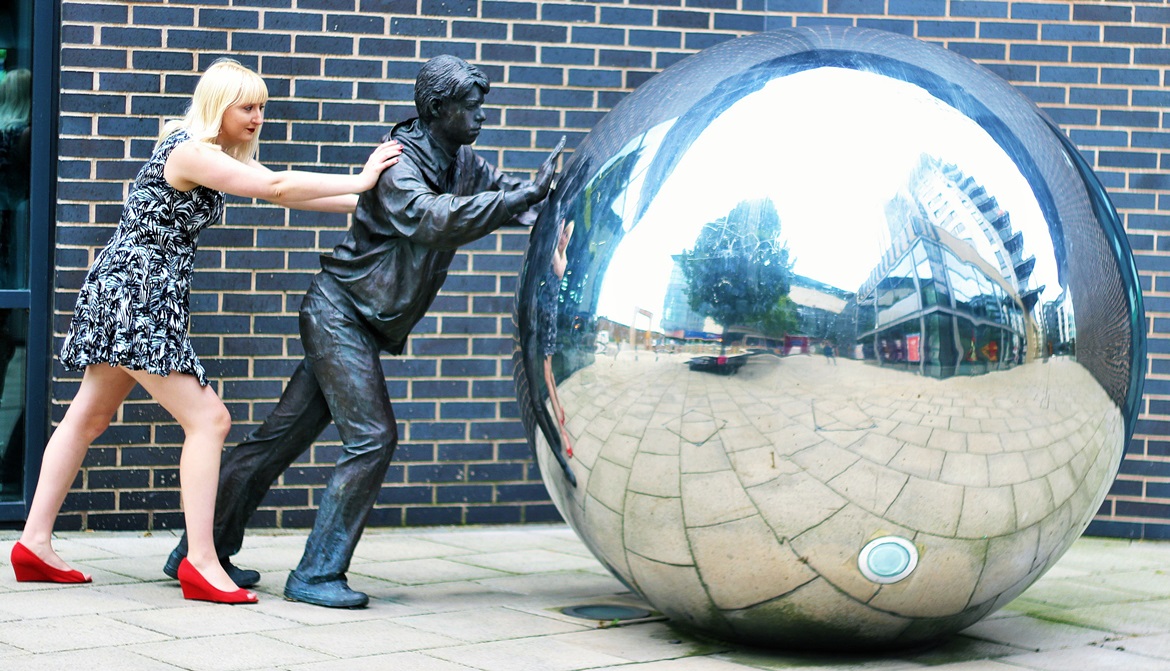 For this outfit, I decided that a coffee from North Star Coffee Shop was the essential accessory.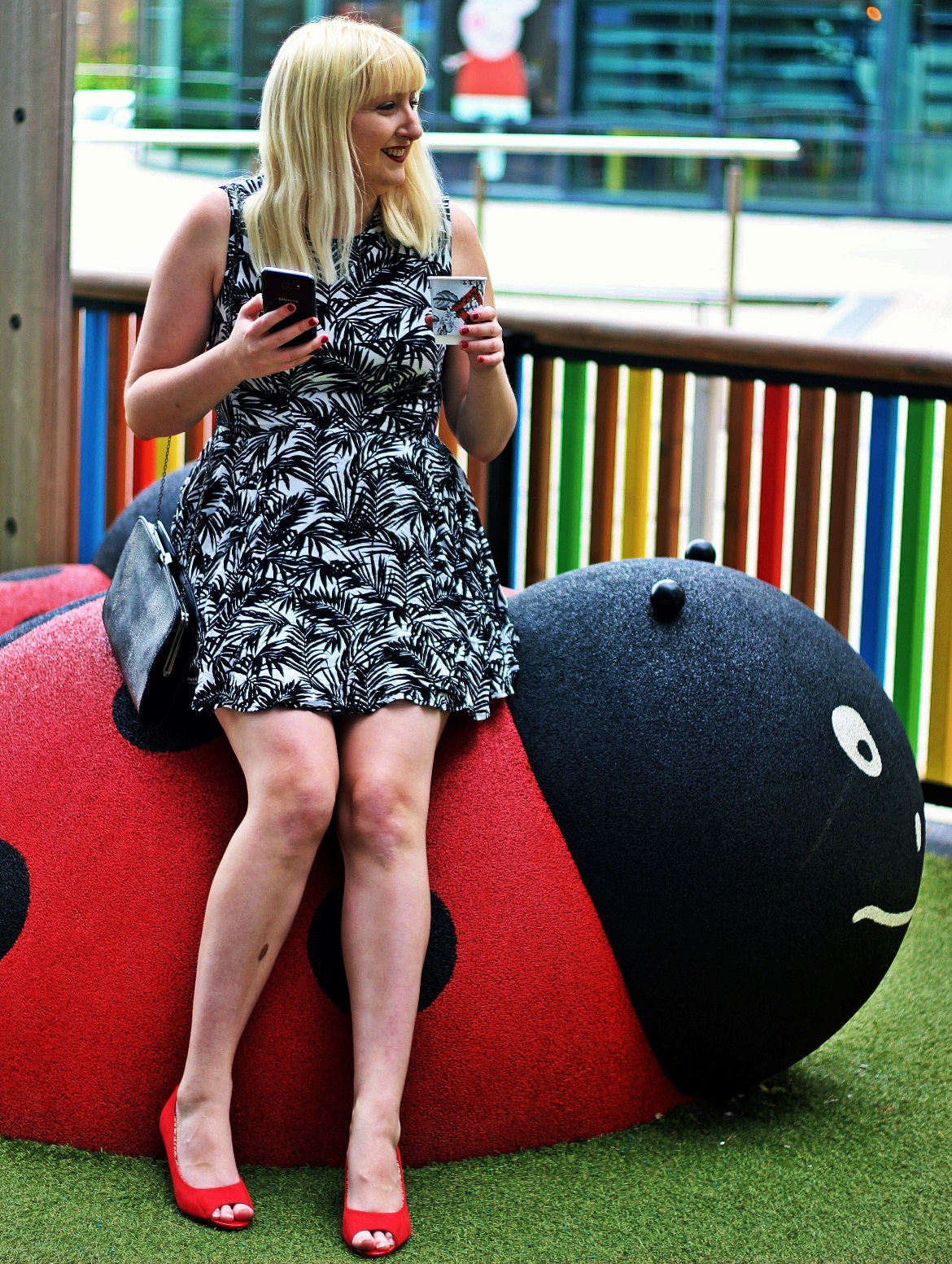 This shot down Leeds Dock was one I knew I wanted from the start.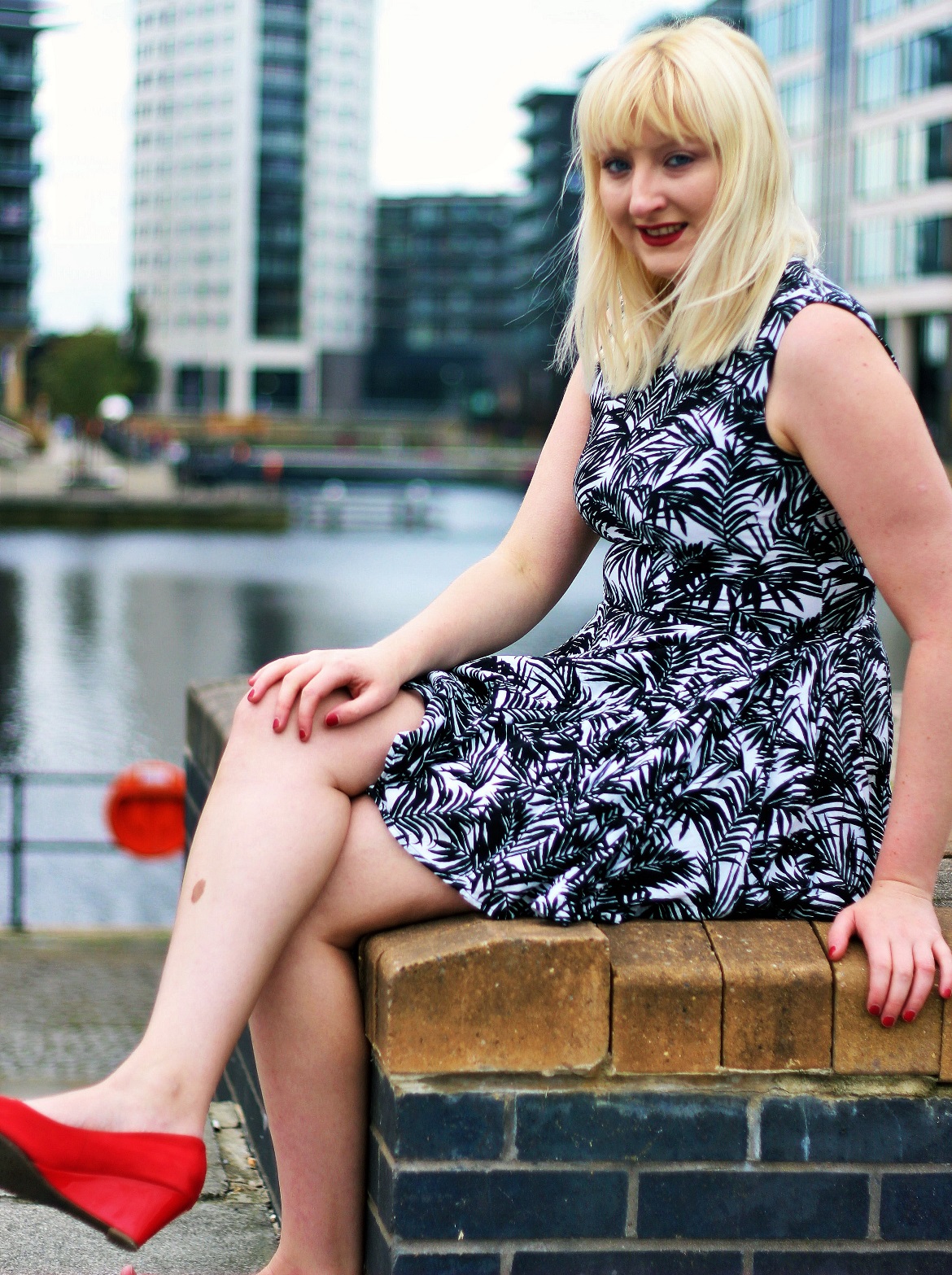 Third Outfit
Even though we'd already gone over an hour, Laura said she was happy to shoot my final outfit. This one was all about the boots. I bought them from ALDO when I was in New York City, but hardly got an opportunity to wear them. As you can see, they're quite a statement!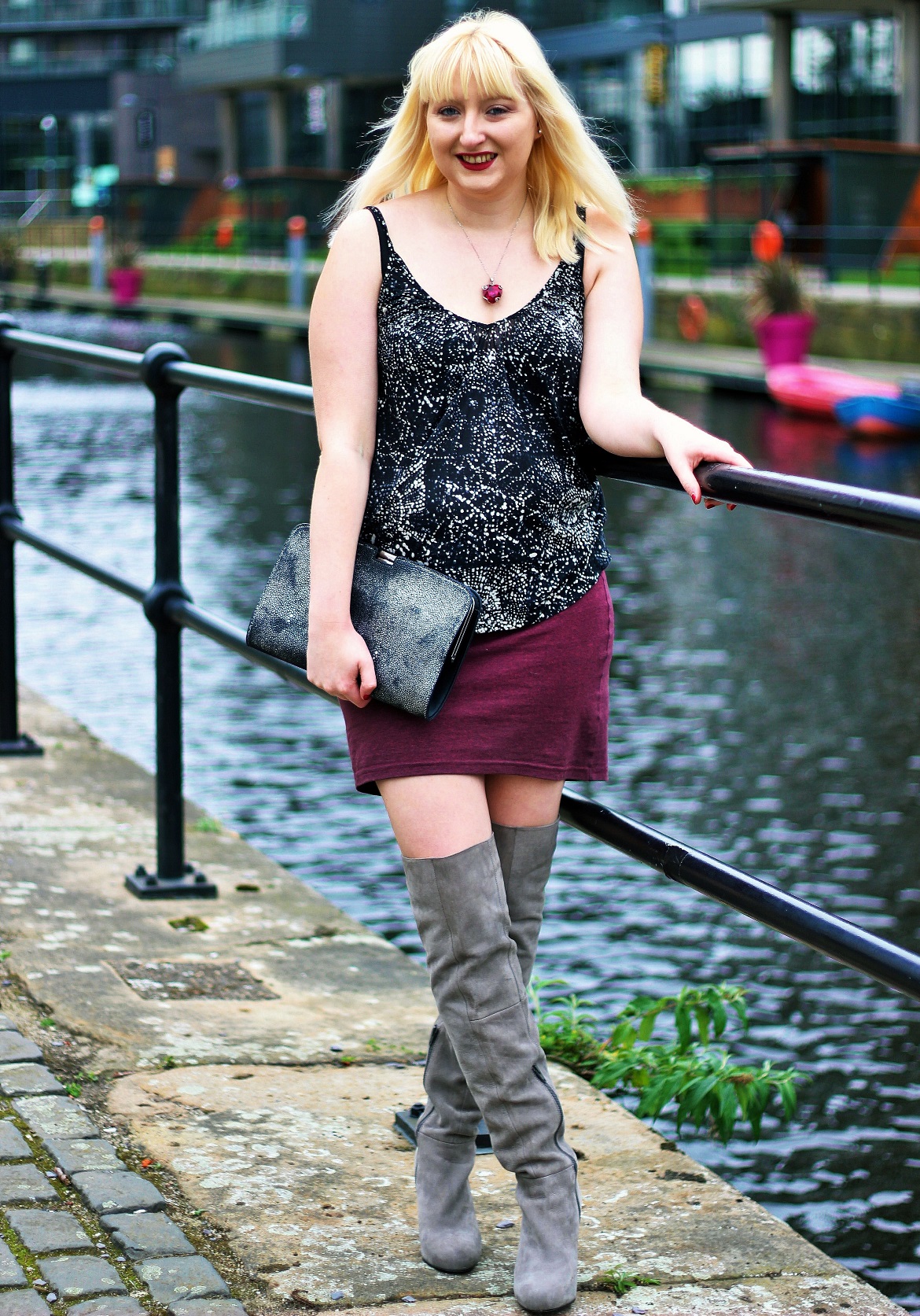 I paired them with a purple skirt I bought in H&M, also in New York, and this dark grey and white top from H&M in England. When working out where my clothes were from for this blog, I realised every single item (excluding accessories) happened to be from H&M.
I also brought this clutch bag from Primark, that I bought to take on my holiday to Lisbon.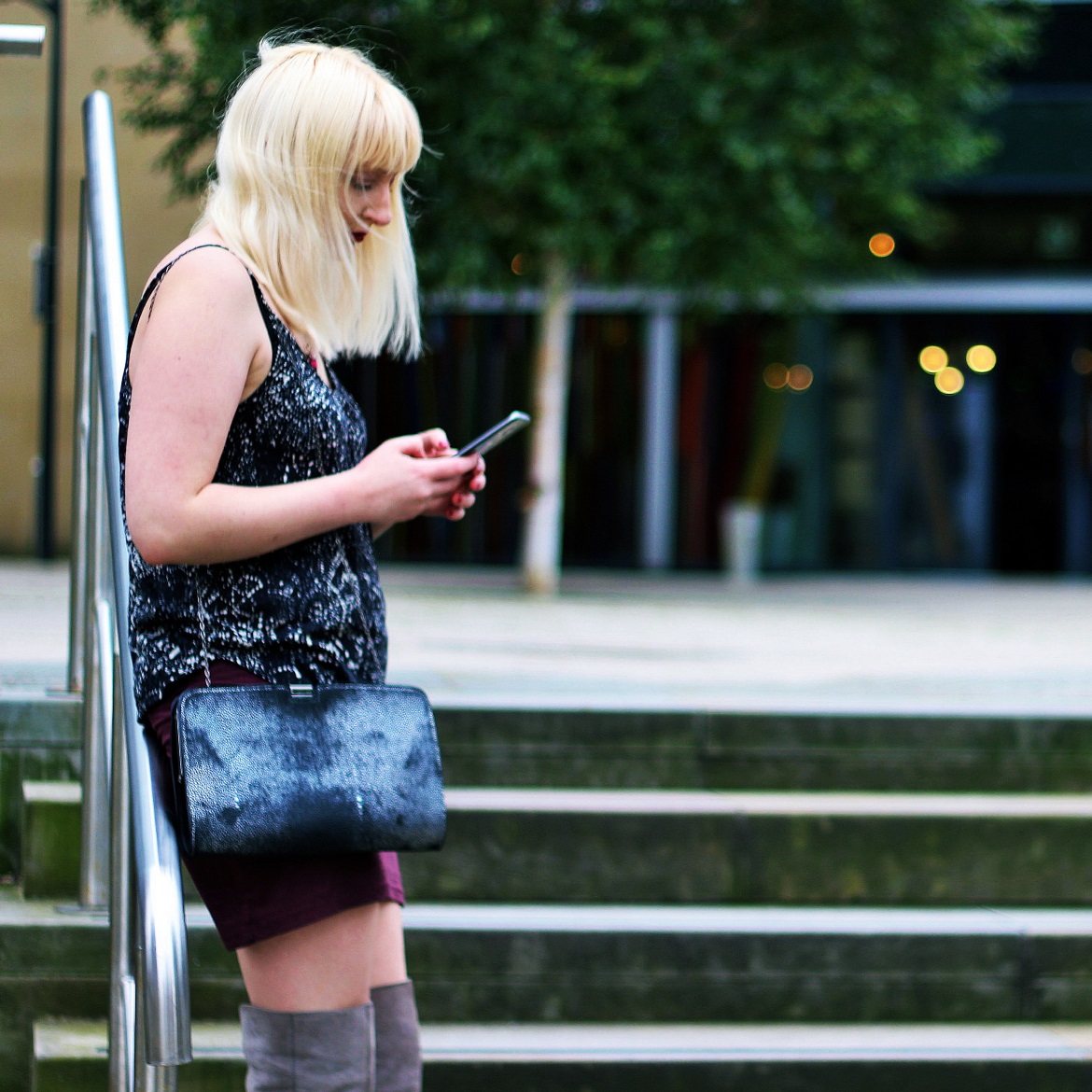 The whole shoot clocked in at nearly two hours. Laura really went above and beyond to make sure I had a massive array of really interesting and varied photographs. In total, 214 photos were taken in that time (though of course, not all would be suitable when viewed at full size).
Receiving the Photos
I expected it to take a couple of weeks to receive the edited pics – that's been my experience with other photographers. But Laura sent me over a handful of "preview pics", just a few hours after we parted ways. And I'd received the whole bundle of 56 photos before I went to bed that night. Talk about service!
I'm super pleased with the photos – though you might notice there's not 56 in this blog post! I'm holding back some of them to show off later, when the perfect blog post comes up where I need them.
Laura was an absolutely pleasure to work with, and I hope to be able to book her for a couple photo shoot with my boyfriend in the future. She actually has a special offer on at the moment, and she also has a permanent special rate for bloggers that's always available.
All images in this blog are credited to Laura Haley Photography. I received the photo shoot for free after winning it in a competition on Twitter, but my opinions of working with Laura are my own. You can see my full disclaimer here.