Well we're into March but it sure doesn't feel like spring. This snow is seriously getting me down, and I'm dying to get my summer dresses out of the closet and put my winter boots away. February seemed super long for such a short month, and it feels like a lot happened. With Valentine's Day plus my anniversary with Tim, it was a month of romance… and where there's romance, there's usually excellent food. And there were also tons of games. Cuz, y'know, games.
What BeckyBecky Did
Feb is such a good month for romantics like myself. I love Valentine's Day – screw the commercialism, anything that promotes the celebration and sharing of love is good to me. As Tim knows well, my favourite flowers are red roses, and he didn't disappoint this Valentine's Day. I didn't disappoint him either, with some of his favourites from Hotel Chocolat.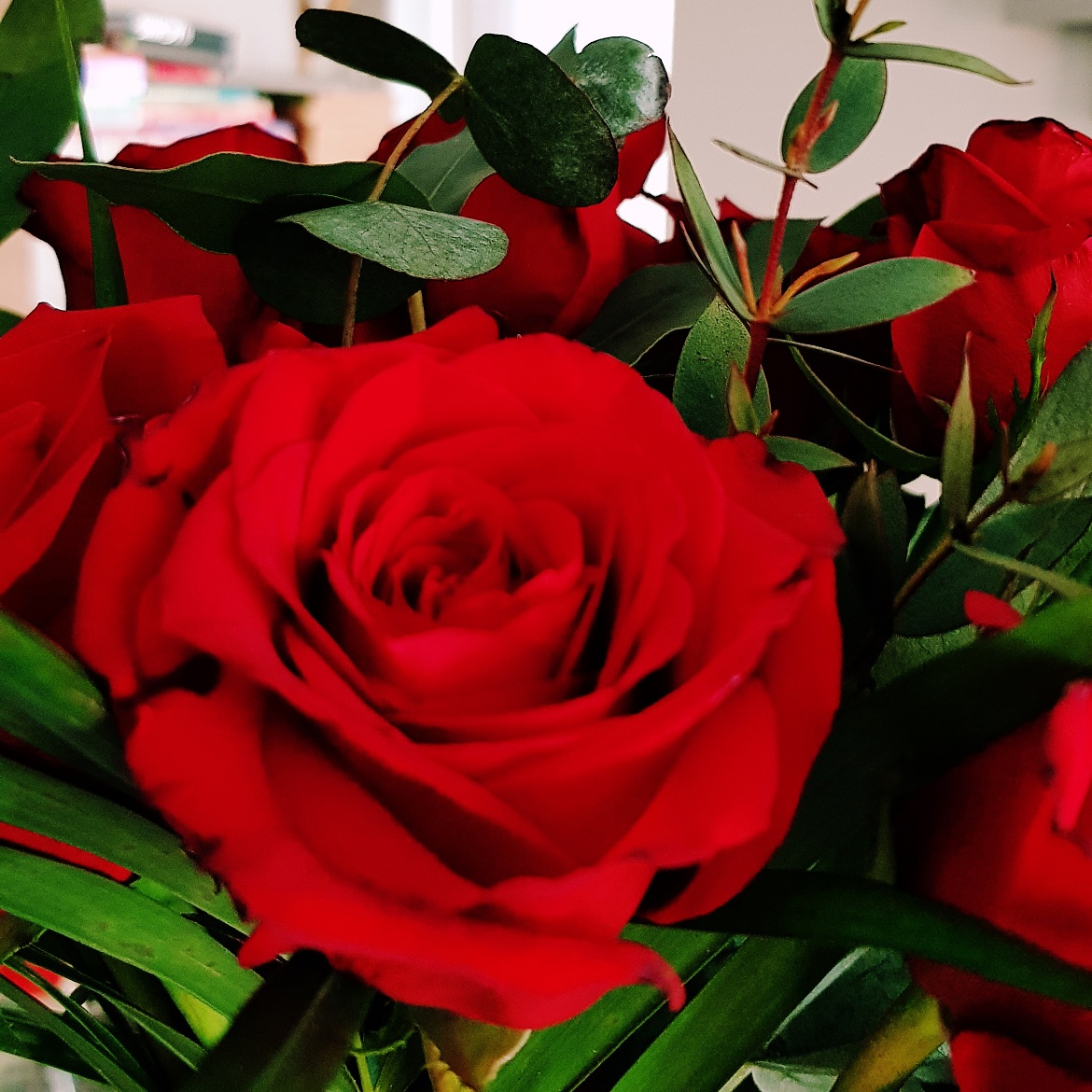 It's also getting closer and closer to wedding season, and it was time for bridesmaid dress shopping with Keeleigh, who's getting married in June. We hunted high and low around Sheffield, and I ended up going for the first one I'd tried on – an ASOS dress that she'd ordered and I tried on at hers before we went out! Pretty typical form tbh. But it's a super pretty dress (even if it is LONG!).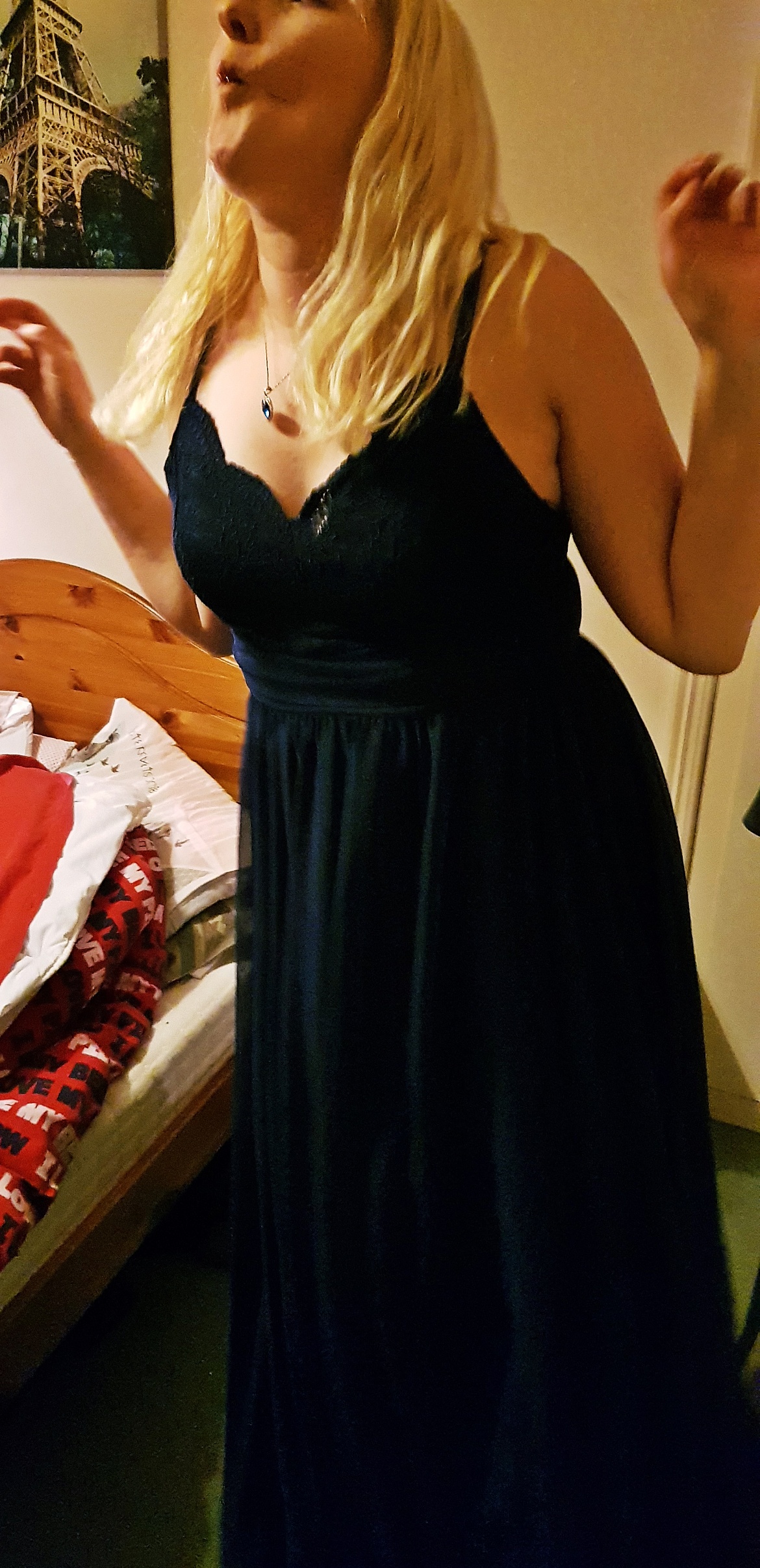 You can wait til June for a photo of me where I don't look like a dork 😛 Towards the end of the month we took a trip down to my hometown of Spalding. My parents birthdays are about 2 weeks apart from each other, at the end of February and the start of March. So we delivered presents and went out for a nice meal to celebrate.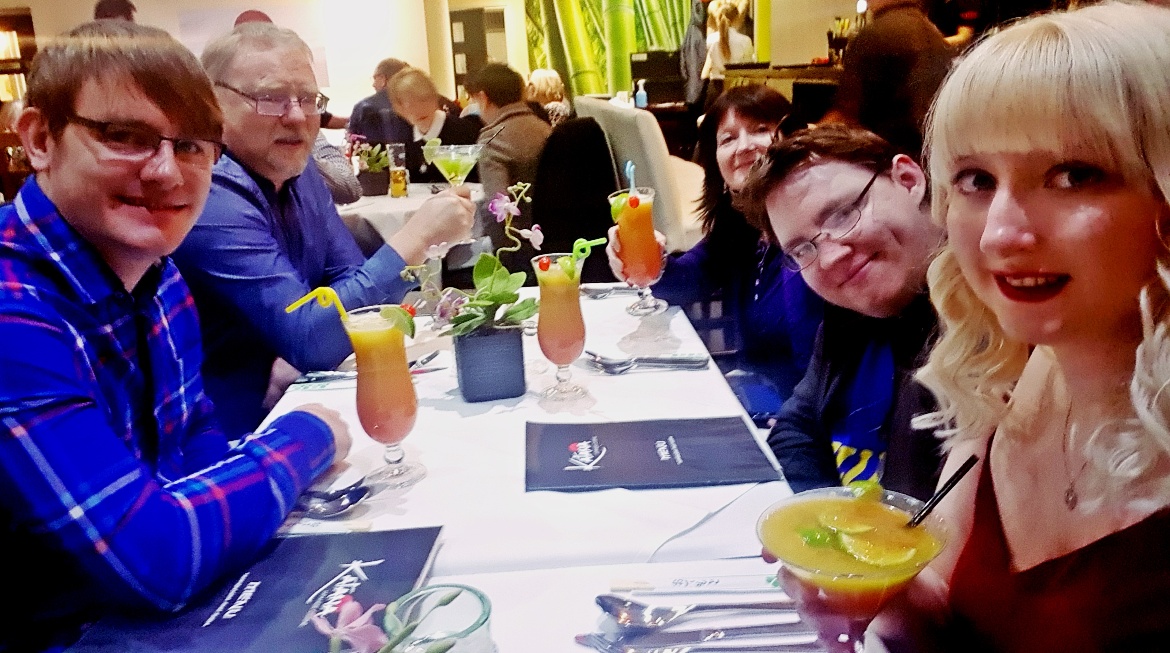 I had a bit of a shock travelling home one night when someone threw a rock or something at my bus and smashed the window. Luckily no one was hurt, but it's definitely added to my dislike of travelling by bus to work.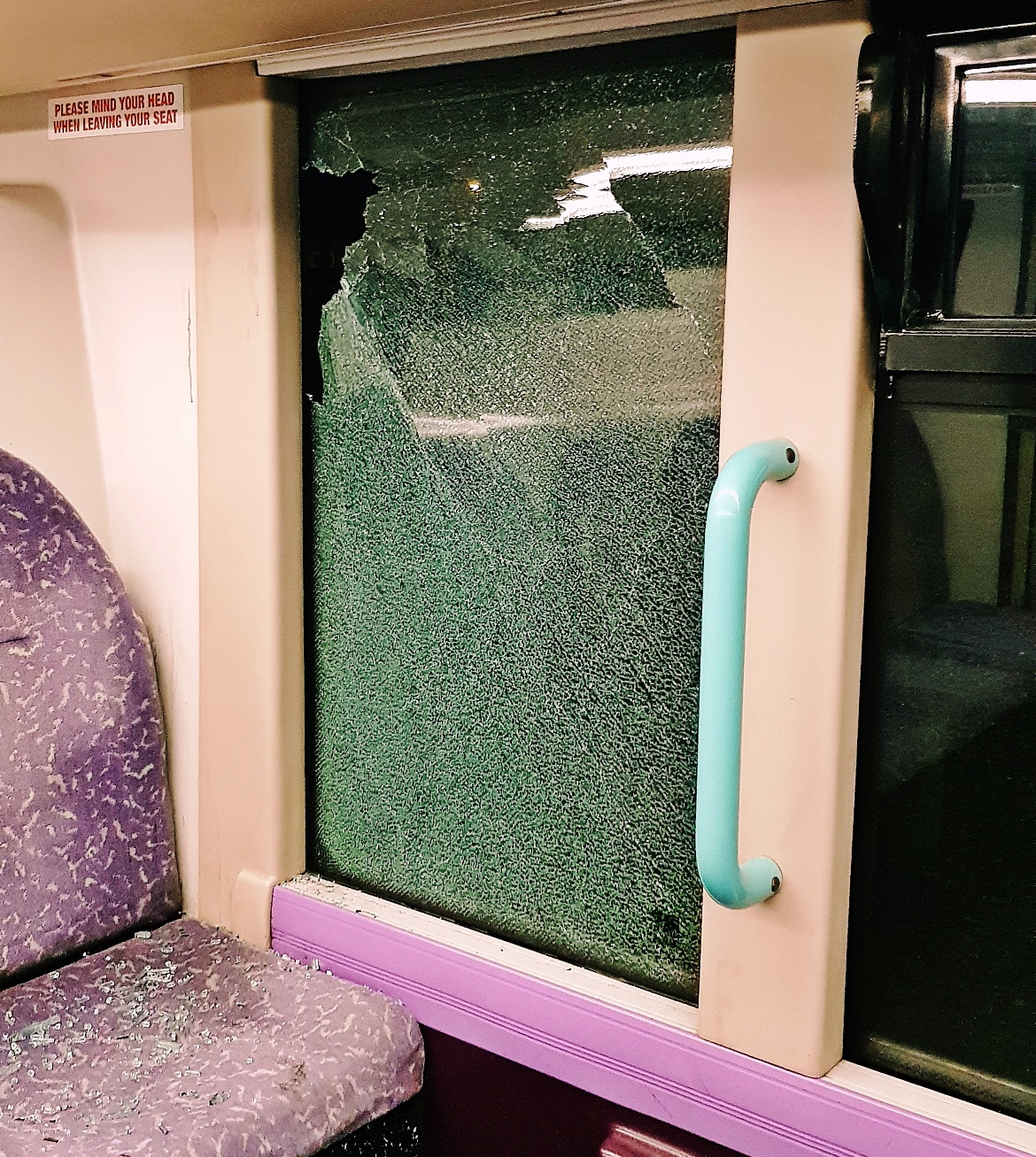 The month started off well, and when Punxsutawney Phil didn't see his shadow I was hopeful for an early spring. I even spotted these daffodils daring to poke their heads above soil.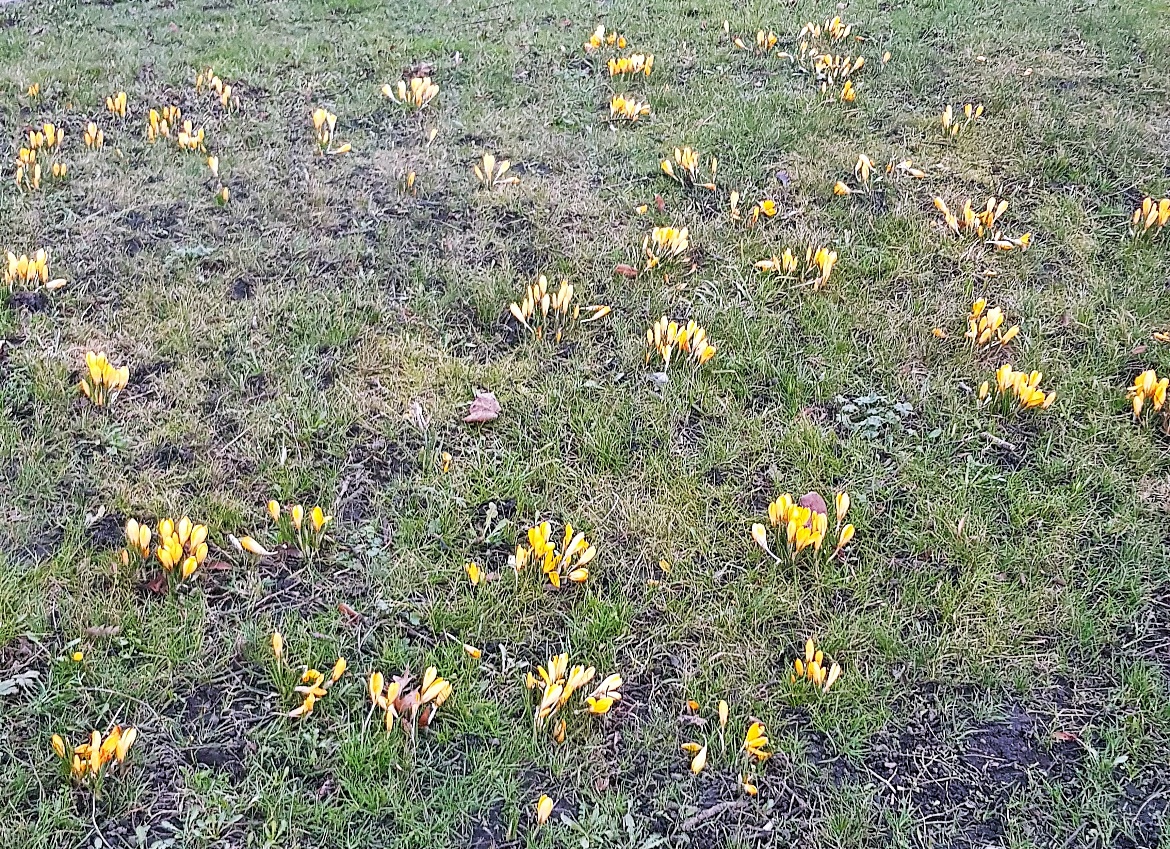 Well, those daffodils are probably frozen right now. I'm seriously done with cold and snow and all this grim winter weather. I'm a summer lover, and, despite enjoying some of the pretty pics I managed to take, I'm ready for this all to melt so we can get on with our lives.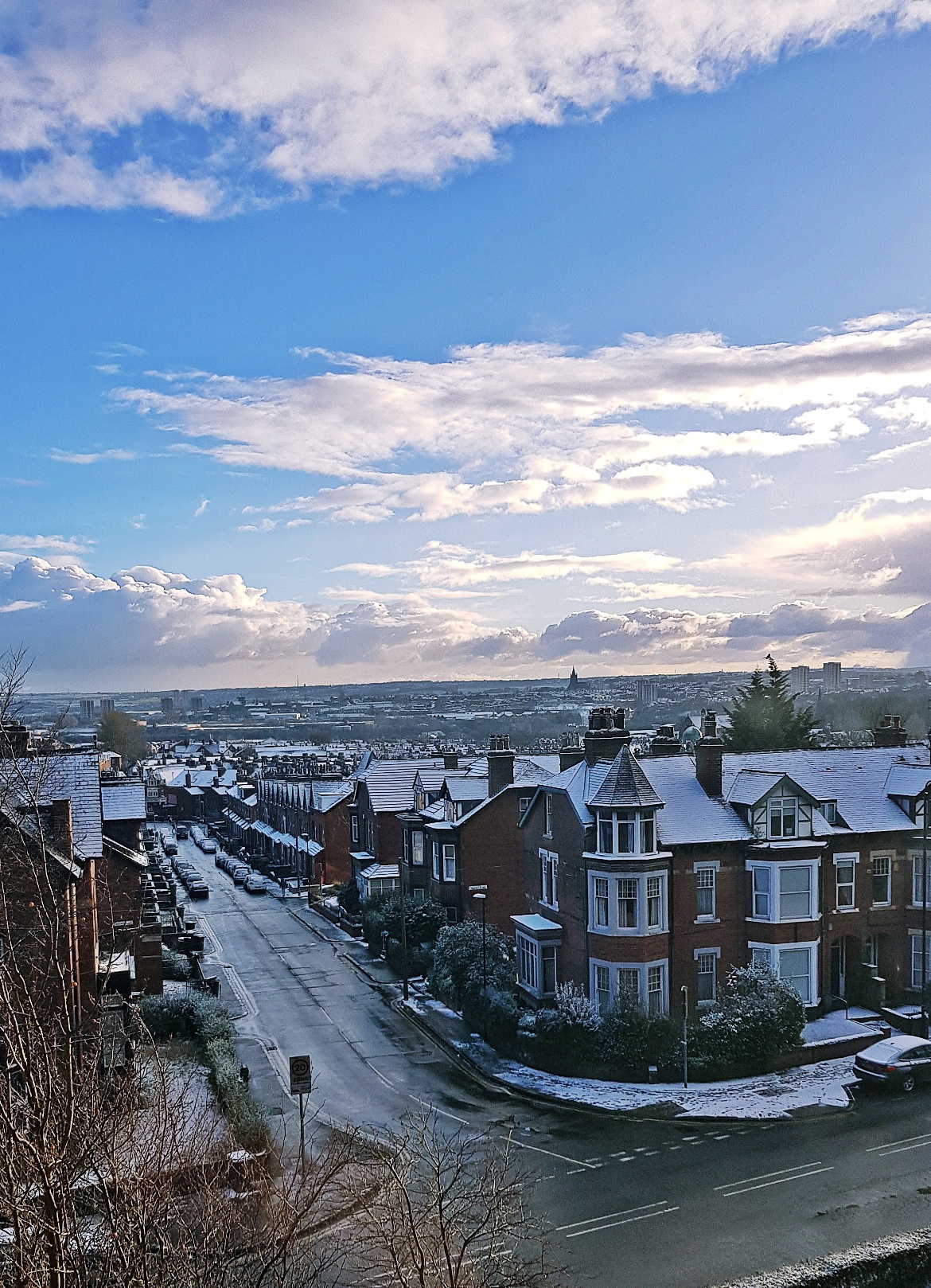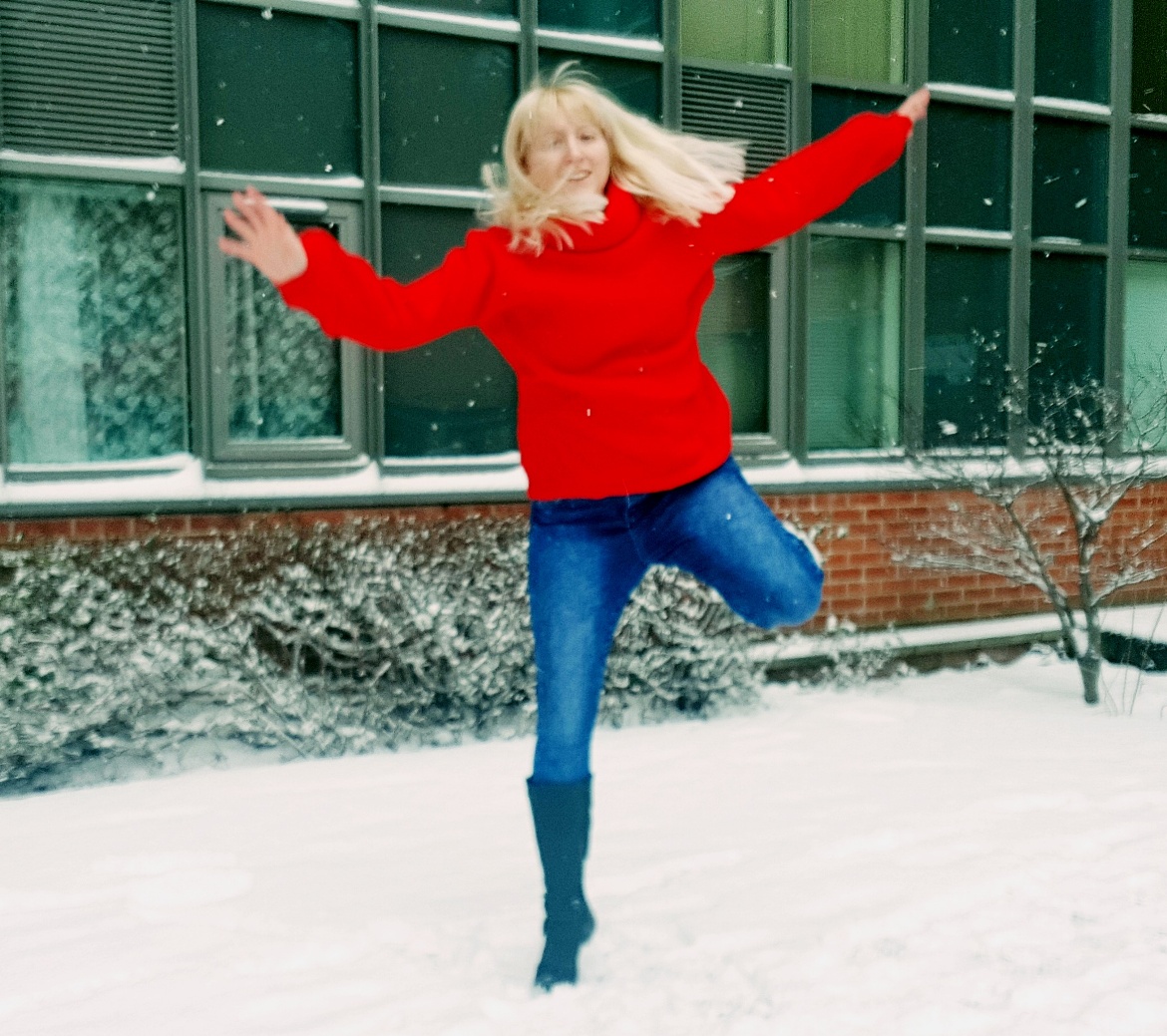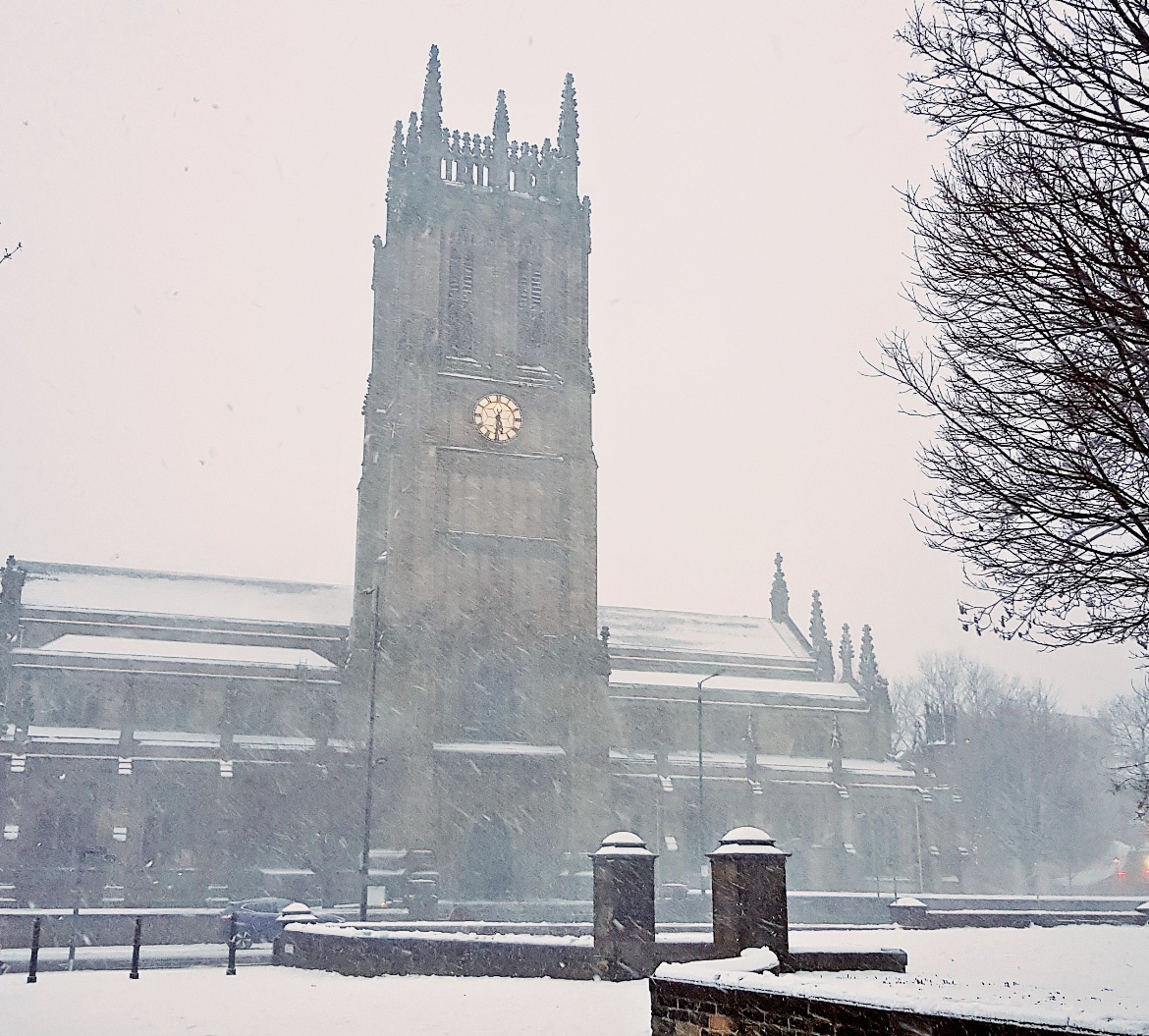 What BeckyBecky Ate / Drank
Out of Leeds
Following a megagame playtest sesh in Manc, we nipped out for dinner with our friend Chris who has recently moved to the area. We decided to visit the Indian Tiffin Room, mostly since I'd heard that it was soon to grace the streets of Leeds. I was definitely impressed. The menu was a little confusing tbh, but the curry was outstanding.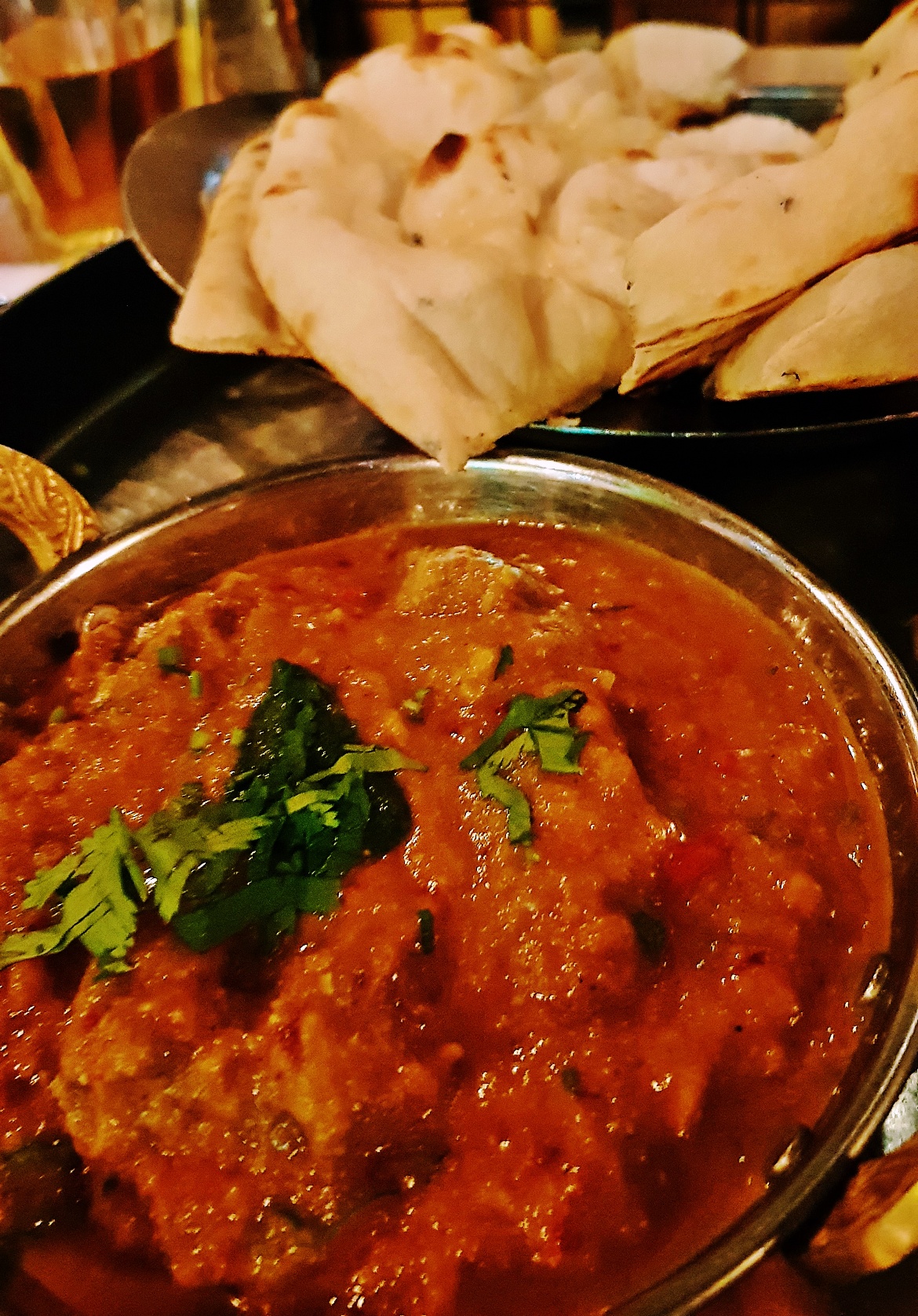 While visiting my parents we went out for dinner at the newest place in town. There's a restaurant premises that seems to be in different hands every time I visit, and on this trip its converted into Teppanyaki restaurant Katana. We didn't sit at a teppanyaki table, so my brother and I decided to get sushi as a main instead.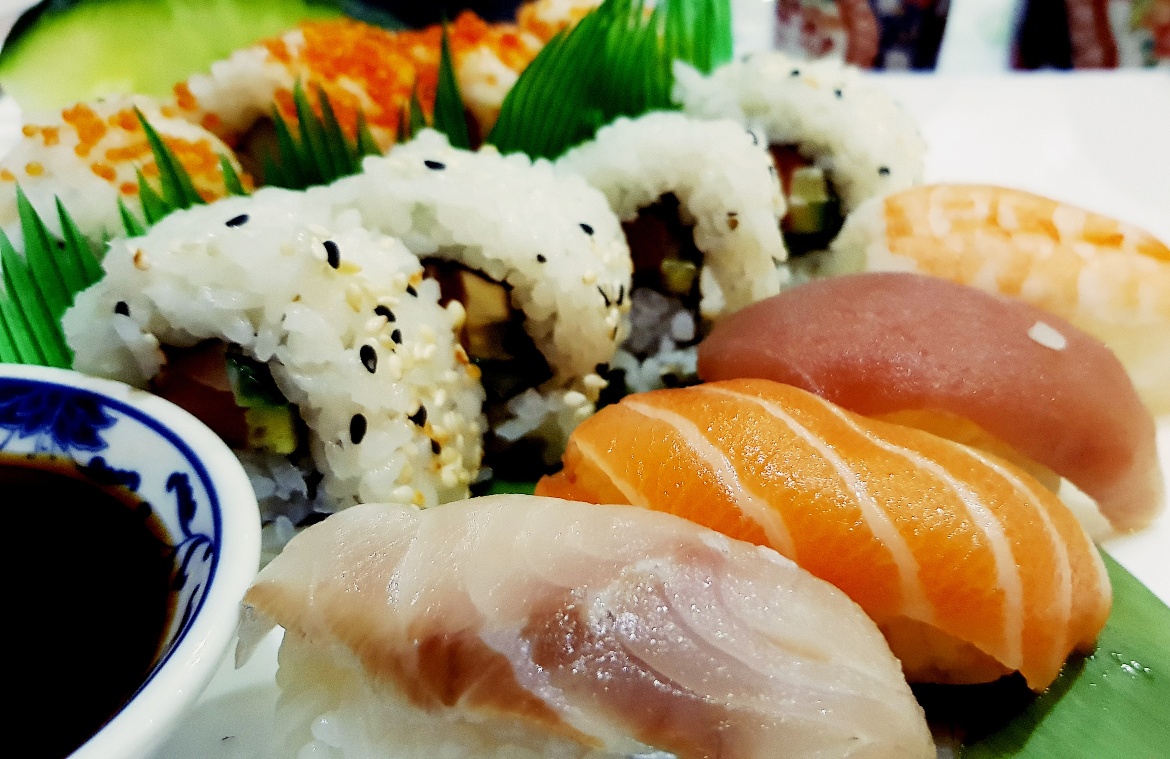 I was certainly jealous when my parents' meals came out though, as they'd ordered from the hot plate options.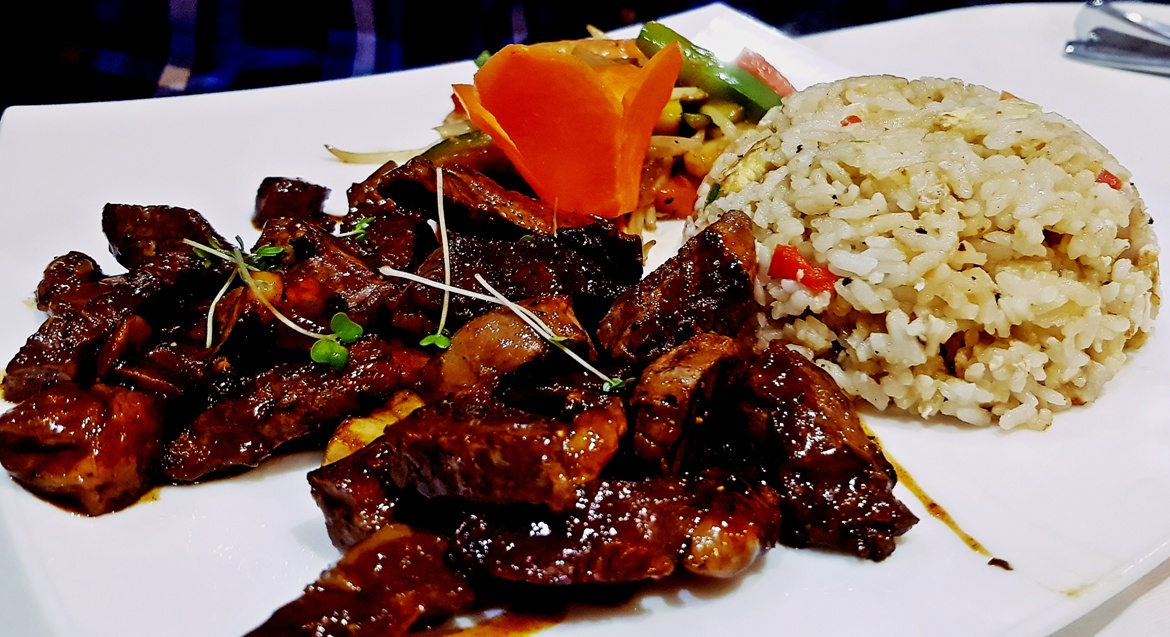 Eating Out
I was super excited to hear that a place serving chicken and waffles had come to Leeds, and didn't delay in heading along to Absurd Bird in Trinity Kitchen to try some. I went for their fried chicken and waffles with cheese sauce, honey mustard and crispy topping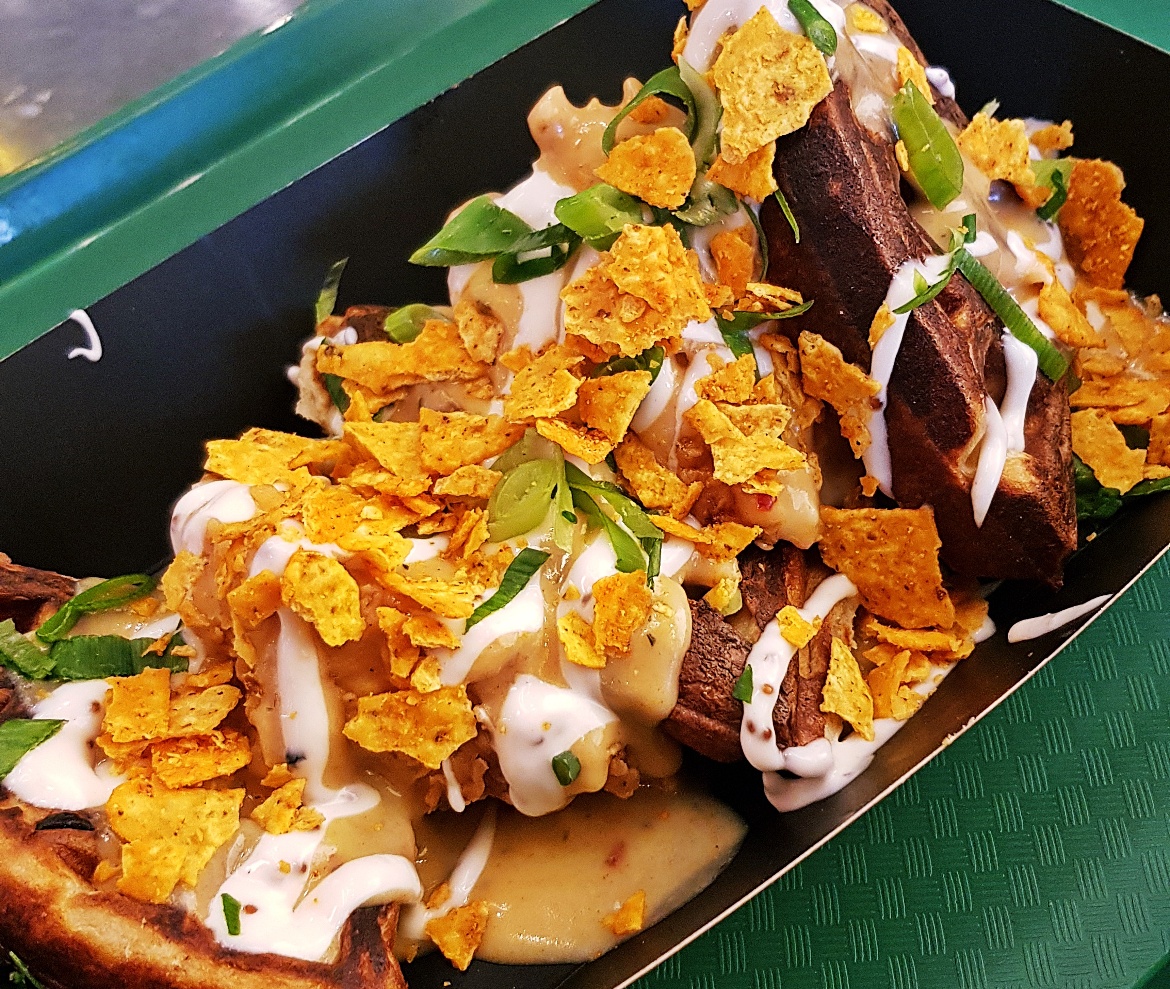 Honestly it was a bit much and next time I'll pick their plain old chicken, waffles and maple syrup… Or maybe the buffalo wings. I love buffalo wings. The standout meal of the month was Vice and Virtue, which we visited for our anniversary as part of Leeds Restaurant Week. I'm planning a full blog, but here's some sneak peeks…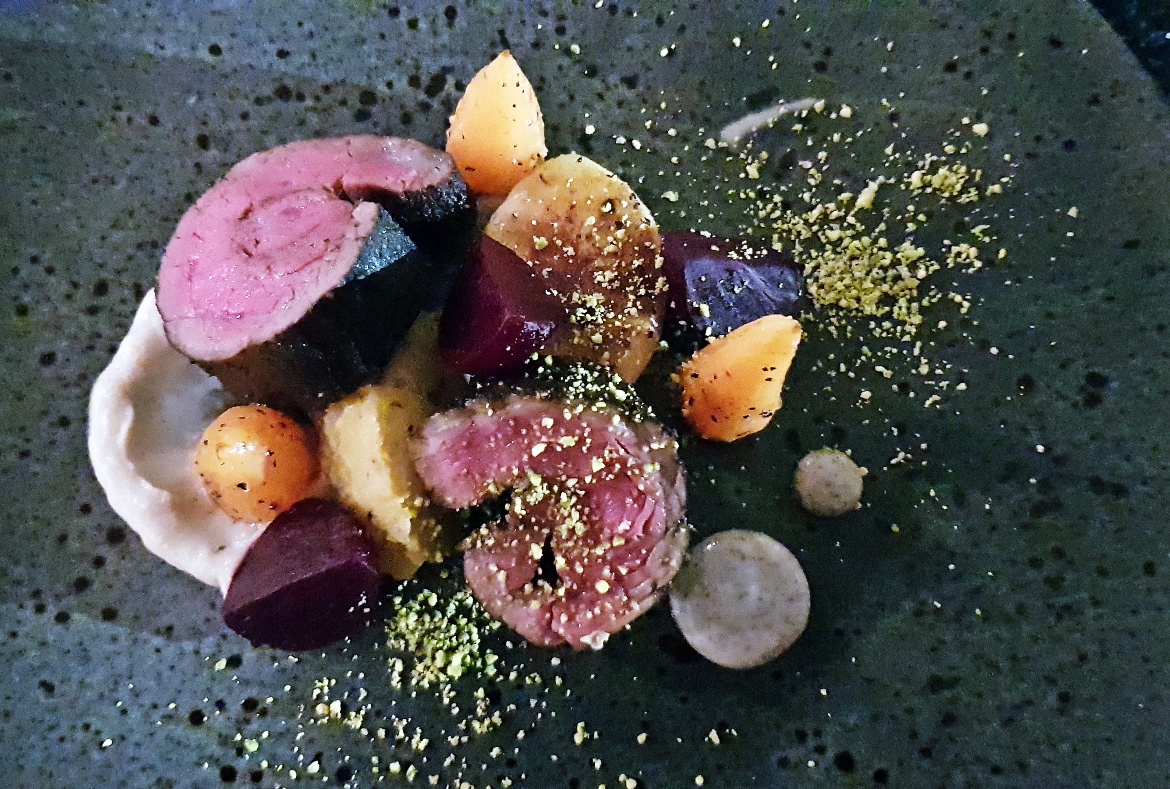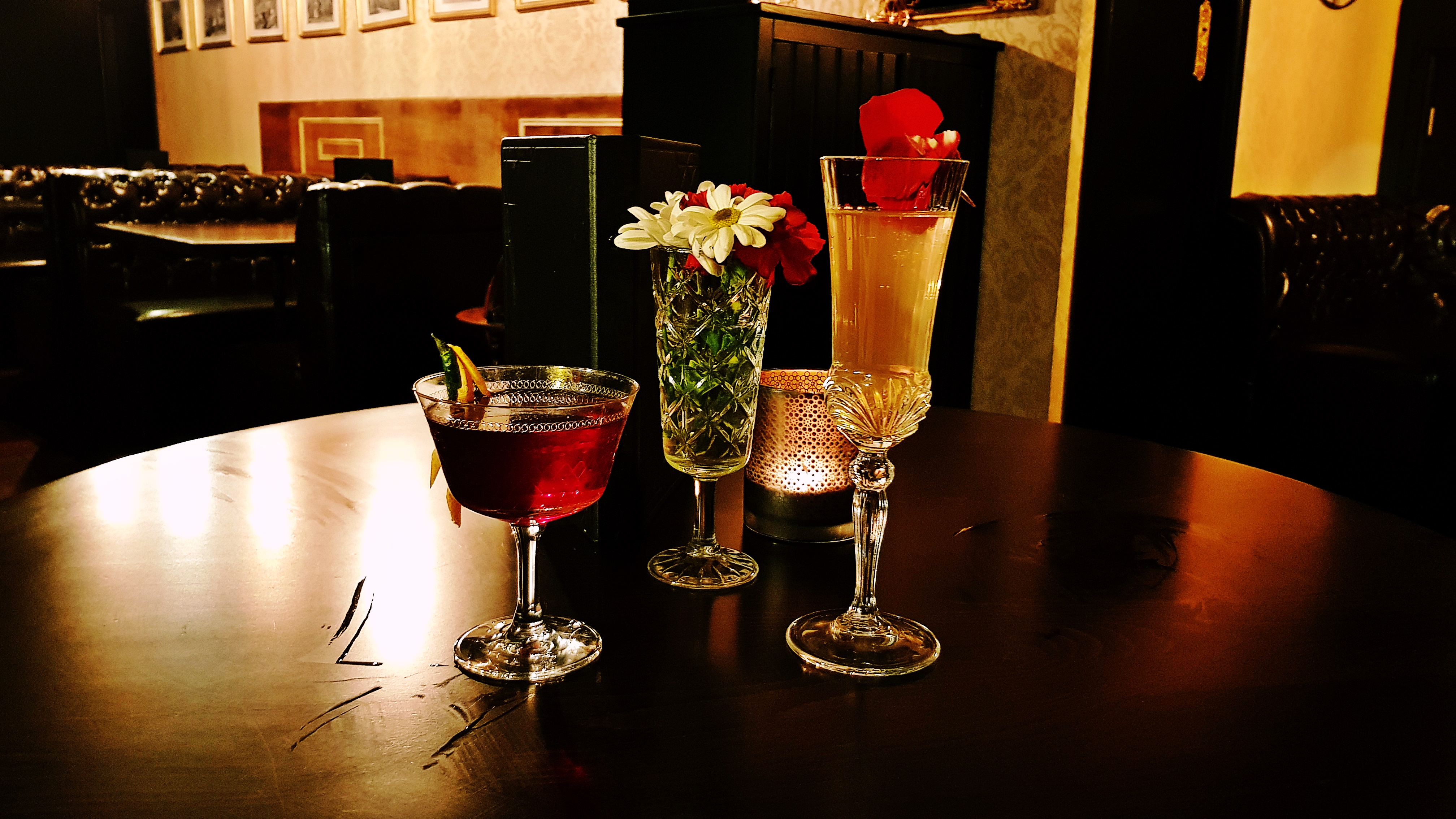 And on our anniversary proper, we braved the snow and headed across to North Star Coffee Shop. Now I'm not working from home, I'm not going there as much, and I've definitely missed their scrambled eggs…
What BeckyBecky Cooked
This was actually what BeckyBecky and Tim cooked. Since we were going all out for our anniversary, we did a low-key Valentines, and made pizza together at home. (Mine was better, natch).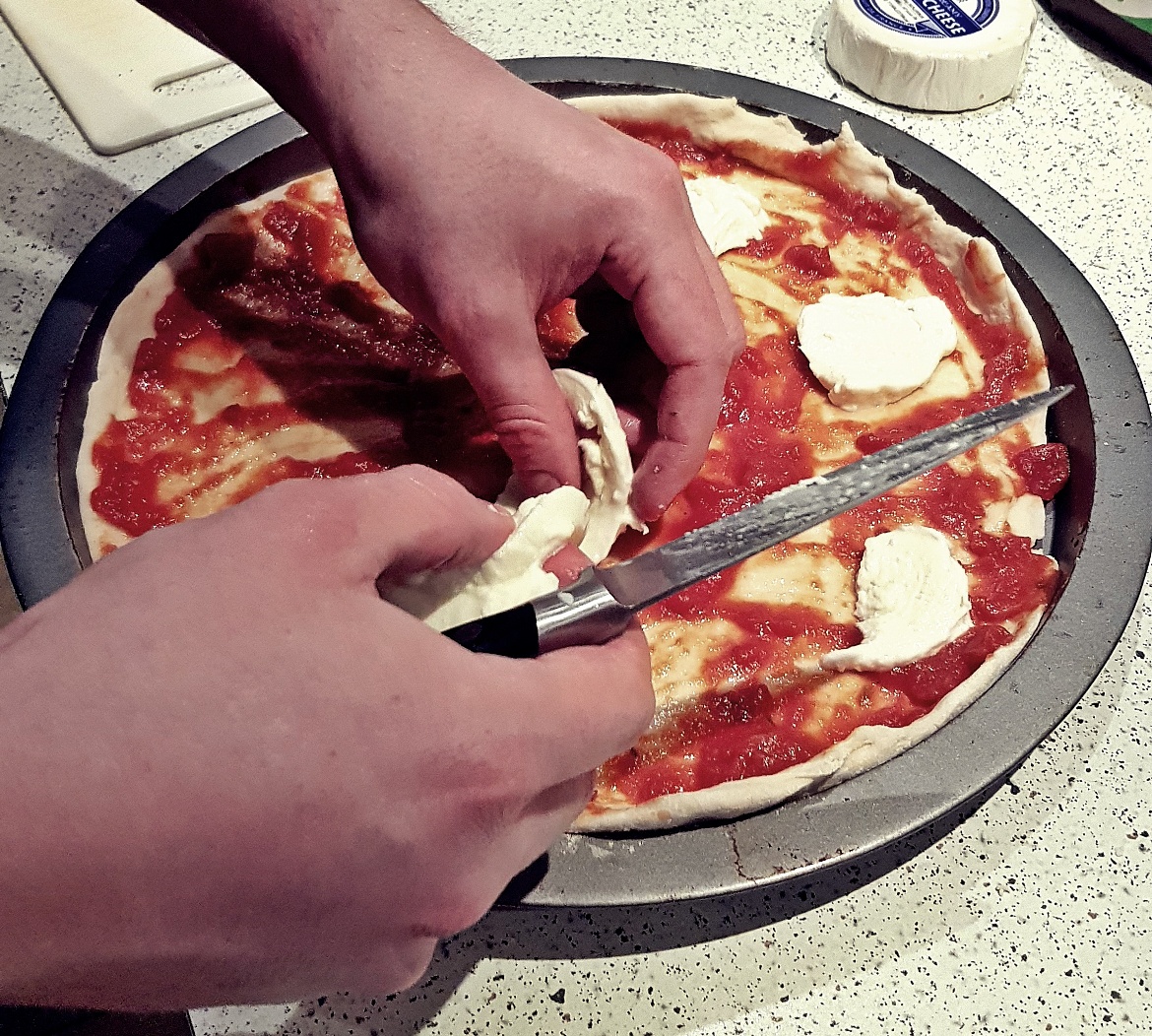 And visiting my parents I whipped up a batch of American pancakes, with bacon and maple syrup. YUM!
What BeckyBecky Gamed
First things first… WORK LET ME CREATE AN ESCAPE ROOM. I'm still so excited they let me do it and didn't throw the idea out as "something the NHS doesn't do". It took probably around 20 hours of work (including 6 playtests) and the first run of "Make It To Your Interview" took place last week. It was a massive success and the feedback was fantastic.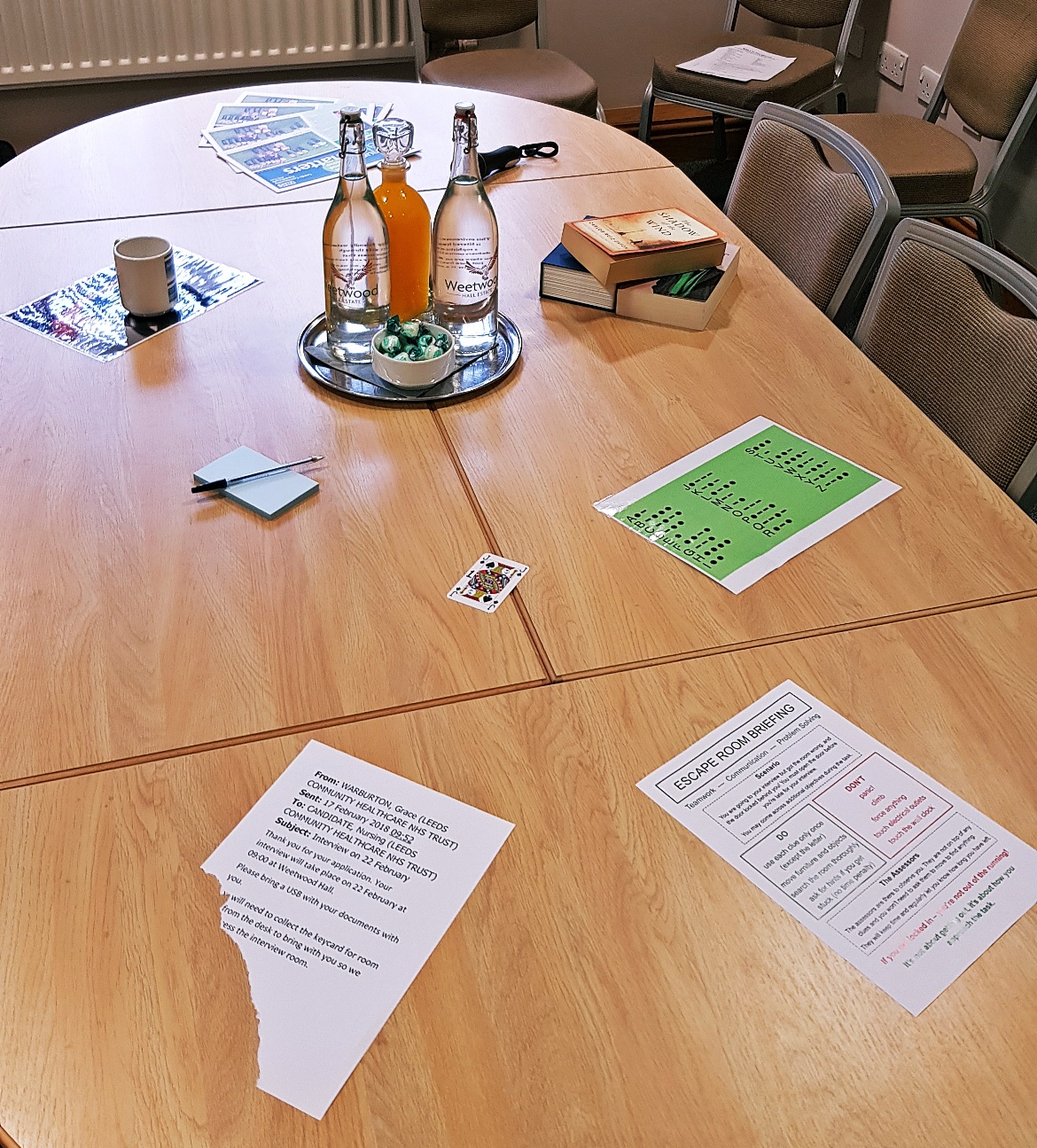 It's making the temptation to start a freelance escape-rooms-for-businesses company quite strong, but I'm resisting for now.
Megagames
The first Pennine game of 2018 took place in Feb, and by all accounts it was amazing. The players seemed to have a great time at "Cockroaches, Copper & Cows", the megagame of the Mexican Revolution. I myself was tied up playing solo press for, not one, not two, but THREE different newspapers. It was exhausting but satisfying.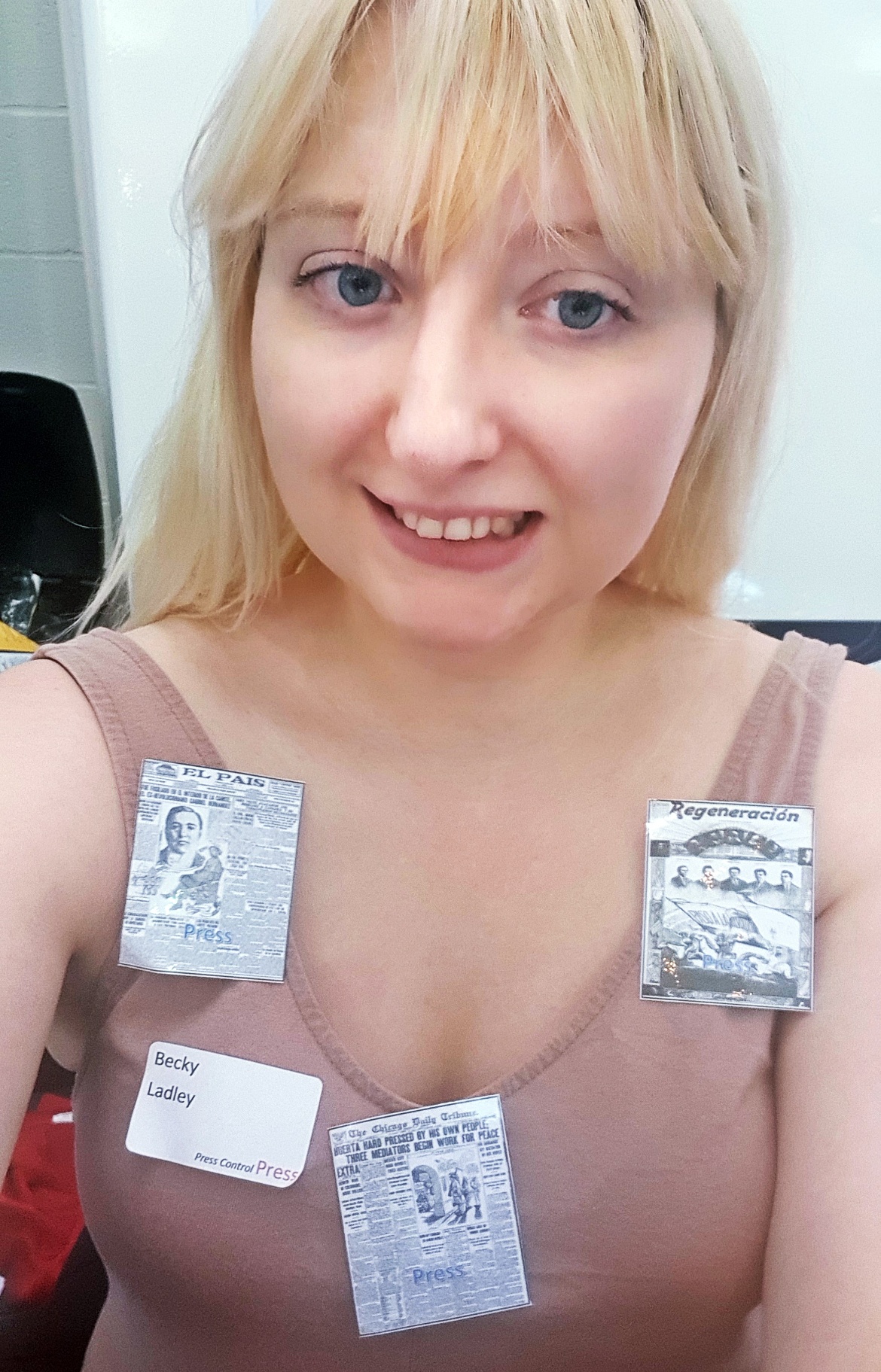 I've got planning well underway for
ED3
, and Tim's coming along well with
Shot
, but I've already started thinking about my first game of 2019… watch this space.
Boardgames
Since we've managed to get Ellie and Callum into boardgames, our gaming has become more frequent. Ellie and I played Rivals for Catan, the 2-player version of Settlers of Catan (which I've, astoundingly, never played). It was pretty fun and only goes to show that I seriously seriously need to play Settlers.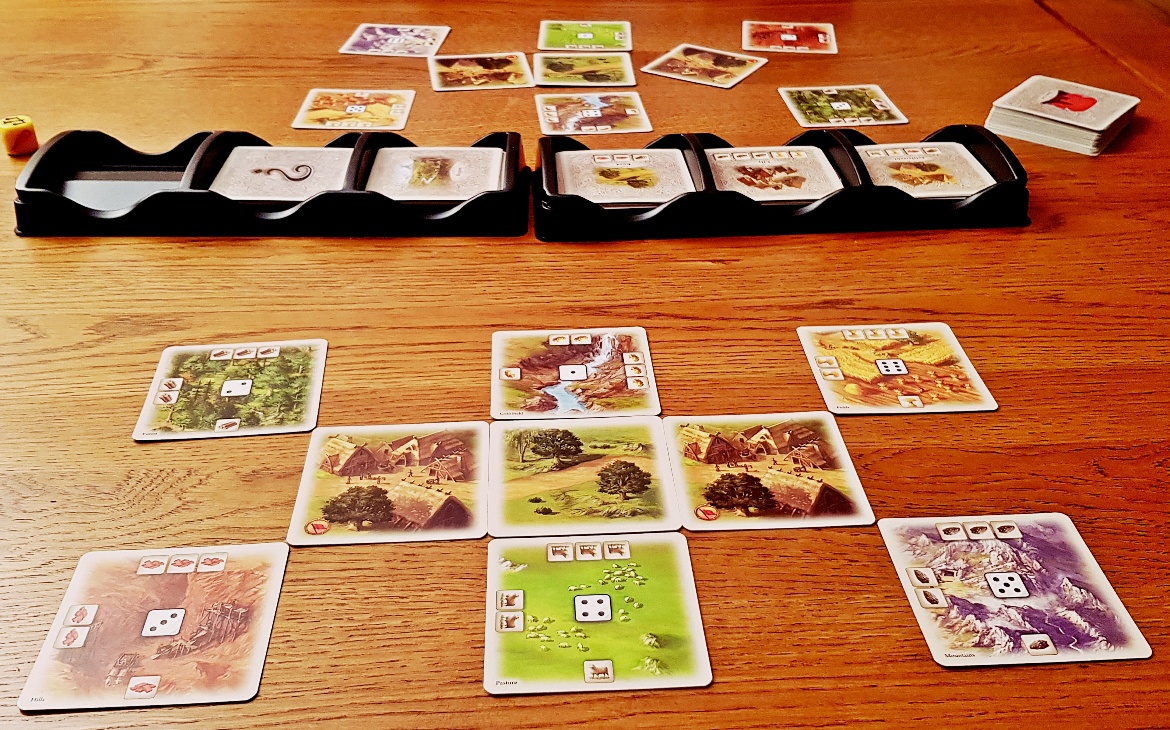 Then Callum came back and we tried Splendor. I've actually played it before, and again it was better than the concept suggests. You're jewel merchants trying to get the best mines to acquire prestige. It's pretty in-depth and a lot of fun. And a visit to my folks saw us playing one of the games I remember most strongly from my childhood – Mahjong! This ain't no matching pairs like you get on a mobile game. It's a Chinese game of great skill and etiquette. We've borrowed my parents' set, so if you fancy a game, give me a shout!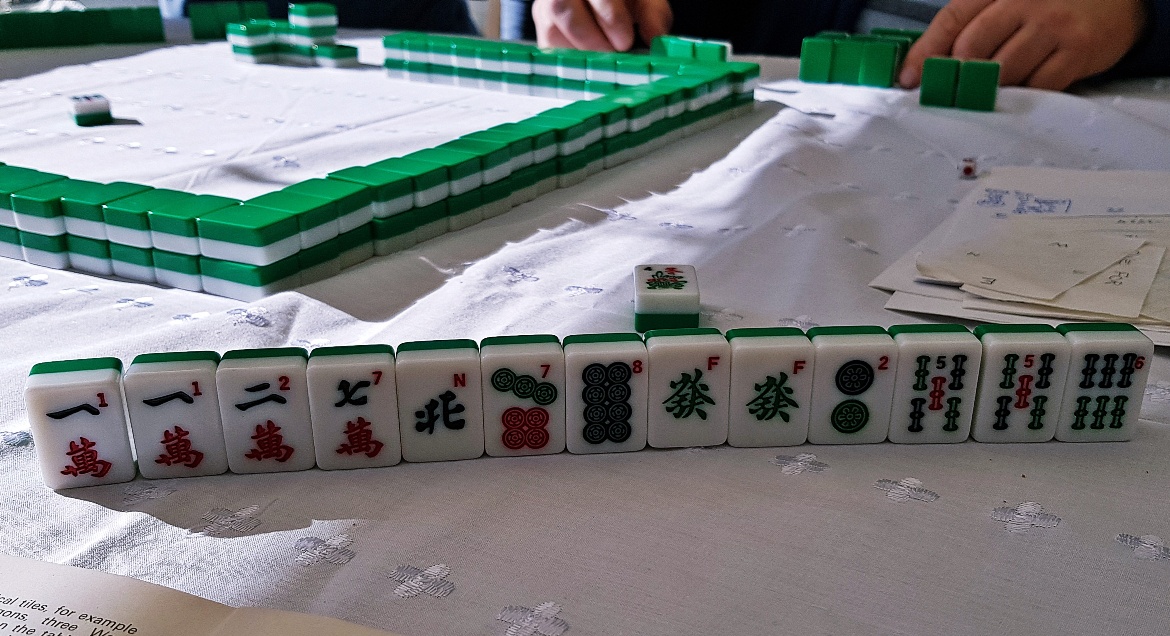 What BeckyBecky Watched / Listened To
Touchdowwwwn! My team, the Eagles, massacred the Patriots on game day, and I stayed up all night watching it. This was the first year that I actually understood the game (well, pretty much, I have no idea what that stuff about runner vs catcher was).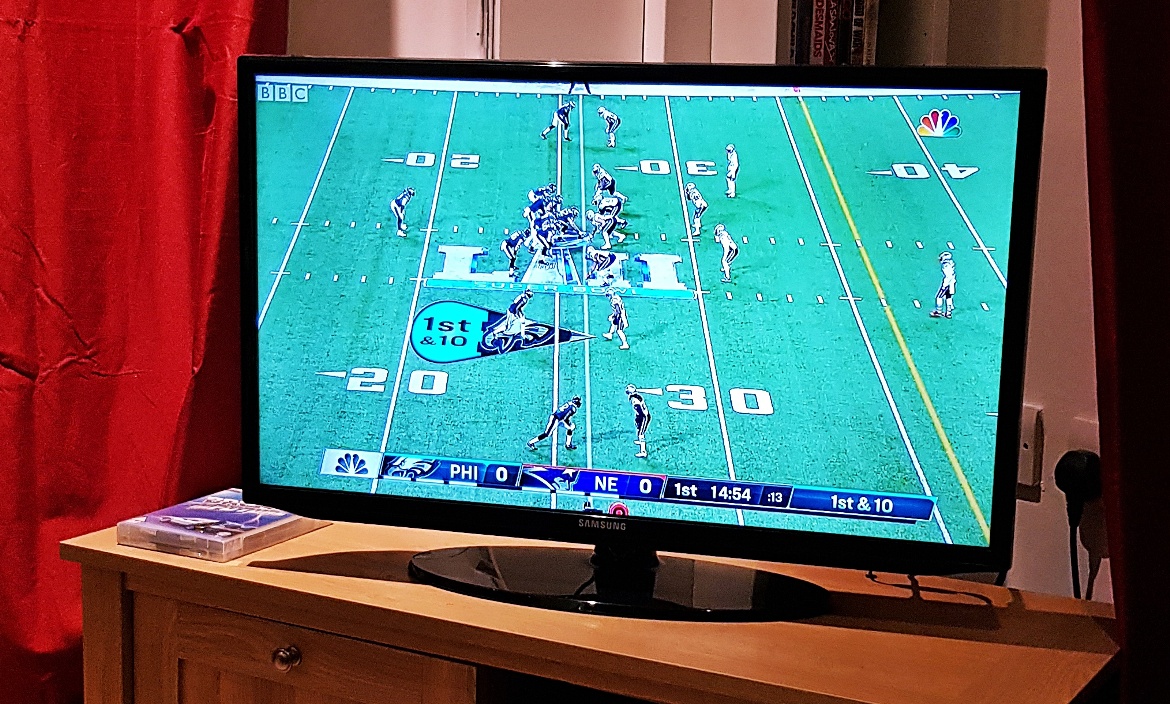 Also in sport (who knew I was so sporty) I sadly didn't get to catch as much of the Winter Olympics as I'd have liked. I'm really only into bobsleigh, but the coverage darts about so much that I've only seen the first three runs of the two-man mens. Hopefully I'll get a chance over the weekend… Movie-wise, I watched the traditional Groundhog Day (albeit on February 3rd) and also watched Bridesmaids with Keeleigh after shopping for a dress. It was my first time seeing it and I'm vaguely reassured that at least my hen do plans aren't going THAT wrong. And as for TV, Tim and I are currently OBSESSED with Orange Is The New Black. How have I not watched this before? Although Tim keeps calling me Piper and I am Not Happy.
What BeckyBecky Blogged
The top blog atm is still my
Moulin Rouge one
zomg. But of the ones published last month, the one that got the most traction was my
Megagames I'm Excited For In 2018
post… which is great, because hopefully it means I'll see a lot of you awesome readers at some of those games!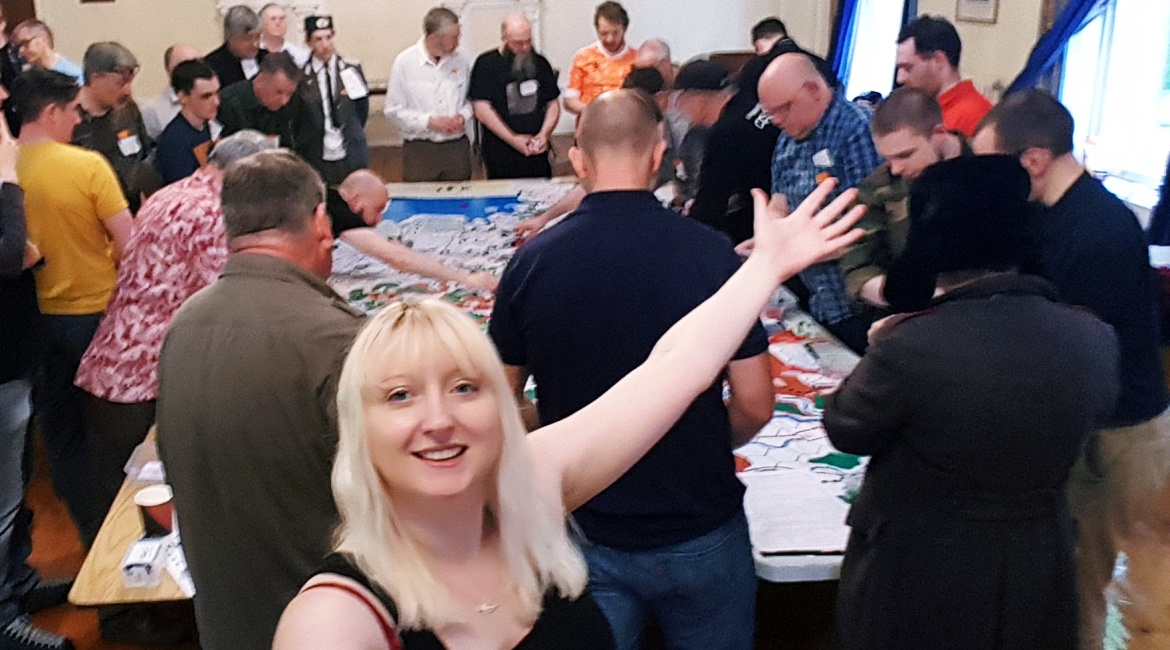 What BeckyBecky Insta-ed
PIZZA made the top of the BeckyBecky Insta last month. These are the tasty concoctions that Tim and I cooked up for Valentine's Day.
Blogs BeckyBecky Loved
I'm finally getting a bit of time to read some blogs, so this section is back. Jennie from Lifestyled By Jennie made me crave a trip to Trinity Kitchen with
her round-up of the latest vendors
. Meanwhile I was impressed by Sophie Cliff's honest account of
her career to date
, and I'm considering maybe posting a little more career stuff on here now I'm not running my own company (and the accompanying blog). And yes this blog was from March, but Rhianna is making me seriously want to go back to Rome with
this incred photo blog
.
Next Month for BeckyBecky
So, the big news for March is that my contract at the NHS is coming to an end… it's been an amazing 5 months so far. I've got a few options for what I'm doing next (not including that escape room business idea) so I'm on track, but it will be sad to leave the team I've been working with on so many exciting projects. March is also a bit weird in that there are no megagames… and no megagames until nearly the end of April in fact. But what I have got going on during March is an exciting video-game-meets-escape-room-meets-theatre-meets-podcast-or-something. It's called
The Lucky Ones
, it's by a group called Riptide, and the first delivery came today…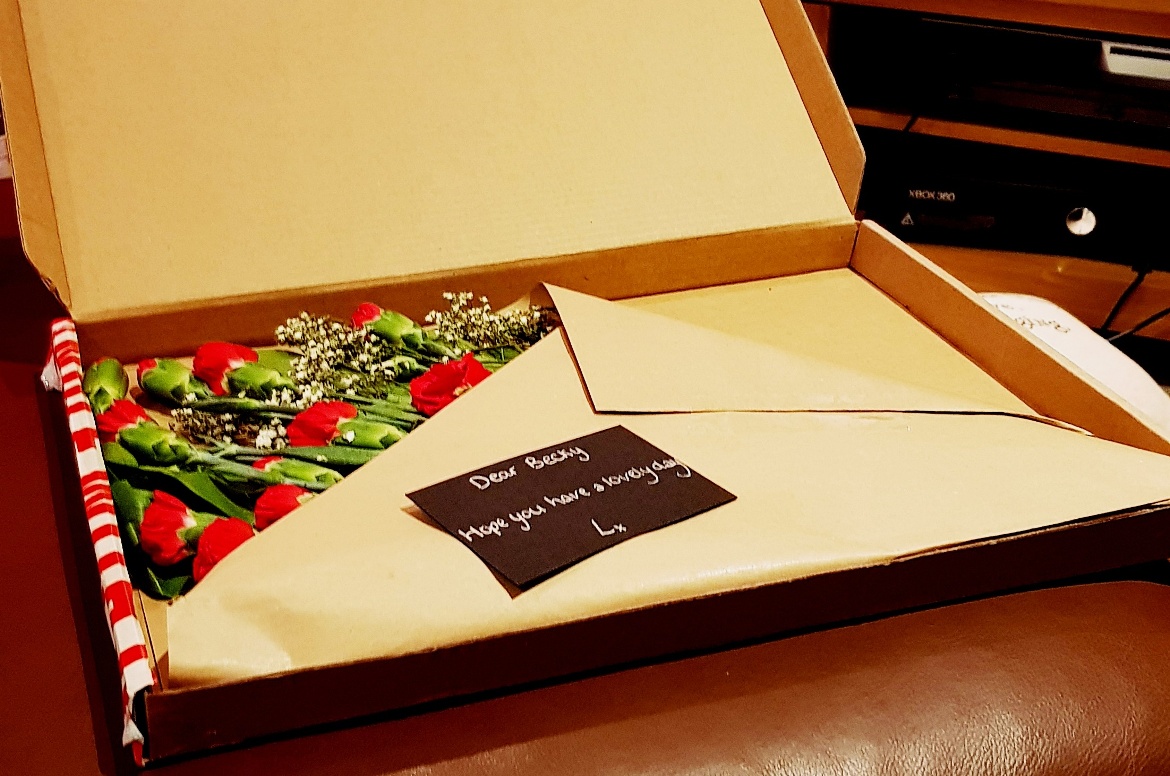 I have no idea what's coming next, but I'm SO excited.