I love an excuse to try out a completely new recipe – and luckily the situation came up for me to try my hand at two Vietnamese style dishes: summer rolls and pho.
You may remember last year that TC held a gaming day. The game, A Distant Plain, was set in Afghanistan, and to round off the day I served an utterly instagrammable goat pilaf dish.
Well, this time TC once again decided to take over my living room with a game. Fire In The Lake was a later game in the same series as A Distant Plain (if you're at all interested, check out his review from the Afghan day).
Pho will come later, but right now I want to share my recipe for…
Vietnamese Summer Rolls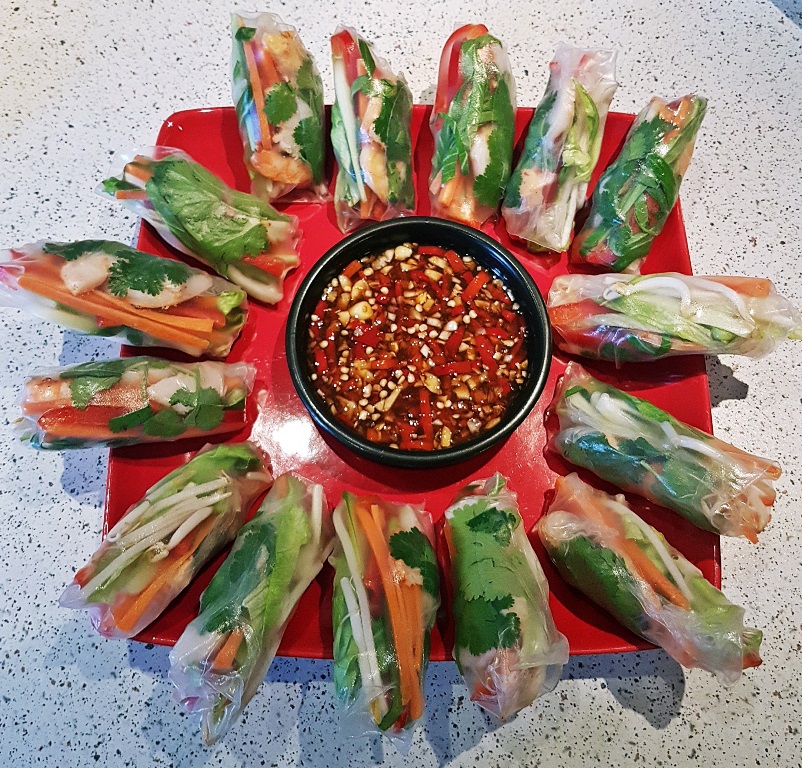 These summer rolls were the perfect little starter. Crunchy, healthy and super tasty. A lot of recipes I saw had vermicelli noodles in, but since we were having noodle soup for main, I didn't want to go overboard on the noodles.
The chopping for this is quite time consuming. There's a lot of veg to be chopped. Feel free to add in your own favourite fillings – cucumber, cabbage, avocado, chives…
I always get raw prawns so I can add my own seasoning when they're cooking, but feel free to buy ready-cooked prawns. Or switch it out for salmon, chicken or beef strips, if that takes your fancy.
Without a doubt, the most frustrating and time-consuming part of making this is the construction.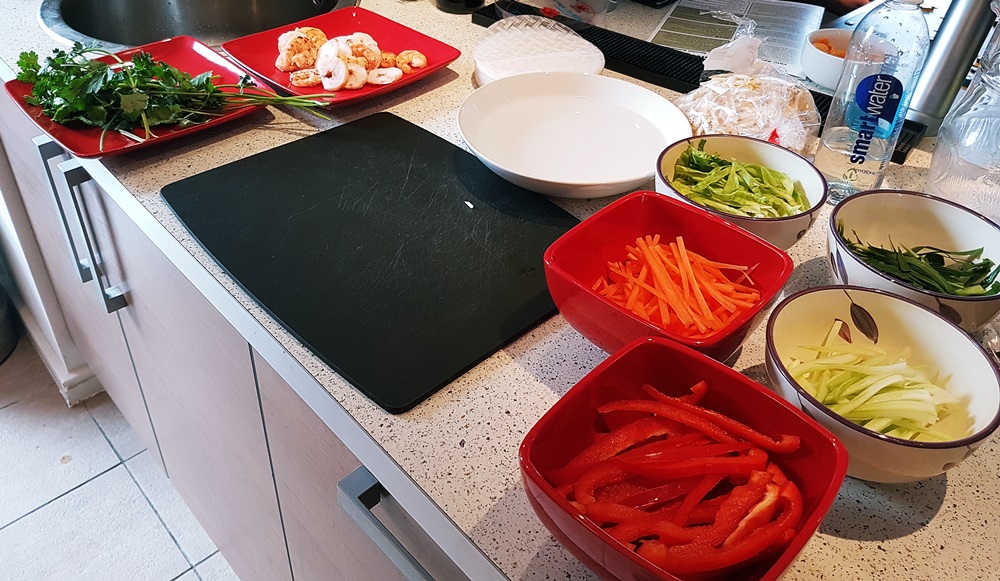 It's better to underestimate the length of time the wrappers need to be soaked. A couple were completely sodden after just a few seconds too long, and went straight in the bin. Once you've done it a couple of times, you'll have an idea of how much to put in each, to be sure you can wrap it securely.
The dip is quite spicy, so if you're not a fan, add some extra lime juice and make sure to remove the chilli seeds (or put less chilli in).
Makes 15 rolls.
Ingredients
Raw prawns (15)
Coconut oil
Iceberg lettuce (1)
Carrot (2)
Red pepper (2)
Coriander
Beansprouts
Pak choi (2)
Rice paper spring roll wrappers (15)
For the dip
Garlic (2 cloves)
Red chilli (1)
Lime (1)
Caster sugar (1tbsp)
Fish sauce (3tbsp)
Recipe
You can make the dip first. Mince your garlic and chilli (removing the seeds if you're not a spicy fan) and zest and juice your lime.
Pop the garlic, chilli, sugar and lime zest in a pestle and mortar, and grind away. When it's broken up enough, mix in the fish sauce and the juice from the lime.
Fry the prawns in a little coconut oil with some lime juice and coriander until pink and cooked through. Leave to cool.
Prep EVERYTHING. You want all the vegetables to be in short strips, and as fine as possible. Remove the coriander leaves from the stems. Cut the leaves off the pak choi and cut both the stems and leaves into strips. Slice the lettuce, carrots and peppers. Wash the beansprouts and drain.
Chop the prawns in half length-ways (and maybe also width-ways if they're particularly big).
Create your prep station. You'll need a non-sticky chopping board, a bowl of lukewarm water, an empty plate for the finished rolls, and all your ingredients easy to reach around you.
Take a sheet of rice paper and submerge it in the warm water. It doesn't need to be in long – 15 seconds tops.
When it's flexible, pop it on your chopping board. On the edge nearest you, add your fillings – prawn, coriander, lettuce, carrot, pepper and beansprouts. You'll need a bit of practice to make sure you put the right amount of filling in.
Lift the nearest edge and tuck it tightly over the fillings. Fold in the sides, then roll the fillings over the rest of the rice paper.
Repeat with the rest of the rice paper. Remember you can put different fillings in each one, so you can cater to different dietary requirements and taste preferences.
Serve on a plate surrounding the dip.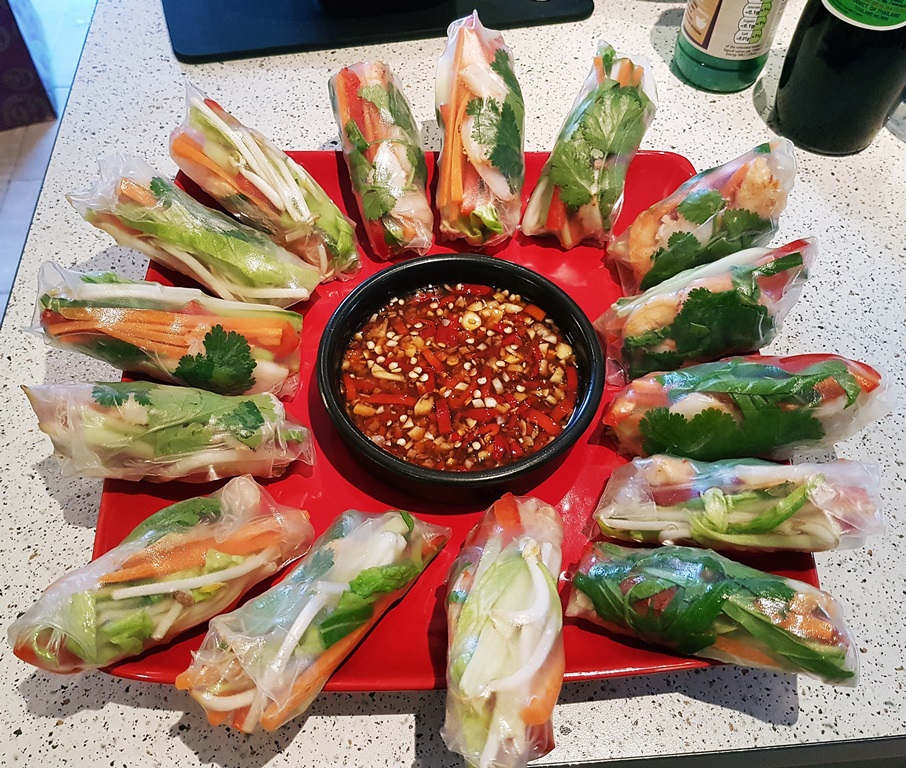 Have you made summer rolls before? How about Vietnamese food in general? I'd love to hear your tips!