I've lost count of how many people have told me to go to the Everyman Cinema since moving to Leeds. I think it's been pretty much every person who's found out I'm new to the city.
So for date night this week, we decided on a classic: dinner and a movie. On Mondays they do a free margherita pizza with your ticket, and TC wanted to go see Captain America: Civil War. BAM, sorted.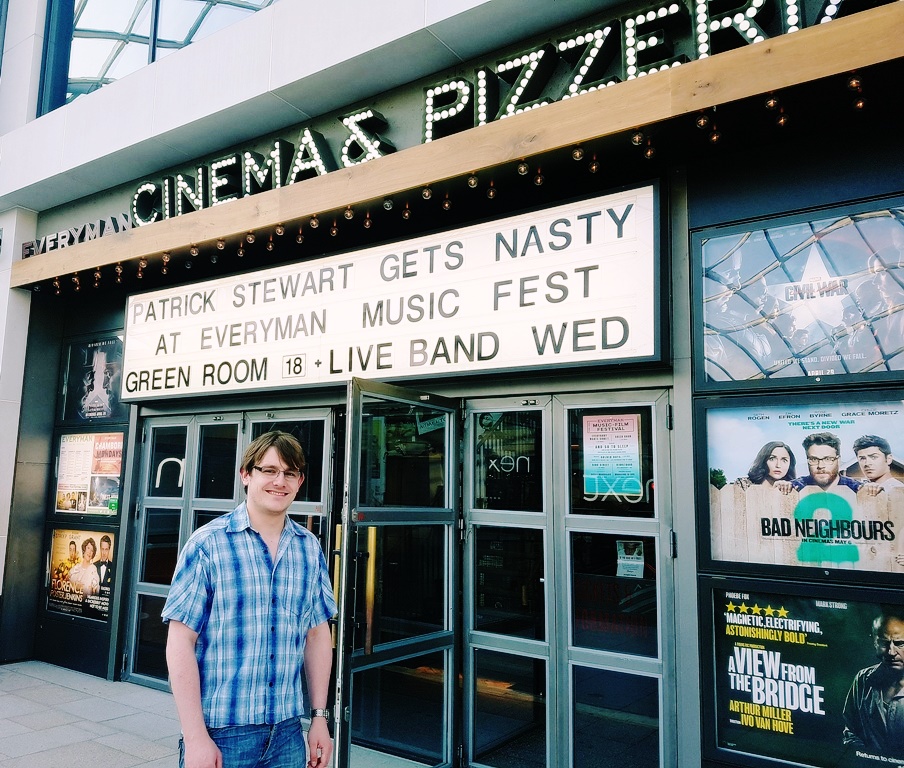 We arrived (mostly) on time, and were told to just sit wherever we liked. The Everyman is in the Trinity Centre, and is, to my surprise, not an independent cinema. In fact there's a branch just three miles from where I used to live in London… #observant.
The place is super cool. It has a very vintage, old school movie type vibe, and the restaurant is really spacious and open. The cinematic touches – classic movie posters and spotlights – really made it feel like more than a casual night at your local Odeon or Vue.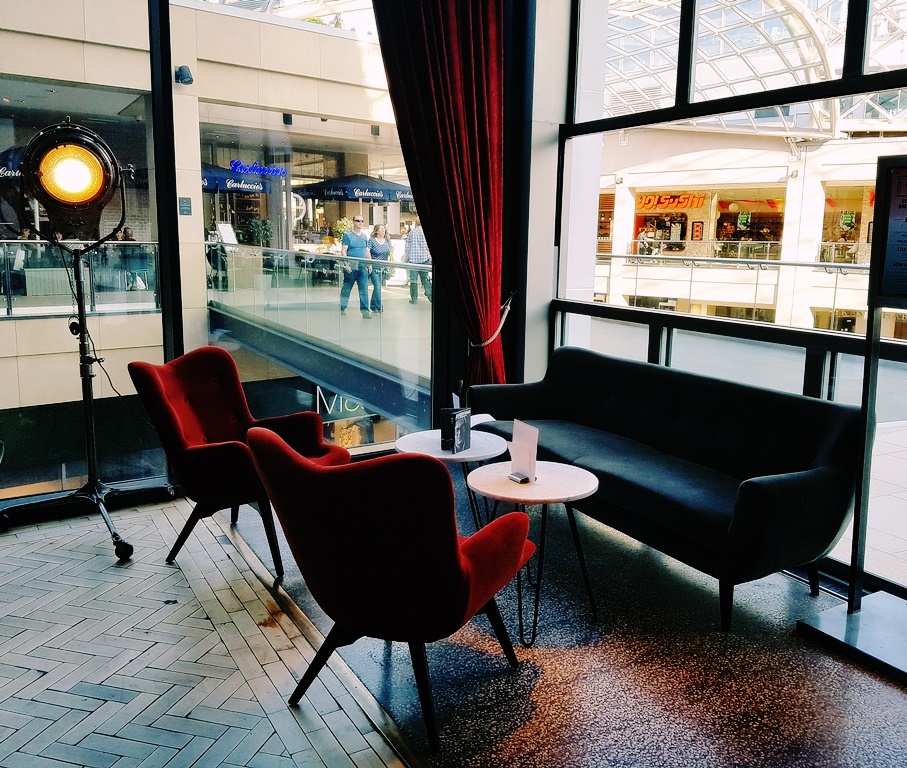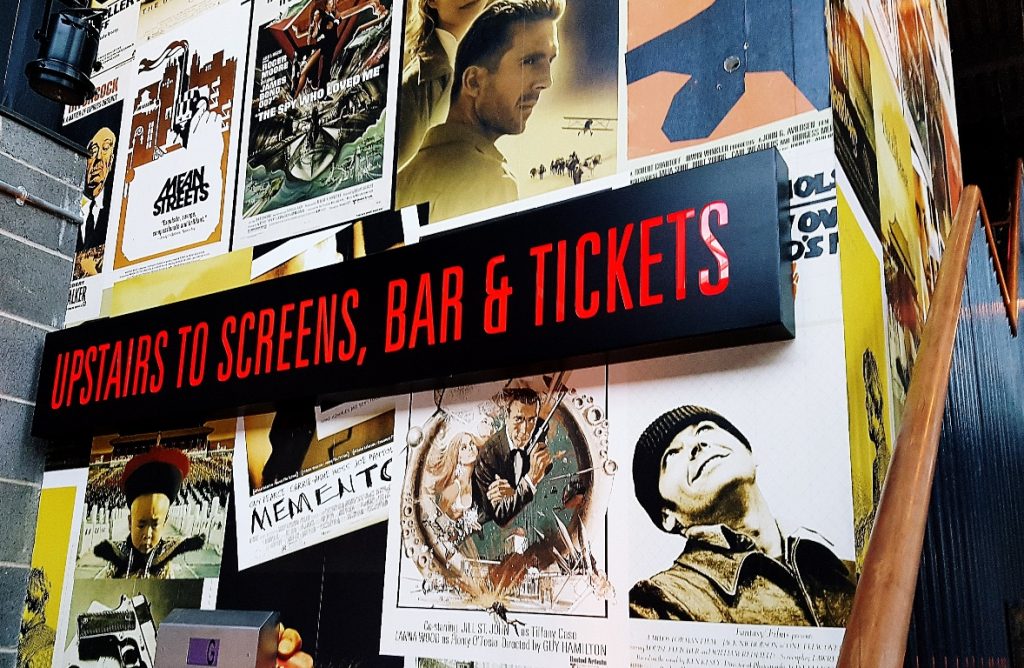 I'll admit, the idea of a sit-down dinner at a cinema seems like a weird concept, but the menu is casual too – all good wholesome American pizzas and burgers!
We gave ourselves an hour and a half for dinner so we wouldn't rush ourselves, and I'm glad we did – service was a little slow, but with classic northern friendliness.
Several of the burgers caught my eye, but the cinema-and-pizza deal meant I was stuck with pizza. I went for the "special", a salami, chilli and caper pizza (I'm on a capers kick atm), while TC chose the Cumberland sausage pizza that was also covered in herbs and (we believe) red onion chutney. For drinks, TC had a beer while I tried the Oreo milkshake (resisting the cocktail menu somehow, though I really want to go back for a passionfruit daiquiri!).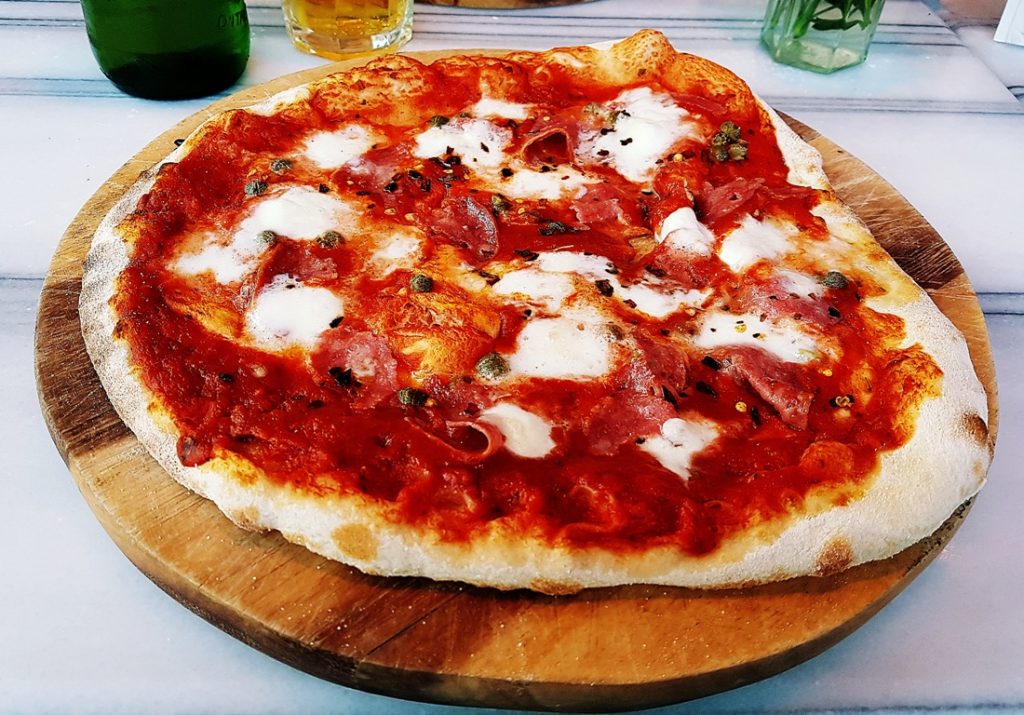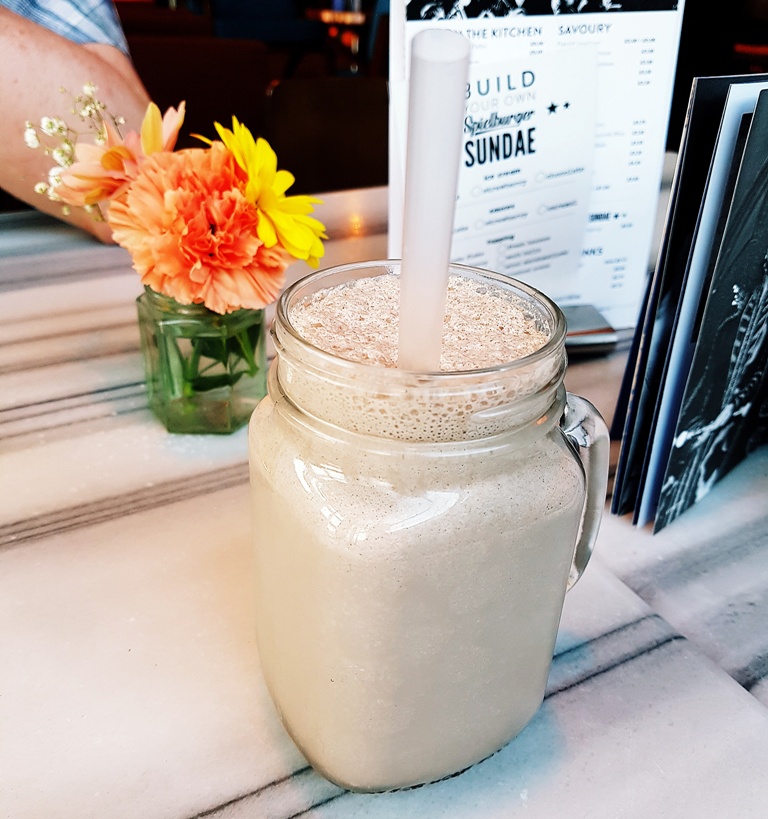 The pizzas were a good size. Mine was a little soggy in the middle, definitely more of a knife-and-fork affair than fingers, but TC's was a little more solid, and both tasted awesome – really flavourful with all the herbs on top. My milkshake was good but I was a little disappointed that it wasn't lumpier (I love getting a mouthful of Oreo filling).
After mains was when the real fun started. TC had warned me off getting any starters or sides, and now I found out why!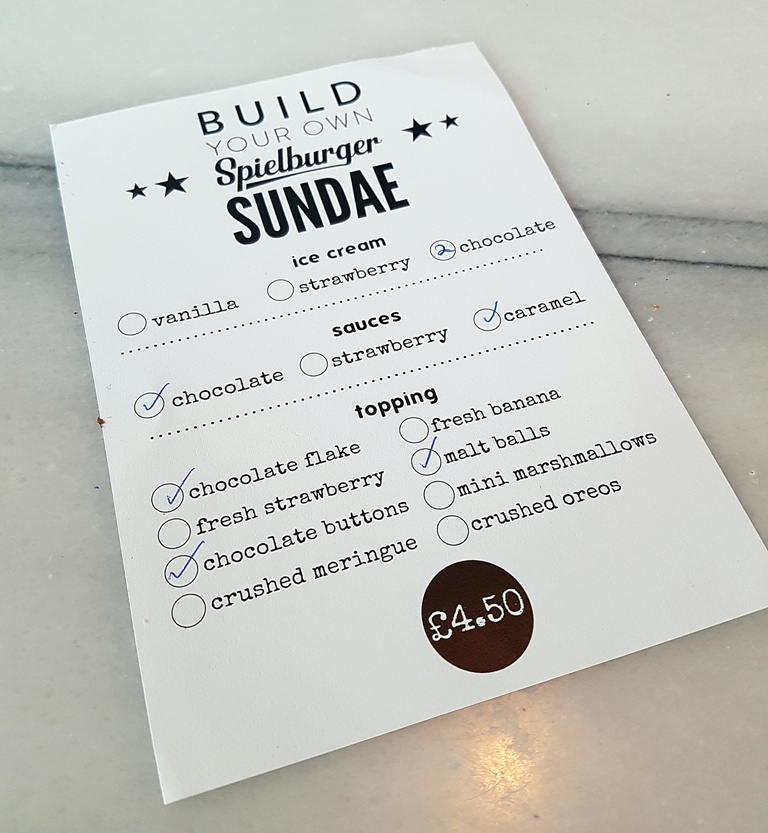 That's right! You can Build Your Own Sundae! You chose two scoops, two sauces and three toppings. I asked for chocolate overload while TC went a little healthier with fresh strawberries and bananas. The sundaes were dished up in little pots: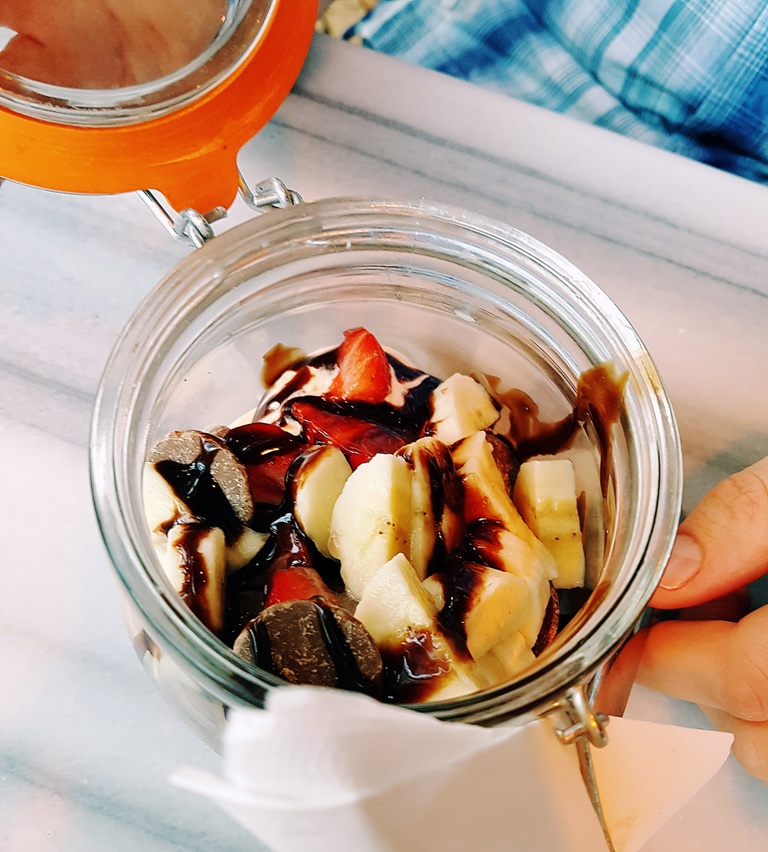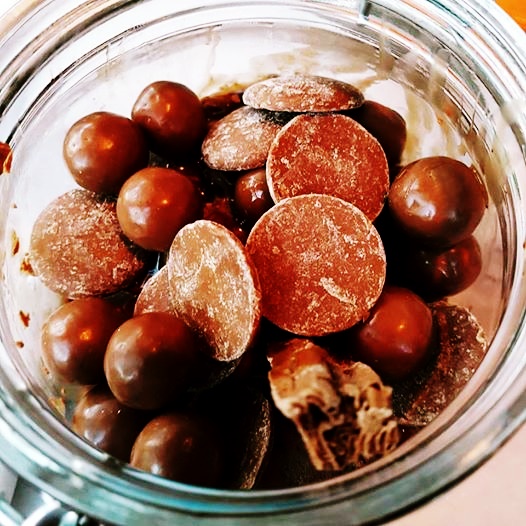 I didn't manage to finish it, sadly, and I'm filled with regret even now.
Next, we paid up and headed upstairs. The screen wasn't quite open yet so we grabbed soft drinks to take in (you can actually take any of their food and drink into the cinema with you) and wandered out onto the balcony which has a view over the rooftops of Leeds, and had a bit of fun trying to work out which building was which.
The doors opened shortly and we headed inside. This is where the Everyman really shows off. There's no cramped seats with itchy covers and awkward armrests here – the room is filled with comfy seats and sofas. Even cushions!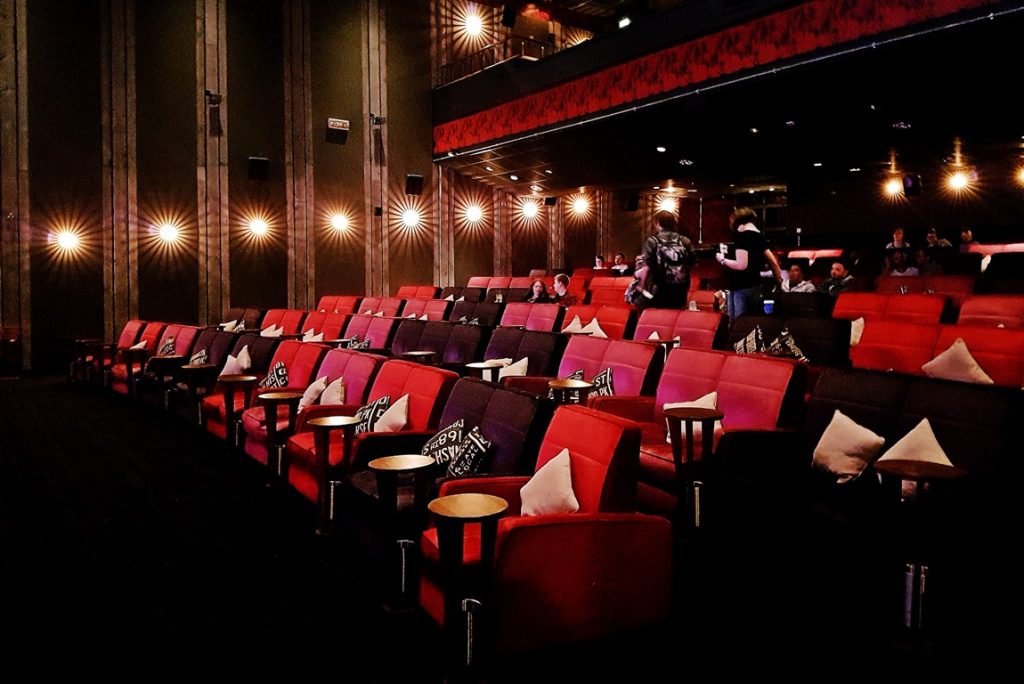 We made our way to a two-person sofa near the back and settled in for the movie. I won't say much about it, but around half-way through dinner I revealed to TC that I hadn't seen the previous Captain America or second Avengers movie, and I don't think he's forgiven me yet.
My only complaint about the cinema is that the incline is a little low – there were a few times when I'd just got comfy, but then the couple in front would sit up properly and I had to move just so I could see the full screen. No biggie, but it did mean I kept shifting position and bugging TC.
Several hours later we left, having seen both post-credits scenes. It was a really lovely date night, and I'll definitely return to the Everyman again – probably for a burger though, and a little less chocolate!
Have you been to the Everyman? Wasn't it awesome?