As you may remember, before Christmas I cooked TC an incredible six-course game-themed meal. I've already recapped our amuse bouche and starter. Course three is our palate cleanser.
I always find it really cool to include a palate cleanser in multi-course meals. They're usually light courses with a neutralising flavour. My palate cleanser of choice is always some sort of citrus sorbet.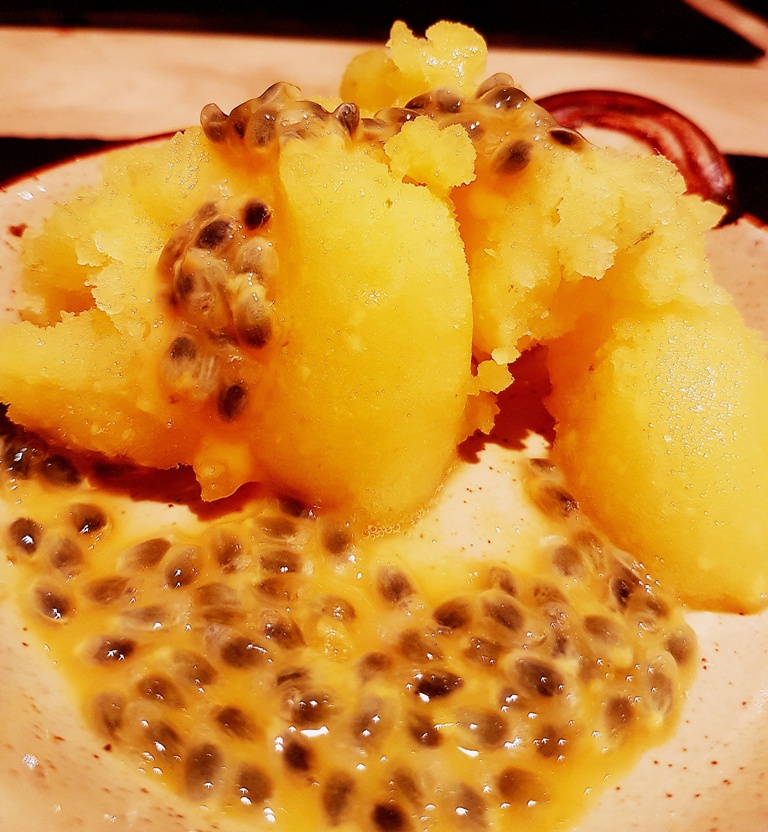 With that in mind, I based it on Tropico. I'd tried playing Tropico 4 a few months ago, but couldn't really get into it.
And I'll be honest with you, it's only really called Tropico Sorbet because it sounds tropical.
I have an ice cream maker, but *disaster* halfway through churning it cut out.
I don't have a clue why! Luckily the sorbet was pretty slushy by then, so I could just scoop it out into a tub and stick it in the freezer.
If you don't have an ice cream maker, you can use a freezer. Just pop it in a tub when it's cool and put that in the freezer. But don't forget to get it out of the freezer every couple of hours, and stir or blend it to break up the large ice chunks – other wise it will be lumpy.
If you feel like it, you can add other tropical fruits. Try subbing the limes for lemons, or throwing in some orange juice, or serving it up with some other fresh fruits.
Hell, it makes a good dessert too.
Ingredients
Caster sugar (200g)
Water (250ml)
2 large mangoes
2 limes
1 passion fruit
Recipe
Pop the water in a pan and heat it – but don't boil it!
Dissolve the sugar into the warm water.
Pour into a bowl and cool in the fridge.
Peel, stone and dice those mangoes.
Juice and zest both limes.
Put the sugar water, the mango and the lime zest and juice into a food processor. Whizz it up til it's smooth.
Pour into your ice cream maker (following the manufacturers instructions) or use the directions above if you don't have one.
Transfer into a freezer-safe tub until ready to serve.
Serve a couple of small scoops in a bowl, then top with some fresh passion fruit seeds.
Cleanse that palate!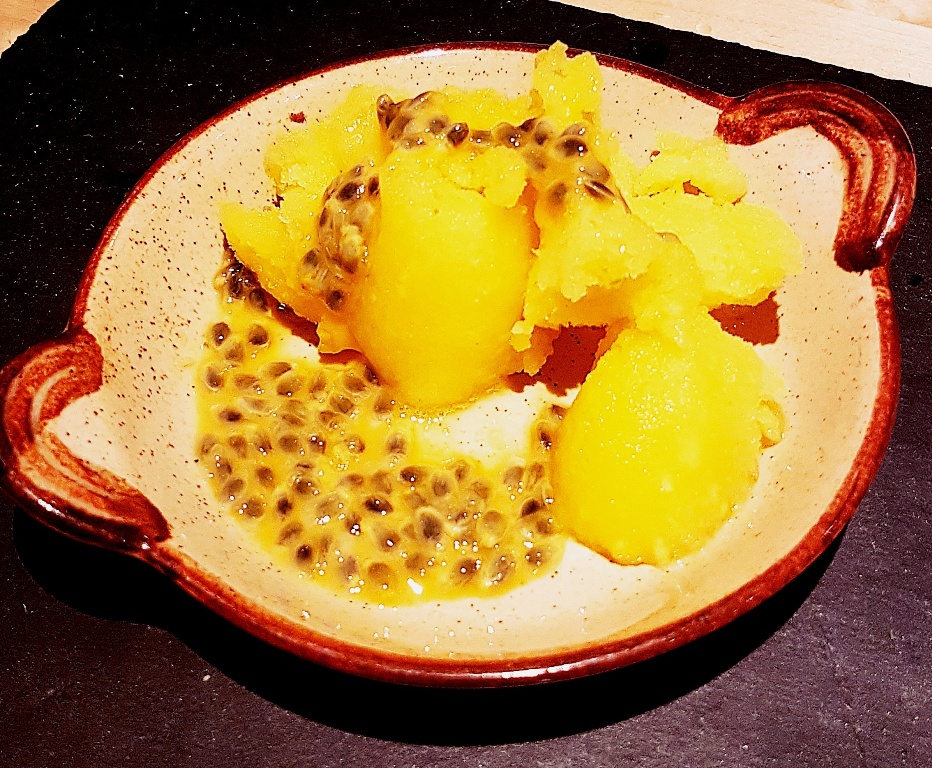 You can see the other recipes in this series here:
Would you cleanse your palate with some Tropico?