Okay, tbh this may be the best thing I've ever cooked.
The penultimate installment in the Cooking Games Series is the dessert course. And it's all the amazingness of cookies plus all the awesomeness of a melt-in-the-middle pudding. It's the Nuclear Cookie!
ICYMI, Cooking Games is a series of recipes that I cooked for TC's birthday last December. Each course is inspired by a game that he loves or that we've played together. We've already covered the amuse bouche, starter, palate cleanser and main course, and now we're on to the really fun courses.
Loosely inspired by the video game series Fallout, the Nuclear Cookie is the perfect recipe for anyone facing a post-apocalyptic situation but unwilling to compromise on taste.
Nuclear Cookie Tips
If you struggle with melt-in-the-middle cakes, this will solve all your woes. Rather than a cake mix that you have to slightly undercook, the melting middle is made of ganache, which is unlikely to harden if you overcook it. I'd still recommend going easy on the cooking time though – I love a nice gooey cookie.
My ganache split when I was making this (the second splitting disaster of the evening, after the same happened to my bernaise sauce), but luckily Google came to the rescue with the advice to add some warm milk to the mix!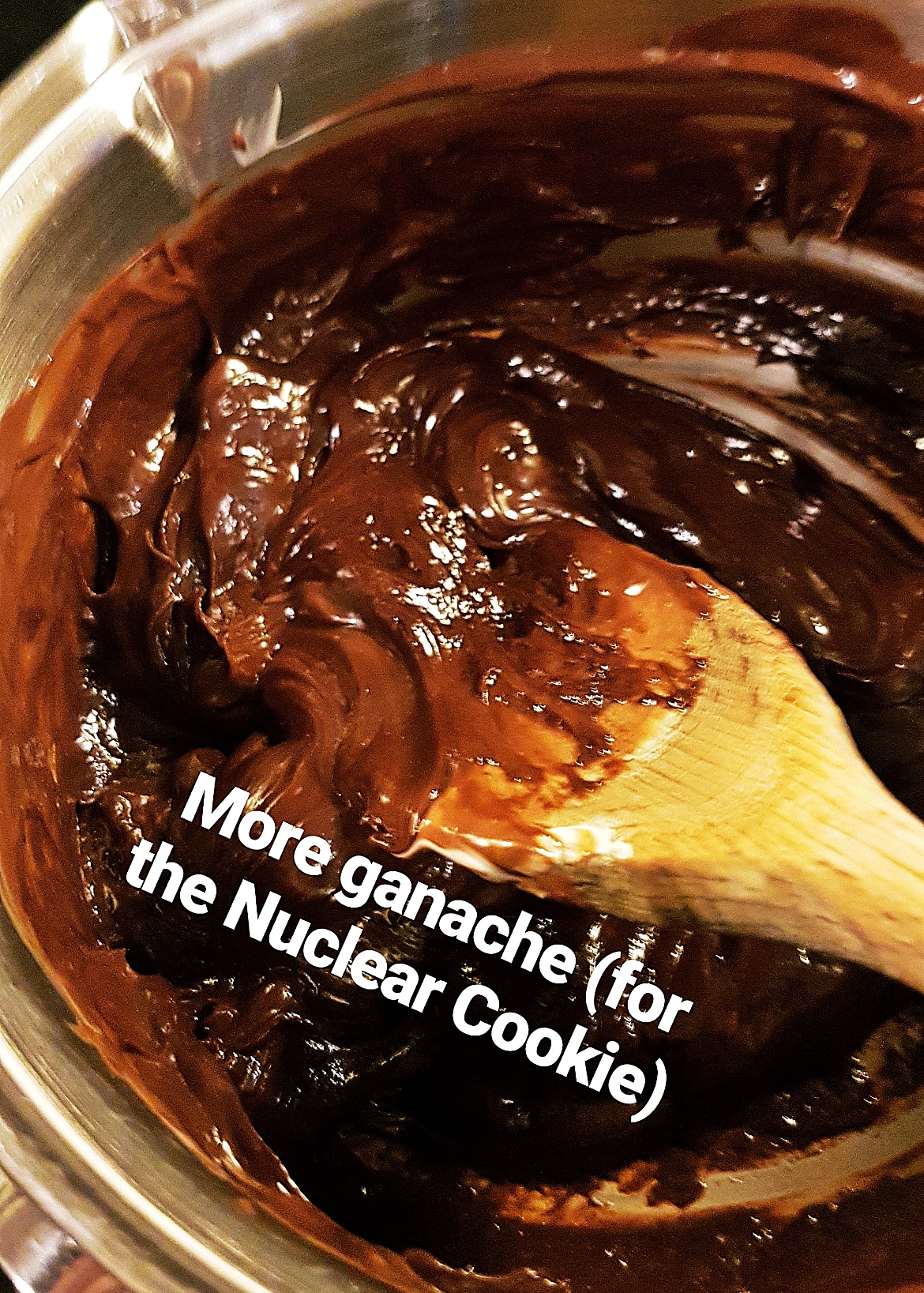 One of the best things about this recipe is that you can prep it in advance. You can make both the ganache and cookie dough up to two days ahead. This also means you don't have to cook all your cookies at once. You can cook half the batch your first night, another two servings the next night, and the final two a day later. Spreading out your dessert over a few days makes it healthier, right?
Finally, feel free to experiment with the flavourings. Try salted caramel centre and adding a bit of cocoa into the cookie mix. Try a white chocolate ganache and serving with a berry coulis. The possibilities are endless. Let me know what variations you try.
Nuclear Cookie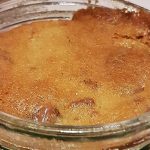 Print This
Ingredients
100g dark chocolate

50g milk chocolate

50 g white chocolate

75ml double cream

115g unsalted butter

2 tbsp granulated sugar

150g soft brown sugar

1 egg

1 tsp vanilla extract

200g plain flour

1 tsp baking soda

Pinch salt

Ice cream or whipped cream (to serve)
Instructions
1. The most fun step is first – chop up your chocolate! You want it in nice chucks, not too small, but not too big either. Think similar in size to chocolate drops, or maybe a bit bigger. Keep the dark chocolate separate, but you can mix together the milk and white.
2. You can also get your butter out of the fridge to soften now – it'll need to be room temperature for later.
3. First, you need to make the ganache filling. Pour your double cream into a saucepan and bring it to the boil.
4. Pop your dark chocolate in a heat proof bowl, and pour over the hot cream. Let it sit for 20-30 seconds, then stir until smooth and glossy.
5. Fridge the ganache for at least an hour.
6. Meanwhile, you can get on with the cookie dough. Cream your butter and sugars together, then beat in the egg and vanilla.
7. Mix together the flour, baking soda and salt, then sift into the wet mix. Stir thoroughly.
8. Add the chopped milk and white chocolate to the mix and fold it in. Chill for at least 30 minutes.
9. Now comes assembly time! Preheat the oven to 180°C.
10. Take eight ramekins. Butter the insides and sprinkle a little sugar on the inside as well.
11. Get the ganache out of the fridge and divide into eight equal portions. Roll each into a ball. You'll want to work quickly here, as the ganache will start melting the longer you work with it.
12. Divide the cookie dough mix into eight equal portions too.
13. Take one portion of the cookie dough and flatten it. Grab a ball of ganache and wrap the cookie dough around it, so it covers it completely. Pop your finished cookie ball into a ramekin.
14. Repeat with all the rest of the dough/ganache. When you're finished, put the ramekins on a baking tray and place in the oven.
15. Bake for 10-15 minutes – the dough should have flattened to fill the ramekin, and goldened nicely on top. Don't cook for too long, especially if you like your cookies gooey.
16. Serve alone, or with ice cream or whipped cream.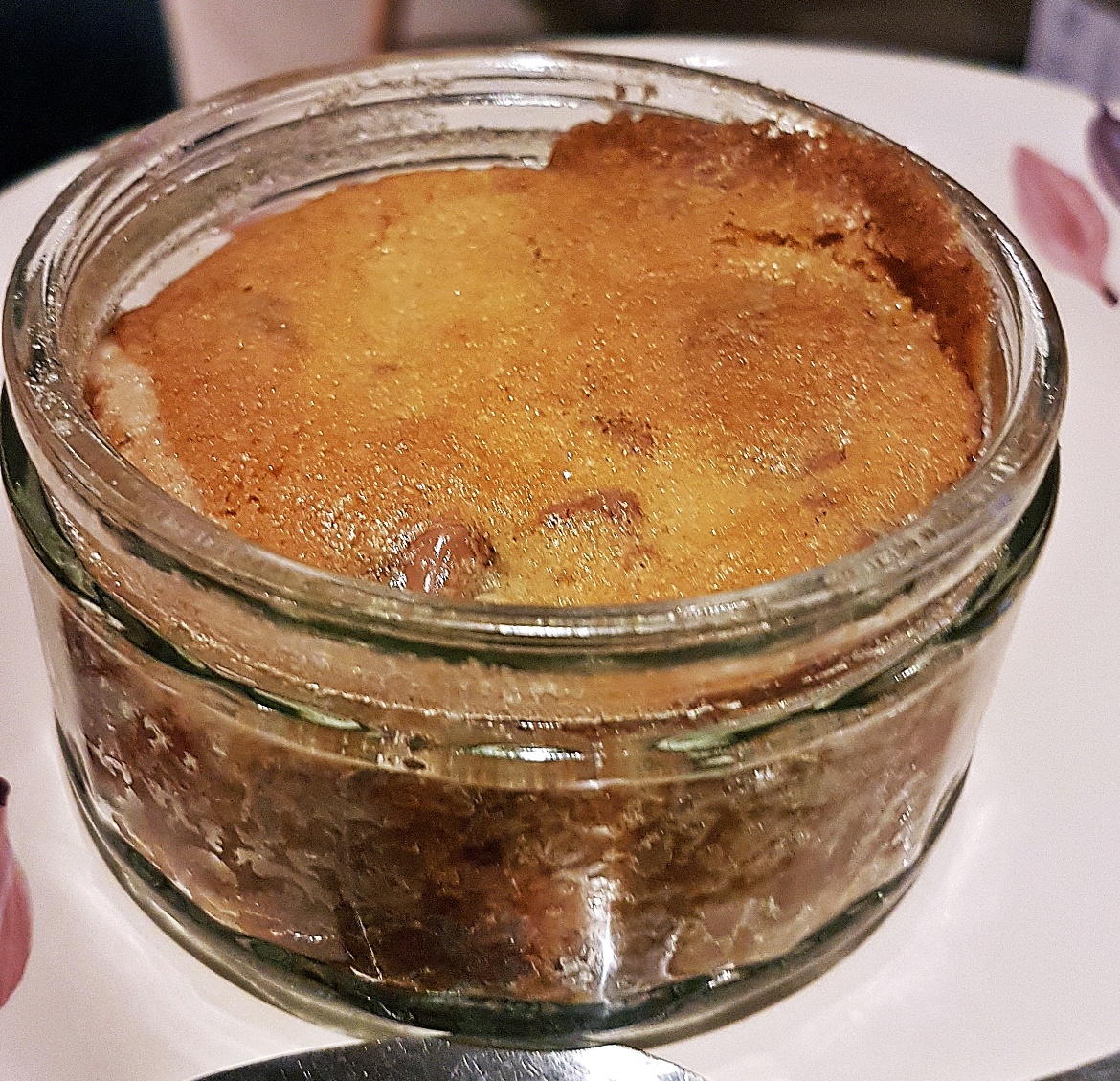 Apologies for having no decent photos of the inside of the cookies – I'm sure you can understand that we were pretty keen to gobble them up! Here's a video of TC's initial reaction though…
I'm sure you'll agree, once you try it, that the taste-to-effort ratio is ridiculously off the scale. If you're not making this every week from now on, I'm judging you 😉
You can see the other recipes in this series here:
Have you tried this recipe? Isn't it the greatest thing ever?