When the Crack Escape Team (now dubbed Loct In by Ellie, standing for Ladley Onions Callum Tim) were invited to a new type of Escape Room, natch we jumped on it.
NH Events
Who Killed Sally is the first escape experience by brand new company NH Events. Located opposite Armley Industrial Museum, a short drive out of Leeds City Centre, the venue itself is about as unassuming as it could be. It was close to Halloween, and very dark, and we knew we were about to investigate a murder. It was a bit creepy.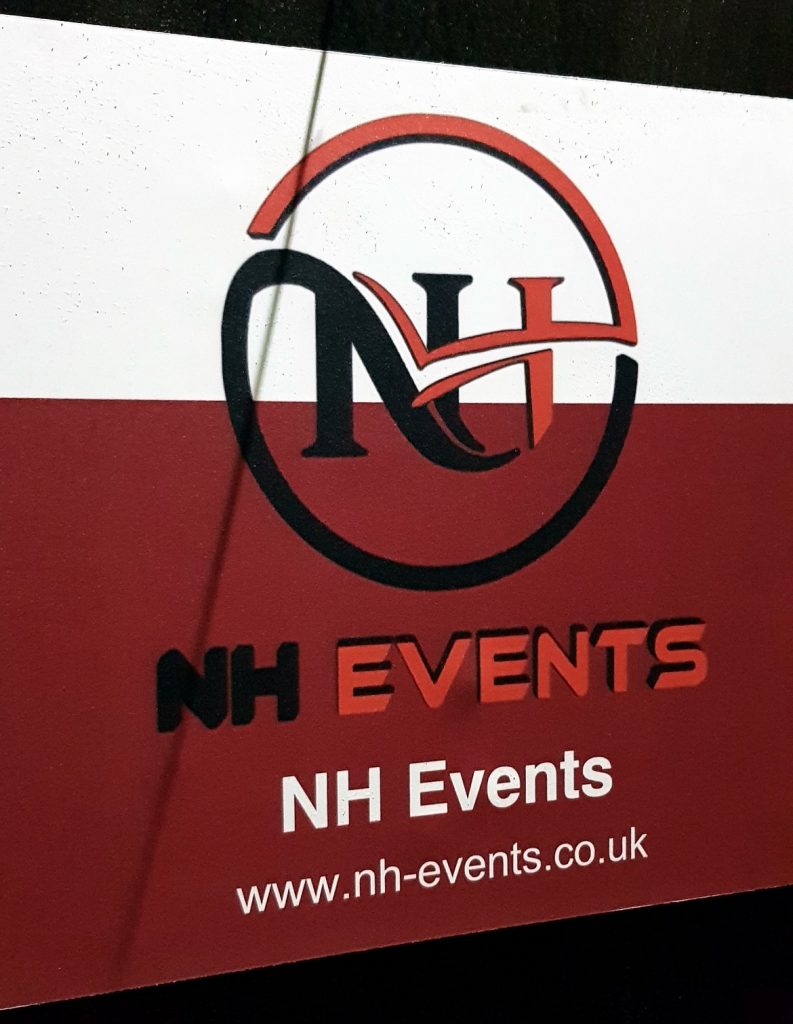 The warm welcome from Nicki, company owner and escape extraordinaire, was enough to put us at ease. Dressed in a sharp police outfit, she offered us refreshments before telling us about the mission at hand.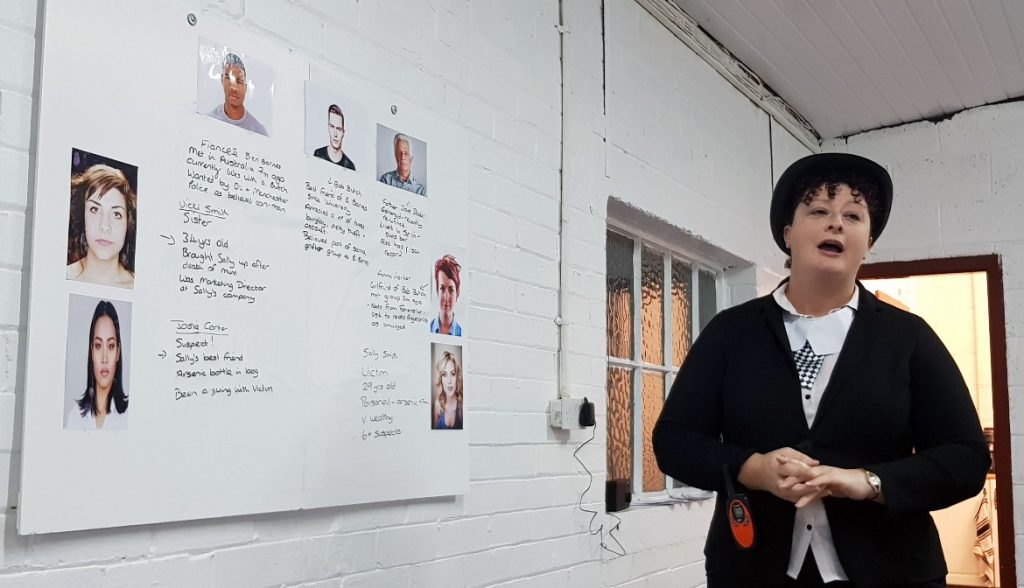 I'll be honest with you – if you're expecting the production value of Escape Hunt, you'll be disappointed. This grassroots game is held in a sparsely decorated room, where clearly the emphasis was on finding somewhere with rent cheap enough to get this start-up off the ground. You do have to use your imagination a little more to bring the room to life. But if you think that's a reason to discount this room, you're mistaken.
Murder Mystery
On to the game itself. Detective Constable Nicki explained the situation. Newly engaged Sally Smith and Ben Barnes were celebrating with close friends and family when Sally was discovered dead. The weapon – arsenic. The suspects? Everyone who was there:
Ben Barnes, her fiance
Vicki Smith, her sister and ex-business partner
Josie Carter, her best friend
Bob Butch, Ben's best friend
Anna Parker, Ben's girlfriend and new to the group,
Dave Duke, Sally's estranged father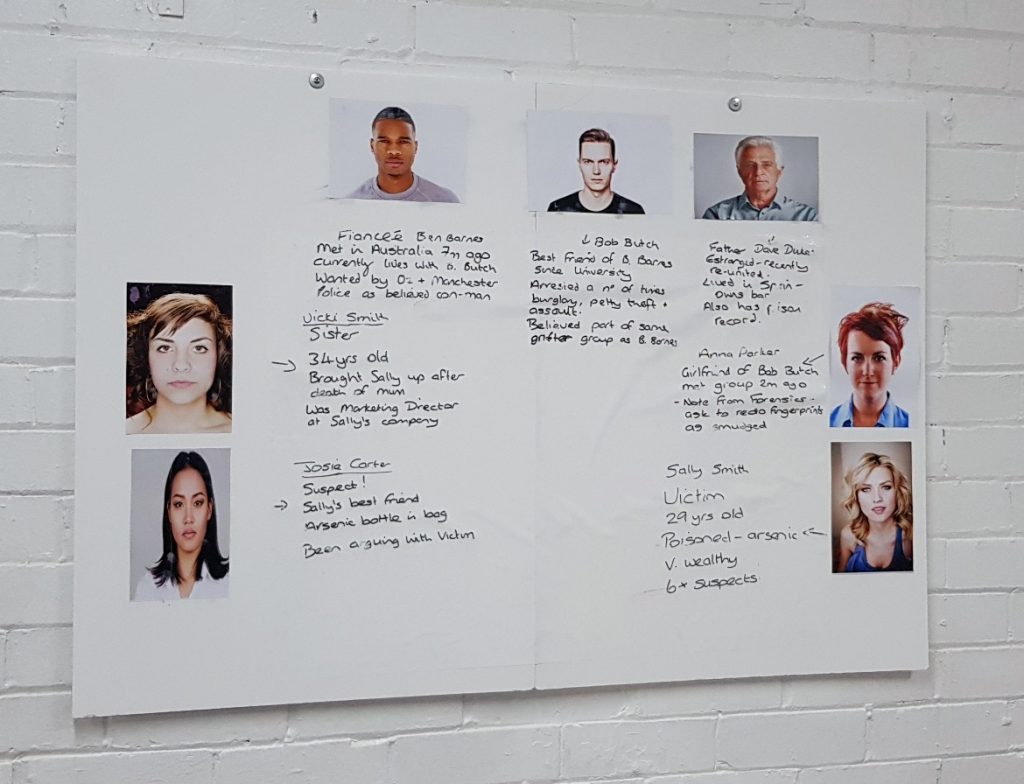 DC Nicki was getting pressure from her boss that the case was going to be taken over by a different department, so in a desperate bid to solve the case before that happened she'd brought in us. She'd managed to arrange for us to have one hour in the crime scene, which we could use to gather as much information as possible. Then we'd return to base to crack the case.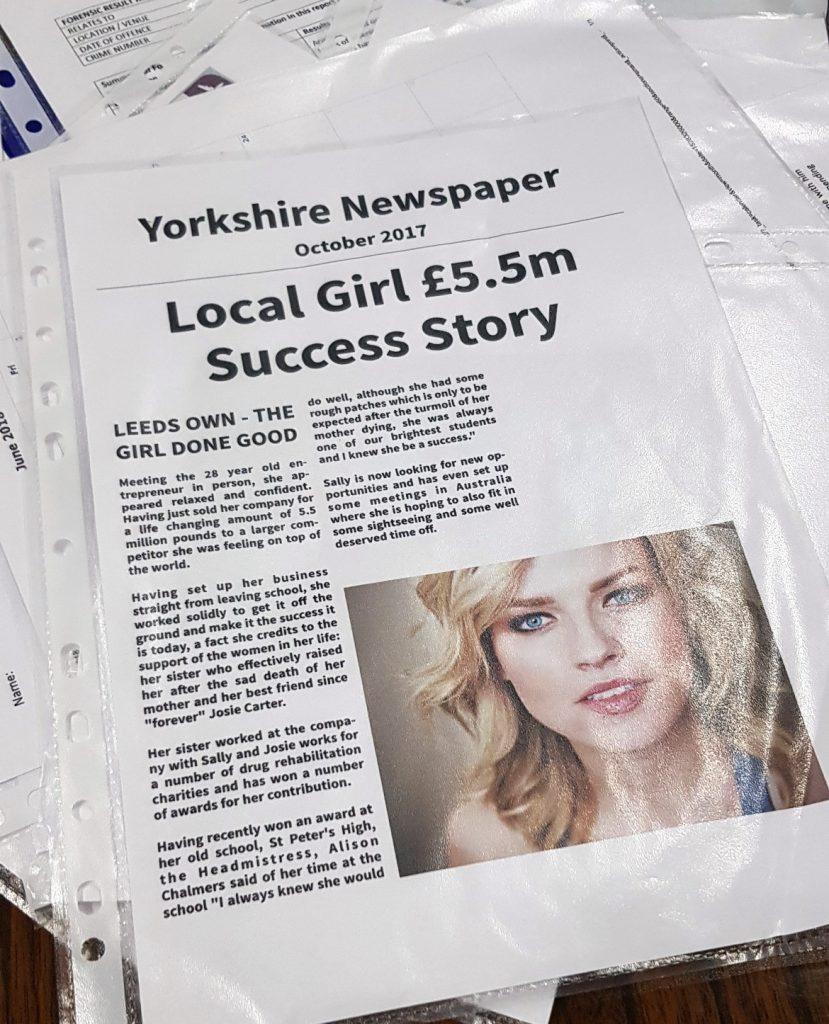 As we were the last people to experience the room, I've got the fantastic opportunity to be a little more open than I've been able to be about other games.
The Room
The puzzles within the room were bountiful. As soon as we burst in, we were coming across items and mysteries and clues and information. Although there was no way a true millionaire would have outfitted the place like that, it was easy to get caught up in the game.
The room was mostly traditional locks, number locks and word locks, with the odd safe or electronic device thrown in.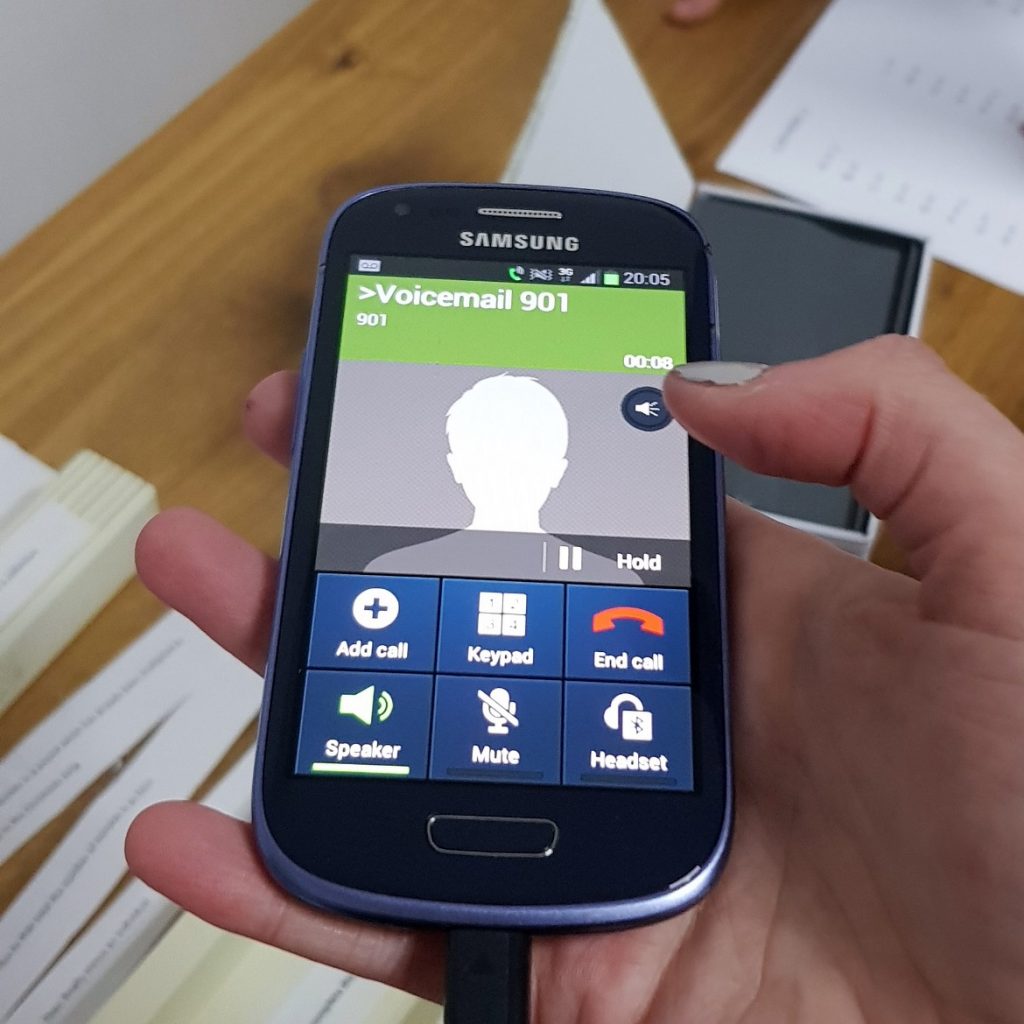 If I had one critique of the room itself, it's that there were too many wins. The puzzles themselves were fairly straightforward, although there were an awful lot of them, and frequently we would find ourselves going back to clues that another member of the team had solved earlier without anyone noticing. There were a lot of similar inputs – perhaps we've turned into Escape Room snobs, preferring the variety of inputs of games like Escape Hunt?
On the other hand, some puzzles were incredibly satisfying to solve – particularly the ones that were more frustrating to puzzle through.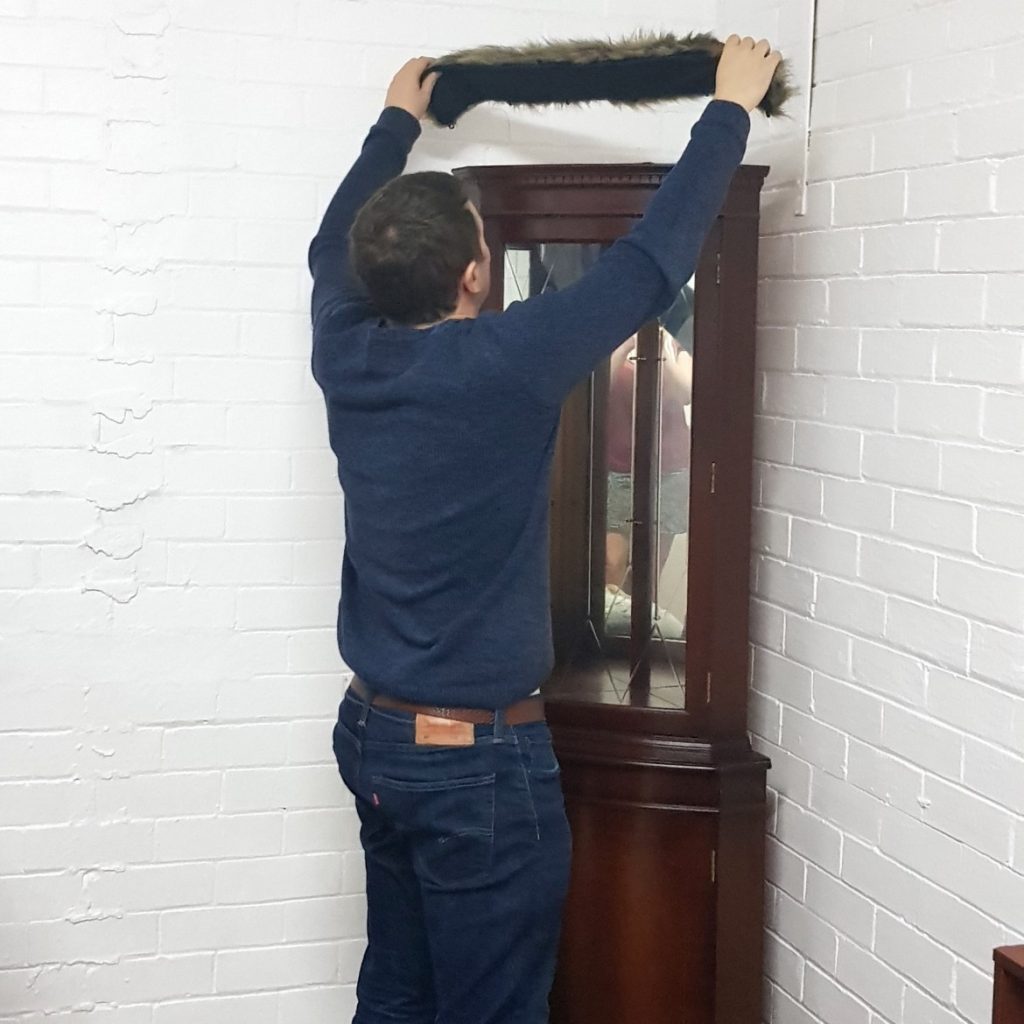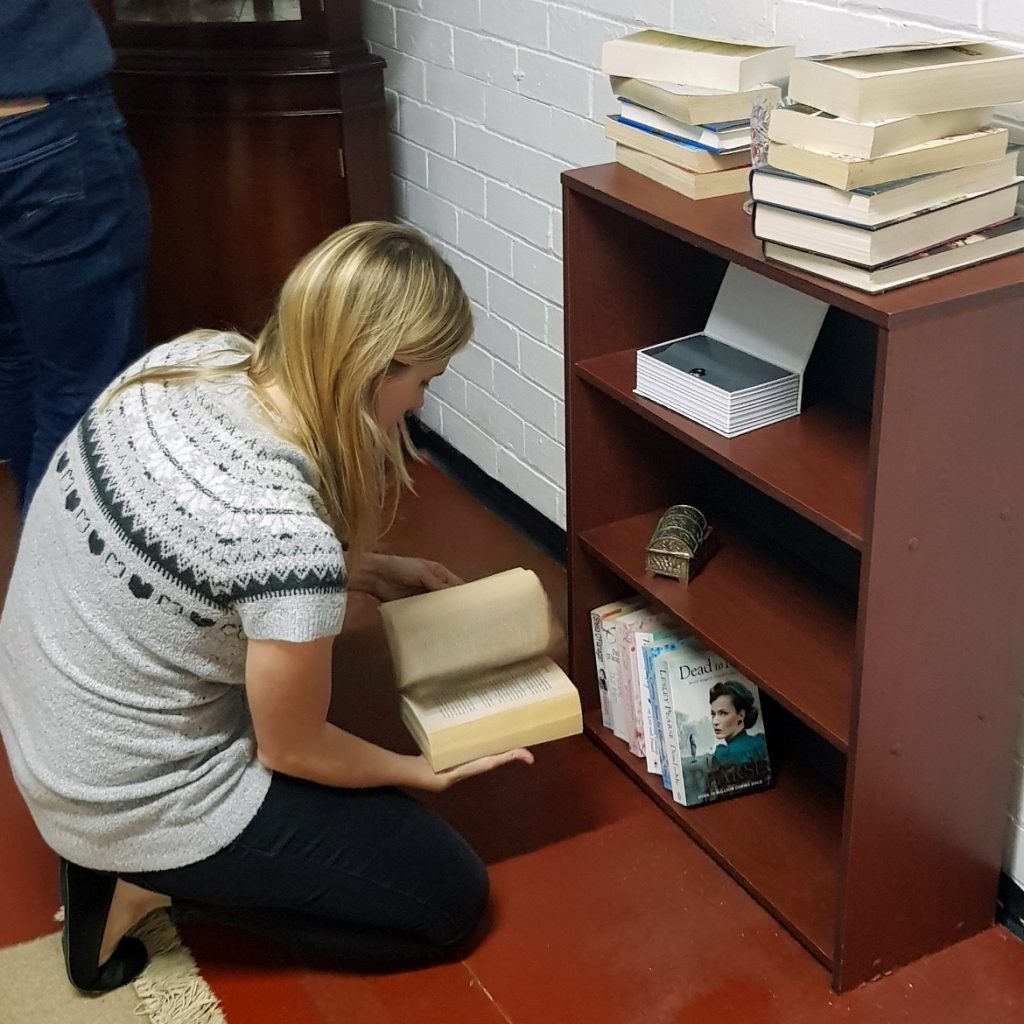 The best part of the experience was discovering "clues" – clues to the murder, that is. It gave the experience more depth, and definitely slowed us down when solving it.
It was ambiguous whether or not we should be reading the clues as we came across them, or just saving them until after. We tended towards reading them – and while I came out of the room with no idea how they all fitted together, other people in the team had much more concrete suspicions by the time we opened the locked door, with over 20 minutes left on the clock!
Satisfyingly, there was an actual key that genuinely unlocked the actual door, which is pretty rare for an escape room these days!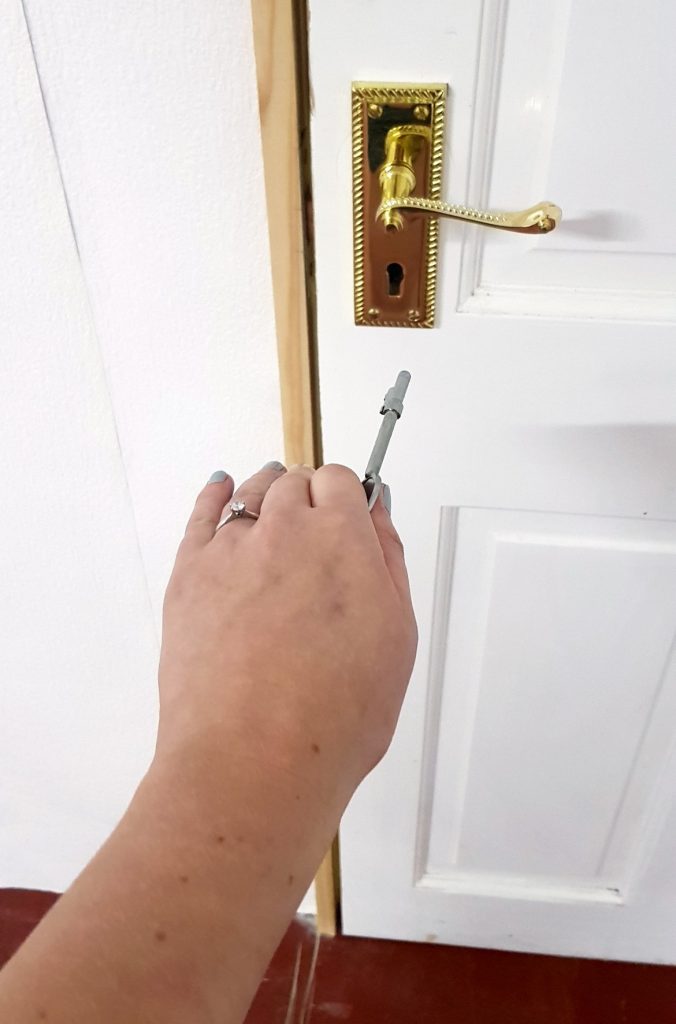 The Mystery
If the escape room part of the game wasn't a showstopper, the murder mystery certainly more than made up for it.
After leaving the room, we were presented with an array of files – mostly the items we found within the room, and also the police profiles on each suspect, plus interviews with each of them and some other witnesses. We had an hour to pore over the information and come to a conclusion about who had killed Sally.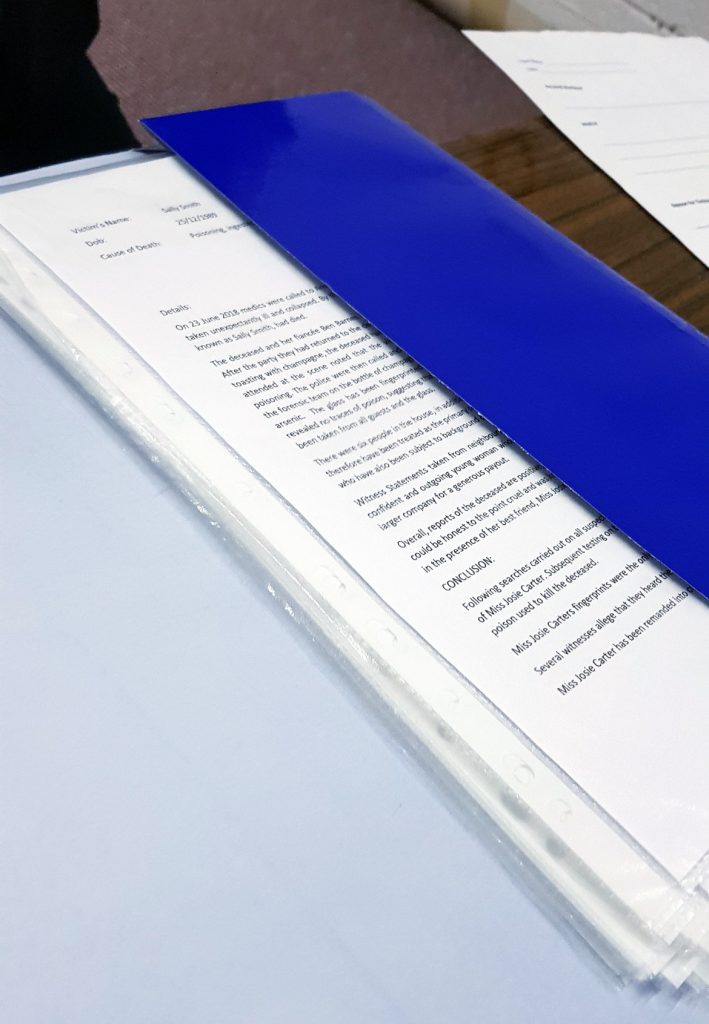 We decided early on to divide the tasks between us. I myself looked into the statements with the suspects, while Ellie looked at the police profiles, Callum at the physical evidence found in the room, and Tim at the forensic evidence.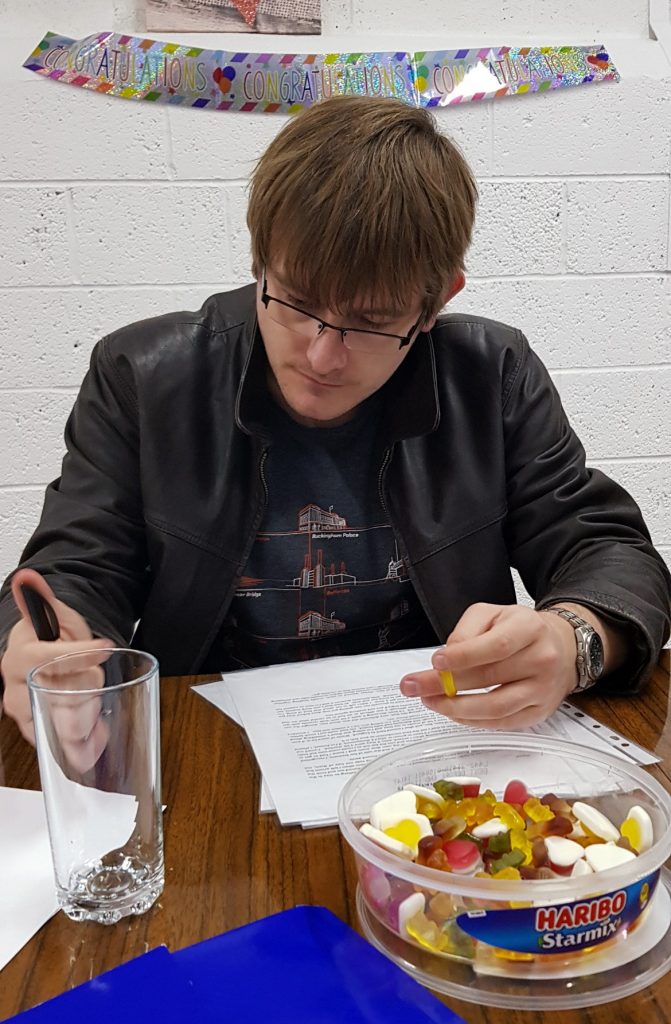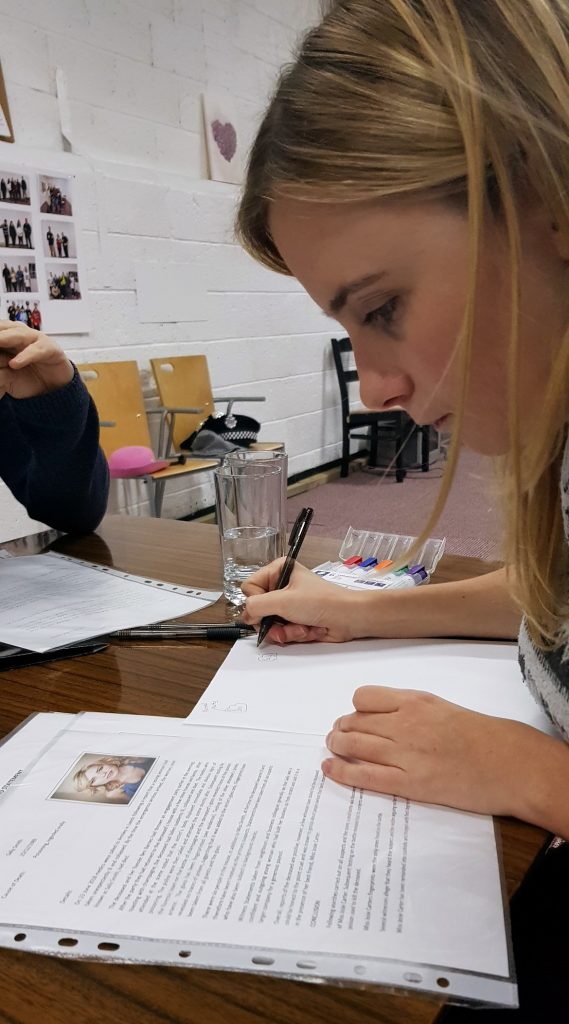 We nominated Ellie to write a timeline of the major events on our murder board (YES, there was a murder board). Like in any good mystery, there were a ton of different threads, and unpicking them took a while. Lots of people had an incentive to kill her: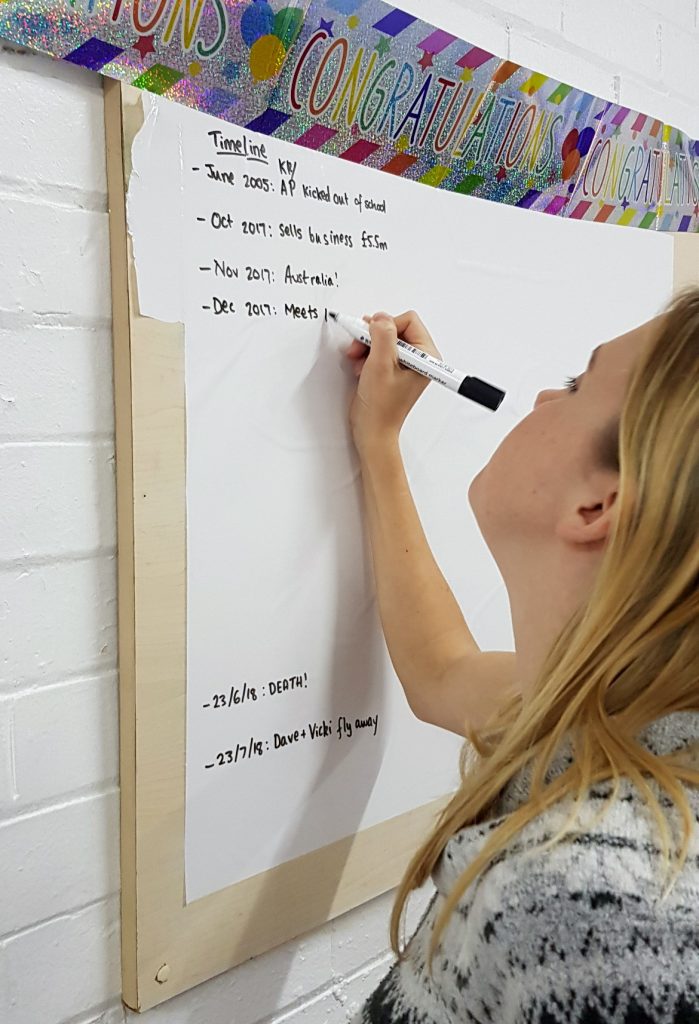 her friend and business partner, for cutting her out of the will
her sister, for shutting her father out
her estranged father, same reason
her boyfriend, now he was in the will
his friend and partner in crime
the friend's girlfriend… who seemed somewhat out of the loop
Then, a breakthrough. We took another look at one particular item of evidence, Sally's high school diary, where she mentioned framing a girl from their school and getting her expelled. A photograph revealed the girl's full name… Kara Ranpen.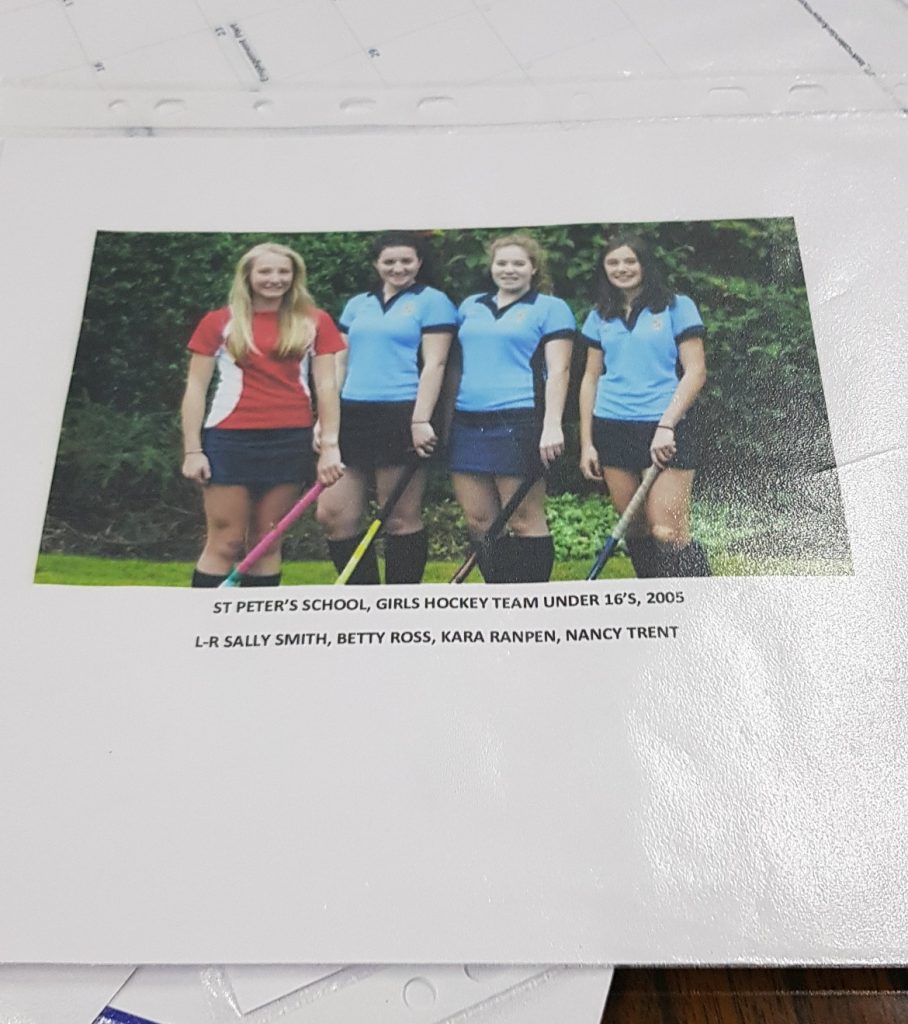 Can you see it? Tim spotted it in an instant. Kara Ranpen… is Anna Parker!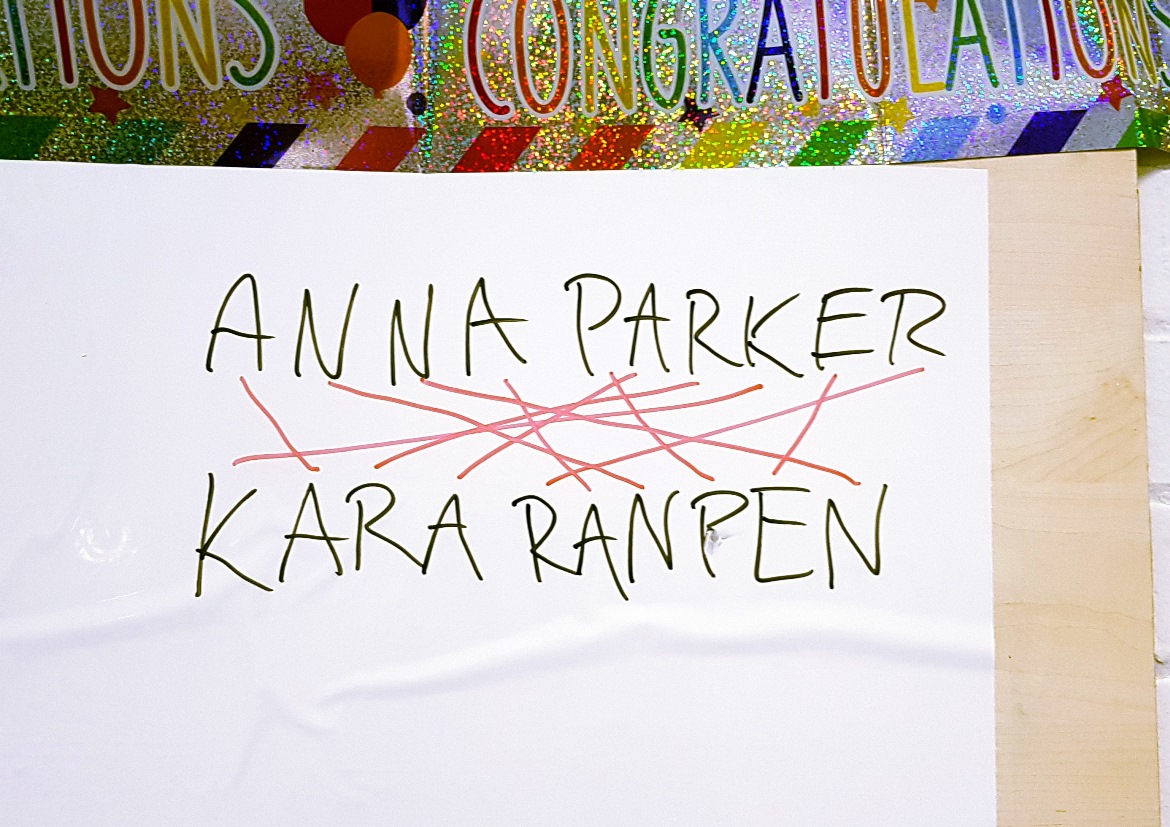 Deeper into the Mystery
But our task wasn't over yet. Sally's high school enemy showing up didn't mean she'd killed her.
Some plane tickets to Barbados surfaced in Vicki and Dave's names.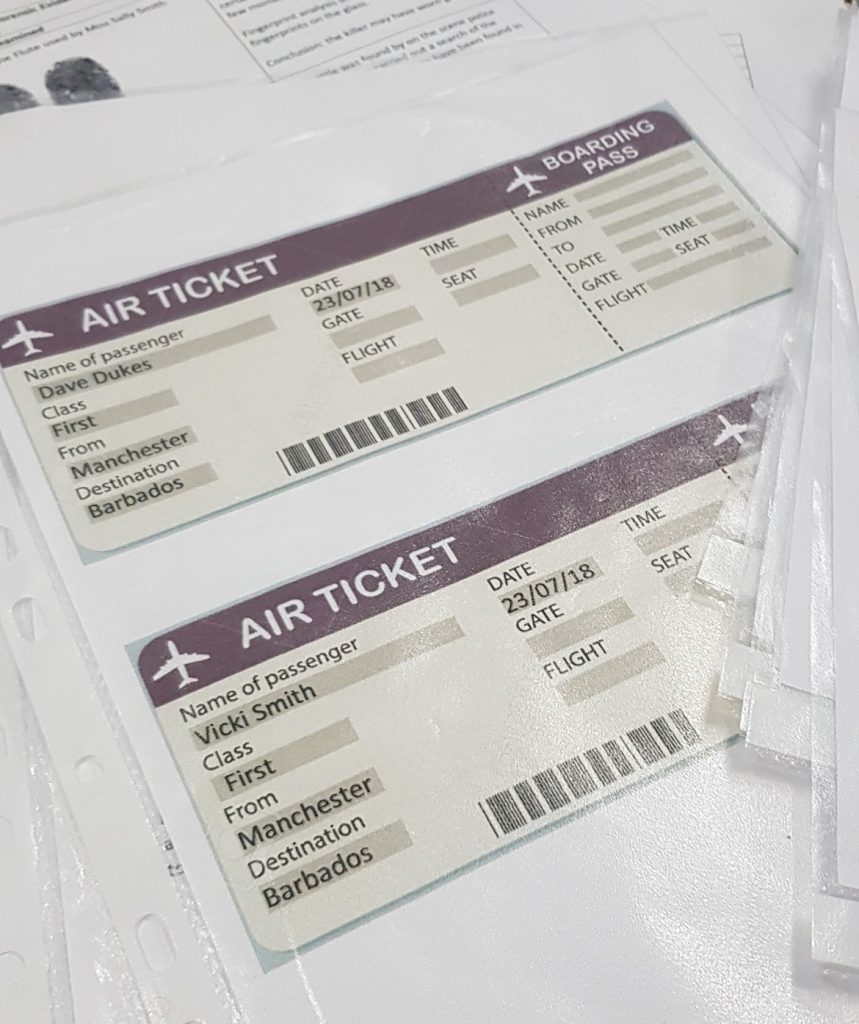 The evidence pointing to them was that Vicki and Dave had been reconnecting despite his absence during their youth, but that Sally had been struggling to forgive her father. Was Vicki selfishly trying to keep her father to herself, or punishing Sally for not being more forgiving? Were they fleeing the country to escape justice?
But the dates didn't line up. The flights were scheduled a full month after Sally's death.
Now, when a millionaire dies, surely money has to be a pretty compelling motive.
We found two wills. The older had Josie as the major beneficiary, and a smaller payout to Vicki. The second will added Dave into the equation, but relegated Josie to a smaller payout – Ben was taking over as the main beneficiary. But it appeared the second will hadn't been signed yet… and the note said it was "given what we now know".
So did Josie know it hadn't been signed and kill Sally to get the money before she handed it over to Ben? Or did Ben kill her, believing it had been signed? Further evidence came to light suggesting that Ben and Bob were international con men, and we briefly speculated that Dave had hired them. But there also seemed to be a lot of evidence suggesting that Bob and Ben had come to blows over Ben backing out of the plan – it seemed he'd really fallen for Sally.
So Josie? Going from the key figure in Sally's will to a footnote must have hurt. Again, we genuinely didn't see any proof that Sally and Josie's friendship was anything less than completely genuine, and the money Josie would still have received was generous.
Cracking the Case
These different angles of approach kept us occupied over the course of the hour, and we also looked into practicalities such as who had handled the champagne bottle and who could obtain arsenic, as well as finishing up our comprehensive timeline of events.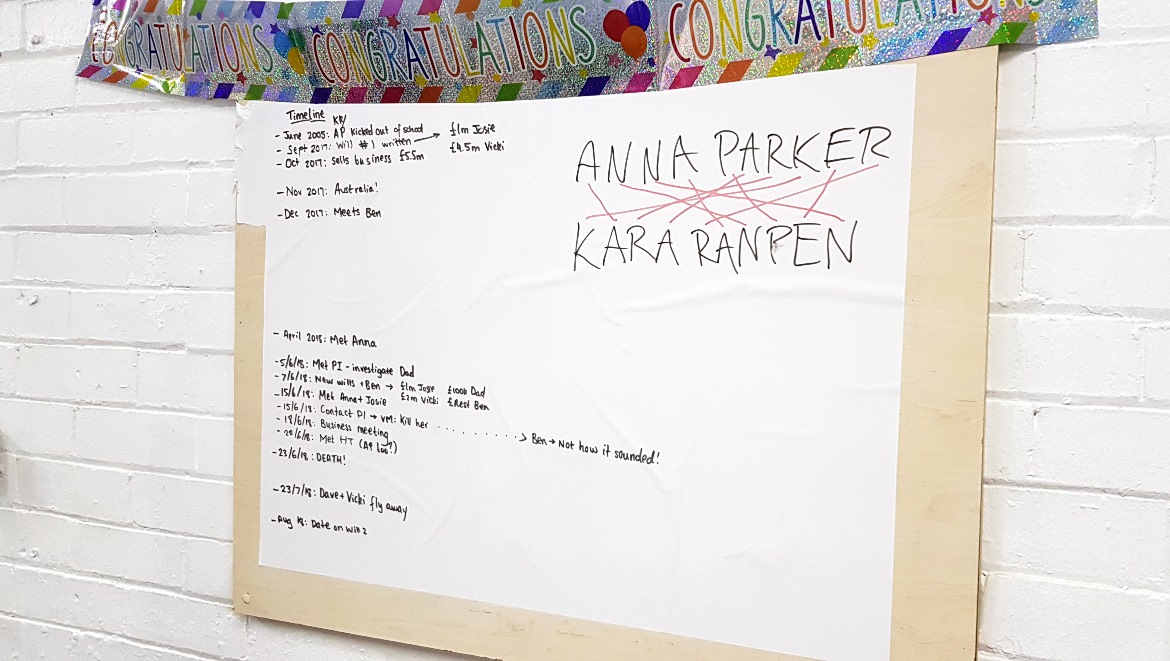 But in the end, two pieces of evidence were key. Anna's statement against Josie (who was also involved in her school expulsion) was the catty sort of genuinely shocked that rang incredibly false. "Oh, it could never have been Josie, they were so close, though I suppose she would have access to arsenic since she works with drug users". Fake AF.
And a confusing journal entry. It said "Met Mrs Chalmers, I knew it was them, and now I've got them I'm going to expose them". Mrs Chalmers, by the way, was the high school headteacher. We believed this to be an extract from Anna's diary, having realised it was Sally and Josie who had framed her.
With moments left on the clock, we wrote down our conclusions: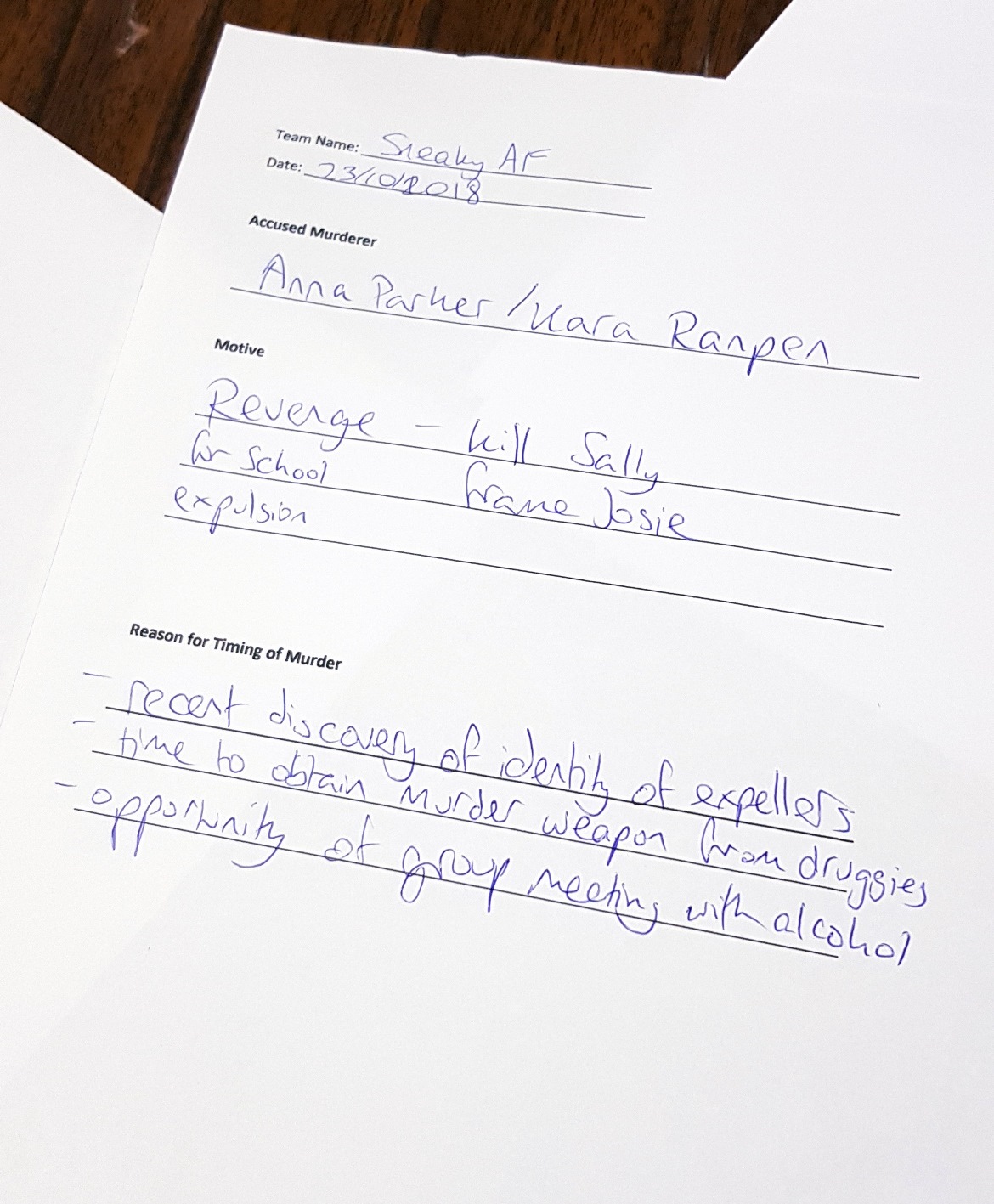 Accused: Anna Parker / Kara Ranpen
Motive: Revenge for school expulsion – kill Sally, frame Josie
Reason for timing: recent discovery of identity of expellers, time to obtain murder weapon from druggies, opportunity of group meeting with alcohol.
Debrief
We were right! Nearly completely! We had correctly identified Anna as the murderer, but misidentified the journal entry. In fact, Sally had recently discovered Anna's true identity and had confronted her, so Anna killed her before she could tell anyone else.
Personally I think the fun would carry on, with Ben's court case against Josie for Sally's fortune, the drama when Bob finds out his girlfriend's real identity, and how this will affect the still tenuous relationship between Dave and Vicki.
Conclusion
Adding the murder mystery element into a conventional escape room was a genius idea. Both aspects appeal to those who are logically minded and keen to solve puzzles, but in slightly different ways, so different people excel at different parts (just like different people excel at different puzzles within a room).
While the room is low-tech and the puzzles relatively simple, the murder mystery is stand out. NH Events is a great new entry to the Leeds escape room scene. They have already got a number of future rooms planned – their current Christmas themed "Who Kidnapped Rudolph", and a 2019 one based on an alchemist. I'm very keen to return with the rest of my escape gang to solve some more crimes!
Escape Room: Theme: 2/5 | Puzzles: 2/5 | Difficulty: 2/5
Murder Mystery: Theme: 3.5/5 | Puzzles: 4.5/5 | Difficulty: 4.5/5
Clue system: in-room clue-giver
Success: yes, over 20 minutes remaining
I was invited to try out the murder-mystery-meets-escape-room free of charge, but all opinions of crime-solving are my own. Here's my full disclaimer.