As of Wednesday, I have been playing megagames for three years.
I'm incredulous about this. Megagaming is such a huge part of my life. It's crazy that three years and a week ago, I'd never been to one!
I wanted to take a moment to look back on the best moments I've had megagaming over the past three years.
But First, Some Stats
Total megagames: 26 (and there's a photo of me at each one in the header photo!)
Total times as control: 5
Total games designed: 1
Total times as Press: 8 (+1 skald)
Games on the calendar for the rest of this year: 11
Furthest distance travelled for a game: 240 miles (Leeds to Southampton)
Number of cities megagamed in: 7
Years spanned: Greek Heroic Age to 2020 AD
Number of costumes worn: 14
Number of newspapers published: 62
Number of countries ruled: 4
Number of deaths caused: at least a village…
My First Megagame Moment
TC (who is now my boyfriend, back then just a friend) had been trying to get me to come along to a Megagame for a few months. How? The next upcoming game was Renaissance & Reformation, and I'd been binging on Tudors for a while. I even got a female role, as Mother to the King of France.
My job was to marry off my grandkids. I even described it at the time as "The Sims meets the Tudors".
But the real "aha!" moment, the one that got me hooked on megagaming? Every turn, Character Control would announce any deaths that had occurred. And on around turn 4, they announced Claude of Brittany, a.k.a. the Queen of France, had died. I was overjoyed! I could now marry off my son!
My Internet Fame Moment
My second ever Megagame is the one that EVERYONE has heard of. Watch The Skies rocketed megagaming to internet fame thanks to a certain group of gamers called Shut Up & Sit Down.
In it, I took the role of Press – a role that would lead to my nickname Queen O'Press.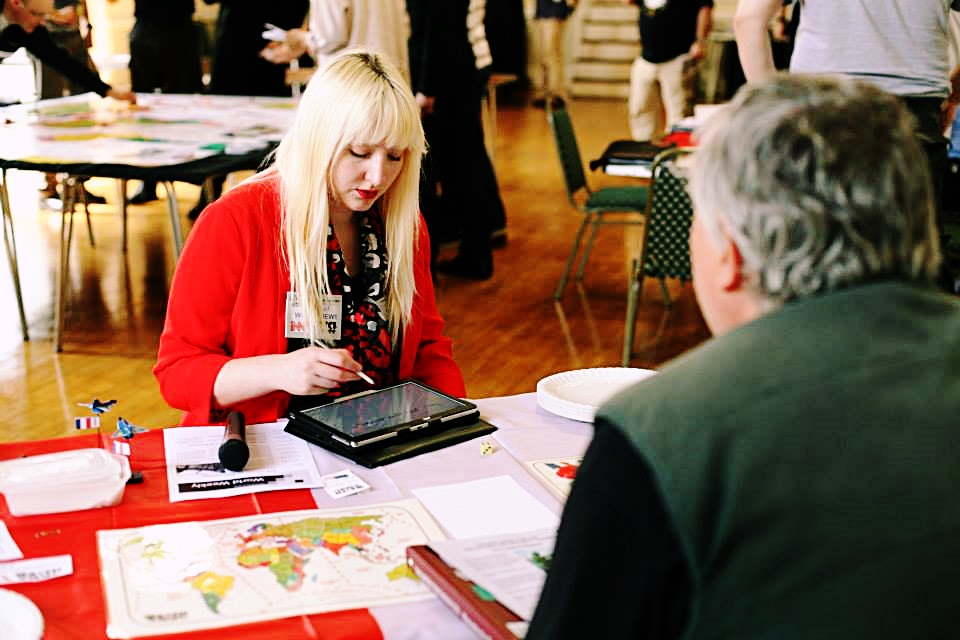 It would also see me in Press roles for every single subsequent WTS, and many other games besides.
But yes, then SUSD went away and made this:
And suddenly people all over my friendship group started messaging me. Apparently SUSD are kind of a big deal!
My only regret is that my few moments on camera were pretty unmemorable – I was far too busy producing my 11 issues of the paper over the course of the day…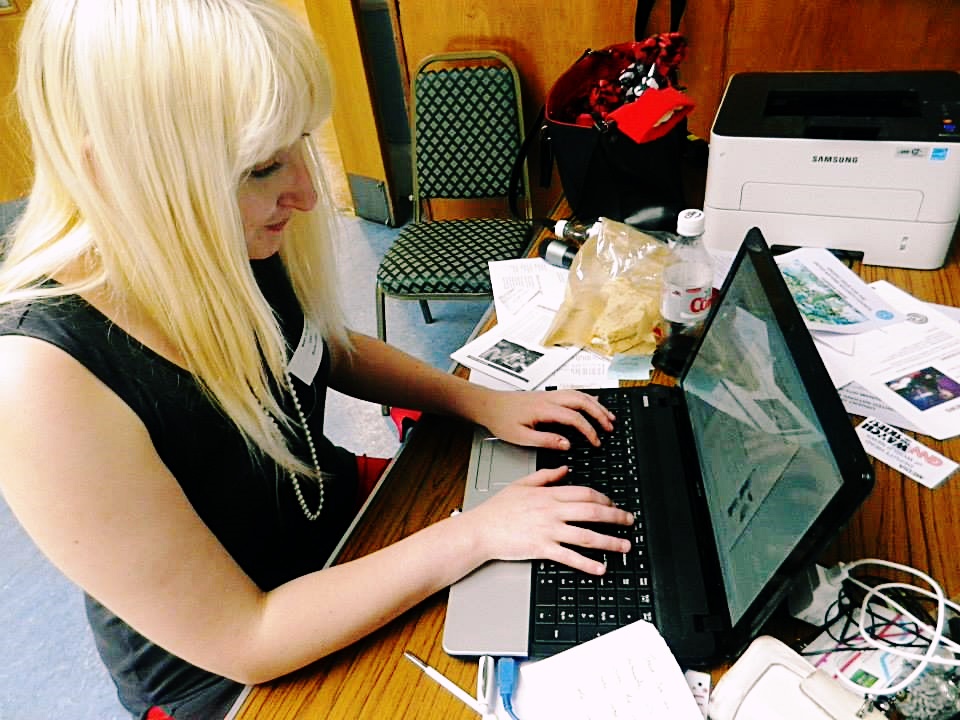 Moment I Have Most Wanted To Kill Another Player
*shakes fist* THE PARRY BROTHERS.
During A New Age Dawns, I was Queen of Spain. We had two new Megagamers on our team – the Parry Brothers. One sold us out to the English because TC (as King) tried to have him killed. Seems legit? Well, that got us angry enough.
But then his brother ran off to the English too. Why? Because they'd capture Puerto Rico, which is where he'd built his holiday home. PAH!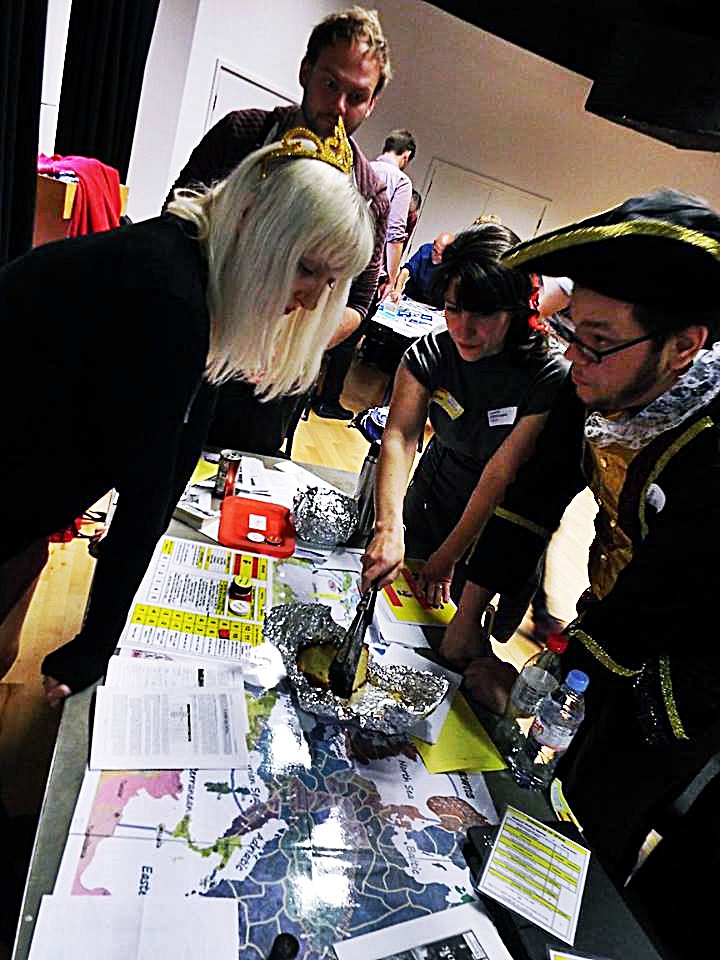 Best Press Team
I've had some amazing press teams in my time. Special shout out to the Washington Conference personalities, who wrote some of the best articles I've ever read, never mind in a Megagame.
And I have fond memories of my team in the Urban Nightmare Redux game, who managed to keep the news pumping out even while evacuating the city.
But my all star team HAS to be my team for Watch The Skies 3. They were just SO AWESOME. We produced some epic papers and our Twitterfeed was (pardon the pun) out of this world.
First Time In Space
It wasn't until Watch The Skies 4 that I actually made it off Earth.
Following both a nuclear torpedo headed straight at the USA (that was in fact a dolphin spaceship), and the appearance of Cthulhu (he was killed, apparently, but would he stay dead?) I decided Earth was too dangerous for my press team. We contacted the aliens and asked if there was room for us on their spaceship.
Our voyage to the starts was fantastic. The view from the alien balcony was impressive. We left our distribution systems on Earth, but continued tweeting for the remaining 20 minutes until the game ended, as well as publishing a post-game paper.
Most Impressive Costume
TC and I pulled out all stops for Spanish Road. I was playing ELIZABETH I, QUEEN OF ENGLAND 😀 and decided that such an epic role clearly needed an epic costume. And a dye job.
We got some stares on the tube…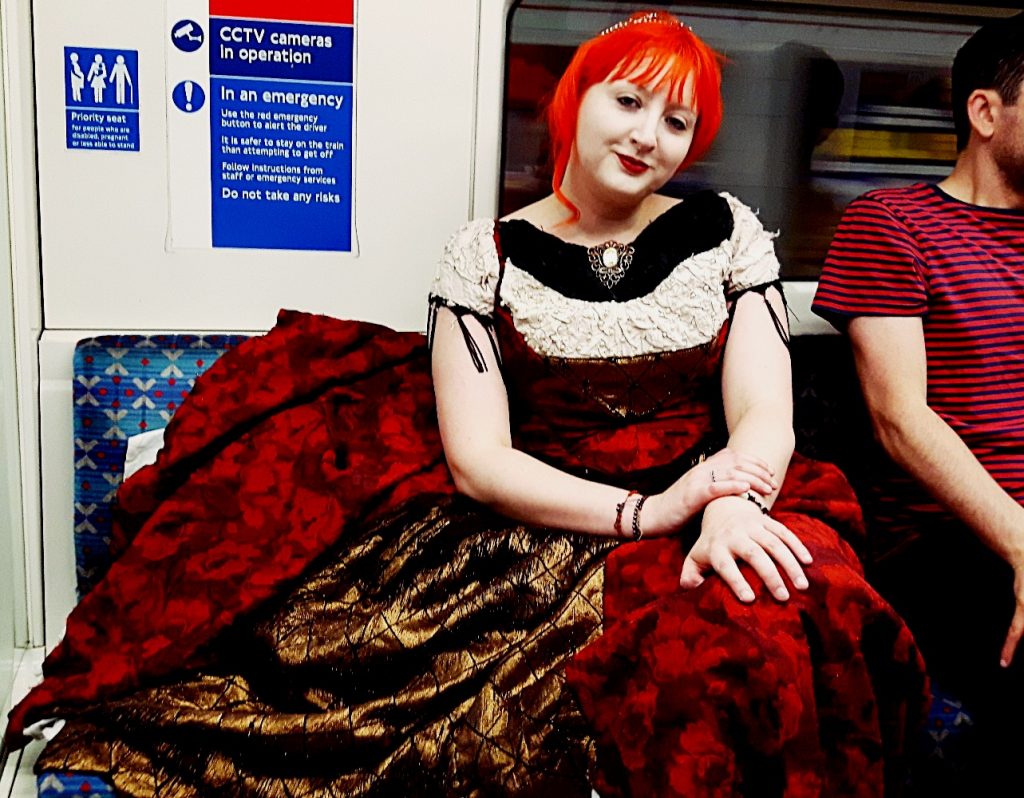 And it was BOILING hot in the venue. But overall it made the day even more amazing 😀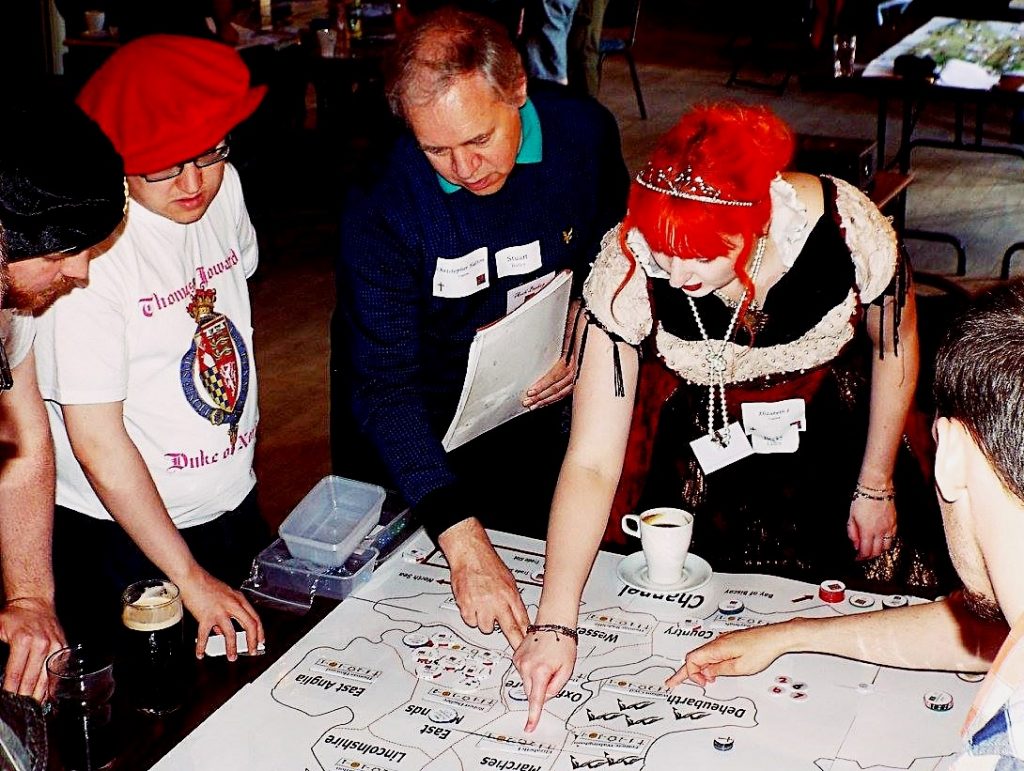 First Time Running A Megagame
I won't go into details. But if you want the full recap on how Everybody Dies went, you can go check out my blog post about it!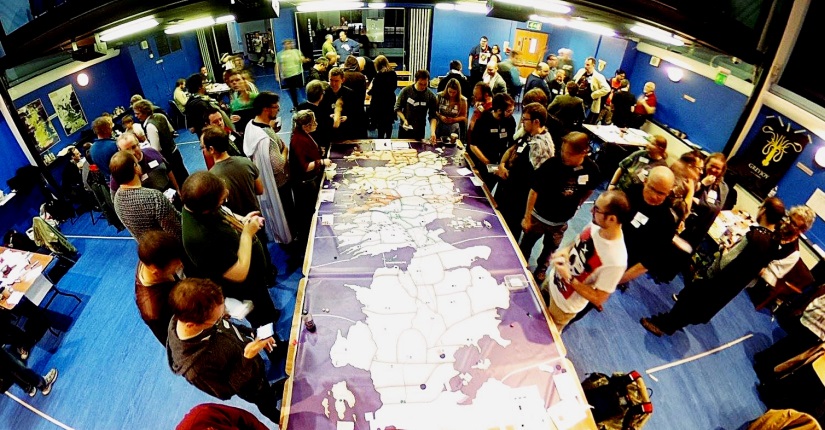 Time I Killed Everyone
Nope, not actually in Everybody Dies.
I persuaded the French team at Not Over By Christmas to nuke Soviet troops in West Germany. And then lied to the Soviets about it.
And there was a village totally in the way that I didn't know about.
Time I Have Most Freaked Out During a Megagame
Immediately after the nuke went off.
Worst Moment in a Megagame
One of my first few times controlling a Megagame, I was stressed because I wasn't confident with the rules. One player was repeatedly double checking that I was doing things right, had I forgotten something, was I sure that was the right answer. I got so annoyed I actually shouted at him.
I felt terrible 🙁 but we sorted it out. In the end the game was a massive learning experience for me.
Funniest Moment in a Megagame
When the Chinese were locked out of the room during a discussion about the CHINESE trade tariffs.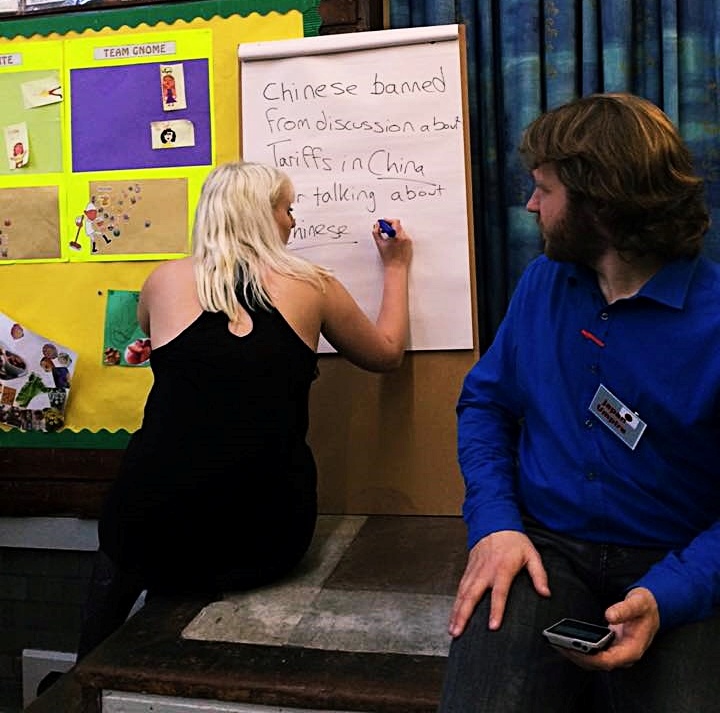 Most Impressive Moment Meeting a Fellow Megagamer
When I first met John Moley, he threw himself at my feet and said he would forever be mine. Granted, I was playing the goddess Aphrodite at that point…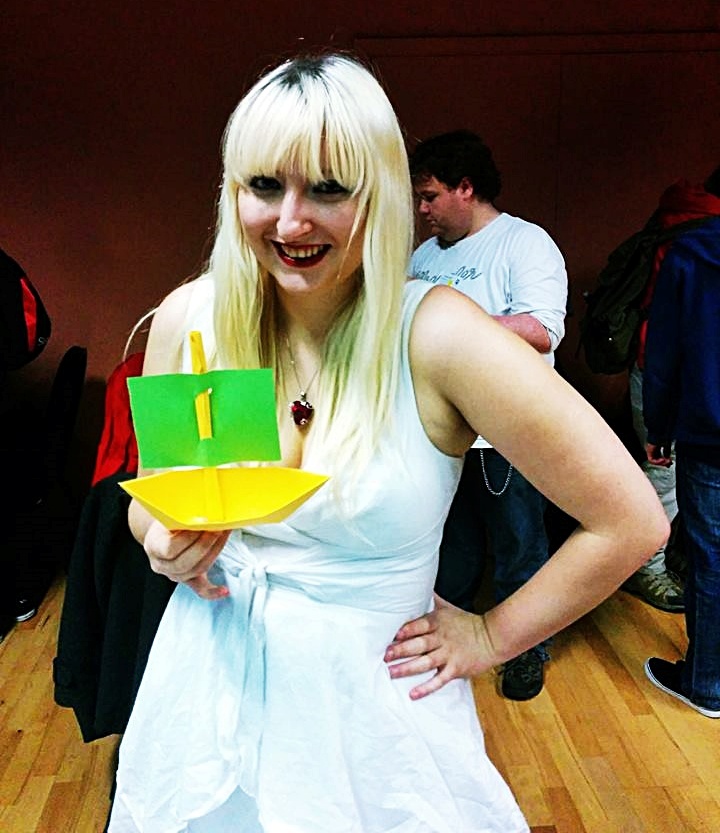 Scariest Moment
When I was excommunicated as Queen Elizabeth I during Spanish Road, and Spain, France AND Portugal all declared war on me.
Sexiest Moment
When I, and my band of Lithuanian "seamstresses" seduced the Judge in City of Shadows, and almost got him elected as mayor.
Most Facepalm Moment
When Arthur, heir to the English throne, died during Popes Poison & Perfidy. It was so obvious, I should have seen it coming. And rather than being able to marry the newly single Catherine of Aragon to Henry VIII, he'd already married Lucrezia Borgia.
Weirdest Moment
Standing on stage reading out poems about trees and waves and stuff, because DAMMIT I'm a Scandinavian skald and I WILL be using kennings in my poetry.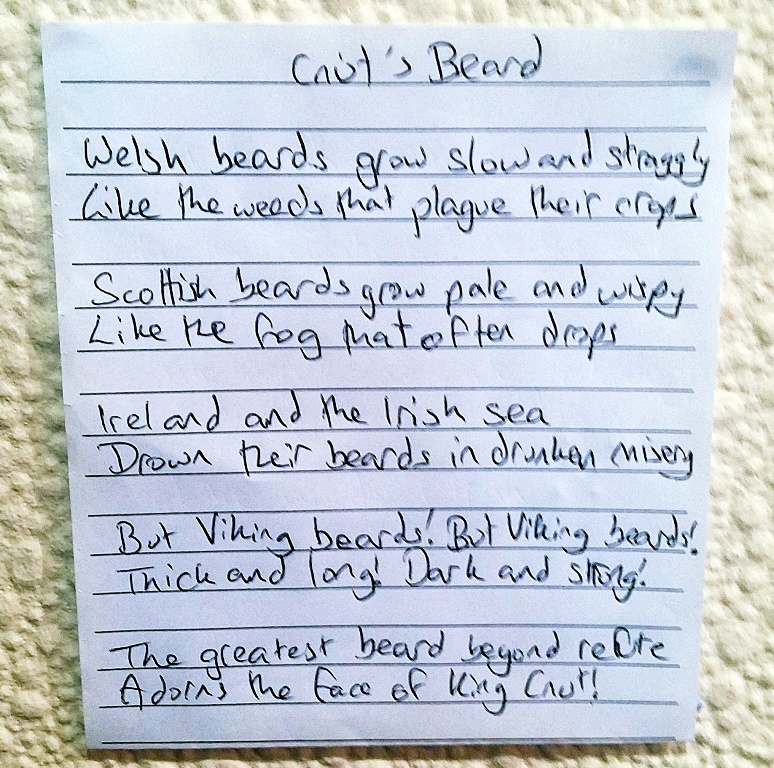 Best Article About Me in the Press
"Nazi Slut Fronts Fascist Propaganda"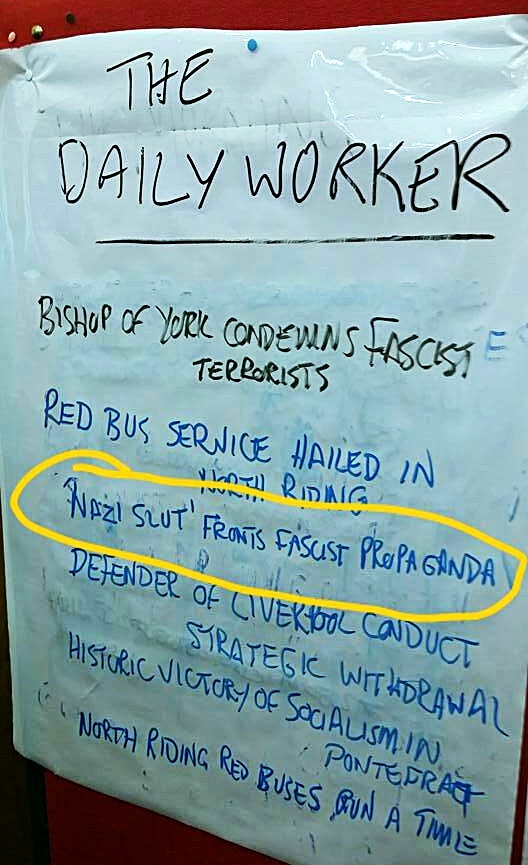 Proudest Moment
Standing on stage after my Megagame. Hearing how amazing a time people had. Feeling the love <3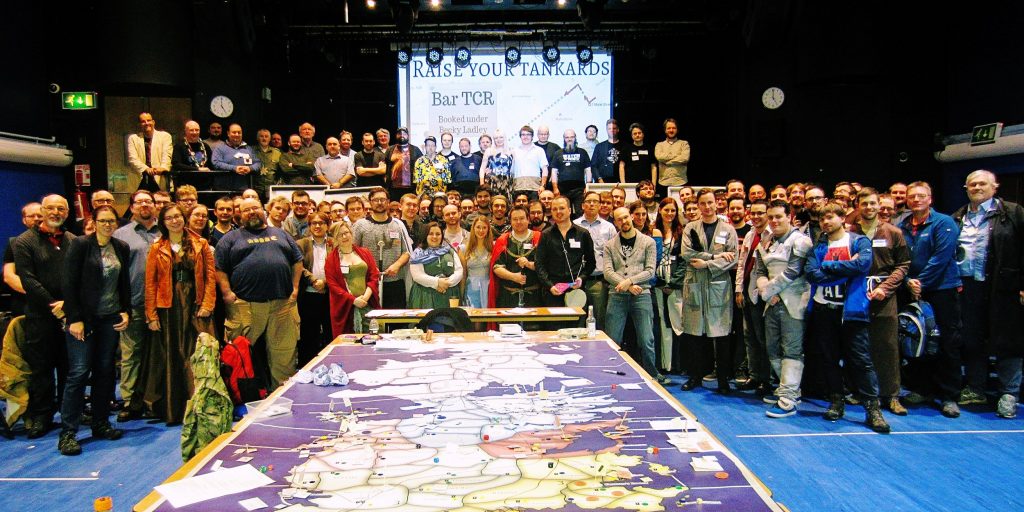 Most Stressful Moment
The entire month before running my first Megagame.
No, wait. Actually, arriving at my venue at 8am, only to find a sign on the door saying no one would be in until 9am, and not being able to find any other way into the venue, wandering round, calling everyone I could think of, speaking to the guy who had turned up to work there but wasn't able to get in, and freaking out. Repeatedly. That was the MOST stressful.
Best Megagame
Seriously? HOW DOES ONE ANSWER THAT QUESTION.
I may be able to do a top 5. In no particular order:
Watch the Skies 1
Watch The Skies 3
City of Shadows
Renaissance and Reformation
Washington Conference
Spanish Road
Urban Nightmare Redux
Not Over By Christmas
(Yes, okay, fine, that was eight. And I didn't include my game either.)
No, seriously. There have been too many AMAZING moments at Megagames for me to be able to recount them all without this blog post taking up most of the Internet.
Megagaming has introduced me to some amazing people. It's brought TC back into my life to the point that we finally got together. It's taught me much more about history and politics than school ever did, and so much more about dealing with difficult situations than real life ever did.
It's been an incredible three years. Here's to at least fifty more <3