I took part in my first London escape room a little while ago. Despite visiting London tons, I'm usually too busy with megagames to squeeze in an escape room.
My friend Chrissy had actually met the room designer at mini-megagame Bring Them Home, and decided to invite me and Tim along for her first escape experience. Three other friends joined us, making it my first ever 6-player escape room.
Handmade Mysteries
With several rooms across London and Brighton, the location of Handmade Mysteries that we headed for was in Clapham. The escape room itself is above a pub/arcade, The Four Thieves, where we turned up about half an hour before the game. Like most escape rooms, they request you arrive 15 minutes early, and we didn't want to misjudge public transport and miss out. In fact, I wish we'd arrived even earlier – the pub served some tasty looking food.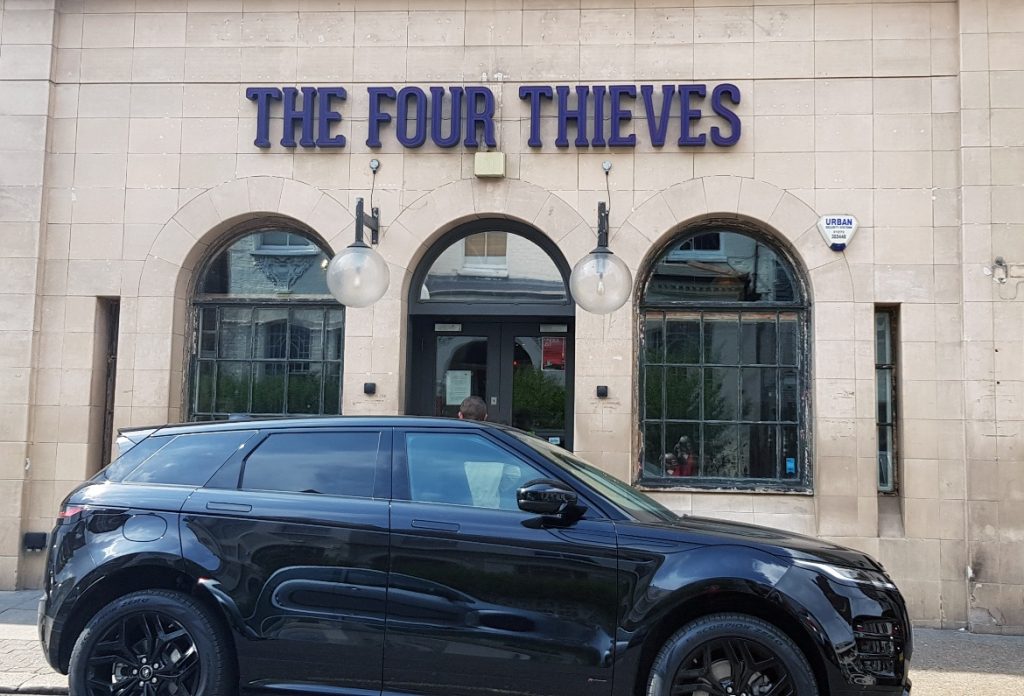 Interestingly it was also possible for you to take drinks into the game, which I'd actually advise against – you don't want to knock a glass over when searching for clues, or mistake one of your escape-buddies' drinks for a clue that needs to be searched (this totally happened at one point).
They also let me take my phone in to take some snaps, but let's just say that darkness + clue solving made for some pretty awful snaps, hence the promo shots they sent over featuring prominently in this post.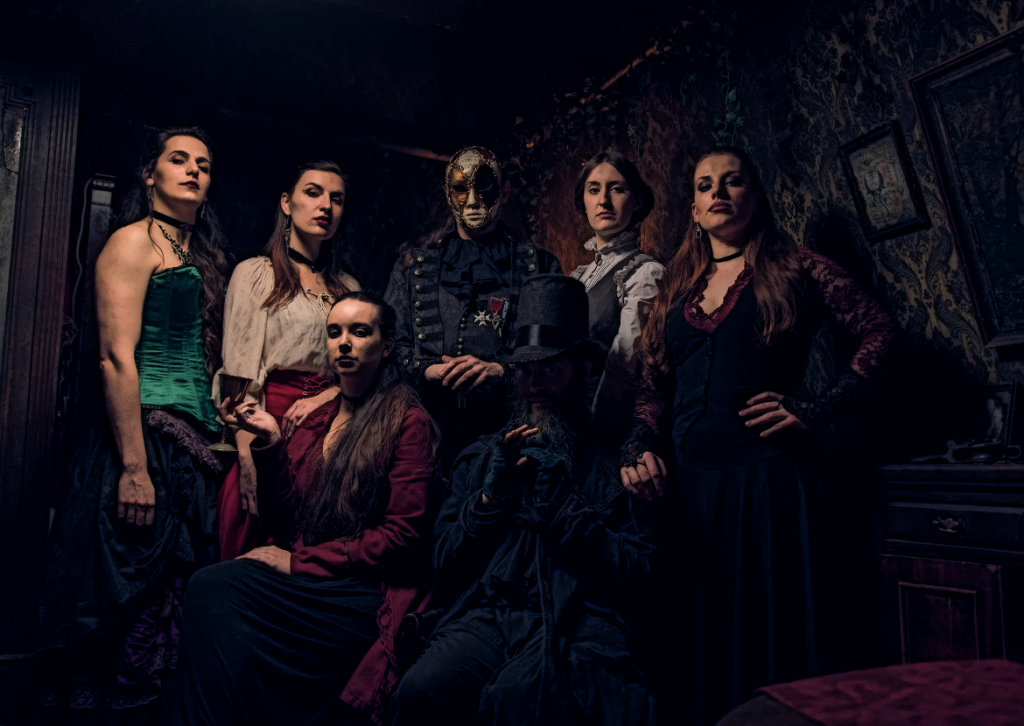 The game itself started before we actually made it to the game room. We met our game master, Gabriel, in the bar downstairs. Richly dressed and with an air of drama and mystery about her, she greeted us in character and guided us upstairs. Gabriel was over the top in everything she did, and when we arrived at the game room itself she pulled off the thick chain guarding the door with a loud clatter.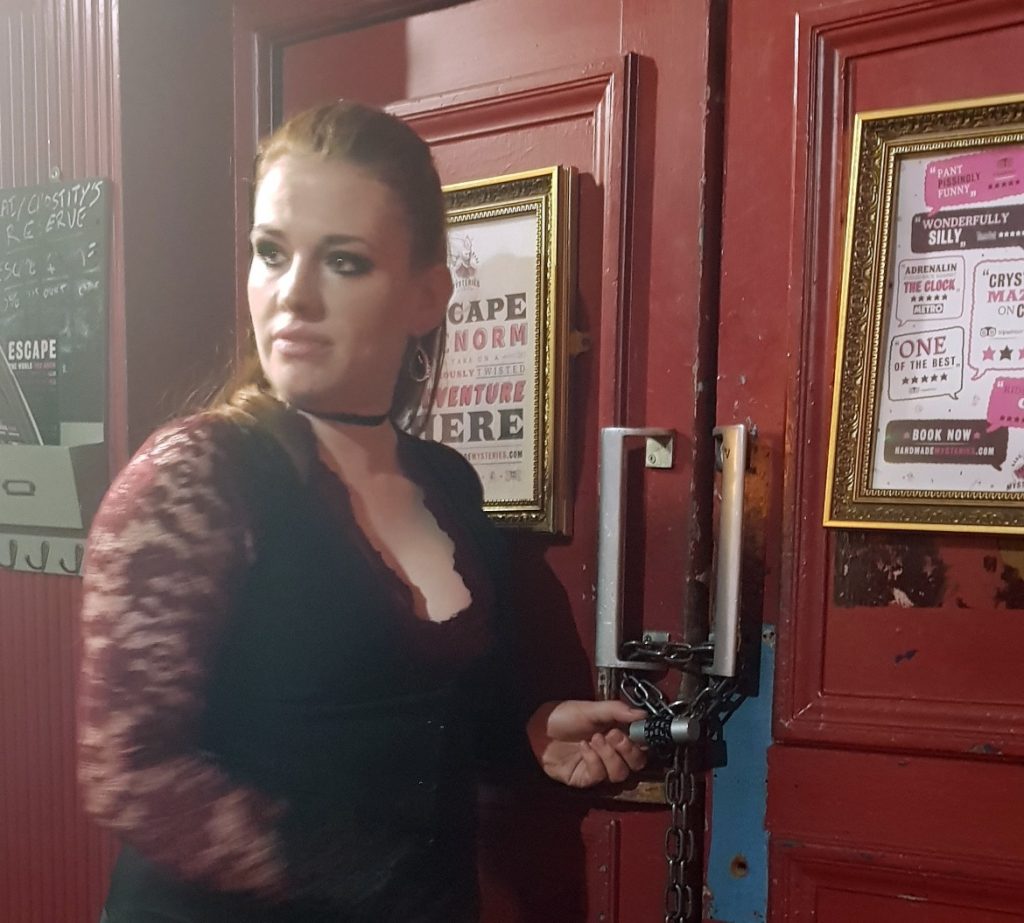 Then… we stepped into the darkness.
Lady Chastity's Reserve
We had been summoned to Lady Chastity's Reserve to procure her final bottle of wine. There was a TON of other backstory, but honestly Gabriel told it better than I could ever retell it. The story definitely strayed into R-rated territory, hence the 18+ age restriction on the game.
Gabriel was incredibly at bringing the players into the world of the game. Lady Chastity's lover had been bearded, and clearly that meant that she was going to take a shine to Jevan, the beardiest member of our party. To be honest, Gabriel was the shining star of the entire escape room, and it wouldn't have been half the game without her.
Unlike many of the rooms that I've done, this room was conducted entirely by torchlight, which definitely added to the atmosphere. It was also chillier inside than the rest of the pub, and I felt the hairs rise on the back of my neck on more than one occasion. The room was full of additional props and items that could easily be misconstrued as clues, which I prefer slightly to a barren clues-only space.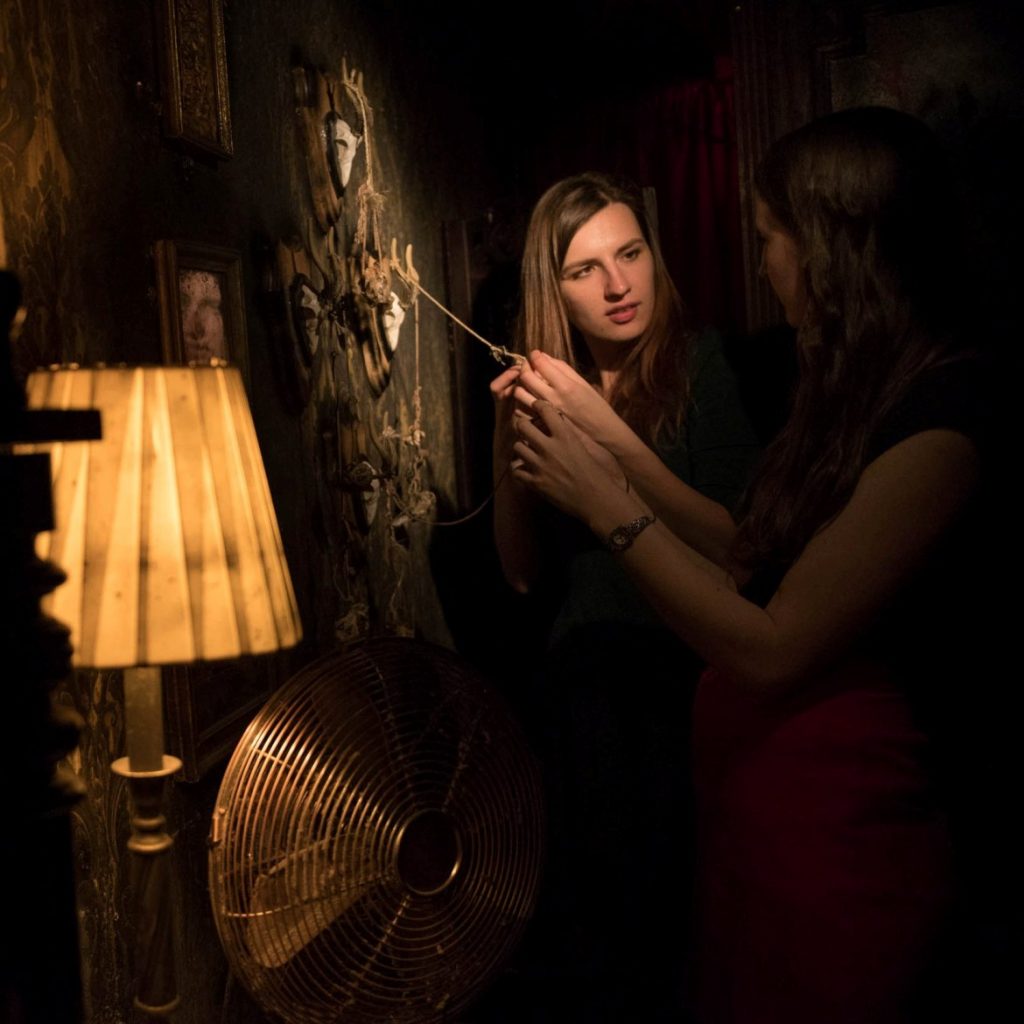 Finally, the audio that accompanied the escape was… let's say unique. And as over the top as Gabriel herself. The experience was definitely the most theatrical of all the games I've played, and honestly it's worth going to for Gabriel's ye olde bantz alone.
Puzzles
The puzzles themselves were variable in quality to be honest. Some were impressively challenging – getting us thinking outside of the box and working as a team. The best puzzle was one that seemed almost impossible. It wasn't – just super difficult – but it required the coordination of three people and an awful lot of vocal support and good luck. I tell you, that one was particularly satisfying to solve.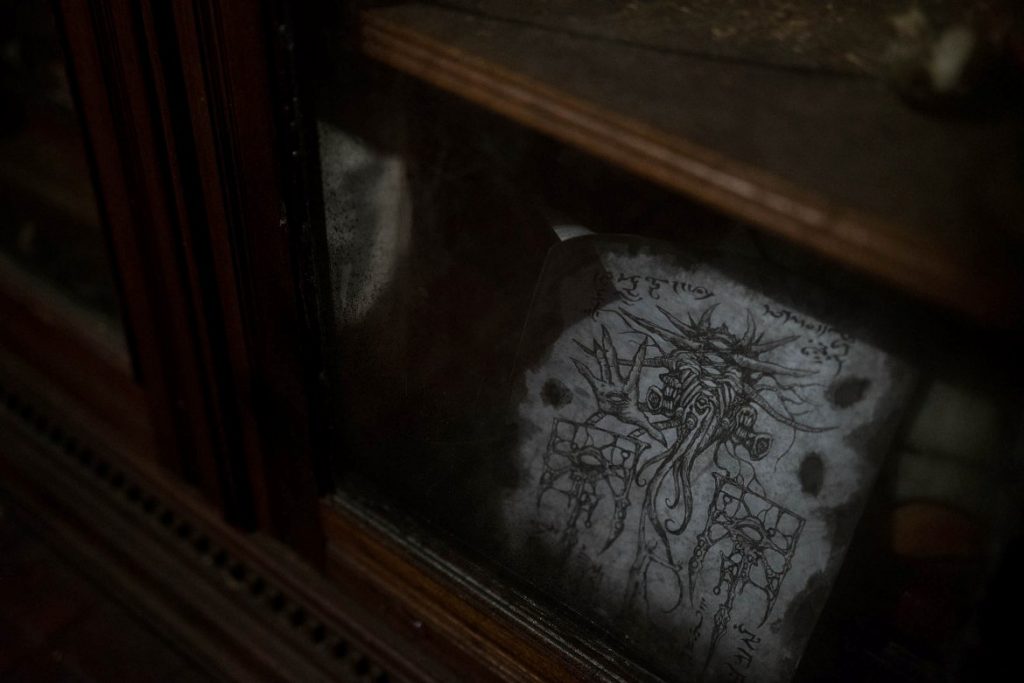 However, some puzzles seemed almost arbitrary, and therefore quite frustrating. At one point we knew the answer to a puzzle but ended up needing to be walked through it, because the instructions were just too vague to be helpful.
The darkness in the room definitely added to the challenge of the puzzles. Thankfully there were enough torches to go around, as the darkness permeated the entire space, and trying to do anything without one was a fool's errand. In some places you needed both hands for a puzzle, and having another member of the team holding the torch for you definitely helped bring the group together.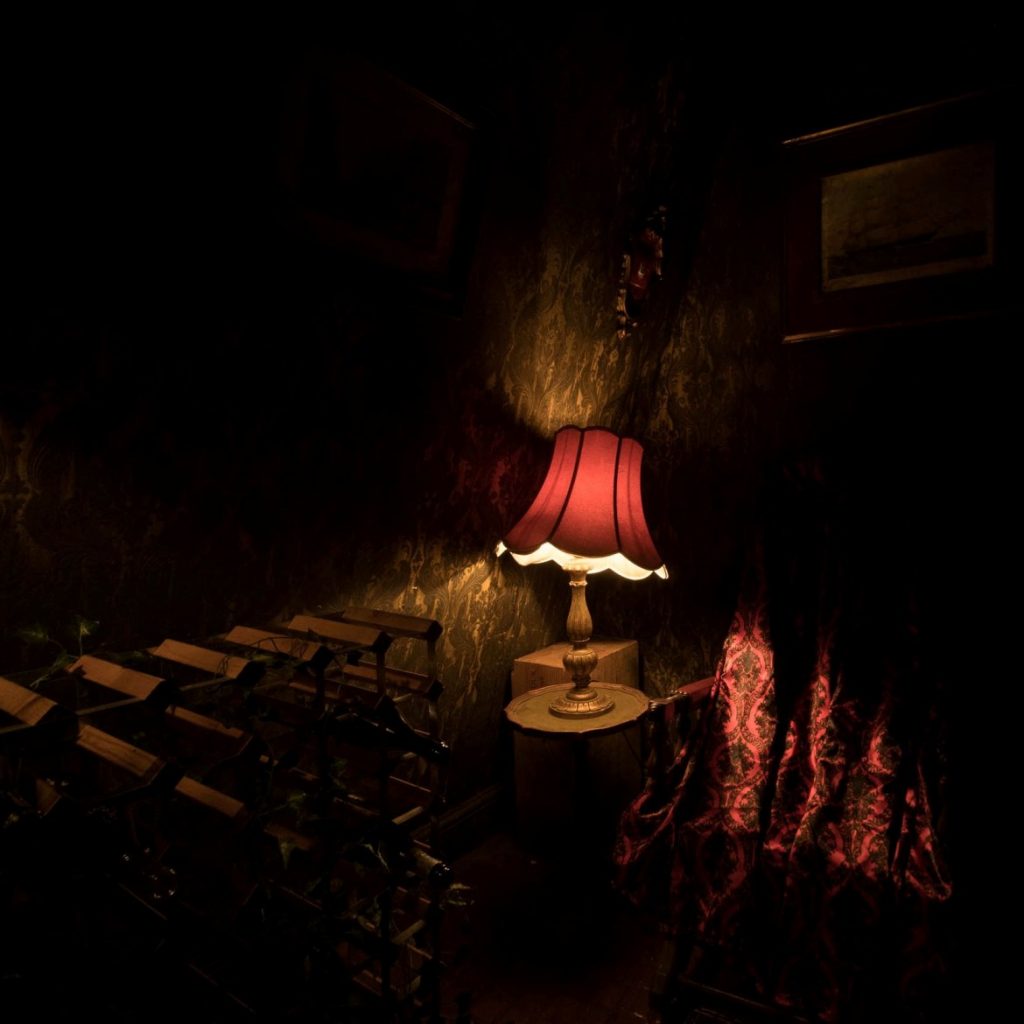 The puzzles were completely linear by design – in fact, you have a precise order of puzzles to follow. I wouldn't recommend going with a six – a three is more than enough.
Finally, the last element of the puzzle was a pleasant surprise – not only did we leave with a sense of achievement, but also with the physical bottle of wine we'd set out to retrieve from Lady Chastity's Reserve.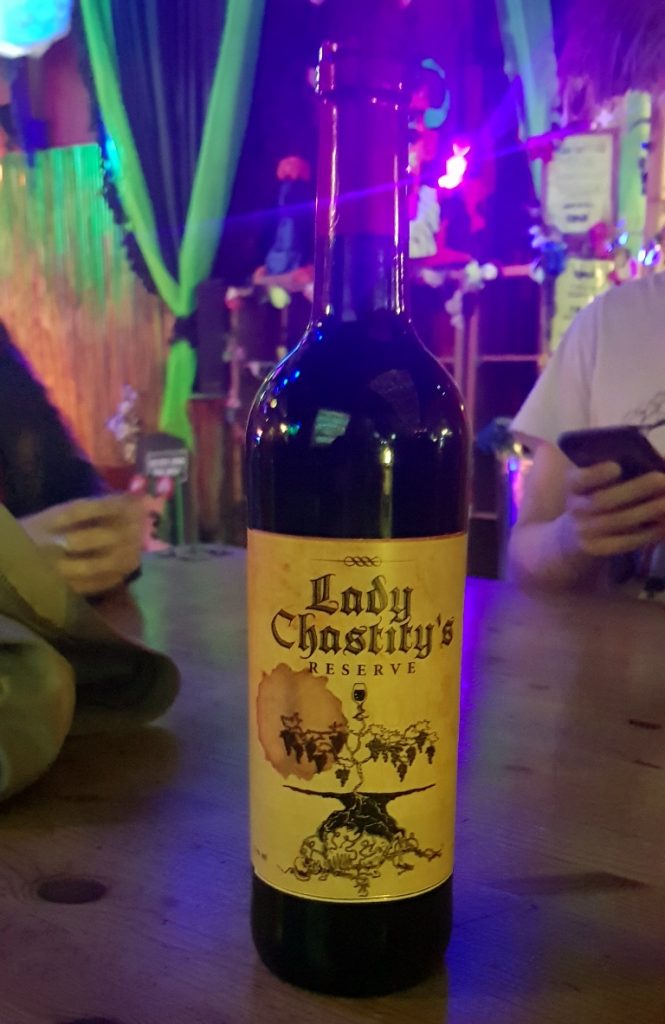 Arcade
I also want to take this moment to big up the Four Thieves arcade – definitely the best post-game area I've seen. Whether you're into Dance Dance Revolution, Time Crisis, classic console games or futuristic VR experiences, they have it all.
In particular we had a go on the Moonshine Raceway, where you controlled a remote control car zooming around a track, racing to beat all your friends. I'll be honest, I am much better at escape rooms than I am at driving anything.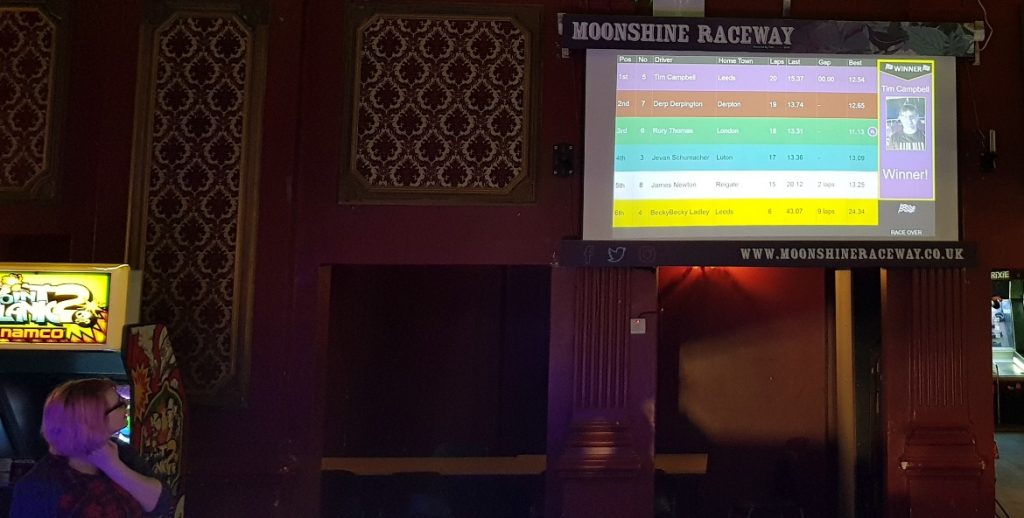 We also had a laugh playing on the dance machine and with table Ice Hockey, and Tim was incredibly excited to see Time Crisis.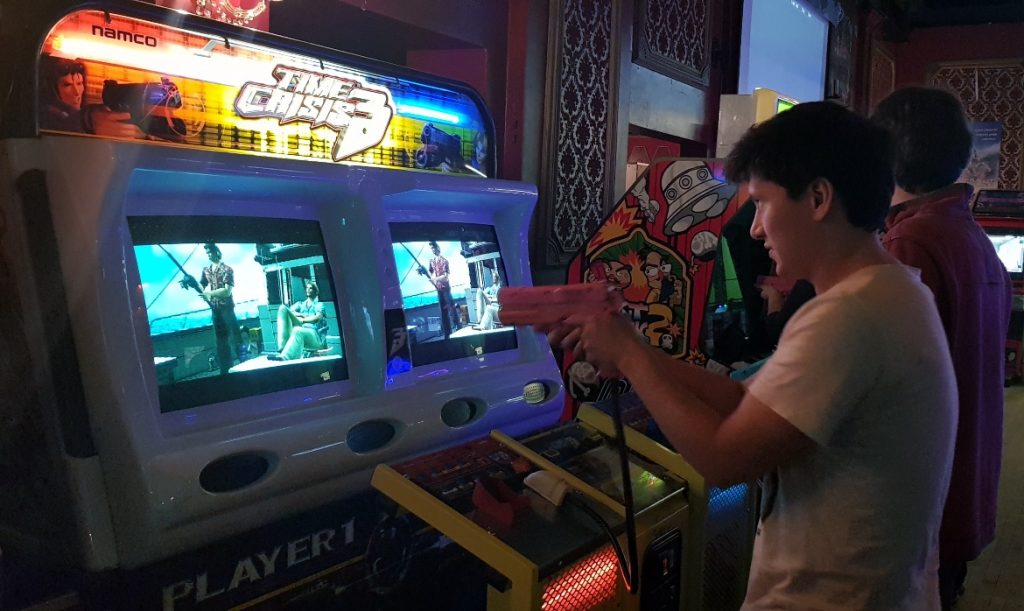 I'd definitely recommend setting aside an hour or two after the game to hit the arcade.
Summary
A highly thematic room, let down here and there with slightly frustrating puzzles. I think it would have been more enjoyable with two or three people, so I'll try my next one of their rooms with fewer people.
Theme: 5/5 | Puzzles: 3/5 | Difficulty: 3/5
Clue system: call out to Gabriel for clues, Gabriel would enter room to give help, no penalty
Success: yes, 6:52 remaining (no clues taken)