When you think of a casino, it's often either the loud high-flying extravagance of Vegas, or something more seedy and smoke-filled, right? They're either impossibly out of reach, or a little bit scary.
So when I was invited down to Grosvenor Casino Leeds for my first ever casino visit, I was understandably hesitant. But I'm not the sort of girl to turn down trying something new, so earlier this week Tim and I headed across the city for an evening of gambling.
Grosvenor Casino Leeds
The casino is on the west side of the city centre, and since we're on the east side we took a taxi. It's not an area of Leeds that I know at all, and to be honest I had no idea it was there.
We stepped through the revolving door, and it was all bright lights, without a hint of smoke. But it was quiet, with just low backing music and a slight hum of conversation. Clearly neither of my expectations would be at all accurate. The place looked very modern and shiny, but at 7pm on a Wednesday was quite empty.
We were greeted and shown how to get to the restaurant on the upper floor.
I didn't know what sort of food to expect, both in terms of quality and cuisine. Our waitress started us off with drinks – a strawberry daiquiri for me, a beer for him – and left us to peruse the menu.
Our table overlooked the casino floor. I spotted a bustling table playing poker, and a few people at the roulette wheel. It was really exciting to see people actually playing these games in person, for some reason – although their presence meant that, due to gambling privacy rules, I couldn't get any shots of the casino in action.
Food
The food options were your typical American-style chain – in that they sounded delicious but not too experimental. It was clear that the heart of the menu was the steaks, and despite considering the tasty sounding lamb dish, I knew I had to get some beef.
I chose the crispy pork bites with Korean dipping sauce. They were cooked to perfection and fell apart in your mouth, and the tangy sauce was a fantastic accompaniment.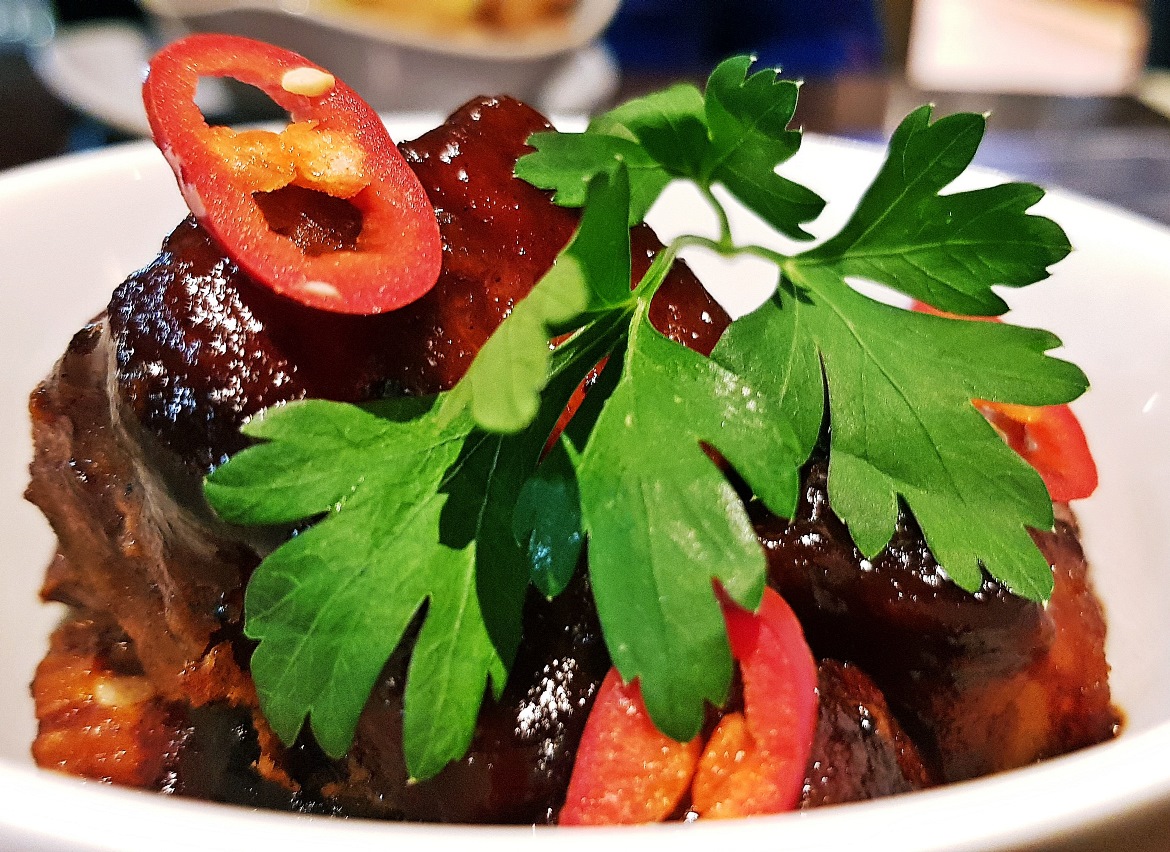 Tim had the calamari with garlic mayonnaise and was very complimentary about it as well.
For mains, we both chose steak. Tim had the sirloin with peppercorn sauce…
…while I'd decided to try the fillet steak with red wine sauce.
Our steaks were served with plenty of veg. The fries were hot and crisp; the baby gem lettuce was served whole with a blue cheese dressing on top. The only miss on the plate was the tomato, which was a little overcooked for me, but I even ate the mushrooms which I normally avoid.
And the steaks themselves were fantastic. Tim's sirloin was tasty, but my fillet steak was out of this world. I think I would have preferred the peppercorn sauce, although the red wine sauce was rich and gravy-like.
We were offered the dessert menu, but the starter and main had left us stuffed. We decided to move on to the next part of the evening – blackjack!
Blackjack Masterclass
While the food was great, this was the real highlight of the trip. Tim and I had played faux blackjack before, at uni balls with pretend money. And we'd both see the movie 21. But neither of us had played it in a real casino before. So we were very glad that one of the experienced croupiers was going to be showing us the ropes before letting us loose on the casino floor.
Our guide was David, and, with a teaching set of cards and some dummy chips, he quickly showed us the basics. Minimum bet is £2. Place your chips right here, in a stack. He deals one to Tim, one to me, one to himself, then another to Tim and another to me. Do we want another card? Tap for yes, swipe your hand for no. The dealer's got to play up to 16 and must stick at 17. And we're not playing against each other, just against him.
My first vague thoughts of being badass at card counting went out the window when I realised I couldn't even tell you what cards I'd had last turn. During the first few hands, I couldn't seem to put a foot right, mostly busting out on 22s and above. We kept forgetting to put our bets out – kind of essential, if you want to actually play – and getting the hand signals mixed up.
Getting the Hang of it
A few hands in, and we were picking up the pace.
David struck the perfect balance between letting us make mistakes so we could learn from them, and stepping in to give us tips when we needed them. One time, I tried to take another card on a 9/19 (aces are either 1 or 11) and he stopped short of calling me an idiot. 19 is a great hand, no need to try for something better most of the time.
Being dealt my first blackjack was such a thrill. Seeing the dealer getting it when you'd managed to get four cards to equal 21 was less good.
He also introduced some of the more unusual rules. You can double your bet to get a single extra card. You can split your cards if they were a pair and play each as a separate hand. There were also mini-games you can bet on: 21 + 3, where you're betting that your two cards and the dealer's will be the start of a poker hand; and perfect pairs, where you get money if your initial hand is a pair, more money if they're the same number and colour, and lots of money if they're the same suit.
Tim was first to lose all his money. Whether it's bad luck or being too risky, he went out well before me. I played on, but sure enough, eventually the dealer took all my chips. This, he explained, was part of it. Casinos aren't there to help you make money. You spend the money on entertainment. Sometimes you'll end up a little up, even a lot up. But the house always wins.
With his warning in our minds, we headed out onto the floor to try our new skills with some real cash behind them.
Playing For Real
With two crisp £20 notes from the ATM and two fresh drinks (a passionfruit martini and another beer), we sat down at the £2 blackjack table.
We were the only customers at the time, and we got chatting to our new croupier as she counted out our chips. Being handed little pieces of plastic that represented real money that we were gambling was a little surreal, but after a couple of hands it was just like playing with the fake chips.
One of the disorienting parts of being in a casino is that time vanishes. There are no clocks, and the hands are so swift that I didn't even have time to check my phone. I heard it buzz a few times, but was too caught up in the experience to even look.
Later on, a guy sat down at our table. It was fascinating to see how he operated compared to us. We were happy playing the table minimum and watching the cards flash by. But he bet high and heavy, on three of the side games plus the main hand. I have no idea if he ended up ahead, but the size of the stack he was handed on one of the minigames made me think that he might have done.
Again, I fared far better than Tim. At one point I'd even gotten up over £40, doubling my stake, though Tim slowly dwindled down to nothing. After he was out I chucked him a chip occasionally to bring him back in for a few rounds, but he seemed to have a lot of 12s turning into 22s.
Eventually we finished our drinks and cashed out. I received back £38, while Tim had nothing, which honestly seemed spot on for what I expected from a casino. One of us lost a lot, one gained a lot, and overall the house ended up on top.
Summary
This experience definitely shook a lot of the preconceptions I had about casinos. Previously I'd have been pretty apprehensive about going to one for an evening. But now I'd feel totally chill about going and whiling away a few hours on the blackjack table. I don't expect to win big, and I imagine more often than not I'd come away empty handed. But it's entertainment, pure and simple.
FYI if you're looking for an excuse to visit a casino sometime soon, Grosvenor Casino Leeds are running a competition where you can win a cruise for two to the Caribbean, just by dropping in. Just ask the casino for more info. And I need to see whether it was just beginner's luck, or if I've actually got a knack for this…
I received the meal and blackjack tuition free of charge, but all opinions of the triumphs and tribulations of gambling are my own. Here's my full disclaimer.