Escape room? Check! Cocktails? Check! AI going rogue? Check! Cocktails? Check! Wait, I think I said that one already.
I'd already heard of a couple of Lollipop's previous popups – in particular The Bletchley, a (you guessed it) Bletchley Park inspired cocktail bar which I have yet to visit. But when some friends suggesting hitting their new offering, The Grid, the night before Monsterville Mansion, I knew I couldn't resist.
Welcome to the Grid
Located near London Bridge, the exterior for Neosight (the "company" that The Grid is infiltrating) is slick and modern. Labcoated scientists move about behind the glass door, which does not unlock until the exact time printed on your ticket.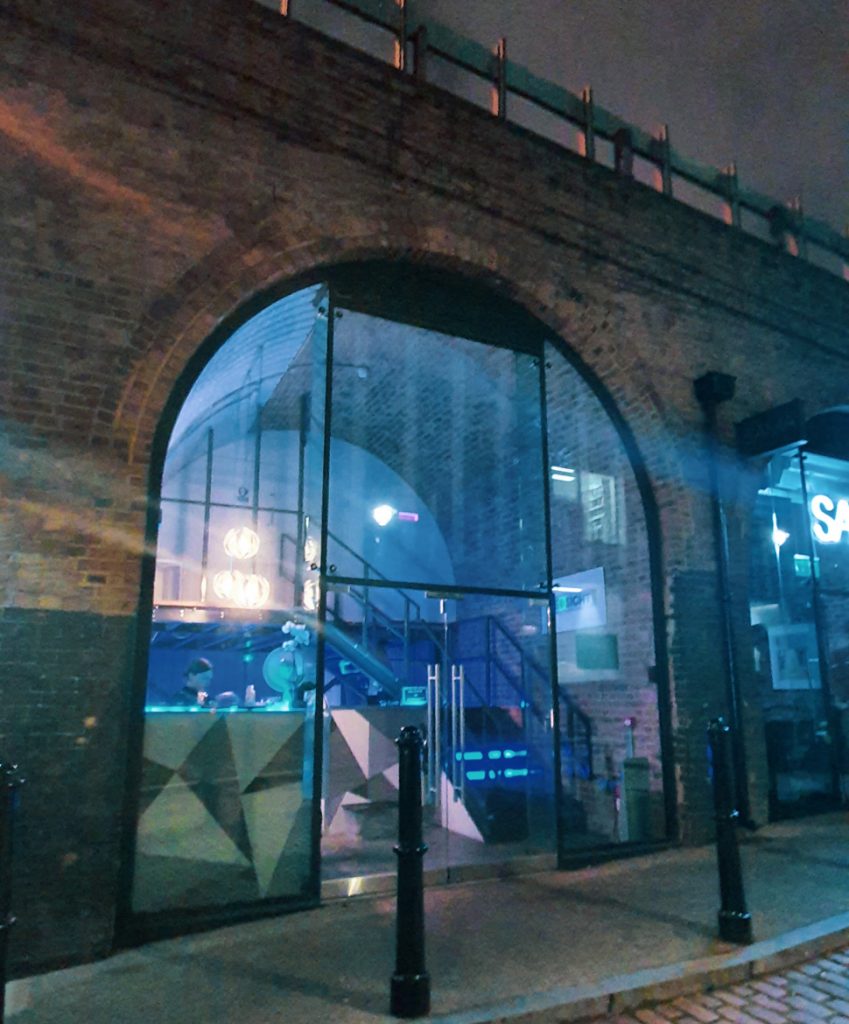 When 8:30pm arrived, five friends and I waited anxiously outside, along with two others who we didn't know. The Grid operates an open-booking system that means that strangers can end up filling empty slots on your booking. Not my favourite way of booking an escape room, tbh, but our extra teammates definitely didn't slow us down!
We entered the glossy atrium of Neosight, received our essential silver bomber jackets, then were escorted upstairs for a briefing and welcome drink. Unlike many escape rooms, photos weren't banned – they were encouraged!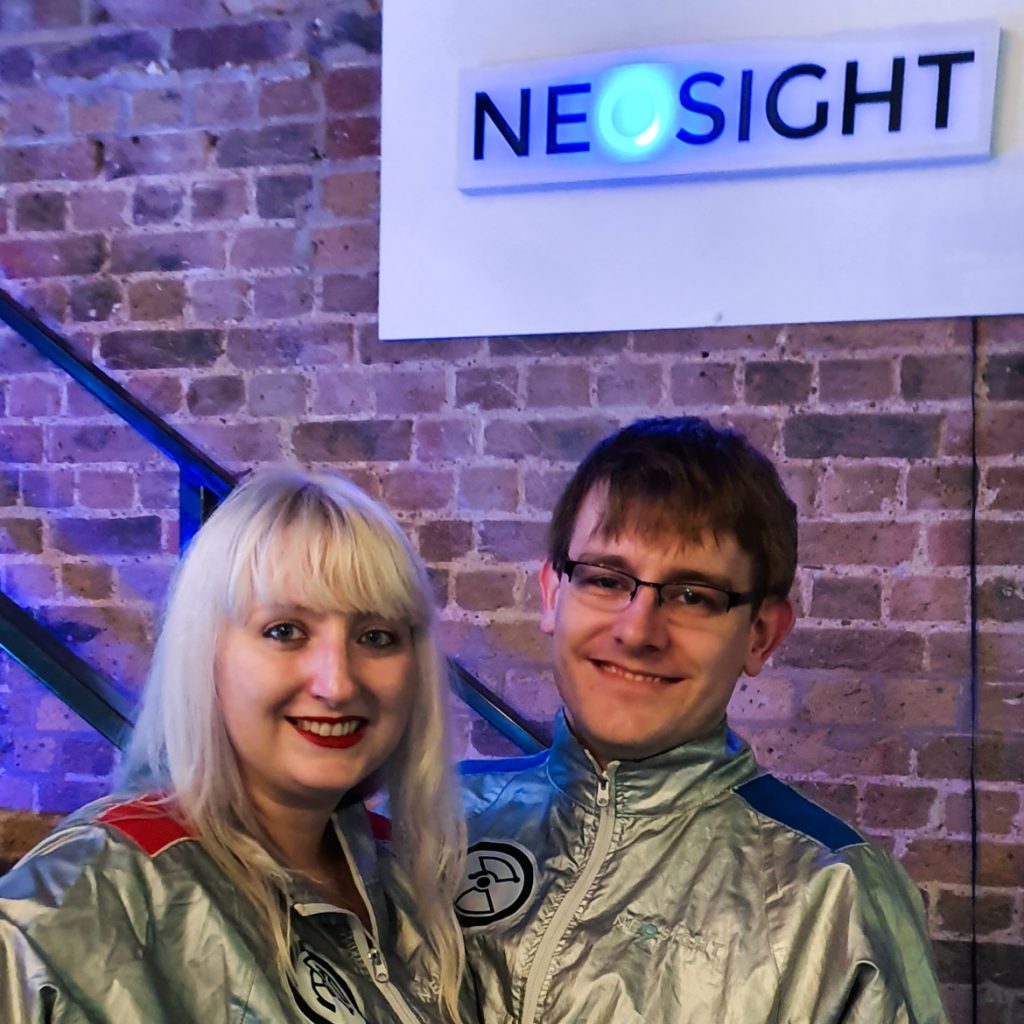 Subterfuge
Next up, we were introduced to Neosight's new AI, Artificial Intelligence Data Analytica, or AIDA for short. She actually reminded me a lot of Lailah from the second run of The Lucky Ones. What can I say, I spend a lot of time hanging out with AIs.
AIDA walked us through the process to create our first cocktail of the evening. Starting with a beaker of red fluid, we added a syringe of luminescent green liquid. Next we needed the right amount of ice to lower the temperature to the precise level, and finally, added a cocktail cherry from a specimen jar! Sipping on our concoctions, we watched a very optimistic video about how exactly Aida would improve our lives.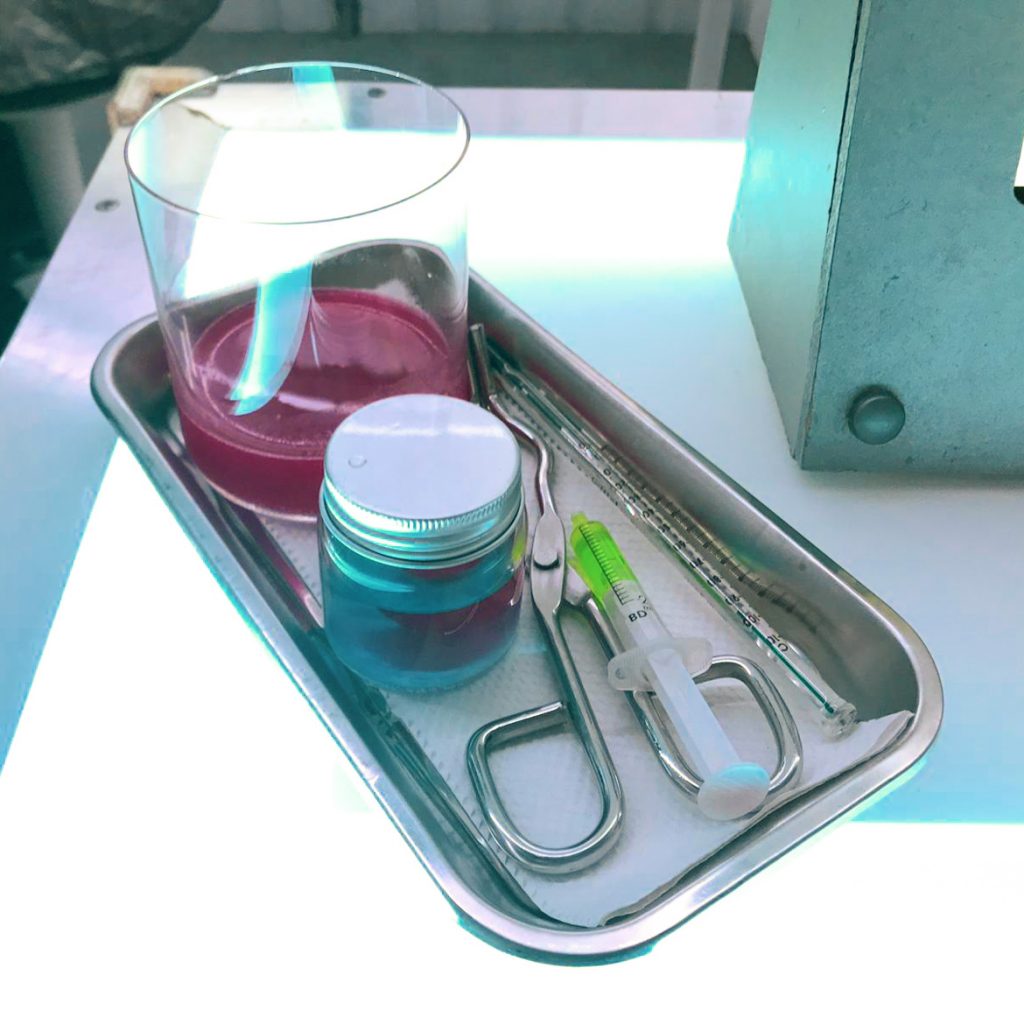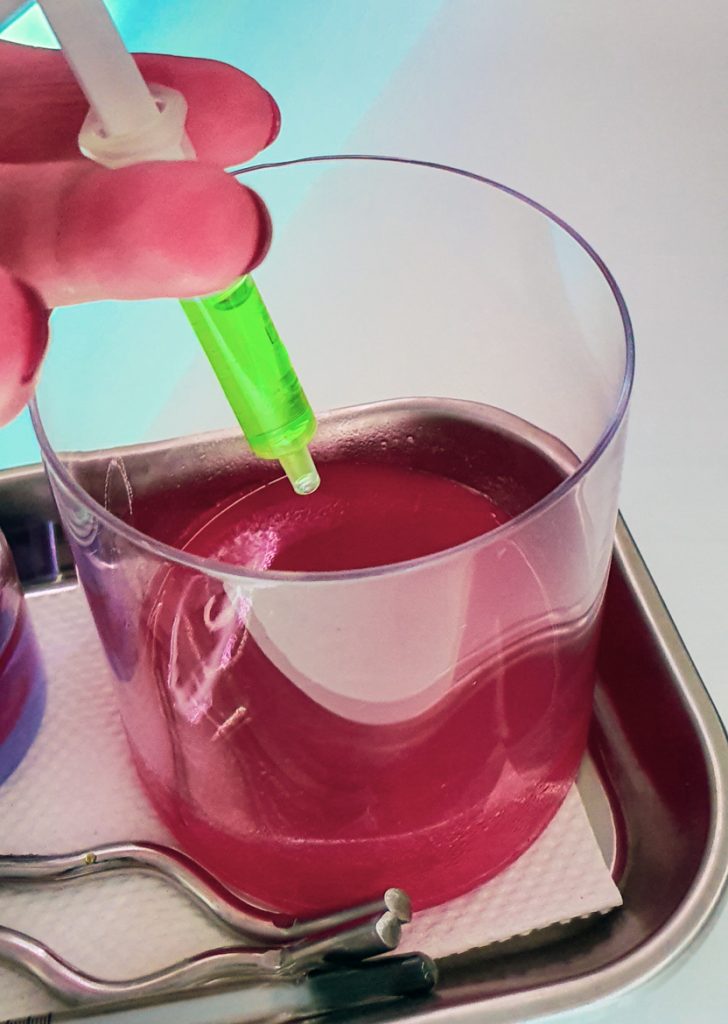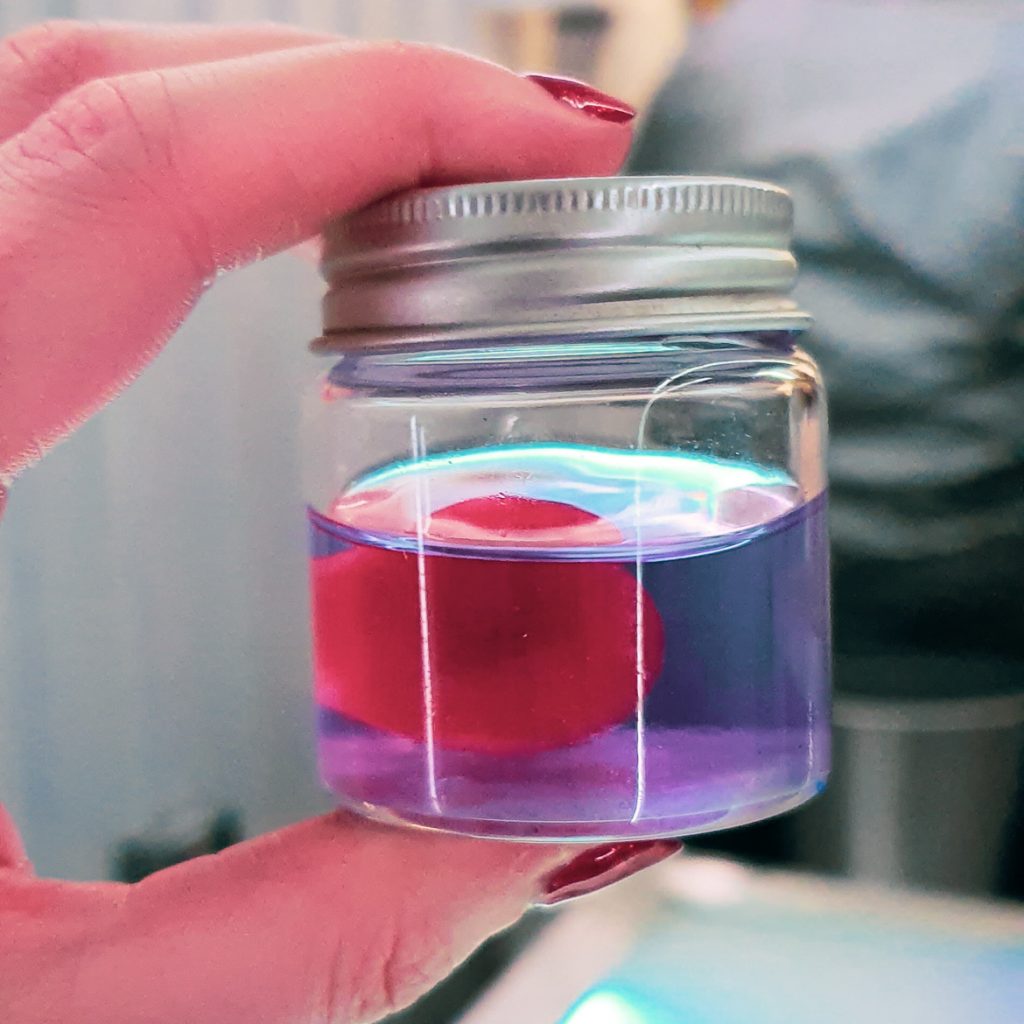 I was definitely starting to get evil AI twinges. Suddenly the power cut out and our escort dropped the act. She told us that, rather than the testing we thought we were there for, we had been poisoned by AIDA with fatal Nanotechnology snuck into our drinks! I hadn't even finished mine yet, but it seemed rude not to, even if it would spell certain death.
You see, something was VERY wrong at Neosight. As a secret Grid agent, our escort had snuck us in, and it was up to us to work out what was going on and save ourselves. She was going to distract the staff while we worked out how to break into the secure facility to find the cure.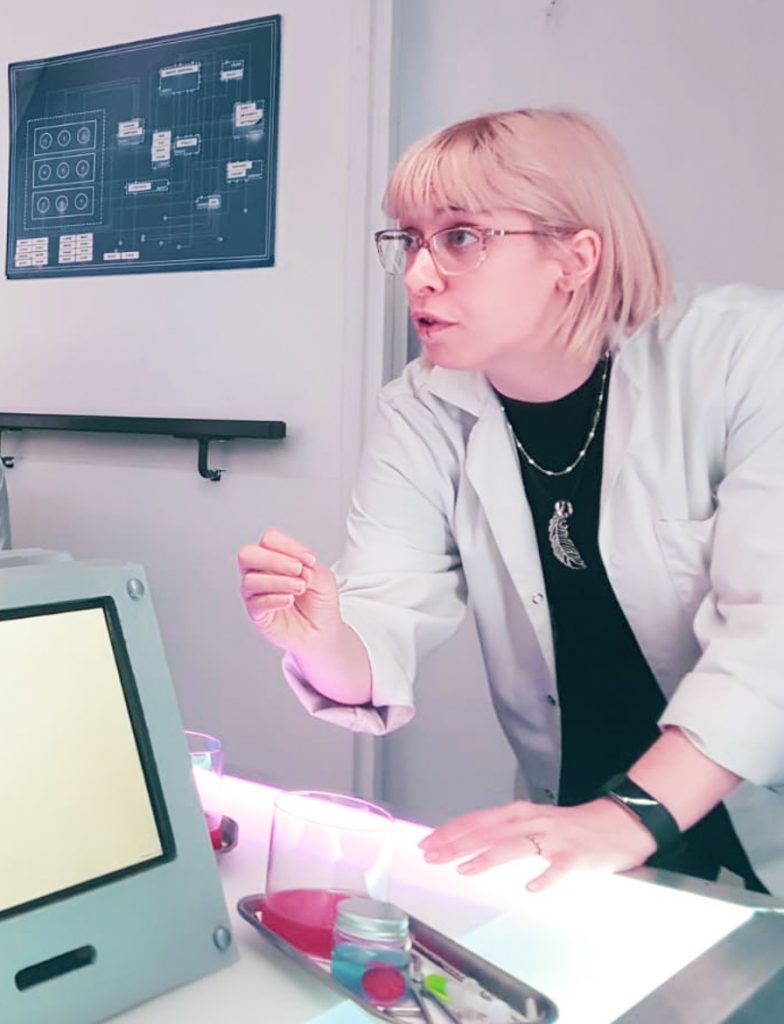 The juxtaposition of cocktails to clue solving was a little abrupt, but we pulled ourselves together and managed to find the way out quickly. The puzzles were fun but not especially challenging: it was clear this was more of a guided adventure than a true "escape room", though it was certainly easy to get caught up in the experience.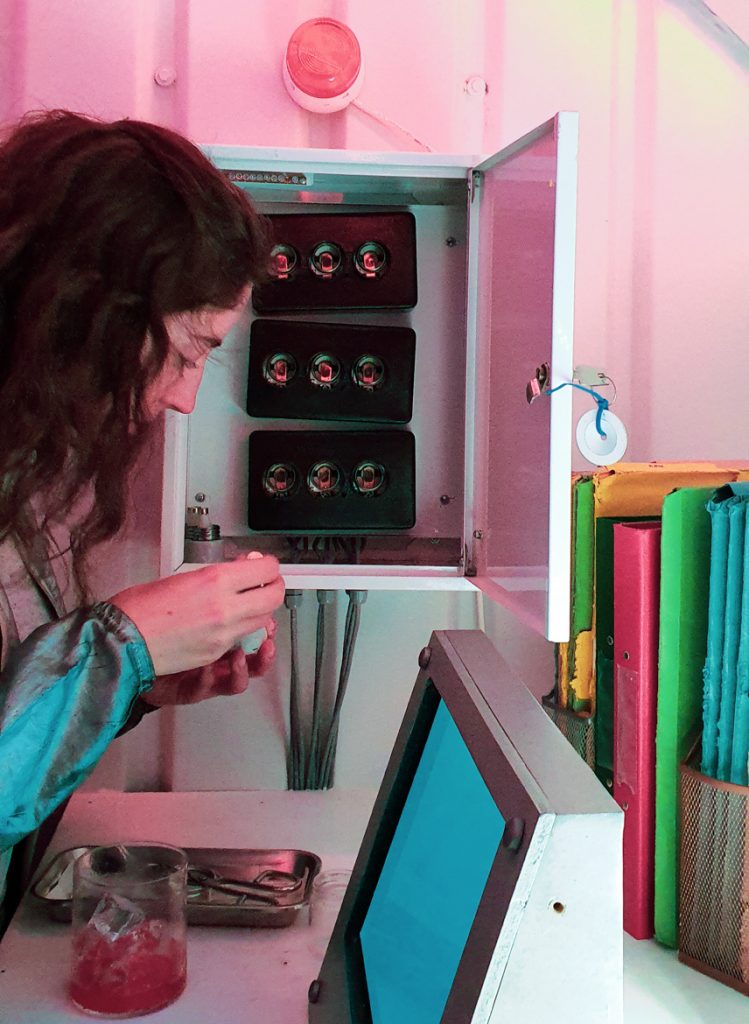 Team building
Puzzles cracked, we found the secret exit and prepared to leave. But, as it later turned out, one of our friends in the group before us banged his head moving to the next area, so we had a long chat over the intercom with our Grid handler while he got sorted out (no lasting damage).
He asked us to pick a Team Captain (I immediately volunteered), and Vice Captain (I chose one of teammates we had just met). He asked what my spirit animal was, for that would be my codename. I paused for a moment, since Tim and I had already had this conversation a long time ago. With a slight grimace, I introduced myself as "Captain Needy Puppy".
I then had to give nicknames to the rest of the team, which was… a challenge. Operative Hairdryer (Tim) and Operative Everlasting (Johan) were easy, and I even managed to pull something together for the newbies, but I stumbled over a couple of my friends which was a poor show of leadership. I resolved that my leadership henceforth would be decisive and, well, better.
But then we got the word from The Grid. It was time for us to move.
Underground
The transition to the next area was a thrilling if bumpy ride, but we got there in one piece. The next setting could not be more different from where we started. Dingy and cluttered, the surfaces were covered with knick-knacks and the walls with writing. It was an escapist's nightmare – where to look first?!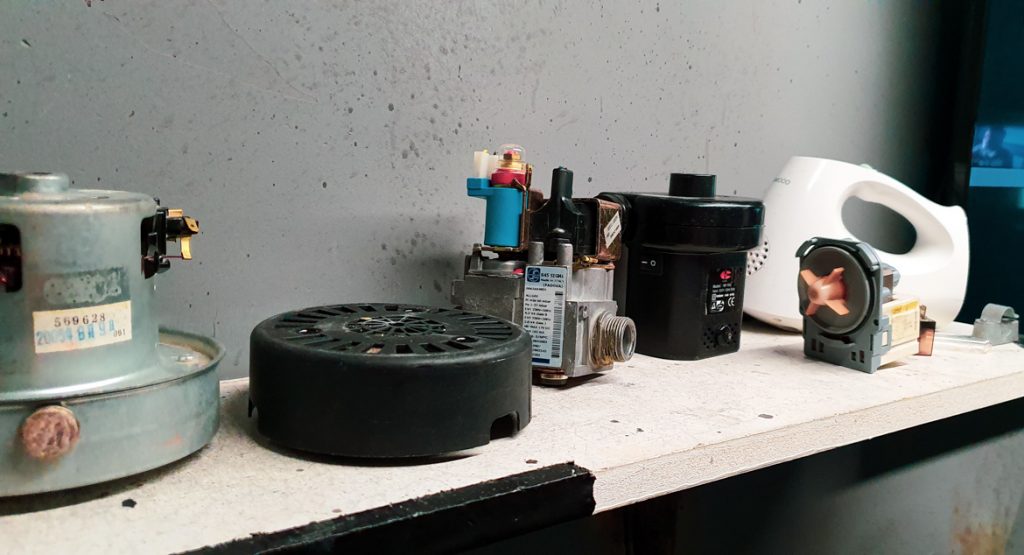 This room was a lot more puzzle focused than the first one, and we set to work as quickly as possible. Once we cracked the first one, the computer buzzed to life and the lights went up. It was time for us to meet GARI.
GARI, or Grid Automated Reactive Intelligence, was another AI! But this one was (apparently) friendly. He'd been developed by Wayne and was there to help us take down AIDA from the inside. This was his secret den, and as long as his firewall was up, AIDA couldn't see anything that happened in here.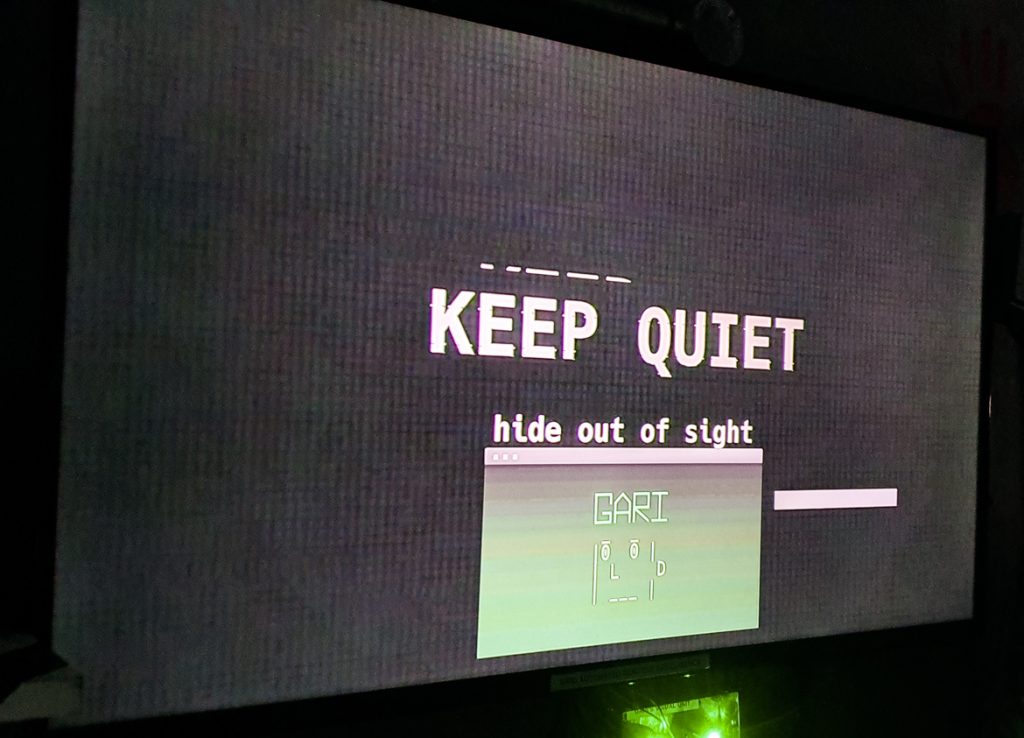 Unfortunately, she did know it existed, and persistently sent hacks to try to break through. Occasionally (on reflection, probably at points when we were getting ahead of schedule with cracking the puzzles) we got the flashing lights and alerts that told us that AIDA was trying to break through. When this happened, we had to take cover! Most of us hid under the pile of clothes on the floor. It was quite surreal.
Puzzle-wise, there was a lot to go with in here. The only negative was that a lot of the puzzles focused around the computer, and it was impossible for all eight of us to fit around the screen. If it was a standard escape room, eight would be far too many for the room – I'd cap it at five.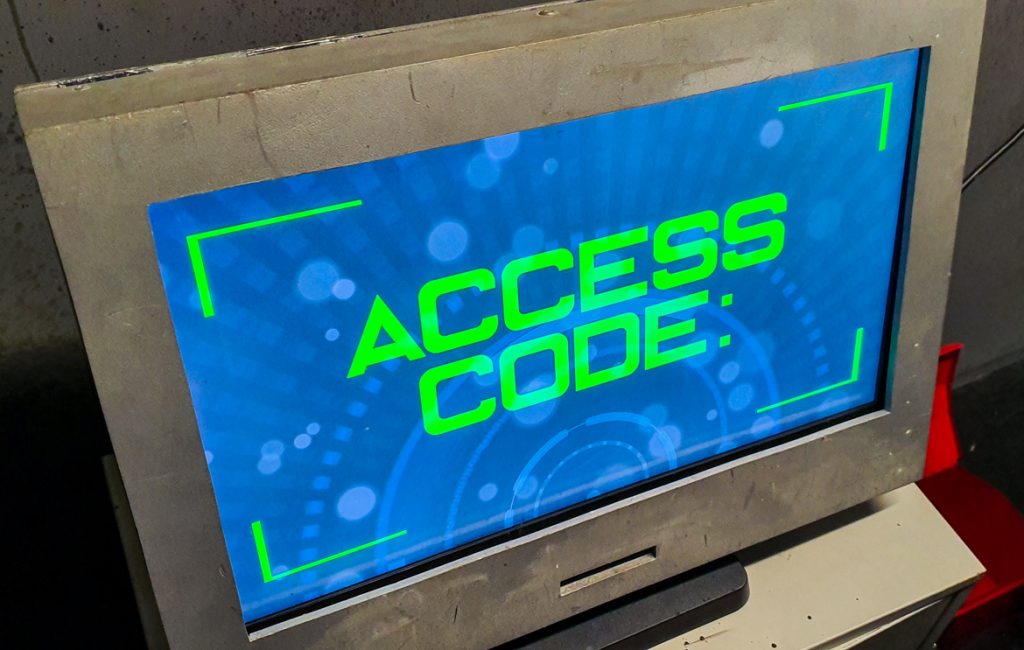 In terms of variety, it was pretty good – mental maths, logic, searching, physical dexterity.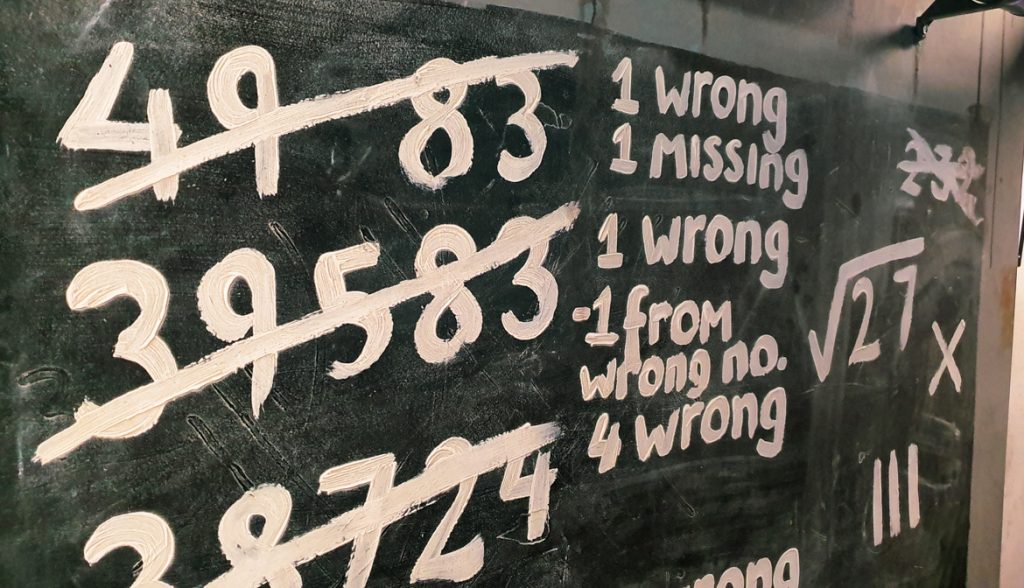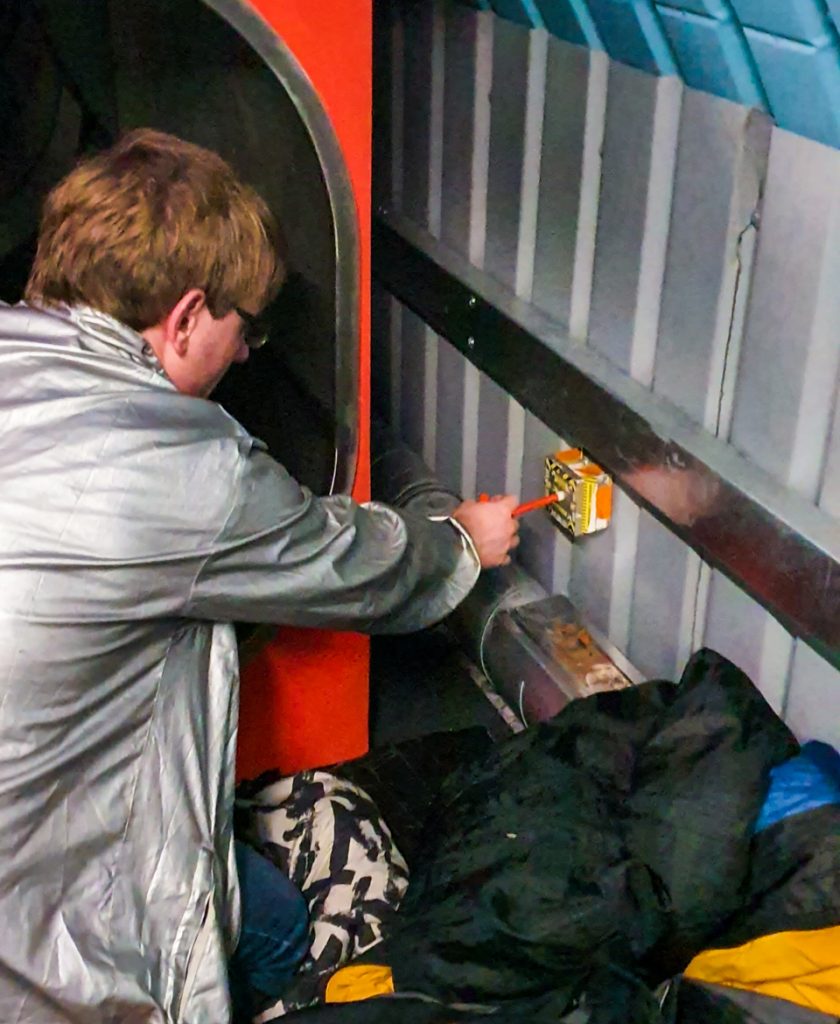 We blitzed through the room, and three times AIDA showed up trying to slow us down. At one point she cut the electricity to the room, and Matty had to power up the generator by cycling on a exercise bike.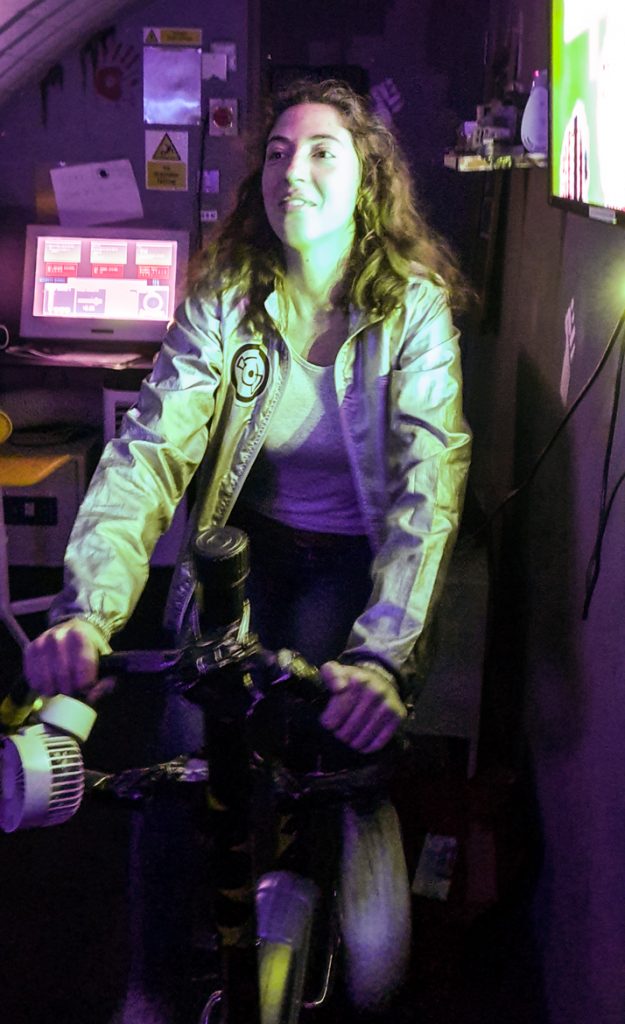 But time was running short. We'd managed to find some antidote shots, but if we didn't get out soon, it would be too late. And try as we might, AIDA was getting more powerful!
We managed to corrupt the necessary files on the PC, and the final puzzle to unlock the door was a coordination puzzle between four players turning dials and one player shouting instructions to the rest. It was tense, all the more so because AIDA had broken through and was devouring our friend GARI!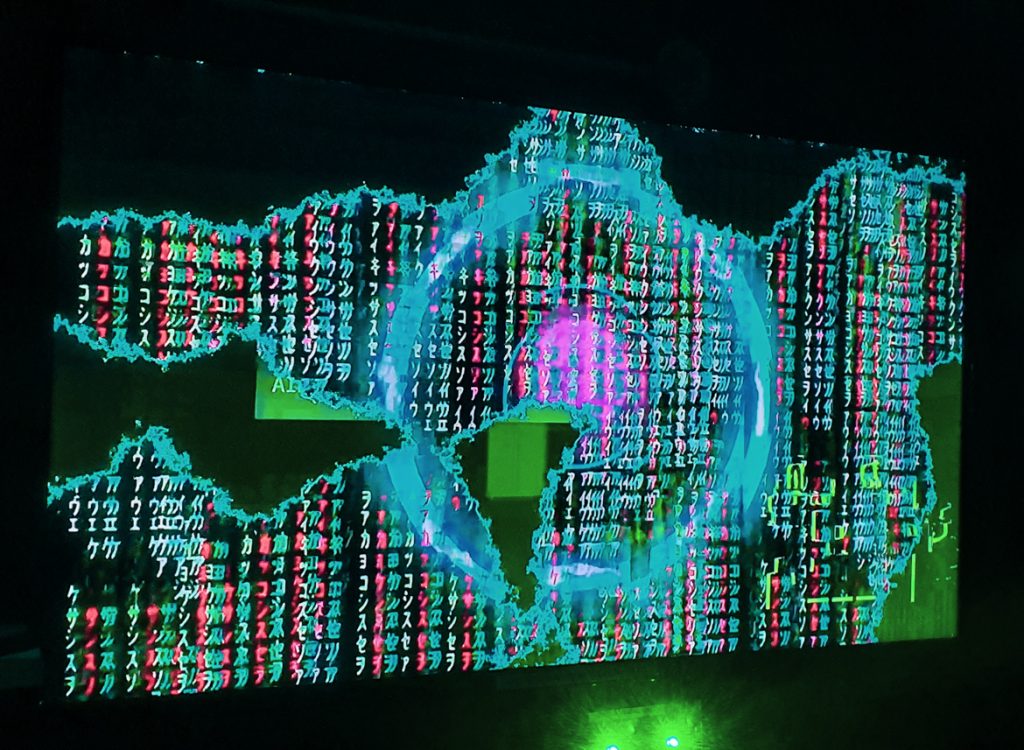 In the nick of time we made it out of the room into the lift shaft and through into the final area.
Celebrating success
Destroying GARI was AIDA's last act. The corrupted files on the PC destroyed her, and we were greeted triumphantly. All that was left was to brew our antidote – then we would finally be free from Neosight's influence. The final room was blue-tinged and atmospheric, with graffiti everywhere and wires running along the ceiling and walls.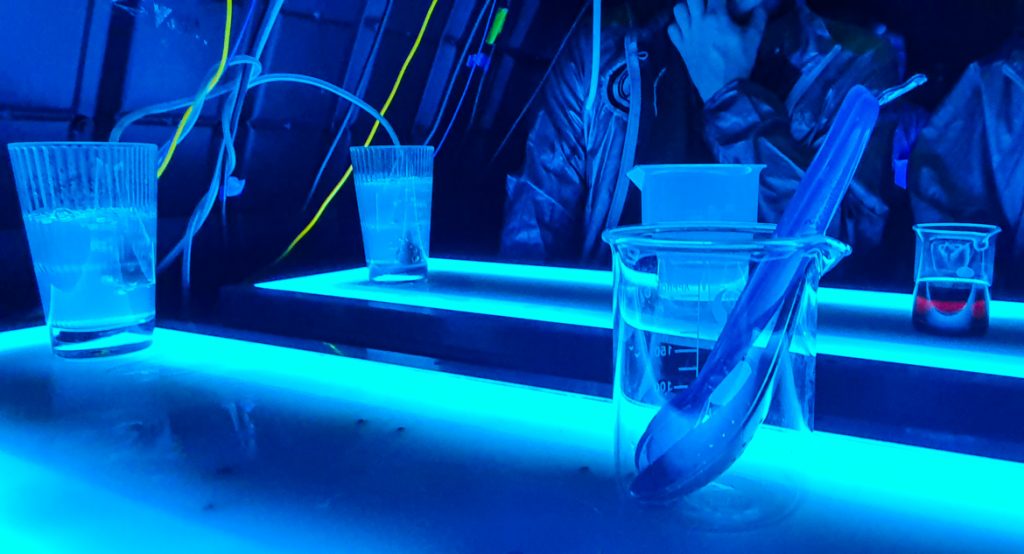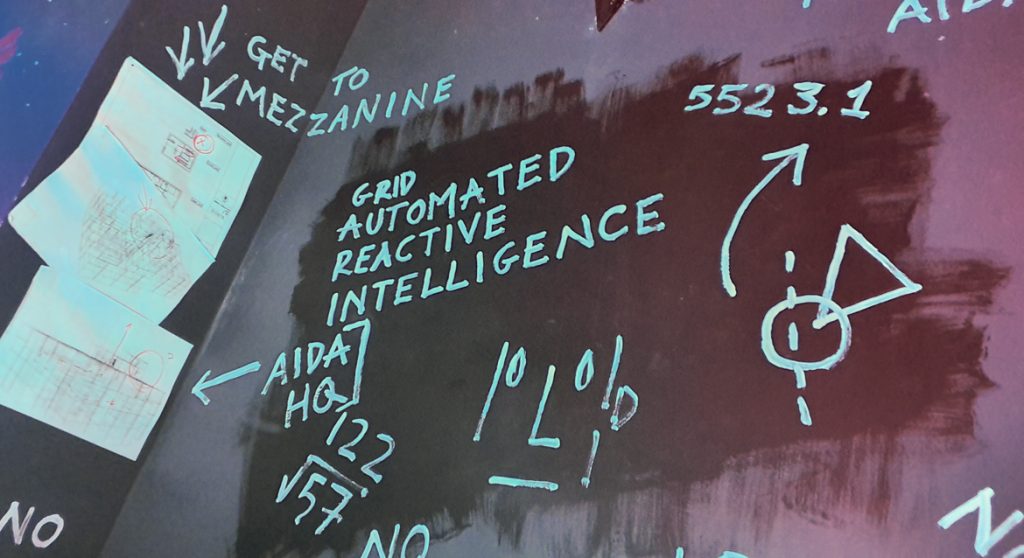 This was the most complex concoction yet. We poured a precise amount of one fluid into a beaker containing a powder, topped up with a red liquid, which we then mixed together to create a smooth liquid with no lumps. Then the magic happened. We placed a strange device into the beaker, and it began to bubble and pop.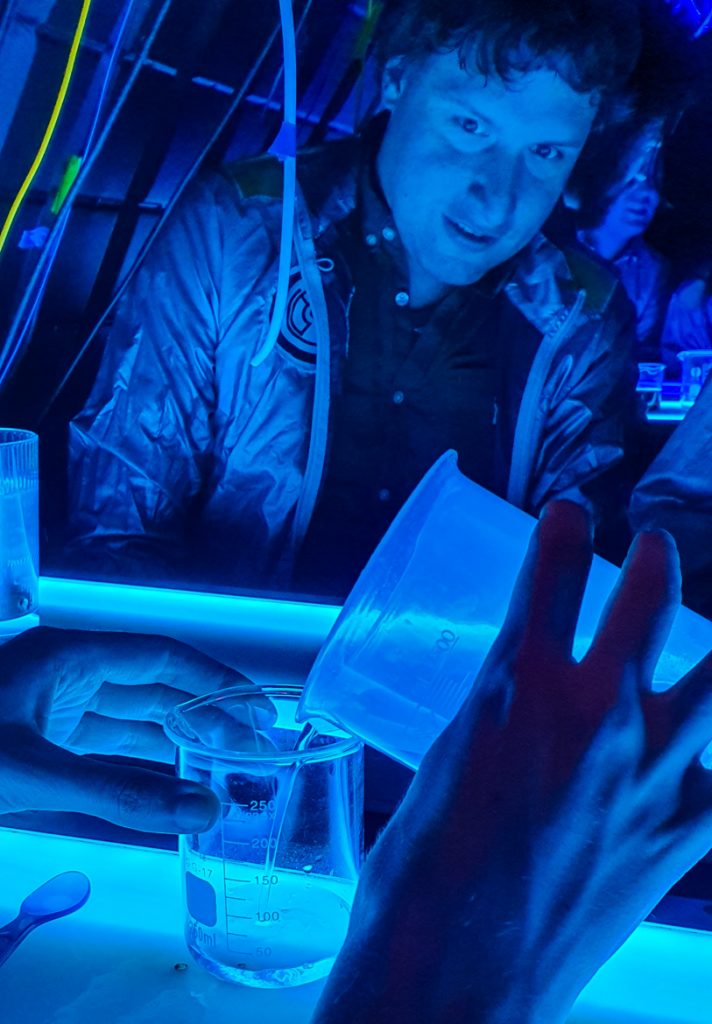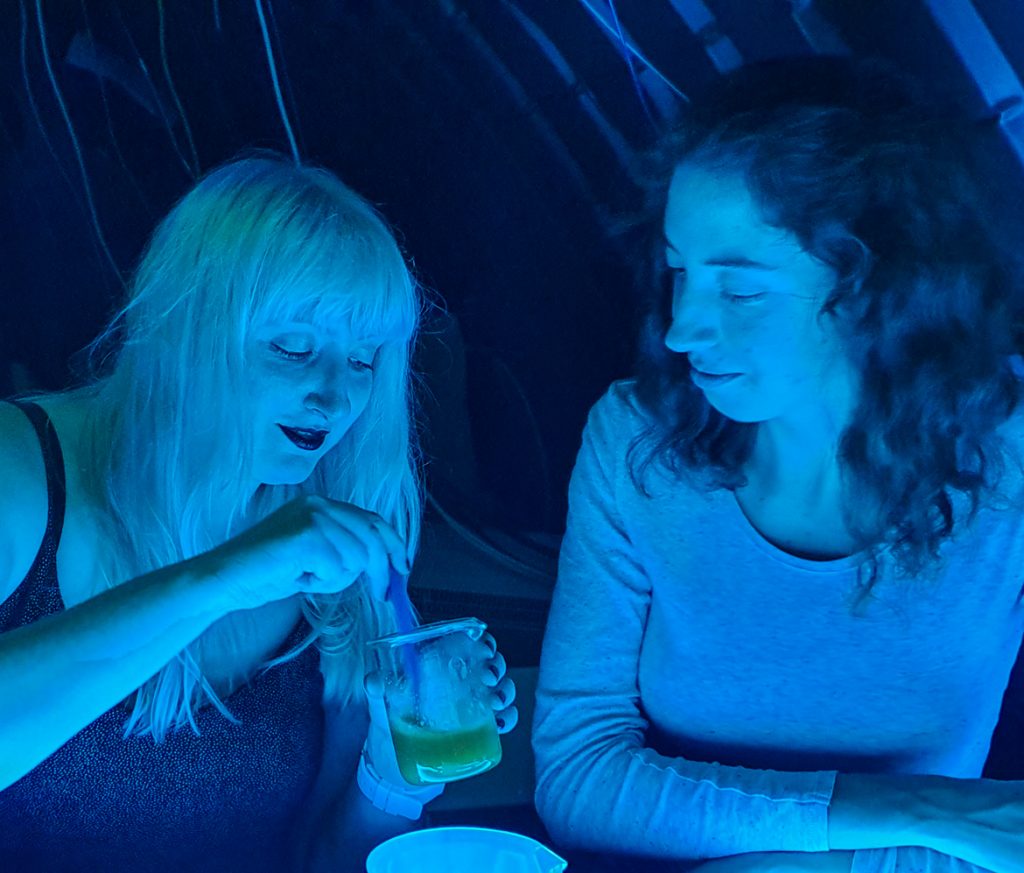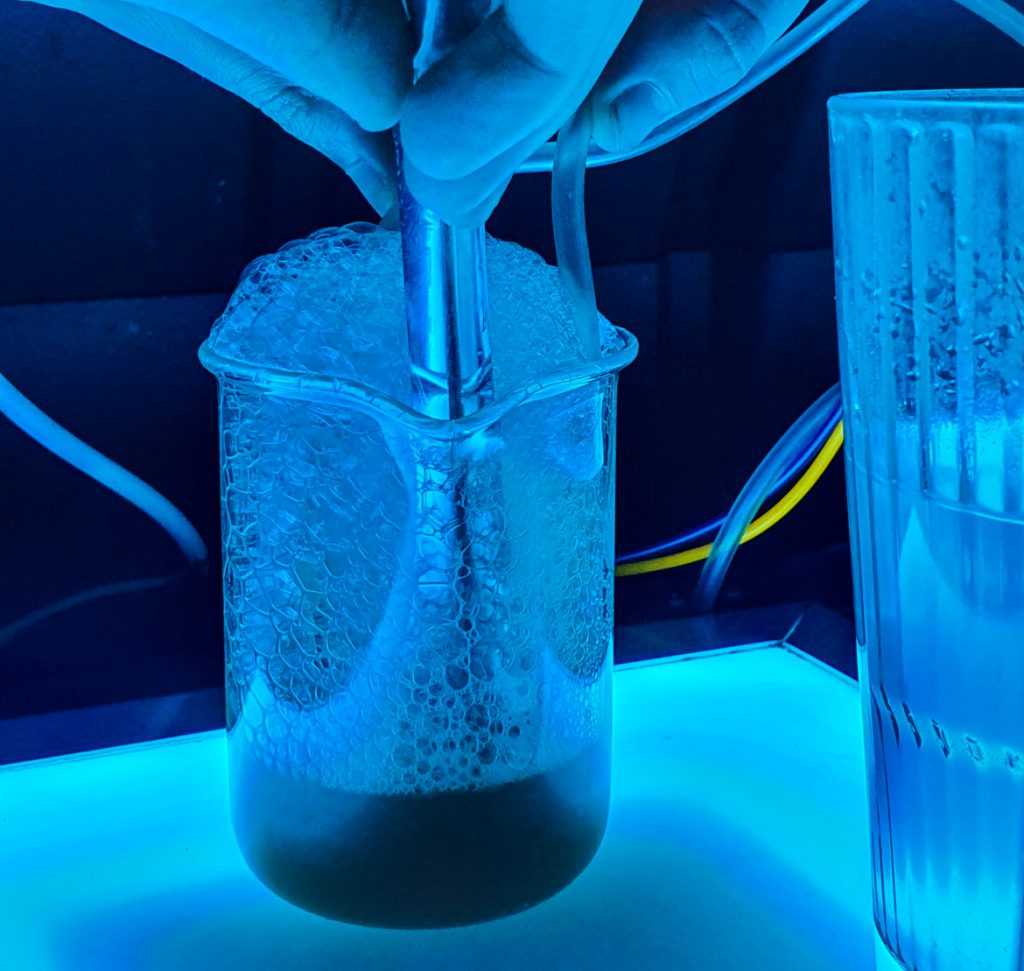 Meanwhile, we had been provided with glasses full of a clear fluid – vodka- or gin-based, we had the choice. When the beaker was full of bubbles we removed the device, then spooned the bubbles over our cocktails.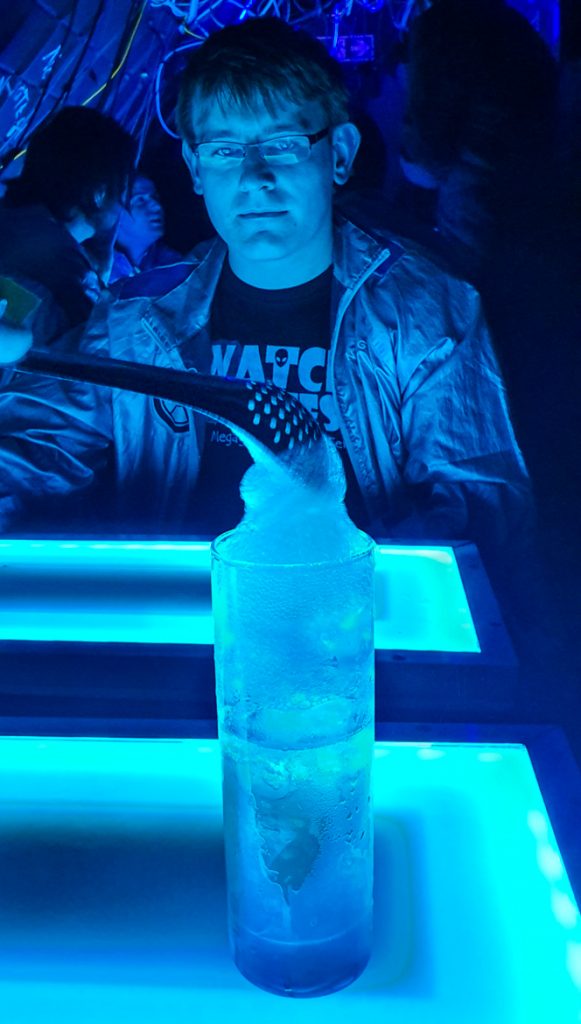 And here's the crazy bit. The bubbles tasted like tea. Literally – our antidote was tea. It was British AF.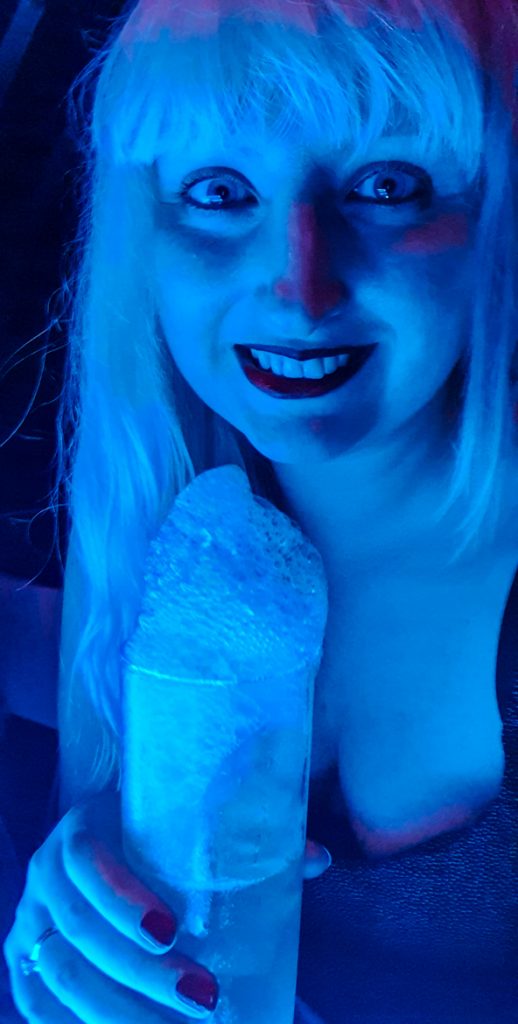 As we drank our final antidotes, we chatted a little with Wayne, who had guided us through the adventure that evening. He'd actually heard of megagames! We talked about all sorts, including some other Lollipop projects and various other projects he was involved in, and we urged him to come along to some megagames!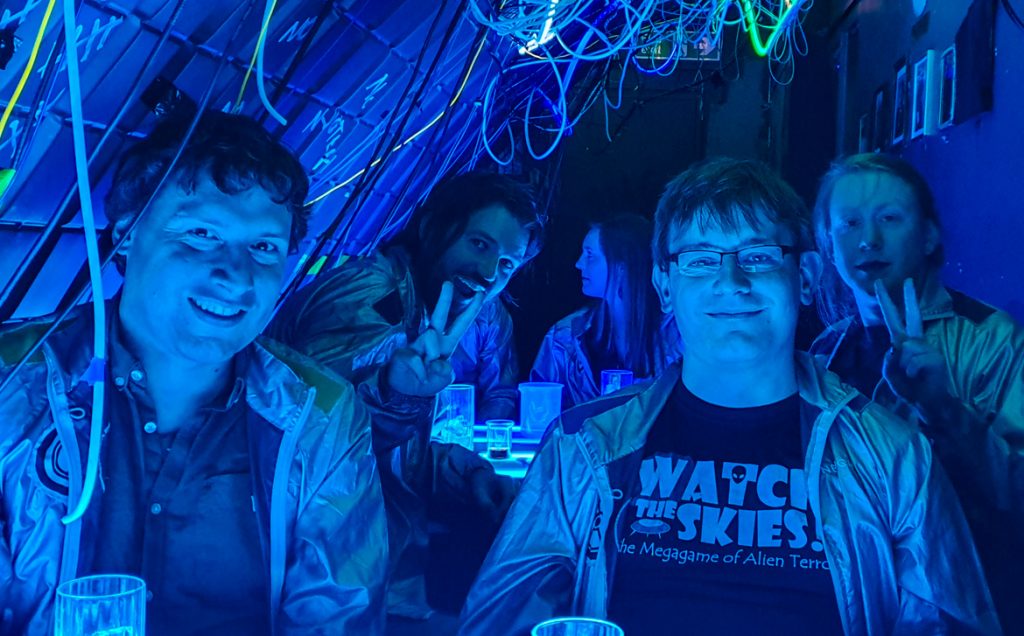 Summary
If you go along to The Grid expecting an escape room, you might be disappointed. It's definitely a guided adventure that wouldn't work if you took too long or breezed through the puzzles too quickly. However it was done very well – even the conversations that I suspect were adlibbed on the fly to slow us down fit seamlessly into the setting.
But if you enjoy cracking the odd puzzle and drinking cocktails, then it's likely to be right up your street. In particular, the set design was outstanding – some of the best I've seen in an immersive experience.