Shears Yard is on my walk from home into town, but I'd never had the opportunity to visit before. From the outside, it looks quite simple, but one glance at the menu tells you its anything but.
August marks our 18 month anniversary, and we knew we wanted a meal out… but we'd been a little spend-happy throughout June and July. While Shears Yard was on my list of places I wanted to dine at, it was a little pricy and so hadn't reached the top… until I visited the Leeds Restaurant Week website.
Leeds Restaurant Week
Leeds Restaurant Week, run by Leeds BID, is this week (14th-20th August).
Over 100 different restaurants around the city are putting on a special promotion (mostly 2 or 3 courses for £10 or £15). The restaurants include a mixture of large chains, smaller chains and independent Leeds restaurants.
I made a shortlist of the restaurants I'd love to try out. My shortlist mostly restricted itself to some of the independent restaurants plus one chain that I love, and they were all places I haven't visited in Leeds before. Some of the highlights I'd recommend looking at:
I then asked TC to choose from my shortlist… and off to Shears Yard we went, for a 3 courses for £15 offer.
Shears Yard
We wandered down to Shears Yard (I'm finally able to walk places again!) for 6:30pm. This Wednesday evening, the place was a good level of busy – not rammed, but with bustle and conversation all around us.
The interior has a rustic design, with bare brick, wooden beams and wiry lights dangling from the ceiling. The tables and place settings are simple, and the floor is just concrete. It still manages to ooze class, however, whether it's the eagerly attentive waitstaff, or the anticipation of what the food would be like.
The first half of the restaurant, when you come in, is a little dimmer, and would be good for casual drinks for a special celebration. The restaurant is airier, with a higher ceiling. We were greeted very warmly when we came in, and service was very swift all the way through the night.
Drinks and Ordering
We knew we'd have a set menu to choose from, as part of the Leeds Restaurant Week deal. Often I find that set menus seem overly restrictive. But on this occasion I was more than spoilt for choice. Out of the three options for each course (four for main), I wanted at least two of them!
For starters, TC and I squabbled over the choices. We always make sure we get different things to each other, so we can try as much as possible.
While we were choosing, we were served with fresh focaccia and confit garlic. Both were very tasty indeed, and the salt on top of the bread was a delicious touch.
We ordered drinks first, of course. TC is getting spookily good at choosing wine! It's like he can read my mind, and he chose a bottle of Verdejo Esencia de Fontana that went perfectly with our poultry and fish mains.
The Menu
To start, I persuaded TC to let me have the "rolled pig's head and ham hock terrine".
It was served with a charred corn salsa, smoke BBQ style apple puree and charcoal mayonnaise. It tasted like the fanciest barbecue I'd ever been to!
TC himself chose the "mackerel fillet mi cuit with smoked meckerel mousse, pickled kohlrabi, leek oil, dill and black onion seeds".
I'd decided against it because I'm not a massive fan of kohlrabi… or so I thought! When TC gave me a taste, I couldn't work out what I thought I'd disliked about it!
We both agreed that our starters were absolutely stunning and eagerly awaited our mains.
For main, I'd chosen the "grilled plaice fillets, cockle, brown shrimp and caper butter, wilted baby gem, courgette puree and compressed cucumber". After the incredibleness of the starter, the main fell a little flat. It was still incredibly tasty, but just didn't shine.
TC felt similarly about his "pan roasted corn fed chicken breast, French style peas with smoked bacon and lettuce". It was definitely a very tasty chicken breast, but not a stunner.
On To Dessert
Naturally, we went for dessert. TC knew his choice as soon as he glanced at the menu. "Dark chocolate and hazelnut brownie, hazelnut caramac, malt dulce de leche and pale ale ice cream".
Once again, he was blown away, and said that the ice cream provided just that hint of booziness that he wanted.
I was torn between the other two desserts, but eventually chose the "elderflower and lemon posset, raspberry and elderflower espuma, frozen raspberries and toasted oat granola".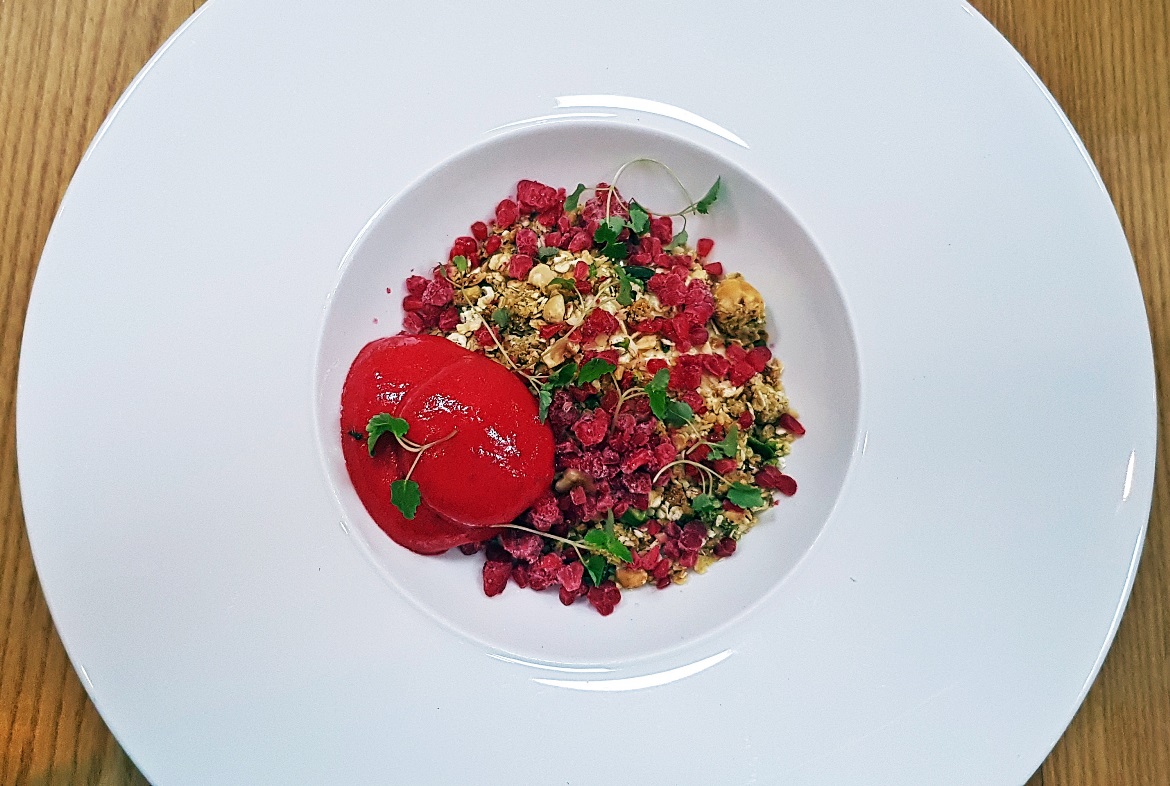 And WOW am I glad I did! This dessert has to be one of the best things I've ever eaten. The creamy sweetness of the posset, matched with the super tangy espuma (like a very light sorbet)… it was heaven on a plate. The granola and frozen raspberries added a lovely texture as well. Seriously, go eat it now!
We finished off the meal with some decaf coffees (I'm trying to sort out my sleep cycle), then wandered home.
We'd had a fantastic evening, talked a lot about the past 18 months we'd been together, and our plans for the future. I'll be carrying memories of that dessert with me for a long time…
If you haven't yet booked a table for Leeds Restaurant Week, make sure you do. It's a fantastic way to taste some of the best dishes Leeds has to offer. And if you can't get a table during it for Shears Yard, make sure you head there some other time. And order me a bowl of the posset!
Pin it for later: