Earlier this month I headed out to Sheffield to celebrate my best friends Keeleigh's birthday.
After living at the opposite end of the country to her for the past five years, it is so so awesome to be living a short train track away from her – even better since she has recently gotten engaged and asked me to be maid of honour!
After presenting her with some sunflowers from Kirkgate Market (see my recent blog on how cool it is to do a shop there), we headed to our dinner destination – an upmarket gastropub called The Milestone. Keeleigh had purchased a wowcher for it ahead of time, and luckily so.
First Impressions
It's pretty unassuming from the outside, and I genuinely didn't actually realise it was our destination when our Uber pulled up.
That would have been a big mistake. Even just walking through the door, I started to get excited. The decor was rustic but minimalist, and instantly welcoming. Everything from the stone and hard-wood, to the clean white walls, to the quirky foodie images on the walls, felt deliberate.
An open kitchen upstairs meant we could get glimpses into how these skilled chefs created their masterpieces…
Fresh flowers on the tables and cucumber in the water glass, and everything bathed in tons of natural light. I was super thrilled even before the we saw the menu.
And what. A. Menu. Unlike many discount vouchers which rule out half the menu, there was just the one dish we couldn't have through the voucher. And every single dish sounded delicious. Did we want veloute of foraged greens for our starter, or whipped goats cheese with local beetroot? And for mains, options such as pan-fried coley and pan-seared loin and roast belly of pork called out to us. There were so many options I wanted to try, it took us forever to make up our minds.
Drinks!
Which meant… plenty of time for a cocktail! Confusingly, they had about three different cocktail menus, but we didn't spot them all before placing our order. We both chose a bellini from the aperitif section. Mine was hedgerow summer berry, while Keeleigh picked the frozen apple and elderflower one.
Drinks in hand, we pondered the menu before finally finally deciding on a -oh wait, no, let me think, oh, I want that instead- finally deciding on a starter and a main each.
While waiting, we chatted about her upcoming wedding plans, what she was doing for her birthday, our respective other halves and gossip about friends. Our starters arrived speedily and we dug in.
Such Food
Keeleigh had picked the deep fried crispy pigs head, served with piccalilli and pork scratching. We weren't quite sure what to expect – would it be shaped like a pig's head?
Instead, it was shaped more like a fish finger… but the best fish finger ever. The filling was essentially pulled pork, a very moist and tasty pulled pork, covered in delicious crispy breadcrumbs (yes, she let me try some and it was incredible).
My pick was macaroni cheese, topped with slow cooked hen's egg, parmesan and truffle. Mac & cheese doesn't exactly sound classy, but I've been crazy about it since I went to New York last year. And this version has definitely got to be the best I've ever tasted – absolutely packed with flavour.
I was a little disappointed to discover a lack of yolk porn when I cut the egg open (I love myself a nice gooey yolk), but it was so immaculately cooked that I forgave it. Additionally, truffle is literally the only mushroom I eat (and there are some who call me high maintenance, can you believe it?).
The portion sizes were perfect – they sounded huge on the menu but the dishes themselves were just enough to whet our appetite without feeling like we'd been ripped off.
Starters were gone in no time. Service was quick, and we were soon tucking into some amazing main courses.
I declined to try Keeleigh's main course, tomato risotto with pickled shallot, goats cheese and dressed leaves. It sounded pretty damn tasty (which she confirmed) but I'm not a big tomato fan.
My bavette steak more than made up for missing out though. It was pan seared, and served up with whipped beef fat and pickled shallot, with a side of parmesan and truffle chips.
Honestly, I don't know what each of the blobs on the plate are, but they were 100% delicious.
I was so grateful that the side of chips gave me a way to mop up all that saucy goodness. The steak pretty much finished me off though, and I forced Keeleigh to steal some chips from me.
More Drinks
Too full for dessert, we decided to grab another cocktail, this time a mango margarita each.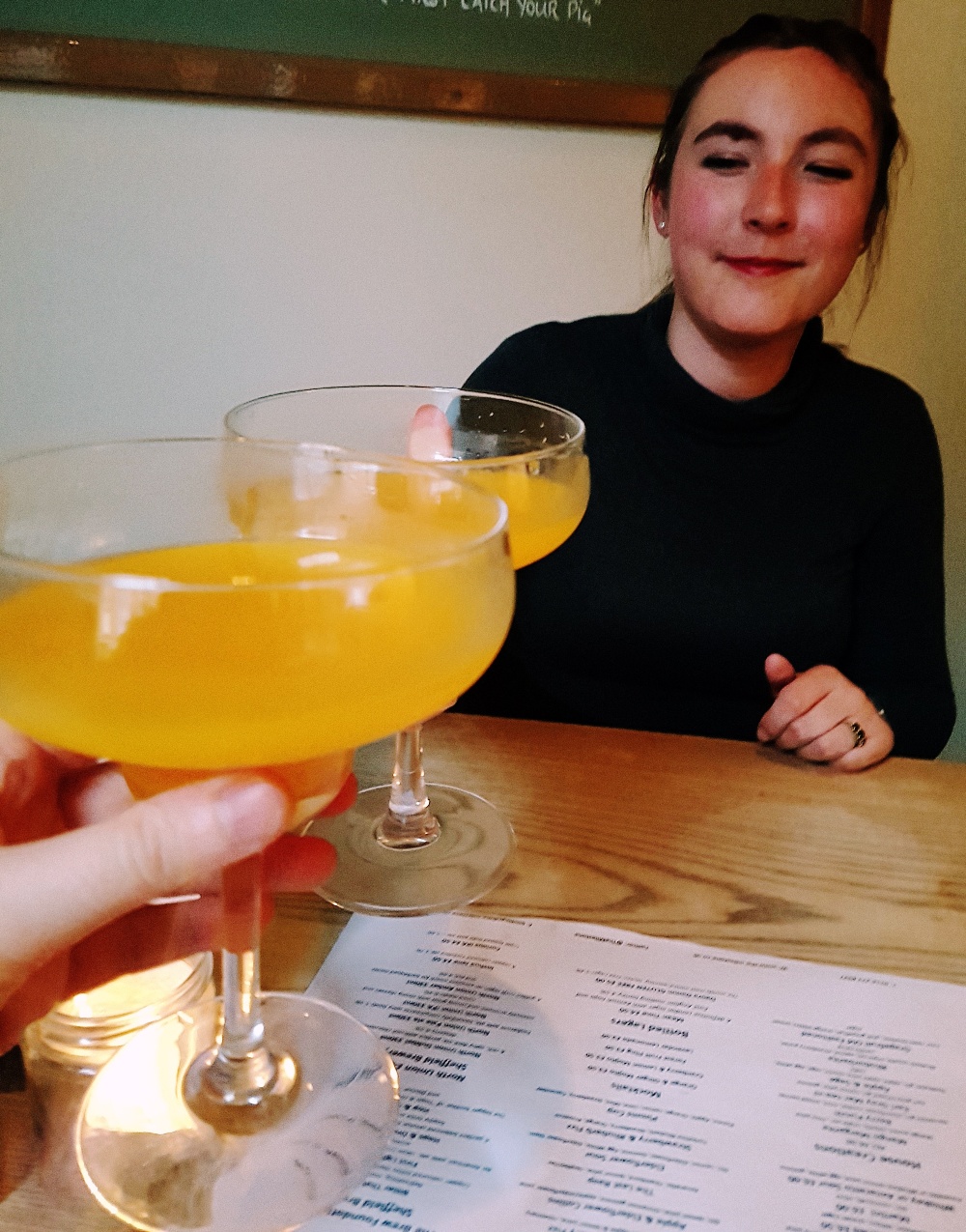 When the bill came, we were impressed. A meal usually costing £72 was brought down to just £46, that's to wowcher. We left a good tip and then proceeded to get lost on our way back into town!
Thanks Keeleigh for a fantastic meal out, and happy 26th birthday!