In the three months I've been in Leeds (just under), I've not had much of a chance to explore Leeds' nightlife. So I was very pleased when, last week, I had the opportunity to try out four new bars over the course of two evenings.
Belgrave Music Hall and Canteen
First off, I met an acquaintance for a few drinks – to discuss our mutual love of Harry Potter, mostly. She suggested Belgrave Music Hall, and based on her description – "there's a burger AND pizza bar, and there's sometimes dogs there" – I thought it sounded pretty neat.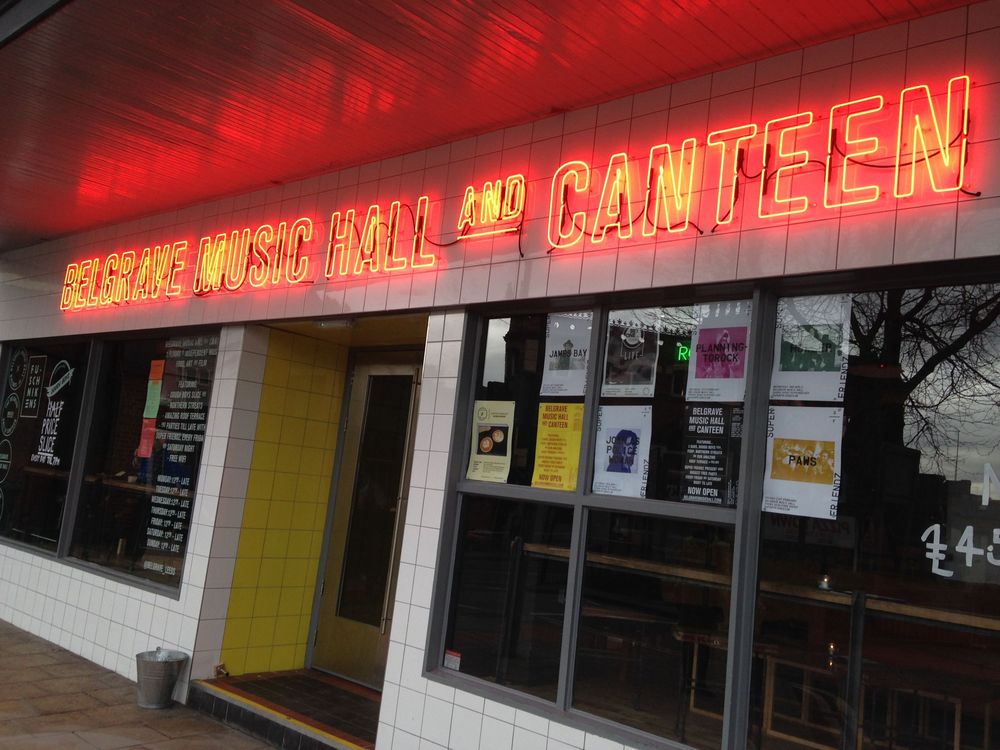 First impressions? It's laid back. Very laid back. The mishmash of furniture, long tables, long bar and two different food outlets gave a haphazard feel to the place. It's definitely not a place for dressing up – I'd worn a nice top and skirt with wedges, and I definitely wouldn't want to go any dressier than that.
Unfortunately, England was playing someone at the Euro, so I'm not entirely sure I saw the pub at its best. Though, having said that, it wasn't exactly crowded… just loud.
First we sat in a booth near the front downstairs, then we headed all the way up to the roof terrace. I preferred the terrace to the interior – it was a gorgeous evening to be sitting out in the sun with a cider, and the wood furniture with fake grass added to the "classic British summer" atmosphere.
Later we headed down to try some of their food. I went for a burger, which was simply to die for. The menu was hard to pick between, so I went for their special, the "Bend It Like Beck-Ham Euro Burger". A burger patty, ham hock, fried onions, BBQ sauce and cheese… it wasn't pretty to eat, but I didn't really care, it was that awesome. Though that added to my relief that I hadn't dressed up more. The chips were pretty epic too – all round top notch burger and fries.
Next time I'm after some super casual but totally awesome food, I might drop by. Alternatively, there's another location that offers a huge range of laid back food options, and it's a little closer to me…
Trinity Kitchen
The next night, I met one of my besties, Ellie, for a girl's night. We decided to meet in Trinity Kitchen to grab food first, then head to a bar or two.
Trinity Kitchen is actually somewhere I've managed to go in my short time in Leeds so far. On my first visit, I was super excited to see Rola Wala, as I haven't had a kati roll since New York!
Trinity Kitchen is a food hall on top of the Trinity Centre, featuring a mix of permanent food outlets, and temporary "street vendors" which change every month. The area is very open plan, with tons of seating in a cool urban-garden setting.
That night, we wandered round for ages, peering at signs, considering out options. Steak for six quid? Ribs AND wings? The healthier Vietnamese Pho? Eventually the delicious smells of Duck n Roll drew us in like ravenous moths to a very delicious flame.
I chose the Dallas BBQ-Sub, which put duck confit with smoked bacon, baby corn and burnt cherry tomatoes (plus the obligatory BBQ sauce). Unfortunately the duck got a little lost in with all those other strong flavours, and if I were to return I'd probably try the L'Asiatique (basically hoisin duck, one of my fave meals). Ellie chose the Ronaldo wrap, with chorizo and peppers… and chips! Inside the wrap! Weird.
We also got a portion of "chips and crazy salt" each (though I'm not quite sure how the salt was crazy…) because we were worried the duck bun wouldn't be big enough. We needn't have worried – the sandwiches were pretty sizeable and the portions of chips were pretty big too.
And, natch, because it was girls night, we got the cocktails in.
360 Champagne and Cocktail bar serves a whole range of drinks, including one that sounds like it was made for me – the Short Skirt! Raspberry meets Disaronno meets a name that I couldn't resist ordering.
Ellie went for a raspberry daiquiri, which totally tops my favourite cocktail lists too.
Our second round of cocktails was a little more disappointing. My Pornstar Martini (which I actually don't order because of the name, I just <3 vanilla and passionfruit) was a little strong and lack some of the flavour of other versions I've had elsewhere.
Meanwhile Ellie's Bramble tasted confusingly of Christmas, somehow.
We finished our drinks and headed to the next stop of the evening…
Norman Bar
This Call Lane bar is one I've passed numerous times but never noticed. In fact, I doubt we'd have noticed it tonight if a guy hadn't been handing out flyers on our way to Trinity Kitchen. £8 bottles of wine and £15 Prosecco before 9pm, thank you very much, don't mind if we do.
As soon as we walked in, we liked the place. The interior design was cool and kind of subterranean, with lots of cool stone and warm purple. It felt very classy and sophisticated, and our bottle of Prosecco didn't disagree.
Unfortunately as the night went on, it rapidly got very loud, and by 10pm we were shouting to be heard. When Ellie's boyfriend Callum came to join us, he almost wasn't let in, and judging by the TripAdvisor reviews, that's a fairly regular occurrence for men. The place was getting pretty full, and everyone seemed very… cool. Almost too cool. Maybe trying too hard to be too cool.
My advice? Head there early for some nice wine in nice surroundings, but leave by half 9.
Crowd of Favours
Our final stop of the evening ended up being Crowd of Favours – we were heading in the direction of home, but spotted the pub down a side street and, having heard it had board games, decided to stop in.
The pub is quite chilled, with mismatched vintage furniture and wooden floors. It was fairly empty when we arrived – probably more of an early evening sort of place. By a quick glance at the food menu, it seemed quite gastro-pubby. The place is apparently pretty well known for their beer, but we just got a bottle of rose to accompany our game of Cranium.
(I'll be honest, photos weren't top of my mind in the middle of this epic boardgaming session).
Being a three, it was a bit hard to work with the four-player-minimum… but we managed it eventually and it was a great laugh. Miming zero gravity in the middle of a pub while rather drunk was hilarious, as trying to create "leg waxing" out of putty. And in true northerner-friendliness style, a guy from the next table over even joined in, when he realised neither Ellie nor I could name a single jockey despite Callum's best efforts at charades.
After we drank our wine, and with the staff ringing the last orders bell, we begrudgingly left. Crowd of Favours is definitely a fun place to go for a few drinks and some casual boardgaming… and especially both at the same time.