The biggest problem with breakfast, as I've always seen it, is that you can't have alcohol with it.
The solution? Slide it two or three hours later, call it brunch, and you can have all the prosecco you want.
To prove the theory, my friend Keeleigh and I stopped by East 59th for their Bottomless Brunch and a good catch up.
East 59th
As soon as I heard that a Manhattan themed rooftop bar was coming to Leeds, I knew I'd love it.
It's located on top of Victoria Gate and next door to Japanese place Issho, which is high on my must-visit list. Stepping into the restaurant feels like stepping into New York… Except in my experience, in NYC the tables are much closer together!
The decor is colourful and vibrant. Trees fan out over the large window that lets in tons of light (all the better to Insta with) and outside the open-air balcony still had remnants of the snow. No outside table for us then, today. Instead we were led over to a table beneath some vivid works of art.
Bottomless Brunch
Previously I'd only been here for drinks in the summer, so this was my first venture into their food menu. They also do lunch and dinner, but on the weekends they are one of the growing list of locations that offer brunch in Leeds.
The concept was simple – pick an individually priced main course and dessert. Then add unlimited drinks for £15. Drinks-wise, you could choose between prosecco and Bloody Marys. We had no doubt what we wanted, and they brought over a bottle of fizz to start us off. For the rest of the visit our glasses were barely allowed to get half-empty.
The menu was full of delectable options. I normally would have chosen the waffles, bacon and maple syrup, but then I spotted the most expensive dish on the menu – the lobster frites, with truffle dip. Despite my battle with the lobster at Piccolino, I decided to risk it.
We ordered our mains but decided to save decisions on our desserts until later. Meanwhile we got down to the main business of brunch – a good girly catchup.
Main Courses
Keeleigh had gone for the waffles, which made me very jealous. She hadn't tried bacon and maple syrup before, and wasn't sure what to expect, but by the end of the meal she was definitely a convert.
My lobster came with the usual strange tools that I was expected to use, to do battle with the shell. This being the second time I've had lobster-in-shell, I definitely fared better, and managed to carry on conversation while cracking claws. The truffle dip was to die for (but then I adore truffle) and the chips were skinny and salty, just how I like them.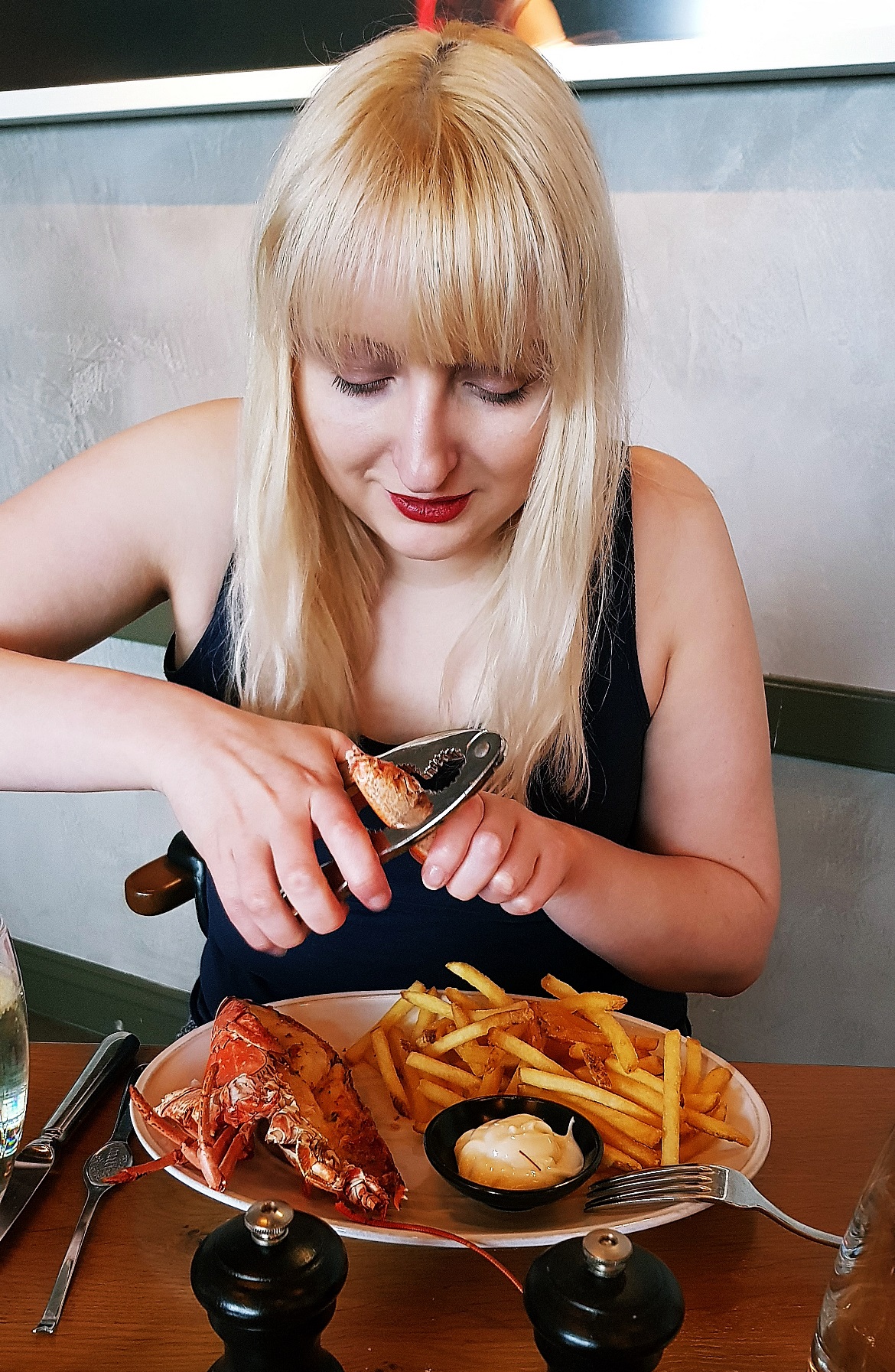 While we were eating, our waitress asked if we wanted any Bloody Marys. Neither of us had tried one before, but since it was included in the price we thought… why not? We asked for one to share though, in case we weren't keen.
Which I definitely wasn't! I'm sorry, but cocktails should be sweet and tasty. This tasted like cold tomato soup (which I'm not a fan of even when it's hot). We'd asked for a 5/10 on the spiciness scale, and I think having a little more heat behind it might have helped… but probably not. I'm just not a Bloody Mary sort of girl.
We turned our attention to the dessert menu – more limited than the mains, with just three different options . Our waitress recommended the double chocolate brownie. Considering how cold it was, the promise of something served warm was very tempting. Topped with berry coulis and salted caramel ice cream, it was the perfect gooey texture.
Summary
Feeling slightly fuzzy from the prosecco, full from the meal and happy from the atmosphere, we left East 59th and wandered around Victoria Gate for a while. It was certainly an enjoyable way to spend a Sunday morning, and I'll be back again for cocktails and hopefully dinner sometime soon.
We received a discount on the meal, but all opinions of bottomless prosecco and delicious lobster are my own. Here's my full disclaimer.