Last week was our 3 month anniversary (doesn't time fly) and we decided on a place we walked past pretty much every day – a Persian restaurant called Safran.
First Impressions of Safran
I'll be honest, it wasn't really the exterior that appealed to me.
The menu had pictures of the food on it, the tables were plasticky, and the place kind of screamed "takeaway" (though that could just be my kebab prejudice talking). But what it did have in the window were TripAdvisor top awards, which my boyfriend pointed out "not just anywhere gets". And when I checked out the place on TripAdvisor, it seemed he was right – tons of glowing reviews. So I booked the spot for our Friday date night.
The best thing about the place was that it was barely a five minute walk from TC's (we still got there ten minutes late, natch). When we arrived the front was opened to the air, which was a pretty nice idea. The lady who (eventually) greeted us didn't make any sign that she actually had a record of my reservation (or cared), but led us to a four seater table straight away.
Plastic menus were on the table, and after a few minutes she dropped off the drinks menus too, which featured an expansive wine list containing "House Red", "House White" and "House Rose" (the expansive bit was sarcasm). Nevertheless we plumped for the excitingly named "House Red", which turned out to be a South African red of no particular type. I was kinda disappointed that they didn't have any actual Persian wine, but it was a perfectly decent wine.
Perusing the food menu was an experience – I've never had Persian food before (kebab shops don't count). The majority of the menu consisted of various different types and combinations of kebabs, and there were also a range of stews ("khoresht") and wraps. My distaste of photos on menus aside, it was quite handy to be able to compare a couple of the options, before deciding on a Chenjeh mix (two different lamb kebabs) over the Sultani (two other lamb kebabs). TC went for a Mahicheh khorescht, and we decided to split the Chicken Mixed Starter.
Foooood
Food arrived after a short wait, and we dug in.
The chicken starter was pretty huge, so we were glad we opted to share it. It came with a chicken kebab, some falafels, a dollop of hummus and a ton of salad, with a giant naan bread on the side. All of it was pretty tasty – even the falafels which I'd had before somewhere else and hadn't been terribly taken with.
Our mains were brought out before our starter had been taken away (even though we'd had empty plates for a while).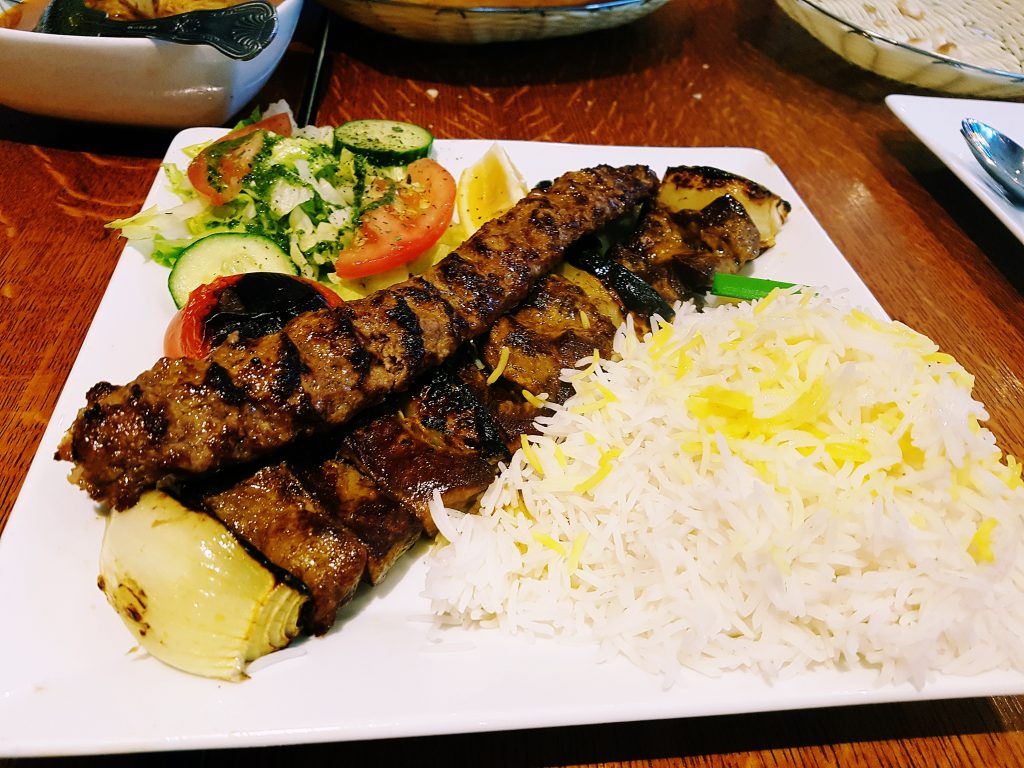 My Chenjeh mix consisted of one skewer of chenjeh (diced lamb fillet) and one of koubideh (minced lamb), served with grilled tomatoes, salad and a mound of rice. And, confusingly, a pat of butter. A quick Google determined that I should "melt the butter on top of the rice like a jacket potato", so that's what I did.
It tasted pretty good, but was crazy filling so I didn't manage to finish all of it. TC prefer the chenjeh while I quite liked the spices in the koubideh.
His mahicheh stew was delicious (though not terribly photogenic), and the lamb literally fell off the bone, it was so tender. He opted to get a naan with his (another giant one), rather than rice, but based on how runny the stew was he wished he'd got the rice instead.
Overall the food was superb – definitely rehabilitated kebabs from drunk-food in my mind – but the restaurant's appearance and service could do with some improvements. It came in super cheap though, which meant we could move on to cocktails.
Cocktail O'Clock
I haven't been in Leeds long, and basically the only drinks places I've been to are the Adelphi and Call Lane Social. So I asked if we could go somewhere different.
A quick browse on the Leeds List guide to Call Lane suggested somewhere only a minute away from Safran – Maven. Described as "prohibition themed", our only worry was whether we'd find it successfully!
First Impressions of Maven
We approached the top end of Call Lane looking for "the door with no sign".
Luckily, there was a bouncer stood in the most likely doorway, which led to the promised staircase. At the top of the stairs there was a door with a giant metal M, and we finally knew we were in the right place.
Pushing through the doors, we were met with the speakeasy. It was dim, there were shutters over the windows, and you could almost smell the fog of smoke that normally accompanies these kind of scenes in movies. The decor consisted mostly of peculiar paintings of humans with animal heads – we were well in hipster terrority.
Having taken in the atmosphere, we strolled up to the bar to peruse the cocktail menu.
Driiiinks
The below cocktail menu is totally blurred due to my desire to keep the full list a secret…
To be honest, I was a little surprised by how short it is.
Cocktails are apparently one of the things they're known for, but the list numbered only 11 (though their website boasts that they will make you anything whether it's on the menu or not). The variety was good though – at least a few cocktails I wanted to try, which is often the worry with prohibition themed places that tend to favour whiskey or brandy based drinks which I'm not a fan of. My preference for vodka, gin, rum or wine was met a few times over, and I chose the South Pacific, which seemed to be a twist on my favourite, the Pornstar Martini, with vanilla vodka, passion fruit syrup, kiwi, lemon juice and apple juice. It was sweet deliciousness, though confusingly served with a flower floating on top which I'm not sure was edible.
TC chose my second choice, the Berry Swizzle, a mix of berries and grenadine with Sailor Jerry Rum. This one was served with an absolutely tree of mint and not one but TWO berries perched on top. It tasted good but the rum was a little strong for my taste so I preferred my own cocktail.
The bartending style was a lot simpler than the usual flair bartending that goes on at these sort of places, but you could tell there was care and precision going into the taste and presentation of the drinks. I was pleased to see that the guy tasted one of the drinks, then added a little extra of a couple of ingredients before serving it – the mark of a bar that really gives a damn about its cocktails, IMO.
Not fancying a heavy night, we headed home after the one drink. The cocktails were £8 each, so a touch on the expensive side, but definitely worth it for the quality. I'm fairly sure we'll be back.