If bright colours, kooky cocktails and free pizza are your thing… boy, do I have the place for you!
I was invited along to the blogger launch of Cuckoo, Call Lane's newest bar. Taking the place of Black Swan, it's owned by the same folk as Mean Eyed Cat, Call Lane Social and Tiki Hideaway. Just as each of those bars have a distinctive feel to them, Cuckoo is utterly unique. The theme here? Wonderland.
It hits you from the moment you walk in the door. The neon lights behind the countertop glow out across the bar, and the swirls of paint and colour across the walls show you very quickly that you've fallen down the rabbit hole. But it's not explicitly "Alice in Wonderland" themed, and it's not tacky in the least. It's an escape from reality, into a world where the colours shine a bit brighter than in ours.
The Drinks
The cocktail menu is full of wacky choices. We kicked off the night with our pick from the list, and my choice was the Royal Grape Martini. It featured a mini bottle of prosecco upside down in the glass. But it wasn't all style and no substance – the grape flavour balanced out the margarita in a way that was really refreshing. I love a good margarita, but I usually go for berry flavours. It was a nice change to have something a little closer to the classic.
The ones my companions chose looked just as good. I was sorely tempted by the Peanut Butter Martini, which Charlotte chose. It even came with a little Reese's Peanut Butter Cup chocolate.
Cocktails in the Making
The next part of the evening was a cocktail demonstration by our bartender. He made us two cocktails, then a sharer.
First up, the Rum and Raisin. Absolutely not something I'd ever order, and this is one of the reasons I love these events – it gives you the opportunity to try out something unexpected. And it turns our the Rum and Raisin is amazing! This was my favourite drink of the evening. It tastes an awful lot like apple juice though, so perhaps goes down a bit too easily…
Our second drink was a spicy one! The Thriller in Vanilla featured chilli liqueur alongside the more usual combination of vanilla and passionfruit. Our bartender let us choose the level of spice, and we decided not to go for one that would blow our socks off! Instead, it had a hint of heat that warmed our mouths, while the other flavours came through perfectly.
The last cocktail was a sharing "pottail", Spiced Berry Tea.  It's fittingly made in a large teapot, and served into teacups. This was probably my least favourite drink, as I'm not a fan of the mouthfeel of cold tea. But several of my companions said it was their favourite!
Although we only tried their cocktails, I spotted the long necked cylinders with giraffe heads on behind the bar. These are their "giraffes", which you can fill with beer and take back to your table. Freshly poured beer all night, without tons of time queuing – more time for the bar staff to make cocktails with!
The Food
Black Swan was famous for its pizzas, and it looks like Cuckoo are going to continue that tradition. The back section of the ground floor is given over to picnic style benches, laid out in front of the massive pizza oven.
They've also borrowed an idea from sister bar Mean Eyed Cat. Before 9pm, all drinks come with a free 6 inch pizza! Sure, just one isn't going to sate your appetite… But two or three will do the job great!
Although there's a sizeable list of unusual savoury pizzas on the menu, that wasn't why we were there. Instead, we were led through to a spread of ingredients and an empty pizza base each. It was Design A Pizza time!
I'd come with a battle plan, and I needed three things – bacon, blue cheese, and avocado! Unfortunately we were given none of these. I managed to sweet talk them into giving me some blue cheese, but I went for chorizo instead, and skipped the avo. I also omitted the tomato base – I'm a huge fan of white pizzas. Some red onion, chopped cherry tomatoes and lots of mozzarella finished the job.
There was just one problem… In my eagerness to include the blue cheese, I'd forgotten how strong it was! My pizza tasted overpoweringly of it, and I didn't win. One of my competitors actually dared to use both marmite and pineapple on the pizza… And unsurprisingly he didn't win either!
The winner, Phoebe, didn't overcomplicate things. She kept it simple, and her finished product, This Little Piggy, had cheese, chorizo and pepperoni on it. A classic but a well-loved one. Her prize (besides a certificate) was to have her creation featured on the Cuckoo menu for the next month.
The Desserts
But I haven't mentioned the most exciting part of Cuckoo's pizza menu. And remember that's a free pizza menu until 9pm… They have dessert pizzas! So you can get a free savoury pizza with your first drink or two, then move onto the sweet list with your third!
We got to try out the whole line up. And honestly, there's no bad choices on the menu!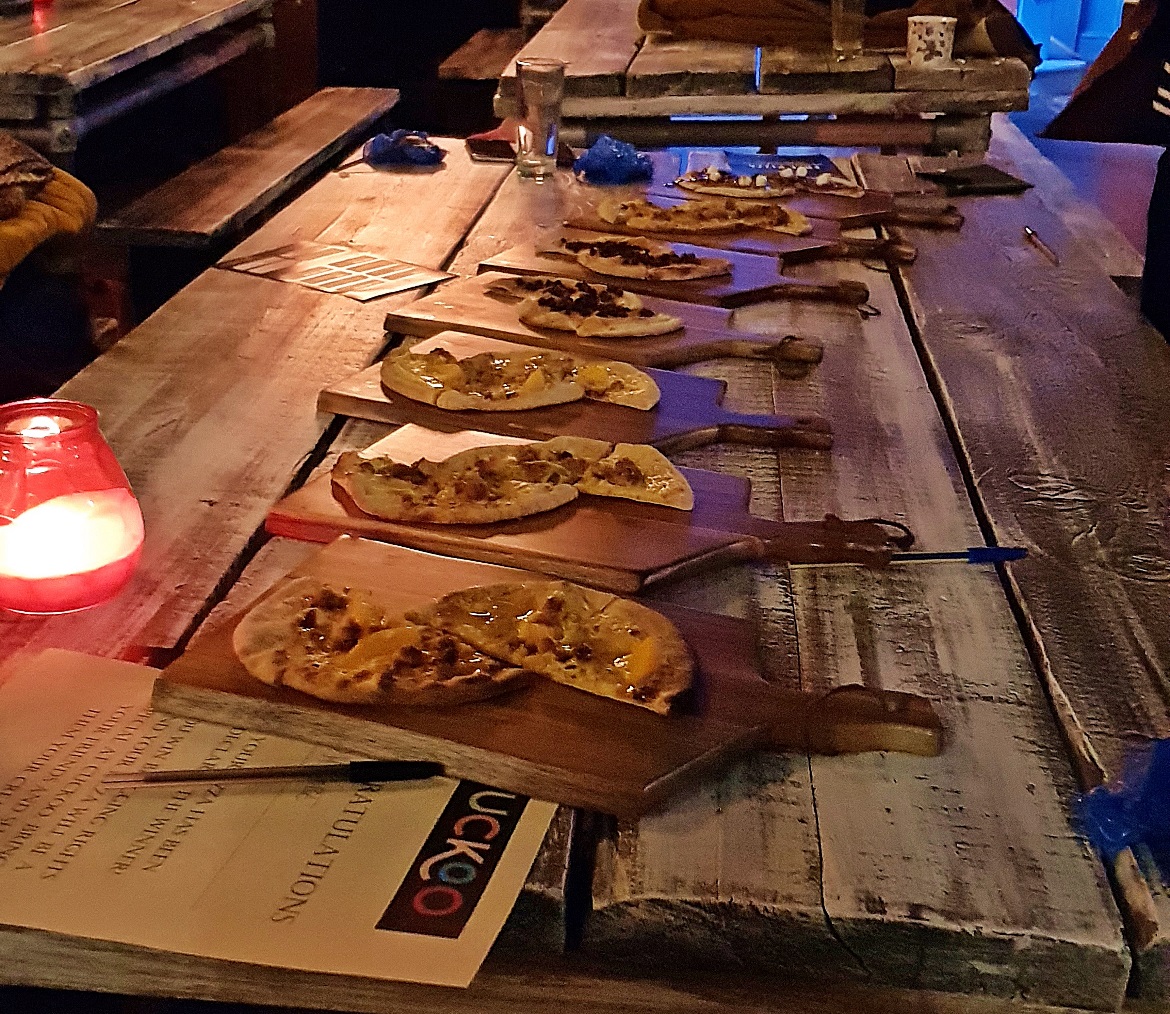 The Wonka Pizza was a little sickly, with chocolate, salted caramel and marshmallows – though I know I'll totally order it again anyway.
But the one the entire group loved was Blame Canada. Maple peach and strudel topping is apparently a fantastic combination!
Unexpected Twists
After we'd eaten our fill and more, we explored the venue a little more. It's December so we didn't brave it up to the roof terrace (a first for Call Lane), but we did spend a few quid in the photo booth (which actually takes contactless!). Warning: the frame isn't what it looks like on screen…
Upstairs is apparently one of very few exclusive private rooms in a Leeds bar with its own bathrooms and music system. They've already had tons of Christmas enquiries too, despite having been open for just a week by the time I visited.
Conclusion
Would I go back? Well… I already have! It's a fantastic place to spend an evening, and I'm so glad Leeds has added this to their already impressive bar scene.
I was invited to Cuckoo and received my food and drinks free of charge, but all opinions on this epic new bar are my own. Here's my full disclaimer.