So apparently I'm a gin girl now!
The Botanist is probably my second favourite bar in Leeds (I'm sorry, but no one uses dry ice like the Alchemist), and I was excited to be invited to their new Gin Masterclass last week.
Over the course of the evening we were taken through 5 of the staff's favourite gins. We tasted them neat and with tonic. Plus we were taught a fair bit about the history of gin and how the Botanist approach the famous tipple.
Arriving at the Botanist in Trinity Leeds
I think the Botanist was one of the first places I went for a drink in our fair city. It took me a while to get used to their menu which, to no one's surprise except mine, heavily features herbs, flowers and other botanicals. For someone whose favourite drinks tend to be sweeter rather than savoury, it took a few tries to find my top choices on the menu.
When we arrived, we were offered a drink. I took them up on their cocktail offering, natch. Their signature "The Botanist" was truly delicious. Simple in flavour, with vodka, rum and elderflower, but fancy in decoration with a topping that brought back memories of freshly cut grass.
Tim asked for a beer, and was recommended a Lagunitas. Although I'm starting to get into beer, it was too hoppy for me, but Tim definitely enjoyed it. The vibe of the Botanist is different to most cocktail bars. Based slightly underground, it's often a little dim (so apologies for any blurry or discoloured photos), and the wifi signal often isn't great. But they make up for it with occasional live music, and a chilled out atmosphere that means you don't particularly have to dress up to get your cocktail on.
We chatted for a while with the other bloggers in attendance, and took photos of our pretty drinks with the even prettier roses we found on our table. Before long, the gin class began!
Ginstory
Our guides for the evening were to be JB, the bar manager, and Katie, one of their knowledgeable bartenders. They kicked off the evening by telling us a little about the history of gin.
Gin has its roots in jenever, a Dutch drink from the Middle Ages. Originally completely foul due to the (literally) medieval distilling techniques, makers began to add various herbs to the mix to mask the unpleasant taste. You can see right here why it fits in so well with the Botanist! Juniper, the well known component of all modern gins, was one of many different options back then.
Gin became popular in England during the 80 Years' War. At the time, a flask of gin would be given to each Dutch soldier, as medicine, to keep out the cold, and to steady nerves before a fight. The English saw this, named it Dutch Courage, and brought the spirit back to their own country. Britain became so crazed with gin that in the 18th century, several acts were passed in Parliament to try to reduce the intake of it.
But the staff at the Botanist aren't just history know-it-alls! They're also super experts on the differences between different gins, as we were about to learn.
London Dry Gin
The first gin we tasted was Tanqueray, one of the most well known gins in the world. It's a London Dry Gin, which as we learned means that it contains at least 51% juniper.
At this point, Katie asked if we'd tasted juniper berries before. Most of us replied in the negative, and so she handed some out for us to try. Guess what? They taste like gin.
And tasting it this way, it's pretty clear that juniper is the overriding flavour in the gin. Tanqueray keep their recipe under wraps, and so it's left to us to speculate what other flavours you can taste coming through in the gin. Perhaps coriander, perhaps aniseed?
Fevertree Original Tonic was also doled out to us. After tasting our gin neat, we got to add a splash of tonic to taste the difference. I definitely need the tonic, I'm not totally sold on neat gin just yet!
Other Botanicals
Our second gin was Thomas Dakin. This gin originates in Manchester, and has a pretty unusual backstory. Despite the name and the old fashioned bottle, it was actually developed in 2015 by a woman named Joanne Moore. It's said that her pregnancy while she was developing it may be the reason for some of the more unusual ingredients added – such as horseradish!
Containing 11 botanicals, including coriander seed, liquorice and sweet orange peel, it doesn't fit the requirements of more than half juniper. This was an important part of the tasting for me. I discovered that I really prefer non-London Dry gin!
This also gave us the chance to try a different tonic water. This time Fevertree Mediterranean Tonic was the mixer of choice, which sparked a discussion about the origins of gin's famous partner. Tonic comes from quinine, and was originally added to mask the bitter taste of the spirit. Although as you may know, tonic isn't exactly known for its sweetness, and the original tonic had a much higher proportion of quinine in – which only goes to prove how disgusting old fashioned gin must have been!
The Perfect Serve
Our third gin was another London Dry. Langley's No.8 is another secret recipe gin, although we know the 8 means eight ingredients, and since it's a London Dry it's over half juniper. Honestly Langley's was so strongly junipery that I could hardly drink it, even with tonic!
The Botanist staff commented that drinking gins where they don't tell you the ingredients can be a nice change for gin connoisseurs. Unlike wine, where flavours come from the way the grape itself develops, gin's botanicals are actually added during development. So there's not a ton up for discussion when tasting gins, unless you don't know exactly what's included!
We also got a quick taste of the "Perfect Serve" for Langley's No.8. Gin and tonic may seem to be the simplest drink in the world. But looks can be deceptive! Each gin actually has a "Perfect Serve": the exact ratio of spirit to mixer, the exact tonic to be used, the perfect garnishes for flavour and appearance.
For Langley's, grapefruit and basil were the garnishes. But you'll have to go down to the Botanist to taste it in all its glory!
Food Glorious Food
Oh, the food. If I'd turned up expecting gin and had just been served the food, I don't think I would have been upset! I hadn't eaten at Botanist before, but both Tim and I commented that the Botanist has now shot straight to the top of our to-eat list!
To share between the group, we were served two different deli boards containing various different hams and cheeses. We also got various different pots of starters: warm chorizo, green olives, crispy calamari, chipolatas with a mustard dip, pork crackling, blooming onion…
It was hard to pick a favourite. The chorizo was delicious (they let us have an extra portion of that), as were the chipolatas. I also loved the creamy brie and blue cheese.
A Touch of Fruit
Our fourth gin was one not originally on the menu. But during conversation, fellow blogger Lauren Jane mentioned that her favourite G&T was Brockmans and Ginger Ale (not tonic at all!). Bartender Katie pounced on the idea immediately.
Unlike most fruity gins on the market, Brockmans is completely natural. It was the only gin of the night that I preferred sans tonic, because the blueberry and blackberry notes came through perfectly. Many others described it as a sipping gin you could enjoy neat. And later on we got to try it in a martini. It's absolutely a tipple I could imagine sipping on a hot summer's day.
This was the part of the evening that really stood out for me. This gin wasn't part of the original masterclass. This was absolutely just the bar staff showing off their incredible knowledge and passion for their products.
Rounding It Off
Our last gin of the evening was Gin Mare. Natch, there was extensive debate over the pronunciation (Gin Mair? Gin Marr-ay? Gin Marr?). Rather than tasting it neat, we were each given a "Perfect Serve".
Again I'm unsure on the tonic, but the garnishes were rosemary and olive, and the herby waft of scent up your nose set off the savoury gin perfectly. It's not a gin I would have expected to like, but the Perfect Serve was pretty stunning, and it was my second favourite gin of the evening.
For someone who wasn't sure if she even liked gin a few months ago, I absolutely enjoyed my evening.
Pin it for later: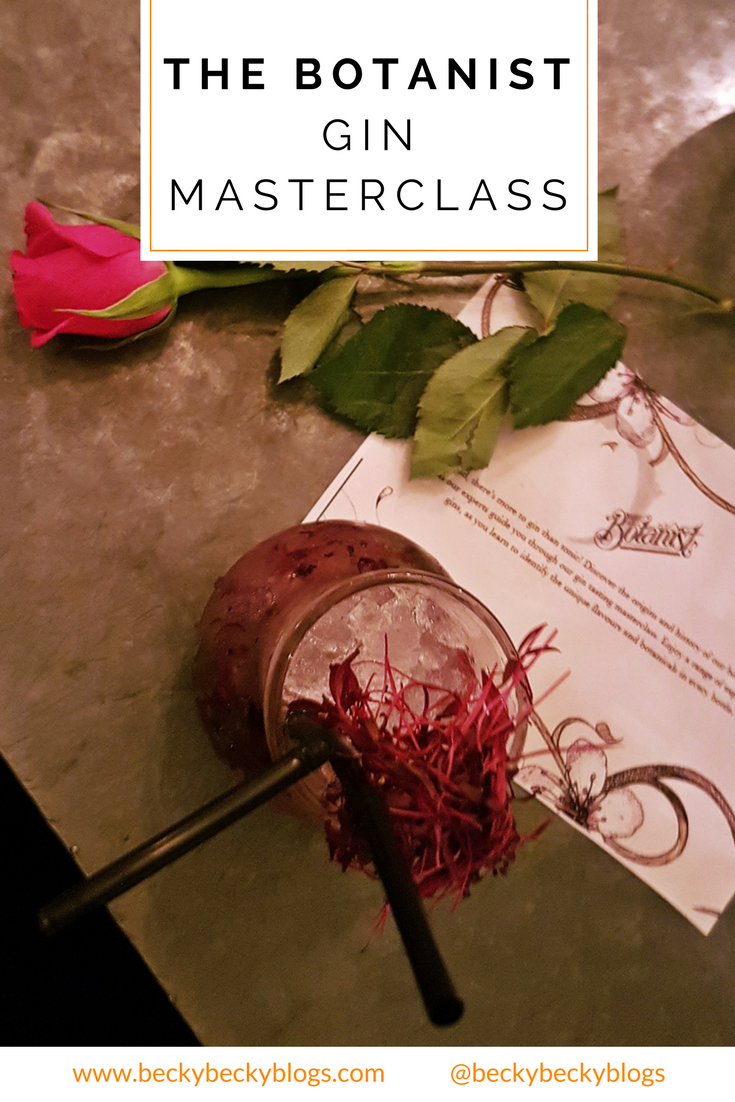 I was invited to the Masterclass free of charge, but all opinions on gin are my own. Here's my full disclaimer.